Wobiri Beach (Exmouth, WA): An Underrated Surfing And Turtle-Watching Spot On The Ningaloo
Wobiri Beach sits at a 20-minute drive from Exmouth, in Western Australia. It's one of the many beaches of the Ningaloo Reef, and the best one for those wanting to learn how to surf.
It has a few beach shelters and crystal-clear blue water. It's perfect for doing most water sports in a safe environment – surfing, kitesurfing, kayaking…
This is because it has minimal rocks and reefs and a nice sandy bottom, with great waves. It may not be the most impressive for snorkelling, but there are still some fishes around to look at (or fish!).
With that said, there are plenty of things to do here (and thankfully, most of them are free). We discuss that and more below:
Table of Contents
How to get to Wobiri Beach?
This lovely local surf beach is in the Ningaloo Reef, on the Lighthouse recreation zone. A 20-minute drive from Exmouth will get you there. There's no entry fee.

The Wobiri is not on Google as a beach. You need to search "Wobiri Beach Access" and you will find the correct turnoff. It's about 5 minutes past the lighthouse. There are two accesses to the beach.

As there is not a huge amount of parking, we recommend getting there a little early in peak season.
As for how to get to Exmouth, you can get there from Perth after a 2-hour flight or a 13-hour drive.
We recommend taking the drive if you can, though. There are dozens of incredible great stops along this stretch of the Indian Ocean coast! It will be the trip of a lifetime for sure.
This will help: How to plan a week in Exmouth from start to finish.
When is the best time to go to Wobiri Beach?
The best time to visit Wobiri Beach is March through October. The weather is lovely during these months with good temperatures and not a lot of wind.
However, if you looking for wind (as it's a popular kitesurfing/windsurfing spot) then anytime after October and through to March will be consistent wind.
Depending on the exact time of your visit, you could tie in a megafauna experience too – i.e. swimming with whale sharks and/or humpback whales!
This doesn't mean you shouldn't visit during summer, though. But it gets very hot during the day and it's windy. The upside is that it's ideal for turtle spotting, there are fewer tourists and lower prices too.
Learn more: What are the best and worst times to visit the Ningaloo Reef?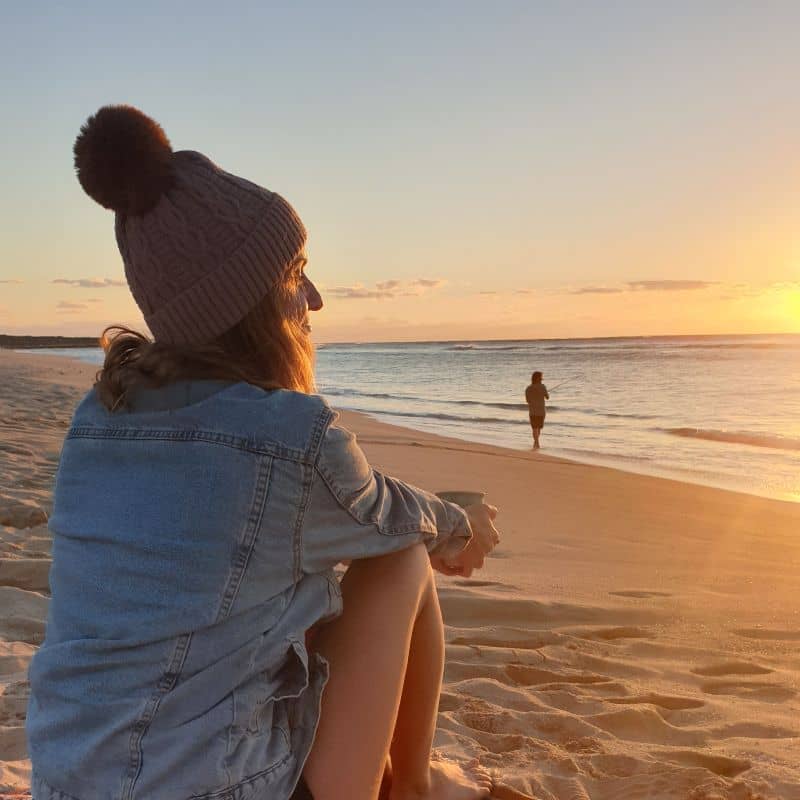 Things to do at Wobiri Beach
Wobiri Beach has calm, clear-blue waters, ideal to spend the day with family and/or friends. There are a few shaded picnic tables and a toilet, but no BBQ. You can bring your own, though.
There's plenty of space to claim your own exclusive piece of paradise for the day. It's an ideal place to do many of the free things to do in Exmouth, such as: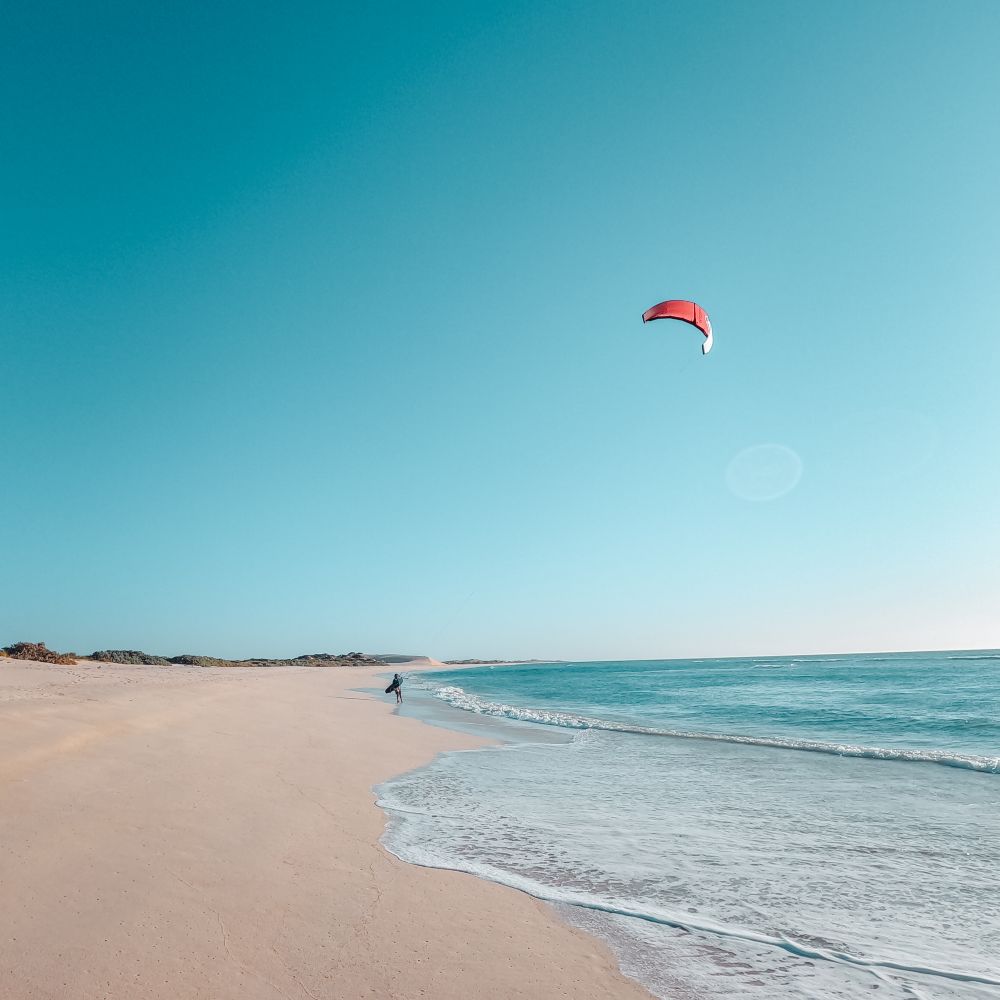 Surfing, kitesurfing, and boogie boarding
Both locals and surfing instructors consider Wobiri an ideal beach for those wanting to learn how to surf, regardless of age.
The south of the beach boasts an inside break, perfect for learning and practising. Plus, the wind offshore is perfect for kitesurfing!
But if you don't have the confidence or skill (yet) to stand up on your board, grab a boogie board – you'll have a blast either way.
The best waves are usually in the morning and evening. If you want to surf, plan your visit accordingly!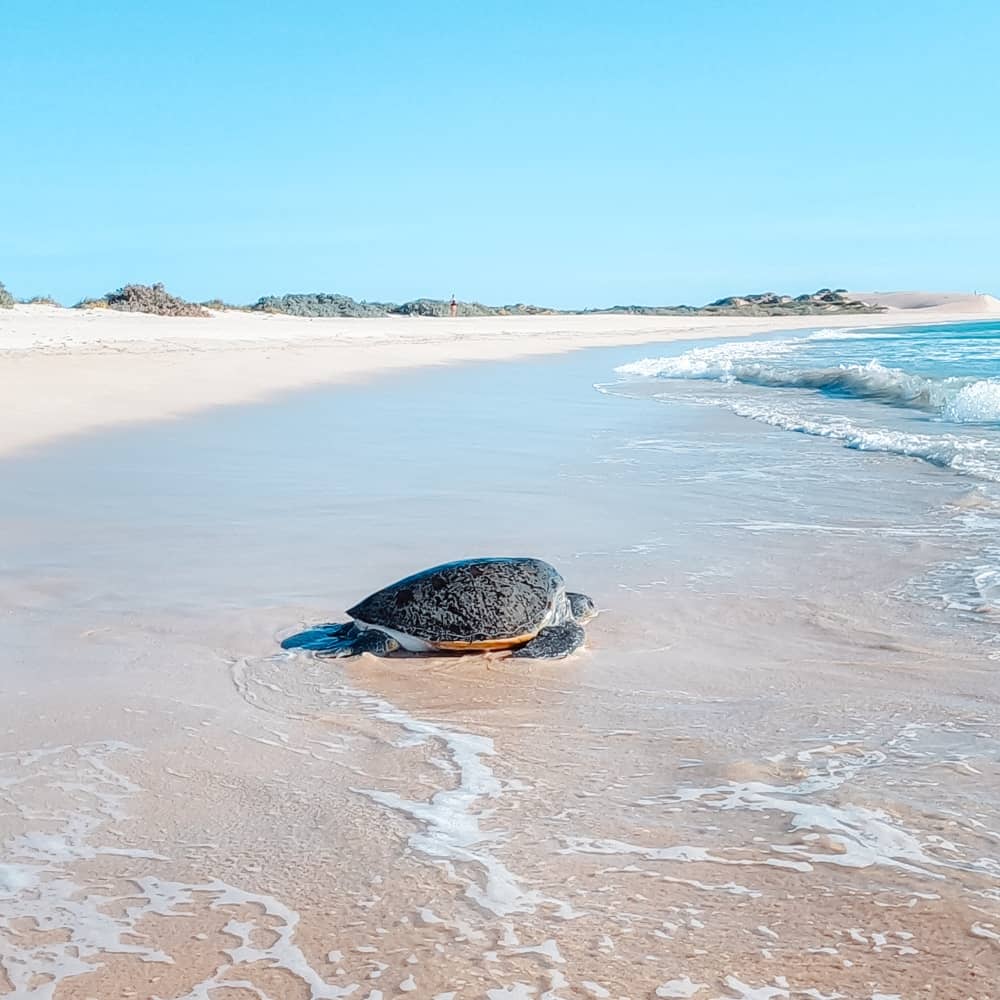 See turtles nesting and hatching
You can see turtles nesting on this beach from November through March, and the hatchlings can be spotted 40-60 days later (January to March).
Just make sure you give the turtles plenty of space and do not disturb them – this is a stressful time for them.
If you want to do this, we'd recommend visiting the Jurabi Turtle Centre first. It's south of Vlamingh Head Lighthouse, right before Wobiri.
There, you'll learn how to do this properly, the turtle-watching code of conduct, and other things.
You can also go to one of their eco-tours to increase your chance of spotting the turtles while disrupting them as little as possible.
Learn More: Everything about turtle season in Exmouth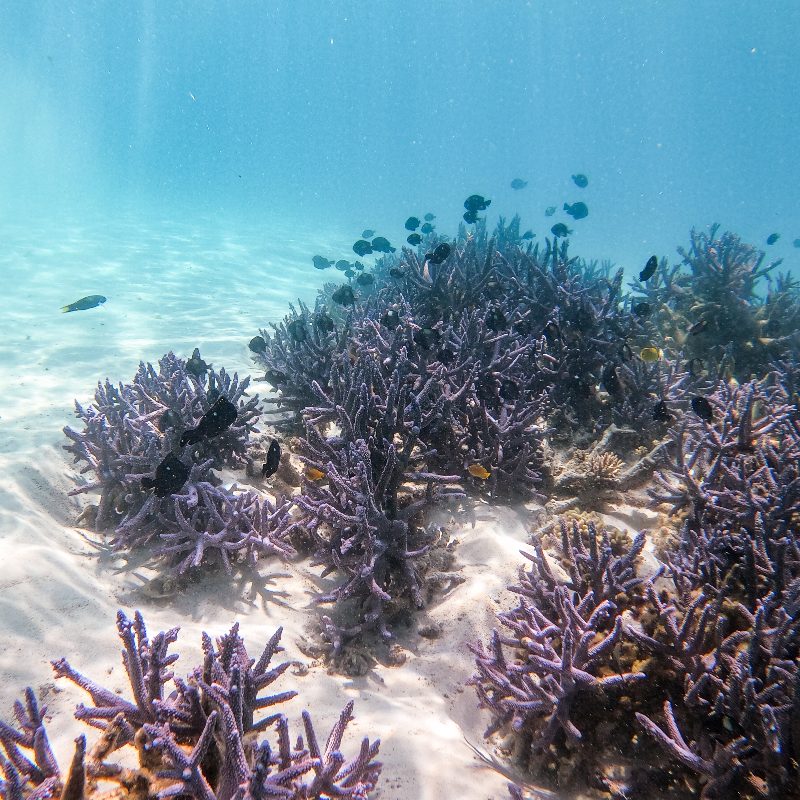 Snorkelling
The snorkelling here may not be as spectacular as in Turquoise Bay or Lakeside Beach, but you can still enjoy the fishies swimming around the crystal-clear water of Wobiri.
For more snorkelling spots: The top 6 Exmouth snorkelling spots.
Top Tips
Wobiri Beach is not patrolled, like many of the remote beaches along this coastline. Keep this in mind, especially if you're a beginner in water sports or have kids.
Bring all the essentials with you as well – water, food, sunscreen (preferably reef-safe), etc.
This spot is ideal for an awesome day doing water sports, or a lazy day on the beach. So, we'd recommend including it towards the middle or end of your visit to Exmouth, to recharge and enjoy the Ningaloo Reef.
FAQs
Where is Wobiri Beach in Exmouth?
Is Wobiri Beach good for families?
Yes, Wobiri Beach is great for families. There are seating areas and also a long drop toilet in the car park. It is also a great place to teach the family how to surf with small, easy waves.
When is best to visit Wobiri Beach?
The best time to visit Wobiri Beach is March through October. The weather is lovely during these months with good temperatures and not a lot of wind.
The bottom line
Wobiri Beach (Exmouth) is a stunning remote beach on the North West Cape of Australia, and yet within easy reach of a country town.
It's a great beach for learning to surf, with minimal rocks and gentle waves. There's also plenty of white sand for you to relax on between surfing sessions.
Skilled surfers, beginners and grommets alike will love this little slice of paradise!
FREE Guide: 30 ways to work remotely so you can travel when you want
This PDF has ALL the tips and tricks we've learned over the years to be the digital nomads we are today.
These are tried-and-tested ways we've used to earn money from anywhere – only a laptop with internet is needed!