7 Of The Best Gorges In Karijini National Park
Nothing frees the spirit as much as getting off the beaten track into Western Australia's iconic gorges.
Escaping civilisation as we know it – hiking, swimming and scrambling into the rugged masterpiece of colour, contrast and awe-inspiring beauty that is found in Karijini National Park.
Karijini, situated in the Hamersley Range of the Pilbara region in Western Australia offers great reward to adventurous souls, with countless nooks and crannies to explore – some maybe never seen before!
We have listed the 7 unmissable gorges in Karijini National Park, plus loads of helpful information we wish we knew before we travelled to Karijini, to help you plan the holiday of a lifetime.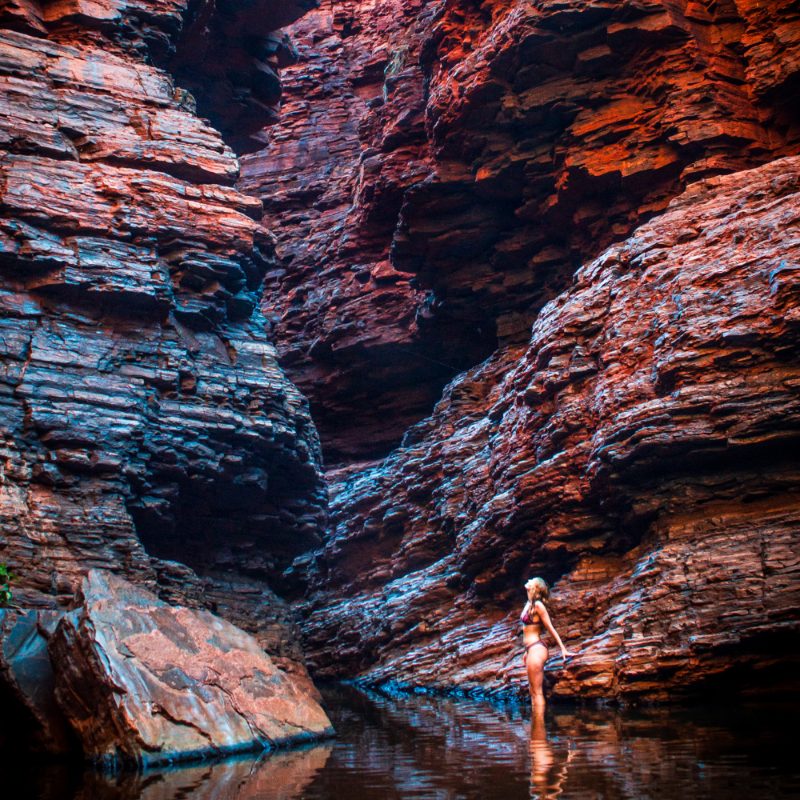 The heroes of the park are the gorges. There are at least eleven gorges in Karijini. Deep chasms of cool banded iron rock, which seem to slash through the surface of the Earth. With the Pilbara heat of the sun scorching above and the refuge of cool flowing streams, waterfalls and crystal pools below.
Karijini is the ultimate roadtrip destination, we have travelled a lot and we would rate it one of best destinations to travel to in Australia. Purely because it is an ancient natural masterpiece like no where else in the world.
Here are some of our favourite gorges listed below:
The Best Gorges In Karijini
1. Hamersley Gorge
Possibly the most famous of them all and for good reason. Hamersley Gorge is made up of all kinds of bright colours in striking rock formations which lead to a private pool in the middle of the desert.
A relatively short walk in compared to other gorges, just 400m (20 minutes) and situated on the outer edge of Karijini National Park. You can benefit by planning your visit here for your entry or exit from the National Park because it is around 1 hour from the main settlement.
You could spend hours just looking at the rock walls! That is until you stumble upon this pool – your body baked by the sun and covered in the Pilbara red dust – it's like an oasis in the middle of nowhere!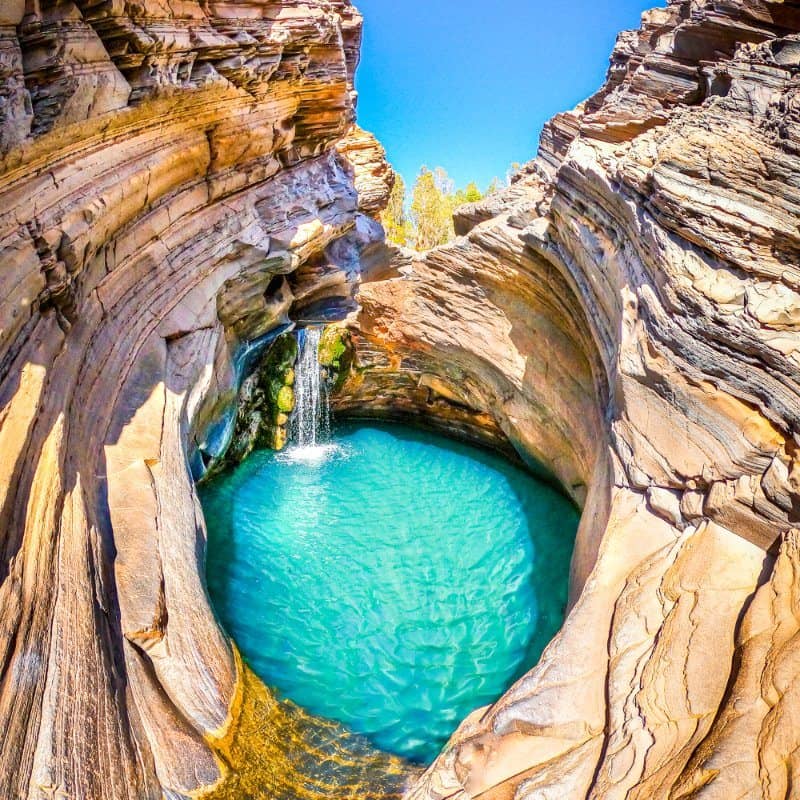 There is so much more to Hamersley Gorge though, including a large pool you can swim down, and long walks you can take through the gorge. The gorge goes on for miles, one pool leads to another, which leads to another. A lot of people just go to the spa pool, but there is so much more to explore than just the first pool!
You could easily spend most the day here, and don't forget your floatie.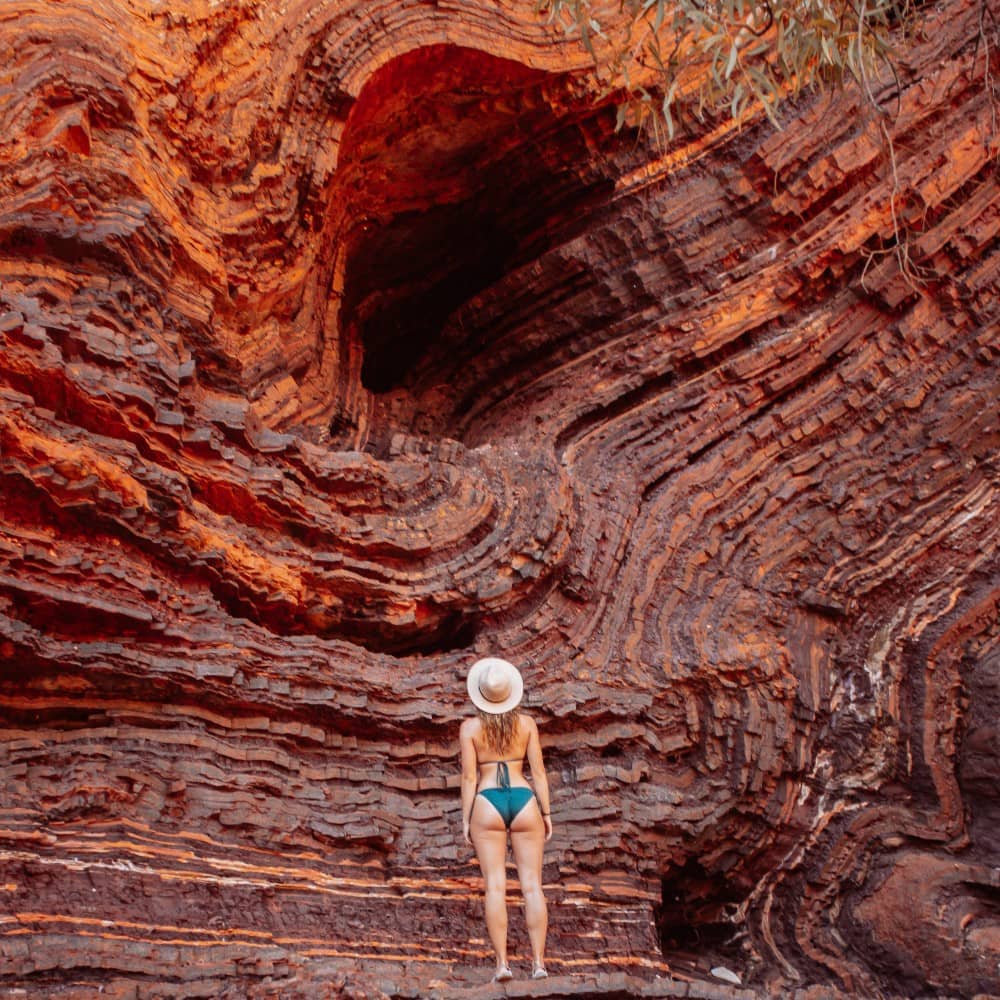 2. Weano Gorge
Weano Gorge with Handrail Pool was a definite standout for us. Not for the faint-hearted though… You need to spider-walk through sheer walls of rock with water running beneath you. Until you make it to a special pool like no other.
The only way into the pool is to literally suspend yourself from the handrail and climb vertically down to the water. From here you can float on your back gazing at the shapes of the tall gorge framing the impossibly blue sky.
Pro Tip:
Be careful – the gorges are really slippery we recommend investing in waterproof hiking sandals before your trip. They really improved our experience and they will make you feel a lot safer on the slippery slopes!
There's nothing better than cooling off in Handrail Pool in the heat of the late afternoon! Make sure you swim to the other end of the pool for a surprise area many people miss out on.
But, right next to Weano Gorge is another magnificent gorge you cant miss which is…
3. Hancock Gorge
Descend down a ladder into Hancock Gorge past a multi-coloured, millennia worth of rock layers and rock pools. Hiking through the narrow spaces, scrambling and spider walking you will arrive at the aptly named Kermit's Pool – a striking shade of green.
With these two beautiful gorges (Weano and Hancock Gorge) being located right next to each other, you may as well spend a full day here. Bring supplies like plenty of food, water and a change of clothes in case you get wet! There are many awesome hikes here and a recreation area with facilities which you can use too.
Both Handrail Pool and Kermit's Pool are next level gorge-ous… Too hard to pick a favourite! Sorry you just gotta see both!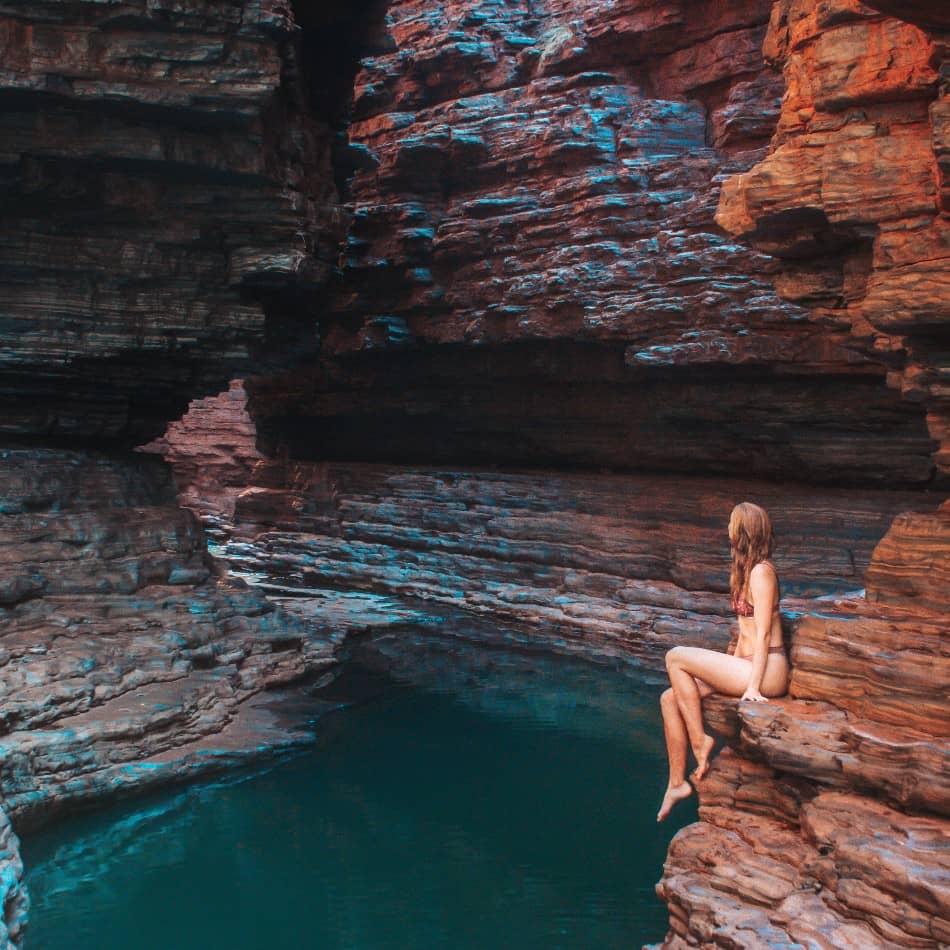 4. Dales Gorge
There's plenty to explore within Dales Gorges on the eastern side of the park. It's about a one-hour walk down to Fortescue Falls and the nearby Fern Pool, or head left from the falls to Circular Pool (a couple of hours return hike).
Fern Pool – The Garden of Eden, Pilbara style – is unforgettable! Make sure you explore the waterfall. It's so refreshing after a hike in the heat! There are tiny fish that nibble at your feet on the pool ladder, don't be alarmed. It is like the ones you pay for at a Thai pedicure but in the wild!
5. Joffre Gorge
A two hour return hike, with a little bit of scrambling down and an island made of crushed rock thrown in for thrills. A lot of people don't attempt this hike or turn around mid hike, because there is a very steep section, which is not recommended if someone has health or mobility concerns.
Joffre Gorge in the heart of Karijini will reward you with the spectacle of a natural amphitheatre that can be breath-taking as the late afternoon sun strikes the walls and illuminates the gorge.
After the wet season, this gorge can have a lot of water, with a rushing waterfall. When we went the waterfall was dry (September). It just depends on what time of year you visit.
---
---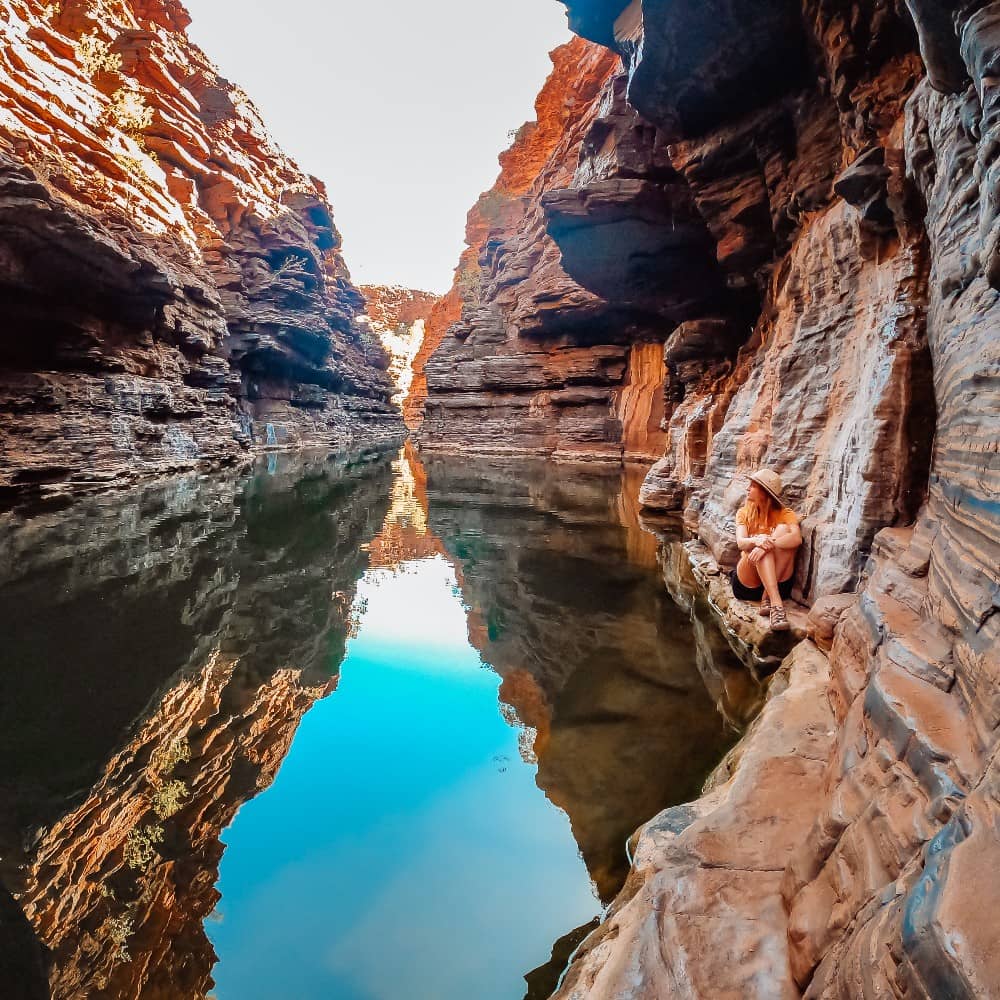 A lot of people don't know this, but if you swim across this water around 250m you reach a secret island. We don't recommend doing this unless you have an inflatable device because it is quite a distance to attempt without floatation. We managed to do it with a donut floatie and it was a great adventure.
6. Knox Gorge
The awesome scale of Knox Gorge can be seen from the Lookout as it slices through Wittenoom Gorge. We scrambled down into the deep chasm, hiking the 2km, past fig trees clinging precariously to outcrops.
Exploring this gorge is a real treat, with unexpected twists and turns. Negotiating narrow ledges and even narrower slots to squeeze through!
It is well worth taking the hour-and-a-half hike in, there is a beautiful crystal clear rock pool at the end and a view over the whole gorge which will make your heart jump into your throat when you realise how high up you are!
7. Oxers Lookout
A must-do is Oxers Lookout, where the four gorges meet – Weano, Hancock, Red and Joffre – almost like the culmination of the event, "The Big Bang" that created this "Narnia".
We challenge you not to feel minuscule and insignificant in the face of the sheer scale of these ancient geological formations!
But wait… There's more!
Mount Bruce
The subterranean landscape is not all that Karijini has to offer. The six-hour return hike to the summit of Mount Bruce (or Punurrunha in the local Aboriginal language) – best attempted in the cooler times of the day – is worth the effort for a great view of the surrounding Hamersley Range.
As far as hikes go, be prepared for this one. It is a lot harder than it seems. Come with everything you need for a full day and only attempt it leaving early in the morning. The hike gets mixed reviews for whether it is worth the effort, it was worth it to us for the adventure of it. Climbing over huge slashed iron rocks, to reach the summit which seems near impossible at the time! It is very rewarding when you finally make it.
At the right time of year and in a good season, the "icing on the cake" will be the numerous yellow flowering plants and the purple mulla mullas that are sprinkled over the landscape.
The second largest mountain in Western Australia, it is not an easy hike. Leave early and be well prepared!
What is the best time to visit Karijini?
April through October is recommended as the best time to go. We visited Karijini in September, but if you can get there in July/August, the weather will be a little cooler and the water that creates the fragile oases of life in the crusty dry semi-desert, perhaps fresher and more plentiful.
Late afternoon or early morning is the perfect time to experience the gorges from above before making the descent into the cooler depths during the heat of the day. The slanting rays of the rising and setting sun penetrate into and highlight the stunning geology.
Top Tips
Bring a Floatie with you!
Salt water naturally makes you rise to the surface of the water, but the fresh water at Karijini does not! For this reason, swimming can become exhausting a lot faster. Bringing a floatie will help you enjoy the serenity for longer.
Icy Cold Water
It can be hot in the outback but once you descend into the depths of the gorges and swim in the pools it is surprising how much the temperature drops. Be prepared for this!
Nothing compares to a natural freshwater shower in the bracing liquid contained within the gorges. But be careful, the water can be much colder than you expect at times.
Are there crocodiles at Karijini?
Thankfully, it is far enough south and inland that there are no crocs!
Where to stay?
We recommend the Karijini Eco Retreat Camp for most of your stay. It is located closer to most of the gorges. When visiting Dales Gorge though make sure you stay at Dales camp. Both need a prior booking online or simply give them a call.
Some free camps are dotted around Karijini but we found them hard to find at times or very small. So we ended up spending most of our stay at the Karijini Eco Retreat, which was a beautiful place to stay.
However many people free camp their whole visit, but we were seeking some luxury by the time we arrived in Karijini after that long drive!
Can I go to Karijini in a 2wd?
You can take a 2wd to Karijini National Park, but be aware of a few things. Make sure you check the weather as sometimes the road closes due to flooding. Pretty much every road is a dirt track.
For that reason, there can be heavy corrugations in certain areas of the park. If you have a 2WD van or caravan with limited suspension you will need to travel slowly and it will be quite uncomfortable. It all depends on when the road was last graded.
Come prepared
Simple but wise advice… Don't forget to carry water and food. You will need them!… We sure did every day as the hikes really take it out of you.
The local supermarket is a long drive and there are no bins or waste removal in Karijini. So bring in everything you need, and take it back out with you.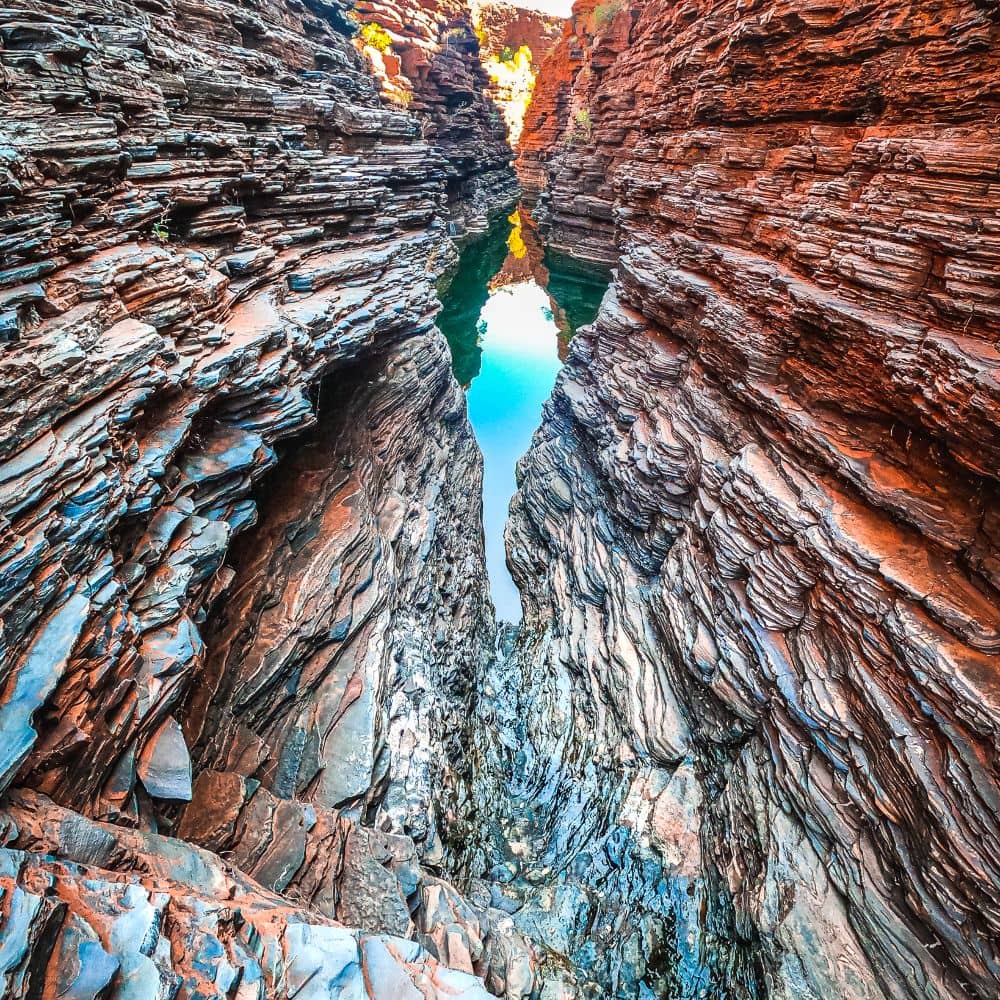 Have a great time
Forget the alarm clock! Rise with the sun to see the clumps of green spinifex dappling the dusty red plains as if a Dreamtime artist had created the canvas overnight – you simply cannot wake up grumpy to this view.
The adventure of discovering the gorges of Karijini will leave you both exhausted and exhilarated. Whether it be discovering "The Garden of Eden" in an oasis, "The Lost City" in the towering rock formations, or marvelling at the gnarled exposed roots of trees in the crevices of simply epic sheer drops… But it is the impressions, the colours and the rugged majesty that remain with you.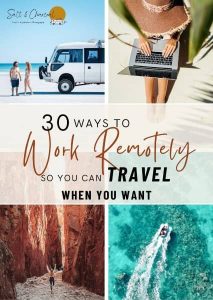 FREE Guide: 30 Ways To Make Money Online So You Can Travel When You Want
Unlock our secrets to consistent online income in Australia. These are tried-and-tested ways we've used to earn money from anywhere – only a laptop with internet is needed! Travel more and worry less.
Our Essential Travel Toolkit
🤩 Trip.com – Consistently great accommodation and hotel deals.
🤩 Hostelworld – Looking for the cheapest accommodation? We especially love the book now pay later feature.
🤩 Rentalcars.com – Best range, super easy to compare prices rental car and motorhome prices.
🤩 Viator.com – Easily book tours and experiences at the lowest rate. Great selection all over Australia.
🤩 Tripadvisor.com – Other than our website…..😉 the best place to find things to do
🤩 Airalo – eSIM store that solves the pain of high roaming bills by giving travelers access to eSIMs (digital SIM cards).
🤩 Caravan RV Camping – Traveling Australia in a van, caravan or bus? Use our discount code "saltandcharcoal" to get $30 off any orders over $300.