Top 6 Exmouth Snorkelling Spots + Our 7 Favourite Snorkelling Tours
It's no wonder why Exmouth is the most popular choice for snorkelling experiences… When the world heritage-listed Ningaloo Reef is located right on its doorstep!
Unlike the Great Barrier Reef which is located up to 2 hours drive offshore. At the Ningaloo Reef, you can hop into the water and go swimming with corals, turtles and fish within minutes.
Located 13 hours drive from Perth, in the North West Cape Peninsula of Western Australia, Exmouth is one of the best places to experience the magical Ningaloo Reef up close.
With tours, you can be guided to swim with magnificent sea creatures like whale sharks, humpback whales, and manta rays. Not to mention the huge variety of turtles, coral and fish you can see when you snorkel on the reef!
But the best part? Most snorkelling spots we share below, are right from the beach! Below are our top 5 spots. But if you want to see the best – you need to book a tour to see the most remote places. Whatever you choose, you can't go wrong…
Take note of these spots, to ensure you explore the very best of what the Ningaloo Reef has to offer:
Table of Contents
6 must-visit Exmouth snorkelling locations
These spots are part of the Ningaloo Marine Park, famous for its gorgeous and intricate coral reef system. Below we provide the tips and information you need to plan your visit.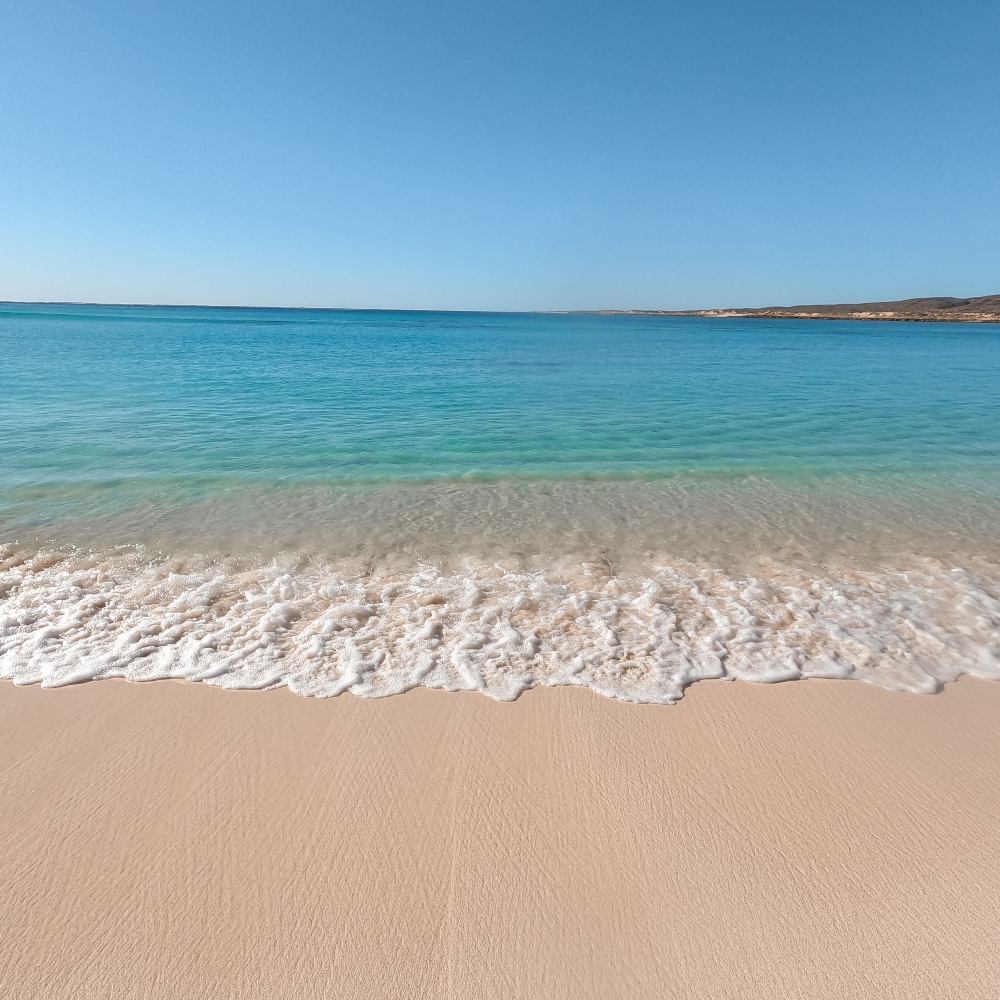 1) Turquoise Bay
This is one of the most famous beaches in all of Australia, located in the Cape Range National Park. You'll get here after a 45-minute drive from Exmouth.
Thankfully, you won't need a 4WD to get here, but you do have to pay a small National Park fee to enter the park.
Once here, there are two sites you can snorkel in:
The Bay Itself – Great for Families
It's ideal for beginners because of the calm waters. You can walk from the sandy beach straight into the water, where you'll see a few coral reefs and plenty of tropical fish life, often swimming around you as soon as you enter!
Turquoise Bay Drift Snorkel
This is the main attraction of Turquoise Bay and one of the best snorkelling experiences near Exmouth.
Here, you'll take advantage of the currents to help you drift along the reef. Its like watching a movie!
The stunning coral gardens are spectacular, much more than at the bay. There are sea turtles, stingrays and great fish life.
To get to the starting point, walk around 100m south along the beach before entering the water. Then, swim out into the current and let it drift you in a northerly direction. But leave the water before you reach the sandbar, after that the current is very strong.
This spot is best suited for proficient swimmers, as the currents are moderate to strong.
We were comfortable, knowing you could simply walk out from the shallows after the drift snorkel. You just have to pay attention to where the sand bar is south of the drift, where the beach wraps around to the right. See below for the diagram.
2) Oyster Stacks
This spot is excellent for families or inexperienced swimmers, as the coral reef and fish are just steps from the shore. It's an area of calm, shallow water and easily accessible.
Just be aware of the tides here. You cannot snorkel at low tide. Don't drive all the way here only to be disappointed!
You can only snorkel when the tide is high enough, at least 1 – 2 metres. There's signage on Oyster Stacks and Milyering Visitor Centre to let you know if you can snorkel here, and when.
This spot is within the Cape Range National Park, so you might as well check it on the same day as Turquoise Bay.
Bring reef shoes to this spot – it has a rocky shoreline and sharp oyster shells.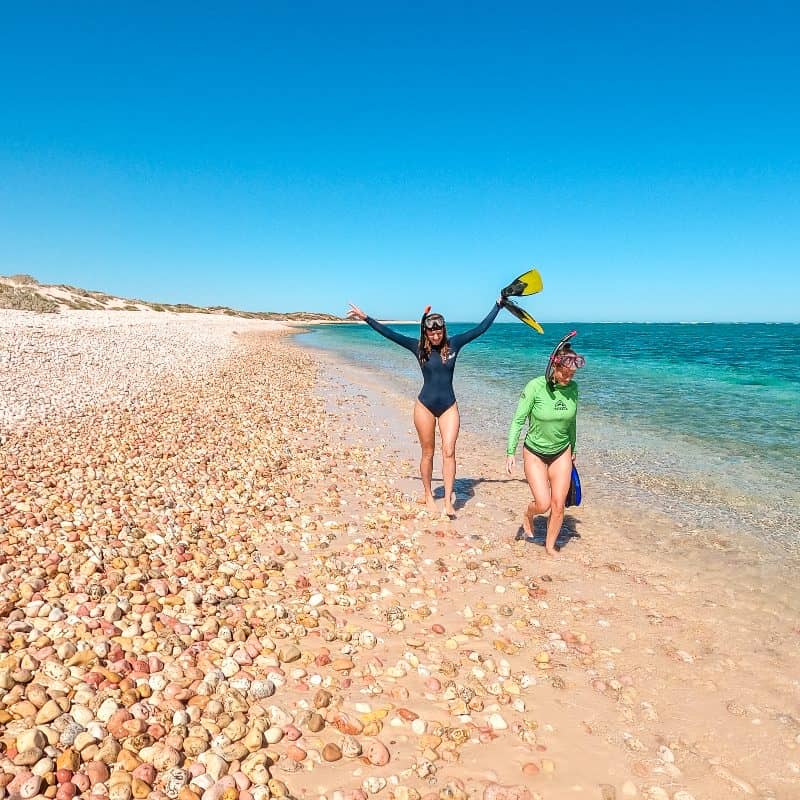 3) Lakeside sanctuary zone
This is a hidden gem of the coral coast, at only a 40-minute drive from Exmouth.
Lakeside is an amazing spot for any snorkeller, regardless of their experience. You can see tonnes of fish, turtles, stingrays, and reef sharks (but reef sharks are very scared of humans so will usually swim away).
---
---
From the Lakeside car park, walk about 500m along the beach in a southerly direction. Once past the first Sanctuary Zone marker, enter the water and swim out about 20m you will find big purple corals and fish.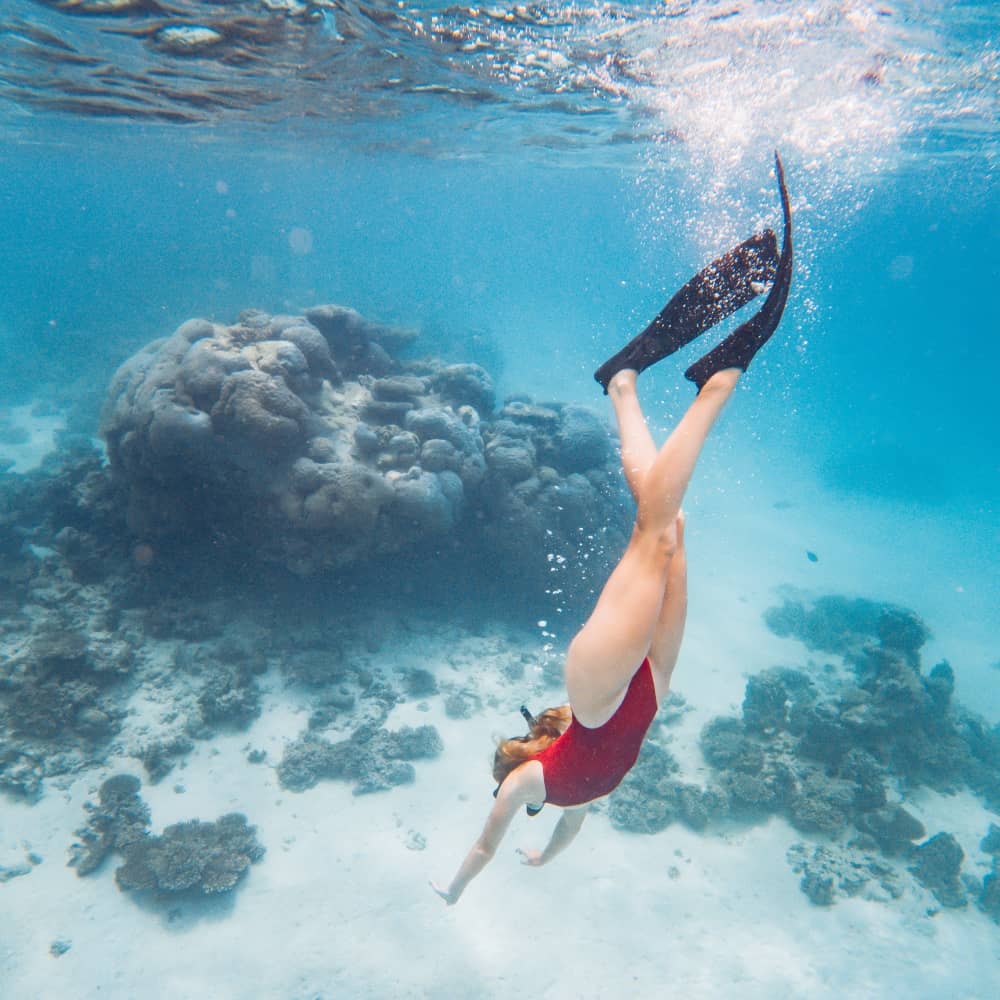 Check it out: Things to know before visiting Lakeside, in Exmouth WA.
4) Wreck of S.S. Mildura
This spot sits right at the tip of the North West Cape, at a 15-minute drive from Exmouth. It's free to visit and at walking distance from Dunes Beach (also known as Surfers Beach).
Do not attempt to snorkel here during changing tides. The current can be dangerously strong.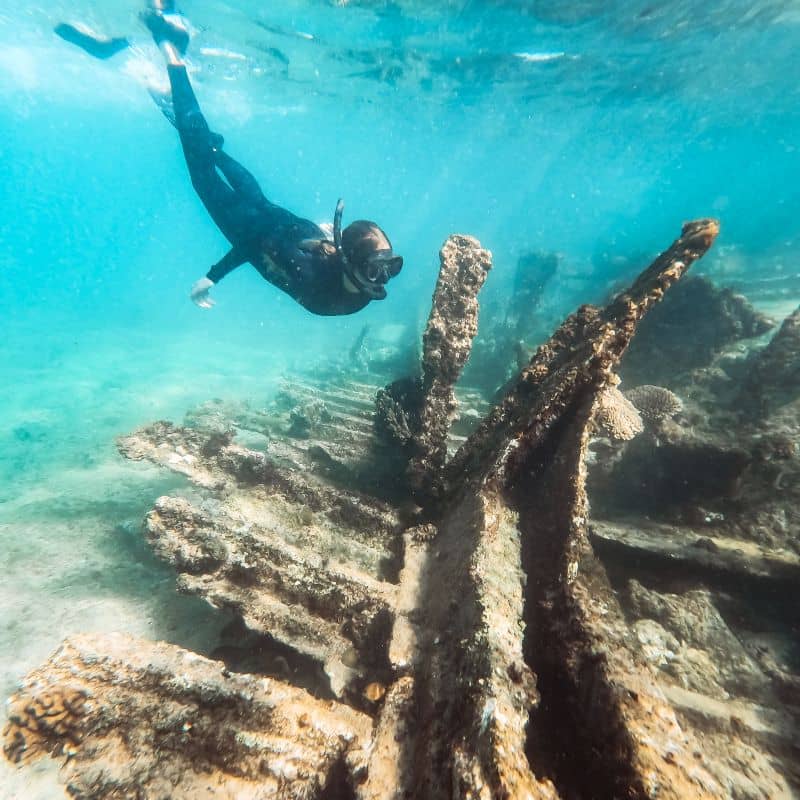 The wreck of S.S. Mildura is famous in Exmouth history. It was a cattle boat in the 1880s and ran aground very close to the shore. You can see it sitting half on the surface of the water, stuck in the reef from the coast.
You can snorkel around the wreck during high tide, but be careful not to touch anything – either the ship itself or the reef it is on – to prevent damage and to not hurt yourself!
It is an exciting snorkel as many tiny marine creatures and fish live within the reef and the wreck.
This snorkelling spot is for advanced swimmers. The tide can be dangerous here and it's around 80 meters offshore. Even though it's in shallow water, the tide can really rush through.

You will need good flippers and a good snorkel.
5) Muiron Islands
This lesser-known spot is a treasure for any lover of marine life. You'll get to these islands after a 1.5-hour boat trip from Exmouth, so it might be best to book a tour for this one.
It's an incredible place to snorkel. You'll see a vast array of colourful fish and soft corals around the place. The landscape is also very different, compared to the closeby Ningaloo Reef.
Interested? Check our guide to snorkelling the Muiron Islands + best tours
6) Osprey Bay – Kayak to this snorkelling spot
Osprey Bay isn't only one of the most sought-after camping spots in Exmouth, there is a hidden gem around 1km offshore. Incredible snorkelling, turquoise water, coral bommies and colourful fish!
Called the Osprey Bay Sanctuary Zone Kayak trail, you can book a tour to go here. Or you can kayak or boat yourself to it. You will see a note on the map out the front of Osprey Bay itself with information.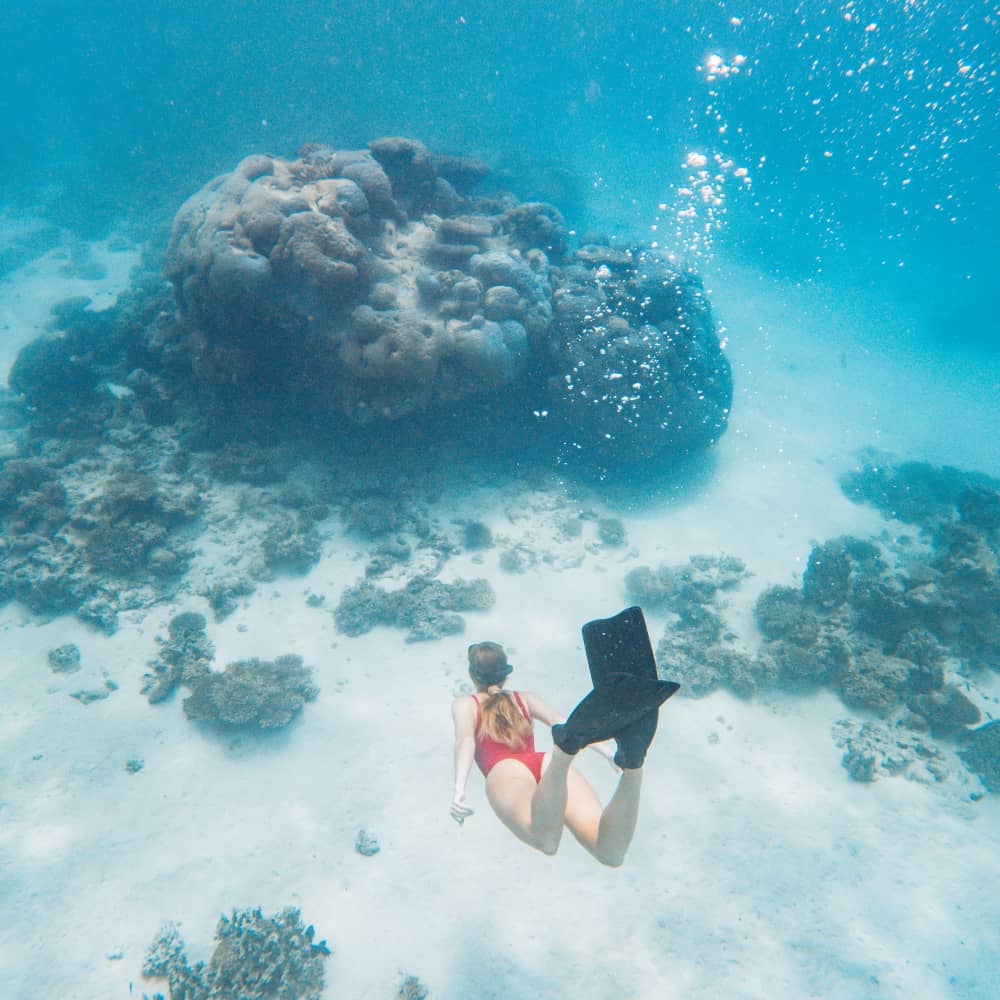 If you don't have time to get out to this magic spot we recommend snorkelling just off shore out the front of Osprey Bay.
If you wait a few minutes, in the right season, you will see a turtle pop its head up for air. Hop in the water swim in that direction and within minutes you can swim with the turtle. They are usually very mellow we found here and will swim with you for a while. We also saw a dugong swim by!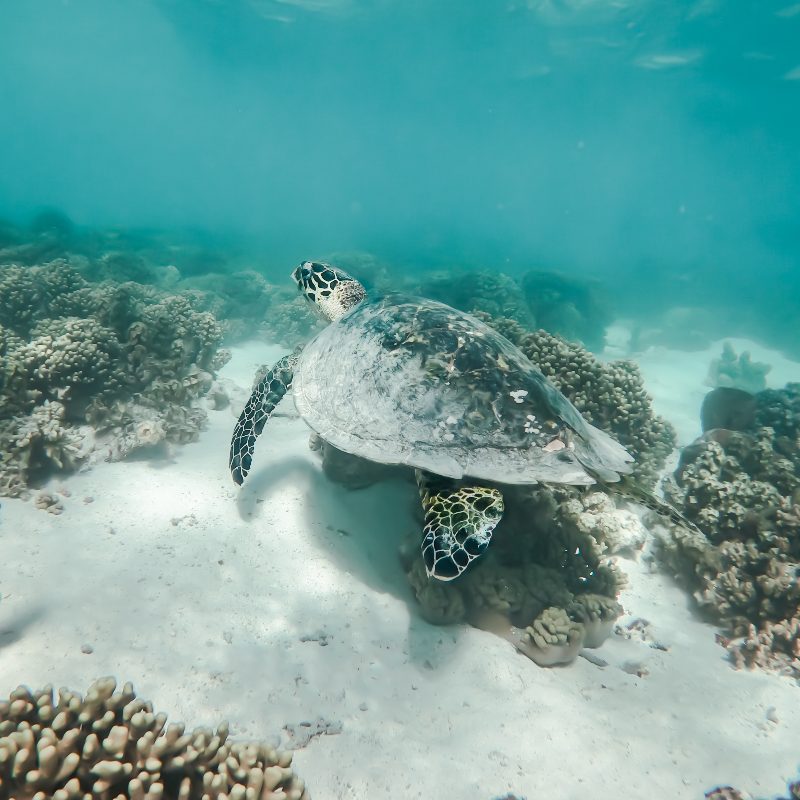 Other snorkelling spots – honourable mentions
The spots mentioned above are our favourites, but that doesn't mean they are the only ones. The Ningaloo Reef near Exmouth has other popular snorkelling sites, such as:
Bundegi Beach – great to spend a half day at. Especially for kayaking, paddle-boarding and paddling. Heaps of things to do and has an awesome café nearby.
Exmouth Gulf – the gulf doesn't have the best visibility, but often manta rays are passing through. We love it here!
Sandy Bay – its shallow waters make it a top spot for the whole family to chill in.
Related: Top beaches to visit in Exmouth.
Our 7 favourite Exmouth snorkelling tours
We recommend doing at least one tour while in Exmouth, for a more life-altering, amazing experience.
Apart from learning more about the reef, guides often take you to unique spots, some of which may not be accessible to most tourists.
They also employ spotter planes to help ensure that you are front and centre for exciting wildlife passing by the area on the day of your tour.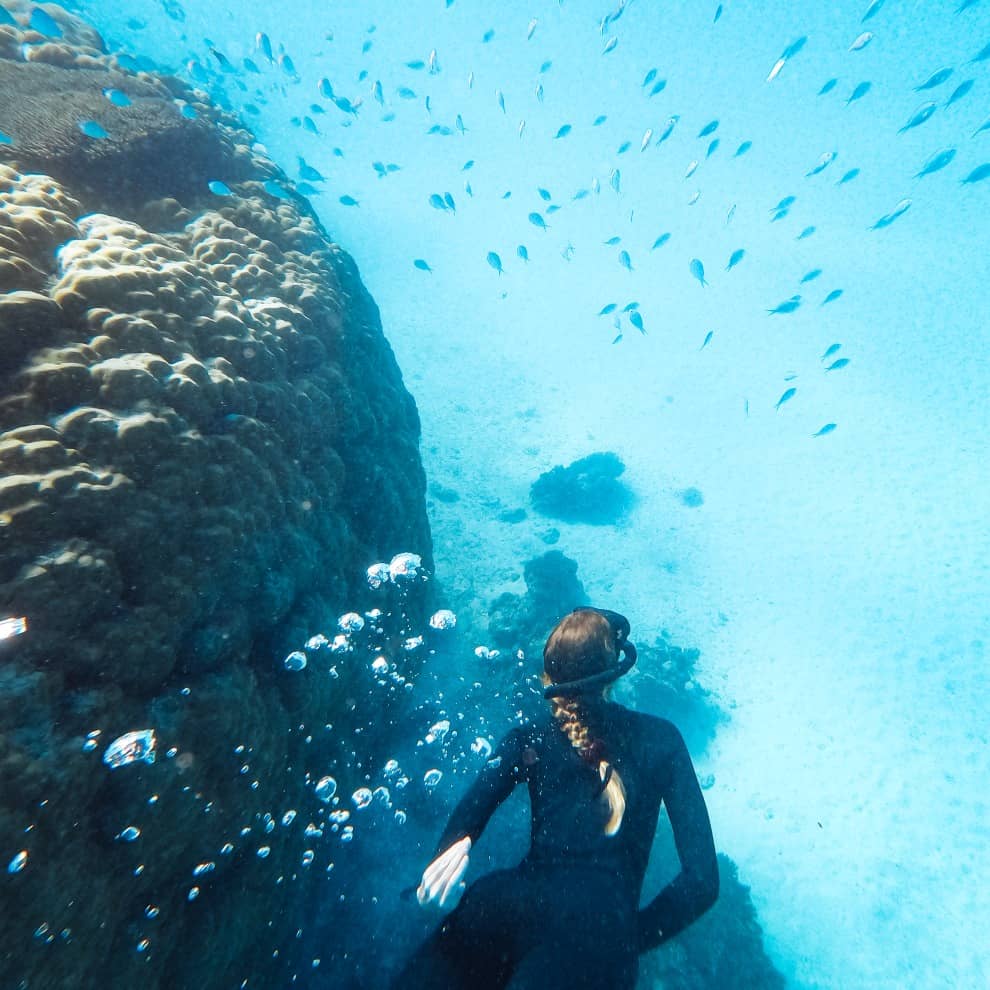 Most snorkelling tour operators in Exmouth offer similar experiences – snorkelling and scuba diving, swimming with humpback whales, whale sharks, manta rays, turtles…
But the following are our favourites. We selected them because most of them are:
Reserve now & pay later. Save your spot months in advance and pay between 2 to 9 days before the activity.
Small groups. We prefer tours like this because the overall experience is more enjoyable than with bigger groups.
Local businesses. The companies we have gone on tours with in Exmouth have been incredible, to say the least! They really care about you, and the reef. We can't recommend them enough.
1) Humpback or Whaleshark Swim Ningaloo Reef
The most important tour on the Ningaloo is to swim with the gentle giants of the sea on a day tour. These tours are award-winning, and most popular for a reason! There are few places in the world where you can swim with these incredible creatures.
So, if you're going to Exmouth between March and August, this tour is a must. Do not miss this once-in-a-lifetime opportunity!
This particular tour is full-day and with a trusted business in Exmouth who we have gone with. You'll be with a small group of travellers, going whale watching and potentially swimming with these gentle giants. Snorkelling equipment and lunch included.
Whaleshark tours do sell out – book as early as possible.
More whale shark tours: Here are the best Ningaloo whale shark tours.
It's worth going even if whale sharks aren't in season, it's seriously the best day out and worth every penny!
2) Ningaloo Reef Snorkel and Wildlife Adventure
This full-day tour is run by locals. They'll take you to different spots, but there isn't a set schedule.
We love this idea because it makes the whole experience more akin to going out with a group of friends who know the area very well and want to show you the best spots!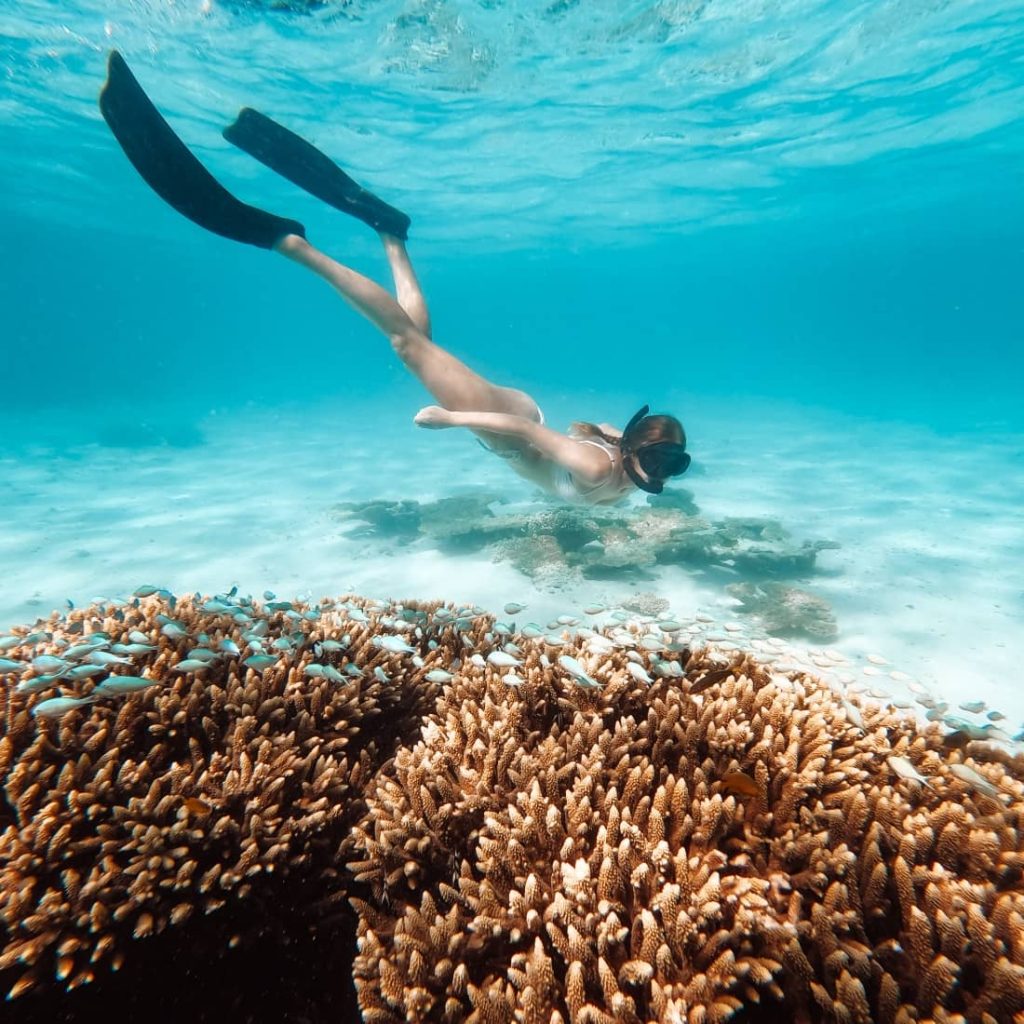 3) Full-Day Kayaking and Snorkelling Adventure
We loved this tour and the company Exmouth Adventure Co! It's another full-day tour, ideal for those who want to experience the Ningaloo Reef more intimately.
Kayak through the pristine waters of the Ningaloo Reef. Kayak with a small group and knowledgeable guide while enjoying the marine life buzzing underneath!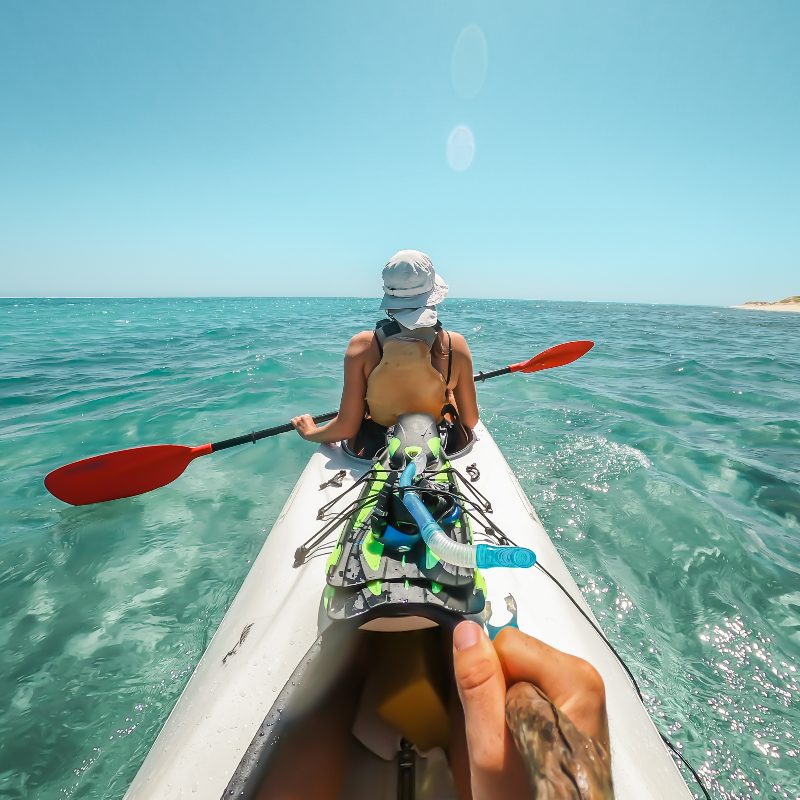 They include everything – park fees, delicious fresh food, drinks, pick up and drop off, kayaks, snorkelling equipment, rashies… even photos of the experience. Also, they often take you to Osprey Bay Sanctuary Zone which we mentioned above! Which is so stunning. It's where we went on this tour.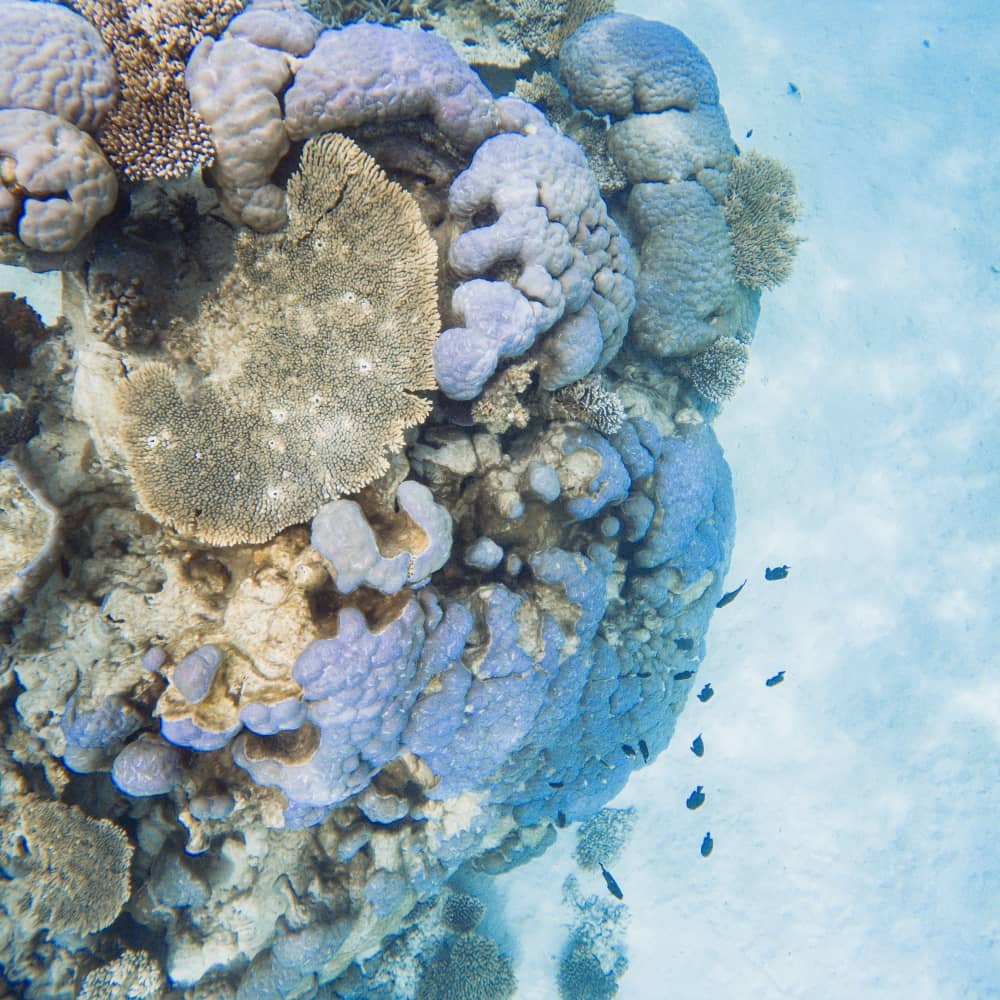 4) Half-Day Snorkel 2.5hr Turtle Tour on the Ningaloo Reef, Exmouth
This is one of the most popular snorkelling tours out there. As it's a half-day tour on a speedboat, it's ideal for starting or finishing your trip to Exmouth.
12 passengers maximum ensure an intimate experience. 3 hours 30 minutes total, with 2.5 hours snorkelling time.
The guides take you to select snorkelling sites that are around a 30-minute boat ride from Exmouth. Then, your tour will begin! You'll be able to swim with turtles and other marine creatures.
Ideal if you want to spend a half day snorkelling away from crowded beaches.
5) Turtle Tour – Ningaloo Reef Half-Day Sea Kayak and Snorkel Tour
Another half-day tour where you'll go kayaking and snorkelling at the Bundegi Sanctuary Zone (it depends on the weather where they take you though), which is a 10-15 minute ride north of Exmouth.
The guides will take you kayaking to different spots where green turtles live. You'll be able to snorkel with them right off your kayak!
Snacks are included, but make sure to stop for a quick bite in the Beach Shack, too! It's one of the many awesome places to eat in Exmouth.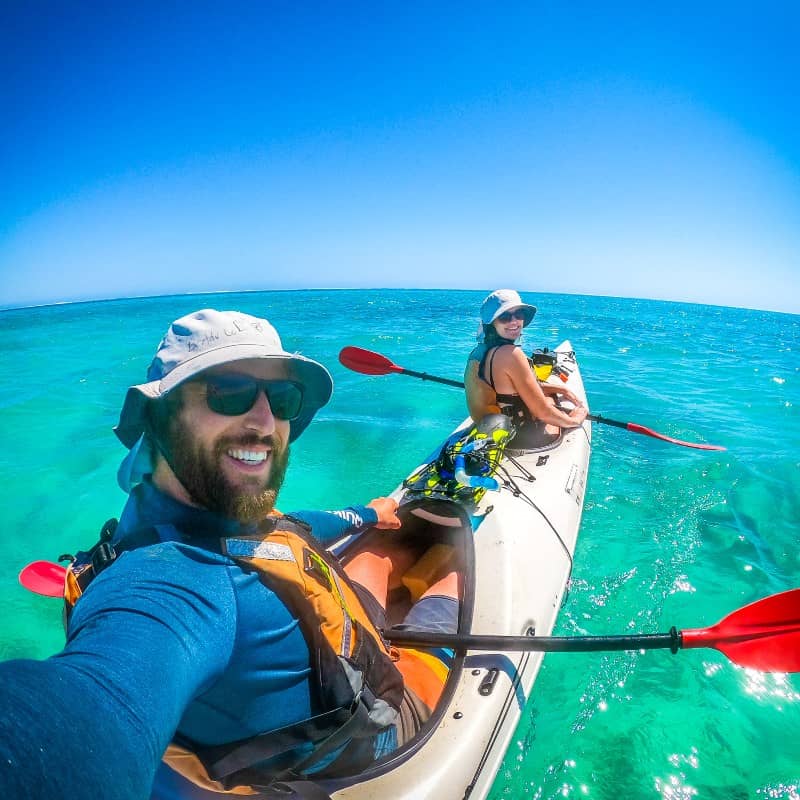 6) Muiron Islands Snorkelling in Exmouth
These islands are a paradise for snorkelers. Sitting at a 1.5-hour boat ride from Exmouth, this secluded spot is filled with incredible marine life.
And even though it's still the Ningaloo Reef, the snorkelling experience will be different than snorkelling right from the beach.
The creatures and corals are a bit different too. The waters are incredible for macro photography, too.
7) Scuba Dive Ningaloo Reef
Ok, this is not exactly a snorkelling tour… (although they can take you snorkelling as well).
But if you're a certified scuba diver (or planning to be one before visiting Exmouth), you'll regret it if you don't do this tour!
On this full-day tour, you'll do two dives in different spots of the Ningaloo Reef. They include everything – equipment, food, snacks, pick up… Huge value for money and an incredible diving location!
8) Bonus – Scuba Dive The Famous Navy Pier Exmouth
One of the most famous shore dives in the world, for a reason!
You must do this dive when in Exmouth if you're certified. See their website here.
Want more? Here are +10 amazing tours in Exmouth (beyond snorkelling)
When is the best time for snorkelling in the Ningaloo Reef?
In the Ningaloo Reef, you'll be able to see marine life any time of the year. But, we think the best time is when the whale sharks, humpback whales, turtles and/or manta rays are in the area.
May to July would be our pick! But really, anytime from March to October is beautiful.
The "best time" is very subjective, as it depends on the activities you'd like to do. That's why we wrote a quick guide to help you find the best time to visit the Ningaloo Reef.
Top tips
As you have to pay a fee to get into the Cape Range National Park, try visiting as many places as you can in one day. Or, you can stay in the designated campgrounds of the park to prolong your stay and enjoy the area without rushing.
Also, book ahead the accommodation and tours as soon as you can. They fill fast, especially in peak season!
For more info about the reef, what to look for, and maps, visit the Ningaloo Visitor and Information Centre in the town. You can book tours here, too.
With that said, Exmouth has plenty to do, besides snorkelling. Explore the town, visit one of the many places to eat, and hang out with the locals – they're very friendly!
Did you know?
Coral Bay is 90 minutes from Exmouth and shows more of the Ningaloo Reef. You can take a day trip to this place from Exmouth, as there are some awe-inspiring snorkelling sites here, too. See our picture below!
Also, the coral of the Ningaloo Reef might appear to have less vibrant or diverse colours, compared to the Great Barrier Reef. This is because the Ningaloo is a fringe reef and the coral is closer to the surface and the sun.
That gives it a brownish colour when viewed from a boat, but when you snorkel, you'll spot the different colours more easily.
FAQs
Can you snorkel at Exmouth?
Yes, you can snorkel at Exmouth.
There are several spots to do so, and you can even snorkel the Ningaloo Reef straight off the shore. Yet, the best snorkelling spots are usually found a few kilometres offshore.
Can you snorkel at Exmouth Town Beach?
Yes, you can snorkel at Exmouth Town Beach, but there's not much to see regarding coral life. You might see a dugong though!
The swimming is great, you can even drive your 4WD onto the beach, or eat at a local food truck in the parking lot. It's a great spot to relax at the end of the day, people gather here for the full moon rising too.
Can you swim with manta rays in Exmouth?
Yes, you can swim with manta rays pretty much all year round in Exmouth. They're one of the many residents of these coasts.
The bottom line
Western Australia's Coral Coast is spectacular, with so many beautiful places to snorkel. Exmouth is one of them, as it sits next to the stunning Ningaloo Reef.
This place also offers the chance to swim with some of the mega-fauna of the ocean – whale sharks and humpback whales – as well as manta rays, sea turtles, and thousands of colourful fishes that live in the coral reef.
But there's much more to Exmouth than snorkelling. You can easily spend a week exploring this area, between the stunning reef, the rugged landscape of the Cape Range, and the vibrant town.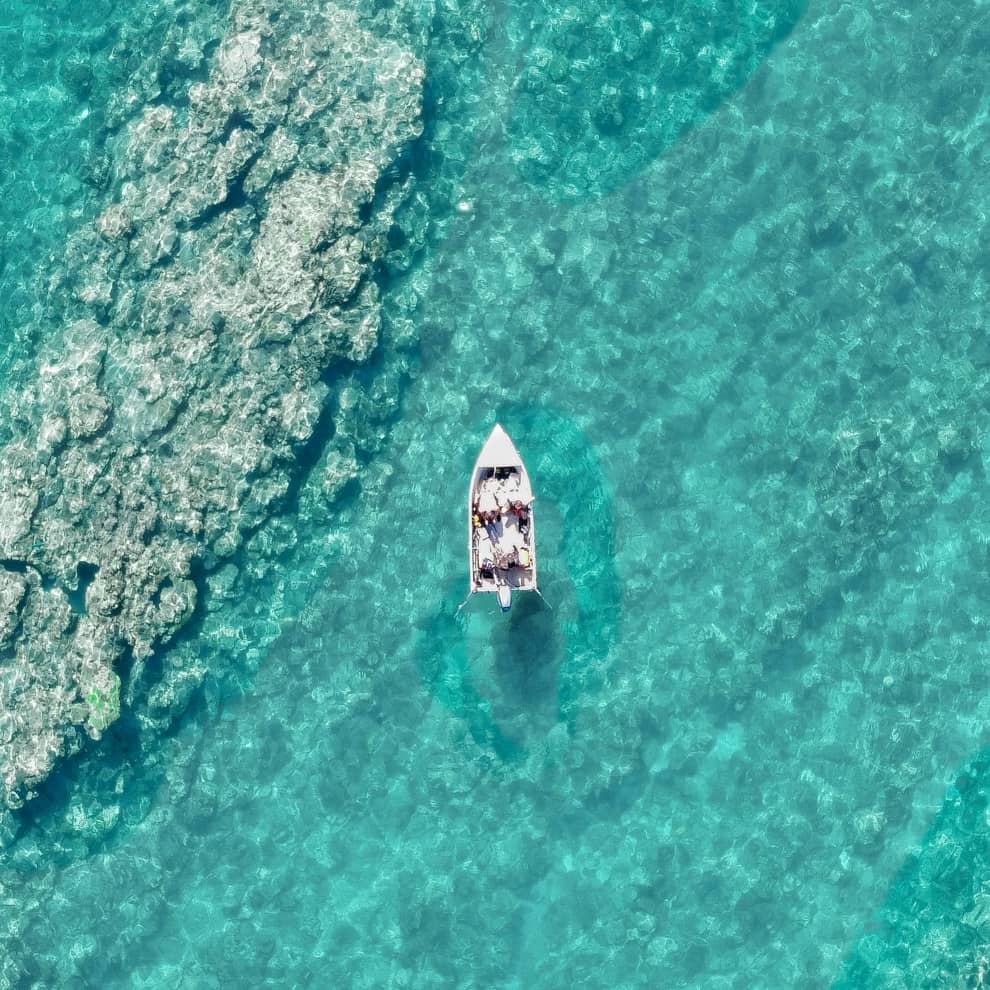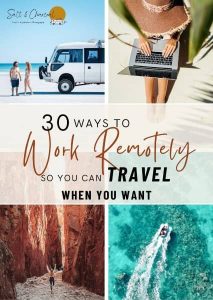 FREE Guide: 30 Ways To Make Money Online So You Can Travel When You Want
Unlock our secrets to consistent online income in Australia. These are tried-and-tested ways we've used to earn money from anywhere – only a laptop with internet is needed! Travel more and worry less.
Our Essential Travel Toolkit
🤩 Trip.com – Consistently great accommodation and hotel deals.
🤩 Hostelworld – Looking for the cheapest accommodation? We especially love the book now pay later feature.
🤩 Rentalcars.com – Best range, super easy to compare prices rental car and motorhome prices.
🤩 Viator.com – Easily book tours and experiences at the lowest rate. Great selection all over Australia.
🤩 Tripadvisor.com – Other than our website…..😉 the best place to find things to do
🤩 Airalo – eSIM store that solves the pain of high roaming bills by giving travelers access to eSIMs (digital SIM cards).
🤩 Caravan RV Camping – Traveling Australia in a van, caravan or bus? Use our discount code "saltandcharcoal" to get $30 off any orders over $300.