The Gibb River Road: The Ultimate Travel Guide You Need Before You Go
The Gibb River Road is one of the greatest adventures in Australia. It's best known as a rugged, outback, 4wding experience. But did you know that it's filled with some of the most spectacular and luxurious places to visit in the whole of Australia?
Travelling the Gibb River Road should be on everyone's bucket list.
It's a 660km stretch of dirt road filled with incredible gorges, untouched scenery, historical Aboriginal art sites and thrilling river crossings. All of this is bundled in the heart of the Kimberley region, what more could any adventurer want?
Before you go, you need to do some planning. This article will help you with that, to ensure you get the most out of the Gibb, and don't get stuck out in the bush with no supplies.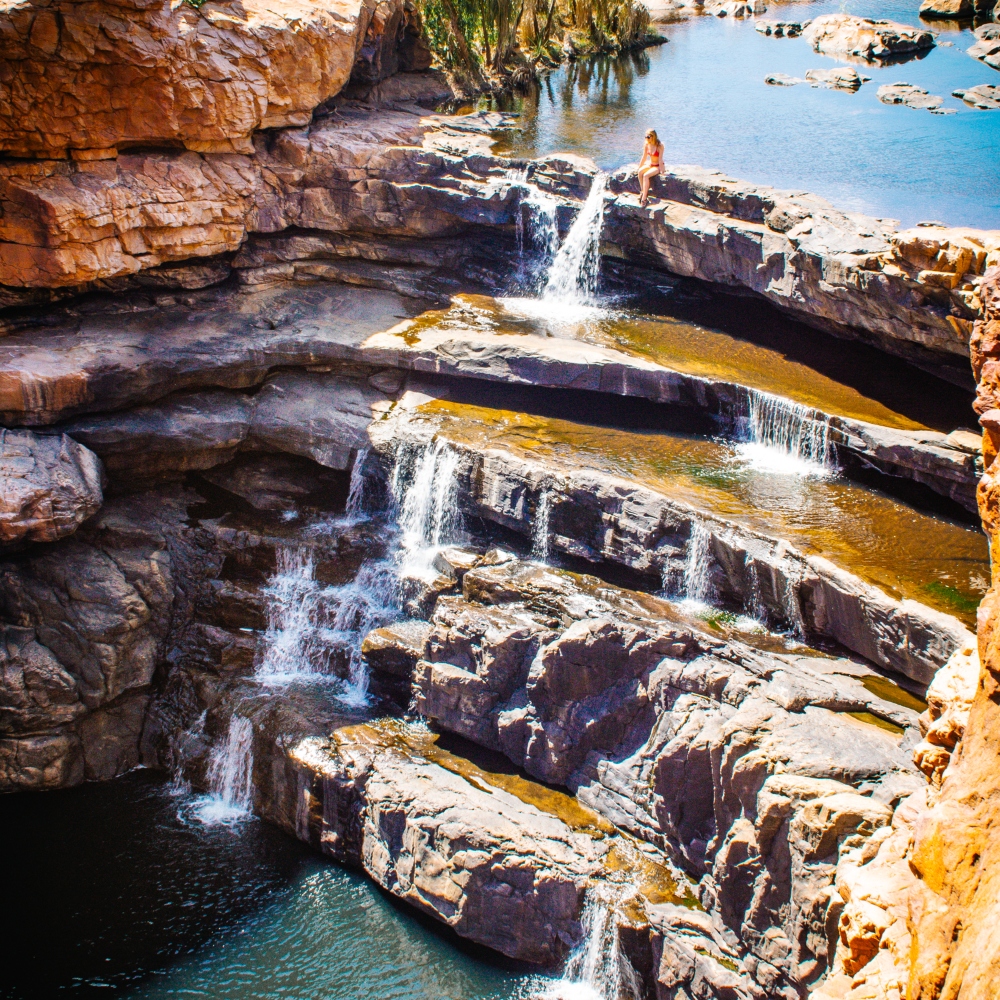 Here's the travel guide to Gibb River Road that we wish we had… don't make our mistakes!
Table of Contents
Where is the Gibb River Road?
Gibb River Road is a remote outback road across the Kimberley region of Western Australia.
You can start the road from Derby in the west, or Kununurra in the east, and travel in either direction. Some adventure tours offer options leaving from Darwin which we will explore later in this article.
It's a 660km drive through the heartland of the Kimberley region, filled with plenty of attractions to check out. Any adventurer worth their salt will fall in love with this wild country.
Most people do the trip from Kununurra to Derby. The beginning of the road is mostly asphalt, but that ends when you hit the famous Pentecost river crossing (starting from Kununurra's side).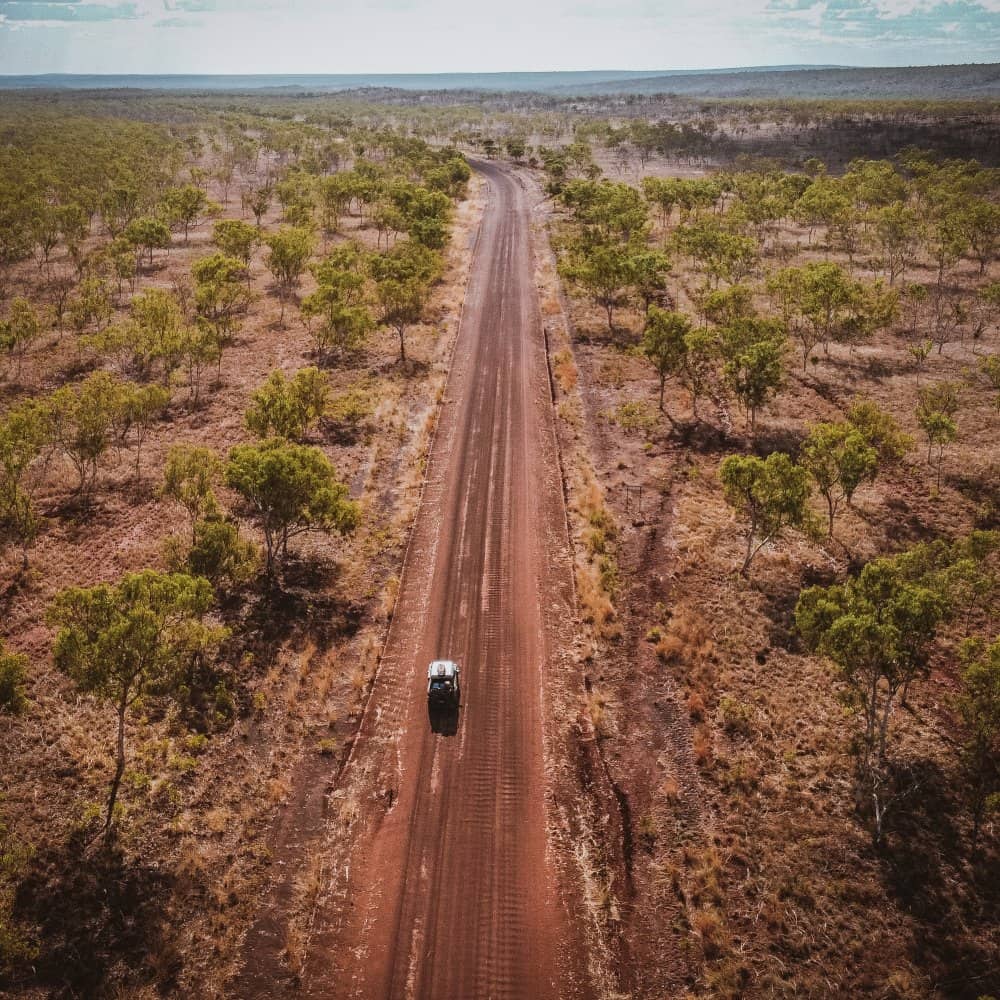 You WILL need a 4WD for the Gibb.
This is because the Pentecost River is a relatively large crossing and most of the Gibb River road is dirt (which isn't regularly maintained). If the Pentecost River level is high, you won't be able to go through it without a 4WD.
There are also quite a few other river crossings along the way including many "offshoot" 4WD tracks you can try your luck on.
The road is not well maintained and only graded one or two times a year, so expect the corrugations to be very heavy at times. This is why we recommend 4WD only.
Caravans can easily access and go through here, but they should be 4WD and have a good suspension. Put simply, on the Gibb, plan for things to break, and have extra fuel, water and safety supplies.
When is the best time to visit Gibb River Road?
The unique gorges are the main reason anyone will drive the Gibb River Road.
With that in mind, the best time to explore them is close to the end of the wet season coming into the dry season – April or May. However, Gorges are not the only thing Gibb has to offer. You can travel anytime in the dry season, between April and November.
The road is closed during the wet season because the river crossings flood, making it too dangerous to go through. But the council grades the road after the wet season, just before it's opened again to the public.
Keep Reading: When should you visit Gibb River Road?
Where to stay on Gibb River Road?
There are plenty of options to stay, but they fall into two categories – free or paid camping.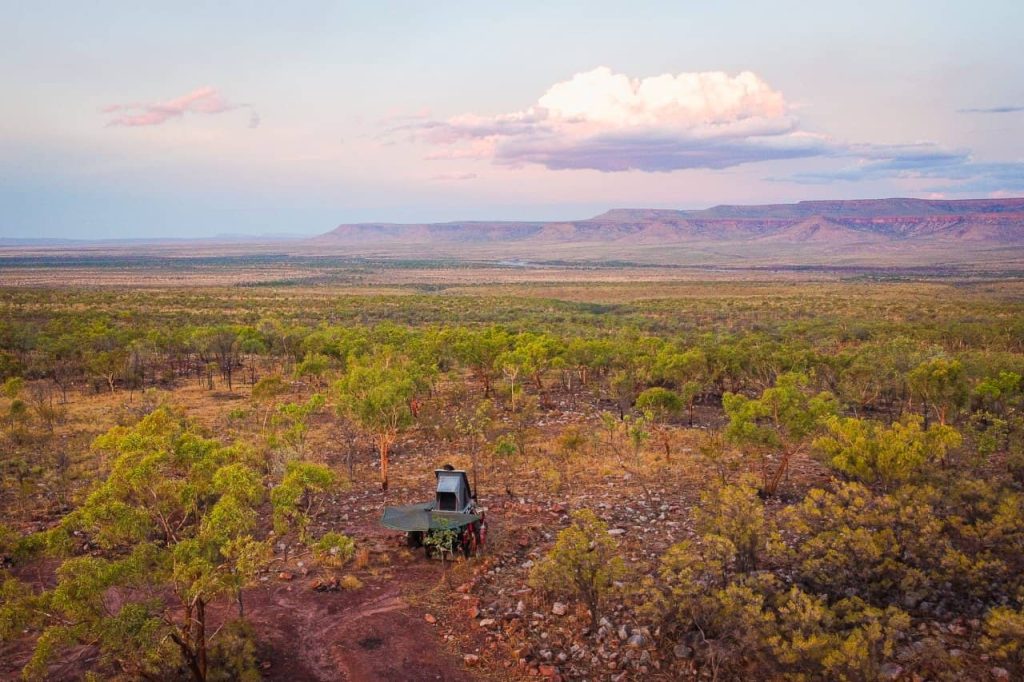 Free camping options
We free camped a lot, almost every night. And if you want to live the Gibb River Road adventure to its fullest, we recommend you at least do a few nights of free camping. You can collect firewood along the way too.
To find the best spots, we used the app WikiCamps Australia. Just make sure to download the map of the area to your device before losing coverage!
TBH, there's no need to pay for accommodation along Gibb River Road if you are trying to do it on the cheap. That being said, the station stays below are AMAZING so it would be a shame to not visit at least one.
Keep reading: Our favourite campsites in Gibb River Road (free and paid).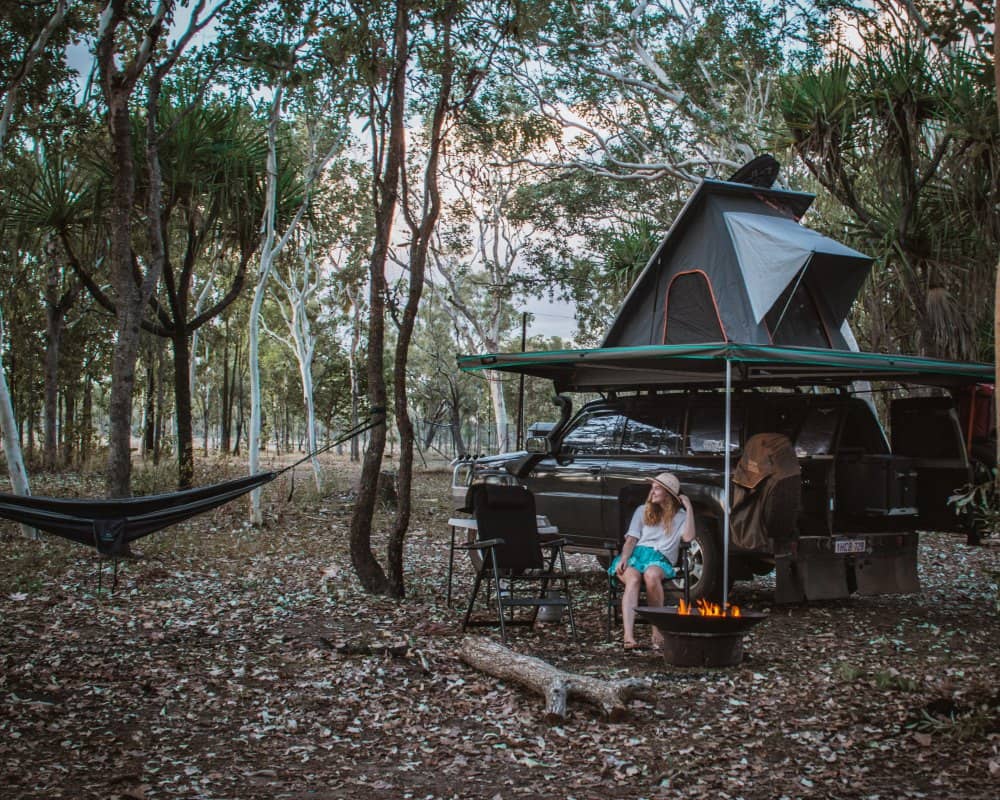 Paid accommodations
There are paid accommodation options along the Gibb. If you are travelling by caravan then these will be your best options.
Most working cattle stations offer accommodation. Some provide food, bathroom facilities, and even kitchens, while others are exclusively for camping.
Most have non-powered campsites and while booking ahead is recommended during the peak season, most stations do normally have an overflow area.
---
---
Popular paid camping sites include:
Prices will vary depending on the luxuries available and you'll have to book in advance. Also, some of these stations provide guided tours to nearby attractions.
We stayed at Mt Elizabeth station in a stunning non-powered campsite. With trees all around us and great facilities, it was hard to leave! Plus we paid for a cooked breakfast which was a welcome treat.
6 tips to plan your Gibb River Road trip
Now that you know all the basics, it's time to plan your trip to Gibb River Road. It can be overwhelming, but these tips will help you with that:
1) Decide which way you'll be travelling
Will you be travelling from the east to the west coast (Kununurra to Derby), or the other way around? Most people choose the first one, but we went from Derby to Kununurra – both are great!
Deciding this first will help you map the gorges you want to visit, decide where you'll stay, and make it easier for you to book any accommodations or activities you want to do.
It doesn't matter which way you start at all. If you are coming from the Northern Territory side, then you would start at Kununurra. If you're coming from Broome, then you will start at Derby.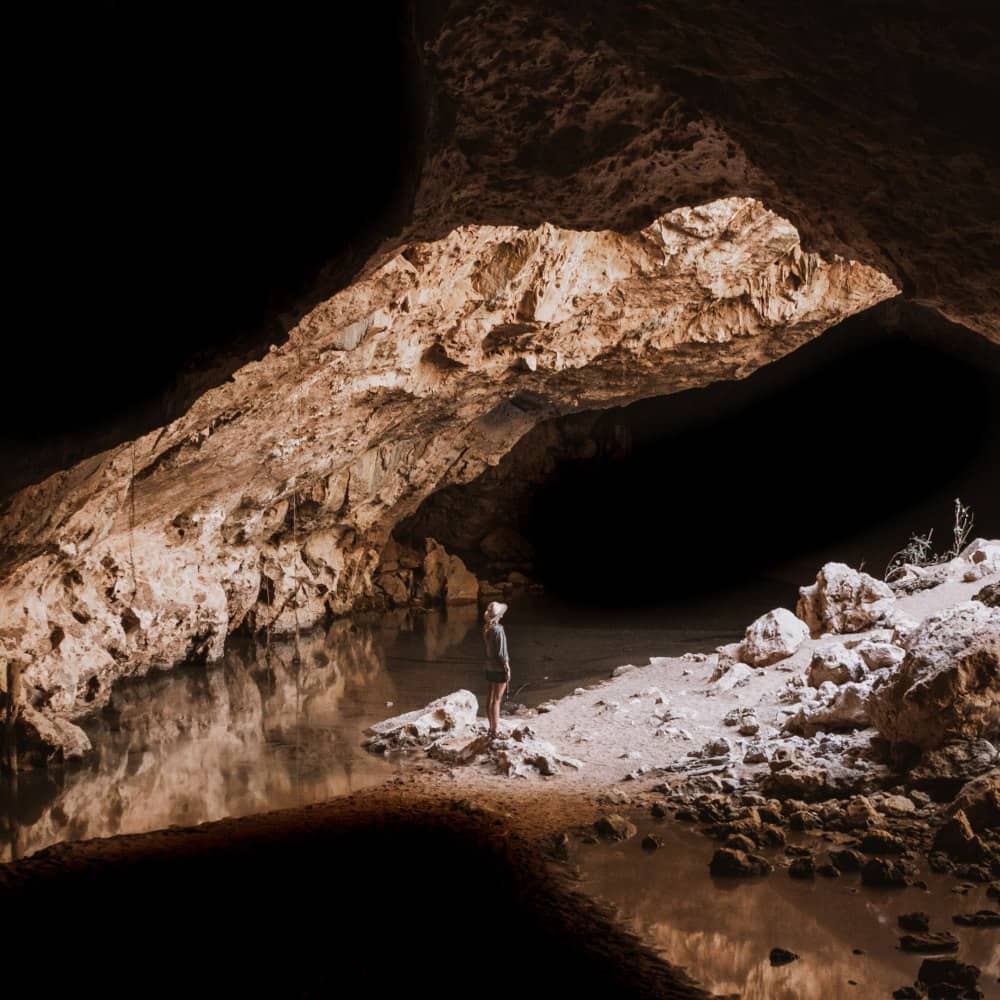 2) Plan when you'll visit and for how many days
When to go? Consider this:
To see the gorges at their fullest, visit early in the season but keep in mind that humidity will be high during that time. Also, the rivers will be high so crossing them may be deep. You will need to be in a 4WD capable of potentially deep crossings.
The middle of the season is best weather-wise, but there will be many tourists. There are many "offshoots" 4WD tracks that you can do to get away from the crowds or leave early each morning.
The end of the season has good weather too and there are fewer people, but the gorges won't be as magnificent.
How long do you need to go for?
7-14 days is the recommended time, so you don't have to travel too far each day. Being 660km you don't want to drive too far each day.
Whenever you decide to visit, we think you should take at least 10 to 14 days to have the best experience.
We only took 7 days, because some sights were closed during our visit. Closures are rare but you can check them prior to visiting here:
And what about permits?
You don't need a permit to visit, but you do need one for roads into the Mitchell Plateau. You can read more here.
You can fast-travel the Gibb River Road in less than a week, but it's best to plan several stops along the way, so you'll be able to explore and enjoy the unique sights.
This is definitely not one of those adventures you rush through, it's a bucket list item! Give yourself plenty of time to enjoy all Gibb has to offer.
Most people regret sticking to schedules too tightly and not exploring more. So, you may want to consider adding a few more days to your itinerary to give room for this.
3) Planning fuel
There are actually a few stops along the Gibb River road for fuel. However, do not rely on them… The Gibb is very remote. Sometimes the fuel truck just doesn't get out there and the Roadhouse has no fuel. Not to mention the crazy prices.

Coming from the Derby side, Mount Barnett Roadhouse was the first fuel stop and around about halfway along the Gibb. We topped up fuel here even though we probably had enough to get through to the end.
The reason is there are heaps of fun offshoot 4WD tracks and we didn't want to miss out just because we were trying to save money on fuel.
We recommend bringing at least 2x 20L jerry cans worth of extra fuel along with completely fuelling up Kununurra or Derby. Our 4WD drive had a secondary fuel tank so we just brought 1x 20L jerry can for emergencies.
Make sure you buy metal jerry cans if you can. The plastic ones can crack on the corrugations and don't hold up well in the heat.
4) Essentials to bring in your car
You should prepare to be self-sufficient for most of the trip, as stores and cattle stations are sparse. Also, these essentials apply to most people, but your list will entirely depend on the characteristics of your trip.
At the very least, you should have:
Spare fuel – more so if you want to go off main roads.
Spare tyres, a tyre repair/replacement kit, and an air compressor.
A basic mechanic tool kit.
A Personal Locator Beacon (PLB) or SAT phone.
Recovery tracks (Maxtrax).
Fire extinguisher.
First aid kit and snake bite kit.
Camping gear.
Water storage. Bring plenty! It's hot. 60L per person is a good start.
A water filter and/or water purification tablets.
Flashlight with extra batteries.
Appropriate clothing and enclosed footwear, which can handle getting wet.
Lots of sun protection and insect repellents.
Finally, discuss with your mechanic what spare parts you should bring, and learn how to replace the basic stuff.
If you have never changed a tyre on your vehicle, we recommend just doing a "test run" tyre change before you go. The likelihood of you getting a flatty out there is high. Also, make sure it has air in it!
5) Stock up on supplies
Take as many supplies as you can with you, and bring for extra days just in case too. While there are places you can buy groceries, do minor repairs, and fuel along the road, they are expensive and far between.
Apart from fuel and water, stock up on fresh and nonperishable food. And if possible, cryovac as much as you can – this will help your food last for longer while saving you tons of storage space.
Also, bring extra drinking water if you can. You'll be actively hiking and this is a hot country – you'll need more water than usual. The recommended is 9 litres per day per adult.
Stock up on 100% juice boxes, put them in the freezer even. They're nutritious, extremely refreshing when cold, and will be fresh for the entire trip.
6) There's little to no phone coverage, so plan ahead!
Tell people where you are going and when. Remember to download the WikiCamps map before getting on the road. And if for some reason you need to have internet during your entire trip, consider hiring a satellite internet provider.
Must-see gorges on Gibb River Road
Gorges are the main attraction of Gibb River Road. You'll probably jump from one to another during your trip and be in awe all the way!
These are the most popular ones you must see:
Note: This list is FAR from thorough. For that, we made this guide discussing +10 Gibb River Road gorges. We explain how to get to each one, what to expect, and more.
Emma Gorge
At 83km west of Kununurra, you'll find this incredible gorge. It's within the El Questro Wilderness Park, where there's a resort to stay at that's fantastic too.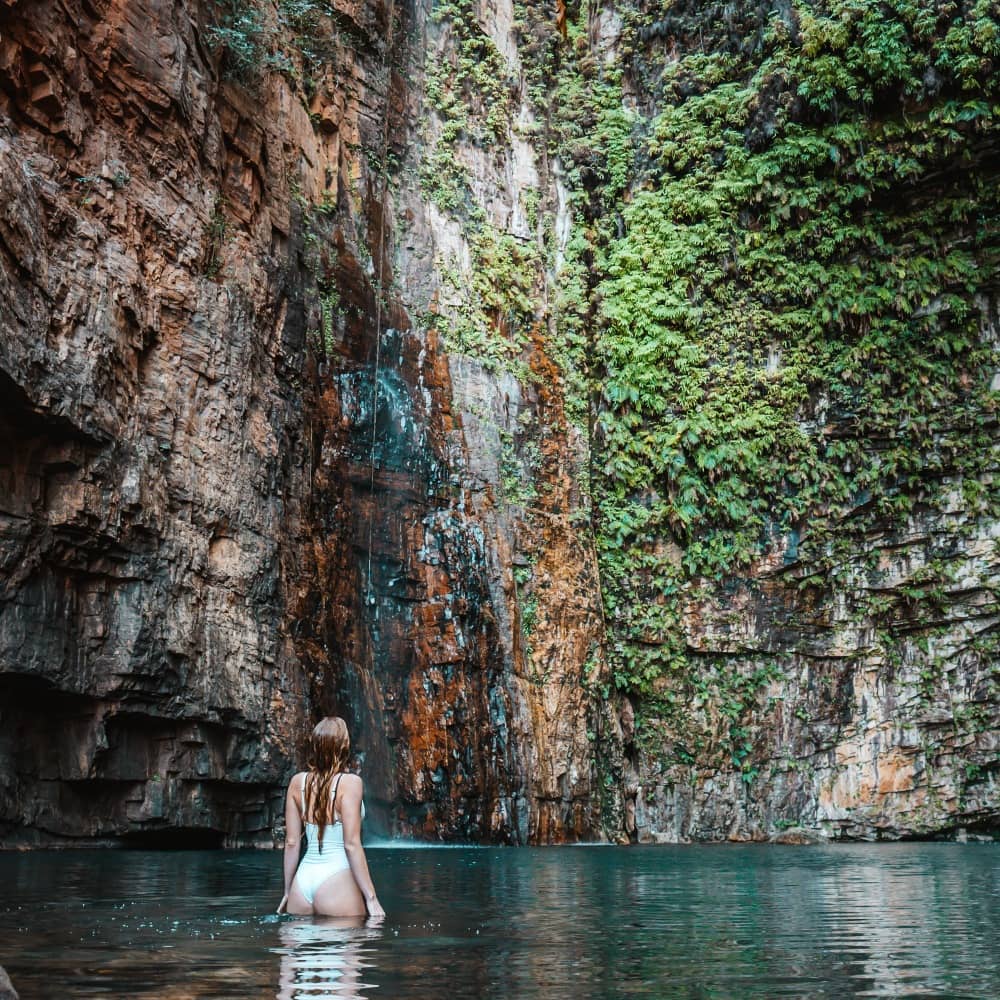 To get to Emma Gorge, you'll have to walk around 30 minutes over rocky ground, but the track is well-marked and easy enough. Watch your footing on the boulders though. The reward is swimming in the oasis created by a 65m waterfall.
You can swim safely in this deep pool, which has plenty of shade by the edge of it. We did spot a tiny freshwater crocodile, but it was just cute.
There is also a tiny hot spring spurting out among the rocks – explore the surroundings to the right to find it…
Allowing 3 hours to enjoy this gorge gives you plenty of time to swim in the oasis, including the hour walk in and out of it.
Dalmanyi, Bell Gorge
This is one of the most famous gorges in the Kimberley, as an impressive waterfall goes into a deep clear pool ringed by a horseshoe-shaped orange wall.
One of our favourite spots to relax and swim, but it can get busy as it's popular with plenty of others. We were lucky to be the only ones there it just depends on your luck, time of year and time of day.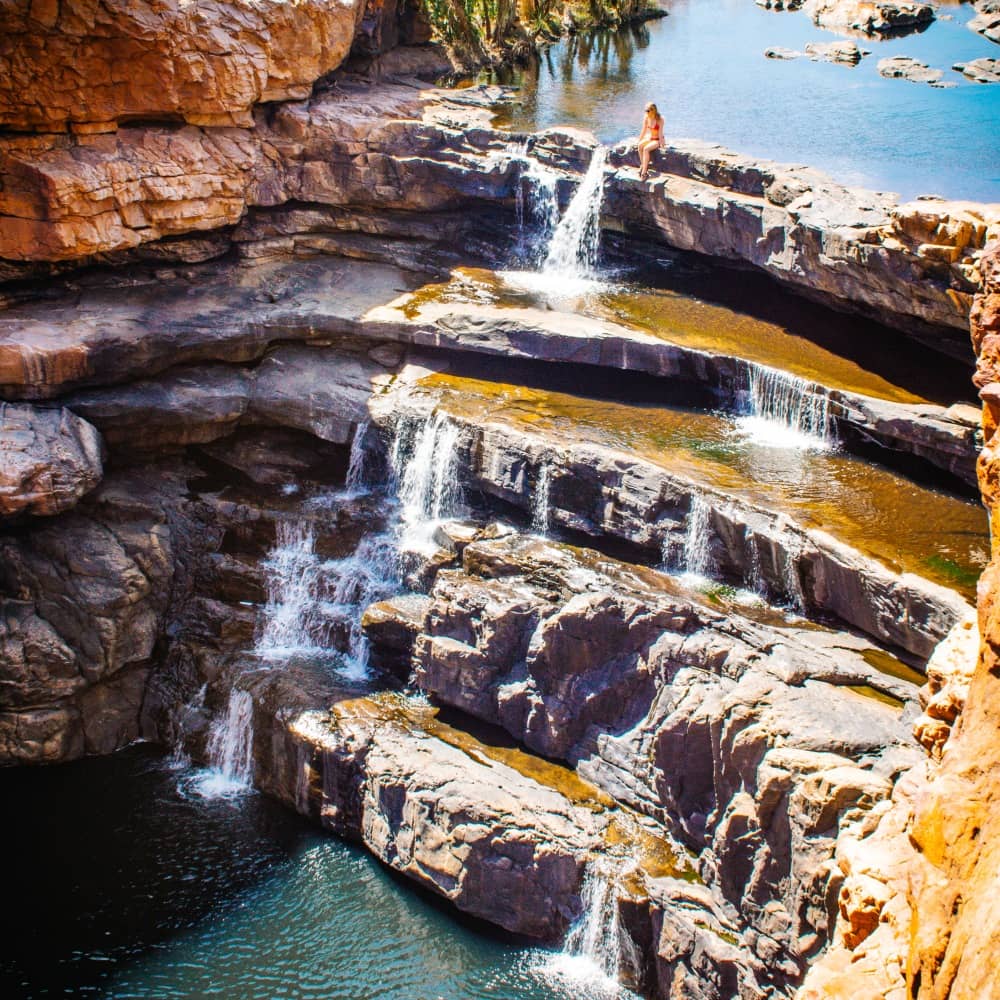 It's located in Wunaamin, King Leopold National Park. The turnoff to the campground and the gorge is about 250km from Derby.
After that, walk 4km (about 1.5 hours) to arrive at Bell Gorge.
Luckily, this is one of the areas where you can swim without crocodiles, so pack your trunks. You can also swim to the next waterfall and see over the edge of the drop there. You'll enjoy soaking up the sun on the rocks near the pool, too.
Lennard Gorge
This is another gorge in the King Leopold Conservation Area. But it isn't as popular as Bell Gorge, which is interesting, considering it's one of the most incredible gorges in the Kimberley – it should be at the top of every itinerary.
To get here, you'll drive a further 8km off the Gibb River Road to Lennard Gorge. From the car park area, it's about a 30-minute walk along an easy track. It's not a challenging walk, but it can get overgrown with long grass, so be careful.
From the designated viewing platform, you'll look out into a chasm to watch the three streams of waterfalls fall into the pool below. You can't swim in here, but the view is unlike any other -you won't regret it.
Manning Gorge
Manning Gorge is in Mount Barnett station, almost halfway along Gibb River Road. At 306km from Derby and 398km from Kununurra, the hike itself is a cool experience alone!
Water remains in the pools at the base of the waterfalls in Manning Creek all year. But the waterfalls are seasonal, drying up by the middle of the dry season.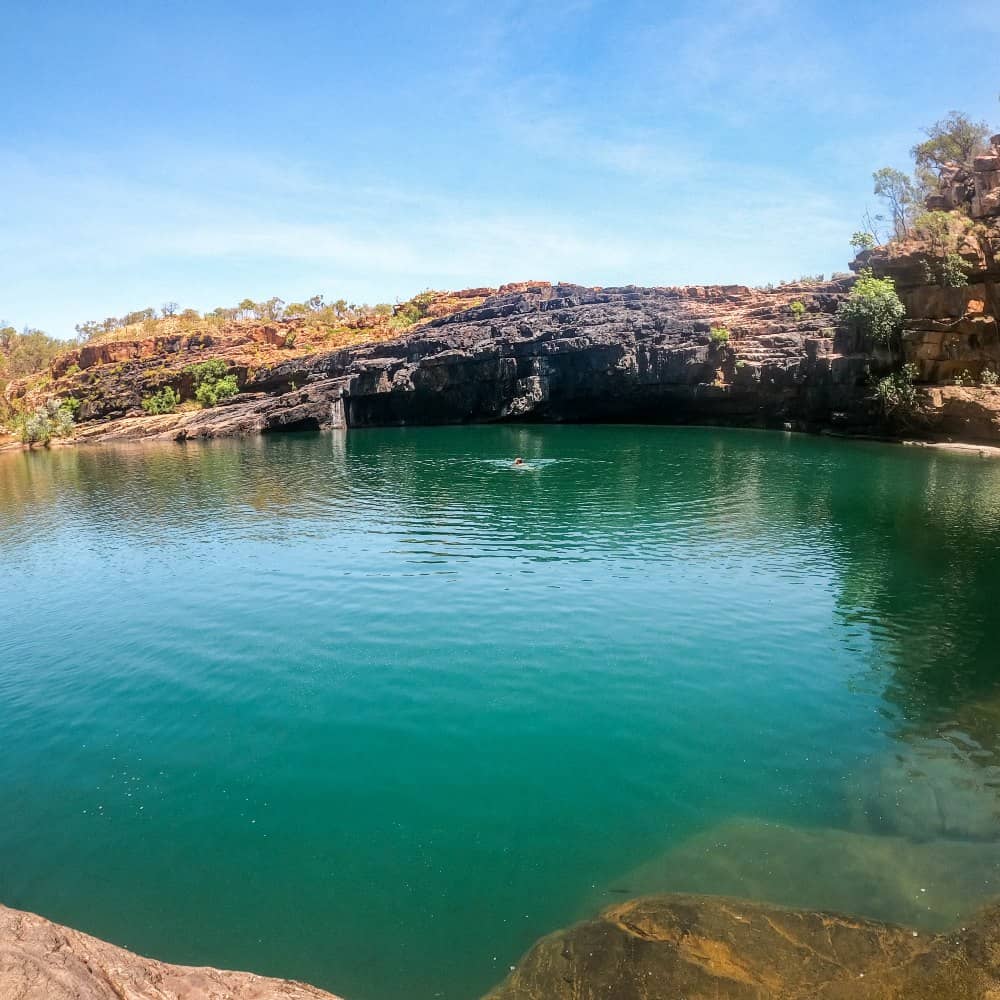 Once you park your car at the start of the walking trail, you'll walk approximately 3km to the top of the gorge. It is a HOT hike, you must start before 10 am in the hottest parts of the year, or they close the hike later in the day. All hikes are hot in the Gibb, bring tonnes of water.
The hike begins at the campground, crossing Manning Creek. You can swim the 100 metres or use the rope guide with floats to ferry your belongings across the creek.
During your walk to the gorge, you'll have to cross a river. We had to use a half-cut barrel to put our gear to cross it, as the water was waist-deep when we went.
Follow the red arrows and markers to climb to the top of the gorge. To see the views of the ranges and savannah woodlands, you'll need to scramble over some rocks, with a steep incline at the end of the trail.
Bandiln͟gan, Windjana Gorge
Windjana is one of the more accessible gorges in the Kimberley, with a 3.5km path winding through the permanent pools of water. You access the ancient gorge through a gap in the gorge wall and see the historic coral reef rockfaces, freshwater crocodiles and sandy white beaches along the edges.
Windjana Gorge is home to many freshwater crocodiles, don't go swimming here. These reptiles will generally leave people alone, unlike their saltwater cousins, but it's better not to test that theory.
Windjana is a spectacular gorge with walls ranging between 30 and 100 metres in height. It's a relatively easy grade walk into the gorge and worth seeing. You don't need a 4WD to access this gorge.
Other attractions along Gibb River Road
There are many different national parks and things to see along Gibb River Road. These are the most popular ones: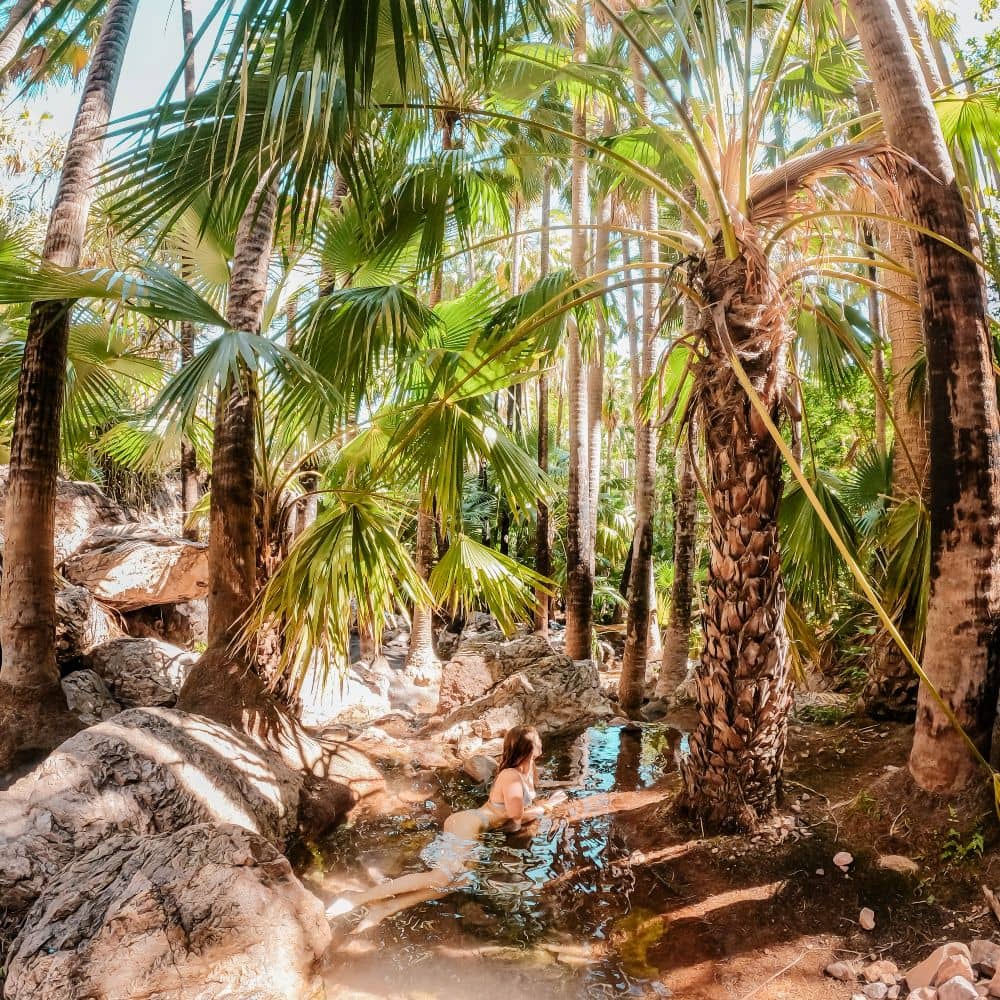 El Questro wilderness park.
Bandilngan (Windjana Gorge) National Park.
Dimalurru (Tunnel Creek) National Park.
Purnululu National Park.
Mitchell River National Park.
The Pentecost River crossing.
The Grotto.
Keep reading: Top attractions in Gibb River Road.
What about Gibb River Road tours?
If driving the Gibb River Road makes you nervous, there are always tours you could try. These are two popular ones:
Outback Horizons Luxury Tours
Choose from a luxury tour or a camping adventure tour of the Kimberley with Outback Horizons. You'll find all the best of the Kimberley region with these experienced tour guides.
Tours include all accommodations and meals, as well as the opportunity to explore the fantastic scenery in this region.
Here's an all-inclusive, 15-day camping tour – the Kimberley Ultimate Camping Tour. Apart from all meals and camping gear, it also includes a helicopter flight over Mitchell Falls! You just have to focus on enjoying everything the Kimberleys has to offer. Check out this incredible tour here.
Kimberley Outback Tours
If you want to travel in luxury 4WD buses with everything all planned and provided for you, using the Kimberley Outback Tours could be the way to go. You can pick from a 9-day "Kimberley Taster" tour or a 14-day "Ultimate Kimberley Tour".
You'll be able to visit some unique places, as the Kimberley Outback Tours have access to some areas that other tourists cannot.
Top tips
There aren't many hardcore full-driving areas unless you go off the track. As for the fuel, we had a secondary tank but didn't use it because we mostly stayed on the main road. We fueled up halfway and had plenty to go.
Now, some sections of the road are really rough. Make sure you have ways to keep everything in your vehicle as secure as possible to avoid accidents.
And when packing, make sure you have sturdy hiking boots. You'll have to walk to get to most of the gorges, and a few are particularly rocky.
Did you know?
Gibb River Road is named after Andrew Gibb Maitland, a geologist and explorer. He's one of the main contributors to the study of geology in Western Australia.
The road itself was built to send cattle from surrounding stations to Derby or Kununurra, and its construction finished in 1956.
FAQs
How long does it take to drive Gibb River Road?
It takes 10 to 15 days to drive Gibb River road and enjoy the gorges and check out other attractions. But you can spend longer – in fact, do so if you can.
How hard is it to drive Gibb River Road?
Gibb River road can be challenging at times, as it's mostly a dirt road that has stretches of heavy corrugations. The ride can get bumpy pretty easily, so prepare yourself (and your car) for it.
Is Gibb River Road 4WD only?
Going through Gibb River road with a 4WD is highly recommended, but not mandatory. If your vehicle can cross the Pentecost river, it could withstand the rest of the trip.
The bottom line
The Gibb River Road means Australian adventure. Driving from east to west Kimberley is a real outback road trip you'll remember forever.
It's well worth planning the two-week journey carefully, to enjoy the most out of your trip. You'll get to explore this unique region and see the incredible gorges, rivers, and rock formations that make this area uniquely Australian.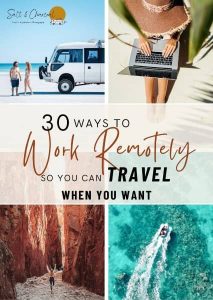 FREE Guide: 30 Ways To Make Money Online So You Can Travel When You Want
Unlock our secrets to consistent online income in Australia. These are tried-and-tested ways we've used to earn money from anywhere – only a laptop with internet is needed! Travel more and worry less.
Our Essential Travel Toolkit
🤩 Trip.com – Consistently great accommodation and hotel deals.
🤩 Hostelworld – Looking for the cheapest accommodation? We especially love the book now pay later feature.
🤩 Rentalcars.com – Best range, super easy to compare prices rental car and motorhome prices.
🤩 Viator.com – Easily book tours and experiences at the lowest rate. Great selection all over Australia.
🤩 Tripadvisor.com – Other than our website…..😉 the best place to find things to do
🤩 Airalo – eSIM store that solves the pain of high roaming bills by giving travelers access to eSIMs (digital SIM cards).
🤩 Caravan RV Camping – Traveling Australia in a van, caravan or bus? Use our discount code "saltandcharcoal" to get $30 off any orders over $300.