Top 7 Coral Bay Tours: Unforgettable Experiences To Enjoy Everything The Ningaloo Has To Offer!
Coral Bay is a small town in Western Australia, famous for having the world-famous Ningaloo Reef on its coast. As such, most Coral Bay tours will involve sailing, snorkelling, and other water-based activities.
Here, you can swim with manta rays and turtles year-round. And, depending on the season, you can swim with whale sharks and/or humpback whales too.
No wonder why it's such a popular tourist spot! It's a little slice of paradise.
Regardless of which Coral Bay tour you choose, the key is to book it as soon as possible. There are very few tour operators there, so spots will fill quicker than usual.
With that said, here are our top 7 tours in Coral Bay. They range from snorkelling to quad biking, and everything in between:
Table of Contents
In a hurry? Here are the top 3 Coral Bay tours:
7 Best Coral Bay Tours
Coral Bay is an expensive town, as its economy is solely based on tourism. And some of these experiences aren't cheap.
That's why some of the tours included have the lowest price guarantee and a "reserve now, pay later" feature. That way, you can secure your spot for free and pay for it a few weeks before the tour date: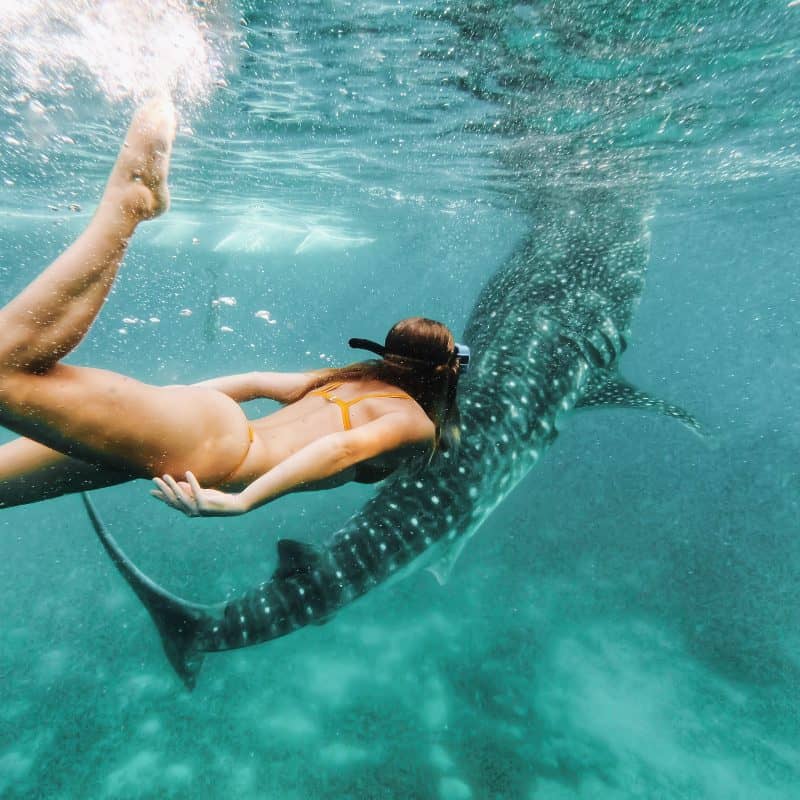 1) Whale Shark tour (full-day)
This tour is available during whale shark season – between March and September. It's a full-day tour, lasting around 8 to 9 hours.
It's one of the best tours in Coral Bay, as it shows everything this side of the reef has to offer.
Apart from the once-in-a-lifetime opportunity of swimming with whale sharks in the outer reef, you'll do a few snorkelling sessions at a few different sites.
You'll be able to swim with all kinds of marine life – reef sharks, sea turtles, manta rays, and tonnes of colourful fish. What a way to scratch this bucket-list experience!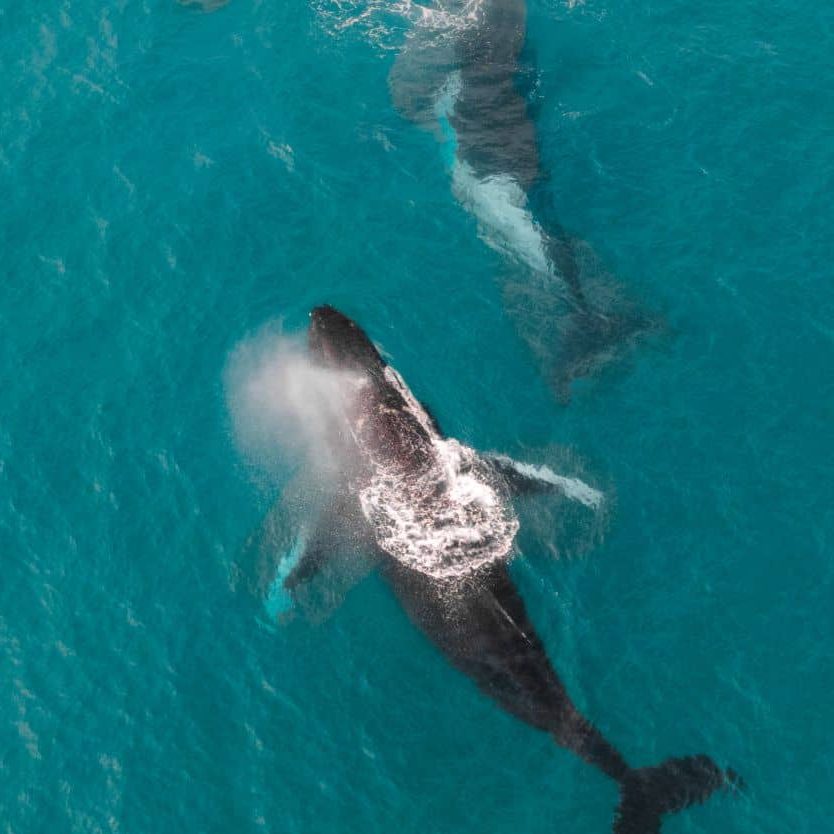 2) Humpback Whale tour (full-day)
If you'll visit Coral Bay between June and October, don't miss this opportunity! Much like whale sharks, humpback whales migrate through these coasts each year, and you can swim with them during your stay.
Now, some people just want to go whale watching, not so much swimming with these gentle giants. If that's you, this tour operator also offers the opportunity to watch them from the boat.
3) Manta ray tour (full-day)
You can't say you went to Coral Bay without swimming at least once with the graceful manta rays.
These are some of the permanent residents of the Ningaloo Reef. This tour will take you swimming with them in Bateman's Bay, with the help of a spotter plane.
Your guides will also take you to the turtle sanctuary, where you can observe them swimming around the coral gardens.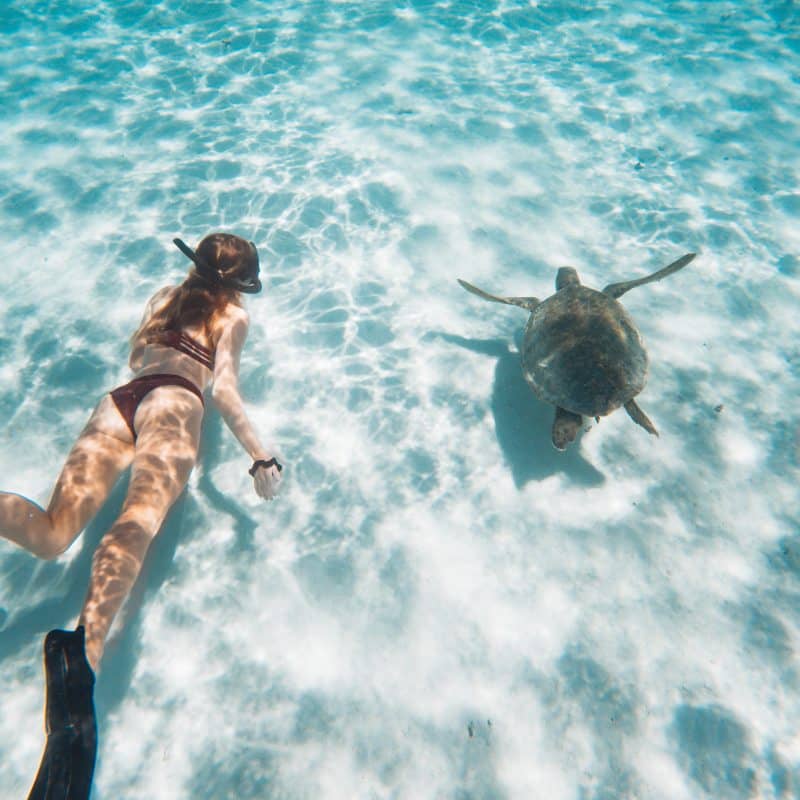 4) Snorkelling tours of 1, 2, and 3 hours (swim with turtles!)
This operator offers snorkelling tours of different durations, which is perfect if you want to plan your own itinerary. You can string one of these snorkelling tours and other ones for a mindblowing Coral Bay visit.
As for these snorkelling tours, they are all in a glass-bottom boat. You'll watch turtles swimming under you, hundreds of fish feeding, and all the wildlife that resides in this reef.
Apart from the expert commentary, the guides will also take you to one or two incredible snorkelling sites, depending on the duration of the tour. The snorkel equipment is included. Learn more about them here:
5) Snorkel and quad bike tour (2-3 hours)
In Coral Bay, you can combine the thrill of riding a quad bike on the beach with the peace of coral viewing in one tour.
This operator offers tours where you can drive a quad over the soft sands of Coral Bay, and then jump in the water to snorkel Five Finger Reef.
You can also choose to just drive on the beach. Or even better – have a sunset drive. You'll get the adrenaline rush either way!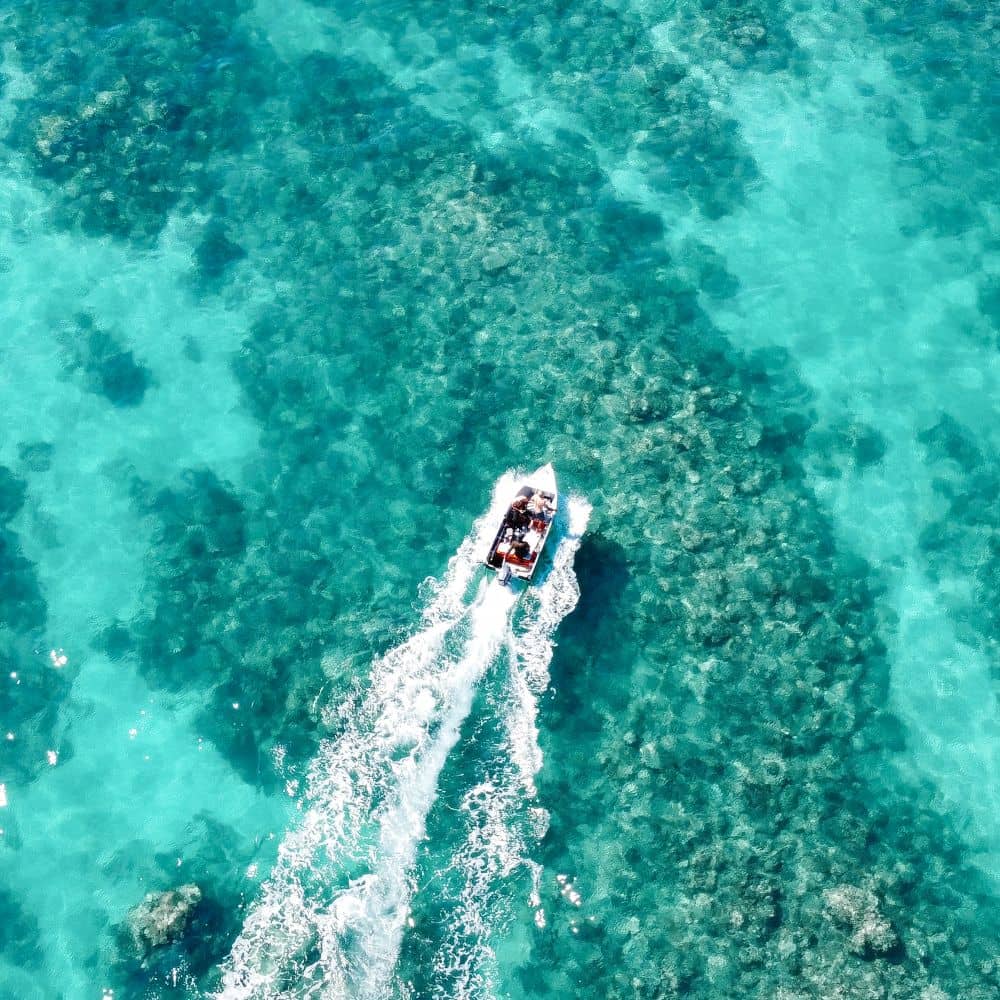 6) Cruise the Ningaloo Reef Tour (6 days)
True ocean lovers will want to take their Coral Bay visit to the next level, sleeping out in the sea for 5 nights in the catamaran "Shore Thing".
This luxury, small-group tour starts and ends in Coral Bay. An expert guide will be aboard, all meals are included, and there's also kayaking, snorkelling and scuba diving equipment. You'll have everything to fully immerse yourself in the Ningaloo Reef (pun intended!)
You'll be going from one snorkelling spot to the other, seeking out dolphins, dugongs, and whales. Not to mention watching the sun rise and set from the deck every day.
The experience ends with a manta ray tour and one final snorkel.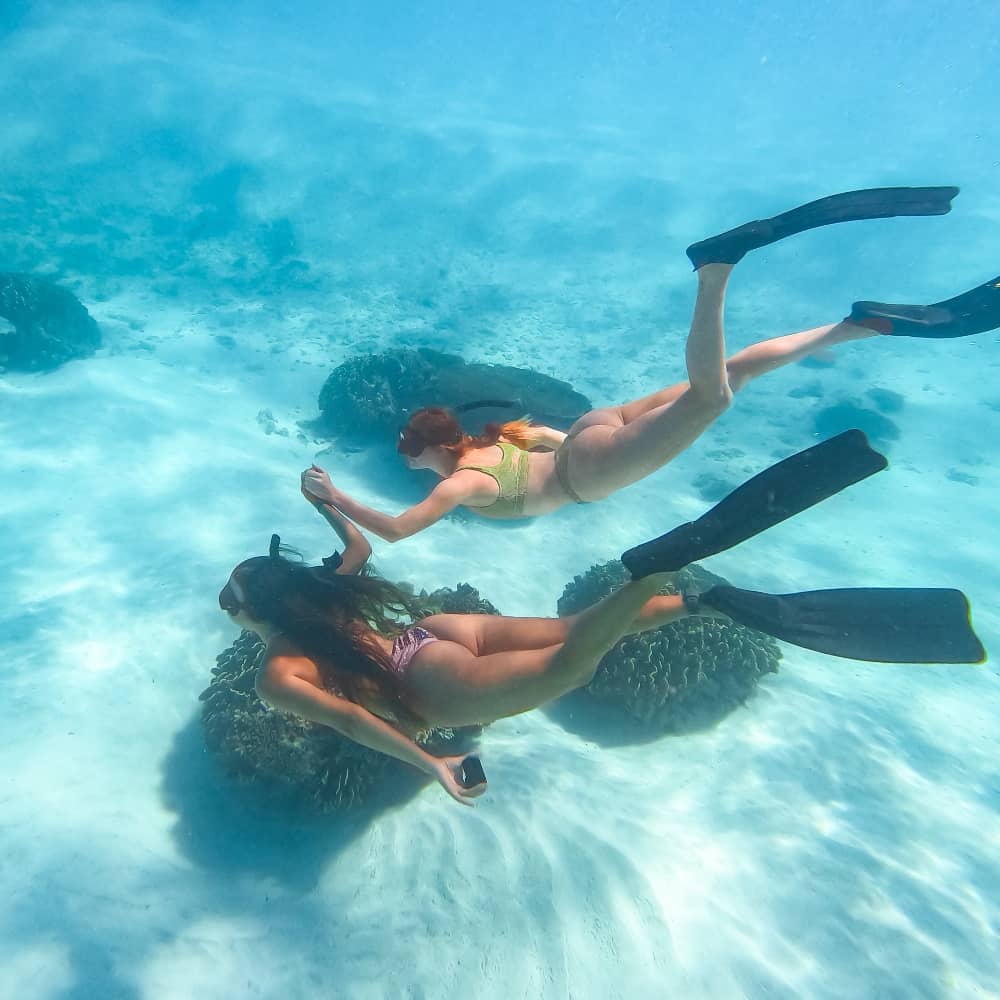 7) From Perth to Ningaloo Reef Tour (7 days)
For those who want to enjoy everything the Ningaloo Coast has to offer, but don't want to waste energy planning, look no further.
This tour starts and ends in Perth and includes everything – transport, meals, accommodation, and an expert guide.
It will take you to all the main spots of this side of Western Australia, including:
Kalbarri National Park (Nature's Window, Kalbarri Skywalk, Z-Bend…).
Shark Bay.
Pink Lake.
Monkey Mia.
Eagle Bluff.
Coral Bay (you'll spend a full day here).
Turquoise Bay.
Carnarvon.
Geraldton.
There will be tonnes of snorkelling and wildlife spotting. Plus, if you visit during humpback or whale shark season, you can do a megafauna tour during your visit to Exmouth!
Other things to do in Coral Bay
There are dozens of things to do in Coral Bay, most of them included in the tours above – i.e. scuba diving, snorkelling, swimming with whale sharks, humpback whales, manta rays, turtles…
And yes, most of these activities are paid. But there are many free things you can do here too! Like visiting the shark nursery, watching the turtles off Turtle Cliff, fishing, etc.
Keep reading: 10 fun and free things to do in Coral Bay
Top Tips
Whale shark and humpback whale seasons overlap in July. If you plan to visit in that month, there's a really good chance you'll see both of them! Now, tours to swim with these gentle giants are pricier in Coral Bay compared to Exmouth, but they're worth every penny.
On that note, book all the tours you'd like to do as soon as you can. Coral Bay doesn't have a wide variety of tour operators, meaning that spots will fill much faster compared to other tourist towns.
Also, we recommend stocking up before you go to Coral Bay. It's a small village with some essential services, like a mini-mart, bakery, and post office, but not much else. And try bringing your drinking water too, you'll be charged extra for it.
Did you know?
The Ningaloo Reef is a fringe reef, so it 'fringes' or abuts the beach. You can't collect flora or fauna (including shells or coral).
Exmouth is another coastal town, just a 90-minute drive north of Coral Bay. There's plenty to do there, including checking out the beautiful Cape Range National Park. Try to visit it if you can!
Learn More: 7 Awesome things to do in Exmouth
FAQs
How many days should you spend in Coral Bay?
We recommend spending one or two days in Coral Bay. The town is small, so that's plenty of time to snorkel and enjoy the surroundings.
In the best-case scenario, you can include this visit in your itinerary when visiting Exmouth.
What is the best time of year for Coral Bay?
The best time of year for Coral Bay is in winter, between June and August. The weather is amazing and it coincides with whale shark and humpback whale season.
However, accommodation prices tend to be higher. If you want to visit Coral Bay in a cheaper month, November may be your best bet.
Is Coral Bay or Exmouth better for snorkelling?
Coral Bay and Exmouth are both excellent for snorkelling, as these are on the coast of the Ningaloo Reef.
But if we had to choose, we'd pick Exmouth just because there are more beaches to snorkel from, compared to Coral Bay.
The bottom line
Coral Bay is a slice of paradise, with the Ningaloo Reef on its coastline. During your visit, you'll get to snorkel its dense coral formations and see the wide variety of marine life that resides there.
There's so much to do there, it will easily be the trip of a lifetime. But make sure to book ahead, regardless of which tours you want to do – spots fill very quickly!
FREE Guide: 30 ways to work remotely so you can travel when you want
This PDF has ALL the tips and tricks we've learned over the years to be the digital nomads we are today.
These are tried-and-tested ways we've used to earn money from anywhere – only a laptop with internet is needed!