Truma Combi D6 Review: Is This Diesel Hot Water System Better Than Gas?
When outfitting our 1993 Toyota Coaster bus, one of the biggest challenges was choosing between a diesel or gas hot water system.
Gas takes up a lot of space, and it's just another fuel we have to worry about running out of on the road.
We knew we weren't too keen on a gas system so we started looking into diesel hot water and heating systems.
How much diesel would a diesel system use? How much space will it take up? We had a lot of questions that we needed answered before we made a decision.
After a heap of research and consideration, it became obvious that the best decision for us was the Truma Combi D6 diesel heater.
Below, we'll discuss exactly why we went with this heater, along with our experience installing it.
Truma Combi D6 Hot Water System Review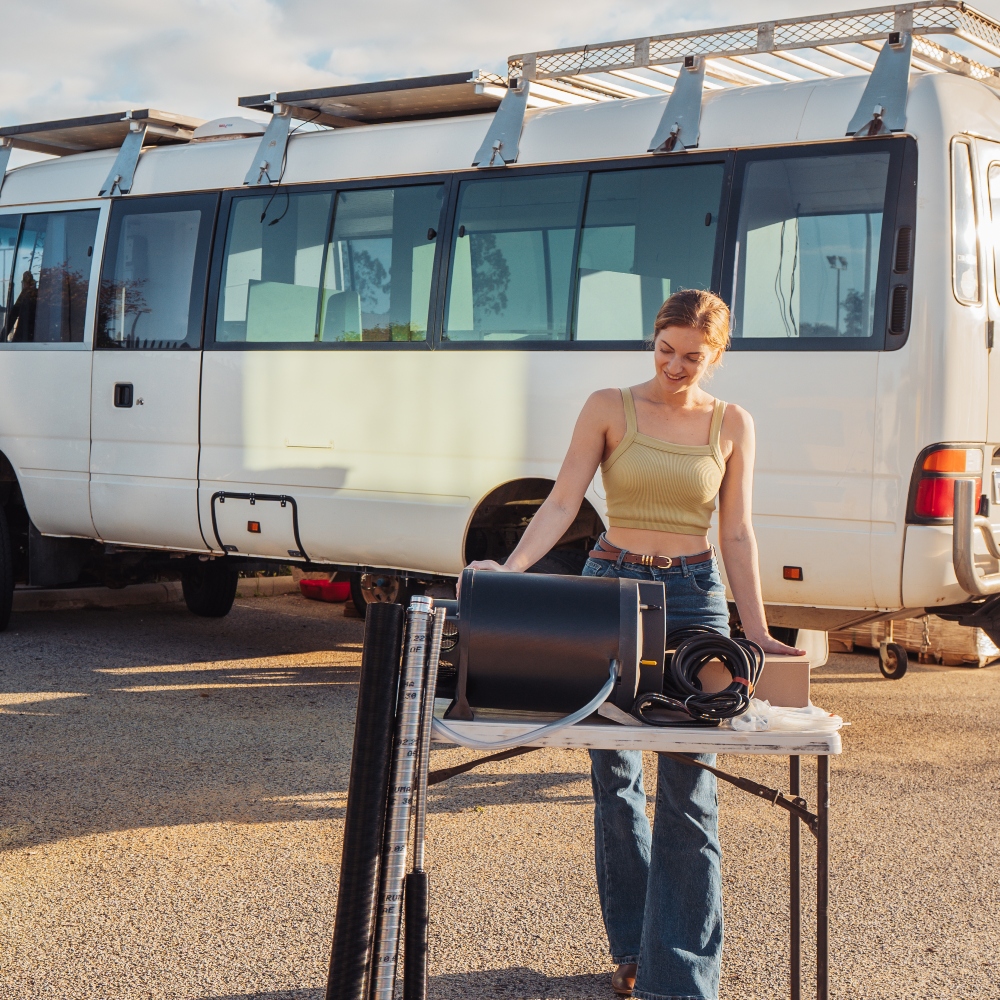 What is the Truma Combi D6?
The Truma Combi D6 is a diesel-powered water heater AND air heater for mobile homes and boats.
It has a water tank with 10 litres of capacity. The unit uses small amounts of diesel to heat it up and it takes around 20 minutes to do so.
The Combi D6 system is also an efficient air heater, with a quiet fan and 4 ducts to run heat. For our Toyota Coaster, which is about 6.5 meters long, this is more than enough heating power.
Why Choose a Diesel Hot Water System Rather Than A Instant Hot Water System (Gas)?
One of the main reasons for us was that our Toyota Coaster runs on diesel so we can connect straight to our diesel tank. Also, we have an electric induction cooktop, so we don't use gas for cooking either.
It didn't make sense for us to add another type of fuel (propane gas) on our trips when we could just tap into our diesel tank.
With that said, these are other reasons why we chose a diesel hot water system instead of an instant one:
Diesel is readily available across Australia
There's nothing worse than running out of propane gas while out in the outback. Not to mention it can be hard and expensive to get a new bottle while travelling through remote places.
This is a key factor when planning a long road trip or off-grid excursion.
Propane gas can be dangerous in a crash.
Gas hot water systems rely on propane gas, which is extremely flammable and can make a car crash infinitely more dangerous. Gas explodes, whereas diesel burns.
Diesel doesn't have the same level of risk as gas, as it only ignites under compression rather than fire. This gave us another reason to seek diesel options instead of gas, for peace of mind.
Diesel heaters save a lot of space
Having a gas heater means multiple gas bottles in the bus, taking up too much space. As we live full-time on the bus, space is always at a premium.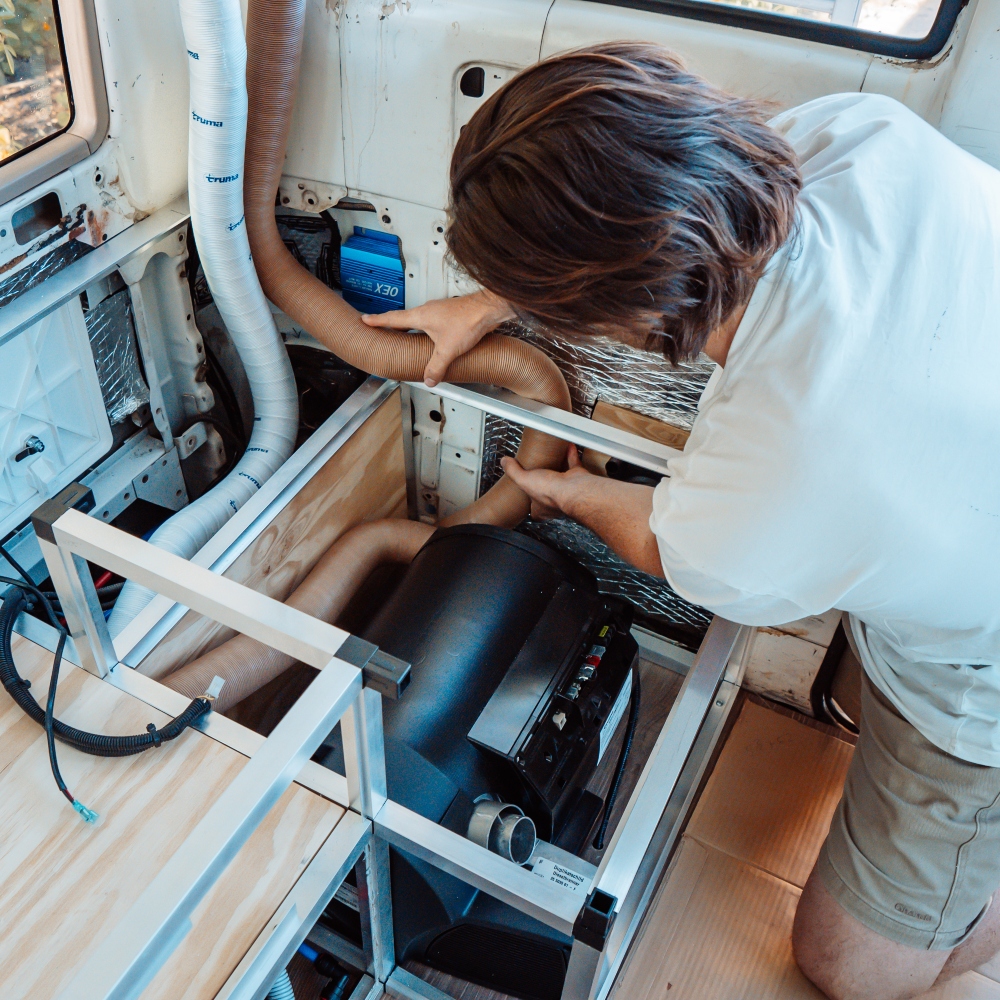 Benefits of the Truma Combi D6 diesel heater
We chose the Truma Combi D6 because it's a powerful diesel heater with a host of features, such as:
Lightweight
At just 17kg, the Truma Combi D6 hot water system is one of the most portable heaters on the market. Its design makes it ideal for tight spaces, and its lightweight construction makes it easy to install anywhere in the bus.
Uses Very Little Diesel
On average, this unit uses 110ml of diesel per hour – it's a huge bang for the buck. This also comes with peace of mind, knowing we can leave the heater on all night, without worrying about running out of electricity or fuel.
For math nerds here's the diesel usage explained:
The unit uses around 110ml of diesel per hour. We carry 180 litres of diesel so we can run it 67 full days straight before we run out (obviously, we would never run it that much!)
Low Energy Consumption
The Truma Combi D6 offers a much lower energy consumption rate than other hot water systems, saving money on electric bills too!
A tip on insulation:
We recommend having really high-quality insulation in your build. We used car builders insulation, which means you can just heat the space up and switch off the unit. Quality insulation will maintain a comfortable temperature for hours afterwards. This will save you on electricity, diesel and lower your carbon emissions in the long run.
Silent Fan
This feature was a big selling point for us, you can heat up your caravan without noise interruption. In fact, it's so quiet you'll hardly notice the heater is on while you sleep on cold nights. This is essential in a small space or if you are frustrated hearing loud buzzing noises all the time in your home.
Pre-Installed Frost Control Drain Valve
The benefit of a frost control valve is another layer of protection ensuring the hot water system runs properly, even during winter.
Digital CP Plus Control Panel
This digital control panel is a tool that makes it extremely easy to adjust the temperature to our liking. It also shows the performance of the system, like fuel consumption rate, water and air temperatures, and more. It's small and easy to use, we have fixed it on our wall next to the bed.
Control the Combi D6 remotely with an app
We can turn the heater on before we even get to the bus and have warm water waiting for us!
That same app lets us control our Truma air conditioner as well, the Truma Comfort Aircon.
Cons of the Truma Combi D6 diesel heater
The truth is that diesel hot water systems tend to be pricier than their counterparts. If cost is a significant concern for you, an instant gas heater might be a better option.
However, do keep in mind the ongoing costs of gas.
This system may not be ideal for infrequent travellers. If you only travel a few weeks a year, it may be best to get a gas system instead.
If your vehicle doesn't run on diesel, you may have to purchase a little diesel tank to use the Combi D6. It can last quite a while, but also consider what other fuels you use. For example, if you cook with gas, you may want to look for a gas heater instead because you are already using gas frequently.
Also, the installation process can be a bit tricky at first. We'll go through that further down, but it's something you should definitely factor in.
Finally, consider if you also have an under-bunk aircon.
If you have one and want to install the Truma Combi D6, you'll end up with a heap of internal ducting.
This unit has a total of 4 separate ducting holes that you must use. You can't combine them with each other. Add that to the aircon's 3 ducts and you'll end up with 7 ducts running through your RV.
In our Toyota Coaster, this set-up is a bit excessive. It takes up a bit of the space through the cupboards! But it is still worth it to us and the more ducting means the more efficiently cooling or heating.
Who Is The Truma Combi D6 For?
With that said, this heater and hot water system is ideal for those:
With diesel-fueled vehicles.
Looking for heating both the RV's living space and water with one system.
Wanting to simplify their fuels (we only have to worry about diesel and electrical).
Wanting to save as much space as possible.
Travelling on the road frequently.
Looking for a reliable and durable hot water system to use in remote or off-grid places.
Preferring a user-friendly and thorough control panel.
We think, if you don't have a diesel engine in your vehicle, the Combi D6 might not be the right choice for you. You may want to look for models that run on gas and/or electricity instead.
Installation of the Truma Combi D6
It took us around 2 days to install the Truma Combi D6 and it was quite a tricky process, with a few hiccups along the way.
Thankfully, customer support was fantastic and the instructions are very detailed. Once you get the hang of it, it becomes much easier.
Just take this into account if you plan on installing it yourself and don't hesitate to reach out to customer support if you need help.
Pre-Installation Instructions
The Combi comes in three different packages, make sure all the parts are there:
The unit.
The cowl (white or black).
The ducting.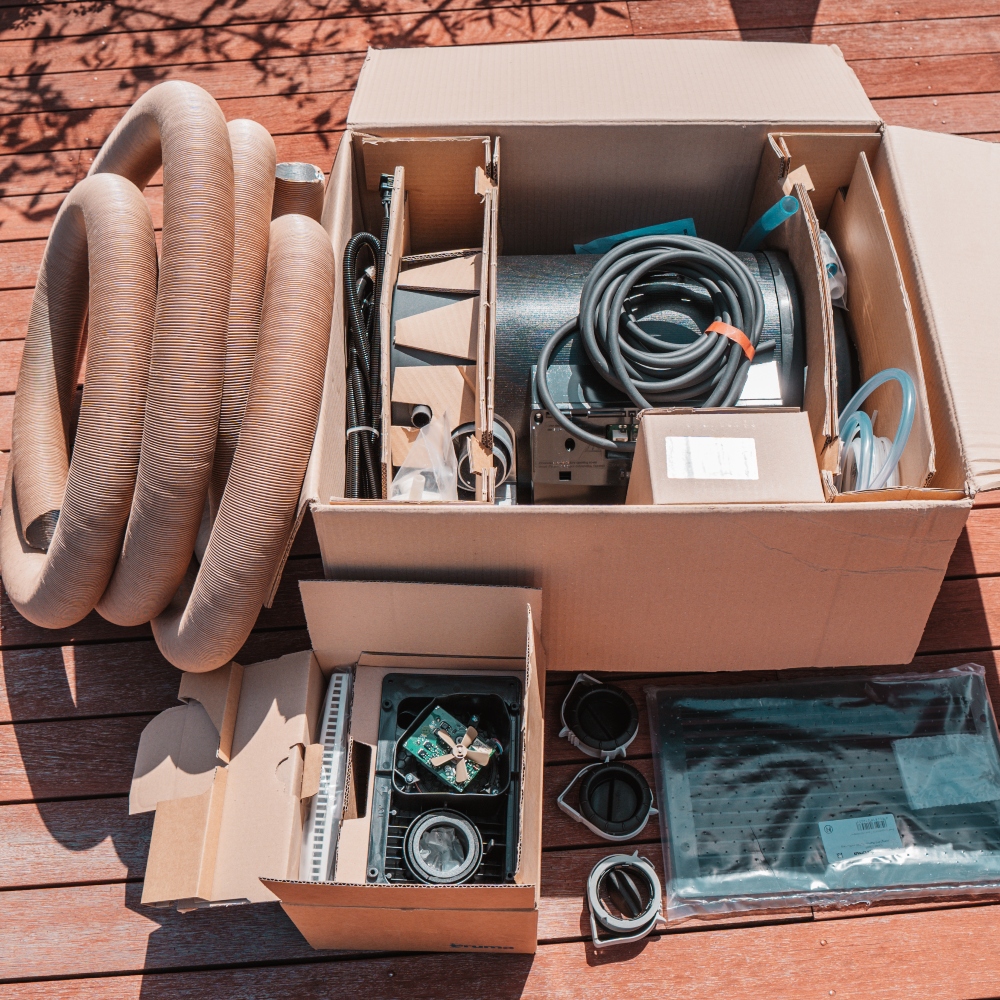 As a German product, the instructions are reliable, thorough and easy to understand. Just make sure you pour yourself a cup of coffee and read through it in full before you start. It took me a couple of beers to get through it!
Next, prepare the area. Keep in mind that the cowl has to be installed in the sidewall of your caravan, so this will limit where you can install the Combi D6 in your vehicle. Truma does provide a paper template to guide your cuts on the floor to make this (much) easier.
Installation Guide
First, select an appropriate location for the system. Take into account both its size, airflow requirements and the exhaust system that needs to reach the cowl. The exhaust system comes in a fixed size for the cowl and can't be cut to size. The position of the unit needs to be perfect to ensure the exhaust can reach the cowl.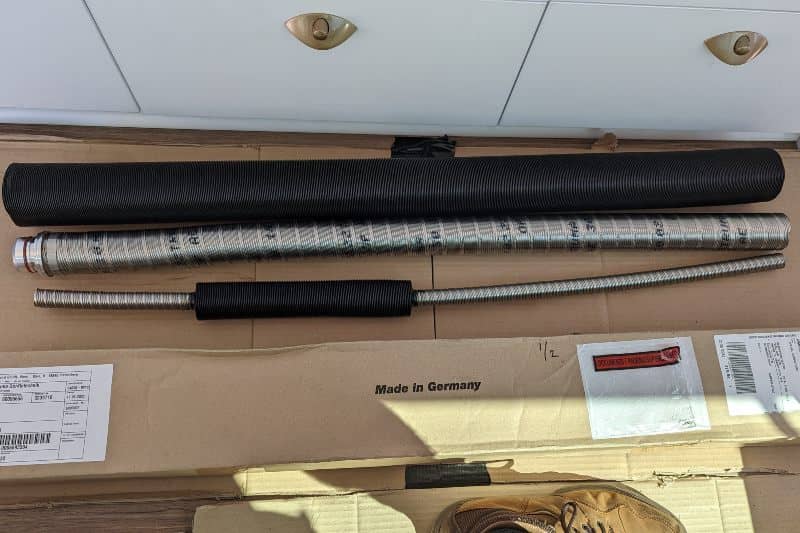 Once you have the position, install the cowl. Using the provided template, cut a hole through your vehicle using a drill and a jigsaw, then screw the cowl in place. In our Toyota Coaster, the outside sheet metal is quite thin, so I used marine ply to back the cowl and give the screws more purchase.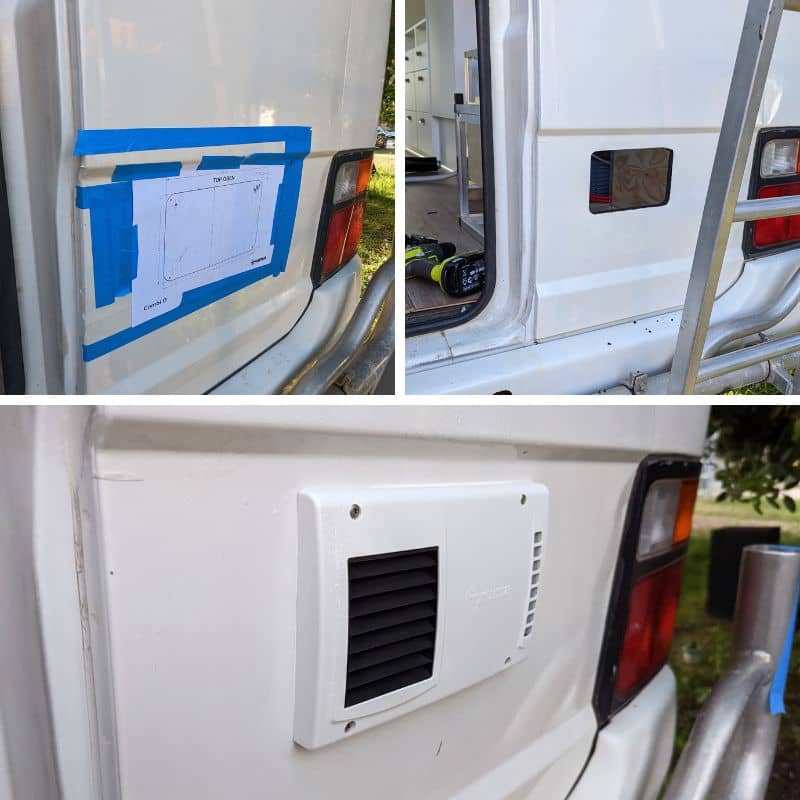 Next, using the template for the main unit, cut and drill the required drainage holes and diesel line holes.
Using the template in the instructions, run your plumbing and connect it to your system. Truma provides fittings for the 12mm John Guest system, popular among caravan plumbing. But, it doesn't include a 12-volt pump – you'll need to purchase that separately.
After that, I secured the heater with the screws provided. I did my best to use every screw and fasten the system down. As we 4WD with our bus, the last thing we want is a flying container full of hot water.
Then, I attached the exhaust pipe. This is a crucial part of the installation process, as it ensures all hot exhaust gases are efficiently removed from the living space. As mentioned earlier, the exhaust ducting is a fixed size that cannot be cut.
Next, I ran the ducting for the air. You'll need to use all 4 of the ducting vents and you cannot combine them. If you have an under-bunk aircon, you cannot combine those ducts together either. Between the aircon and combi, we ended up with 7 separate ducts all running to different parts of the bus.
After, I connected it to our diesel tank. If you have a modern van, Truma provides instructions and components to tap directly into your main fuel tank. As we have a secondary fuel tank, I used my own fittings to connect it.
After connecting the control panel correctly, I secured it to the wall and powered the system on.
Post-Installation Requirements
Once I finished connecting the electrical supply, I tested the heater to ensure it was working correctly.
I used a multimeter to check the voltage levels and ensure that all connections were secure. I recommend replacing or reattaching wires if you find any loose ones.
Where Can You Buy a Truma Combi D6?
We recommend buying the Truma Combi D6 system at authorised retail outlets, online stores, camping stores, and specialty retailers. Our favourite is:
Besides their product variety, their customer support is unparalleled. For example, at first, we chose the wrong length of ducting. But the team at Caravan RV Camping helped us immediately, swapping it out for us and it came really fast in the posting.
You can prevent this mistake by messaging them through their live chat – ask which size will be best for your vehicle and you'll be good to go.
Then, we had issues while installing the product. We reached out to them and they got back to us almost immediately (during work hours). They're very knowledgeable and attentive, can't recommend them enough.
How to Check the Legitimacy of the Retailer?
You can go to Truma's official website. They offer a full list of authorised dealers and service partners you can trust. Using their dealer search bar, anyone can easily find local dealers, service centres, and independent contractors at various locations around the globe.
How Much Does a Truma Combi D6 Cost?
Price points may vary depending on regional pricing and any add-ons requested. But on average, this system costs between $3,500 to $3,900.
It's expensive, but it's absolutely worth it if you want:
More space in your caravan.
A system that works both as a water and space heater.
Savings on electricity.
A durable and reliable system, regardless of your location.
Truma Combi D6 Return Policy
The Truma Combi D6 is backed by a 2-year manufacturer's warranty. So, any defects will be addressed with either a repair or replacement within 24 months of purchase.
But, to get this warranty, you must have it installed by a registered installer. Keep this in mind if you're planning on installing it yourself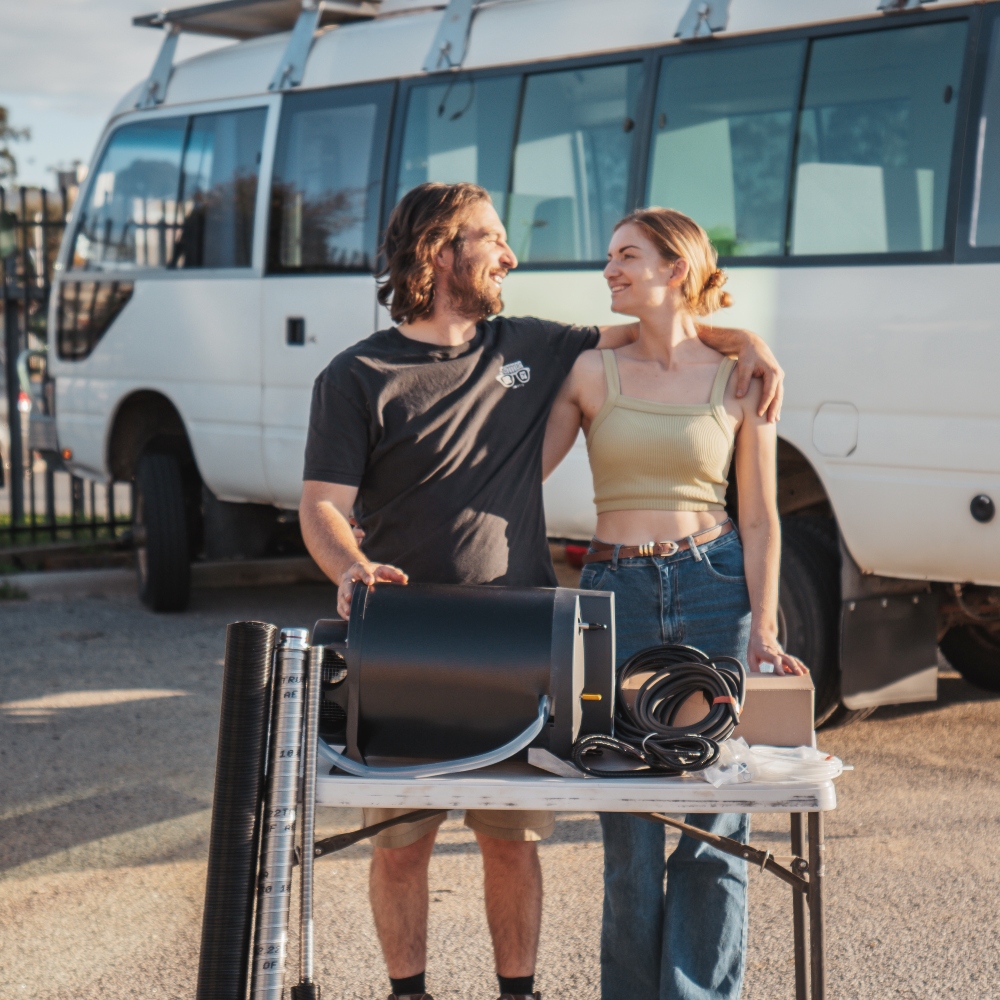 Conclusion
The Truma Combi D6 is an excellent hot water system for vehicles that run on diesel, and for people who like to travel on the road frequently, more so to remote locations.
It saves plenty of space, it's reliable and extremely efficient. It's hard to beat it.
However, the truth is that it's not suitable for everyone. Double-check the features, pros and cons we discussed earlier to determine if you should consider alternative options.
FREE Guide: 30 ways to work remotely so you can travel when you want
This PDF has ALL the tips and tricks we've learned over the years to be the digital nomads we are today.
These are tried-and-tested ways we've used to earn money from anywhere – only a laptop with internet is needed!