Top 5 Whale Shark Tours in Exmouth And Coral Bay | How To Pick The Right Tour For YOU, What To Expect, And More
Most whale shark tours in Exmouth (and Coral Bay) are really good, have raging reviews, and offer similar experiences. This is wonderful! You can't go wrong either way.
But… you still have to pick one whale shark tour. Here's when having so many high-quality options can be a curse instead of a blessing.
It's tempting to use the cost of the whale shark tour as the only deciding factor, but it shouldn't be. Two boats can have different experiences – both of them incredible, but different nonetheless.
The experience itself will depend on the number of passengers, whether the spotter plane is shared, and the policies and guarantees of the operator, among other factors.
But don't worry – this guide will make it easy for you to pick one whale shark tour in Exmouth or Coral Bay. We'll share the best Ningaloo whale shark tours, our own tour experience, and insider tips so you can make an informed decision:
In a hurry? Here's the BEST whale shark tour of the Ningaloo Reef:
Swim with whale sharks in the Ningaloo Reef (3 Island Shark Dive)
Table of Contents
5 Things to consider before booking the best whale shark tour
Apart from the price, you must consider the location of the tour, what's included, the maximum number of passengers, the spotter plane, and the policies/guarantees offered:
1) Location: Exmouth or Coral Bay?
During your visit to the Ningaloo Reef, you can do a whale shark tour in Exmouth or Coral Bay.
We prefer Exmouth, as the likelihood of swimming with whale sharks tends to be higher than in Coral Bay.
This doesn't mean you can't swim with these gentle giants in Coral Bay, though. But there are fewer tours there compared to Exmouth.
We'll recommend the best operators in both places further down, so don't worry.
2) What's included in the tour?
All tour operators include in their prices:
Snorkelling gear.
Hotel pick-up for most accommodations.
Snorkelling sessions. These will vary depending on where the whale sharks are and how long it takes for the spotter plane to find them.
Free photos. Some also offer videos for free, while others provide them for an extra cost.
Food on board. This varies a lot between operators. Some include morning tea and afternoon tea, while others have a gourmet lunch according to dietary needs.
Fees and taxes.
A few operators also offer underwater scooters for a fee. This can be helpful for some, as whale sharks can swim fast. If you aren't in good physical shape to keep up, you may want to consider renting one.
3) Number of passengers
By law, whale shark tour operators can carry up to 20 passengers per boat. This doesn't sound like much but keep in mind that you will swim with whale sharks in groups of 10.
Big groups usually mean fewer swims, but lower prices.
As for smaller groups, they often have up to 10 passengers. This gives a more intimate experience and more swims but for a higher price.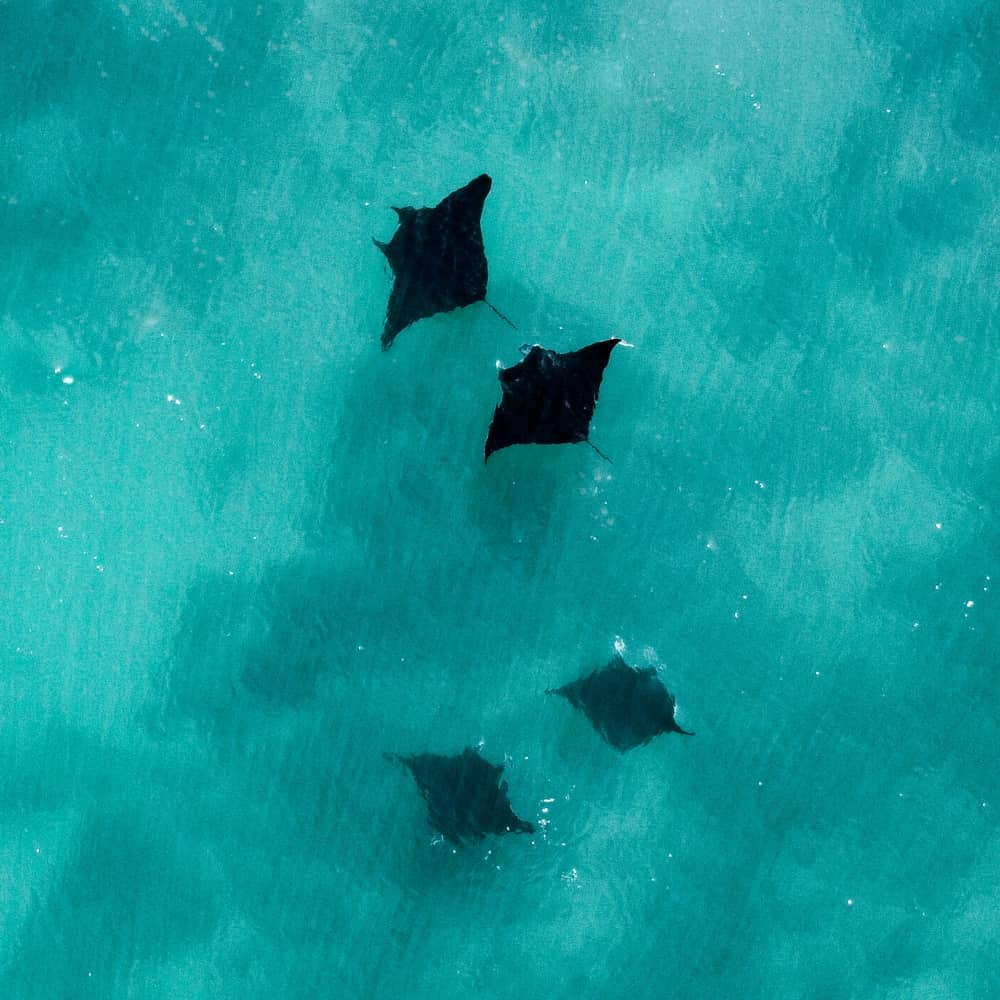 4) Spotter plane
Most tour operators share a spotter plane (up to 4 boats per plane), which makes the tour more affordable.
But sharing a spotter plane means that, when it spots a whale shark, up to 4 boats will go to that same area. And as you can only swim in groups of 10, some people may have to wait in queue for their turn.
The waiting isn't as bad as it sounds, but it's an important thing to consider. Do you mind the wait? Or would you rather pay more to have a dedicated spotted plane for your tour?
On that note, all tour operators work together to make sure every tourist gets to swim with a whale shark. It's awesome, they help each other a lot.
5) Policies and guarantees
As Mother Nature is in control (not the tour companies), the truth is that sometimes whale sharks just don't show up.
This largely depends on the moment of your visit (more on that below), but if that happens, it's useful to check the policies and guarantees of the tour operator.
All tour operators have no-sighting policies in place. Depending on the company, if you don't see a whale shark you could get:
A partial refund.
Another tour for free on the next available day.
A voucher, valid for 2-3 years.
A few companies take it one step further, offering a "Good swim guarantee". So, if there were whale sharks but couldn't swim with them for more than 1-2 minutes, you can go again on the next tour available, for free.
If you'll visit the area for a few days, try scheduling the whale shark tour on the first or second day. So if you need to reclaim a no-sighting policy, you'll still have days left to get on the next tour available.
5 Best whale shark tours in the Ningaloo Reef (Coral Bay and Exmouth)
All these tours are excellent and have great reviews. Also, you'll have the same odds of swimming with a whale shark regardless of which one you pick, as this mostly depends on the season and the weather (more on that below).
That's why the final decision will depend on your personal preferences:
Note: Most of the links included are guaranteed to have the lowest price available – take advantage of that!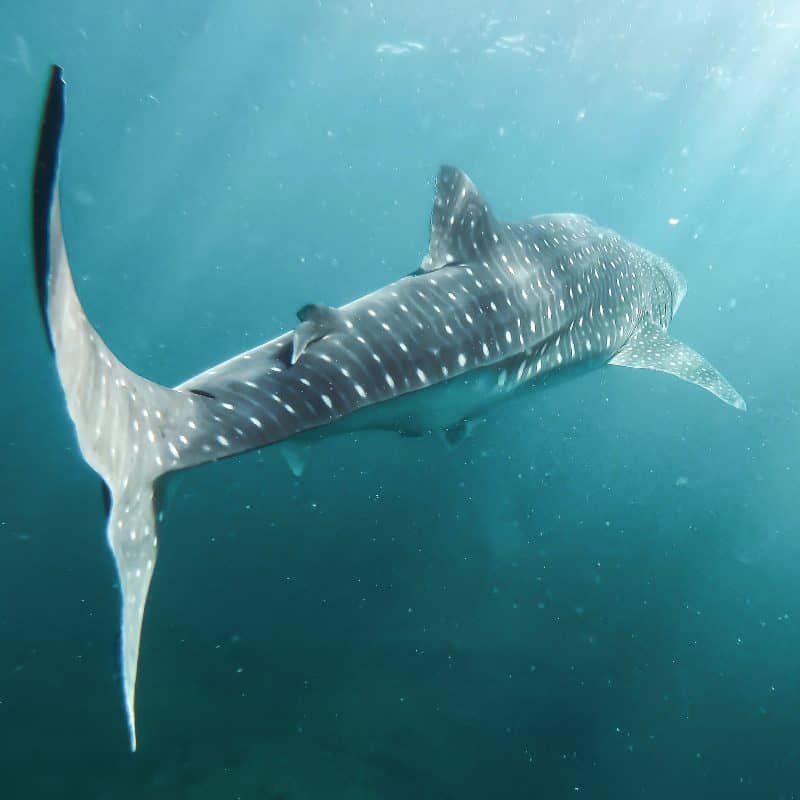 1) Exmouth: Ningaloo Whaleshark Swim (the operator we booked)
This tour has the best value for money. It costs around average, and they have their own spotter plane. This means you won't have to wait in a queue to swim with the whale sharks.
Apart from offering all the basics – snorkelling gear, hotel pick-up, gourmet lunch, etc – they have an excellent Good Swim Guarantee (which we used! More on that later).
So, if you don't get to swim with whale sharks, you can get on the next available tour, free of charge. Alternatively, you can get a 3-year voucher or a partial refund.
2) Exmouth: Three Islands Whale Shark Dive
This is one of the cheapest whale shark tours out there, but that doesn't mean it's low-quality – on the contrary.
Their tours are exceptional, even winning awards for them. They offer all the basics and, although they don't offer a Good Swim Guarantee, they have a solid No-Sighting guarantee.
What we like the most is their efforts to offset their carbon footprint. To do this, they partnered with Carbon Neutral and have planted thousands of trees since then.
3) Exmouth: Ningaloo Discovery
This tour is ideal for those who also want a thrill, as you'll be riding a powerboat. They have kayaking and/or stand-up equipment included in the price, too!
Apart from the basics, they provide a photograph package, free of charge. You get a link that will have all the pictures, ready to download.
4) Coral Bay: Coral Bay Eco Tours
If you'll be in Coral Bay, look no further. This is one of the best tour operators on that side of the Ningaloo.
They include pretty much everything (wetsuits, snorkelling sessions, spotter plane, food), but not photographs.
5) WA NT TOURS: 6-Day Whale Shark Snorkel and Ningaloo Reef Tour
This is the best option if you want to fully experience everything the coast north of Perth has to offer, including swimming with whale sharks.
The 6-day tour starts in Perth and will take you through some incredible places, including:
Kalbarri.
Monkey Mia.
Carnarvon.
Exmouth (where you'll do the whale shark tour).
They take care of pretty much everything for you. Plus, the group is small – 12 travellers tops.
When is the best time to do a whale shark tour in the Ningaloo Reef?
The best time to do a whale shark tour is between late March and July. During this period, these amazing creatures migrate through these coasts.
However, if we had to be extra specific, we recommend doing it in the first weeks of July.
It's a very high season, but that's when the migration of whale sharks overlaps with that of humpback whales. This gives you the best chance to see the big three – humpback whales, whale sharks, and manta rays!
If you are slightly out of the season, like early March and August, it's a bit of a 50/50 chance on whether you see the whale sharks or not.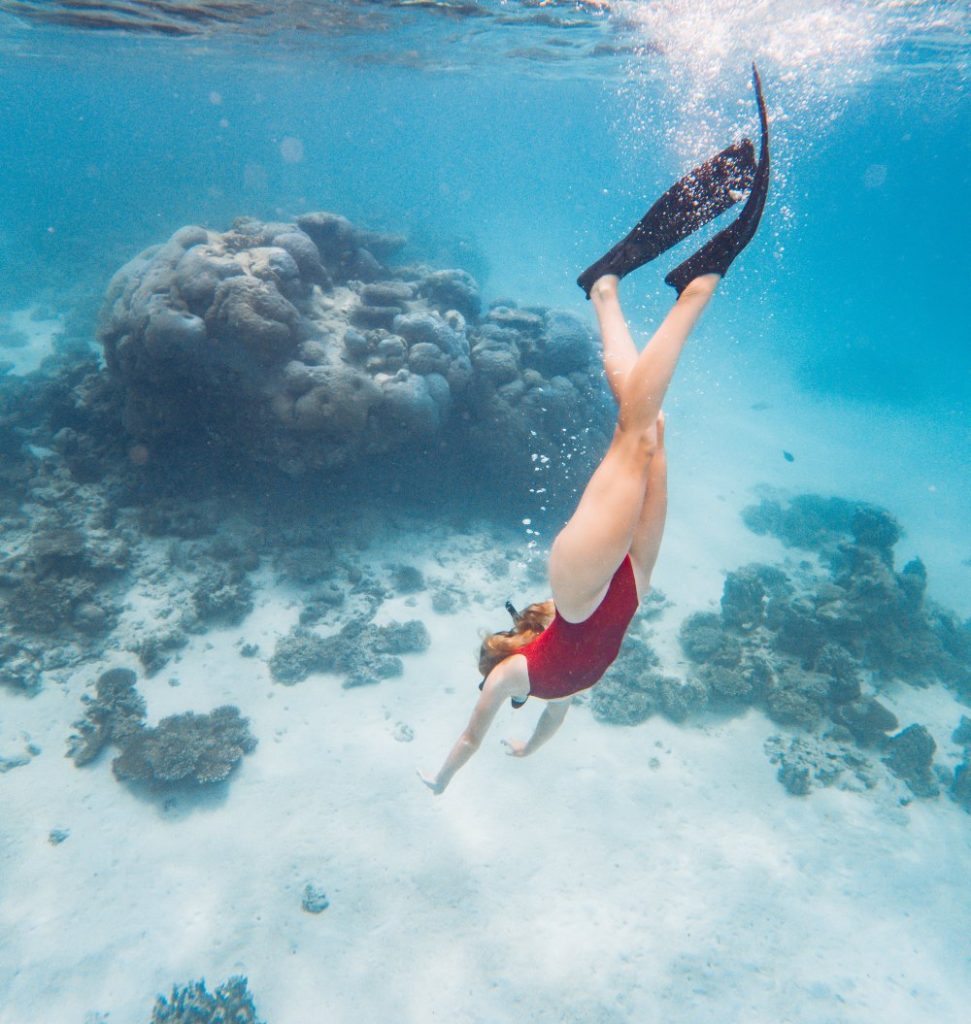 With that said – whale shark tours are 100% worth doing, even if you don't see them.
This happened to us (TWICE!) because we went very late in the season. We still would've paid full price for what we received though, the snorkelling was absolutely incredible.
The guides are mostly locals, so they take you to hidden gems and spots only accessible by boat, thus free of tourists. Also, crews tend to be extremely friendly and caring, which really adds to the experience.
But whichever whale shark tour you pick – book in advance!
Spots fill very, very fast. The good news is that you don't have to pay the full price right away – most of the links above let you reserve now and pay later.
The weather in Exmouth can be a bit unpredictable due to the wind. So, a week before your trip, call your tour operator and ask if your tour date has good weather. If not, they may be able to reschedule you for a better day.
How to prepare for your whale shark tour?
Whale shark tours are a full-day thing, so you'll be out in the sea from early morning until afternoon.
They are very physical tours too. First, because you'll be jumping in and out of the boat a few times. But more importantly, because whale sharks swim very quickly – you'll have to keep up!
That's why we recommend bringing:
Your own energy snacks. Operators will feed you, but extra snacks will keep you going for longer, so you can do as much snorkelling as possible.
Warmer clothes, as the winds make it a bit chilly in the afternoon.
Sea sickness tablets. You'll be on the boat all day and the tour operators don't provide them.
What to expect on the very day of the whale shark tour?
Your tour operator will likely pick you up from your accommodation early in the day (6-7 am, depending on the provider).
After a 40-minute drive, you'll get to Tantabiddi Boat Ramp, the starting point of most tours.
Once you're out in the sea, the spotter planes will start looking for whale sharks. In the meantime, you'll go on a morning snorkel to practice and check out the incredible marine life of the Ningaloo.
The whale shark is spotted – now what?
This is the moment you have been waiting for!
You'll jump in the water, in a spot where the whale shark will swim by your group. After it glides by, it's time for you to follow.
Generally, the whole experience lasts around 10 minutes, or until you are too tired to follow the creature. Then, you get back on the boat, where they take you a few metres ahead to repeat this all over again.
The experience is very exciting and intense, but it's key to remain calm and try to not make too much noise – this can scare the whale shark away.
Top tips
Book your Exmouth whale shark tour ahead of time! We can't stress this enough. Take advantage of pages with "reserve now & pay later" features to secure your spot without spending a dime. Most links included above have this.
Also, leave your photo equipment at home and, if you can, pay for the photography package. Swimming with whale sharks is a once-in-a-lifetime experience and you deserve to be 100% present in it, not worrying about getting the right angle.
Now, to make sure you get enough pictures to remember this day by, pay attention to where the photographer is. Try to position yourself in front of them a few times underwater.
Swimming with whale sharks will be the highlight of your trip to Exmouth, but there are other awesome things you can do there as well, such as:
Did you know?
Ningaloo Reef is the world's largest fringing reef, stretching for 300km. It goes from Carnarvon in the south, all the way up to Muiron Islands and Bundegi Beach, in Exmouth's Gulf.
As for whale sharks, they are considered the world's biggest fish. Their size varies between 4 to 18 metres long! Imagine that gentle giant peacefully gliding next to you.
FAQs
When can you see whale sharks in Ningaloo?
You can see whale sharks in Ningaloo between March and July, but a few can still be there up to September.
Is Coral Bay or Exmouth better for whale sharks?
Exmouth is a bit better than Coral Bay for whale sharks, but only from a tour perspective.
There are more whale shark tours in Exmouth than in Coral Bay, making it easier for you to make your booking. Also, tours in Exmouth tend to be a bit cheaper than in Coral Bay.
Do whale sharks eat humans?
No, whale sharks don't eat humans. They are giant filter feeders, just like humpback whales, so are not interested in humans as food at all.
The bottom line
The Ningaloo Reef, in Western Australia, is practically a highway for gentle giants as it has humpback and whale shark season. Exmouth and Coral Bay are the two main towns for tours to swim alongside them.
Doing a whale shark swim is a life-changing experience. So make sure to be fully prepared, bring snacks, and leave your camera in your hotel to be fully present.
If you visit in July, consider doing one of the many humpback whale tours available, too! And take at least one day to check everything the Cape Range National Park has to offer.
Finally, if you want to plan a visit to Exmout but don't know where to start, check out our article about how to plan a one-week trip to Exmouth!
FREE Guide: 30 ways to work remotely so you can travel when you want
This PDF has ALL the tips and tricks we've learned over the years to be the digital nomads we are today.
These are tried-and-tested ways we've used to earn money from anywhere – only a laptop with internet is needed!