Truma Saphir Review: Does This Aircon Stand Up To The Aussie Heat?
With the scorching Aussie sun, having an aircon unit in your caravan or bus can make all difference. When rebuilding our 1993 4wd Toyota coaster, an aircon unit was at the top of our luxury appliance list.
One of the most popular Under-Bunk Air Conditioners on the market, the Truma Saphir is designed with features that suit even the most challenging weather conditions in Australia.
In this in-depth review, we will provide all the essential information you need to make an informed decision on whether or not to install it. We also go through some things that you will want to avoid when purchasing. Read on.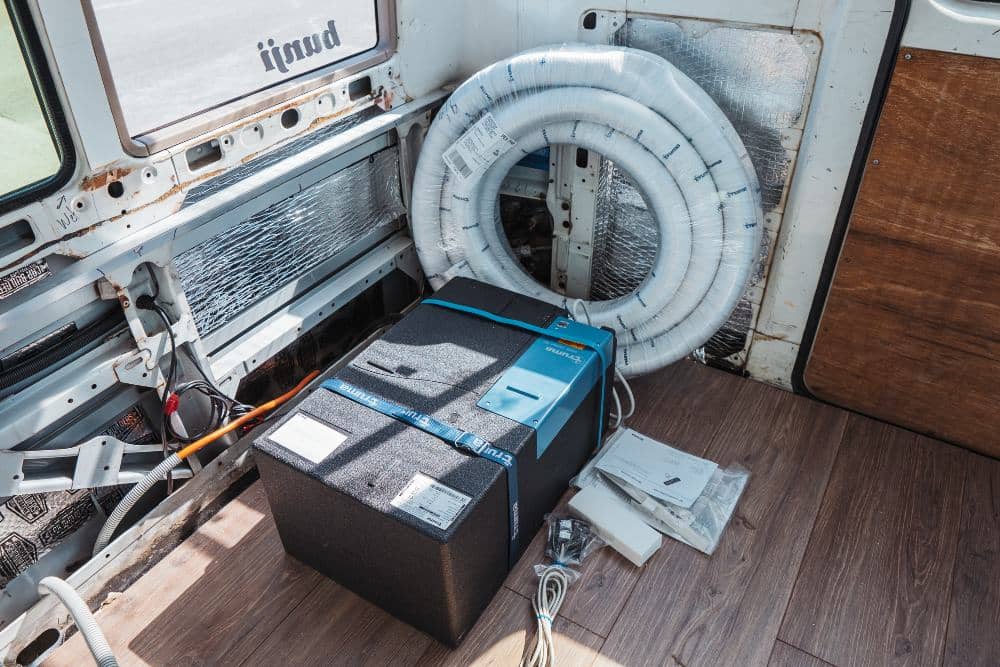 What is the Truma Saphir Comfort?
The Truma Saphir Comfort is an under-bunk air conditioner that is designed to sit "under bunk" or under your bed, in a cupboard on anywhere inside of the caravan or bus.
Most RV aircon's are installed on the roof of your vehicle but in many cases, you might not have the roof space or your vehicle does not allow a roof aircon to be installed.
In our case, we wanted to maximise the number of solar panels on our roof and also have a cargo roof space for surfboards and other light items.
The Truma Saphir is run by 240 volts which is household power. You will need an electrical system in your caravan or bus to handle this. As it's 240 volts, you will need a registered Australian electrician to connect the unit.
Why Did We Choose Truma Saphir Comfort?
The Truma Saphir Comfort boasts several unique features that worked very well with our build.
1. Design of The Aircon
The Truma Saphir Comfort Under-Bunk Air Conditioner design allows us to store the unit inside the bus rather than externally on the rooftop. Allowing us to put more solar panels up.
We can integrate the electronic control panel of our Truma diesel hot water heater with the air con. This allows us to have one wall-mounted control panel to manage both the heater and the air conditioner.
The Saphir comfort RC is 626 mm in length, 400mm wide and 290mm tall, making it ideal for caravans between 5.5 to 6.5 meters long. This was the perfect size for a Toyota Coaster and easily fitted under our double bed.
2. Cooling Mode
After using the unit in the Western Australian summer, we were relatively impressed with the cooling ability.
We work inside the bus on our laptops and had many days the temperature rose to above 35 degrees. On top of that, we were still waiting for our curtains to be designed so the bus would easily heat up through the windows.
The Truma did consistently pump out cool air and was able to make the bus comfortable for those long work days.
One thing, I would note though is the Truma cooling ability is very dependent on where you position the air vents.
When installing the aircon is important to position the air vents evenly throughout the caravan or bus. Otherwise you won't be able to cool the whole RV evenly. More on this below.
3. Low Energy Usage
We love to go off-grid and spend most of our time free camping rather than in caravan parks. To run the aircon off-grid you will need to have a large battery system if you want to run it for an extended period of time.
When cooling we were using around 1200kwh on average. Our total battery capacity is 7600kwh so that gave us around 3-4 hours of using the aircon overnight until our batteries would get low. However, that would increase if we were using the aircon during the day as our solar panels would be supplementing that power. Allowing us around 6-7 hours.
4. Quiet Mode
It is equipped with a sleep mode, which operates the fan at a slower speed. This offers a variety of benefits, including reduced energy consumption and a more peaceful sleeping environment. Important when is installed under the bed.
5. Digital CP or Digital Control Panel
I love the convenience of the remote control and CP plus control panel that comes with the air conditioning unit.
Connecting them to Truma's advanced iNET box system is a more convenient way to enjoy its advanced feature. This allows me to customize how to cool down or boost its heating output in our bus.
6. Integrated Heat Pump Function
Other than its powerful cooling system, Truma Saphir Under-Bunk Air Conditioner also features an integrated heat pump function. This will come in handy if our diesel heater breaks down or if we run out of diesel for it.
Installation of The Truma Saphir Under-Bunk Air Conditioner
As someone with limited experience in air conditioners or mechanical work, I was intimidated by the idea of installing the Truma Saphir Under Bunk Air Conditioner. However, I soon realised that installation doesn't need to be a complex task.
Pre-installation Instructions
Before beginning, I gathered the necessary tools and supplies for installing the Truma Saphir Under Bunk Air Conditioner, including an adjustable wrench or socket set, Phillips head screwdriver, drill and bit set, sealant or caulk, a jigsaw, and mounting brackets.

Next, I read through the instruction manual that came with the Truma Saphir Under Bunk Air Conditioner. As a german product, the instructions are very thorough and clearly explain how to install it.
Then, I prepared the space the aircon was to be installed. For our build, we built a small shelf around where the aircon would be placed to protect it from damage.
Step-by-Step Installation Guide
The first step is to pick a good location, taking into account both the size of the air conditioner and the unit's airflow requirements. To do this, I used the template that is provided. Make sure you look under your vehicle to ensure you cut the holes in an open space. This was a bit difficult for us and we had to rearrange a few things when we realised the placement of the holes.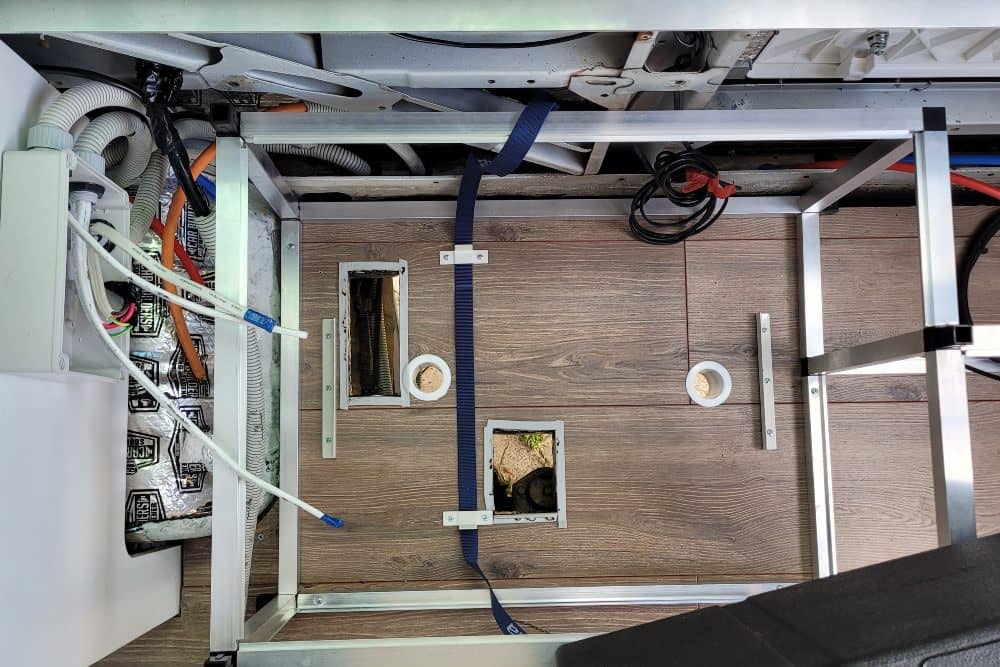 Then, I started to mark and drill the mounting holes. We used a drill to cut holes first then a jigsaw to cut the larger pieces out. Take this slow and let the template guide your cuts. We taped the template down and just cut through the paper.
Next is to attach the mounting brackets to the unit. I drilled the holes as the template suggested.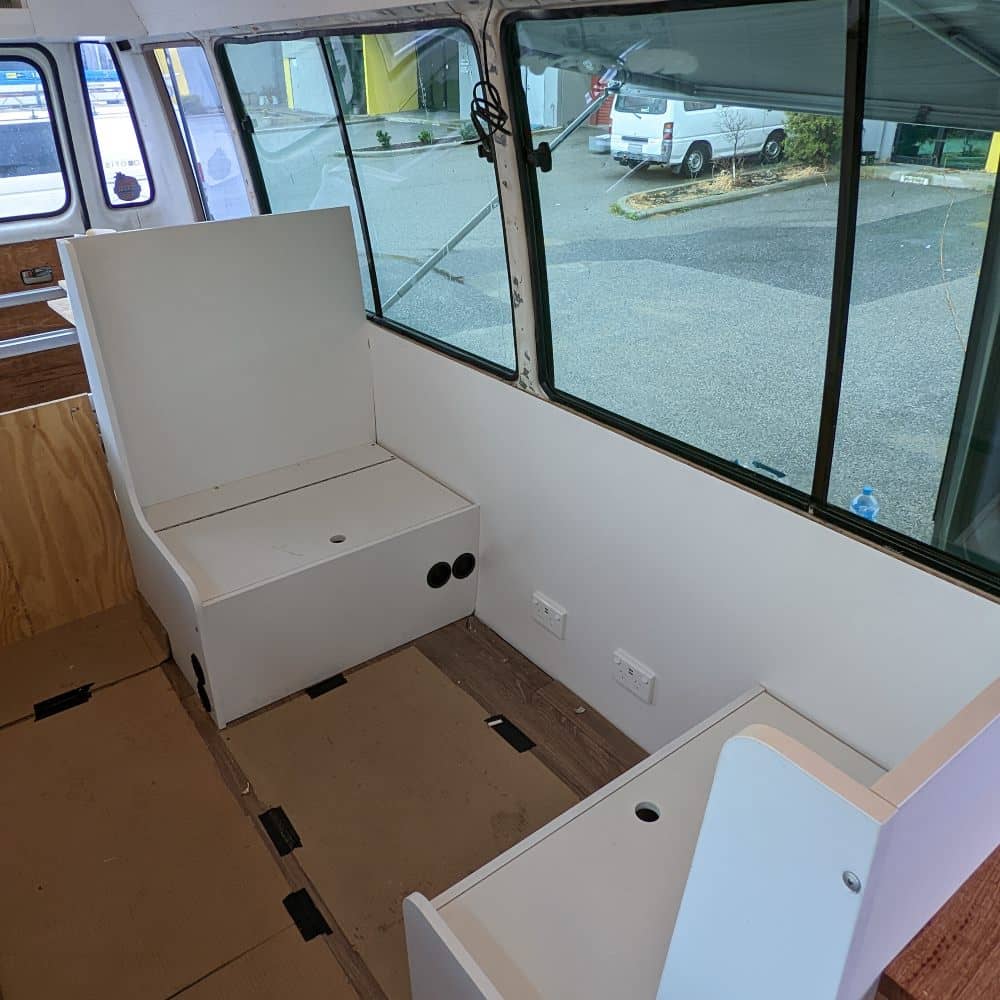 Then, I started installing the connecting vents. To do this, I mapped out where I could position the vents in the bus. We needed to drill through some cabinets to get the vents through the bus.

Next, I sealed any exposed openings, such as the mounting holes. To do this, I applied a generous layer of caulk or sealant around the area to ensure a watertight seal.

Lastly, you will need a registered electrician to connect the 240v aircon. Under Australian law, you will need an isolator switch installed as well.
Post-Installation Process
Test the system. This is important to ensure that all components are correctly connected and that operating modes like the cooling, heating, automatic, air circulation and three fan speeds are functioning correctly.
Then, I check the unit's performance to ensure that it can provide sufficient cooling and better air distribution. I also checked for any leaks in the piping and connections.
Who Should Use the Truma Saphir?
The Truma Saphir Under-Bunk Air Conditioner is an excellent choice for people like me who do not have space on the roof. Its sleek design is a great advantage allowing me to maximize storage space.
It is also an ideal choice for caravan owners who want to make their camping trips more comfortable and enjoyable. Its efficient cooling system allows me to maintain a comfortable temperature inside the caravan without having to worry about the outside elements.
Where Can You Buy a Truma Saphir?
Finding legitimate stores to buy Truma Saphir cannot be overstated. I recommend buying this powerful air conditioning system at authorized retail outlets, online stores, camping stores, and specialty retailers. Our favourite is:
To check legitimacy, Truma Saphir's official website offers a full list of authorised dealers and service partners you can trust. Using their dealer search bar, anyone can easily find local dealers, service centres, and independent contractors at various locations around the globe.
Truma Saphir Return Policy
The Truma Saphir Under-Bunk Air Conditioner is covered by a 24-month warranty when retrofitted by an authorised Truma dealer. The coverage applies to any issues with the product, including breakdowns and hardware malfunctions.
When utilised domestically, this unit features a 24-month warranty. However, should you choose to use it commercially – such as in caravan rentals – the guarantee term is reduced to just 6 months from the date of purchase.
It's critical to remember that only an authorised dealer or qualified electrical contractor is allowed to carry out warranty repairs. The company won't provide any reimbursement for services done by unauthorized personnel.
Conclusion
I love how lightweight and compact this air conditioning system is, allowing me to easily install it under my bed, bench or any storage space in my caravan. It makes installation so effortless.
Overall, I can confidently say that this Truma Saphir Under-Bunk Air Conditioner is a remarkable product with all its incredible features. The only factor that could be considered an obstacle to purchase would likely be the cost. However, if you are able to invest in it, then I absolutely recommend giving it a try!