What To Do In Exmouth When It Rains or It's Windy? 9 Activities To Keep Enjoying Your Trip
The unusually wet and windy weather in this part of Western Australia brings relief from the heat. But you may have to adjust your holiday plans a bit to find out what to do in Exmouth when it rains.
The good thing is that the rainy day will probably only last a day, at most. And it's unlikely it will ruin your trip.
You can still go snorkelling, check out the many cafes and visitor centres available, or even hike, among other things. Check out our list below, don't let a drop of rain deter you!
Table of Contents
9 Things to do in Exmouth when it rains
On this beautiful stretch of coastline, the odd rainy day is a chance to discover a few new experiences, such as:
1) Visit the Ningaloo Aquarium and Discovery Centre
This landmark building is home to a state-of-the-art community hub for research, education and tourism. There are two places you can check out:
The Aquarium and Discovery Centre
This is the real attraction – a multi-level museum, cafe and aquarium. Especially on a not-so-perfect day! For a small fee, you'll get a taste of what the area has to offer.
You'll learn about the marine life that visits these coasts yearly – whale sharks, humpback whales, manta rays, and much more. You'll also get a sneak peek into the Cape Range and the history of Exmouth.
While there, don't forget to check the Cyclone Room. You'll feel what it was like when cyclone Vance hit this town in 1999.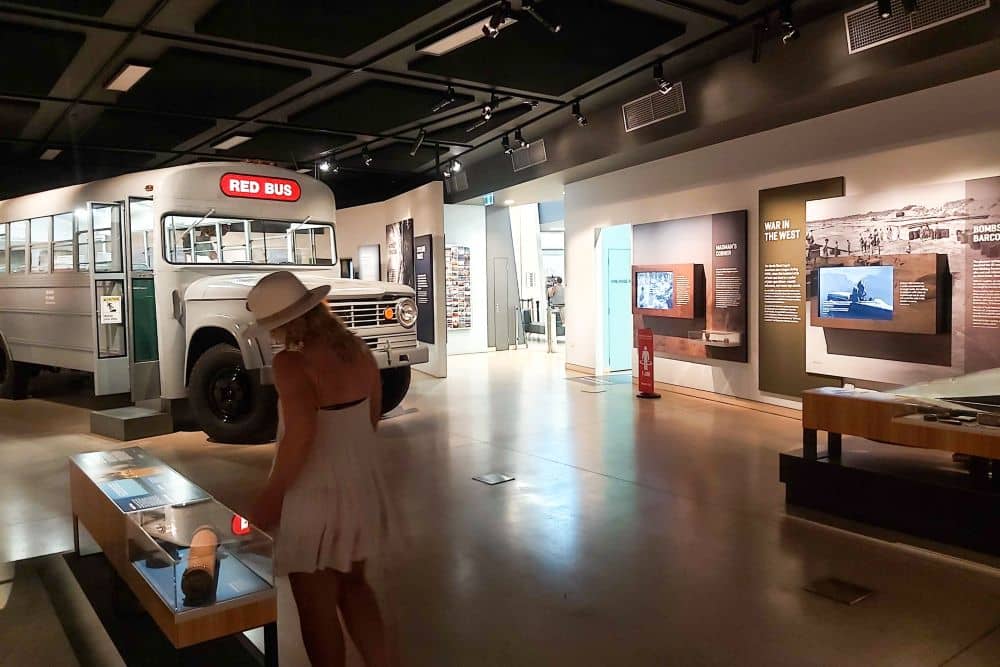 The Ningaloo Visitor Centre
This is a "one-stop-shop" for almost anything there is to do in the area. Here, you can book local tours and get free maps and general information.
It's the perfect place to plan for activities for your entire visit to Exmouth, the Ningaloo Reef, the Cape Range National Park and all of the North West Cape.
Get a skip-the-line ticket to the Ningaloo Aquarium and Discovery Centre here.
2) "Blow the froth off" a brew
The Froth Craft Brewery is one of the best microbreweries in Western Australia. It's a family-friendly pub in the heart of town with a great menu on offer (including one for the kids), live music, occasional markets out front and at least 16 different craft beers on tap!
The other best option is the Whalebone Brewing Company. Often with live music, freshly made pizza and a range of brews to choose from.
Keep reading: Where to eat in Exmouth? Here are +20 awesome places!
3) Go snorkelling
Light rain won't affect your underwater view, so grab your snorkel equipment and dive in! Don't skip that opportunity just because of bad weather.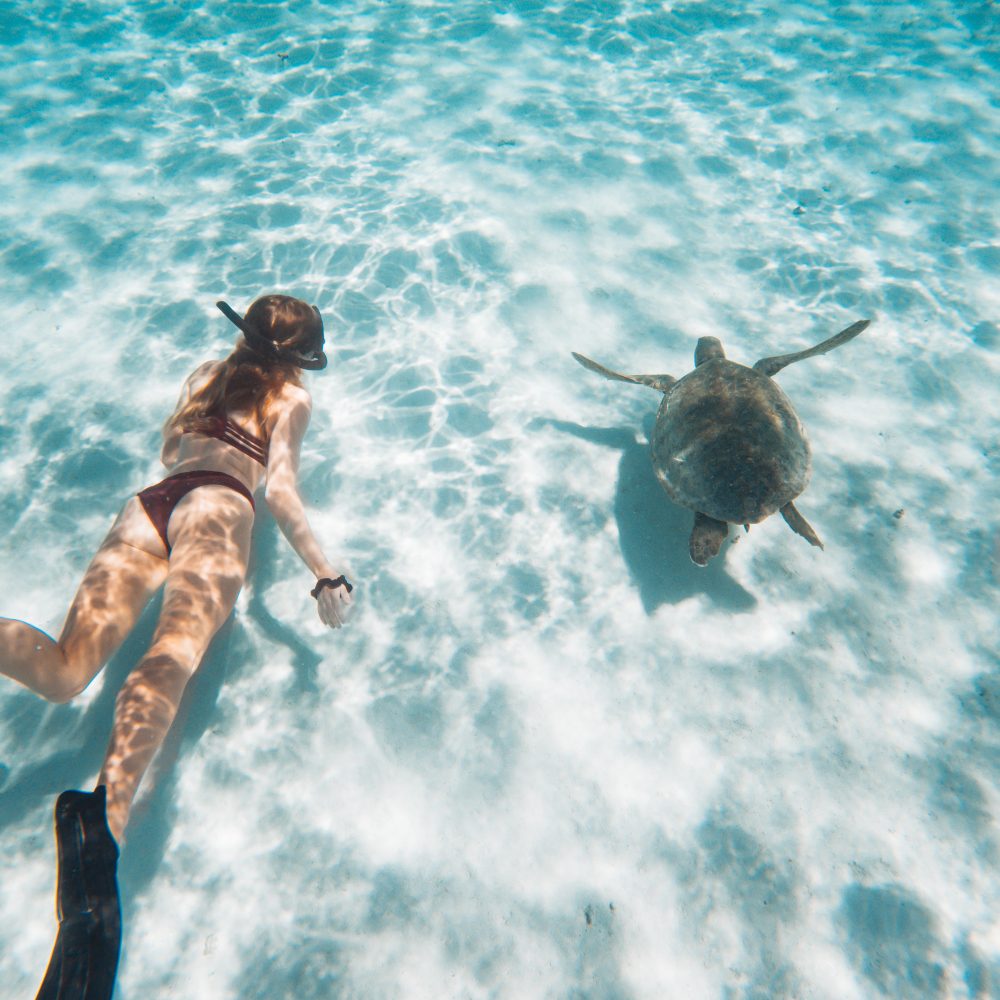 Beginners and families will love the Oyster Stacks snorkelling area, in Cape Range National Park. Just be careful of rocks and sharp oyster shells on the shoreline as you enter and leave the water.
Strong swimmers might prefer to drift snorkel at Turquoise Bay. The currents can be powerful, but the rewards beneath the waves are great. It's one of the best shore snorkelling sites in Western Australia for a reason.
And if you're into scuba diving, then head to the Exmouth Navy Pier. It's one of the world's top shore dives, but you have to go on a tour to access it.
Keep reading: The top snorkelling spots around Exmouth.
4) Visit The Beach Cafes
Less than 30 minutes away from Cape Range National Park, these cafes are the perfect spot to fuel up before or after exploring the area.
The Beach Shack is open from 7.30 am to 3 pm. Bundegi Beach itself often has Manta Rays swimming by.
Yardie Creek Cafe is located in the Yardie Homestead Caravan Park, open from 7 am -10 am for coffee and snacks, or 5 pm for different dinner specials at night.
On your travels, stop in at Jurabi Turtle Centre where you can learn about the local turtles. Otherwise, continue down to Yardie Creek itself and try and spot some rock wallaby's!
You can head to the Milyering Discovery Centre in the Cape Range National Park for some great information on the local wildlife and more.
5) Get a kitesurfing lesson
Imagine the thrill of gliding across the water, propelled by the wind, with the stunning Ningaloo Reef below you!
Learning how to kitesurf in Exmouth is truly an experience of a lifetime. This destination is renowned for its exceptional kitesurfing conditions, so you might as well take advantage of it!
Head over to the Exmouth Surf Centre, where you can book a lesson and learn how to safely and confidently harness the power of the wind and waves. They'll provide you with all the necessary equipment. Plus, the instructors are one of a kind – they're very experienced and knowledgeable.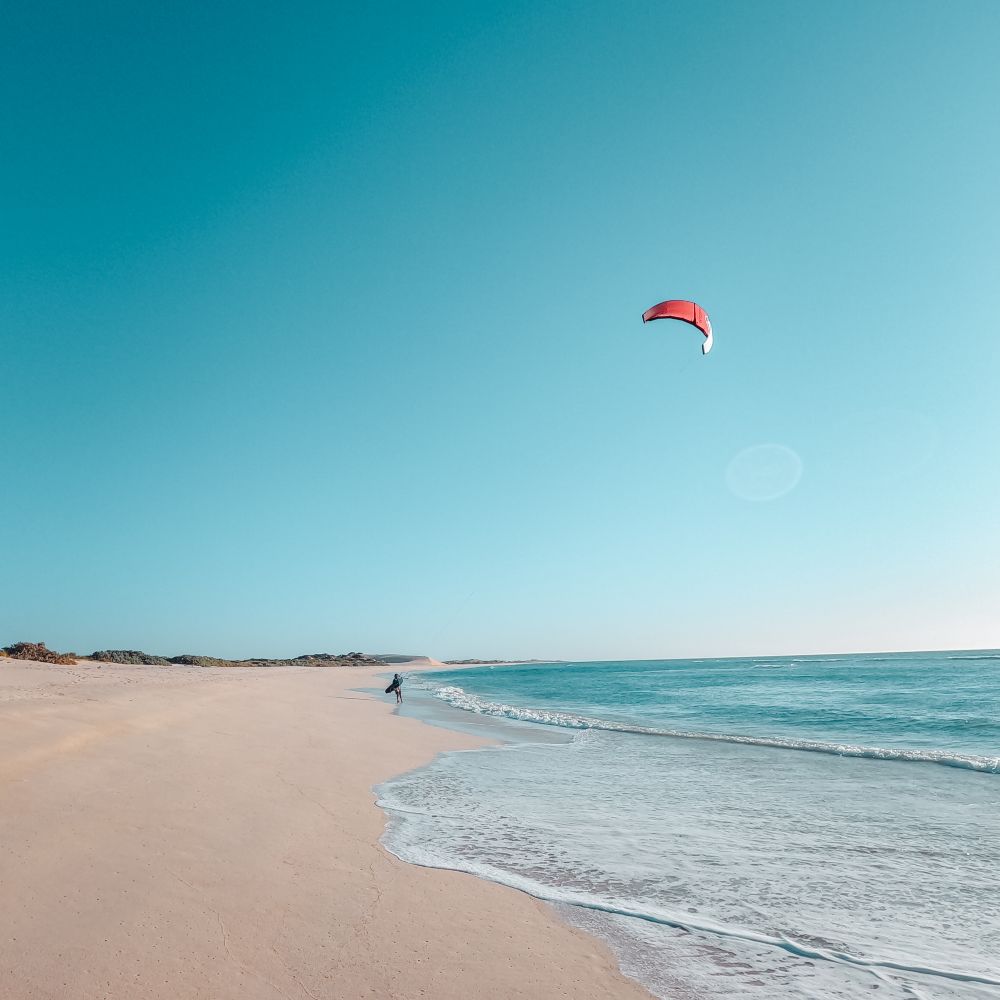 6) Wildlife and Sea Life spotting
If the rain isn't too heavy, get out and go for a hike – you'll be surprised at how much wildlife you see. Those creatures care less about the weather than we do, and in the warm dry climate, they love to get out and about when there's a cooling shower.
Pay a visit to Charles Knife Canyon and the Thomas Carter Lookout. Keep your eyes peeled for monitor lizards, sea eagles, echidnas, emus, dingos, kangaroos and wallabies. If you're really lucky, you might spot a rare black-footed rock wallaby along the Yardie Gorge Trail.
As for sea life spotting, choose a place to park near Vlamingh Head Lighthouse. Any time from August to November, you can watch humpback whales migrating across the coast.
Another local attraction is Dunes Beach where you can watch the surfers and the Mildura shipwreck. The wreck has an interesting history that you can read about. It was a livestock ship that was wrecked off the Exmouth coast in 1907 during a cyclone.
7) Sneak in a bit of shopping
In Exmouth, there are local craft markets most Sundays where you can find coffee, food, clothing, art and more.
In town, you'll find a supermarket, newsagent, clothing stores, souvenirs, and several places to eat. There are some big brands available in the surf stores. It's a great place to escape the rain and get what you need or something to remember Exmouth by!
The Ningaloo Aquarium and Discovery Centre has some fantastic souvenirs too.
8) Get a soothing massage
If you've had a hectic few days enjoying the outdoors and the weather is not ideal, head indoors for some spa therapy.
With 10 years of experience, Imbibe Massage in Exmouth looks like a good option.
Work on a few niggling issues, or just relax with a massage. Prepare your body for your next adventure!
9) Stock up on your tackle and camping supplies
If the rainy weather is dampening your enthusiasm to venture out, use that time to prepare for the guaranteed return of the sunshine coming soon.
Whether you have all the gear or are just beginning to discover the great outdoors, Exmouth has just about all you'll need. Fishing and camping requirements are in good supply here.
Related: The 7 best things to do in Exmouth.
Bonus – Take a day trip to Coral Bay
1 hour and 35 minutes drive from Exmouth, is the small town of Coral Bay. On a rainy day, it might be an exciting road trip.
Coral Bay boasts the same incredible wildlife interactions including whale sharks, manta rays, turtles and more, but there are also some unique attractions in Coral Bay – like Five Fingers Reef or Turtle Cliff!
Keep reading: Fun (and free) things to do in Coral Bay
When is the best time of the year to visit Exmouth?
For us, the best time of the year to visit Exmouth is in the dry season, between March through October. You will see the Ningaloo coast thriving with wildlife, without worrying about cyclones or the heat.
The wildflower season is from August to September. Humpback whales migrate from May to November and whale sharks migrate through Exmouth April through August.
So… does that make August the ultimate month to be in Exmouth?
The truth is that the "perfect" time to go is fairly subjective. It will depend on what you want to do, your availability, and other factors.
Learn more: When is the perfect time to visit Exmouth?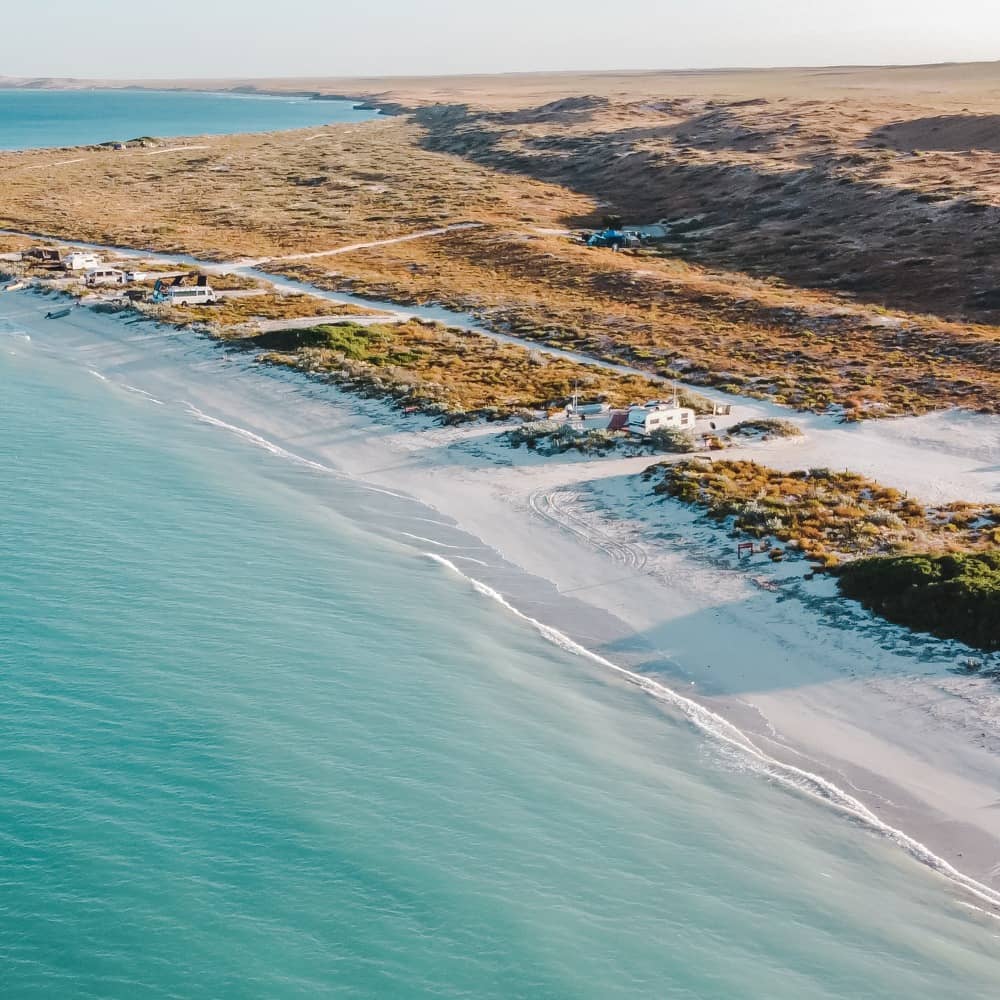 Top Tips
Although Exmouth doesn't get much rainfall, there can be severe weather events from November through to April due to cyclone season.
The coastline between Exmouth and Broome is the most cyclone-prone area in the country. Take precautions if you're planning on visiting during that time of the year by:
Did you know?
The Learmonth Solar Observatory, a half-hour drive south of Exmouth, is a joint facility of the Australian Ionospheric Prediction Service and the US Air Force. It's part of a world network of observatories to monitor the Sun for solar flare activity.
FAQs
When is the best time to swim with whale sharks in Exmouth?
The best time to swim with whale sharks in Exmouth is between late March and early August, but some tour operators work up to September.
Where can you see the humpback whales in Exmouth?
You can see humpback whales in Exmouth on the coastline between the North of Exmouth's Gulf, all the way down to Coral Bay.
When does it rain the most in Exmouth?
January is statistically the rainiest month, but the rain rarely lasts longer than one day.
The bottom line
While most of us associate Exmouth with the great outdoors, there's no reason you can't enjoy most of what this town has to offer on a rainy day.
Depending on the season, you could still spot a humpback whale or a whale shark. Swimming and snorkelling shouldn't always be cancelled with light rain either, as the waters can be warmer during the rain and the underwater view shouldn't be affected.
Finally, there are many visitor centres and other indoor places you can spend a while in. Don't let a drop of rain discourage you!
FREE Guide: 30 ways to work remotely so you can travel when you want
This PDF has ALL the tips and tricks we've learned over the years to be the digital nomads we are today.
These are tried-and-tested ways we've used to earn money from anywhere – only a laptop with internet is needed!