Cable Beach Broome: Sunsets Like Nowhere Else on Earth
Mother Nature picked the perfect palette when she created Cable Beach, a natural masterpiece on the north coast of Western Australia.
From sparkling sunrise to dazzling sunset, this remote strip of sand is a "must-do" for anyone who loves the great outdoors, and especially an exhilarating 4WD run along the beach.
Nearby Broome is a small town with a huge amount of character and colourful history and with everything needed for the perfect holiday within a stone's throw of Cable Beach…
The only thing missing is you!
Table of Contents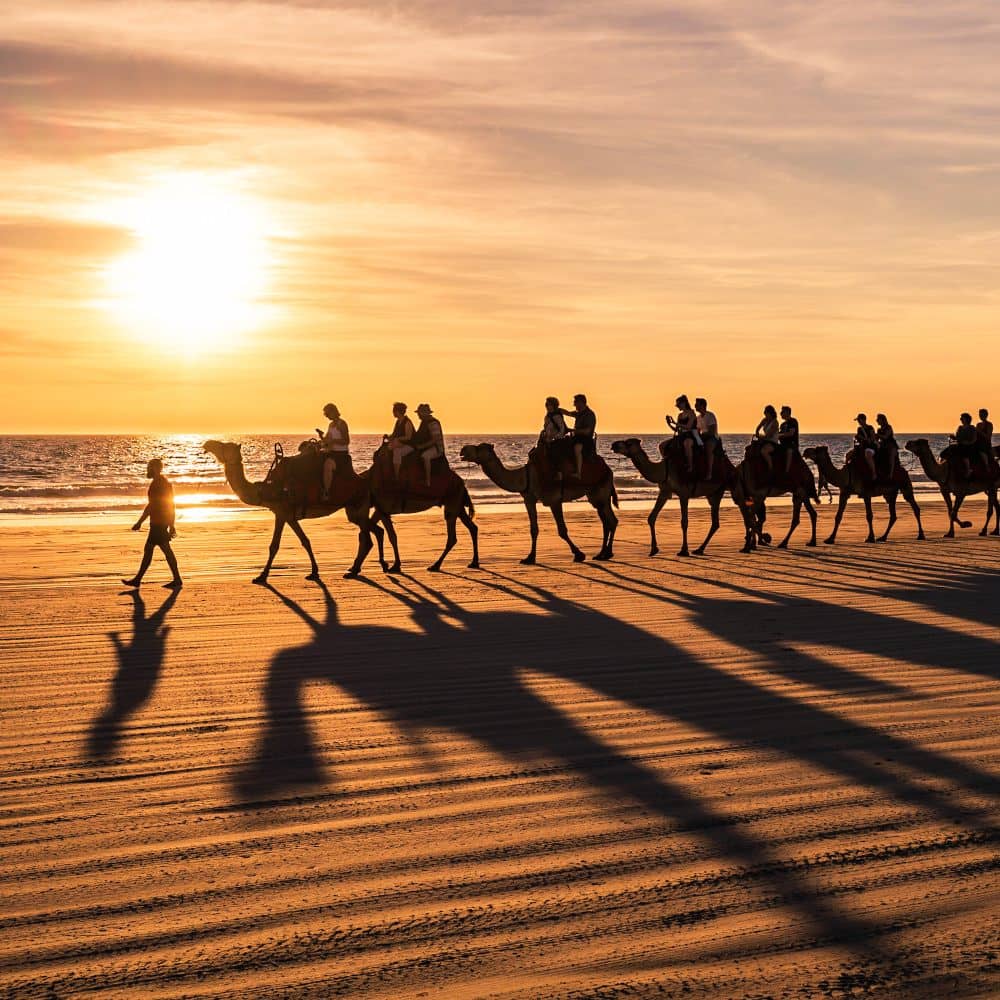 Spectacular Sunsets
This idyllic scene is a classic picture postcard. One of Broome's top attractions and a must-see with a drink on hand.
Snap that selfie, or find someone who can take a photo to remind you of one of the best sunsets you'll ever see.
But Cable Beach, Broome is so beautifully isolated and unspoilt that you may have to look a little harder to find some help for that photo.
Soak it up simply, just chill out on the beach, or celebrate the scene with friends at the Cable Beach Club's Sunset Bar. Whichever way you do it… it will be unforgettable!
Iconic Camel Rides
They might smell a bit funky, and spit in disgust now and then, but what would a visit to Cable Beach, Broome be without at least seeing those iconic camels silhouetted against that magnificent sunset?
Believe it or not, these lumbering bad-tempered – often misunderstood – beasts are one of the most popular attractions on Cable Beach!
A handful of operators have led camel train tours along Cable Beach over the last thirty years, and during the cooler Dry Season from April to November, they still book out well in advance.
Fortify yourself with a hot drink and catch the cool morning breeze for a once-in-a-lifetime start to the day. See the sun creep over the red earth's horizon, warming the powdery sand as it squeaks under the sturdy feet of the camels.
Or, sip on a complimentary "sundowner" as you sway gently to the rhythm of the camels' gait, with the sun slipping silently into the incredible turquoise blue ocean. In that moment, you just might become a part of someone else's picture-perfect postcard moment.
Recommended tour: 1-Hour Broome Sunset Camel Tour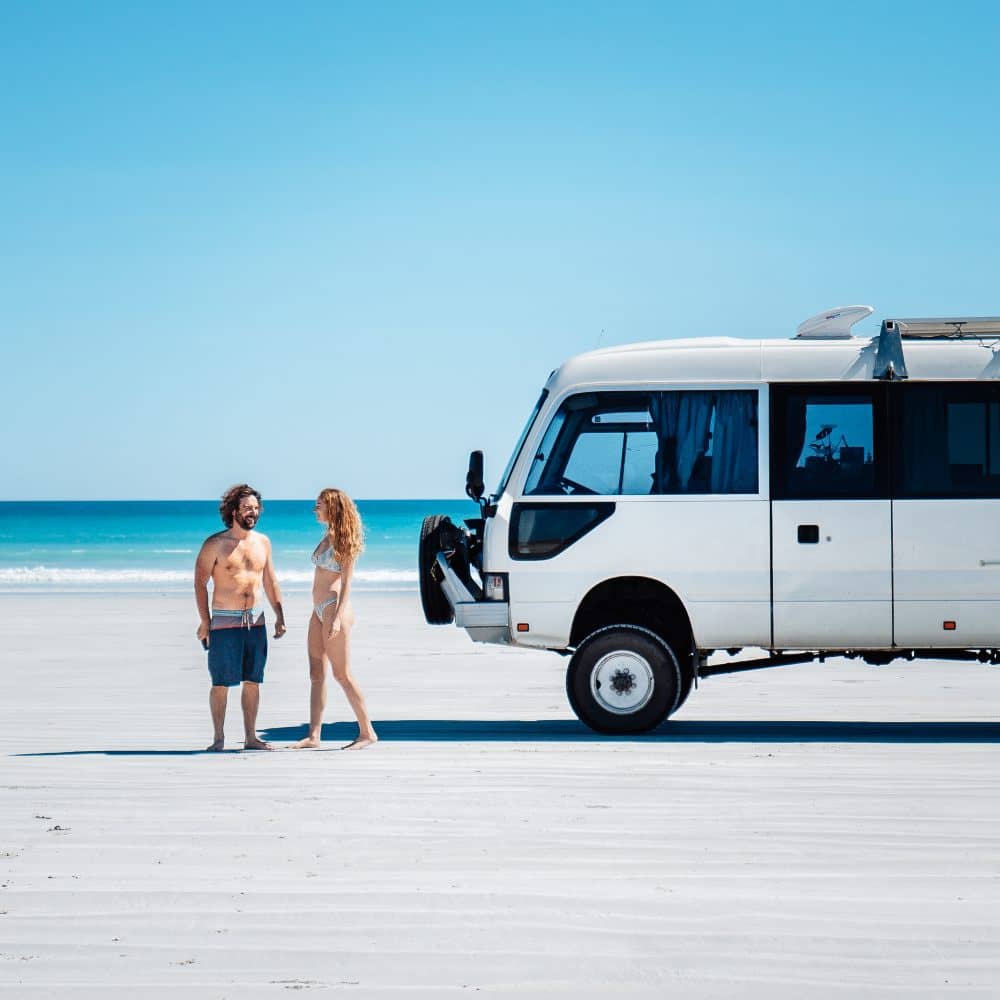 Brilliant Beach Driving
Road-registered, privately owned vehicles are good to go on Cable Beach, Broome (subject to a few guidelines), and if you find yourself needing to hire a 4WD in order to experience the thrill, then make sure you check that the car rental company you choose allows beach driving.
A little planning goes a long way towards making sure a great day goes off without a hitch, and one of the first things on the "to-do" list should be to check out the local tide times, as vehicles are only allowed onto the beach between the high and low watermarks north of the access ramp at Cable Beach Reserve.
Pack a picnic and grab your beach towel. With a 22km stretch of white sand to explore, just keep driving until you are the last vehicle you see!
Be careful when you go far down the beach 4wding. At the far end, there is a nudist beach. We got a little caught out here and didn't realise we pulled up next to this part. Was a funny shock when we looked out the window.
The Flavour Trail: Cafés and Bars
Broome's Cable Beach offers a sensory delight that goes beyond breathtaking views and the soothing rhythm of the ocean.
It also hosts a rich food and drink culture that will titillate your taste buds and add another layer to your adventure.
Café Culture at Zanders: The Zanders is an inviting eco-conscious café renowned for its locally sourced menu. Imagine starting your day with a smoothie bowl loaded with tropical fruits while overlooking the glistening ocean. For a heartier breakfast, their avocado toast, topped with a perfectly poached egg and a sprinkle of local sea salt, is not to be missed.
Sunset Bar and Grill: As dusk falls over the pristine sands of Cable Beach, the nightlife begins to stir. Sunset Bar and Grill is a staple for locals and travellers. With its prime location, this beachfront bar provides a front-row seat to the daily spectacle of a Cable Beach sunset. Famous for its sundowner cocktails, there's no better place to clink glasses as the sky turns shades of crimson and gold.
Craft Beers at Matso's Broome Brewery For craft beer enthusiasts, Matso's Broome Brewery, located a short drive from Cable Beach, is a must-visit. Known for its unique range of beers, Matso's offers everything from a refreshingly crisp ginger beer to a rich, dark mango porter. Pair your pint with some deliciously spicy chicken wings or kangaroo skewers for an authentically Aussie experience.
These eateries and watering holes, along with many others, are the beating heart of Cable Beach, offering delectable sustenance after a day of adventure.
Whether you're a foodie, a wine connoisseur, or a coffee lover, the range of gastronomic experiences available at Cable Beach ensures that every palate will be well catered to.
Set your watch to "Broome time"
Although there is plenty to see and do, once you arrive in Broome, time takes on a different meaning. The laid-back locals and tropical lifestyle lend themselves to something referred to as "Broome time".
Stop glancing at the clock and fall into the relaxed rhythm that gives the area its holiday feel. Like the ebb and flow of the tide on Cable Beach, just go with the flow and take your time, to make the most of your time. Do this, and you will discover Broome time.
How to get to Cable Beach, Broome
It may only be about a ten-minute drive from the town of Broome, but the beauty of Cable Beach is that it is miles from anywhere else.
From Perth, it's a 2.5-hour flight to Broome International Airport, or if you're driving, allow at least two days to drive the 2,240km – even longer is better, as there is so much to see and do along the way.
The Best Time to Visit Broome
April to November is the Dry Season in North-Western Australia, with warm sunny days and cooler nights. Access to explore the area with a 4WD will be much better during this time.
Dry Season is also the busiest and therefore can be a little more expensive.
If you sneak in a visit at the end of the Wet Season during March, leading into April, when the crowds are fewer, then you might be able to take advantage of some off-season pricing, with better deals for accommodation and tours.
Just be prepared for warmer temperatures and potentially unpredictable weather… Although the occasional storm can not only be a great relief from the heat but also put on a spectacular lightning show.
Top Tips
We ended up at the nudist "end" of Cable Beach by mistake, so be mindful of which "end" you plan to take a dip in… unless of course that is where you want to be!
Cable Beach is a great place for a beach drive, but be careful of the tides, as they can be up to 10m and super quick!
There are a few golden rules for beach driving, such as letting your tyres down a little to avoid getting bogged, so check out the recommended guidelines with a reliable source, such as the RAC, WA to reduce the risk of unnecessary hiccups in your holiday plans.
The area around Broome is a remote part of Australia, so always try to make sure that someone knows where you might be, as mobile phone coverage can get a little patchy once you are out of town.
Did you know?
That turtles nest on Walmanyjun (Cable Beach) from October through to March. This is an incredible experience, especially if you join a cultural night walking tour to hear Bugarrigarra (Dreamtime) stories of culture and history, as you search for nesting sea turtles.
What better scenery on this planet could you imagine wrapping up a day on the beach at?
Not just a sunset on any old beach, but an unforgettable sunset on an equally unforgettable Cable Beach.
An almost perfect stretch of sand that greets the turquoise of the Indian Ocean to its west, and merges with the rusty hues of rock, and dusty green scrubby bush to the east.
What better location on this planet could you imagine spending and ending a few days of unadulterated open-air bliss, than on the equally unadulterated Cable Beach, Broome?
FAQs
What's the best time to visit Cable Beach?
The ideal time to visit Cable Beach is during the dry season, between May and October, when the weather is pleasantly warm.
Is it better to stay at Cable Beach or Broome?
It depends on your budget, and exactly what view you want to wake up to.
Accommodation can be found from top-end eco-resorts and the likes of the Cable Beach Club Resort to a variety of hotel room types in town to get amidst the social hub, and caravan/camping sites… or for a good dose of fresh air with peace and quiet, there is always the option of free-camping. Just check in with the local Broome Tourist Centre for a list of locations.
Can you swim at Cable Beach, Broome?
Dry Season is the best time for a dip at Cable Beach, as Irikandji and Box Jellyfish can be about during the warmer months.
Although the risk is low, an occasional croc has been spotted along the coastline, so it's always best to check locally for any updates or warnings.
Are there any adventurous water activities at Cable Beach?
Yes, there are plenty of water activities on Cable Beach. From swimming and surfing lessons. You can also enjoy snorkelling and fishing.
FREE Guide: 30 ways to work remotely so you can travel when you want
This PDF has ALL the tips and tricks we've learned over the years to be the digital nomads we are today.
These are tried-and-tested ways we've used to earn money from anywhere – only a laptop with internet is needed!