11 Best Beaches In Exmouth, Western Australia (And What To Do In Them)
Sharing the clear blue depths with a wonderous whale shark might be what drew your attention to this town in Western Australia. But it will be the best beaches in Exmouth that hold it.
Located in the North West Cape, all these Exmouth beaches are within a short distance from the town, with no shortage of activities to do – from surfing to snorkelling, to sunbathing in your birthday suit. Yes, Exmouth has it all!
Below we'll go through the 11 best beaches in Exmouth, what to do in them, and other tips to make the most out of your trip.
Table of Contents
11 Top Exmouth Beaches to Visit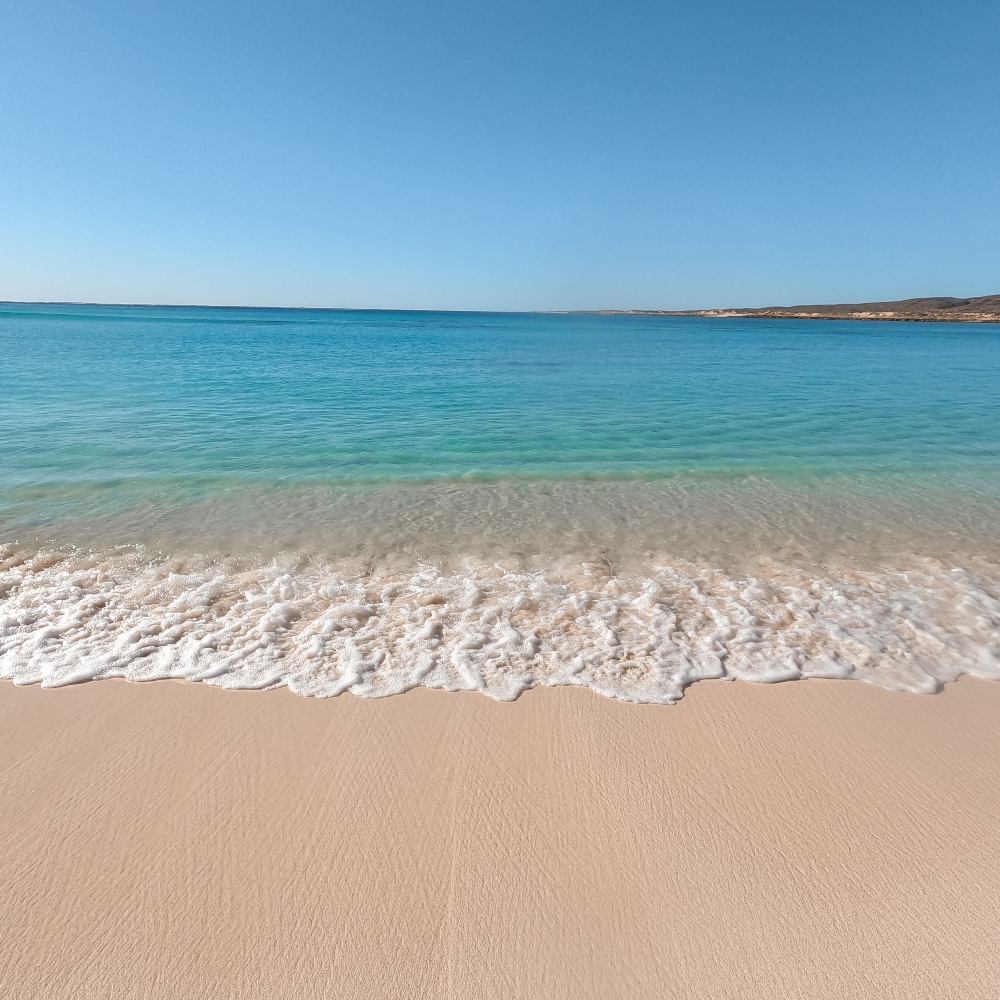 1. Turquoise bay
Kicking off the list with one of Australia's top ten beaches, Turquoise Bay is at a 50-minute drive from Exmouth, in the Cape Range National Park.
In this paradise beach, the water is exactly that – an intense turquoise blue. As such, make sure to bring your snorkelling gear. You don't want to miss the underwater views – this place houses over 500 fish species and corals!
If you're confident in your swimming abilities, do like we did – head towards the southern end of the beach and let the current take you over the reef.
But make sure to get out once you reach the sand bar, at the northernmost point. The currents can get strong and can pull you out into the bay, so be careful.
If you want a beginner and/or family-friendly beach, head to Sandy Bay or Osprey Bay instead!
2. Sandy Bay
The snorkelling at Sandy Bay may not be quite as spectacular as other beaches, but the shallow waters are a great spot for the whole family to cool off.
You'll get here after driving one hour from Exmouth. It's the perfect place to laze the day away – there are even some shaded picnic tables. Here you can do some kite surfing too, so if you're into it, don't miss that chance.
This is also a pretty good beach for those who enjoy fishing – the teeming marine population provides the best chance to snare a catch. Just make sure you read the signs as to where you can fish. Exmouth has a very strict marine reserve area that is often patrolled.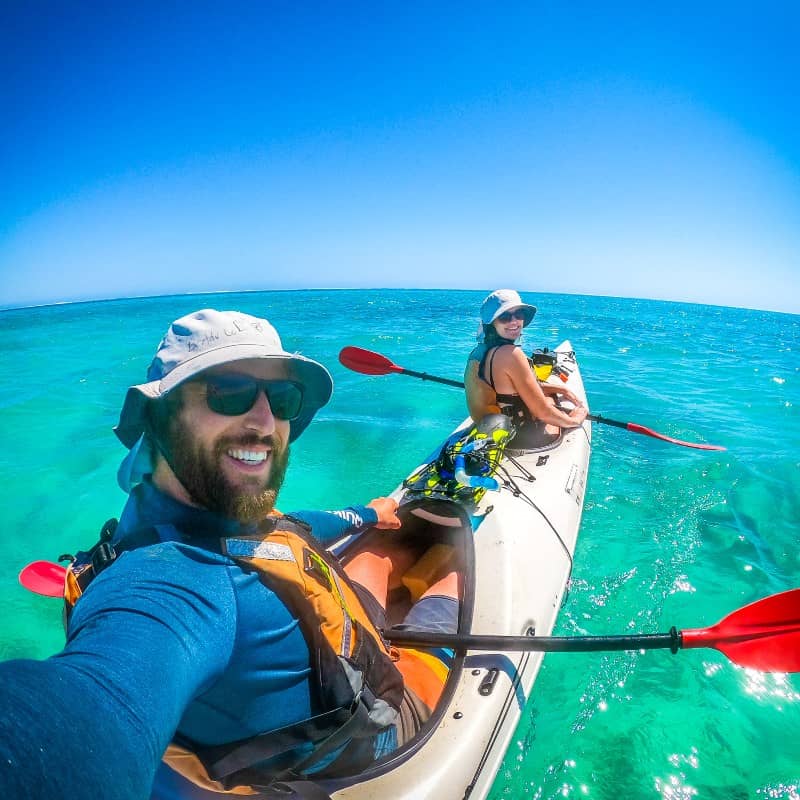 3. Osprey bay
Osprey Bay sits right next to one of the best campgrounds in the area. Also at a one-hour drive from Exmouth, it's the perfect beach to spend a family day on.
There are plenty of things to do – kayaking, canoeing, SUPing, snorkelling, fishing… The choice is yours. But if you want to camp here, make sure to book in advance. Booking is via the parks and wildlife website.
If you bring your own kayak there are also moorings for the public out on the inner reef. They have built a kayak or small vessel paddle circuit with multiple moorings you can tie up your kayak/SUP and then snorkel the reef.
We went on a paid kayaking tour and loved it. So many turtles and wildlife on this reef! Definitely one of the best places to snorkel in Exmouth.
Also, there's a 1.5 km hiking trail connecting Osprey Bay to Sandy Bay. It takes around 20 minutes and the views are stunning – there's no way you'll get bored here.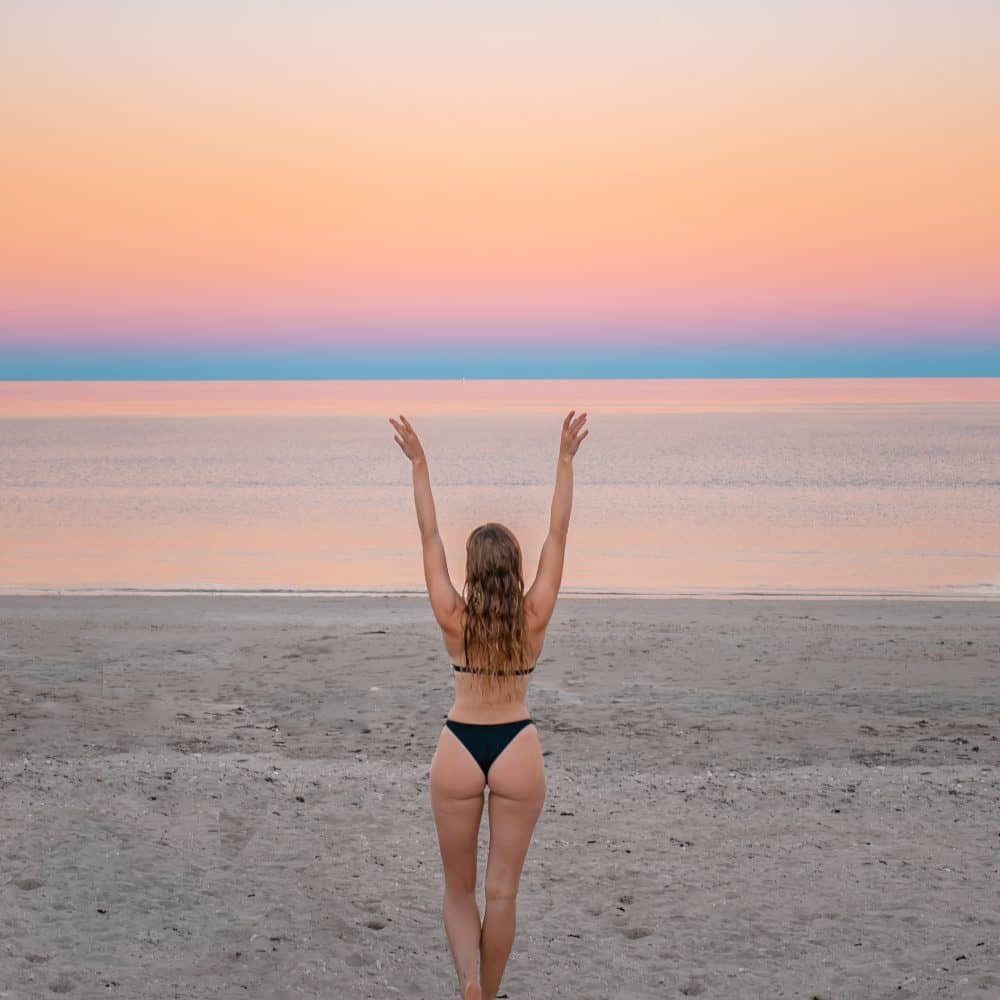 4. Town beach
This is the most accessible one on the list, as it's right in Exmouth. You can even take your 4WD right down onto the beach if you want to.
So, if you just want to spend a relaxing day on the beach, go to Town Beach. The waters are shallow, even with high tide, making them very safe for the whole family. There are also BBQ areas and normally a coffee/food kiosk most days.
Kitesurfing and sailing are also activities you can do here, and there's a boat ramp right there if you want to go out into the bay.
This isn't the best spot for snorkelling, though. But if you want to check out the sea life without driving too much, Bundegi Beach is your best bet.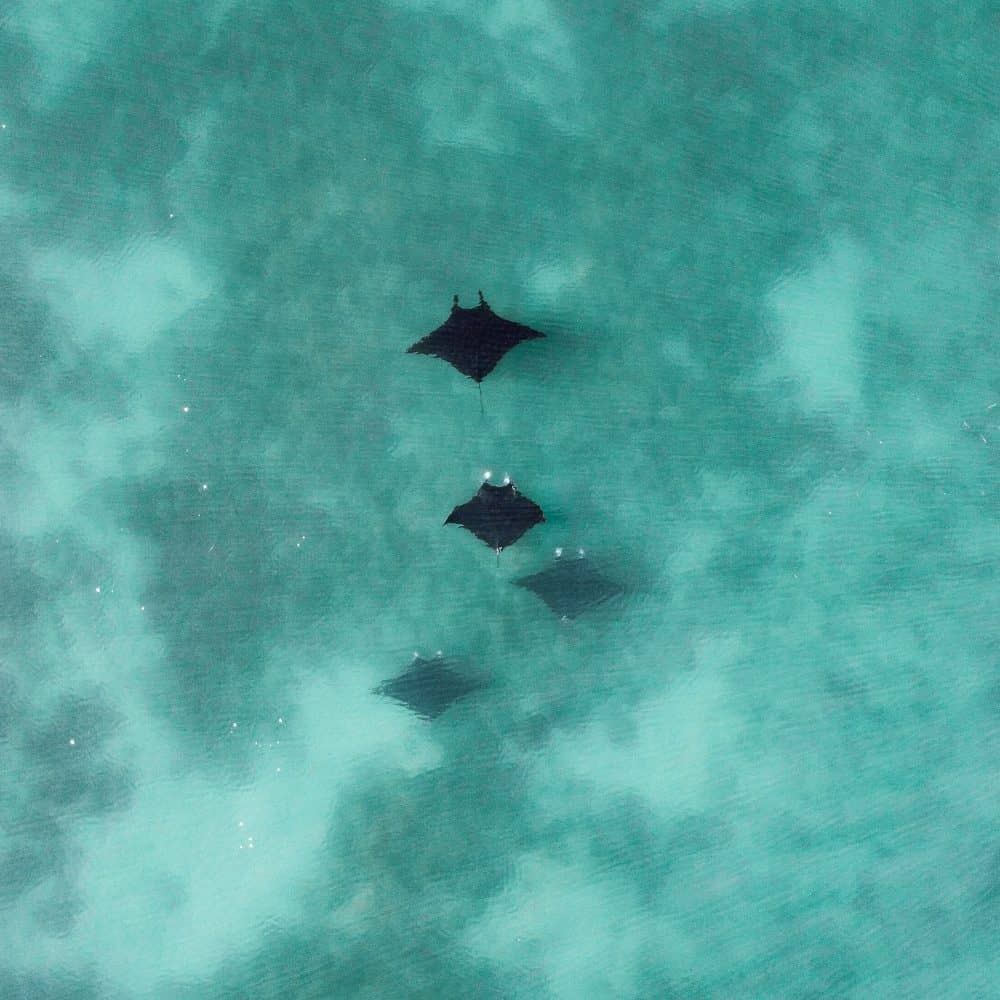 5. Bundegi Beach
You'll get here after a quick 15-minute drive from Exmouth.
Once there, Bundegi Beach offers everything you could want during a day at the beach – fishing, snorkelling, kayaking, mooring, and sailing. No need to wonder why it's a favourite among the locals.
The beach is right next to the massive communication towers at the end of the peninsula. It's the only beach outside Exmouth with a restaurant close by, so make sure to head to The Beach Shack for a coffee kick-start or a tasty bite to eat after a swim!
The Beach Shack is an awesome cafe right on the beach! You can also head there for sunset for a few drinks in the arvo. It has a great vibe, coffee, and food. It's a must-do while you're in Exmouth.
6. Dunes beach
Just 20km north, Dunes Beach is the first surf beach you'll hit after leaving Exmouth. It's also known as "Surfers Beach" for obvious reasons. The best swells are usually from July to October.
Apart from surfing, you can do scuba diving and canoeing, among other water sports. There's a lookout shelter, toilet and a shade shelter here, but not much else. So, it may not be the best choice if you're going with children.
If you come here, don't forget to check the wreck of the SS Mildura – it's within walking distance. Just go over the dunes, and make sure to visit during low tide.
7. Hunters beach
This is probably the most popular spot for surfers in the area, and you don't have to be an advanced surfer to enjoy it. It's less than a 20-minute drive from Exmouth.
There's not much more in the way of facilities other than a toilet, untreated tank water, and a few sheltered tables. But if you pack a picnic, it's a great place to catch a few waves and some amazing sights.
You may see the humpback whales migrating if you come here between May and October. And marine turtles lay their eggs from November to March.

It's positioned right under the lighthouse as well. A great place to check the surf in the morning.
There is normally an awesome coffee van here! Great smoothies as well. And if you're into longboard surfing, this is the place to hang out.
8. Mauritius beach
Sitting right next to Hunters, Mauritius Beach is nudist. So, if you want to kick back in your birthday suit, don't hesitate to come here!
You can go swimming and fishing. It's also one of the many places on this coast that marine turtles use as nesting grounds.
9. Jurabi Point Beach
Jurabi Point beach isn't too far from Exmouth – just a 15-minute drive -, yet like many of the beaches in this area, it remains pristine and untouched.
You could say there isn't much here, but that is exactly the point (pun intended). This stunning beach is the ideal place to spend a much-needed peaceful day.
Also, it's one of the best beaches to go to during turtle nesting season, so the only litter you'll find here are eggshells.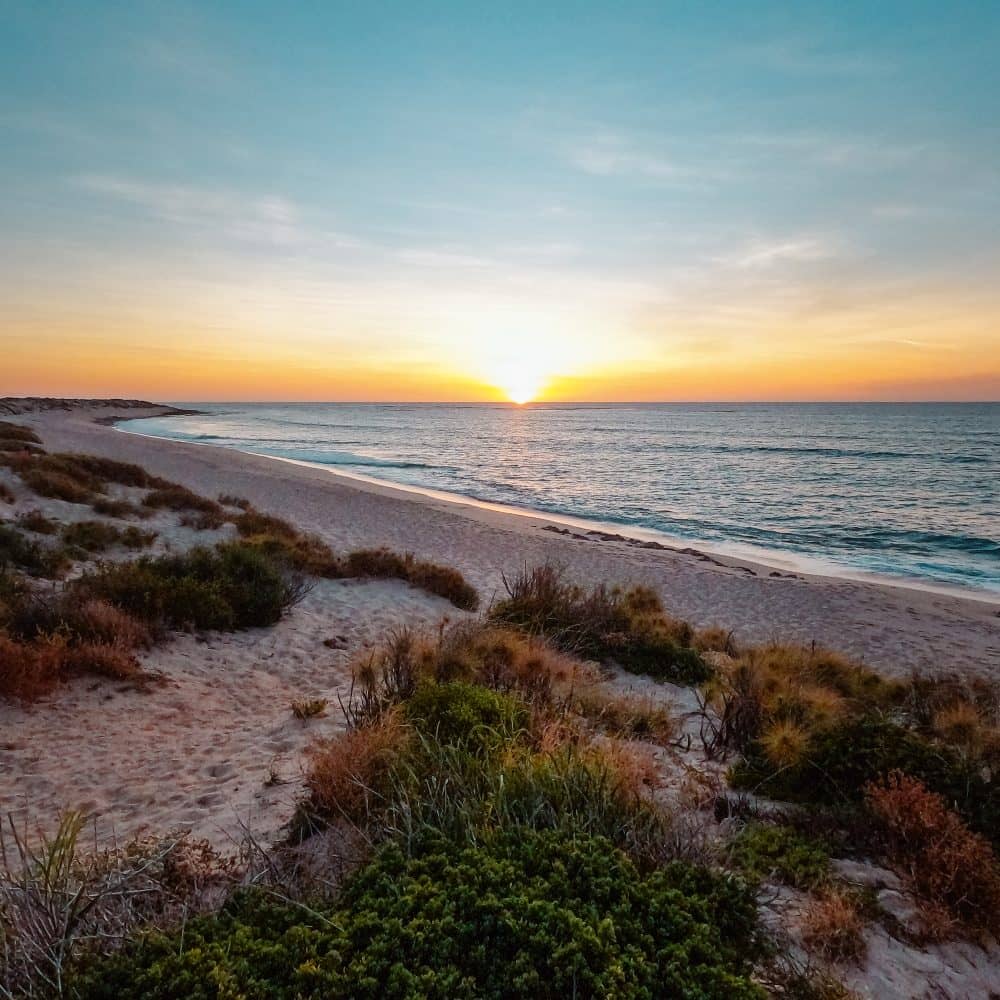 10. Wobiri Beach
Only about 20 minutes from Exmouth, Wobiri Beach is the southernmost surf beach in the area. It's about 5km south of the Vlamingh Head Lighthouse.
It's the ideal spot to learn how to surf or hone your skills. So much so, that local instructors boast that it's one of the safest they've taught at.
It's also popular for kite surfers. There is a left-hand surf break to the south of the beach that the kitesurfers love to play on. A little far out to paddle as a surfer though.
11. Tulki Beach
This windswept little beach is a 45-minute drive from Exmouth. Apart from being incredibly gorgeous, Tulki Beach also has the closest campground to Turquoise Bay.
The Yardie Creek and Mandu Mandu gorges are close by too, so you may want to camp here. Just make sure to book in advance, especially during school holidays.
Exmouth's hidden gem: Lakeside Beach
How to get to Exmouth, Western Australia
To get there as fast as possible, book a flight from Perth to Exmouth. You'll get there in 1 hour and 45 minutes.
But if you want to go there by road, the drive is around 1250 km from Perth to Exmouth. There's plenty to see and visit along the way, but we recommend paying a visit to Kalbarri – It's right in between the two cities and you won't regret it.
Where to stay in Exmouth?
Exmouth has a variety of accommodation options within the town centre and the greater area, from hotels to houses you can rent. There is no shortage of places to stay.
But if you want to get close to nature and all it has to offer, book into one of the many campgrounds nearby – the Osprey and Tulki campsites are two of the most popular ones.
Most campgrounds have basic facilities such as toilets, tank water and tables. They can also accommodate a variety of vehicle sizes but keep in mind that:
Campfires may not be allowed.
You can't bring dogs to some campsites.
Generator use may be restricted.
Some places require a park entry fee, apart from the camping fee itself.
Top tips
Turquoise bay is a must-see, but plan for a high tide, as it's not safe to snorkel there under 1.2m. Also, get there as early as possible – it's a very popular spot.
As for Exmouth's weather, it's great most of the year. But on the off-chance it gets cloudy during your visit, there are other things you can do in Exmouth if it rains. Like checking out the Vlamingh Head Lighthouse or the Ningaloo Centre.
As for seeing marine life, we personally recommend these whale shark tours. The migrating humpback whales pass through here between July and October, while the turtle nesting season is from November to March.
What to bring?
Always carry water and sun protection, as the days can be quite hot.
Also, be prepared for the occasional jellyfish sting. Hot water or vinegar are two of the best recommendations to neutralise toxins, just make sure to remove the tentacles from the skin with tweezers afterwards.
Did you know?
Exmouth's Vlamingh Head Lighthouse is one of the few places in Western Australia where you can see the sun rise and set over the water. This is because it looks out over both the Indian Ocean and the Exmouth Gulf – what a treat!
The small town of Exmouth has the best of the marine and terrestrial words, literally. It sits between the Ningaloo Reef and the Cape Range National Park, both listed as World Heritage sites. What else could you ask for?
FAQs
Does Exmouth have nice beaches?
Exmouth does have nice beaches. They're more than just nice, though. With a warm climate and pristine environment, they are paradisiac.
Where is the best place to swim in Exmouth?
The best place to swim in Exmouth will depend on the activities you prefer. For a great "all-rounder", Bundegi Beach may be your best bet. You can do practically everything sea-related there and it's very close to town.
Is Exmouth or Coral Bay better?
Choosing between an Exmouth beach and the Coral bay is a matter of personal choice, as both share a similar climate and environment.
However, Exmouth is closer to the Cape Range National Park, and the town has a few hotels and restaurants. While Coral bay might have easier access to some water activities.
Yet, what separates both places is a one-and-a-half-hour drive. So, you can visit both!
FREE Guide: 30 ways to work remotely so you can travel when you want
This PDF has ALL the tips and tricks we've learned over the years to be the digital nomads we are today.
These are tried-and-tested ways we've used to earn money from anywhere – only a laptop with internet is needed!