Quick Guide To The Ningaloo Reef: Best Time To Visit, Worst Time, Things To Do, And More
You can visit Ningaloo Reef all year round, but some months are better than others. This entirely depends on what you want to see on your visit.
But, if we had to pick the best time to visit the Ningaloo Reef, we would say during the winter months in Australia. Particularly, April through August.
In the north of Australia, autumn and winter are the dry seasons, whereas spring and summer are the wet seasons which can even bring cyclones.
So for the Ningaloo reef, winter brings vibrant marine life, sunny skies, great temperatures for outdoor activities, and even the wildflower season on the North West Cape – it's a spectacular time!
However, there are still downsides to autumn and winter in Exmouth. For example, it's the busy season, the temperatures are still fairly cool, no turtles are hatching, plus it can be windy – but not strong enough for water sports like kitesurfing until closer to summer.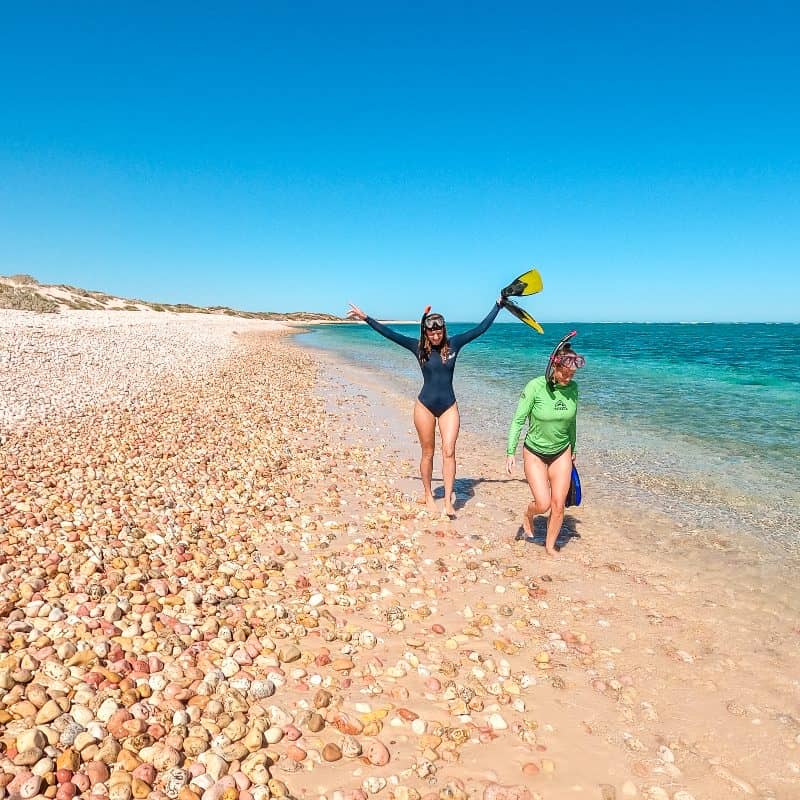 We discuss this and more below:
Table of Contents
3 reasons why the best time to visit the Ningaloo Reef is during winter – June, July, and August
1) You can swim with whale sharks, humpback whales, and manta rays.
Whale shark season is between March and August. If you want to swim with them, make sure to book a whale shark tour. Most operators have a spotter plane to quickly find these gentle giants!
As for humpback whale swimming, these majestic creatures migrate through the area from July through October. Some tours will take you to them, too!
Graceful manta rays are resident on the reef all year round. But their numbers increase between May and September.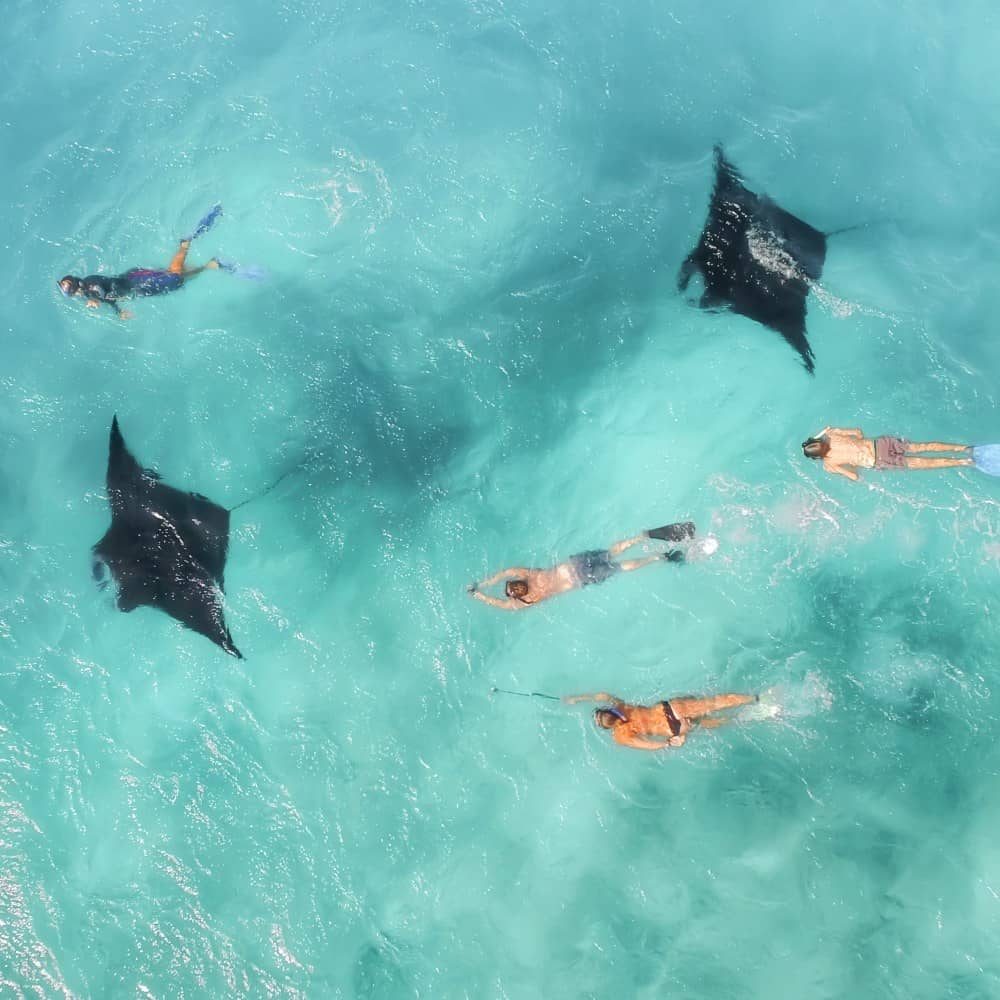 2) It's also wildflower season
The landscape of the North West Cape explodes into colour thanks to the wildflowers, which blossom between July to October.
You'll see fields of rare wildflowers from the Ningaloo Reef coast all the way to Coral Bay and beyond. But the best views are arguably from Charles Knife Gorge and Shothole Canyon, in the Cape Range National Park.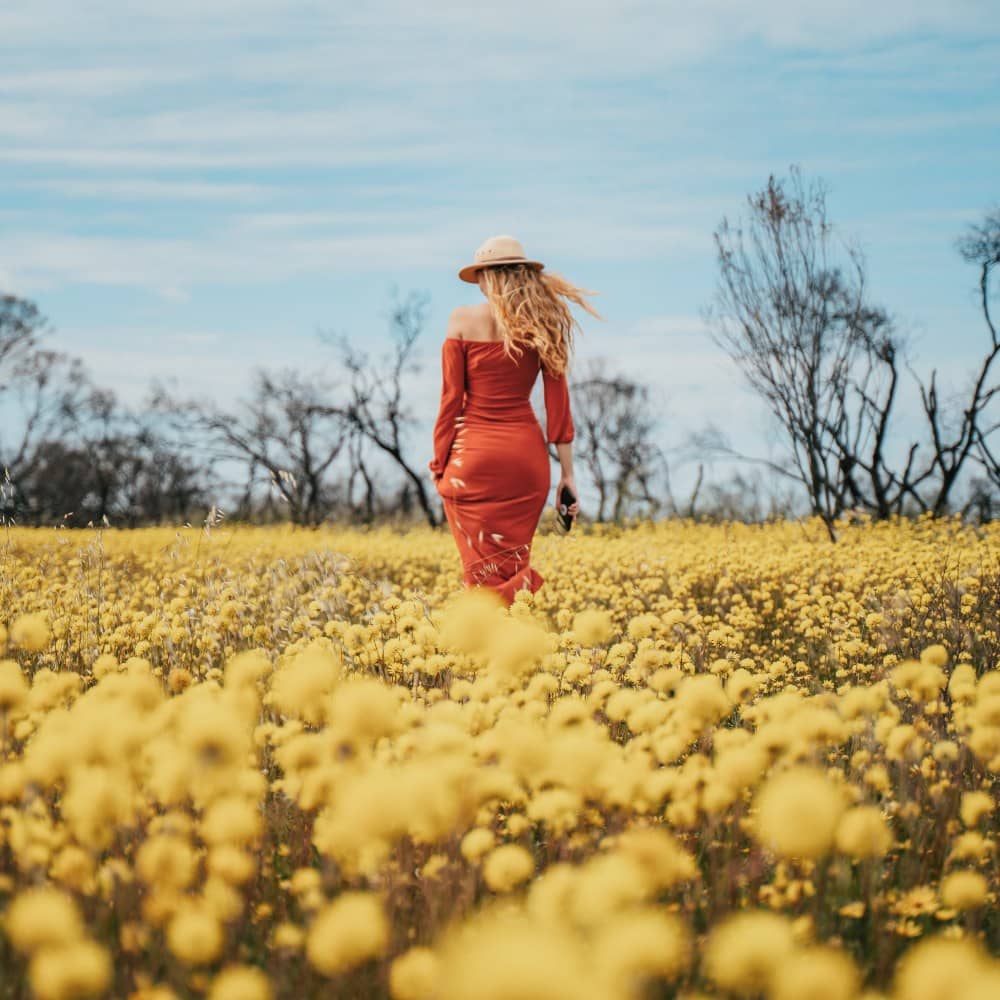 3) The temperature is ideal for water and outdoor activities.
During the winter, the daytime temperature is around 25ºC, while the nighttime temperature's around 15ºC.
These temperatures bring sunny days with cool winds. It's the best time to go beachside camping and even hiking.
During autumn, the temperatures creep up into the thirties during the day. Which can be a good escape from the weather getting colder down south of Exmouth.
Be warned, it gets even hotter during summer.
It often surpasses the thirties and can get over 40°C. Flies can be abundant and it can get very windy.
This doesn't mean Summer is terrible for visiting the Ningaloo Reef, but you may not feel as comfortable during your stay…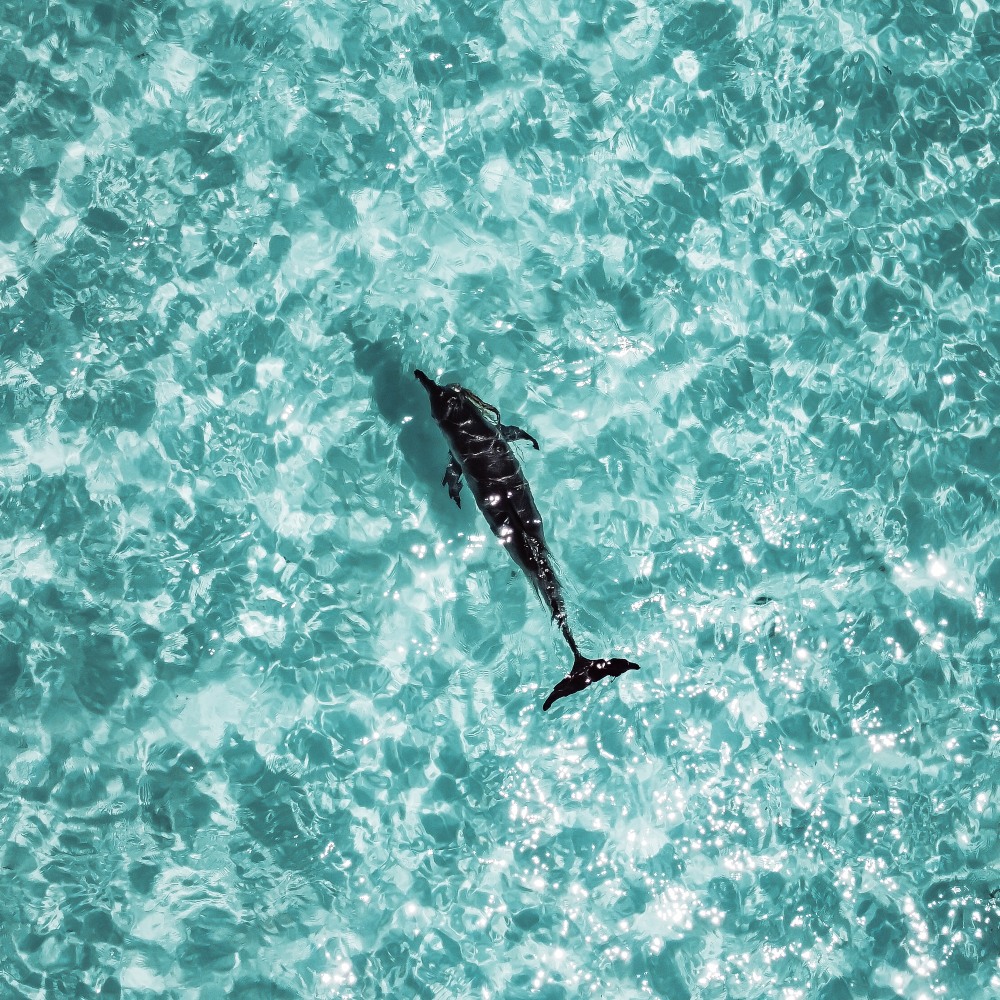 When is the best time to see turtles in the Ningaloo Reef?
Well, this depends on which part of the turtle season you want to witness – the nesting process or the baby turtles' hatching:
Nesting season is from November through March. During these months, female turtles come to these beaches to lay their eggs.
The hatchlings make their way into the waters of the Ningaloo reef 40-60 days later, usually between January to March.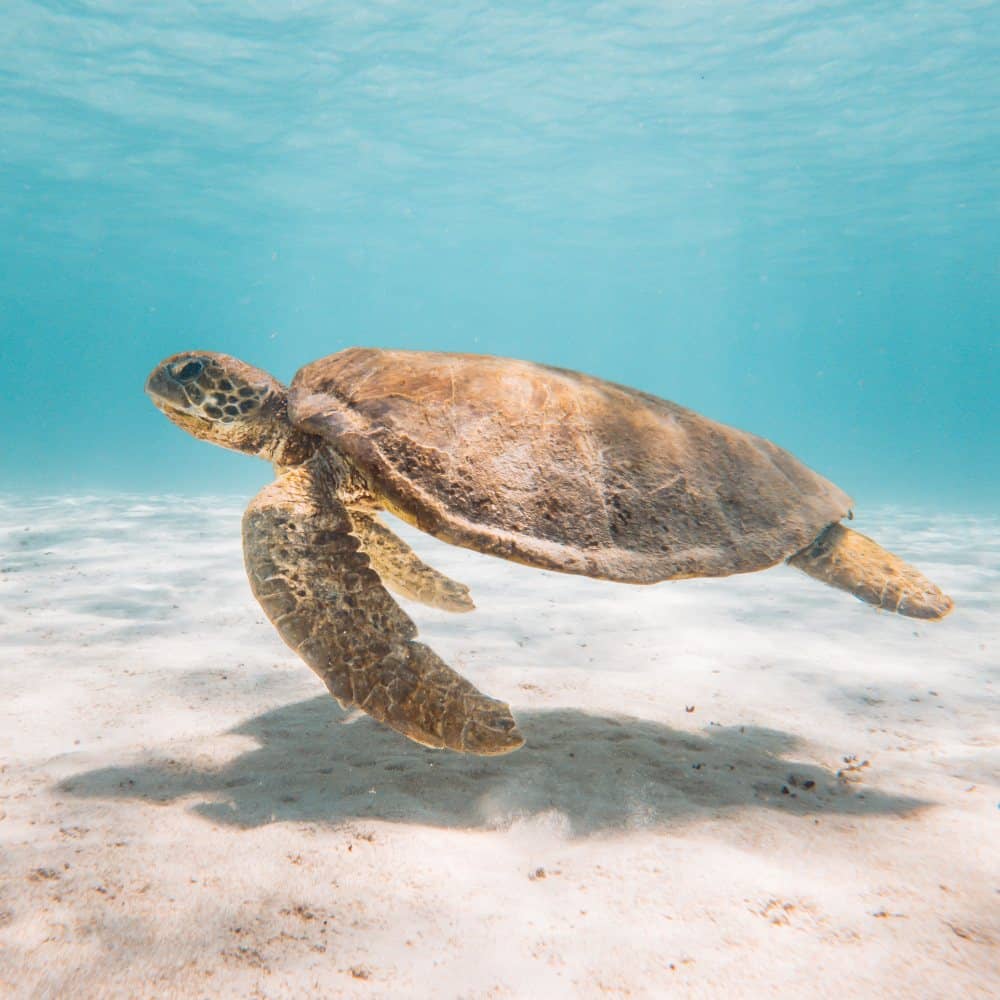 But as exciting as this is, these are very stressful times for the turtles. To learn how to disturb them the least, head up to the Jurabi Turtle Centre.
You'll learn everything about the turtle species that come visit and the Code of Conduct you should have around them.
When is the best time for surfing in Exmouth?
The best reported time for swell and surfing in Exmouth is July to October. The surf isn't very reliable in Summer here.
For surfing, we recommend checking out Dunes, Hunters or Wobiri Beach. For kitesurfing check our Wobiri too!
Keep reading: The very best beaches in Exmouth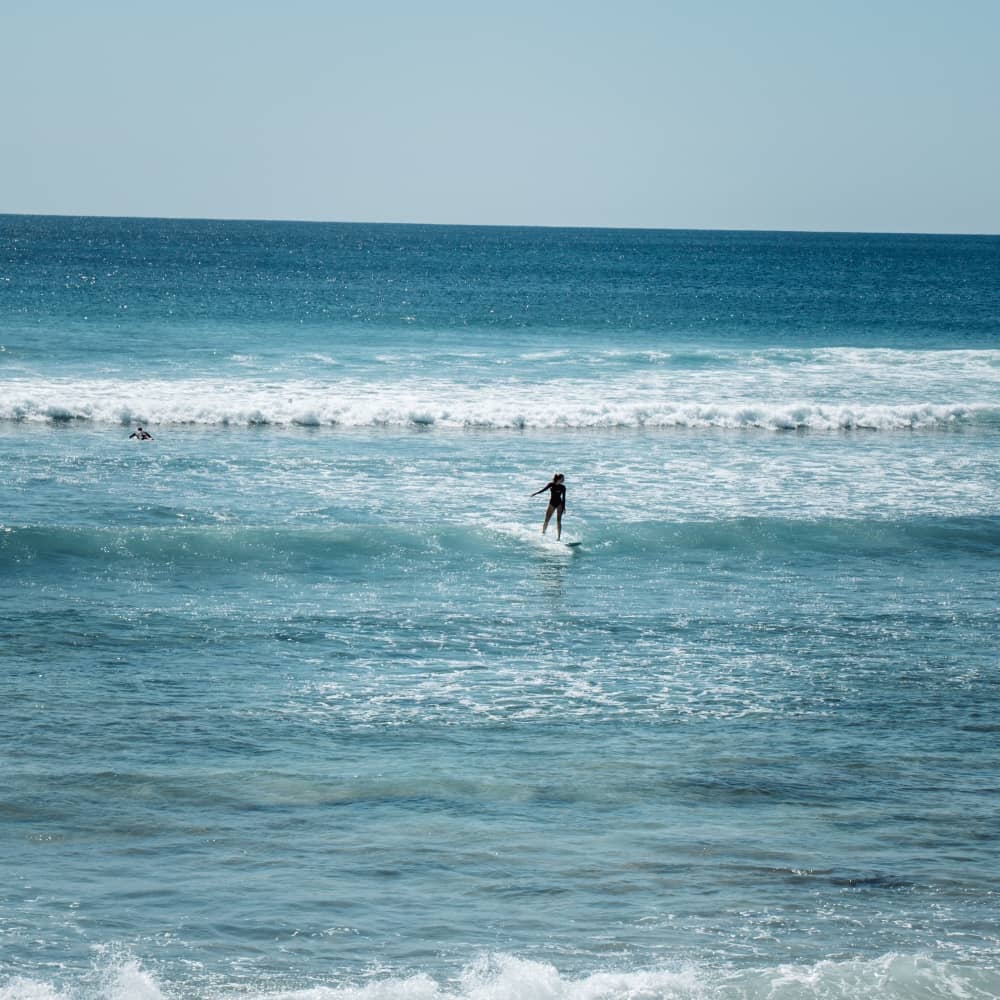 Is there a "worst" time to visit the Ningaloo Reef?
There really isn't a "worst time" to visit, but if we had to pick a time weather-wise, that would be Summer. The temperatures can be pretty unbearable, the winds can be strong and the flies can be in the millions.
For example, December, January and February average high temperatures in Exmouth are 38 degrees Celsius!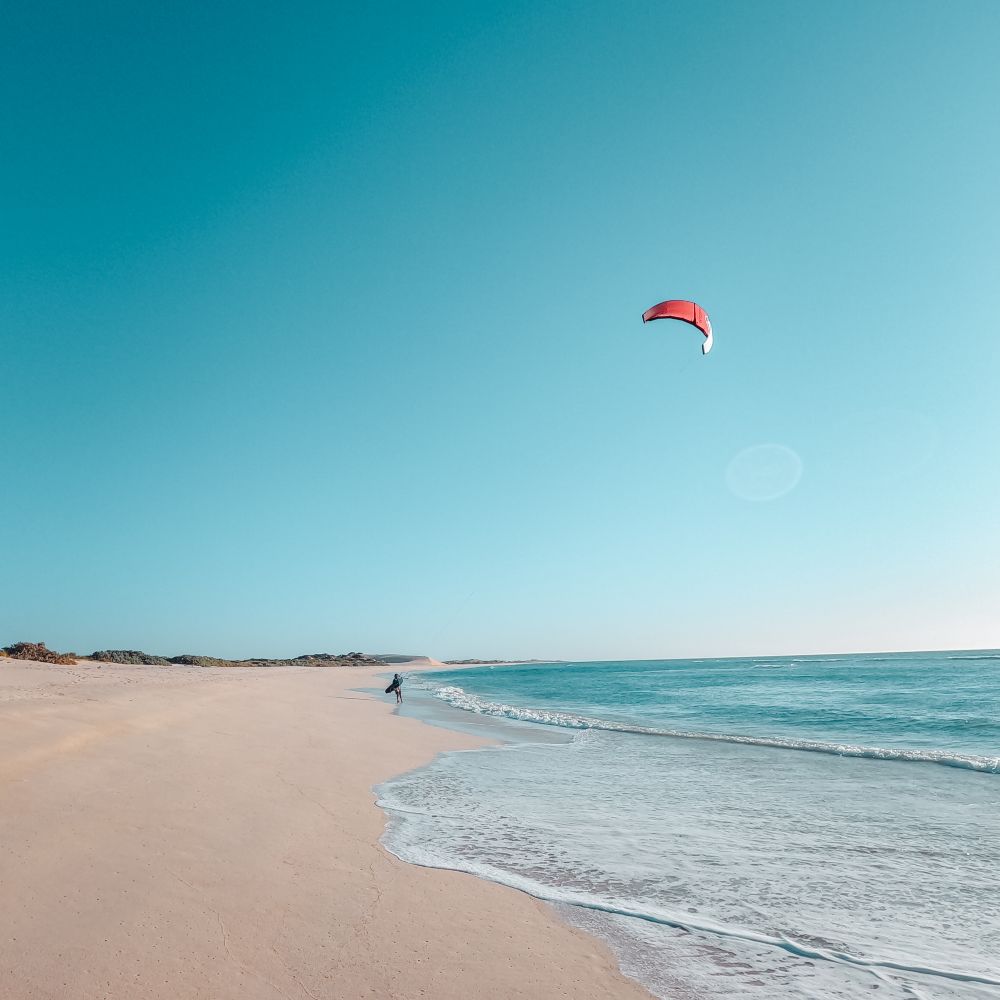 The best time for you will be the one when you can tick off the most activities from your bucket list while enjoying your stay.
For example, the summer months are very hot but the winds are great for water sports.
But this means that summer is the best time if you want to do kitesurfing or to see nesting or hatching turtles.
Due to the heat, it's not the best time for hiking. Also, there's a small chance of bad weather. But that won't be an issue if you're staying in Exmouth, as there are many things to do there if it rains.
Learn more: Ultimate Guide to Turtle Beach in Exmouth.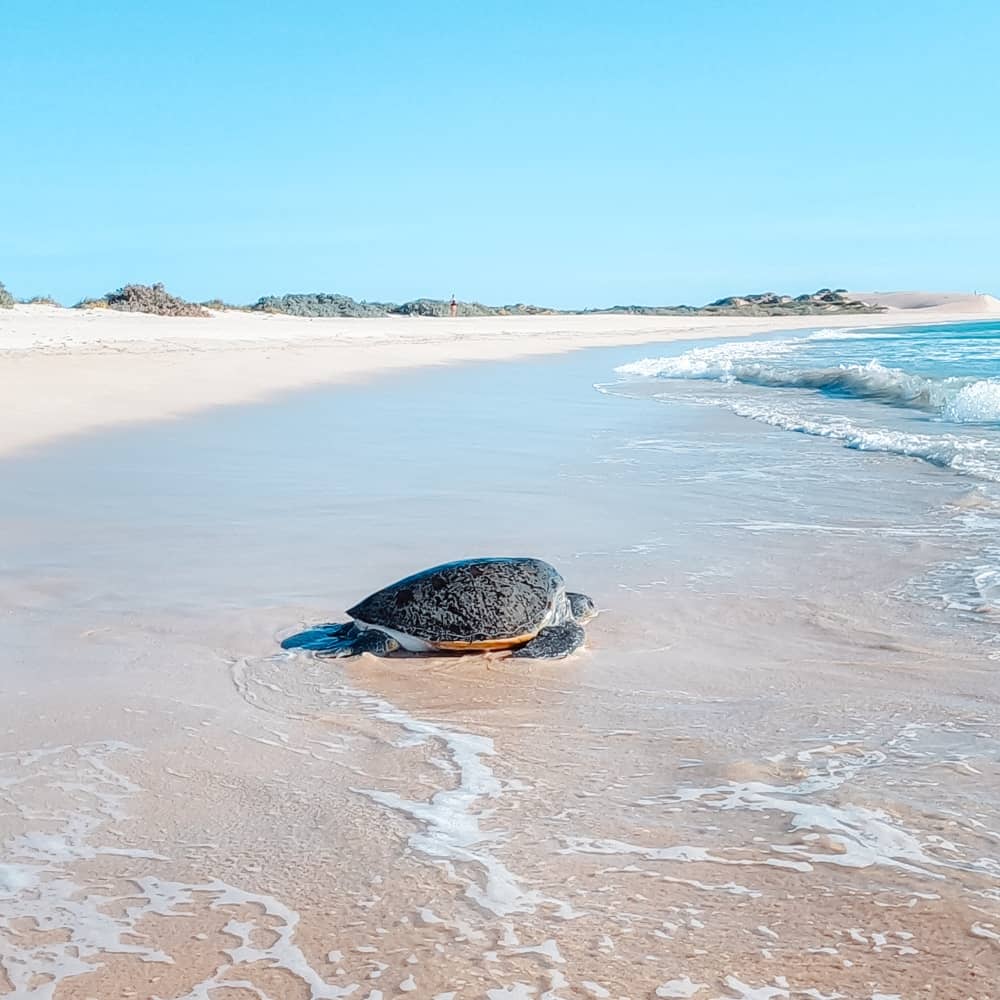 Top tips
Make sure to plan ahead! Book all the tours and accommodations you can in advance, as well as vehicle rentals. If there's a specific restaurant you'd like to dine in, save your spot ahead of time as well. This is very important during peak season.
April and July school holidays are busy times – don't risk missing out on any activity you want to do.
If you want to save as much as you can without missing anything, the first half of May is a good time to go. Whale sharks are abundant in the area and the weather is great.
But the cheapest month accommodation-wise is November. This is great news for those wanting to witness the turtle nesting season.
Related: How to plan a one-week visit to Exmouth and the Ningaloo Reef.
Did you know?
Corals are not rocks or plants, they are animals! Once a year, just after the full moon in March/April, they reproduce simultaneously in a colourful cloud of red and pink known as coral spawning.
This event is the "magnet" that draws not just the incredible whale sharks to the reef, but a host of other species equally as fascinating.
FAQs
How to get to the Ningaloo Reef?
You can get to the Ningaloo Reef by driving around 12 hours from Perth to Coral Bay. Add one more hour to the trip to get to Exmouth.
Alternatively, you can get there by flying from Perth to Learmonth Airport. It services the area from Coral Bay to Exmouth, with regular flights from Perth.
How many days do you need at Ningaloo Reef?
We recommend at least 5 days to enjoy the Ningaloo Reef without rushing. But the sweet spot is 7 days, as this allows you to explore the surroundings as well – Cape Range National Park, Exmouth, and Coral Bay.
What is the best time to visit Exmouth?
The best time to visit Exmouth is also during winter. Being right to the Ningaloo reef, this little town also shares the great weather of the area. Also, many tours and activities to the reef get started from here.
Learn more: Best (and worst) time to visit Exmouth.
The bottom line
The Ningaloo Reef is truly a destination for all seasons. Whenever you decide to go, it will be the experience of a lifetime.
But, the Ningaloo Marine Park becomes the shining jewel of Western Australia during winter. Between the marine life and the wildflower season, it'll be hard for you to leave!
FREE Guide: 30 ways to work remotely so you can travel when you want
This PDF has ALL the tips and tricks we've learned over the years to be the digital nomads we are today.
These are tried-and-tested ways we've used to earn money from anywhere – only a laptop with internet is needed!