When Is The Best Time To Visit Exmouth? And The Worst Time?
The best time to visit Exmouth is relative, as it depends on what you want to do. But most people consider it to be between March through October (and we agree).
This is mainly because of the incredible weather and beaming marine life – humpback whales and shark whales mostly. But in all honesty, Exmouth is great to visit all year round.
Keep reading to figure out when is the best time for YOU to visit this amazing place.
Table of Contents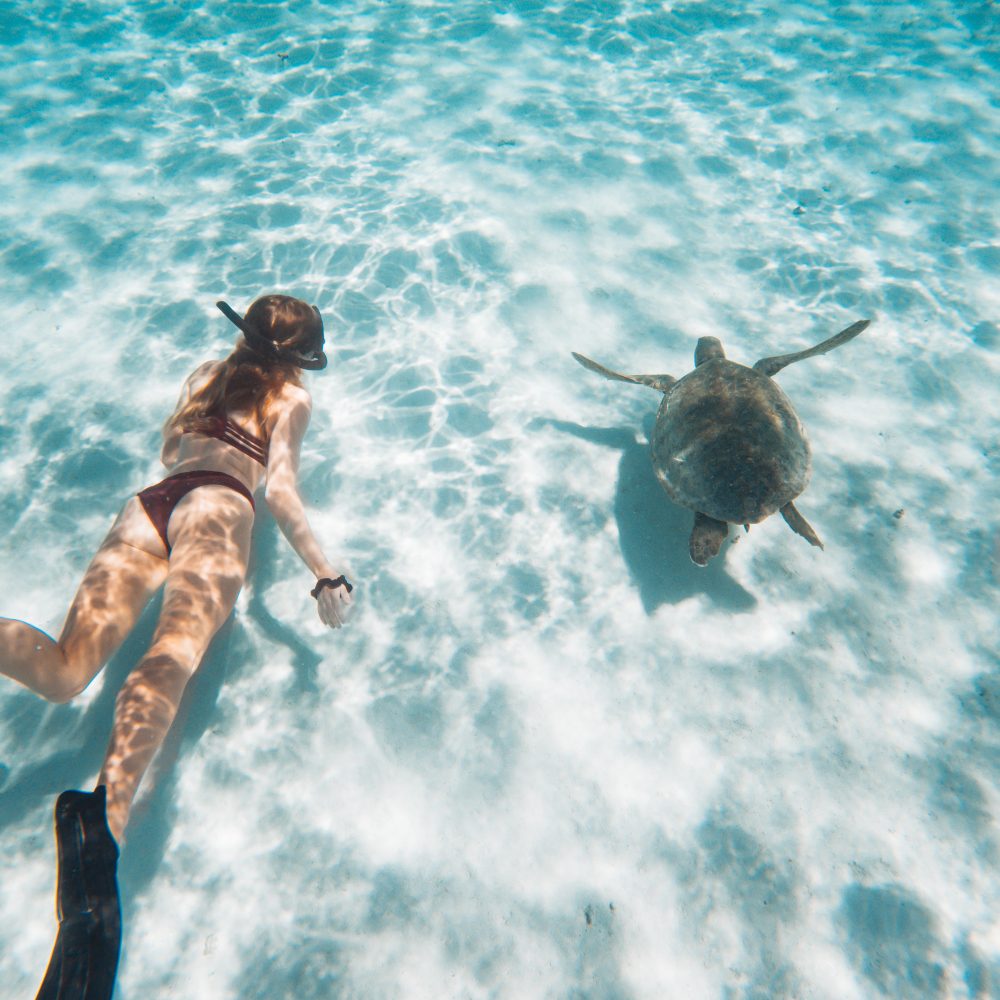 The best time to visit Exmouth is between March and October – here's why
First and foremost, the weather is great. Exmouth has lovely warm weather during these months, even in winter. It's sunny but not too hot, and the winds are great for surfing.
Also, the sea temperature is slightly warmer during winter. This makes snorkelling the Ningaloo Reef way more pleasant (if that's even possible).
The coldest month is July, with an average low temperature is 18.5 Cº and a daily average of 24.5 C°. As for humidity, June has the highest average relative humidity of the year at around 55%. Thankfully, this is the sweet spot for most people.
Finally, this period coincides with the wildflower season, which is between July and October. These are also the best months to spot humpback whales and orcas in the Exmouth waters.
Best months to see marine life in Exmouth
Seeing the marine life from the Ningaloo Reef is one of the big drawcards to Exmouth. But some of them are only to be found at certain times of the year.
So, if you want to see them, you have to plan your trip to Exmouth at the right time of year: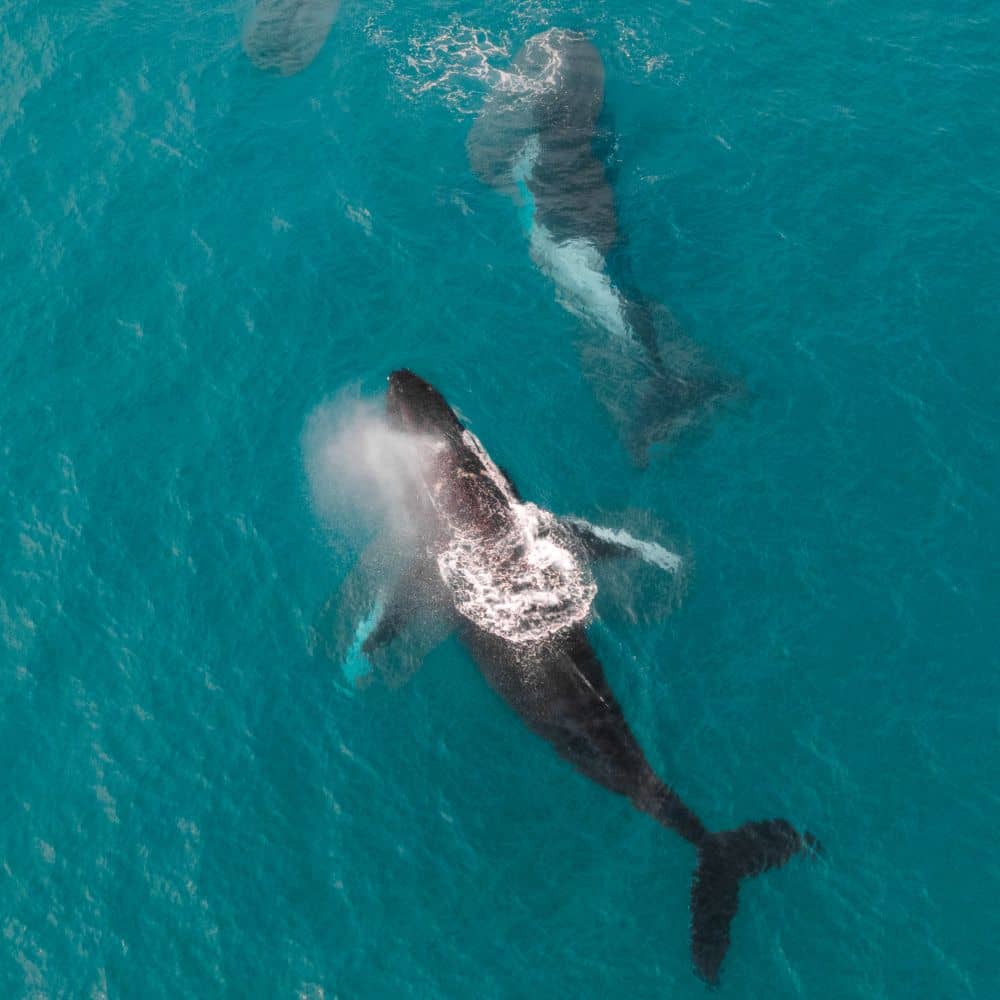 Humpback whales
The best months to spot them are between July through October. There are dozens of tour operators in Exmouth that will get you to them.
Humpback whales migrate from the icy southern oceans to the warmer ones to have their calves. Then, they swim back again to feed in the colder waters over the summer.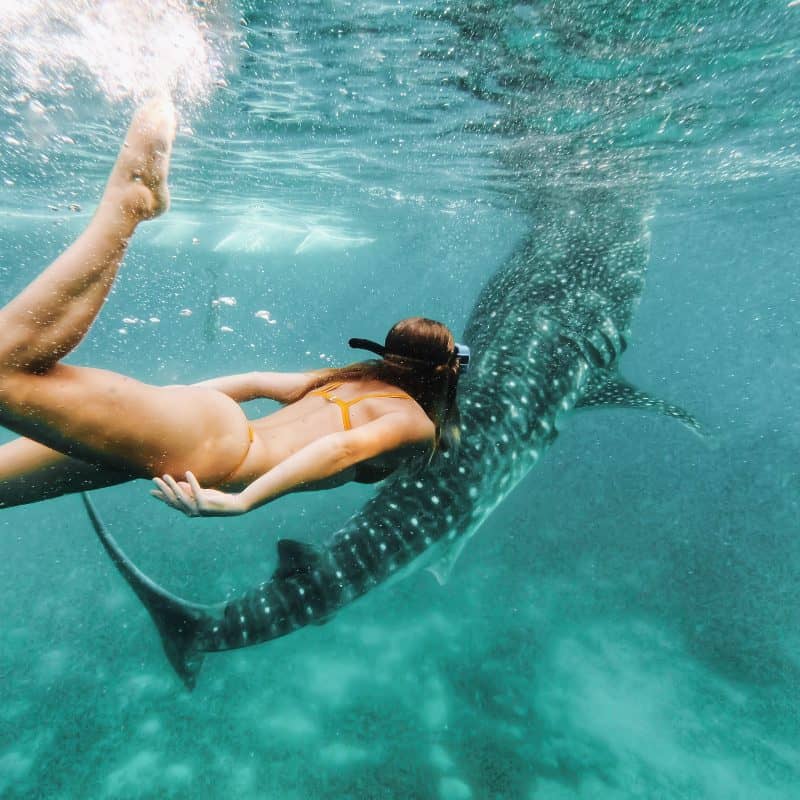 Whale sharks
The main season is between March and early August, although some tour operators work up to September. You can see them in Exmouth and Coral Bay, too.
Operators offer tours to swim with these gentle giants, and depending on the package, you can get high-resolution photos and videos to remember it.
Know more: Review of the best Ningaloo whale shark tours.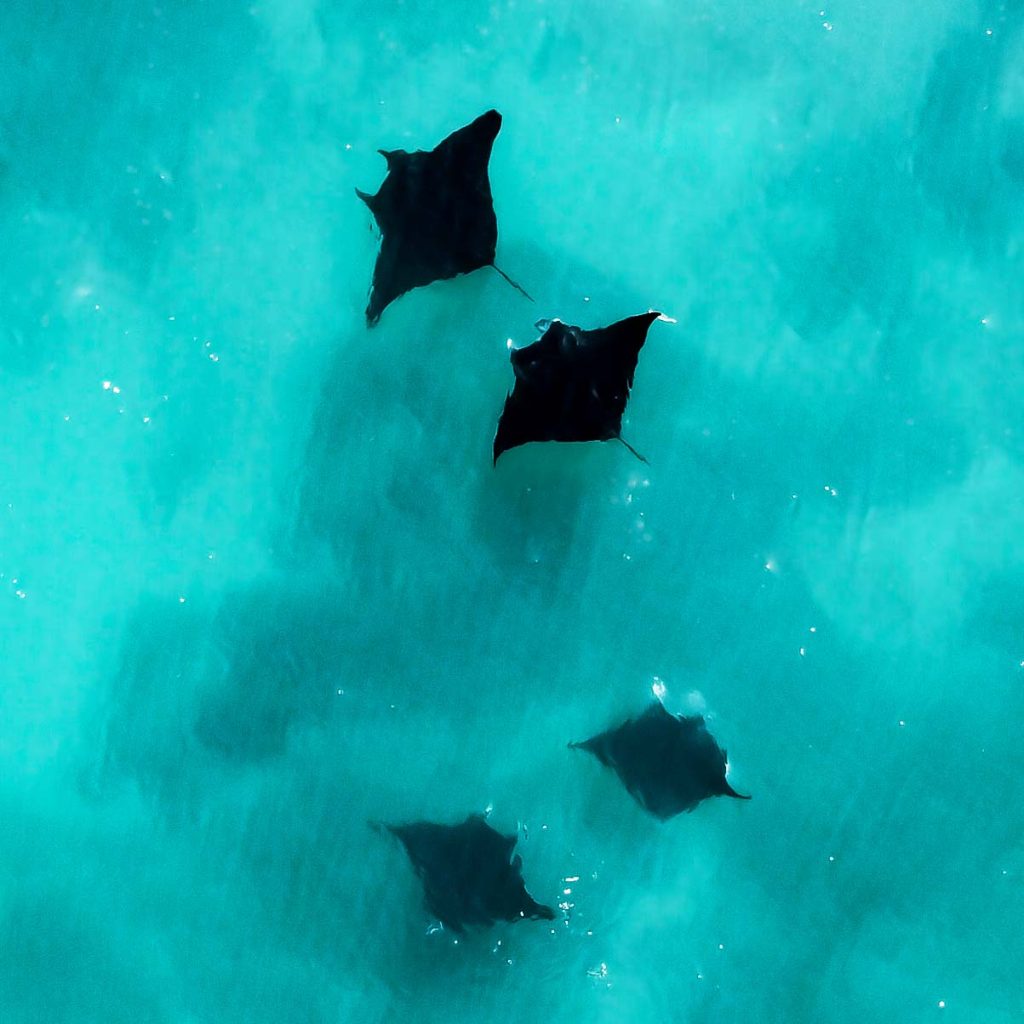 Manta Rays
Manta rays are a stunning sight to behold, and those lucky enough to visit the stunning Ningaloo Reef in Western Australia have an opportunity to view them up close.
You can find them throughout the year. But the best time for manta ray tours is from mid-May through to mid-September when their numbers significantly increase, making them more likely to interact with divers and snorkelers.
During these months, both experienced and novice divers alike can get a closer view of these majestic creatures as they glide gracefully through the water. The sheer size of the mantas makes it difficult not to be awed by them – they can grow up to 7 meters across!
Turtle nesting and hatching
Green turtles and loggerhead turtles nest all along Western Australia's coasts between December and February while hatching happens between January and March.
You can see them on your own, but we recommend joining a guided Eco-Tour at the Jurabi Turtle Centre. This will increase your chances of observing the turtles while disturbing them as little as possible.
Nesting is best watched during sunset and afterwards, while hatchlings tend to make their way to the ocean during sunrise.
Is there a worst time to visit Exmouth?
There's nothing such as a "wrong" time to visit Exmouth, any time of year is good. But the weather in some months may not be as pleasant as others, and you may miss out on some activities.
Take January, for example.
It's the hottest month, with an average high temperature of 34°C. The UV index is extreme too (+11) and the average humidity is low, but it coincides with the school holidays. This makes it the most popular month for tourists.
The average wind speed is high (around 24 km/h), being the windiest month, so it's an excellent time for windsurfing. January is right in the middle of turtle season, too.
---
---
It's a great month for deep-sea fishing and kite surfing as well, as the water temperature is great. But, during daylight hours, your risk of heat stroke is high.
So, remember to keep hydrated, wear a hat, and don't forget sunscreen – more so if you'll be out in the early afternoon.
Also, January through March is the "rainiest" period.
But by "rainiest" we mean it may rain 2 or 3 days each of these months. Nothing too severe to ruin your trip. And in the unlikely event that the weather gets cloudy during your stay, there are several things you can do in Exmouth if it rains.
November is the least popular month.
The Information Centre in Exmouth says this is partly because many people wait to come during the school holidays in December and January.
Also, many wildlife tours end after October. So, it'll be hard for you to see as much of the wildlife as you would like, especially if you want to swim with the whale sharks.
However, this lack of popularity also means accommodations may be cheaper than usual.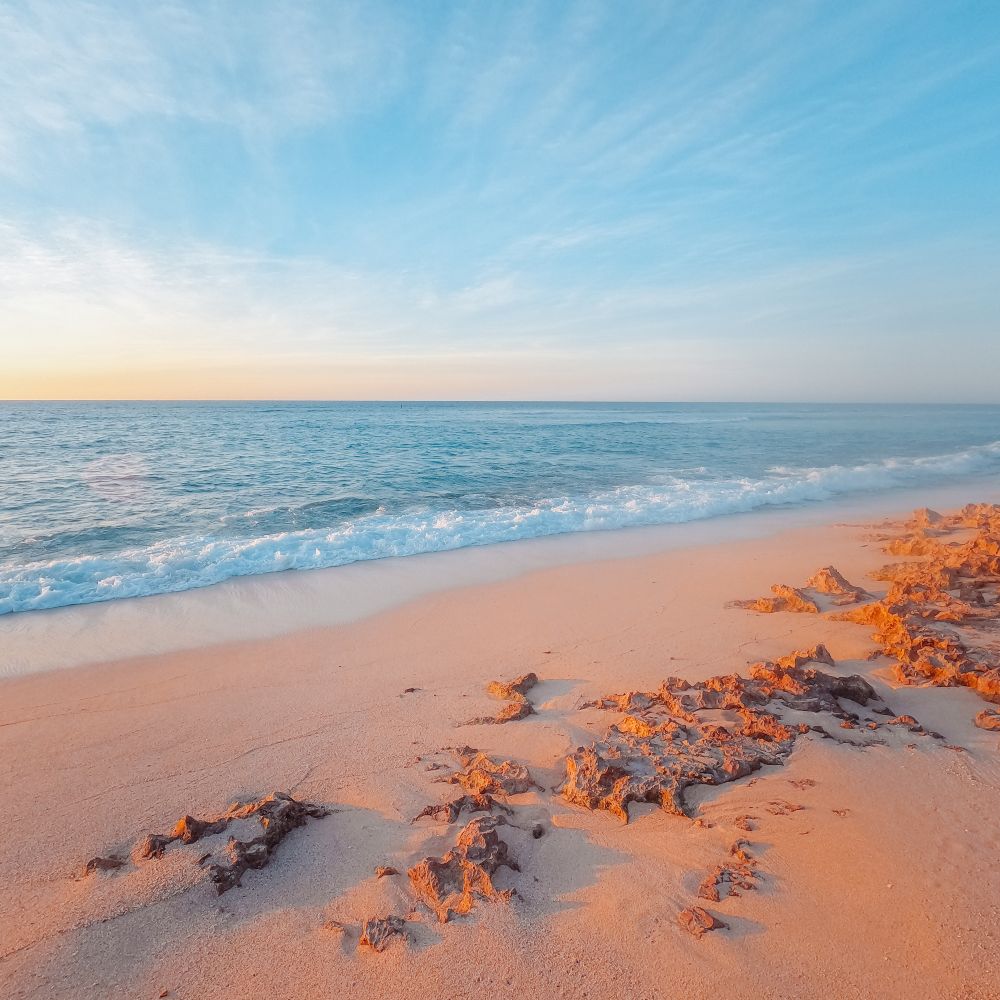 How to plan for a trip to Exmouth?
Now that you have an idea of the best time for you to visit Exmouth, it's time to plan the trip. Here are some basics to cover:
Getting to Exmouth
The easiest way is by flying from Perth or Broome to Exmouth. If you want to drive here, it's a 13-hour drive from Perth, so plan for stopovers.
How long should you stay?
It's best to have at least a week to explore the reef and all that Exmouth has to offer, including the Cape Range National Park.
This will help: One week in Exmouth (travel plan).
Make sure you pack all you need.
Exmouth is a small town. It does have plenty of places to eat, tourist shops, grocery stores, and a great bakery. But you won't find the big department stores here and getting some items in town can be challenging.
If you are going during the holiday season, plan ahead.
Bookings fill quickly for accommodation and popular tours during the busiest tourist seasons – usually December and January. So, plan and book your stay and the must-do tours as soon as possible.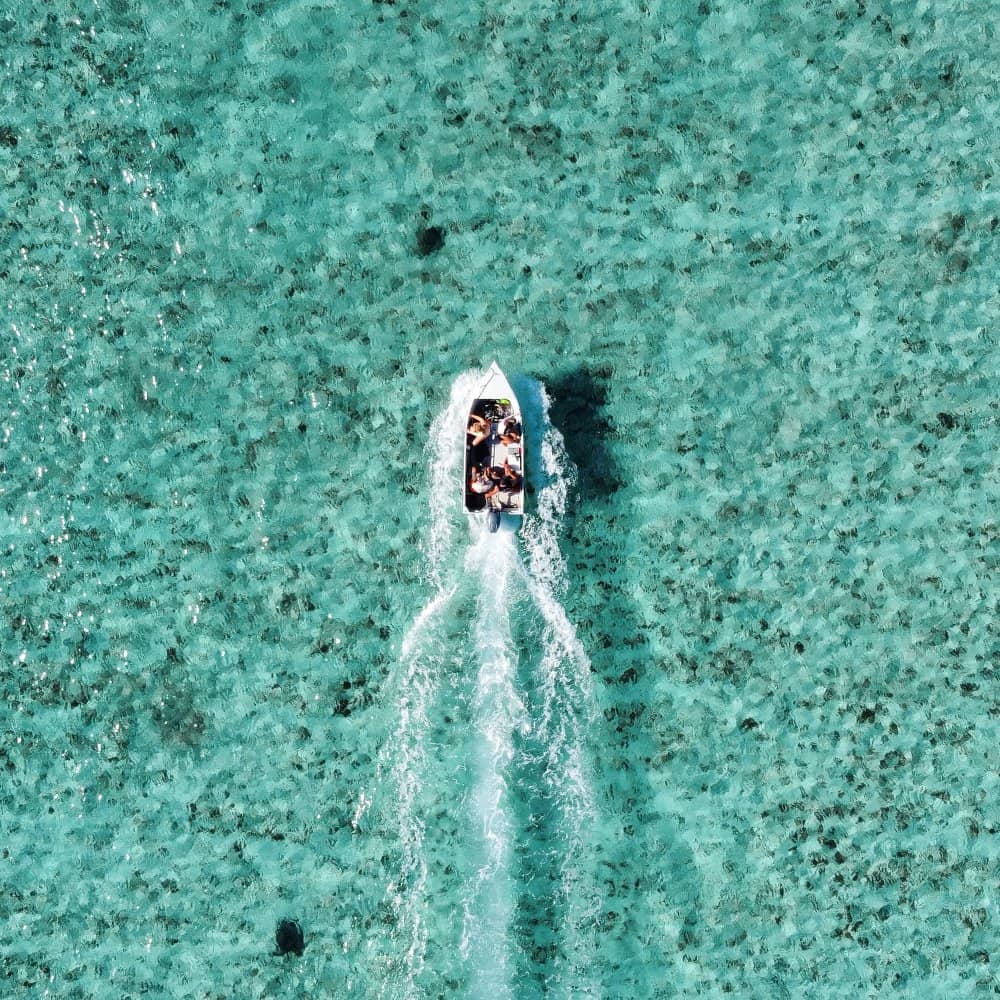 Top tips
Visiting the Ningaloo Reef is essential to do while you're in Exmouth. From glass-bottom boats to sailing vessels or even sky diving onto the beach, you'll find plenty of ways to explore the magnificent coral reef teeming with marine life.
You can see some land and marine animals at any time of the year – manta rays, dolphins, Australian sea lions, dugongs, emus, kangaroos, black-footed rock wallabies, echidnas, and all sorts of birdlife.
Keep reading: When is the best time to visit the Ningaloo Reef?
Did you know?
Exmouth was built in the 1960s because the U.S. government needed somewhere to build communication towers to maintain communications with their submarines in the Cold War.
Before then, no one had bothered too much about this town, as few people lived in the area. There were pastoralists, a shipwreck of a cattle ship (the SS Mildura), and an Indigenous population.
But nowadays, Exmouth is a must-do tourist destination. Apart from the Ningaloo Reef, this town gives access to the beautiful Cape Range National Park.
FAQs
What is the best month to visit Exmouth?
The best month to visit Exmouth will depend on what you want to do, but we'd say July or August. These two months beam with marine and wildlife and the weather is incredible.
How cold does it get in Exmouth?
Does Exmouth have a wet season?
Exmouth doesn't have a wet season, the weather is mostly tropical.
The bottom line
While it can be pleasant to visit Exmouth at any time of the year, you'll see more of the famous marine wildlife if you visit the town between March and October. Between July and October, you'll also see the wildflowers, so try to visit during those months too.
December and January are popular months to visit Exmouth, despite the high winds, due to school holidays. Book ahead if you want to visit during the popular season.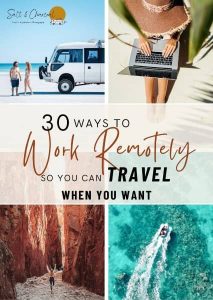 FREE Guide: 30 Ways To Make Money Online So You Can Travel When You Want
Unlock our secrets to consistent online income in Australia. These are tried-and-tested ways we've used to earn money from anywhere – only a laptop with internet is needed! Travel more and worry less.
Our Essential Travel Toolkit
🤩 Trip.com – Consistently great accommodation and hotel deals.
🤩 Hostelworld – Looking for the cheapest accommodation? We especially love the book now pay later feature.
🤩 Rentalcars.com – Best range, super easy to compare prices rental car and motorhome prices.
🤩 Viator.com – Easily book tours and experiences at the lowest rate. Great selection all over Australia.
🤩 Tripadvisor.com – Other than our website…..😉 the best place to find things to do
🤩 Airalo – eSIM store that solves the pain of high roaming bills by giving travelers access to eSIMs (digital SIM cards).
🤩 Caravan RV Camping – Traveling Australia in a van, caravan or bus? Use our discount code "saltandcharcoal" to get $30 off any orders over $300.