What To Do In King's Canyon – The Ultimate Guide
Looking out across the desert from the towering rim of Kings Canyon feels like you can see the curve of the earth's surface.
King's Canyon, located in the Northern Territory of Australia, was formed over 400 million years ago. It's an area rich with ancient history being home to the Luritja Aboriginal people for over 20,000 years. One of the biggest canyons in Australia, nestled in Watarrka National Park.
We have packed this article with everything you need to know about Kings Canyon:
King's Canyon Rim Hike
The Garden Of Eden
What to Bring
Where to Stay
How to Get There
The Thirsty Dingo Pub (For Bustling Outback BBQ/Live Music)
Sunrise/Sunset at King's Canyon
Aboriginal Cultural Experiences
Helicopter Tours
Uluru just 3.5 hours away!
Possibly the most popular attraction at King's Canyon is the challenging 6km loop trail which takes around 4 hours, known as "King's Canyon Rim Hike". The hike is absolutely worth the push, standing at the top of a sun-drenched canyon, taking in breath-taking 360 degree panoramic views.
Located around 3.5 hours drive from Uluru or 3.5 hours from Alice Springs, Watarrka National Park is not to be missed on your red centre trip! The roads are complicated to get to Kings Canyon with one of them needing a permit to access. Read below for more information.
Watch our YouTube video below showcasing the amazing Kings Canyon Rim Hike and some nearby meteor craters:
Kings Canyon may be located in the centre of Australia, but don't be fooled, expect to see an oasis of palms and wildlife here framed by plunging red rock walls. Hidden deep within the canyon is a welcome surprise, The Garden of Eden – an oasis in the desert, brimming with rare species of native plants and sacred water (see below).
If it's a spectacular hike that excites you, perhaps you're a geology buff, natural history lover or maybe you crave inspiration… Whatever your motivation, we have the answers here for the best things to do in King's Canyon.
Kings Canyon Rim Walk
The 6km hike begins right near the carpark at Kings Canyon, starting with what is known as the, "Stairway to Heaven" or "Heartbreak Hill" but it's best described as a "baptism of fire" for hikers, with what feels like one thousand stone steps leading up towards the rim of Kings Canyon.
If you are reasonably fit and take it easy, then you should get to the top within half an hour. There are several "pinch yourself" moments on the way up while you stop at the rest points to look out at the incredible scenery. It definitely fuels your energy to keep going!
Not far from here is, "Priscilla's Crack" (made famous by the movie, Priscilla, Queen of the Desert). Looking out across the south wall of the canyon is breath taking. We were amazed by the vertical drops.
Meander onto "The Lost City", a series of sandstone domes that look like stacked pancakes with golden syrup! There are moments where you will feel like you are walking on the planet Mars!
Don't miss the side tracks, "Cotterill's Bridge and Lookout" and "The Garden of Eden". Until you rise back up to the rim again climbing an incredible wooden staircase before continuing your way around the mouth of the canyon and back down to the carpark.
There are a couple of sneaky spots along the cliff edge here for some spectacular photo opportunities. (But be careful of course!)
The Rim Walk takes at least 4 hours – but if you're like us and you can't help stopping to linger over the incredible views, then it will take a lot longer.
We left around midday and were racing the sunset to get back before dark, so make sure you leave for the hike earlier in the morning!
The Garden of Eden
Lush green leaves and warm orange rock formations decorate this ancient permanent waterhole. Water is scarce in the outback so swimming in this waterhole is strictly forbidden. The sacred water here sustains the unique vegetation and wildlife that inhabit this remote arid environment.
However, the essence of the still water still brings about a sense of calm and cool in the exhausted hiker!
A sacred men's place for the Traditional Owners, and locally referred to as the Garden of Eden, this special place deep within the canyon commands respect and imparts peace as you soak up the serenity surrounding it.
The perfect place to restore energy, in the centre of the canyon, before returning to the rim hike. We must admit, we were exhausted by this point. Make sure you are mentally prepared Kings Canyon Rim Hike is hard but it was one of our biggest highlights of the red centre.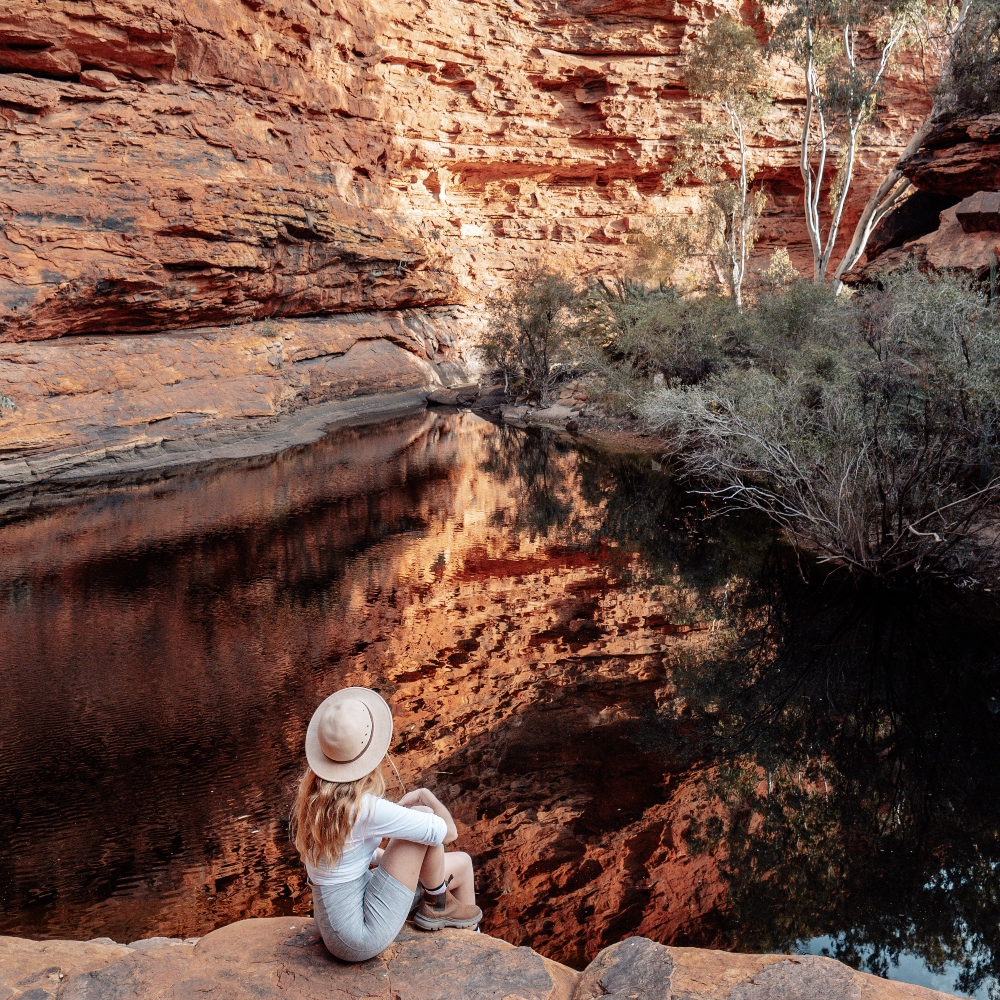 Where to stay at Kings Canyon
Camping, glamping or apartments, there are only two places to stay, Kings Canyon Resort and Kings Creek Station. For Vanlifers like Travel With Wade and Dani this is the perfect spot to set up camp.
Kings Canyon Resort is the closest, only ten minutes to the canyon, while Kings Creek Station is about 25 minutes. Both can get busy in the cooler season, so booking accommodation in advance is essential.
What to bring
Good lightweight hiking boots are a must!
Twice as much water as you think you'll need
Snacks and food
Fly net depending on the time of year
Comfortable hiking clothes
Sun and insect protection
Definitely a camera!
Emergency supplies and equipment
How to get there
Located in Watarrka National Park, in the south-west corner of the Northern Territory. Kings Canyon is 450km (4 hours) from Alice Springs and from Uluru its 300km (3-4 hours).
There are a couple of different road options to consider which are explained below.
PLEASE BE AWARE: Google maps will often recommend dirt roads in this area, no matter what vehicle you are driving.
Unsealed roads:
We took Ernest Giles Road, which is a dirt road that you really need a 4wd for. This direction does save you some time and we enjoyed driving on the bright red dust road in the outback.
Meerenie loop is another unsealed road, 4wd recommended and you need to a permit to access. For more information click here: permits.
Sealed roads:
Most commonly peoplewill take Lasseter highway and then Luritja Road (both sealed) to get to Kings Canyon from Uluru. From Alice Springs people take Larapinta Drive.
Other hikes near Kings Canyon
The carpark at Kings Canyon is also the starting point for shorter walks such as, Kings Creek Walk which is an easier 2.6km hike leading into the floor of the canyon. The sheltered environment of the depths is a great escape on a hot day, with plenty of shade and spectacular views of the canyon.
The South Wall Walk is an easier ascent to the top of Kings Canyon with great views across to the sandstone domes of the Lost City. This 4.8km, 2-hour return walk doesn't give you Cotterill's Bridge and Lookout, or the Garden of Eden, but it does offer a great appreciation for the vertical walls of the canyon.
Kathleen Springs is a 15-minute drive from Kings Canyon carpark, and this 2.5km, 1.5-hour walk gives great insight into the local indigenous culture and the more recent cattle industry history in the area. Ending at a spring-fed waterhole, which in the late afternoon is teeming with wildlife, this is a great place to catch the last of the sun as it sets the surrounding cliffs aglow.
Overnight Hike – The Giles Track
For the more adventurous, the lesser-known 22km Giles Track linking Kings Canyon to Kathleen Springs is a relatively easy two day (overnight) hike that offers some of the best photographic opportunities of Kings Canyon and the dome formations.
Officially it starts at the Kings Canyon carpark and heads toward Kathleen Springs, but if you start at The Springs and hike toward the canyon, it's virtually flat all the way and you get to finish with the spectacular sights of Kings Canyon and Lost City domes.
Beat the Heat!
Hiking in hot weather needs to be taken seriously…
We only recommend visiting between May and September, however if you find yourself attempting this hike in summer (it doesn't get closed like Uluru does) make sure you:
Take a minimum of 4 litres of water per person
Arrive early (about 5.30-6.00am) in the morning
Try to plan to be down from the Canyon Rim by about 10am
Other things to do near Kings Canyon
Karrke Aboriginal Cultural Experience, the local indigenous community invite you learn more about their ancient culture.
Take a scenic flight over Kings Canyon
Make sure you visit Uluru and Kata Tjuta National Park 3-4 hours from Kings Canyon
There are a number of red centre attractions and waterholes surrounding Alice Springs and the Macdonnell Ranges make sure you check them out! However they are 4 hours from Kings Canyon so be prepared for a lot of driving time.
Check out Kings Canyon Resort and the Thirsty Dingo Pub
Sunset or Sunrise at Kings Canyon
How long do you need at Kings Canyon?
Easily a full day is needed to experience the best it has to offer. We recommend staying one night at the least and two nights if you want to settle in a relax for a day after the big hike.
Can you swim at Kings Canyon?
No… swimming is not permitted, as it will risk contamination of the water, and subsequent endangerment to hundreds of species of flora and fauna relying on it for survival.
Top Tips
There is so much to see and do here, that you need to set aside a whole day – It's worth trying to take in a sunrise or sunset to experience the magical colour changes within the canyon.
The Rim Walk is strenuous enough that families with smaller children might struggle.
For those with a fear of heights, the views here definitely make it worth the effort to conquer your fear, however if you are petrified of heights this is not the hike for you.
Make sure you take the side paths so you don't miss out on the additional sights to see, such as Cotterill's Bridge and Lookout, which is on the trail between The Lost City and The Garden of Eden. We nearly skipped them because we were tired. So glad we didn't!
Check out the "Thirsty Dingo Pub". It's epic! We saw some awesome live music there… Oh, and eat the outback BBQ – delicious.
And don't forget… be hot weather-wise.
Whether you have family with you, or are going it alone, a day in Kings Canyon is time well spent.
With scenic walks, adventurous hiking and rock domes that remind you of another planet. Plus luscious hidden gardens and sacred places, this is a stunning piece of the planet, and although less publicised, King Canyon really is the cherry on top of a Red Centre adventure!
Have you been, do you plan to go? Let us know in the comments below!