Visit Lakeside, Exmouth: A Hidden Gem For Snorkelling in WA
Lakeside is a remote beach near Exmouth, Western Australia. It's nestled into the western coastline of the beautiful Cape Range National Park and it's part of the Ningaloo Marine Park.
People snorkel with dolphins, dugongs, fish and corals here making it one of the top snorkelling sites in the area!
Its calm waters are ideal for beginners and experts alike. It's quieter than Turquoise Bay but just as beautiful, so make sure to add this incredible North West Cape spot to your itinerary.
Here's everything you need to know to plan your visit to Lakeside (Exmouth):
Table of Contents
How to get to Lakeside Snorkelling Area, Exmouth?
Lakeside Beach is 53km from Exmouth – around a 40-minute drive. Follow the signs from Yardie Creek Road and turn off to the Milyering Visitor Centre. Lakeside's snorkelling area car park is a short drive behind, with a small dirt road access section. 2WD and 4WD cars can drive in.
From there, it's around a 5 to 10-minute walk to the beautiful beach. To get to the snorkelling spot, continue south along the coastline until you see the signs and corresponding yellow buoys that mark the Lakeside Sanctuary Zone.
There's an entry fee of $15 to get into the Cape Range National Park.
Can you camp at Lakeside Beach?
No, there are no campgrounds at Lakeside, but there are many nearby and there is a toilet located near the carpark.
To the north, you'll find the Yardie Creek Homestead, Mesa, Kurrajong and Neds campgrounds. To the south, there are Tulki Beach, North Mandu, and Osprey Bay campgrounds, among others.
Regardless of where you stay, remember – always take your rubbish with you, leave nothing behind and pick up any rubbish you see to protect marine life.
We recommend staying in Osprey Bay campground
This campground is just a 25-minute drive from Lakeside. You'll have to bring your own supplies, though – there are only toilet facilities. It's hard to book a spot between May through September, so make sure to do this in advance!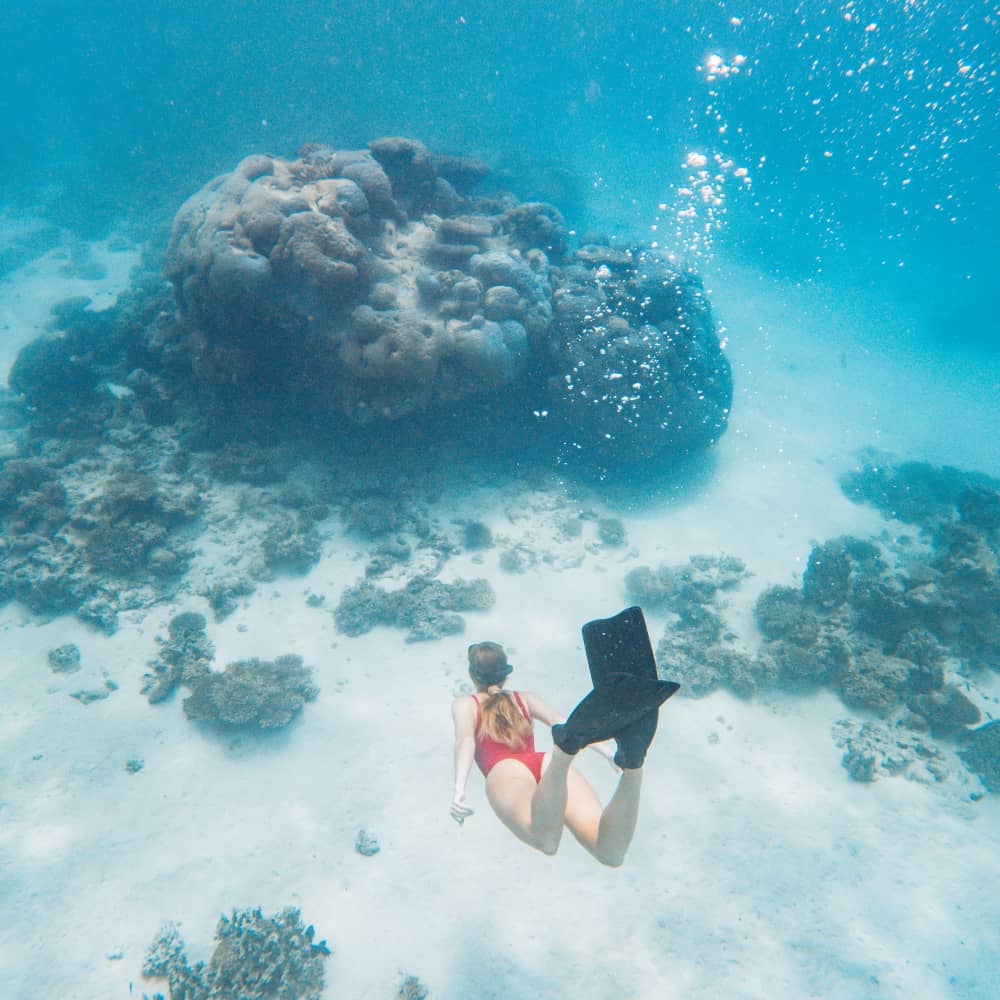 You can also stay in Exmouth or Coral Bay.
These are the nearest towns, so if you're not the keenest of campers, you can stay in either one. Exmouth is much closer though.
Lakeside can be done as a day trip from Exmouth. This beautiful town has all your usual accommodation options. Or you could go further down the Ningaloo Coast and stay at Coral Bay.
When is the best time to visit Lakeside Beach?
The snorkelling in Lakeside is always spectacular. But to scratch a few bucket list experiences, you should visit anytime from March through October.
Apart from the great weather and the teeming marine life, you can:
Read more: When is the best time to visit Exmouth?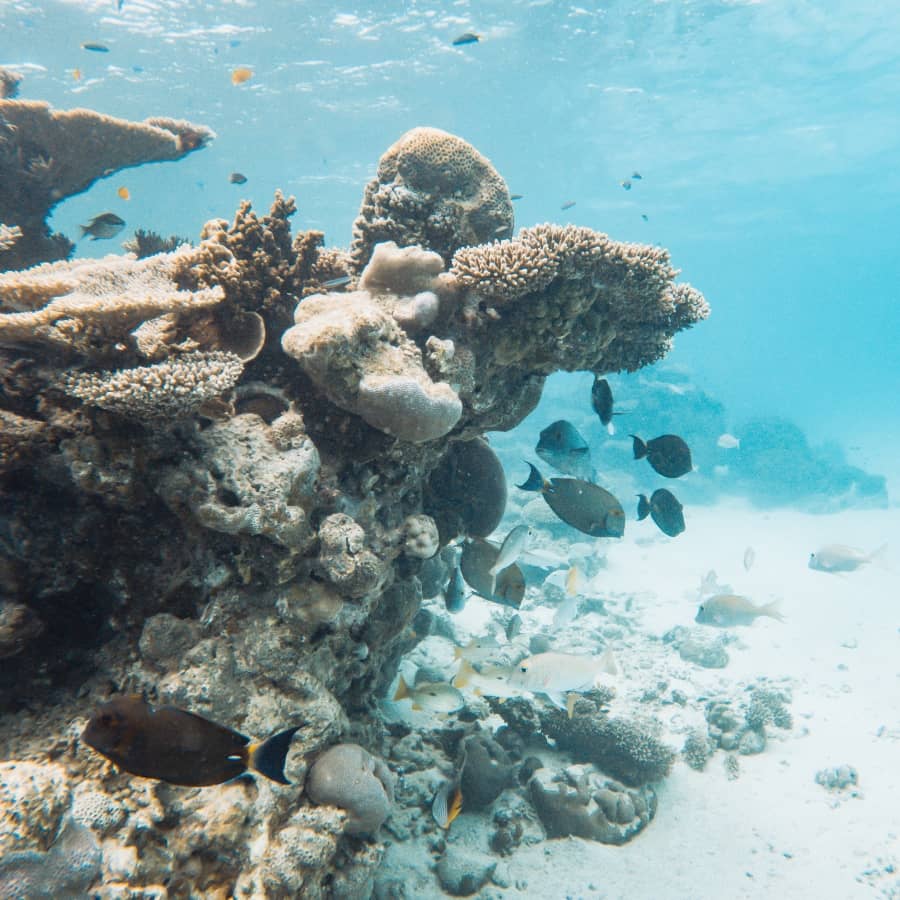 Snorkelling at Lakeside beach
The waters of the Lakeside Sanctuary Zone are home to a plethora of sea creatures. From small and large reef fish to stingrays, reef sharks, and dugongs. There's also a high chance you'll spot sea turtles!
This is a great spot for beginners or advanced snorkellers, the current is usually not as challenging as the Turquoise Bay drift snorkel. You'll spend most of your time swimming around the coral bommies just offshore, in calm waters.
A bonus is that it's often much quieter at Lakeside than in Turquoise Bay, making a lazy day on the beach even better.
Recommended tour: Full-Day Kayaking and Snorkeling Adventure
If you want to visit several snorkelling spots in one day, we recommend starting with Turquoise Bay because it's more challenging, leaving Lakeside for last. Work Travel smarter, not harder!
For more snorkelling: Check our favourite snorkelling spots (and snorkelling tours) in Exmouth.
Other things to do in Cape Range National Park
During your visit, you'll likely want to visit another spot in the Cape Range National Park.
---
---
You can go to the Milyering Visitor Centre to start your day. This place has a wealth of information about local history and wildlife, a gift shop, and you can get other items (like snorkelling necessities!) if you need them.
Then, make sure to include at least one of these spots before or after your visit to Lakeside Beach:
Visit at least one of these beaches
The Cape Range National Park has no shortage of stunning beaches to enjoy, but you can't leave without checking at least:
Turquoise Bay – drive 15 minutes south of Lakeside Beach to get there. It's one of the top ten beaches in the country!
Osprey Bay – at a 25-minute drive from Lakeside, it's the best spot for family activities.
Sandy Bay – you'll get here after a short hike from Osprey Bay. The calm, shallow waters make it ideal to relax at the end of the day.
Oyster Stacks – Great snorkelling at high tide only!
Want more? Here's our full list of the best beaches near Exmouth.
Visit Mandu Mandu Gorge, Charles Knife Canyon or Shothole Canyon
Sitting on the eastern side of Cape Range National Park, Charles Knife or Shothole Canyon is one of the park's most stunning and rugged areas.
Shothole Canyon is a 4WD access road only, and Charles Knife has 2wd access. Both canyons have rich colourful rock layers, with fossils scattered throughout the walls.
Mandu Mandu Gorge is another popular gorge with a hike and viewpoint which many travellers opt to do for something a little bit different in the National Park.
Keep reading: Other awesome things to do in Cape Range National Park.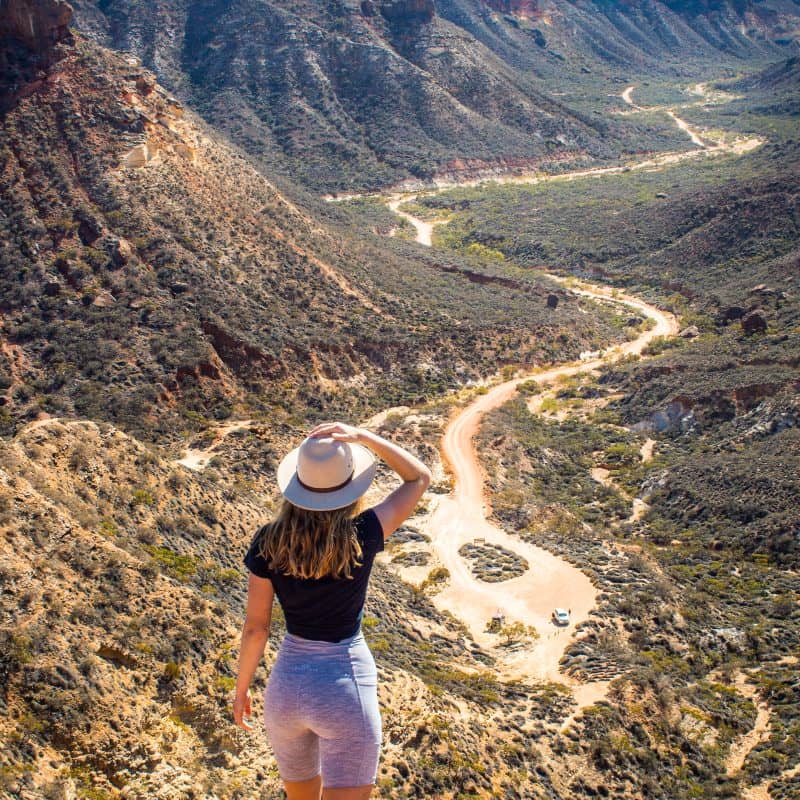 Top tips
Bring as much of what you need as possible from larger centres. Getting necessities within the park can be limited or expensive if available.
Also, bring plenty of drinking water with you and stay "sun-safe". If possible, try to look for environmentally friendly sunscreen to help protect the delicate Ningaloo Reef.
Did you know?
"Coral bommies" (also spelled "bombies") are large shaped coral formations. These are very popular with divers, snorkellers and the fishing fraternity alike, because of the abundance and variety of marine life that they attract.
The word comes from the French "bombax", a plant family referring to a "tropical tree with showy clustered flowers".
FAQs
Are there sharks at the Ningaloo Reef?
Yes, there are small reef sharks residing along the Ningaloo Reef. Larger sharks tend to be toward the outer reef but sometimes can travel through the inner reef too.
How far is Lakeside from Exmouth?
The 52km drive takes about 45 minutes, heading north from Exmouth and then down the coast on the Yardie Creek Road to Lakeside.
Are there any restrictions at Lakeside beach?
Yes! The snorkel sites are located within a protected zone of the coral coast, so the general rule is "Look, but don't touch!"
The bottom line
If you're looking for a beach with beautiful clear waters, great snorkelling and an abundance of colourful fish, Lakeside Beach is the perfect spot.
This pristine beach is nestled between an underwater wonderland and the rugged limestone canyons of Cape Range National Park. It's definitely worth adding to your must-do list for Western Australia!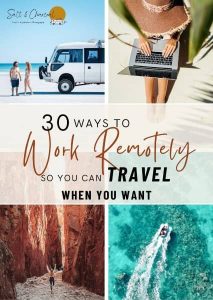 FREE Guide: 30 Ways To Make Money Online So You Can Travel When You Want
Unlock our secrets to consistent online income in Australia. These are tried-and-tested ways we've used to earn money from anywhere – only a laptop with internet is needed! Travel more and worry less.
Our Essential Travel Toolkit
🤩 Trip.com – Consistently great accommodation and hotel deals.
🤩 Hostelworld – Looking for the cheapest accommodation? We especially love the book now pay later feature.
🤩 Rentalcars.com – Best range, super easy to compare prices rental car and motorhome prices.
🤩 Viator.com – Easily book tours and experiences at the lowest rate. Great selection all over Australia.
🤩 Tripadvisor.com – Other than our website…..😉 the best place to find things to do
🤩 Airalo – eSIM store that solves the pain of high roaming bills by giving travelers access to eSIMs (digital SIM cards).
🤩 Caravan RV Camping – Traveling Australia in a van, caravan or bus? Use our discount code "saltandcharcoal" to get $30 off any orders over $300.