How To Plan A Week In Exmouth (And 13 Awesome Activities To Do During Your Stay!)
A week in Exmouth is the perfect amount of time to visit! You'll have enough time to explore and relax without rushing.
You can easily spend 3 or 4 days touring the Ningaloo Reef, 2 days exploring Cape Range National Park, and the rest of the week exploring the town.
Between kayaking, whale watching, scuba diving, snorkelling and beach hopping there are a lot of choices here to fill your week with once-in-a-lifetime memories!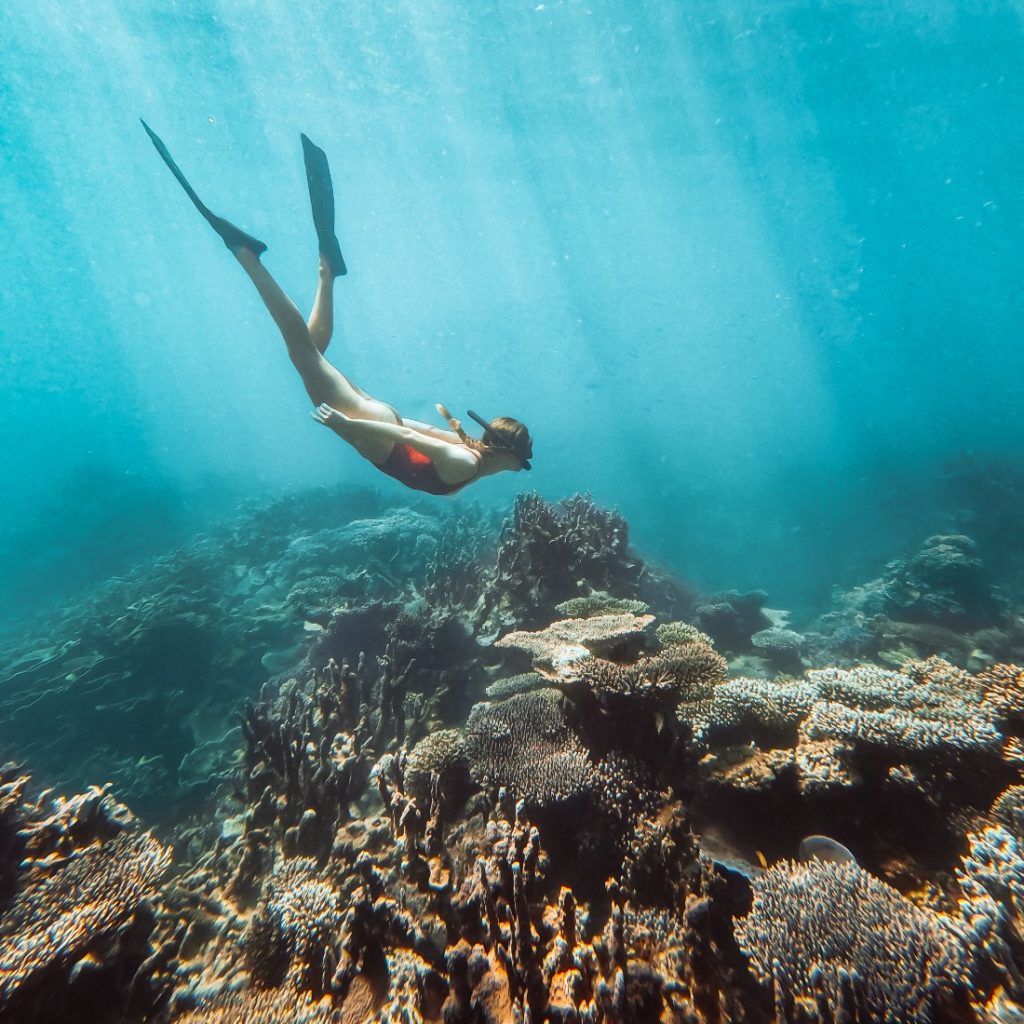 To plan your trip, you have to consider when is the best time to go, where you'll stay, activities you want to do, and more. You'll find everything you need to prepare below:
Table of Contents
Planning a week in Exmouth: The basics
You've decided you want to spend a week in Exmouth, but the next step is figuring out the following:
When are you going to visit Exmouth?
The best time to visit Exmouth is subjective, as it largely depends on the activities you want to do during your stay: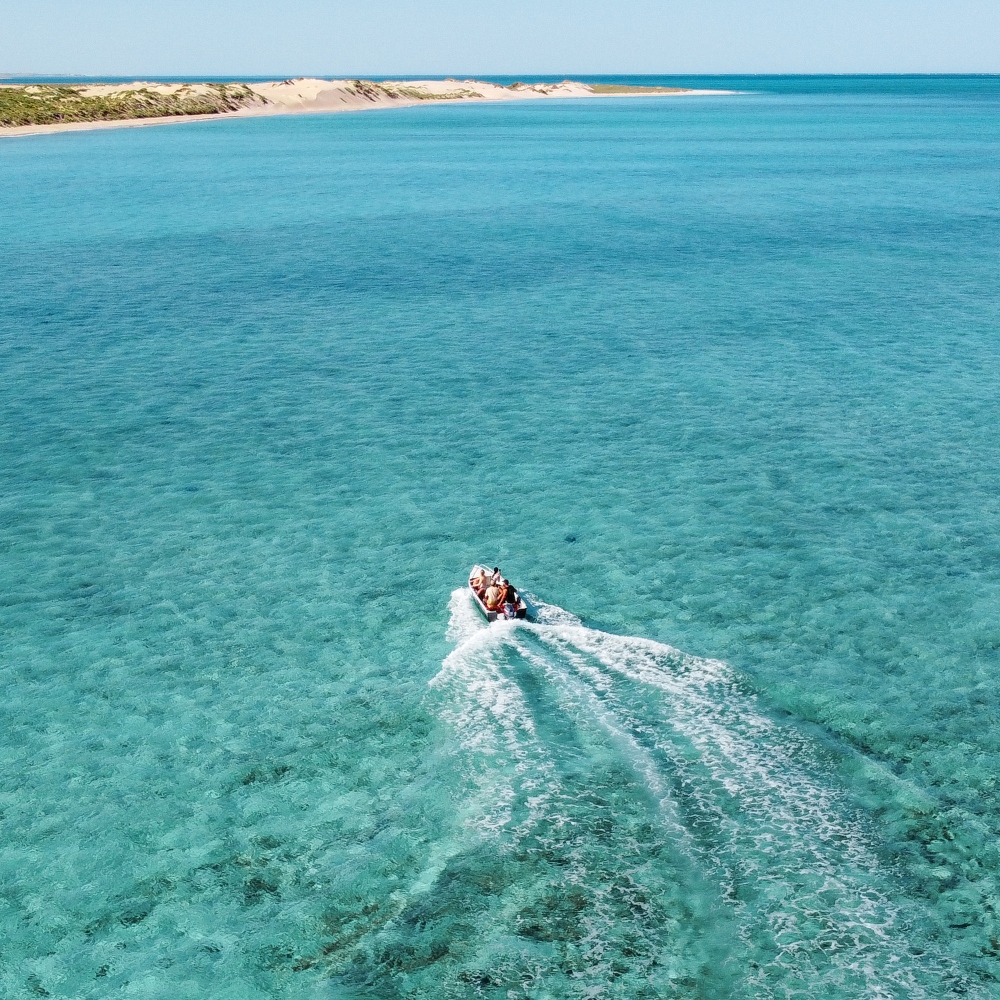 For swimming with whale sharks, the best time is between the end of March to June. We have visited from July to August but the whale sharks were rare to see that late in the season. However, some people are lucky and see them in those months.
Turtle nesting season is between November and March, but we saw turtles as late as August. To witness the hatchlings, January – March is your best bet.
For seeing migrating whales: June through October.
For wildflowers: late July to early October.
For the best winds for kitesurfing, try September – March. (Summer is the windy season in Exmouth so keep that in mind!)
For cheap accommodation, definitely off-season – November through January.
More info: Our in-depth guide to the best (and worst) time to visit Exmouth.
How are you going to get to the Exmouth, Western Australia?
Now that you know when you want to visit, the next step is how to get there.
The easiest way is by taking a flight from Perth to Exmouth. But you can also fly from Sydney and Brisbane. As of now, Qantas is the only airline that services the town.
You'll land at Learmonth Airport, 36km from the town centre. From the airport, there are shuttle taxis that can bring you to town, but we highly recommend hiring a car in Exmouth to get around.
Alternatively, we advise you to drive to Exmouth from Perth – this is what we did. It's a 13-hour drive from Perth, but the landscape is stunning, especially during wildflower season. Awesome places to break the journey include:
Jurien Bay
Geraldton
Kalbarri
Shark Bay
Carnarvon
Quobba
If you have a lot of time, take the big detour and don't miss Karijini National Park.
Another option is driving from Broome. It's a 15-hour drive you can break the journey in Eighty Mile Beach, Port Hedland, and Karratha.
If you're driving from Perth and don't mind adding a 1-2 day detour for another bucket-list destination, stop in Kalbarri. Or with 4 extra days, stop in Karijini. You won't regret it!
Book accommodation and tours A.S.A.P.
There's no shortage of accommodations in Exmouth. You can choose from hotels, guest houses, holiday rentals, and caravan parks with cabins or camping sites. There are options for every budget. But whatever you choose, do so as soon as possible as bookings fill quickly.
The most popular resorts are:
As for camping sites, the RAC Exmouth Cape Holiday Park is top-notch.
As for tours, try to book as many as possible, more so if you visit in peak season – between March to August.
Save time: Here are the very best tours in Exmouth for an unforgettable trip.
What are the food options in Exmouth?
The town itself has plenty of options to fit any budget – from luxurious restaurants to minimalistic cafes. Some beaches have food trucks nearby as well. And for the foodies out there, here's an entire rundown of +20 great places to eat in Exmouth.
Alternatively, if you are a fan of cooking, there are two IGA's in Exmouth town where you can get quite a good variety of food. If you want to save money on groceries though, top up in Carnarvon before heading to Exmouth!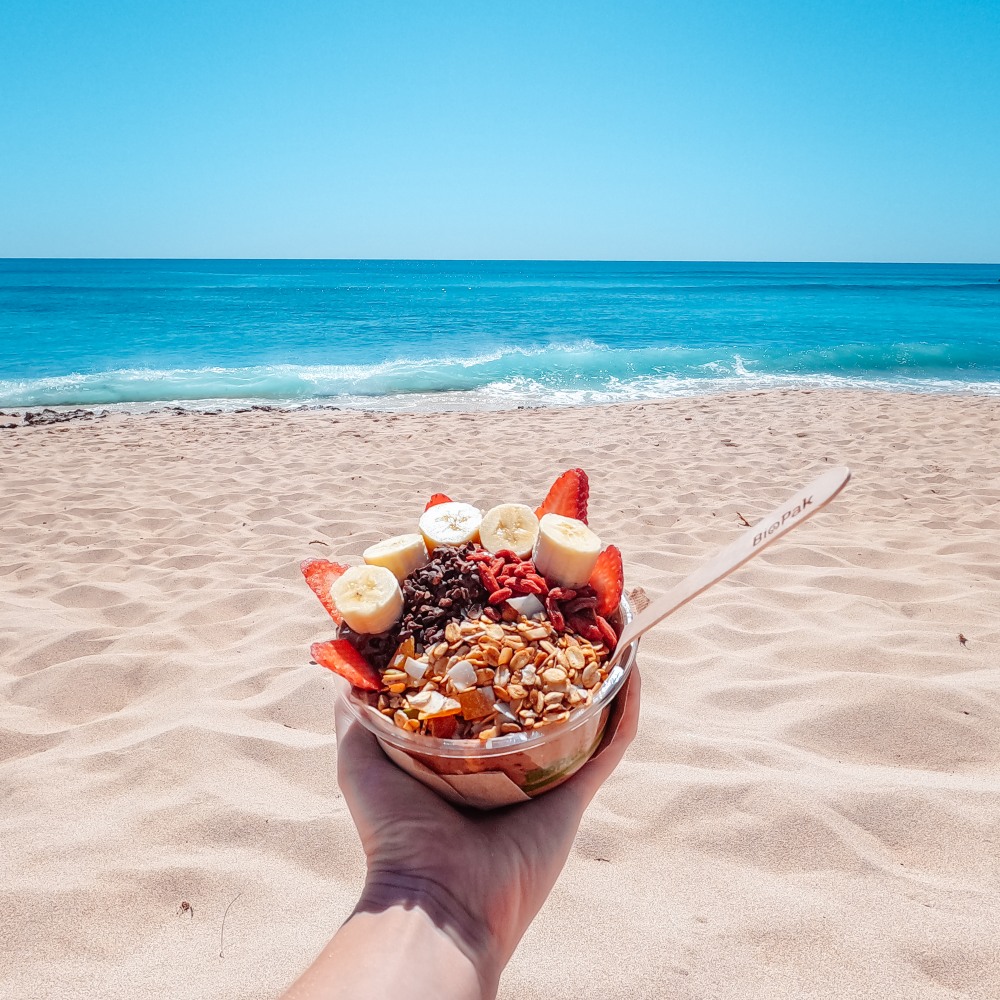 13 Activities to do during your week in Exmouth
1) See the beautiful beaches
Let's be honest – this is one of the reasons why you want to visit in the first place. The beaches in Exmouth and the Ningaloo coast are extraordinary, don't miss these beaches:
Turquoise Bay – the most famous beach in the area.
Sandy Bay – beautiful with low winds!
Osprey Bay – so many turtles here and it's next to an amazing campground.
Town Beach – drive up your 4WD here, for a fine sunset, or full moon rising at the end of the day.
Bundegi Beach – great for snorkelling, paddling, kayaking and has an awesome cafe.
Hunters Beach – our personal favourite, maybe for the surf, maybe for the smoothie van.
Dunes Beach – solid spot for surfing and seeing the wreck of the SS Mildura nearby too.
Keep reading: The top 11 beaches in Exmouth.
2) Swim with whale sharks
This will be the highlight of your trip if you come during whale shark season, between March and August. Just make sure to book as soon as possible to have the full experience.
Most operators include snorkelling, photos, lunch, a complimentary drink at the end and a spotter plane to ensure your best chance of seeing whale sharks.
Interested? Here's a list of the best whale shark tours in the Ningaloo Reef.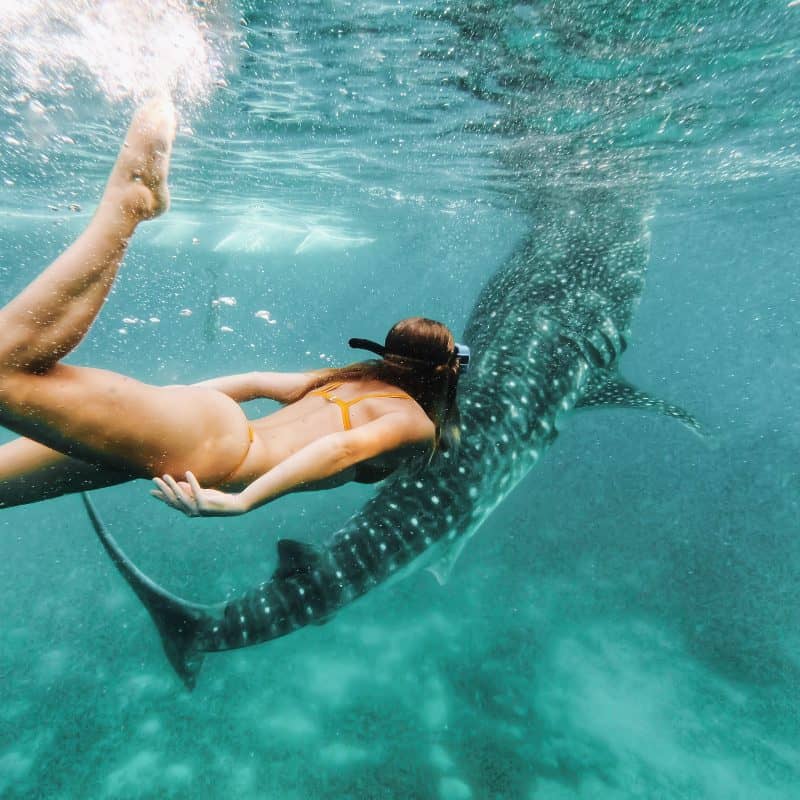 Make sure you book your whale shark tour as soon as possible. They book up sometimes months in advance, especially in high season.
3) See humpback whales
You can spot these gentle giants between July through October. Either spot them from the Vlamingh Lighthouse, or as with whale sharks, make sure to book a tour to see them if you visit during that period!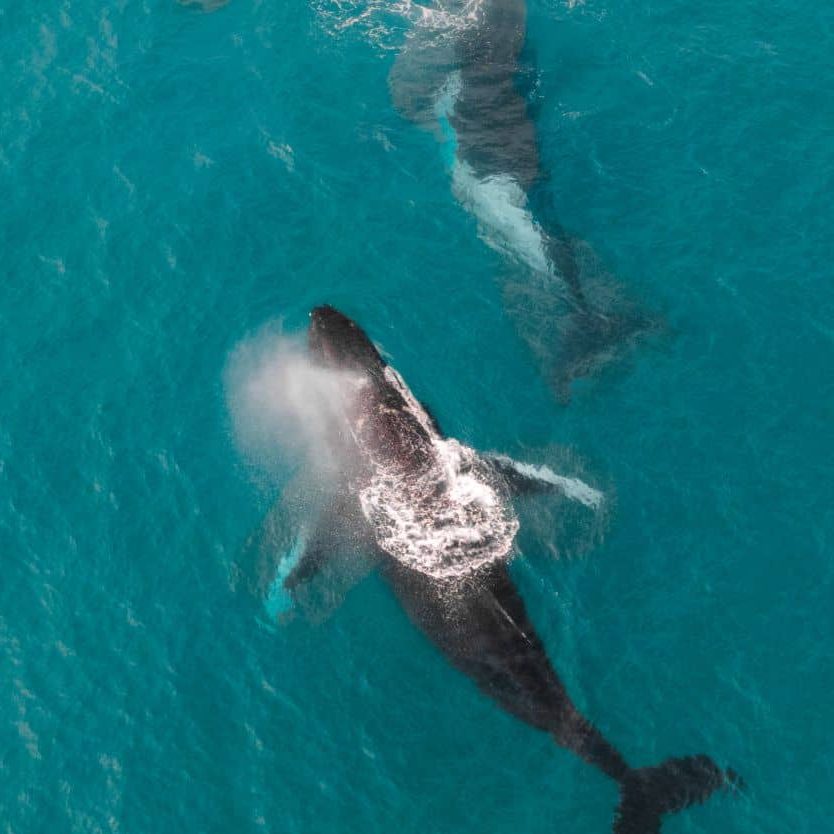 The great thing about the tours in Exmouth, they often get everything in. If you are lucky, you could see humpback whales, whale sharks and manta rays all in one day!
4) See the turtles swimming by, nesting or hatching
Turtles nest and hatch on the beaches surrounding Exmouth.
We had the best luck seeing them while snorkelling out front of Osprey Bay. Watch to see them passing with their turtle head popping up, run in and snorkel with them from shore!
However, you can also see them on a guided tour. We recommend this half-day turtle tour!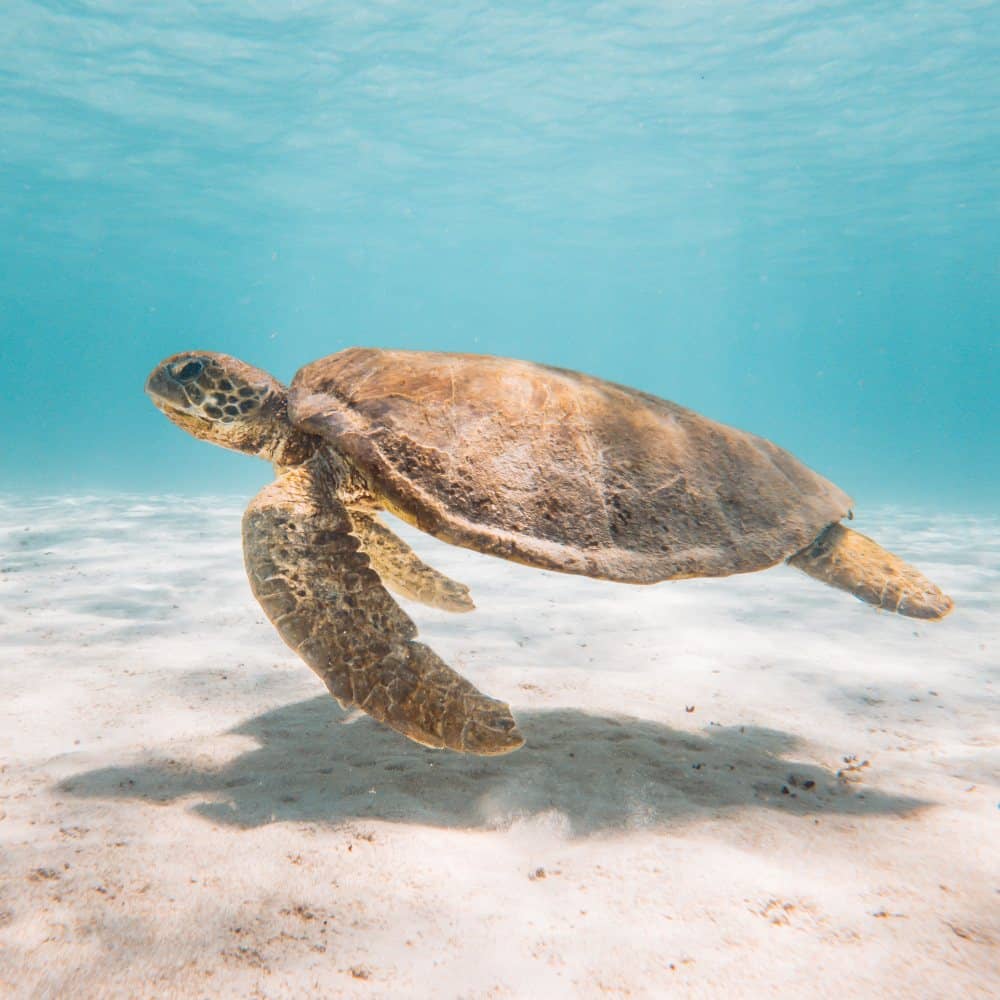 If you want to learn more about them nesting, we recommend visiting the Jurabi Turtle Centre first. You'll learn about the turtle species found in the North West Cape and how you should behave while watching them.
But if you want to visit them on your own, follow the turtle-watching code of conduct so you don't disturb them!
5) Go snorkelling and/or scuba diving in the Ningaloo Reef
You can't visit the incredible Ningaloo Reef and not go snorkelling at least twice – the first time to take in how impressive the reef is, and the second time to enjoy it more calmly.
You can even get your PADI diving certificate in Exmouth. Bec did this with Dive Ningaloo and loved it.
There are manta rays, turtles, reef sharks, crustaceans, and an abundance of fish in various shapes and colours. You can snorkel straight from most beaches – we couldn't get enough!
But if you want a more structured visit, you can always book a snorkelling tour, or a scuba dive tour if you're certified. There is a world-famous short dive called the Navy Pier in Exmouth.
6) Go sailing, surfing, kitesurfing, SUP boarding and more…
When it comes to water sports, one of the great things about Exmouth is that there's a beach for any level. It doesn't matter if you're just starting out or are an expert.
For example, Hunter's Beach is ideal for beginners and longboard surfers. Wobiri Beach is the best spot for kite surfing or surfing, while Dune's beach is perfect for experienced surfers – it's also called "Surfer's Beach" for a reason.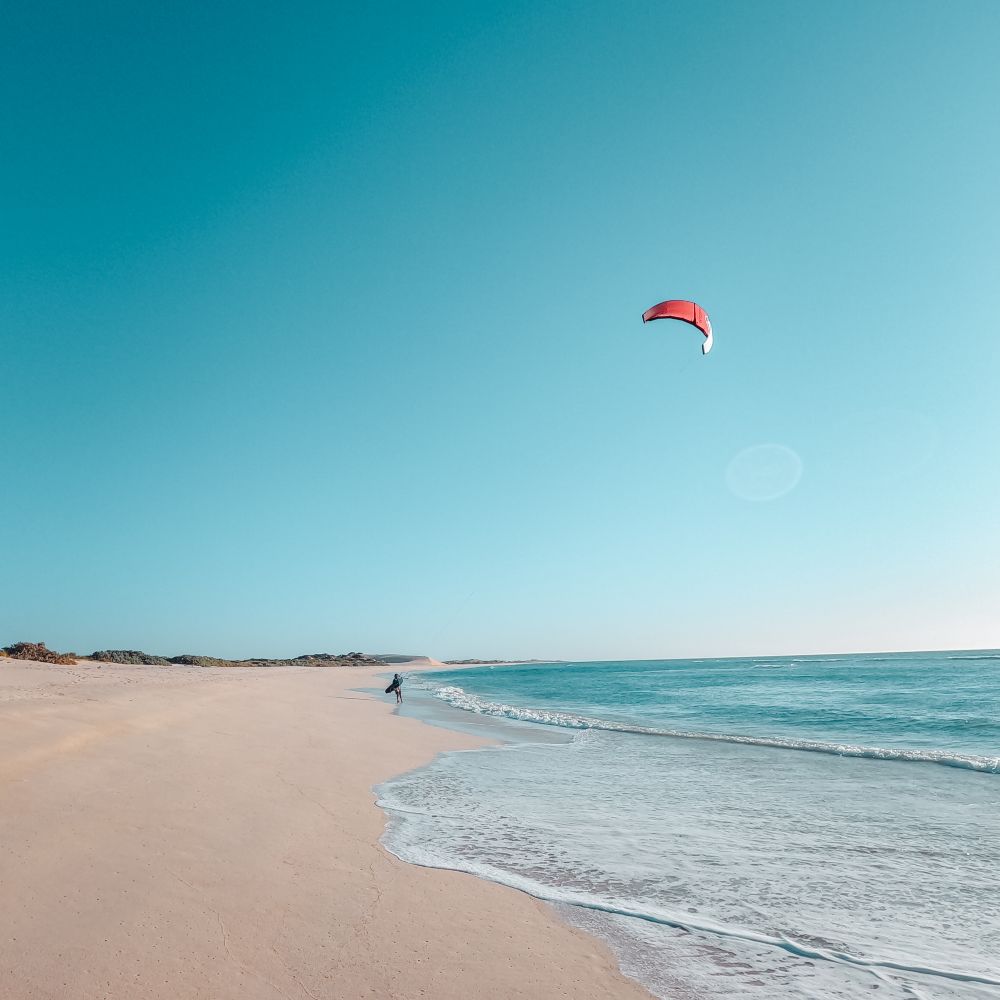 7) Go fishing from the beach
You can pick up a great list of the best fishing spots in the area in the Information Centre, along with fishing tours and places to do deep-sea fishing.
On this coast, you can catch various fish, including some big sports fish. Common species include Bream, Mangrove Jack, Blackspot Tuskfish, and Spangled Emperor.
8) Visit the Cape Range National Park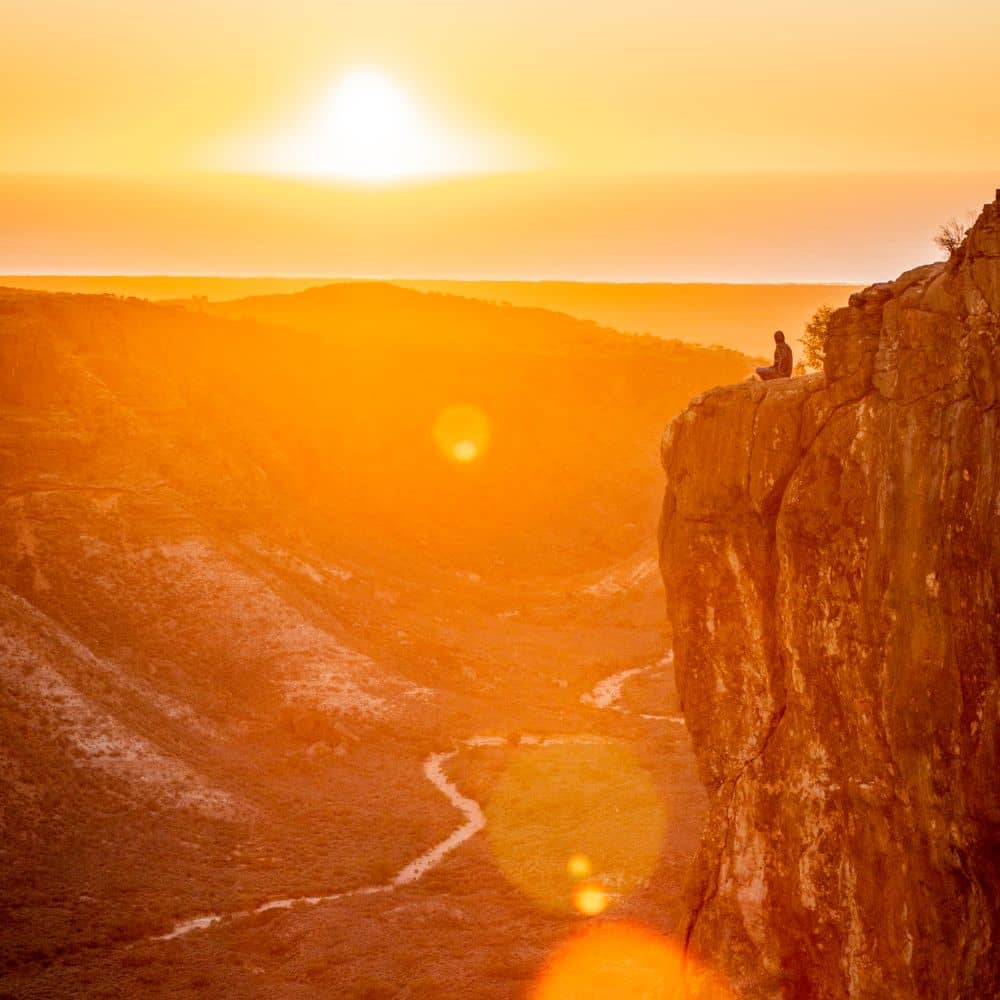 It's worth spending at least a day exploring this place. Cape Range National Park borders Exmouth and has some incredible land experiences if you want a quick break from Ningaloo Reef.
The walking trails have amazing views. And, depending on when you visit, you could see humpback whales from the lookout at Vlamingh Lighthouse or Bloodwood Creek.
There are tonnes of wildlife, like emus, kangaroos, echidnas, birds, and black-flanked rock wallabies.
Keep reading: Things to do in Cape Range National Park.
9) Enjoy the sights from the Vlamingh Head Lighthouse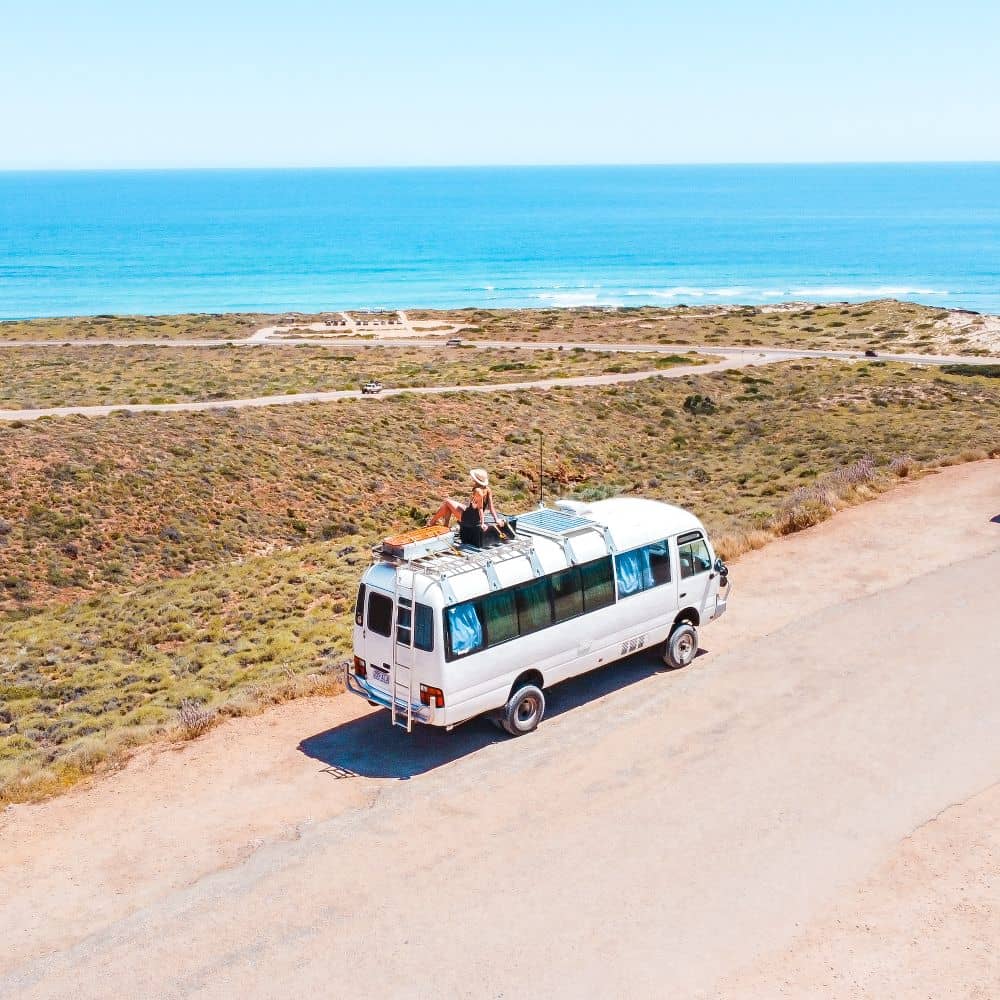 The Vlamingh Head Lighthouse was created in the aftermath of the SS Mildura Wreck, to warn ships of the reef and rocks around the shore of Exmouth.
You can't climb up the inside of the lighthouse anymore, but the photos you can take from here are phenomenal.
You can see the 13 VLF towers from here. There's also a unique view of the turquoise waters and the start of the Ningaloo Reef.
There's a WWII gun installation at the lighthouse's base too, with original weathered sandbags from the 1940s.
10) Check The Ningaloo Aquarium and Discovery Centre
This building contains the Information Centre, where you can book tours, get maps of the area, and general guidance. You can also call them if you want to know something specific regarding your visit.
Here, you'll also learn about the history of Exmouth, including its U.S. influence and what happened when Cyclone Vance ripped through the town.
And of course, there's an aquarium. It's great for kids and adults alike, so schedule at least 1-2 hours to check out this place. It's a great place to head to if it's raining or very windy.
11) Book a scenic flight over Exmouth
If you want to make your trip even more unforgettable, several tour operators offer scenic flights around Exmouth. You'll be able to see the contrast between the turquoise Ningaloo Reef and the rugged Cape Range National Park.
12) 4WD between Exmouth and Coral Bay (and camp)
If you're looking for a more adventurous camping experience, you can drive the Coral Bay to Exmouth 4WD track. It's a challenging but rewarding journey on a combination of inland and beach tracks.
The epic 4WD has plenty of places to camp. You can do it all in one day or take a few weeks. Camping needs to be booked via the Explore Parks Website.
For those looking for even more excitement, there are also some incredible hill climbs just north of Coral Bay, leading to Maud's landing, which offers even more breathtaking landscapes to explore.
Whether you're a seasoned camper or a beginner, the Coral Bay to Exmouth 4WD track provides an unforgettable camping experience that will have you coming back for more.
13) Take a day trip to Coral Bay
You can see most of Coral Bay on a day trip from Exmouth. This tiny place is one hour and a half drive from the town centre, and it's amazing for snorkelling.
Apart from booking snorkelling, diving, and other tours, you can wander along the beach and visit the shark nursery.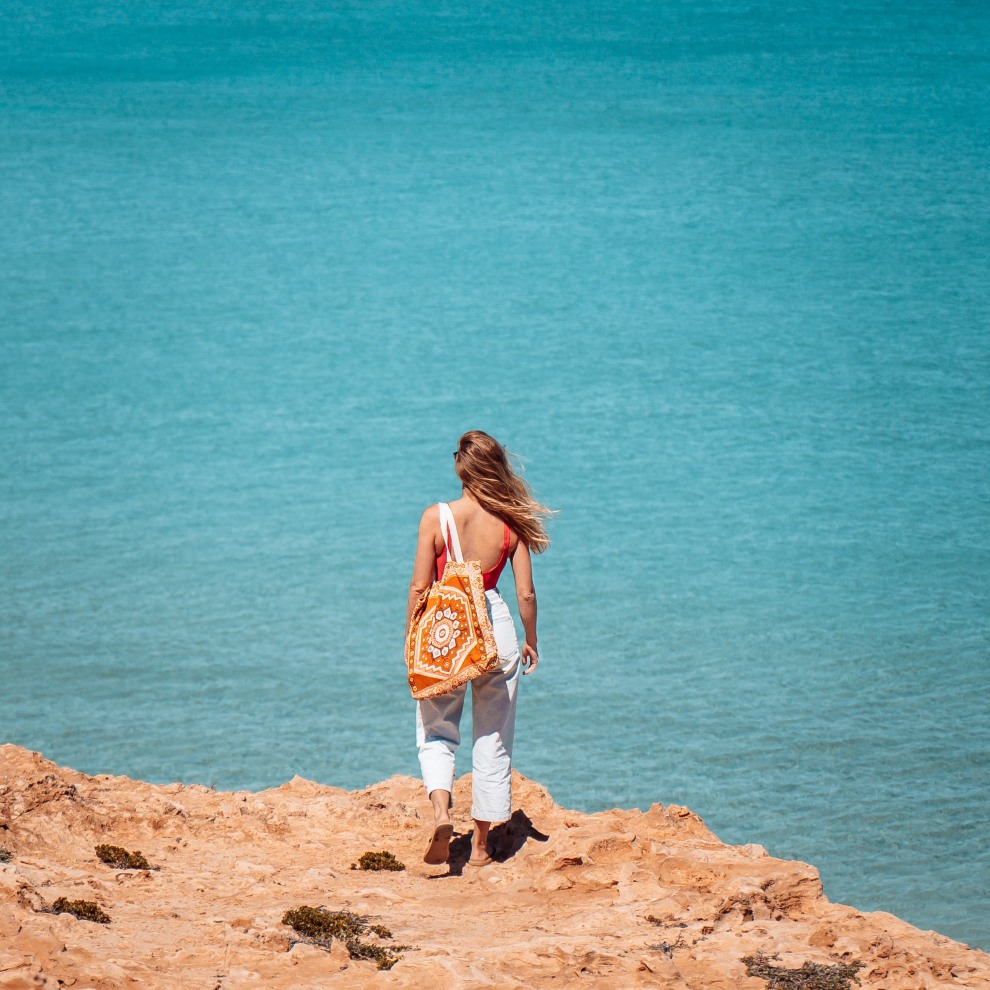 Top Tips
We can't stress this enough – book the marine life tours in advance! This will ensure you enjoy everything Exmouth has to offer without worry.
If you'll camp on your caravan, look out for emus wandering through the caravan park at dusk. Sometimes you can see dingoes wandering around on the lookout for food in the National Park.
Also, there is a sneaky little abandoned town just outside of Exmouth. You can drive through and visit! Here's our experience:
Did you know?
There are 13 Very Low Frequency (VFL) Towers on the outskirts of the town, visible from the lighthouse site. The U.S. government built them and a navy base in the 1960s to maintain radio communications with their submarines.
This is the main reason why you'll find evidence of the American culture in the town. Like special Halloween and Thanksgiving events, as well as traditional Australian holidays.
FAQs
How many days do you need in Exmouth?
You'll need around three days in Exmouth to see the highlights – the Ningaloo Marine Park and explore a bit of Cape Range.
But we recommend staying at least five days, preferably seven to visit everything without rushing. Also, weather can vary, so 5 to 7 days exploring Exmouth to Coral Bay, will ensure you get the place in some beautiful weather too.
You can spend at least three days just exploring the Ningaloo reef, at least one day for Cape Range, and another day exploring the town and its surroundings.
What is the best month to go to Exmouth?
Exmouth is lovely most of the year, but we'd say the best month is June or July. You might get to swim with whale sharks and/or humpback whales. Also, from the end of July, you can see the wildflowers in bloom in the Cape Range National Park.
Is it better to stay in Coral Bay or Exmouth?
Exmouth has far more to offer than Coral Bay as a town.
Coral Bay is a very small tourist resort, so spending one or two days here is plenty. Exmouth has more activities to offer, shops, and restaurants.
The bottom line
If you can spend a whole week in Exmouth, by all means do. It's a town that many people seem to miss when travelling to Western Australia, but it's filled with incredible things to do. It's a trip you'll never forget.
Plus, the people here are extremely friendly. You'll feel at home right away!
FREE Guide: 30 ways to work remotely so you can travel when you want
This PDF has ALL the tips and tricks we've learned over the years to be the digital nomads we are today.
These are tried-and-tested ways we've used to earn money from anywhere – only a laptop with internet is needed!