The 12 Best Bucket-List Tours In Exmouth: Swim With Megafauna, Snorkel, Hike And More On The Ningaloo Reef!
Tours are the single best way to see everything that Exmouth, the Ningaloo Reef, and Cape Range National Park has to offer.
On a tour you can find yourself swimming with whale sharks, humpbacks, manta rays and turtles – possibly all in the SAME DAY.
But the hardest part is choosing which tour(s) to do, and which companies to go with. With epic bucket-list experiences available, and many 5-star tour operators to choose from… It can be overwhelming!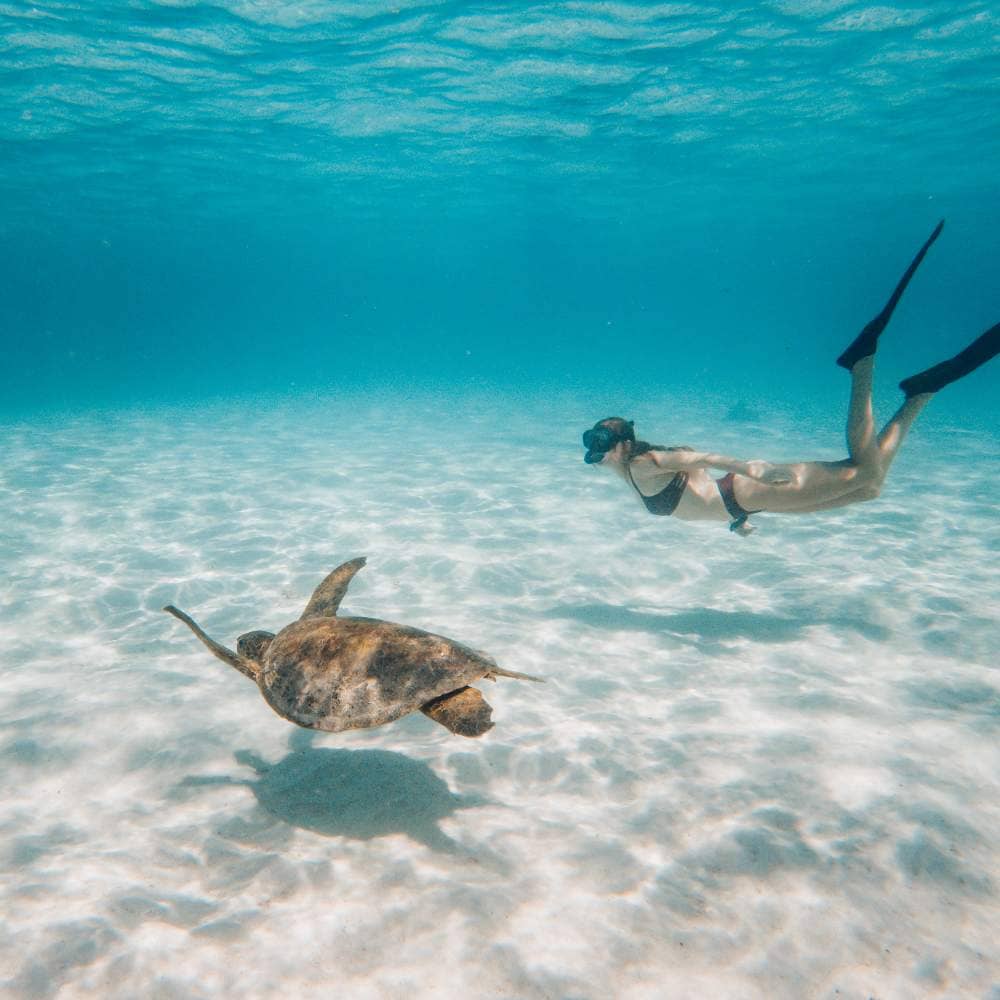 But don't worry, we have been on many Exmouth tours, and done the research for you. Use our guide below to help you choose the best Exmouth tours for your holiday.
Below are 12 of our favourite tours in Exmouth, Western Australia. Including swimming with the biggest fish in the sea, snorkelling, trekking Cape Range's canyons, kayaking and everything in between.
To make it simple, we divided the tours into activity categories below – whale shark tours, snorkelling tours, all-inclusive tours… you get the gist.
That way, you just have to click on the activity you'd like to do and go straight to our recommendations. Let's get started:
Quick answer: Top 5 tours in Exmouth
Best whale shark tours in Exmouth
Exmouth's whale shark season is between late March to late July. There are dozens of tour operators offering this life-changing experience, most are highly rated.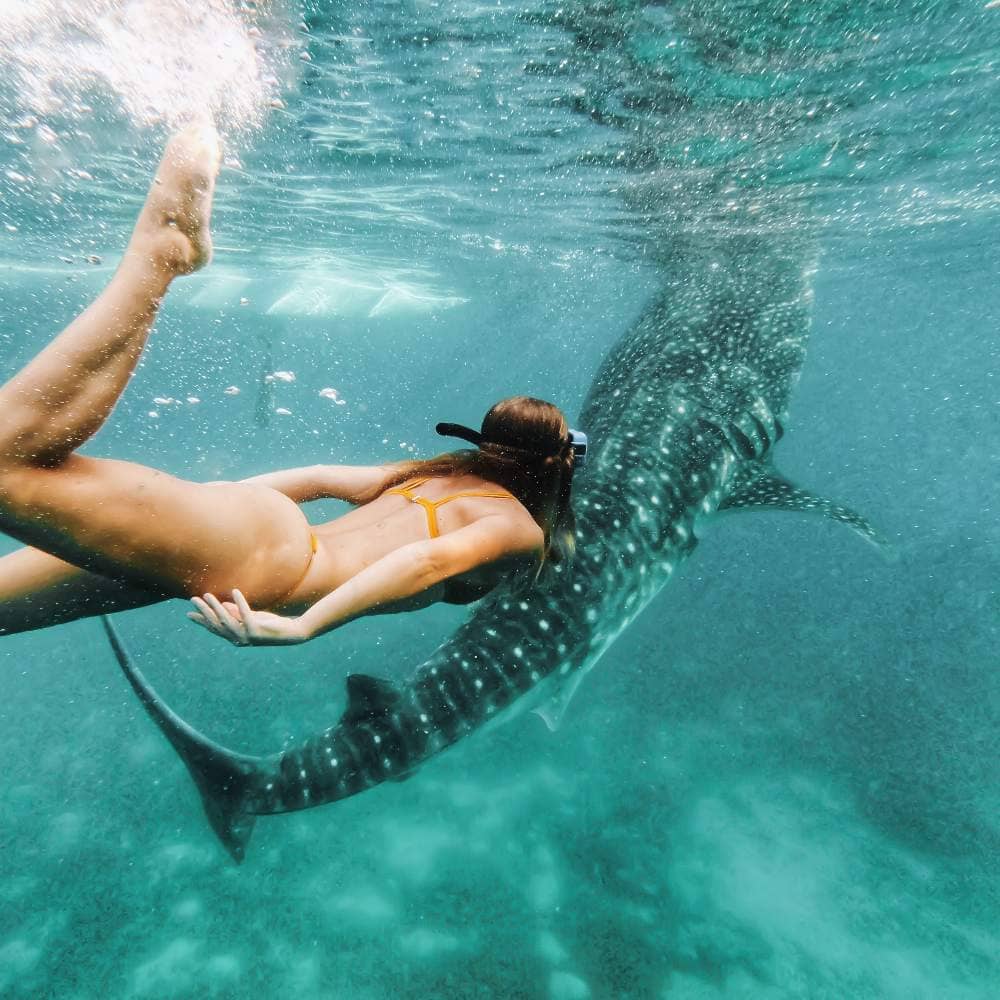 Hot tip: We went on a tour in late July and one in August, and we just missed seeing the whale sharks. It is a gamble that late in the season. But earlier on you are almost guaranteed to see them.
These are full-day tours, so you'll have to save a whole day for your itinerary only for this. And although these tours don't come cheap, they are worth every. single. penny.
(We didn't even swim with a whale shark, and the tour was still worth it to us! Best tour ever!)
This article may help too: How to choose the best whale shark tour for YOU + top tours in the Ningaloo Reef.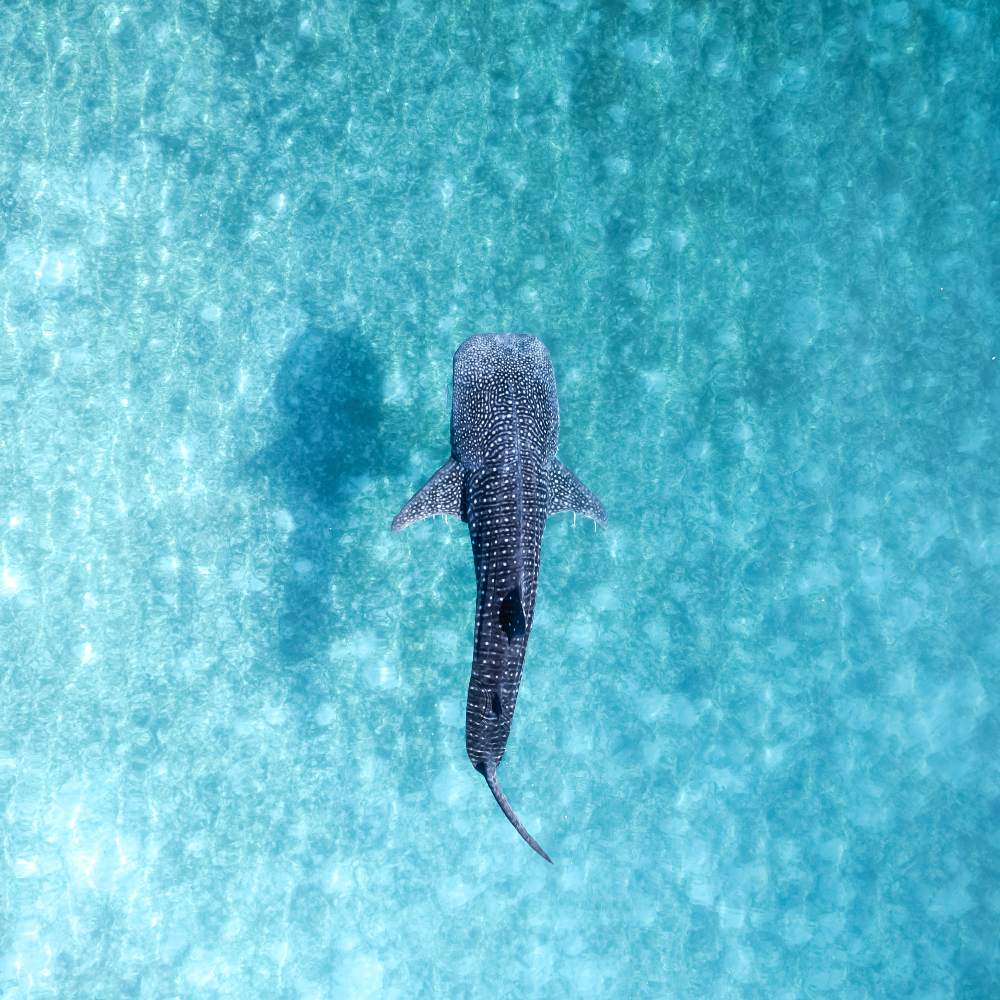 1) Three Islands Whale Shark Dive
This is the perfect tour for those who want to swim with whale sharks, at a below-average cost, without compromising quality. Look at the reviews, people absolutely RAVE about this company and the tour.
This award-tour operator includes all the basics at a very competitive price:
Spotter plane to find whale sharks
Snorkelling equipment, wetsuit and multiple snorkelling sessions
Hotel pick-up, snorkelling, photos, food, beverages and more…
2) Ningaloo Whale Shark Swim on a Powerboat
If you want a healthy dose of adventure along with your whale shark swimming experience, this is it! The reviews say, "A bucket list tour of a lifetime".
This full-day tour will take you swimming with whale sharks on a powerboat called the Investigator.
And, apart from including transport, a spotter plane, food, snorkelling sessions, you can also use their kayaks and/or paddle boards to pack even more activities into your day!
Photos are also included in the package!
3) Swim with Humpbacks AND/OR Whale sharks Tour!
We did this tour, and it was absolutely incredible. As you can see, the reviews are 5 stars. This is for good reason, they really look after you on this tour.
Here's an idea of some of the inclusions, potential to swim with humpback whales, whale sharks, manta rays, turtles and more. Usually you get 2 to 3 snorkels on the reef too! Plus all gear, instructions, guides, travel to and from the boat, snacks, lunch, beverages, photos and more.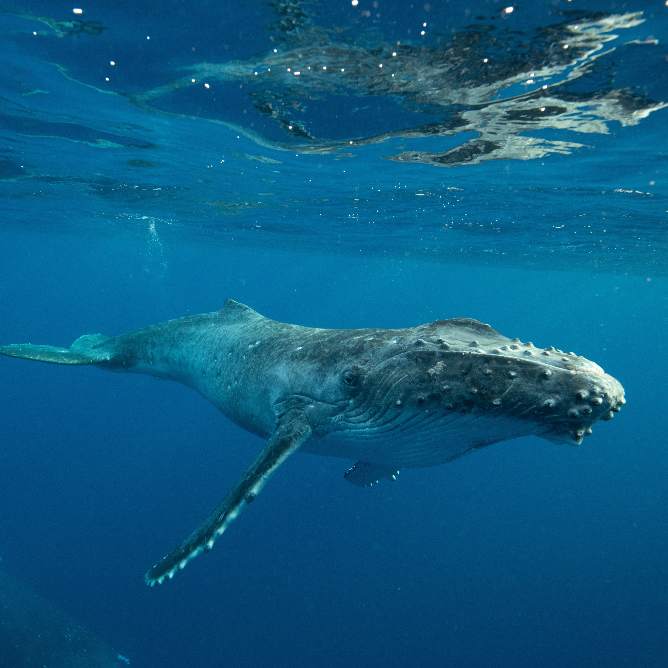 This tour is a good option for adventurous people who are just happy to see and swim with whatever is found out on the reef the day that you visit.
Best humpback whale tours in Exmouth
Humpback whales migrate through Exmouth and you can swim with them between August to October.
There are two types of tours to choose from – swimming tours and whale-watching tours.
Swimming tours are best reserved for confident swimmers looking for an adventure. This is because you're required to swim in the open ocean.
---
---
Groups are smaller to swim with a humpback whales – 5 swimmers at a time, compared to 10 swimmers in whale shark tours.
That's why most people would rather go on a whale-watching tour instead. It's a cheaper experience, and can be an incredible experience too.
Here's our favourite tour for each:
3) Swim with humpback whales
This full-day tour starts with a snorkelling session on the stunning Ningaloo Reef, while the spotter plane looks for humpback whales.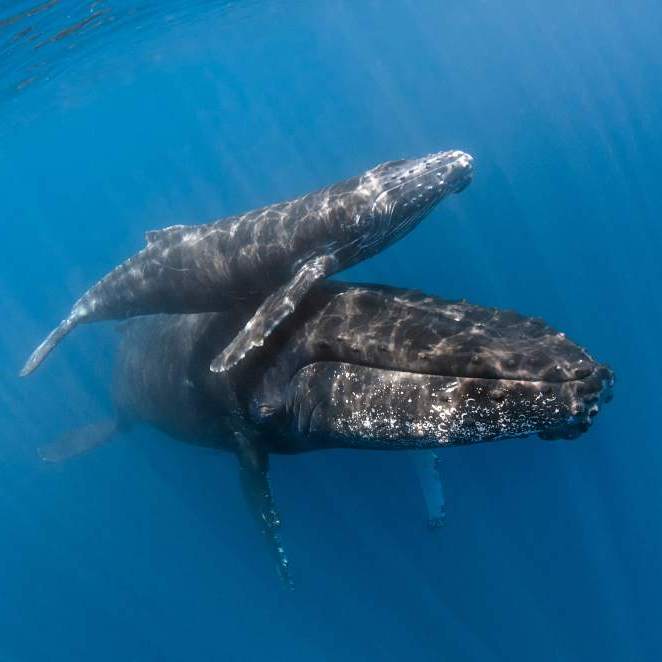 Once it spots them, the boat will take you to the whales. You'll get in the water downstream from the whales (if conditions are right) and see them as they approach you – you often hear them singing underwater!
4) Sunset whale-watching tour
If you'd rather stay in the safety of a boat and do the finest whale-watching possible, consider this 2-hour sunset tour.
There's a maximum of 29 travellers, but you won't notice it – the boat has ample space for everyone. They include food and beverages, but you can bring your own if you like.
PS: You can do this tour regardless of the season, but just imagine watching humpback whales breaching during the sunset…
Top snorkelling tours in Exmouth
If you're like us, you'll probably spend most of your days in Exmouth, snorkelling the Ningaloo Reef.
The area is famous for its buzzing marine life, thousands of tropical fish, stunning coral gardens, and the turtles and manta rays that call this place home.
But it is true that tours are the BEST way to see the reef (unless you or your friends have a boat of your own). This is because they can take you out to abundant reef areas off the shore, and with their spotter planes they can have a visual on the whales, manta rays and whale sharks in the area that day.
There are dozens of incredible spots to snorkel in, but doing a snorkel tour will take you to the best (and secluded places!) with a local guide.
Keep reading: Top 6 snorkelling spots in Exmouth (and our favourite snorkelling tours)
5) Half-day snorkel turtle tour
If you want an intro to the Ningaloo Reef, look no further.
It's short enough to fit in any itinerary, and an amazing experience too – you'll board a high-speed vessel to snorkel in select sites. You'll swim with the resident turtles and get to know the marine life of the reef.
6) Full-day kayaking and snorkelling
We absolutely loved this tour, as well as the operator – Exmouth Adventure Co. They really look after you.
This is the perfect tour for those who want to experience the Ningaloo Reef more intimately. You'll be with a small group, and the knowledgeable guide will take you kayaking on the pristine waters of the reef.
They took us to Osprey Bay Sanctuary Zone, which is where they do most of these tours. It's absolutely stunning.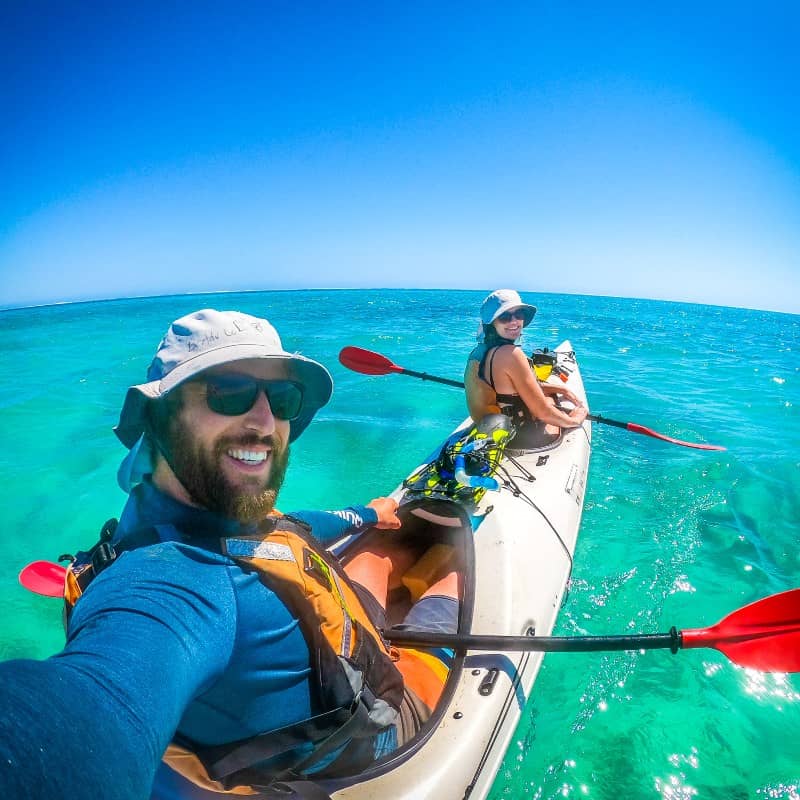 They also include everything – park fees, food and drinks, pick-up, drop-off, kayaking and snorkelling equipment, and even photos! If you're lucky, dolphins will swim by too.
Scuba diving tours
Do you have a scuba dive certification, or planning to have one before your trip to Exmouth? If you do, do not miss the chance to check at least one of the dive sites on this side of the Ningaloo coast.
Exmouth has the world-renowned Navy Pier nearby – one of the top 10 dive sites in Australia. And the stunning underwater landscape of the Muiron Islands is a 1.5-hour boat trip from town.
As for scuba diving tours go:
7) Muiron Island diving tour
The Muiron Islands are a scuba diver's paradise, we went diving here and highly recommend it. Their corals are unique and very colourful, not to mention the teeming marine life that resides there – thousands of tropical fish, turtles, dolphins and reef sharks, to name a few.
Now, this full-day tour will take you to two different diving spots. It includes everything – transport, food, equipment, fees, etc.
Check this out: Everything you should know before visiting Muiron Islands.
8) Scuba dive the Navy Pier
This exceptional diving spot is a 15-minute drive from Exmouth, but is not accessible to the general public – it's still used by Navy ships. It is world famous and ranked one of the best shore dive sites in the world.
That, and the fact that fishing isn't allowed, means that the underwater landscape is incredible for such a small area (300 metres).
It's an item you must cross off your bucket list if you're certified! Only one tour operator is licenced to offer scuba dive tours here.
Hiking tours in Cape Range National Park
Cape Range National Park is one of the treasures of the North West Cape. It has rugged limestone ranges and deep canyons, combined with the turquoise waters of the Indian Ocean.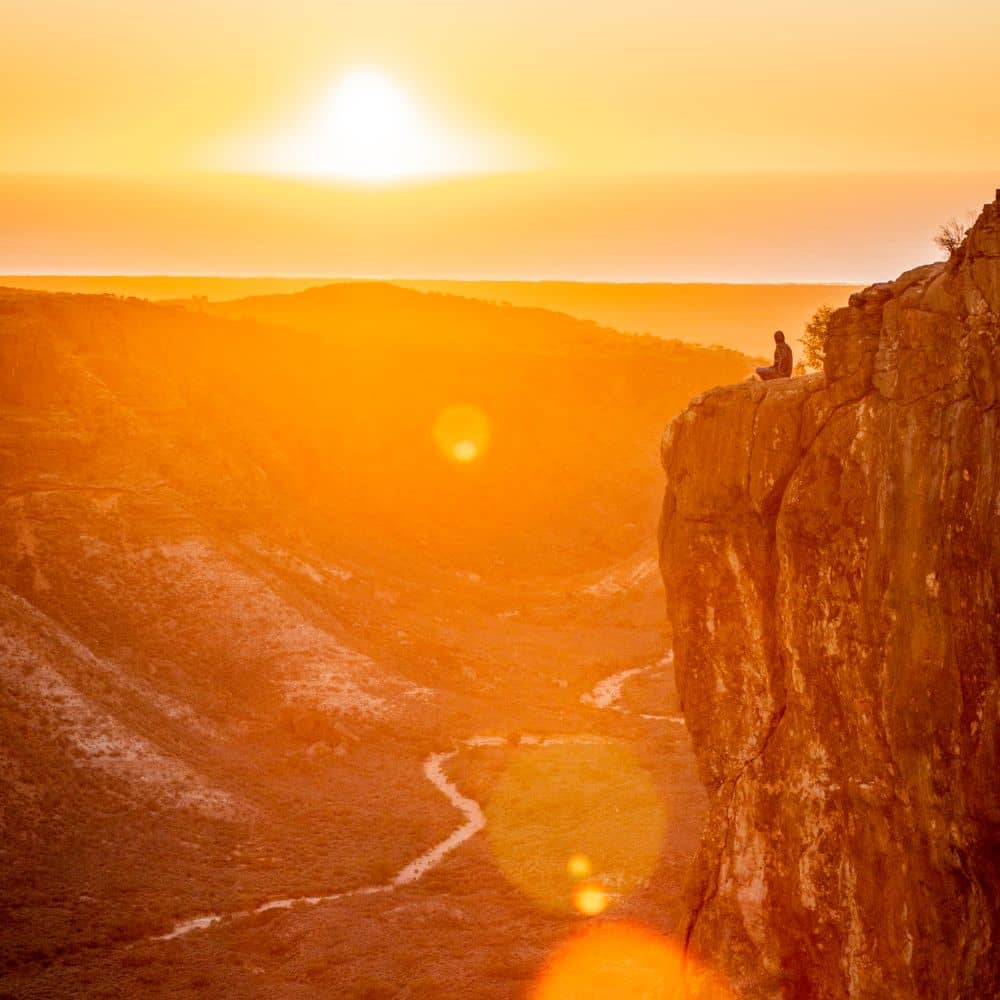 There are dozens of things to do in the park, including 4WDing the bottom of a canyon (Shothole Canyon). But as far as tours go, hiking is a beautiful way to experience the area. These are the ones we recommend:
9) Cape Range National Park Full-Day Trekking Adventure
This full-day hiking tour consists of 2-3 treks, depending on the fitness of the overall group. The distance covered will be between 10-14km in total.
The tour itself starts by taking you exploring one of the many canyons of the park, where you'll be able to see the jaw-dropping coastline of the Ningaloo.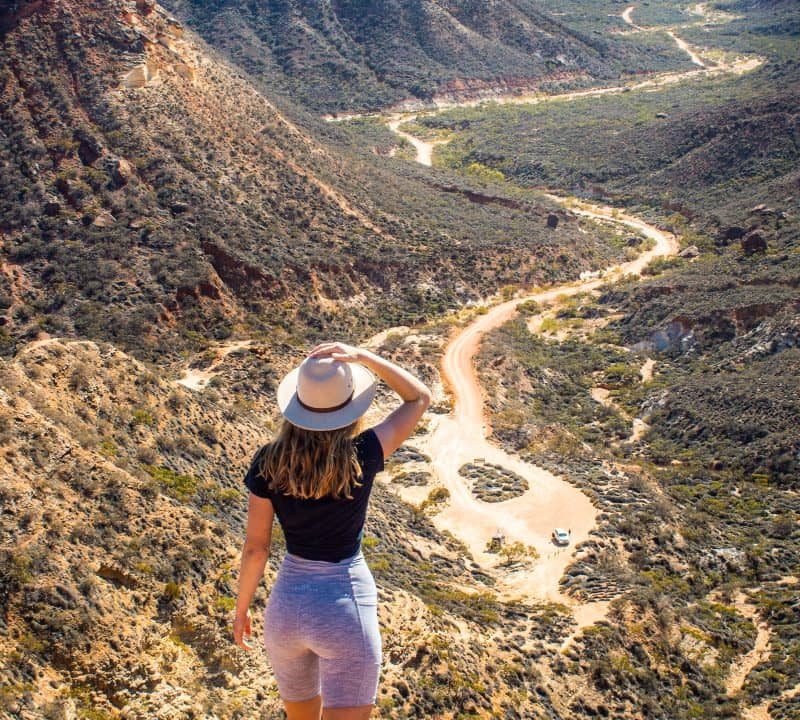 Then, the guide will take you to the beach, where you can relax, have lunch, and snorkel in the reef. And if time allows, the tour can close with a visit to Mangrove Bay – a unique bird-watching area.
10) 2-Day Trekking Adventure And Camping
For those who want to take it to the next level, what about an overnight trek on the Cape Range?
On day one, you'll explore Yardie Creek with a 6km hike, having plenty of birdlife around you. Then, you'll make it to the top of the range to set camp and watch the sunset in one of the most remote corners of Western Australia.
Day two starts with the sunrise and breakfast, followed by an 8km hike along the sandy dunes. It finishes with a refreshing swim on the Ningaloo Reef.
Multiday, all-inclusive tours to Exmouth
Let's be real – planning a trip can be incredibly stressful. If you don't have the time and energy for that, or just don't want to do any planning whatsoever and go with the professionals, these all-inclusive tours are for you:
11) 7-day trip to Exmouth trip starting and ending in Perth
This all-inclusive tour has the best value for money. It includes absolutely everything – accommodation, transport, all meals, park entrance fees, and activities like bush walks.
We love this particular itinerary, as it takes you to all the famous spots along the coast, while still having time to enjoy each day at your own pace:
Day 1 – Start with a guided tour of the Pinnacles Desert, then head to Kalbarri.
Day 2 – In Kalbarri, visit the Murchison Gorge, the Z-bend, Nature's Window, and the Kalbarri Skywalk. Take a stroll on Shell Beach, visit Shark Bay, and head to Monkey Mia.
Day 3 – See the famous dolphins in Monkey Mia, visit Hamelin Pool, and then head to Coral Bay. You can do a snorkelling tour here if you like!
Day 4 – Full day exploring the Ningaloo Reef in Coral Bay, then head to Exmouth.
Day 5 – You can either choose to do a whale shark tour or explore the Cape Range National Park. Finish the day in Turquoise Bay.
Day 6 – Say goodbye to Exmouth, head to Carnarvon, and spend the night in Geraldton.
Day 7 – After a morning walk on the beach, head back to Perth.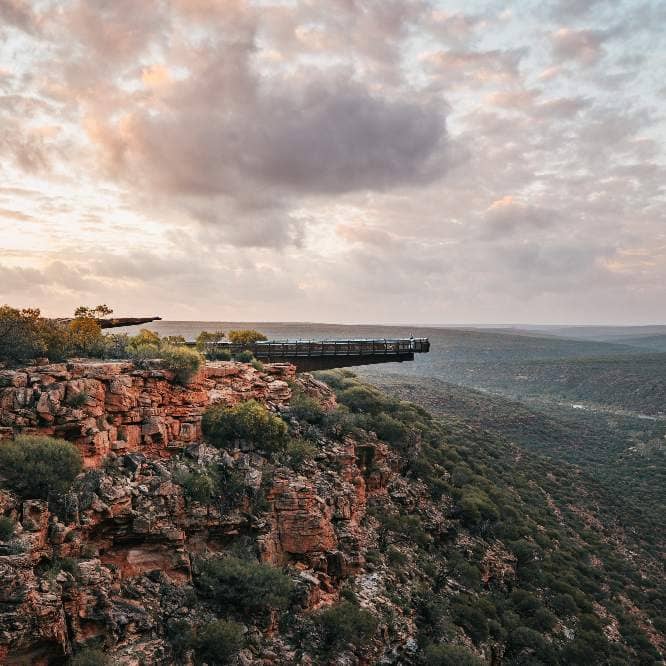 12) 6-day, one-way whale shark snorkel tour
This small-group tour starts in Perth and ends in Exmouth. It's perfect if you want to explore all the key points and activities of the Coral Coast, with a few tours included as well:
Day 1 – Nambung National Park and Kalbarri
Day 2 – Murchison Gorge, Shark Bay, and Monkey Mia (where you'll unwind on a catamaran cruise!)
Day 3 – Monkey Mia's dolphins, Hamelin Pool, Carnarvon
Day 4 – Coral Bay. There, you'll go snorkelling and on a glass-bottom boat tour
Day 5 – Exmouth, where you'll do a whale shark tour
Day 6 – Learmonth airport
It includes transportation, accommodations, park entry fees, snorkelling gear, and breakfasts, among others.
Top tips
Book any tours in advance. Spots fill very quickly, more so during the high season, so the sooner you make your reservation, the better. Most of the tours linked above have a "reserve now, pay later" feature to help you save your spot without paying anything until a few weeks before your trip.
Remember to enjoy the delicious fresh seafood and famous Exmouth prawns while staying in the region! This coastal town has easy access to fresh seafood from local fishers. There are several places in Exmouth to get an amazing meal, regardless of your budget.
Did you know?
Coral Bay is a small, lovely tourist town bordered by the Ningaloo Reef. You can get there after a 1.5h drive from Exmouth to snorkel, swim with manta rays, and more!
Keep reading: 9 Incredible things to do in Coral Bay
FAQs
How many days do you need in Exmouth?
You need between 5 to 10 days to explore everything Exmouth has to offer – the best snorkelling spots, some hikes, and exploring the Cape Range National Park.
You may need more days if you want to drive here – it's a 13-hour drive from Perth.
Weather can vary here, from winds to high heat and everything in between. So a few extra days is a good idea so that you can enjoy the best of the area.
However, if you're short on time, you could squeeze in a weekend trip to enjoy the Ningaloo Reef. You can fly from Perth and arrive in 2 hours!
This may help: How to plan a week in Exmouth
Is it better to stay in Exmouth or Coral Bay?
For most people, it is better to stay in Exmouth. There are more accommodation options, more things to do, and tours are more varied and a bit cheaper.
However, Coral Bay is beautiful as well and a smaller, quieter town. Being a 1.5-hour drive from Exmouth, you could easily spend a full day exploring this stunning coastal town.
What are the best dates for Exmouth?
The best dates for Exmouth are anywhere between March and October. If we had to choose a month, it would be April, June or July – the weather is lovely, and your chance to swim with whale sharks and humpback whales is still high.
Learn more: When is the best time to visit Exmouth? And the worst?
The bottom line
One of Western Australia's gems is Exmouth. Tours are an excellent and comfortable way to explore this area, by the hand of local guides.
Regardless of which experiences you want to live out, (and whether you book through us above or not) make sure to book ahead.
Save your spot as soon as possible, whale shark tours in particular do book out. Do not miss the opportunity to check off a few bucket-list items!
Take advantage of the information and links above. We do get a small fee for your referral so will be very grateful if you book through us. Remember that most of them have a "reserve now, pay later" feature so you don't have to pay a penny to secure your tour!
Our Essential Travel Toolkit
🤩 Trip.com – Consistently great accommodation and hotel deals.
🤩 Hostelworld – Looking for the cheapest accommodation? We especially love the book now pay later feature.
🤩 Rentalcars.com – Best range, super easy to compare prices rental car and motorhome prices.
🤩 Viator.com – Easily book tours and experiences at the lowest rate. Great selection all over Australia.
🤩 Tripadvisor.com – Other than our website…..😉 the best place to find things to do
🤩 Airalo – eSIM store that solves the pain of high roaming bills by giving travelers access to eSIMs (digital SIM cards).
🤩 Caravan RV Camping – Traveling Australia in a van, caravan or bus? Use our discount code "saltandcharcoal" to get $30 off any orders over $300.