Muiron Islands (Exmouth): Best Snorkelling Spots And Scuba Tours
The Muiron Islands (Exmouth) are located on the North West Cape. They are actually two islands – North and South Muiron.
It's a must-visit spot for those who love the underwater landscape – few places in this world can be compared to this place.
Below is everything you need to know to plan your visit – from how to get there and when, to snorkelling spots and tour operators:
Table of Contents
How to get to the Muiron Islands?
These islands lay at just 15km off the North West Cape, on the Ningaloo Reef of Western Australia.
However, crossing the Exmouth Gulf is not for any skipper, it is a more advanced passage for larger boats. This is why many people opt to take a tour out here.
The only way to get to the Muiron Islands is by boat. Several tour operators can take you there from Exmouth – it's a 1.5-hour trip to the islands. As for how to get to Exmouth, there are several ways:
Driving 13 hours from Perth, or 14 hours from Broome.
Flying from Perth, Sydney, or Brisbane to Learmonth Airport.
By coach or bus.
Depending on the time of the year you go, during your boat trip to the islands you could see pilot whales, dolphins, dugongs, turtles, manta rays and humpback whales!
When is the best time to go to the Muiron Islands?
The best time is the same as when to visit Exmouth, anywhere from March to October.
Our pick would be May to September. During these months, you'll be able to see whale sharks, humpback whales, manta rays, and the teeming marine life of the Ningaloo Reef. You also have the best chance of nice weather for boating and water activities.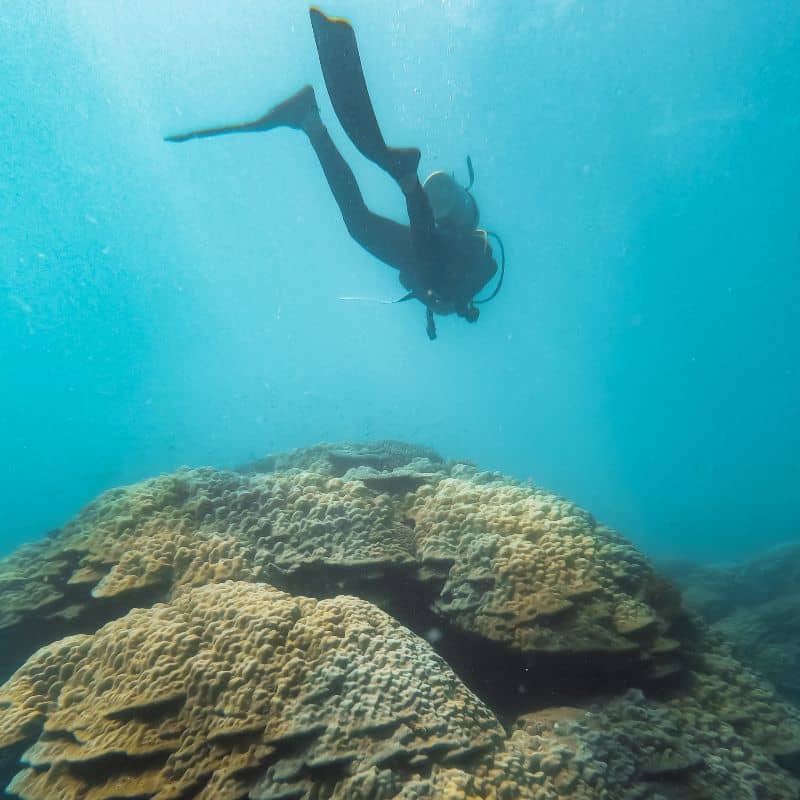 Snorkelling and scuba diving at the Muiron Islands
This place is a snorkeller's and scuba diver's paradise. The sites are ideal for anyone, regardless of their experience, as the currents are very gentle.
We saw so much on our dives and the corals were so unique and colourful. We even saw a sea snake and dolphin swim by!
Almost every inch of the amazing corals around these islands is filled with vivid hues of hard and soft corals, this is why it is known as the coral gardens. These will be different to the ones present on the many beaches around Exmouth and Coral Bay, even though they're nearby.
If you are a scuba diver, there are many drift-throughs to try:
"The Cod Spot" where you can find giant Potato Cods and a cleaning station for manta rays.
"Whalebone", filled with Glass Fishes
"The Gap", which offers an exhilarating drift dive between North and South Muiron.
"The Spit", which drops down to 18 metres off a rocky ledge that attracts plenty of sea life, including baitfish and Grey Nurse Sharks!
If you enjoy underwater macro photography, this is the place to be!
Top 3 Tours to the Muiron Islands
The best way to see these islands is with a tour operator. They will take you to the best spots, offer the necessary equipment, and some will even include photography packages so you can remember the experience!
These are the 3 tours we recommend:
Muiron Islands: Snorkelling in Exmouth
This is one of the best-priced snorkelling tours we've found. It's a full-day tour, with equipment and lunch included. Plus, depending on the month of your visit, you may be able to spot whale sharks and humpback whales, too!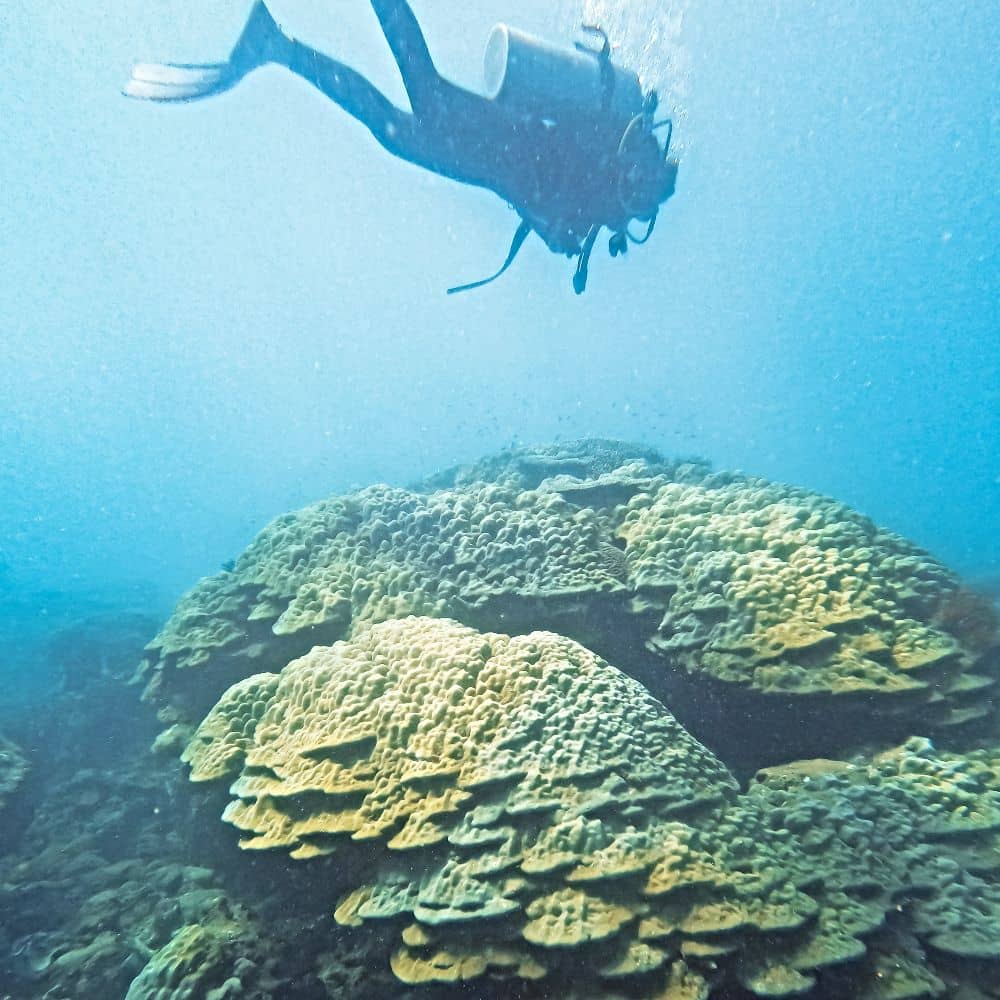 Scuba Diving the Muiron Islands
In this full-day tour, you'll do two dives (or two snorkels) at different spots around the Muiron Islands. Equipment, refreshments, lunch, and snacks are included.
You'll have to show your dive certification, though. If it's been a while, make sure to do a refresher dive beforehand. This is a bucket-list diving spot – don't miss it!
Bespoke Tour of the Muiron Islands
If you want a tour 100% tailored to your needs, this is the one to do. These guys know every corner of Exmouth Gulf and the Muiron Islands.
Whether you want to snorkel or spend the day on a secluded beach with your loved ones, or something else entirely, these tour guides will set that up for you.
Top Tips
You can also do some fishing and spearfishing around these islands. However, there are sanctuary zones where that is not allowed. Make sure to check their Marine Management Area before going to check the rules and allowed fishing spots.
You can camp on Muiron Islands but it's only permitted on South Muiron Island, with a permit from April to October.
Book your tours around Exmouth ahead too. Just like other areas of the Ningaloo Reef and Exmouth, the Muiron Islands are a popular attraction during peak season (May to October). Depending on the operator, booking ahead could also allow you to reschedule if the weather conditions aren't ideal.
---
---
This can help: How to plan a 1-week trip to Exmouth.
Did you know?
Manta rays do not have a poisonous barb, stingrays do – an apt name, right? The first creature poses no direct threat to humans, unlike the latter.
However, stingrays usually don't attack unless they feel threatened. If you swim with them, make sure to approach them from the front and be very mindful of where you step – they can hide under the sand.
FAQs
How deep is Muiron Islands diving?
The deepest diving spot in the Muiron Islands is around 20 metres.
Can you camp on the Muiron Islands?
Are the Muiron Islands part of the Ningaloo Reef National Park?
Yes, the Muiron Islands are part of the Ningaloo marine park. As such, the protected reef has a huge diversity of corals and species of underwater wildlife, unlike those found in many of the other areas along the Coral Coast.
The bottom line
The teeming fish life of the Muiron Islands is unparalleled. It's a once-in-a-lifetime experience everyone visiting the Ningaloo Reef should experience!
This lesser-known treasure of Western Australia's Coral Coast offers world-class diving and snorkelling sites, and some of the finest fishing spots you could ask for. Make sure you get there before the rest of the world discovers it!
Our Essential Travel Toolkit
🤩 Trip.com – Consistently great accommodation and hotel deals.
🤩 Hostelworld – Looking for the cheapest accommodation? We especially love the book now pay later feature.
🤩 Rentalcars.com – Best range, super easy to compare prices rental car and motorhome prices.
🤩 Viator.com – Easily book tours and experiences at the lowest rate. Great selection all over Australia.
🤩 Tripadvisor.com – Other than our website…..😉 the best place to find things to do
🤩 Airalo – eSIM store that solves the pain of high roaming bills by giving travelers access to eSIMs (digital SIM cards).
🤩 Caravan RV Camping – Traveling Australia in a van, caravan or bus? Use our discount code "saltandcharcoal" to get $30 off any orders over $300.