12 Awesome Things To Do In Cape Range National Park (And How To Plan Your Visit The Right Way!)
There are tonnes of things to do in Cape Range National Park – from relaxing on a paradisiac beach, to hiking several trails, to marvelling at the marine fossils on the rugged gorge walls.
This place has it all. And to make the most out of it, we recommend spending at least 2 or 3 days here to explore the park without rushing. That will be enough time to do most of the activities on this list.
Camping here for at least one night is a must as well, to make your trip even more unforgettable. You'll find our favourite campgrounds and other planning tips below!
12 Things to do in Cape Range National Park
1) Check Ningaloo Reef's underwater world
The Ningaloo reef is one of the largest fringing coral reefs in not just Australia, but the world. It stretches more than 300km along the North West Cape of Western Australia. It's also the most accessible reef, at no more than 100m from the shore.
Permanent residents of these waters include manta rays, reef sharks, sea turtles, and over +500 species of fish. It's a great place to enjoy any time of the year, although some months may be better than others.
Keep reading: When is the best time to visit the Ningaloo reef?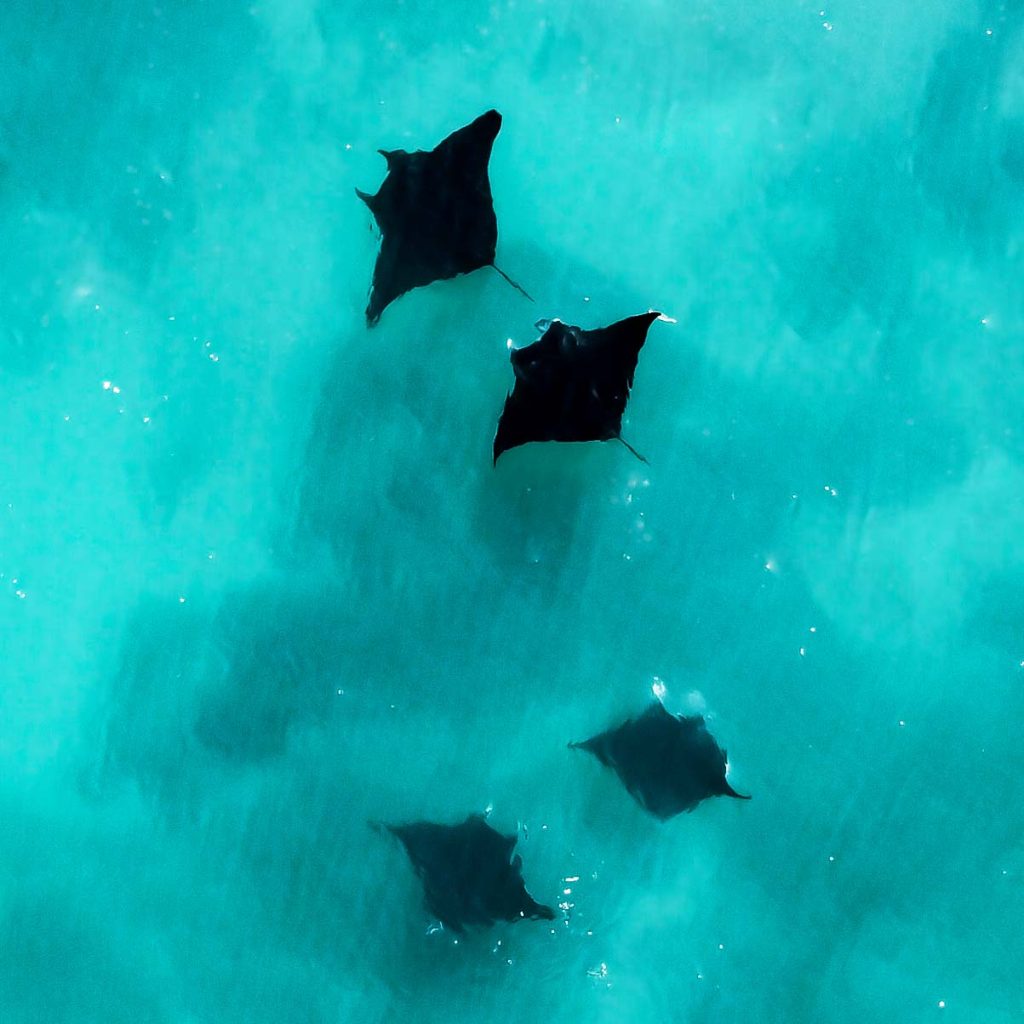 2) Swim with whale sharks and humpback whales
Whale sharks come to these coasts to feed between March and August. While around 30,000 humpback whales migrate through here from July to October.
If you want to swim with these gentle giants, there are several humpback whale and whale shark tours available. Just make sure to book them beforehand, spots fill quickly!
3) Check out its world-renowned beaches
These are the main beaches of the Cape Range National Park: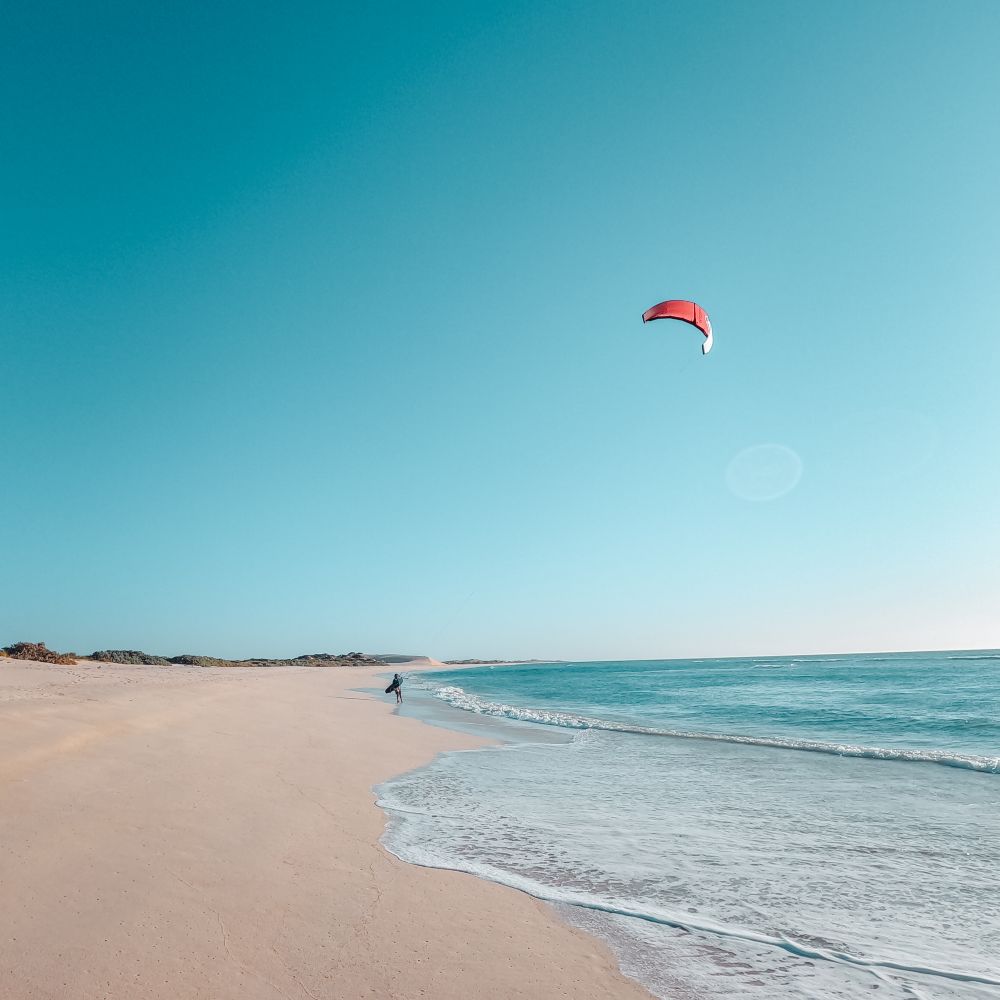 Turquoise bay
The most famous of all, Turquoise bay is one of the best spots for snorkelling and scuba diving in the North West Cape. You can either snorkel off the beach or let the currents take you through the reef (this is called "drift snorkelling").
Osprey bay
Here's the famous Osprey bay campground – the biggest camping location in the park. Apart from staying here, you can swim, snorkel, and go kayaking and canoeing. It's within walking distance from Sandy bay, making it a great spot to stay at.
Sandy bay
This is the place to be if you want to either relax with the family or do windsurfing and kite surfing… or both! You can also do recreational fishing.
Lakeside beach
The Lakeside Sanctuary Zone is a great spot for snorkelling, especially for beginners, as the currents aren't as strong as in Turquoise bay. It's also a much quieter area, where you can also go kayaking, canoeing, and fishing.
Wobiri beach
This is a great spot for beginner surf and kitesurfing when the winds up.
4) Do the Mandu Mandu Gorge hike
This trail will take you up to the gorge rim, and the views are breathtaking, to say the least. You'll be walking through the geological history of Cape Range National Park.
Aim for an early morning or late afternoon hike. The sun's rays strike and highlight the intense colours of this rugged landscape, giving a stark contrast to the spectacular Ningaloo reef.
It's a class-4 walk and 3 km long, with steep inclines. Bring sturdy hiking boots and plenty of water!
5) Visit the unique Yardie Creek
Yardie Creek is a unique feature in the southwest of Cape Range National Park, as it is the only gorge with permanent water. The sealed road from Exmouth ends here.
There are boat tours available, but we recommend at least walking through the Yardie Creek Nature Trail – an easy stroll along a path with an impressive outlook over the creek and the Ningaloo Reef.
Or, you can ramp up the adventure factor by continuing to the Yardie Gorge Trail, a class 4 hike. Scramble up the rocks high above the creek for unforgettable views, only once appreciated by the traditional owners, the Baiyungu, Thalanyji and Yinigurdira peoples.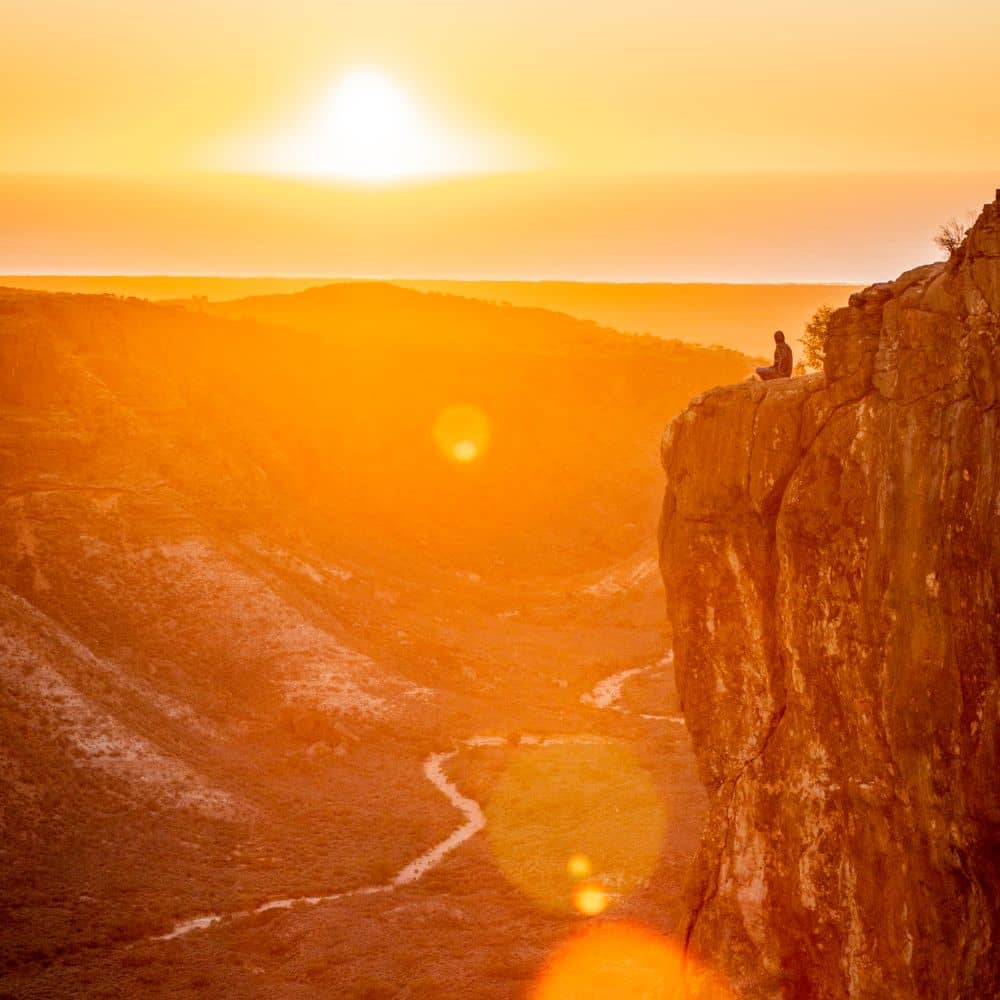 6) Drive through Charles Knife Canyon
The drive along Charles Knife Gorge road will take you to the eastern side of the Cape Range National Park, ending in the lookout.
From there, you can do the Badjirrajirra Walk, a hiking trail where you can see the Charles Knife Gorge and Shothole Canyon.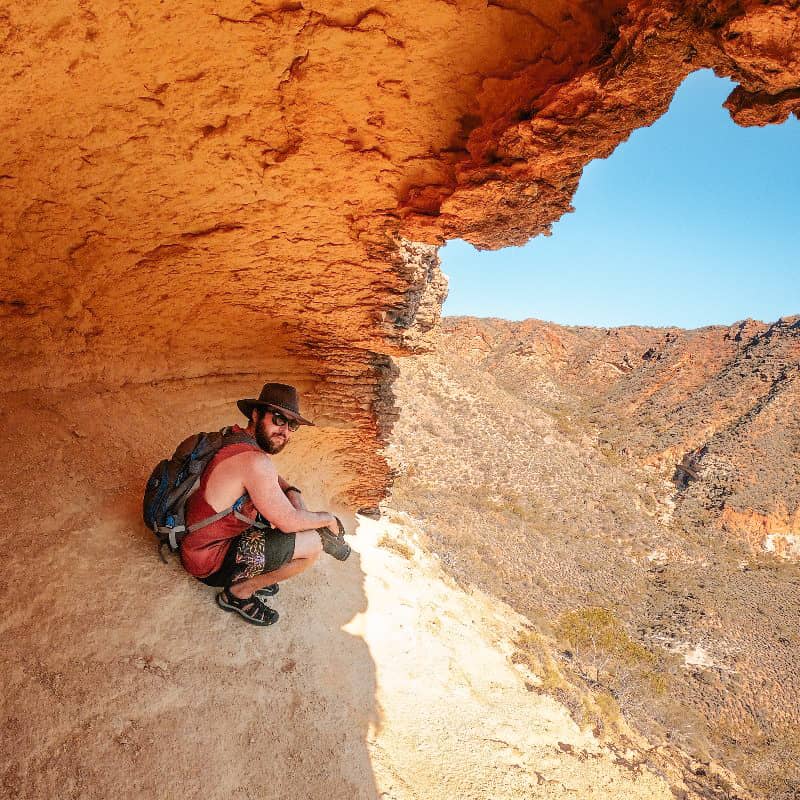 7) 4WD through Shothole Canyon
Drive through one of the most rugged areas of the Cape Range, the unsealed road at the bottom of Shothole Canyon.
It's a 12-kilometre drive that will take you through the colourful rock layers of this famous spot. You can even see the fossils on the walls!
Seismographic explosive charges in the 1950s left holes in the walls of this canyon, giving it its name.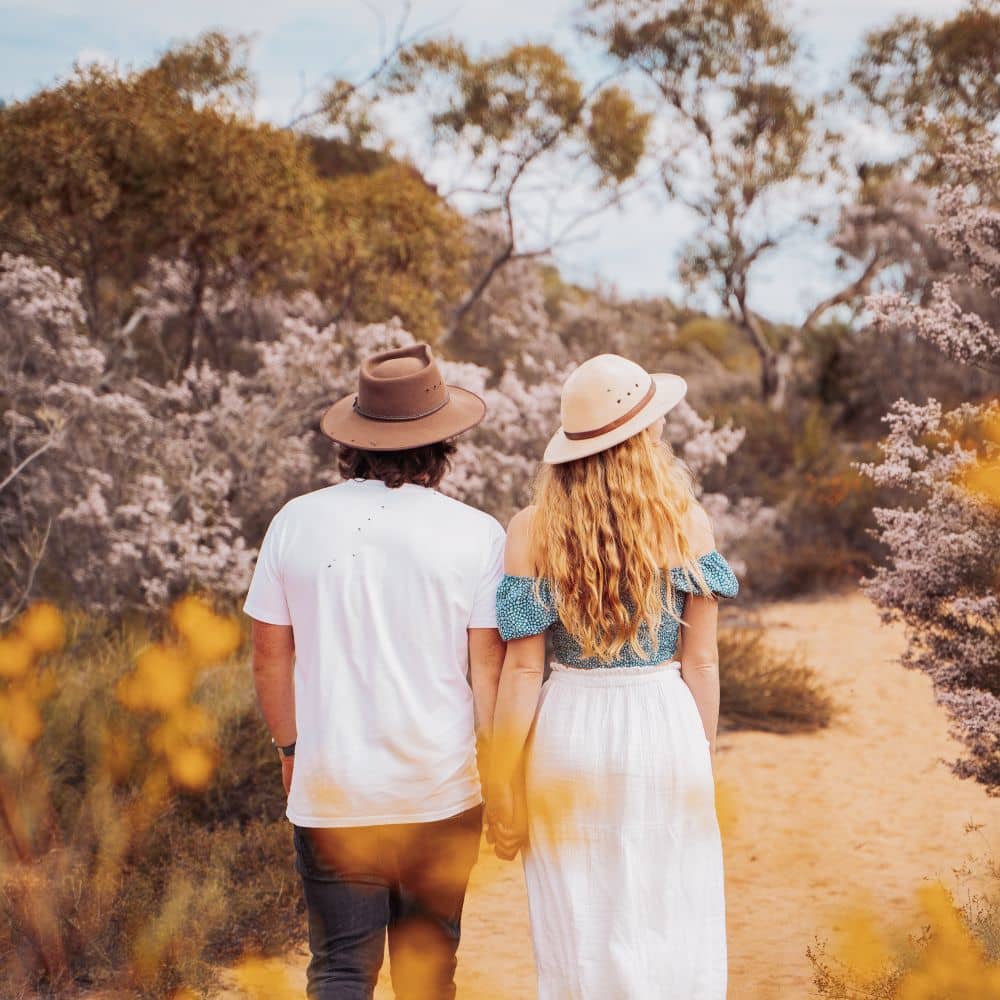 8) Witness the wildflower season's colours
From July to October, the natural environment of the Cape Range explodes into colour, as the wildflowers blossom.
During that time, you'll see these flowers everywhere, particularly in both Shothole and Charles Knife Canyons, Mandu Mandu Gorge, and Yardie Creek.
9) Go to Pilgramunna for a scenic seaside experience
This spot sits between the mouth of a creek system and sand dunes, it's both gorgeous and peaceful. Pilgramunna beach is a great place to walk or fish. On the right tides, you can even launch a small boat from the shore.
10) Watch the birds in Mangrove Bay
This place is a paradise of unique bird species. It has a bird hide overlooking the lagoon area, where you can watch as pelicans feast on marine life in the shallow waters. Or, wait until a late low tide to marvel at the thousands of seagulls returning to their nests for sunset.
Bring tonnes of mosquito protection, though. Also, other activities are prohibited, so you are most likely to be sharing your space with like-minded souls and local wildlife.
11) Go to the Milyering Discovery Centre to learn everything about the park
This is a one-stop shop in the heart of the park for all you need to know about both Cape Range National Park and Ningaloo Marine Park.
The Milyering Discovery Centre is a unique and environmentally friendly building, created from rammed earth and powered with solar energy – the first of its kind in Australia.
National Park rangers are on hand to assist in the centre, which is open every day except Christmas.
12) Visit Exmouth!
You'll drive through this town anyway, so you might as well check it out! There are:
Related: How to plan a full week in Exmouth step-by-step.
How to plan your trip to the Cape Range National Park?
Now that you know the must-see spots in Cape Range National Park, it's time to plan the rest of the trip. Here are some tips to help you figure that out:
Decide when you want to visit
The best time to visit this area is during winter. The temperatures are ideal for hiking, and this coincides with whale shark, humpback whale, AND wildflower season!
But, these months tend to be the busiest, so make sure to book the tours and accommodations ahead.
Accommodation options
If you want to stay in the park, there are many campgrounds available. You have to book in advance and pay a camping fee.
The biggest campgrounds in the park are:
For more luxuries, there's a privately operated eco-tent retreat, too. You can also stay in Exmouth, but you'll have to pay the park fees each time you enter.
How to get to Cape Range National Park
The only way is by a coastal road that starts in Exmouth. You can get to this town by flying into Learmonth airport, or driving from Perth or Broome.
Keep in mind that fuel is not available within the park, so make sure you factor that into your itinerary.
Top Tips
Park entry fees do not apply to either Shothole Canyon or Charles Knife Canyon, as you access them through a road south of Exmouth.
If you purchase a Holiday Park Pass, print it out and keep it displayed on the dashboard of your vehicle. However, this pass does not cover the camping fees.
Also, drive carefully throughout Cape Range National Park, especially around dawn and dusk. As in most national parks, wildlife may be encountered at any time on the roads.
Did you know?
The Cape Range National Park area was once underwater, but there was a gradual uplifting from the sea floor. This, combined with the wind and water erosion, shaped the range into the canyons and stunning beaches we have today.
How do you get to Cape Range National Park?
You get to the entry of the Cape Range National Park by driving 30 minutes from Exmouth.
Do you need a 4WD for Cape Range National Park?
No, you don't need a 4WD to enjoy most of Cape Range National Park. But you won't be able to drive through some spots, like Shothole Canyon.
How long to stay in Cape Range National Park?
We recommend staying at least 3 days in Cape Range National Park to enjoy the main attractions without rushing.
The bottom line
The Cape Range National Park is the adventure of a lifetime. It has pristine beaches mixed with rugged limestone ranges and breathtaking deep canyons.
If possible, try visiting this area in winter, preferably between July and August. This way, you'll enjoy most of what this park has to offer – megafauna, colourful wildflowers, and incredible weather to make your hiking experience as comfortable as possible.