Where To Stay In Kalbarri? Top 15 Options For ANY Budget (From Luxurious To Free Accommodation)
Kalbarri is one of the jewels of Australia's Northwest, when visiting we recommend staying at least 3 days and staying in Kalbarri town. You can't stay in the National Park, so town is the best place to be located to access all attractions.
To choose where to stay in Kalbarri, you have to consider 3 main things: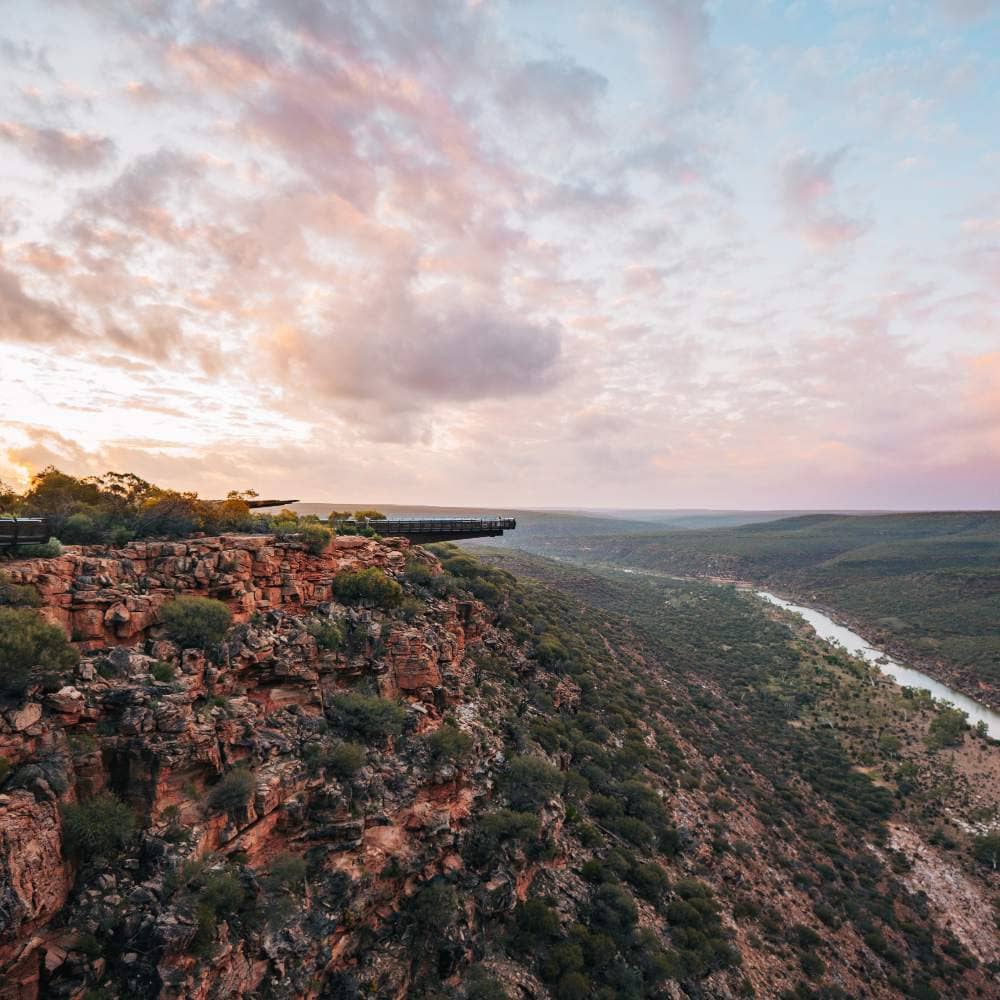 Knowing these details beforehand will help you choose an accommodation in Kalbarri that fits your specific needs.
That said, we did the leg work for you and checked dozens of stays in Kalbarri, carefully evaluating their reviews, capacity, proximity to attractions, pros, cons, and prices.
After all that research, we chose the top 15! So, here are the very best accommodations in Kalbarri, including house and apartment rentals, hotels, caravan parks, and even free camping options.
The cost of accommodation in Kalbarri varies from around $110 – $210 per night depending on where you stay.
Note: We can't include the exact prices because they change depending on the season. But you can quickly check that out by clicking on the button of the accommodation and filtering by date!
Quick answer: Best accommodations in Kalbarri, WA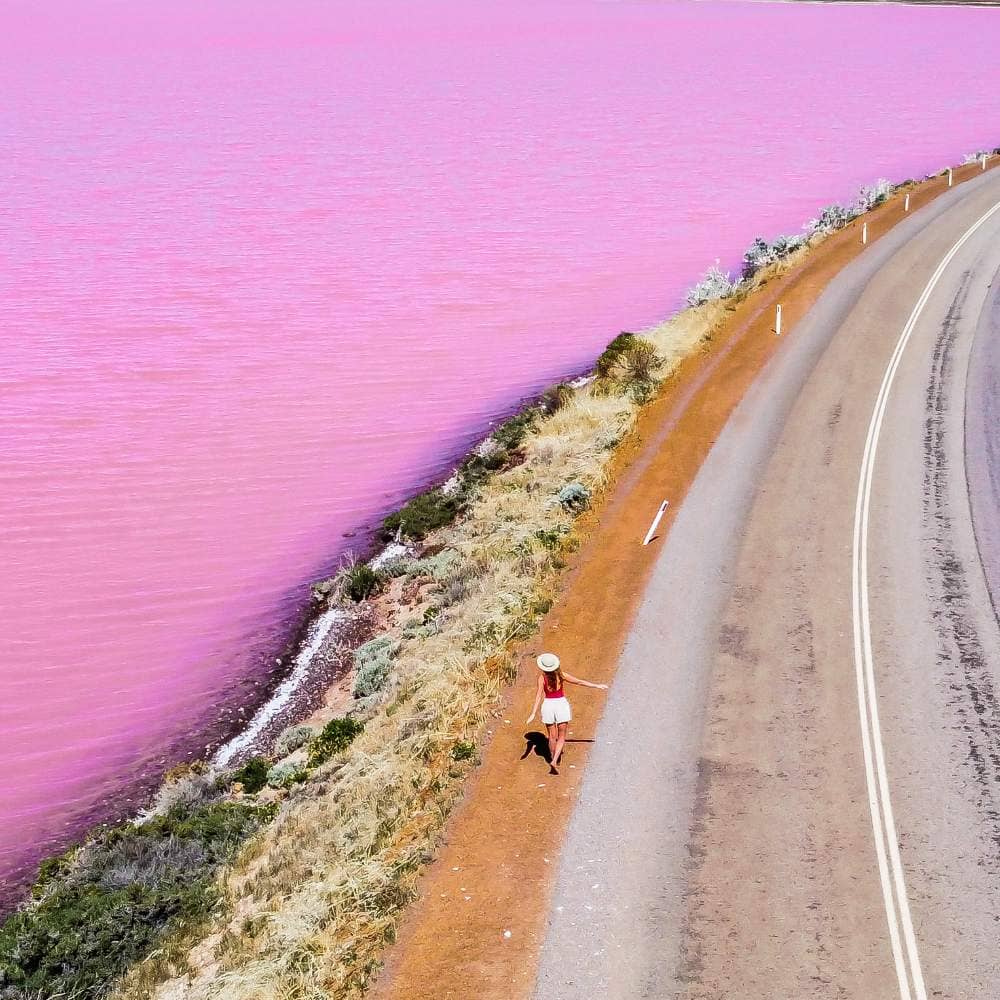 Table of Contents
Best home/apartment rentals in Kalbarri town
These are ideal for couples, families, and/or groups who: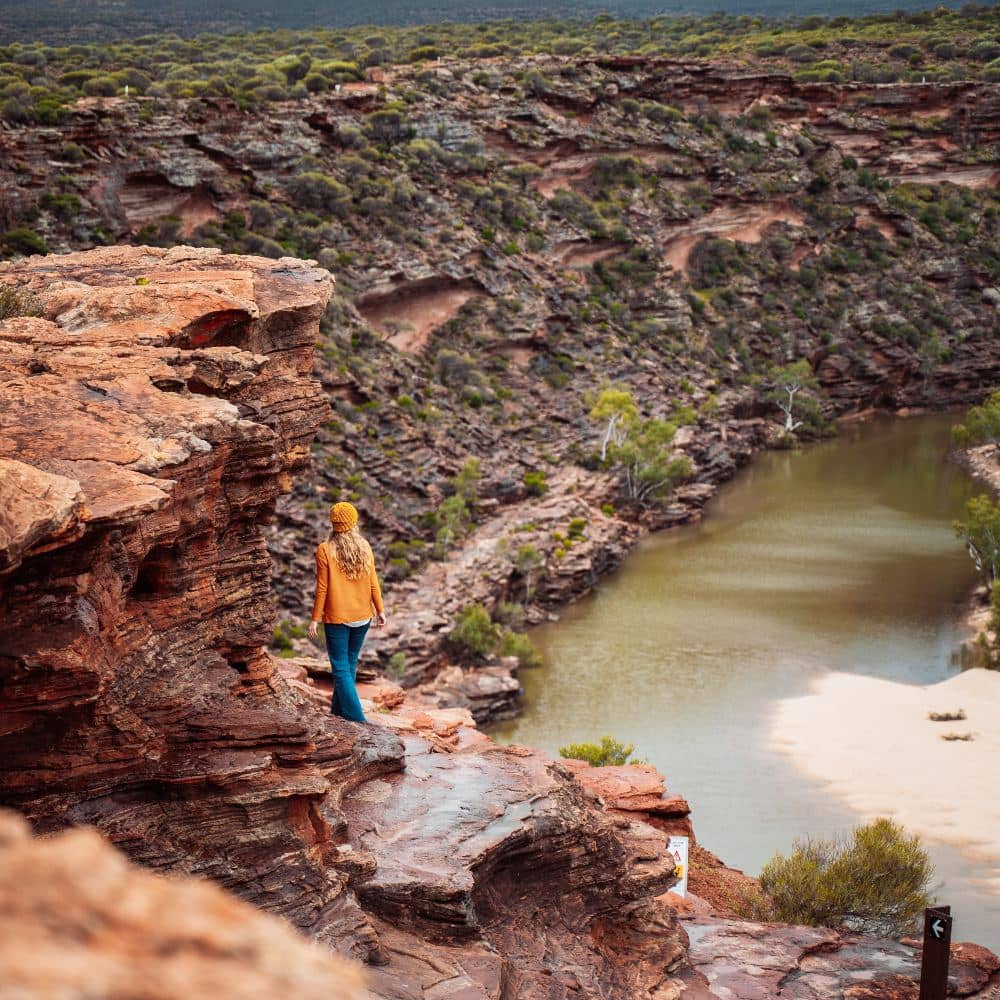 1) Kalbarri Seafront Villas ($$, apartment/townhouse, 2-6 people)
These villas are in the heart of town, a 5-minute walk from Kalbarri Visitor Centre, and practically in front of the pelican feeding point.
Apart from the excellent location, the price is below average but doesn't show in the quality of the stay. Staying on the beachfront, with an outdoor pool, and free parking (wheelchair accessible too).
You can choose between renting a 1 or 2-bedroom apartment, or any of their 4-bedroom and 2-bathroom townhouses.
It's a perfect choice for couples, groups, and big families alike.
2) Riverview Holiday Apartments ($-$$, apartment, 2-6 people)
Previously known as "Kalbarri Beach Resort", this accommodation is a blend between an apartment complex and a hotel.
It's on the north side of town, near the river, a 15-minute walk from Kalbarri Visitor Centre.
There are 54 apartments total, each one has a balcony and a fully equipped kitchen. There are 2 pools, a kid's playground, BBQ facilities, and a restaurant.
This is the best choice if you want to stay in town on a budget.
3) River Retreat Kalbarri ($$, entire home, up to 6 people)
This rental home is at a stone's throw from Chinaman's Beach. Its central location is perfect if you want to be within walking distance of the local beaches and the town.
It has onsite parking and one carport to fit a dinghy-sized boat. It's pet friendly and has 3 bedrooms, 2 bathrooms, BBQ facilities, and all amenities – a fully equipped kitchen, TV, free wifi, etc.
Note: Not to be confused with "River Retreats Kalbarri", a luxury hotel up the Murchison River.
4) Blue Holes Getaway ($$, entire home, up to 8 people)
This massive rental home is a 10-minute walk from Blue Holes and a 20-minute walk from Chinaman's Beach.
It's close enough to town to explore it on foot, but far enough to feel a bit secluded.
There are 4 bedrooms and 4 bathrooms, plenty of parking, and it's pet-friendly. There's an awesome deck upstairs with views of the Red Bluff too.
5) Seashells Holiday House ($$-$$$, entire home, up to 8 people)
This fully self-contained, 2-storey holiday house is perfect for a group of friends or 2 families. Sitting at a 10-minute walk from the visitor centre, it has easy access to all the great spots in town.
The interior is extremely modern, with 4 bedrooms, 2 bathrooms, 3 parking spots, and a fenced lagoon pool. The views from the back patio are incredible, with the ranges and the Red Bluff.
6) Murchison View Apartments ($$, apartment, 2-6 people)
At just 100 meters from Chinaman's Beach, this 16-apartment complex is ideal for couples, families, and groups alike.
---
---
Each apartment has a balcony, with views of either the ocean or the outdoor pool.
Apartments have 1, 2, or 3 bedrooms. All have fully equipped kitchens, spacious lounges with entertainment systems, and include free parking and wifi.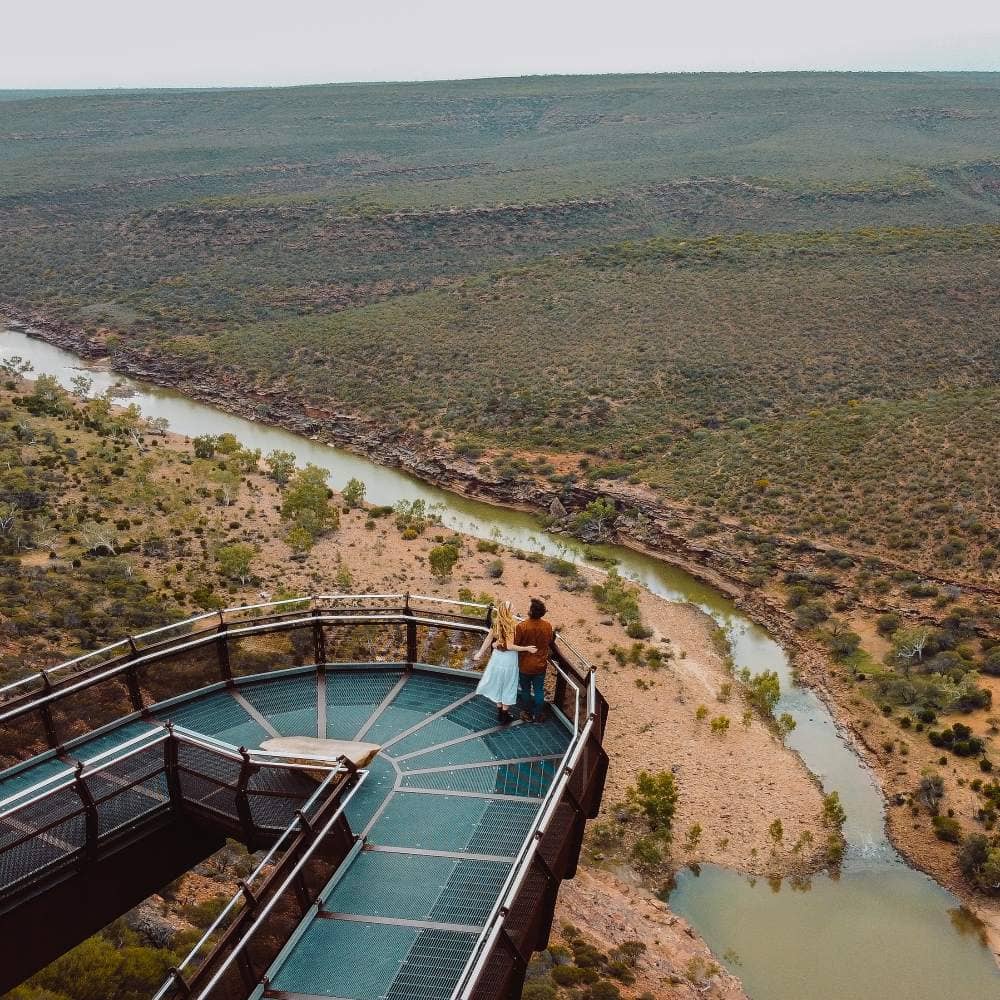 Top Kalbarri hotels, motels, and B&Bs
If you want to make your stay a bit more comfortable or even splurge a little, check out these Kalbarri accommodation options:
7) Pelican's Nest ($$, motel, 2-3 people)
This 3.5-star motel is conveniently situated just a 5-minute stroll from the Kalbarri visitor centre.
This gives you easy access to the Murchison River, the beach, and many shopping and dining spots in town.
The Pelican's Nest offers self-contained two-bedroom units plus a variety of motel-style accommodation options.
They have capacity for 2-3 people, so bigger groups would have to rent several rooms.
However, all rooms have the essentials, including TV, tea/coffee makers, fridge, and microwave.
8) Gecko Lodge Kalbarri ($$$, B&B, 2-4 people)
This charming, 4-star bed & breakfast is just moments away from the pristine coastline. It's ideal for couples and small groups.
The en suite rooms have spa baths/showers, large flat-screen TVs and even an iPod dock.
Previous guests rave about the free continental breakfast! Bike hire and BBQ are also available.
9) Kalbarri Edge Resort ($$-$$$, hotel, 2-5 people)
This charming 3-star oceanfront accommodation is one of the best hotels in Kalbarri. It provides the most comfortable and luxurious stay in town.
Apart from having a top-notch location, at walking distance from all the good spots, it can fit several budgets.
You can choose a studio room, or a two-bedroom apartment, or indulge in one of their executive suites with spa baths and private balconies.
Either way, you'll have free WiFi, a kitchen/kitchenette, flat screen TV, and all the toiletries. There's an outdoor pool with sun loungers, and an on-site, fully licensed restaurant – Edge Restaurant.
10) Kalbarri Palm Resort ($$, hotel, 2-5 people)
This resort is just a 10-minute stroll from the beachside. Has 2 pools, a tennis court, a hot tub, BBQ facilities, a playground for kids, and easy access to all the good spots in town.
It caters to all groups – from couples looking to relax in their spa suite, to family-friendly apartments. All rooms have free WiFi, free toiletries, coffee/tea maker, fridge, etc.
Top caravan parks to stay in Kalbarri WA
These are cheaper than staying in any of the above, plus you'll be closer to nature! There are self-contained cabins, or stay in your own self-contained van/caravan!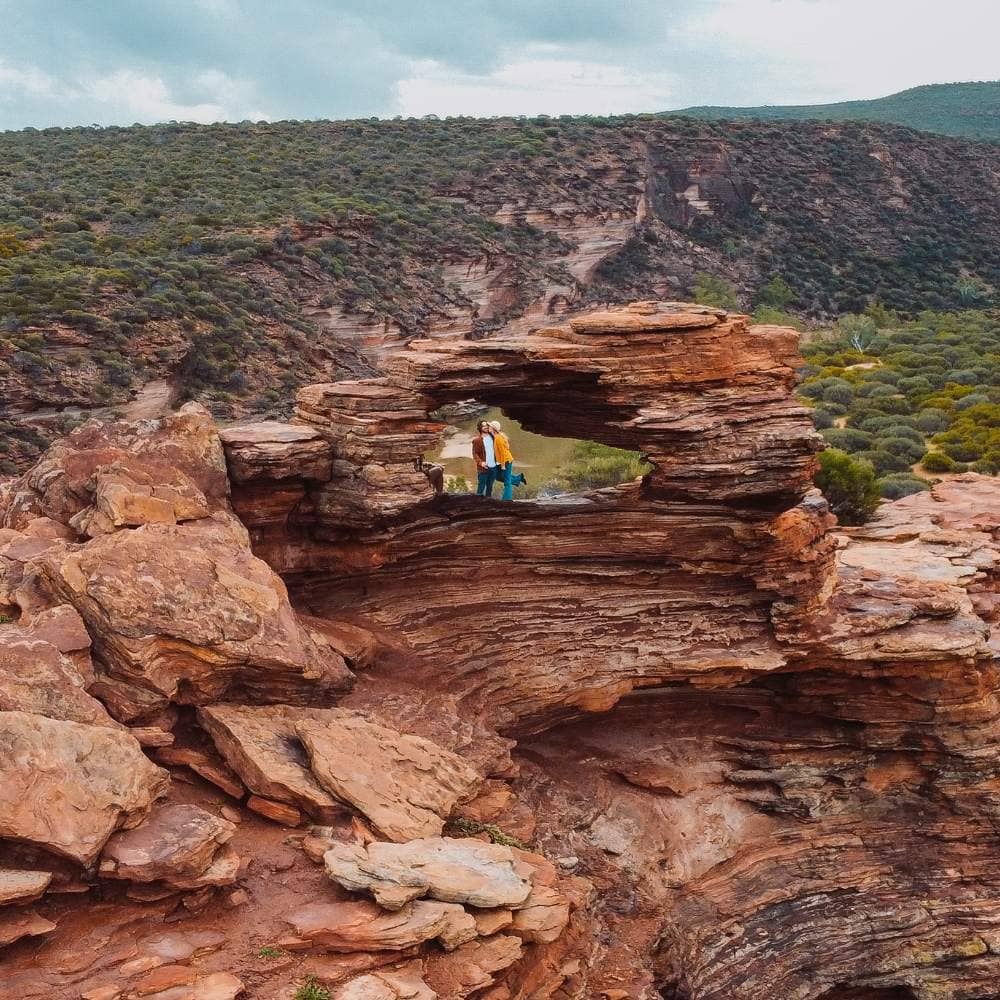 11) Kalbarri Red Bluff Tourist Park ($-$$)
This caravan park is a 5-minute drive from town, and right next to Red Bluff beach. It has something for every budget:
Recreation facilities include a swimming pool, volleyball courts, a jumping pillow, and a children's playground.
Plus, you can hike to different attractions from this caravan park – the Red Bluff lookout, Mushroom Rock, Pot Alley, and even Eagle Gorge!
12) Kalbarri Anchorage Caravan Park ($-$$)
This is the closest caravan park to the city centre, at a 30-minute walk north from Chinaman's beach.
You can choose to stay in a powered or non-powered site, a cabin, a park home, or just camp there!
13) Murchison House Station ($)
The Murchison House Station is open for accommodation between April to October. If you want to fully immerse yourself in nature, look no further! You can either camp, bring your caravan, or even your 4WD.
This massive station is a 15-minute drive from town, up the river. Its 350,000 acres include river floodplains and 60km of Indian Ocean shoreline.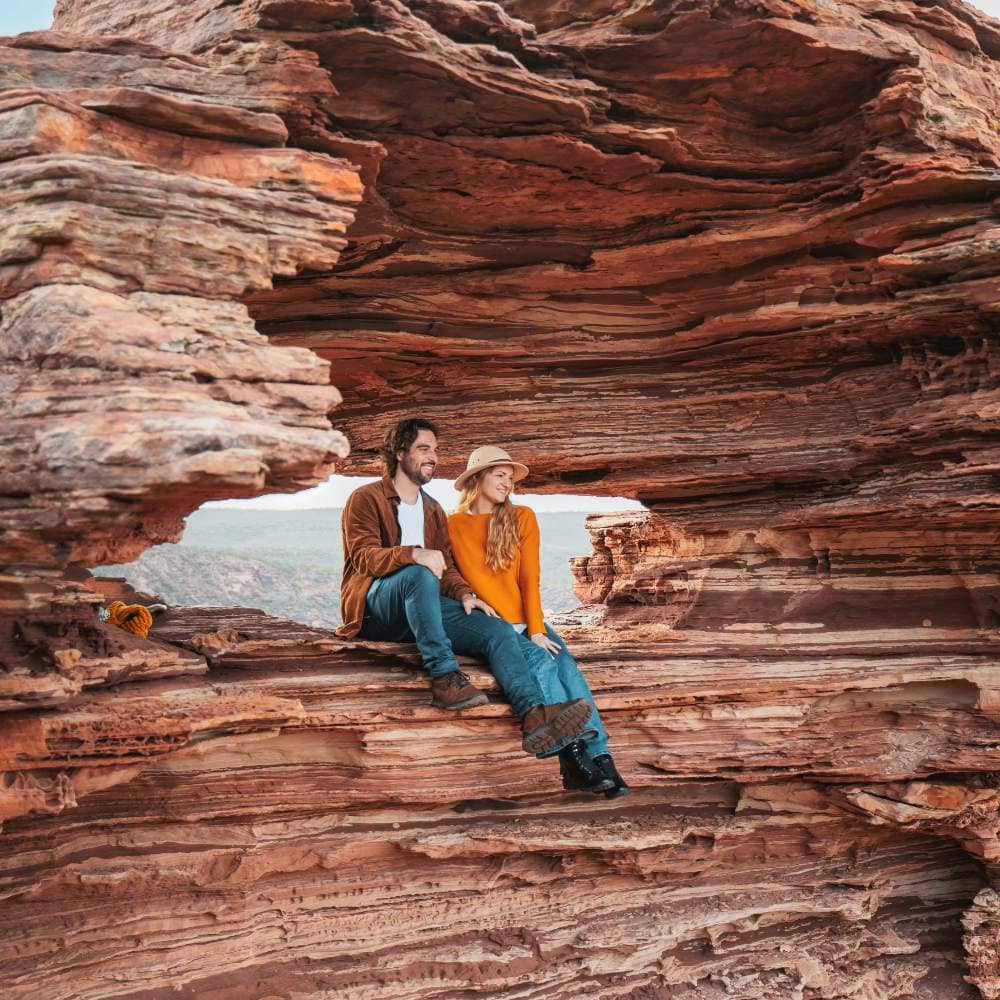 Free camping near Kalbarri
There are no free campsites in town, but these are the closest ones:
14) Galena Bridge Rest Area
Sitting at a 1-hour drive from Kalbarri, the Galena Bridge Rest Area is the nearest free camping spot around.
It has a North and South Rest area. Both are very popular, so try to arrive early to get a good spot.
It has toilet facilities, a dump point and allows pets and fires. We have camped here the night and it was great!
15) Northampton Golf Club
This free camping spot near Kalbarri is a bit over 1-hour drive from town.
The golf club allows caravans and camper trailers to be set up in the car park areas, can't book ahead though.
There are no toilet facilities, but pets are allowed.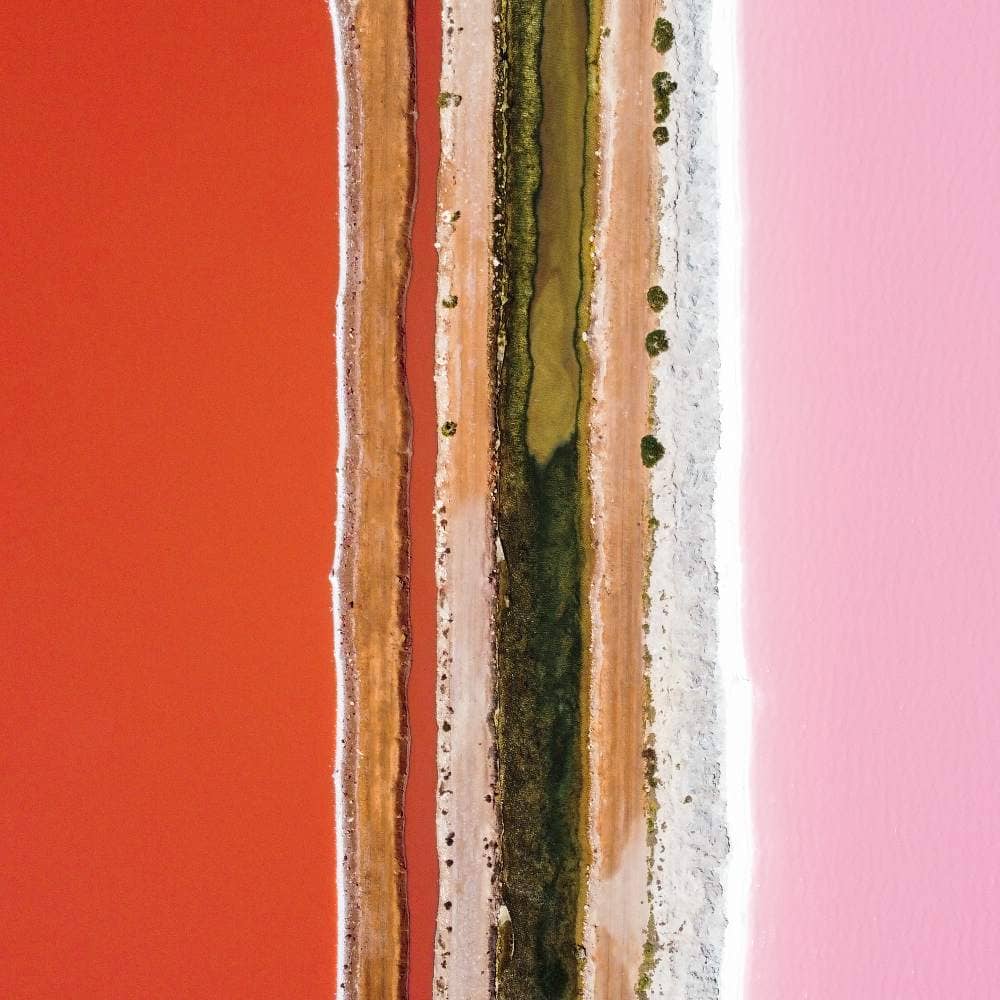 Top tips
The best time to visit Kalbarri is from April to September. It can get a bit hot after those months but people still visit!
Late July through September, the wildflowers will be in season, setting the usually brown heather of Kalbarri alight with blazes of colourful flowers. From June to November, you'll see Humpback Whales migrating through.
And to find more options for accommodation in Kalbarri, check out Expedia. They have dozens of options, from luxury villas to cheap caravan stays, and everything in between.
You can even filter your search for fully refundable stays, or "reserve now & pay later". These features are perfect when planning ahead of time.
Did you know?
The Kalbarri National Park covers 1,830 square kilometres, surrounding the lower Murchison River, the second longest river in Western Australia.
The national park is famous for its scenic gorges cutting through the white and red sandstone and for its jaw-dropping coastal cliffs.
FAQs
Where should I stay when visiting Kalbarri National Park?
When visiting Kalbarri National Park, you should stay in Kalbarri town. It's a 25-minute drive away, and it's the gateway to all the attractions of the park. You can't stay in the park itself, in fact, you'll have to leave your trailer or caravan in town.
How many days does it take to visit Kalbarri?
It takes 2-5 days to visit Kalbarri. We recommend staying the 5 days, as this will give you plenty of time to enjoy the attractions of the National Park, do some hikes, and chill on the town beaches!
Is Kalbarri worth visiting?
Yes, Kalbarri is 100% worth visiting. Although it's a small town, there are so many things to do around, there's no way you'll get bored!
Keep reading: Awesome things to do in Kalbarri
The bottom line
There are dozens of accommodations in Kalbarri, although these are our favourites. To choose the best one for you, consider your budget and the activities you'd like to do.
Whatever you choose – either the luxury of Kalbarri Edge Resort or the simplicity of Galena Bridge – visiting Kalbarri will be an incredible experience.
And, now that you know where you'll sleep, what about the things you'll do? Here's a list of our favourite tours in Kalbarri to help you plan your trip!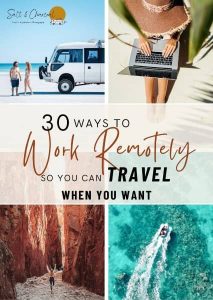 FREE Guide: 30 Ways To Make Money Online So You Can Travel When You Want
Unlock our secrets to consistent online income in Australia. These are tried-and-tested ways we've used to earn money from anywhere – only a laptop with internet is needed! Travel more and worry less.
Our Essential Travel Toolkit
🤩 Trip.com – Consistently great accommodation and hotel deals.
🤩 Hostelworld – Looking for the cheapest accommodation? We especially love the book now pay later feature.
🤩 Rentalcars.com – Best range, super easy to compare prices rental car and motorhome prices.
🤩 Viator.com – Easily book tours and experiences at the lowest rate. Great selection all over Australia.
🤩 Tripadvisor.com – Other than our website…..😉 the best place to find things to do
🤩 Airalo – eSIM store that solves the pain of high roaming bills by giving travelers access to eSIMs (digital SIM cards).
🤩 Caravan RV Camping – Traveling Australia in a van, caravan or bus? Use our discount code "saltandcharcoal" to get $30 off any orders over $300.