Where To Eat In Exmouth? 22 Amazing Places You Must Check Out
Most of us plan for the many things to do in the Ningaloo Reef, but often forget an underrated fact – where to eat? Exmouth thankfully has several fantastic food places that are worth including in your itinerary, too.
We explored them all, you'll just have to take your pick – a fancy restaurant or a cosy café? A beer or an ice cream to fight the heat? Here's the rundown of them all.
They are in a general order, just depends on what you feel like.
22 Best places to eat in Exmouth
There are many things to do in Exmouth. But when it comes to food, these are the main places you want to consider:
1) Mantaray's Restaurant ($$$-$$$$)
This is one of the most popular venues in town, situated in the Mantarays Ningaloo Beach Resort, on Madaffari Drive. It offers a la carte dining with a gorgeous view of the gulf.
They serve breakfast from 6.30 am to 10 am. You can get lunch and a range of light meal options from noon, while dinner is available from 5 pm. You can also enjoy beer, wine, or spirits with your meals.
Mantaray's provides fresh local seafood and produce in a way that makes the mouth water. Proof of this is their Seafood Board and their Seafood Tower (for two). For those who don't want to share, their Chilli Crab spaghetti and the Seafood Linguine are ideal choices.
It's one of the priciest options we went to, but it was worth every penny. Come here for at least one meal – you won't regret it.
2) The BBQ Father ($$ – $$$)
For Italian cuisine, you can't go past The BBQ Father on Murat Road (at the Ningaloo Caravan and Holiday Resort). Here's the best wood-fired pizza in town, and juicy smoked meats.
Their smoked beef brisket and smoked veal ribs are to die for (and their pizzas too). They also make their own pasta and gelato.
This place offers an authentic Italian experience, and it's a great spot to end your day with its relaxing atmosphere. You can also get your food to go or request delivery – whatever fits your mood the best.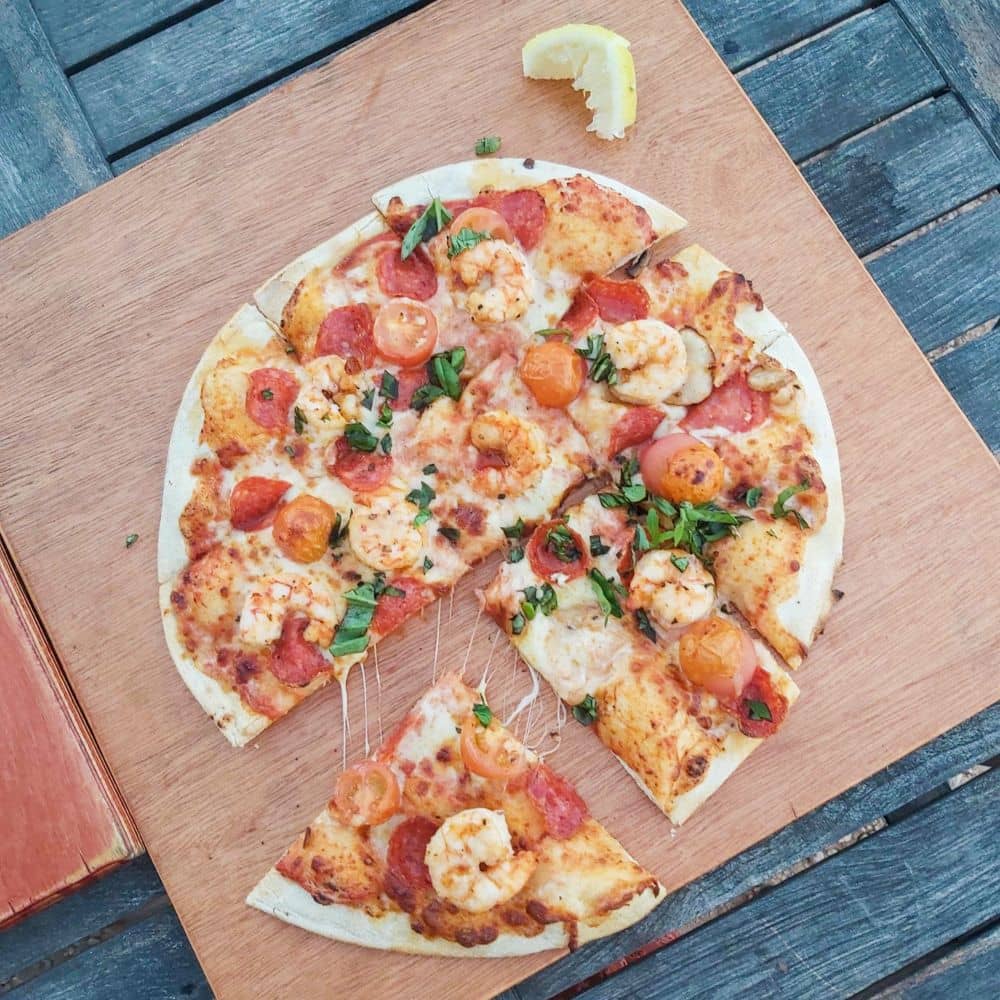 3) Whalebone Brewery ($)
Test out the local craft beer brewed on-site at the Exmouth Whalebone Brewing Company in Patterson Street. They are open only for lunch and dinner from 12 pm to 10 pm.
The casual outdoor dining includes gourmet pizza options with fresh local ingredients, a full kids' menu, and a relaxing atmosphere with live music.
It's one of the best places to sit and relax, especially after a hard day exploring the Ningaloo Reef or swimming with Whale Sharks.
4) Froth Craft Brewery ($$-$$$)
In the middle of the main shopping area (Ross St Mall), you'll find one of the best microbreweries in Western Australia – the Froth Craft Brewery. It's a relaxing pub with amazing local craft beers on tap, cocktail slushies, and good food.
There are shared snack meals, a few mains, and kid's meals available. Make sure to check out the Chef's Specials Board for the best buys of the day.
5) Whalers Restaurant ($$$)
This beautiful restaurant is in the Exmouth Escape Resort, on Murat Road. Make sure to book beforehand, as it fills up quickly.
Whalers offers breakfast and lunch from 7 am to 2 pm and dinner from 5 pm to 9 pm. They specialise in local, fresh seafood, with a relaxed atmosphere and live music. You'll see there's no shortage of delicious food options.
There's also a separate vegetarian menu with many options you should check out, even if you're not vegetarian. The Portobello Mushroom Fries with chipotle coconut yoghurt was not from this world.
6) EGFC Restaurant & Bar ($$ – $$$)
The Exmouth Game Fishing Club (EGFC) Restaurant and Bar is a hidden local gem, and well worth visiting. It's at the end of Madaffari Drive at Exmouth Marina and opens only from Thursday to Sunday from 5 pm to 8 pm.
The casual atmosphere of garden chairs on the balcony belies the excellent quality of the food. Local families know this is the place to go for the best fish and chips in Exmouth, and we agreed – the fresh fish was melt-in-your-mouth delicious.
Here, you'll meet the locals enjoying a night out. The friendliness of the staff makes the place even better, not to mention the stunning views of the bay where the fishing boats come in.
7) The Social Society ($$-$$$ – Vegan)
Sitting on Thew Street, this place has one of the best coffees in town. Come here for vegan and vegetarian-friendly breakfast and brunch options. Make sure to try their pancakes, they're spectacular.

The atmosphere of the place is relaxed and comfortable, making it a great spot to unwind. Many people also choose to work there for the day as they offer free internet access.
The relaxed vibe and free internet make it a great spot for freelancers, remote workers, or anyone who needs to get some work done while enjoying a delicious cup of coffee.
8) Cadillacs Bar & Grill ($$ – $$$)
If you want an authentic American eating experience, come to this restaurant. The whole atmosphere has cowboy vibes – even the waiters are dressed as such. They play live country music and have a few pool tables too.
Burgers feature heavily on the menu, and the servings are large. It's an authentic American experience through and through.
The restaurant opens from 12 noon until 8.30 pm, Wednesday to Sunday only, so make sure you book a table beforehand.
9) The Beach Shack ($$-$$$)
Right on the picturesque Bundegi Beach, you can get breakfast, lunch, and dinner here in The Beach Shack. It's another great place to relax from a day of snorkelling or surfing.
The food is great and the view is incredible. Live music brings everything to another level, with a very relaxing atmosphere, as most tables are outside. You'll also find a mini art gallery showcasing a local artist.
Local tiger prawns and mussels in a bucket are one of their most popular options. They also offer great coffee, juices, and ice creams.
10) Pot Shot Hotel Restaurant ($$-$$$)
This fully licensed restaurant is on Murat Road. It offers the usual suspects – pasta, pizza, curry, seafood, chicken parmigiana, steak, burgers, and salads.
However, their big drawcard is the new stone grill dining. You order a fresh meal of seafood or steak and they cook it in front of you, on your table's super-heated natural volcanic stone.
The Pot Shot Hotel Restaurant is open seven days a week from 11.30 am to 2 pm for lunch and from 6 pm to 9 pm for dinner.
11) Blue Lips Fish and Chips ($$-$$$)
This is Exmouth's original takeaway shop, sitting on Thew Street in the town centre, and is open from 5.30 pm to 8 pm every day except Sunday.
They offer all the traditional takeaway foods, including milkshakes and thick shakes. The fish is fresh and perfectly cooked, and the burgers or souvlaki options are always popular.
12) Exhale ($$-$$$)
Also on Thew Street, this is one of the best places to go for breakfast or brunch. Their waffles and crepes are Exhale's most famous dishes. Try the Belgium waffles, or their waffle burgers if you're feeling adventurous.
And from 5.30 pm, it becomes a Tapas bar. During this time, they have a superb menu with vegetarian options and the cocktails are really good. Come here for your final (or first!) night in Exmouth.
13) Planet Burgers ($-$$)
If you want American-style fast food, come here. Planet Burger is on Payne Street, behind the Pot Shot Hotel, and is open every day of the week. Just check out their Facebook page before going for their opening times, as they change throughout the seasons.
They're known for their burgers, but you can also get hot dogs, nachos, and souvlaki options. The most popular dessert here is the American-style apple pie bites served with ice cream, you must try them.
14) Ningaloo Bakehouse & Café ($-$$)
Found in the Ross Street Mall, the Ningaloo Bakehouse opens from 6 am to 5.30 pm, every day of the week. They offer a great selection of savoury and sweet options, making it an excellent option for breakfast, morning or afternoon tea, or lunch.
You can buy all the usual bread products here too, and get a delicious cup of coffee in the attached café attached. Make sure to try the butter chicken pie and the cheese and bacon pull-apart bread rolls.
15) Yardie Café ($$-$$$)
This café is at the Yardie Homestead Caravan Park, 30 minutes from Exmouth. It's the best place to go while you spend your day in Jurabi Coastal Park.
They have coffee and snacks from 7 am to 10 am, and dinner from 5 pm. Try their salt and pepper calamari, nachos, and burgers. It's a good option for dinner after a full day of 4WD exploring the area.
16) Tropicalia Juice Truck ($)
Tropicalia Juice Truck is a must-visit destination for anyone looking to cool off and refresh themselves while visiting the Ningaloo Reef. This food truck is located at the famous surf beach called Hunters and specialises in offering delicious and healthy acai bowls and juices.
17) Amba Falafel ($)
This food van sits in Town Beach, offering fresh middle eastern-style street food. It's one of the best places in town for vegan and gluten-free options. Check their Facebook for opening hours!
18) Adrift Café ($$-$$$)
This Café is a fully licensed restaurant on Huston Street. Breakfast and lunch options include the usual – eggs benedict, toasts, salads, burgers, and a variety of homemade baked goods.
The dinner options are more varied, with a good selection of steak, seafood, and vegetarian choices. We recommend booking ahead.
19) Earlybird Café ($$-$$$)
This place in the Ross Street Mall is exactly what it sounds like – the perfect place for coffee and breakfast. It also offers a delightful lunch menu, smoothies, juices, and tasty homemade cakes for the perfect morning or afternoon tea.
19) Café Muiron ($$-$$$)
This coffee shop is at the local information centre and the Ningaloo Aquarium and Discovery Centre. It has a lovely selection of gourmet teas and coffees, with blends available to buy to take home too.
There's also a wide range of milkshakes, delicious cakes, and sweet treats like ice cream or locally made fudge – no wonder why it's a local favourite.
You can buy breakfast, lunch, and snacks at Café Muiron, with a selection of sandwiches and toasties to tempt you. Few will go past the scones, served with fresh cream and jam.
20) Bamboo ($-$$)
This is the place for those craving a taste of Asian cuisine. Right in the town centre, you can come here to treat yourself to a healthy breakfast or a savoury lunch.
It's a popular option for locals wanting a change from the usual burgers or general café fare. Come here for great sushi, a hearty ramen bowl, and delicious gyozas.
21) The Short Order ($)
This food truck in Town beach offers a delicious breakfast and a variety of baked goods. It's the perfect way to start your day, not to mention the view. The Short Order is a family-owned truck that opens Monday through Saturday, from 6 to 11 am.
22) Sweet ($)
Here's the best ice cream in town, with homemade gelato and sorbets. Tucked away behind the Froth Craft Brewery in the shopping area, you'll find the cutest little shop if you follow the colourful signs to Sweet.
The shop is relatively small, but there is a lovely outside sitting area with tables, chairs, lounges, and a swing chair. There are some toys and a play area for the little ones, too.
Top Tips
The information centre has a list of all restaurants and places to eat, including their opening times, phone numbers, and addresses. You'll see there are dozens of places listed, and some options are incredibly tourist-based. The real gems are where the locals go, so, ask them!
Ask those who live and work in Exmouth for their favourite local restaurants. They'll share with you the best (and often the cheapest) places to enjoy high-quality food.
Related: What to do in Exmouth?
Did You Know?
Exmouth was developed around the 60s because the US government needed a place to communicate with its submarines. The US service members and their families lived there to operate the Naval Communication Station Harold E. Holt, near Bundegi beach.
Fast forward to 1999, cyclone Vance destroyed most of the town and the locals rebuilt. This was a more robust tropical cyclone than Cyclone Tracy, which decimated Darwin.
What is the best month to visit Exmouth?
The best month to visit Exmouth is anywhere between April and October, preferably September – the weather is cooler and you have an excellent chance of swimming with the whale sharks.
Further reading: When is the best time to visit Exmouth?
How many days should you spend in Exmouth?
You should spend at least 4 days in Exmouth. This will give you ample time to explore the town and its surroundings. Also, spend at least a day or two exploring Ningaloo Reef.
Keep reading: What to do with one week in Exmouth?
Why is Exmouth famous?
Exmouth is famous because it has the second tallest building in the southern hemisphere, Tower Zero. It's the tallest tower in the Harold E. Holt Station, being 387m high.
The Bottom Line
From fancy restaurants to food trucks, it's not a problem to decide where to eat. Exmouth offers plenty of options to choose from. This town offers meals for every taste and every budget.