The Ultimate Things To Do In Broome: 15 Bucket List Items
Whether you're seeking adventure, culture or luxury experiences, Broome in Western Australia has it all.
You might know Broome for pearls, camel rides and the famous Matsos brewing company, but there is so many more unique things to do! You can visit real dinosaur footprints, the oldest cinema, turquoise rockpools and more.
Located in the Kimberley region of Western Australia, 2.5 hours flight from Perth (or 22 hours drive).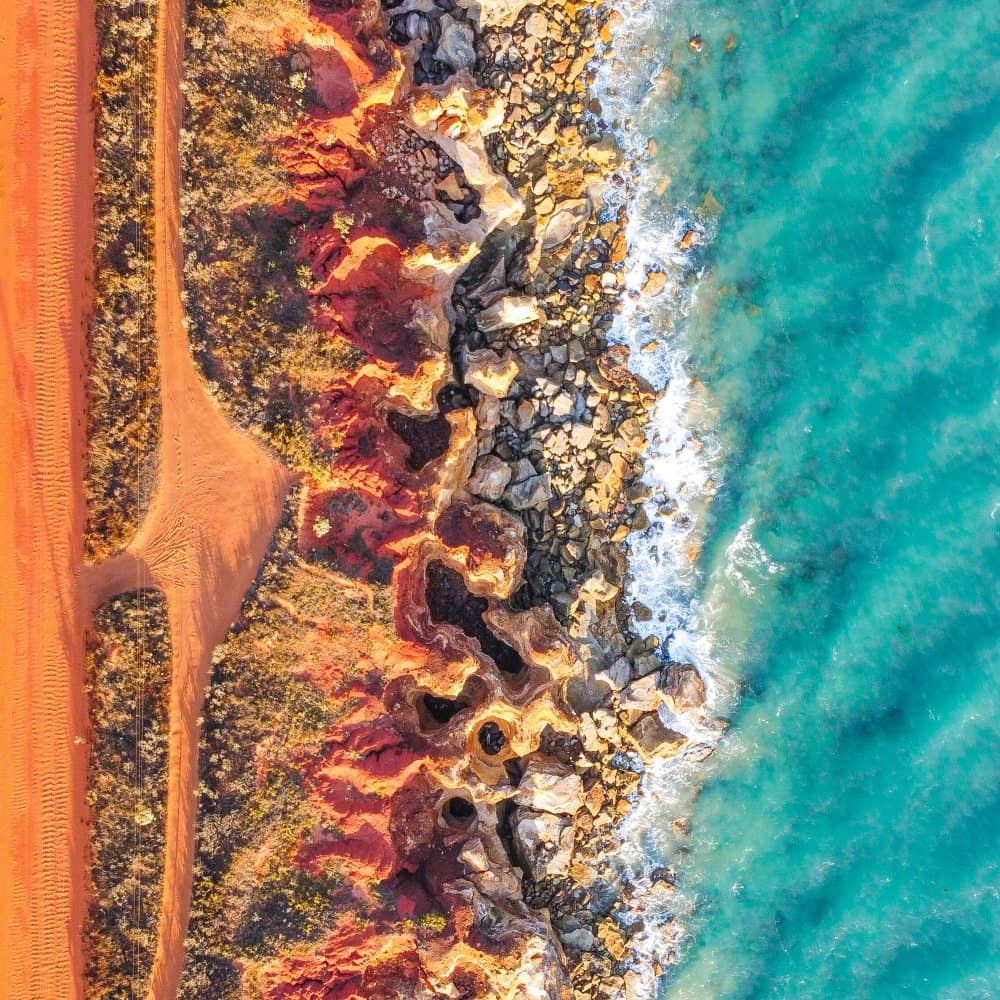 Broome is known as Rubibi, by the local Yawuru people who hold the native title and maintain the living cultural landscape of the land and sea.
It's the gateway town to the Dampier Peninsula and Gibb River Road, nestled behind the famous Cable Beach – Broome is a piece of Australian history.
The town itself is a central point in the Northwest, for community, tourism, mining, agriculture and fishing.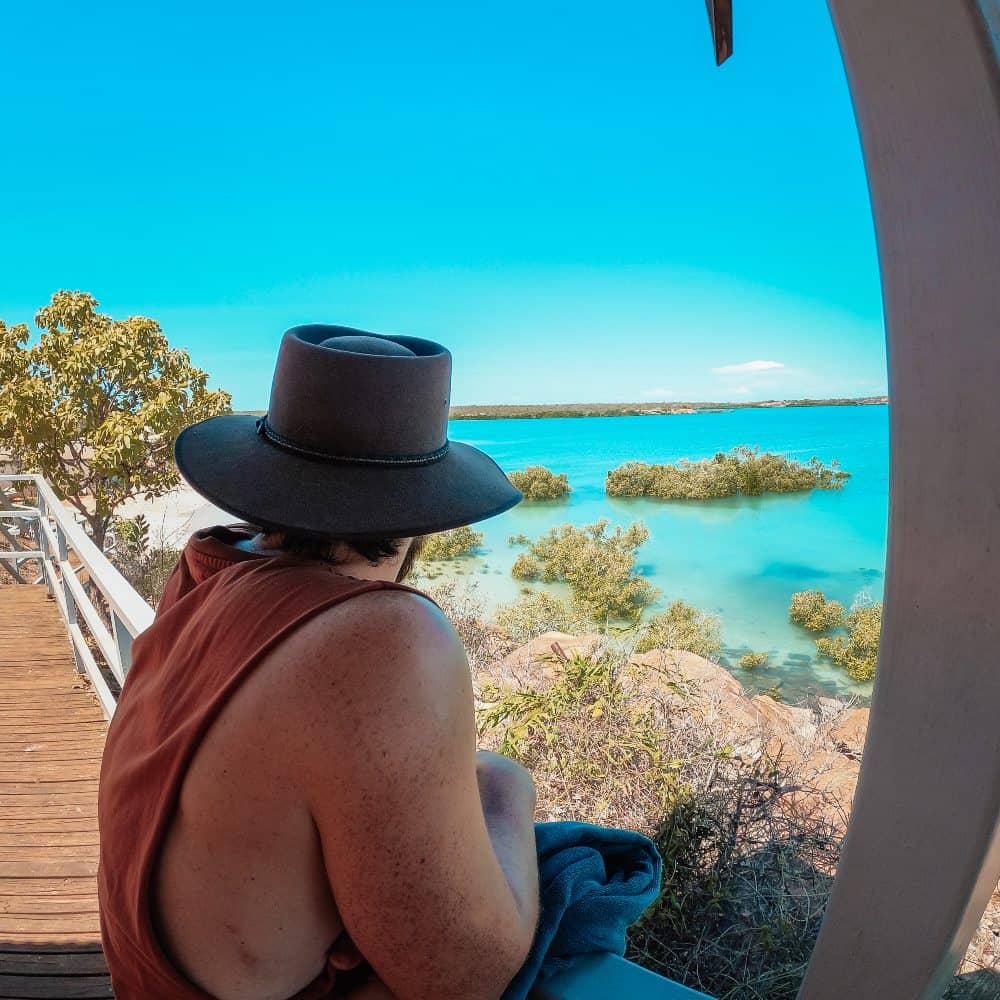 Whether you want to do yoga at sunset, try the local produce or just experience the tropics. There is so much to do in Broome.
Table of Contents
1. Sunset Camel Ride on Cable Beach
There's nothing quite like a West Aussie sunset over the ocean, and Cable Beach may be one of the most iconic locations for it.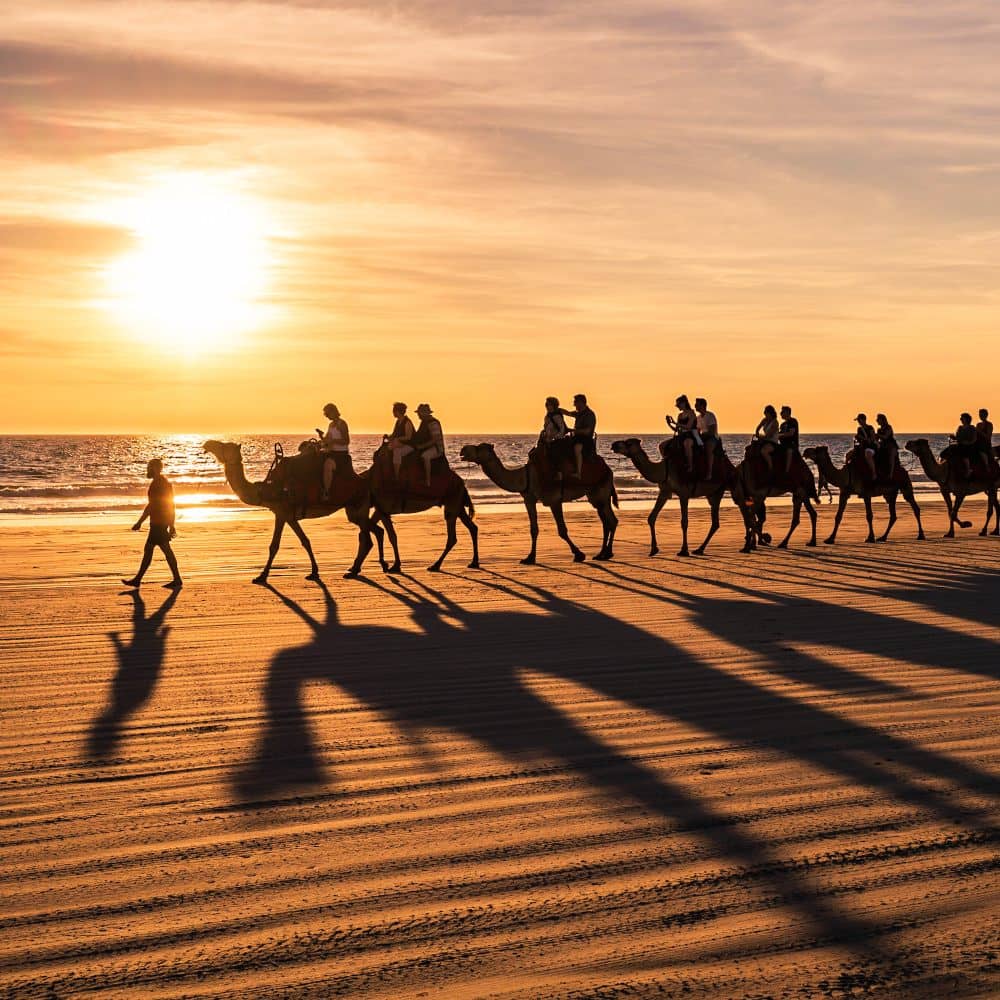 Take a camel ride at sunset or simply stretch out on a towel, have a picnic and enjoy the balmy evening.
Stop into Zanders, or the Sunset Bar and Grill, where you can enjoy a refreshing drink, with a view of the sunset over Cable Beach.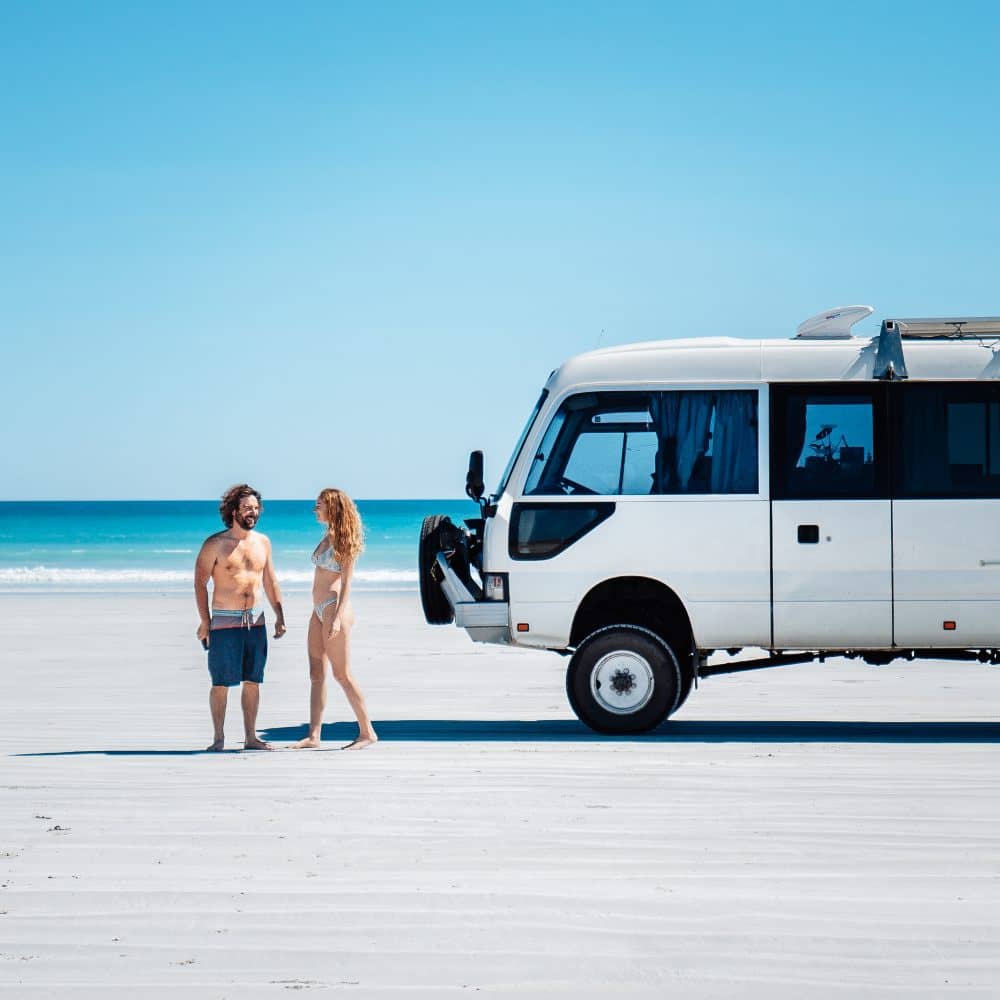 Tourists and locals come together here to enjoy the atmosphere and watch the iconic Cable Beach camel train silhouette against the setting sun.
Recommended tour: 1-Hour Broome Sunset Camel Tour
2. Walk with the dinosaurs at Gantheaume Point
11 minutes out of Broome on the southern tip of Cable Beach, you'll find the spectacular Gantheaume Point.
Here you can see real dinosaur footprints, drive your 4WD onto the beach, watch stunning sunsets and find hidden rockpools.
Gantheaume Point is a place of inspiration for artists, photographers, explorers and archaeologists alike.
Around 130 million years ago, during the Cretaceous period, dinosaurs roamed what were coastal marshes, leaving tracks in the sandy tidal flats. Now fossilised, you can walk amongst the preserved dinosaur footprints at Gantheaume Point (Minyirr).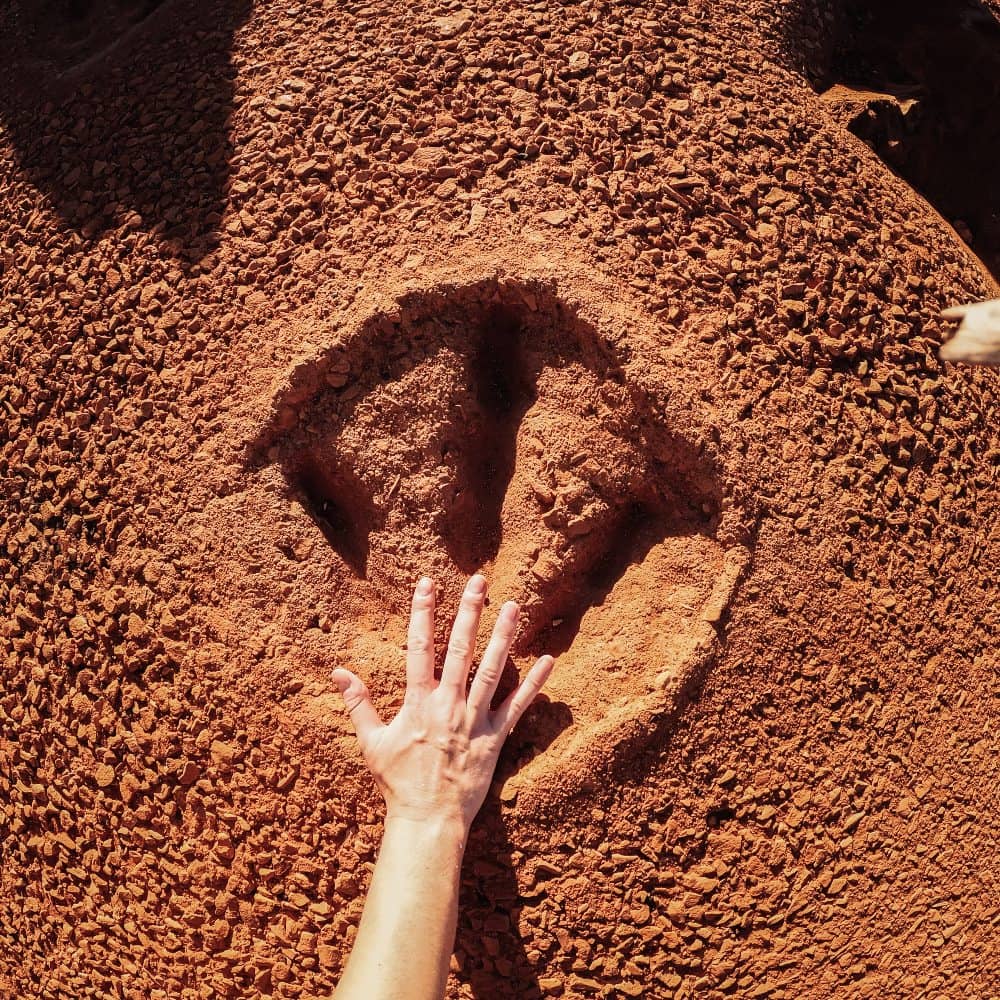 For the exact location of the real dinosaur footprints, head to these GPS coordinates at a very low (<1m) tide: 17°58'26"S, 122°10'36"E. Wear shoes with good grip and be careful navigating the rocky terrain.
If you want to read more about where to find dinosaur footprints around Broome we recommend the dinosaur coast website.
3. Experience The Pearling Capital of The World
The pristine waters of North Western Australia are home to the finest pearls in the world, the South Sea Pearl.
Broome was founded as a pearling port in the 1880s and is still renowned for this today. Take a trip through Broome's pearling heritage on the self-guided Jetty to Jetty walking tour along the foreshore of Roebuck Bay, or visit the Broome Historical Museum.
Better still, see these fascinating iridescent orbs in their natural habitat… Willie Creek and Cygnet Bay pearl farms both offer the chance to get up close and personal with the everyday workings of the pearling industry.
You can harvest your own oysters at Cygnet Bay, or take a guided Pearl farm tour!
The modern pearling industry as we know it is a relatively new arrival but for the the local Bardi people, they have harvested Pinctada oysters at what is now known as Cygnet Bay for thousands of years.
4. Explore Coconut Well Lagoon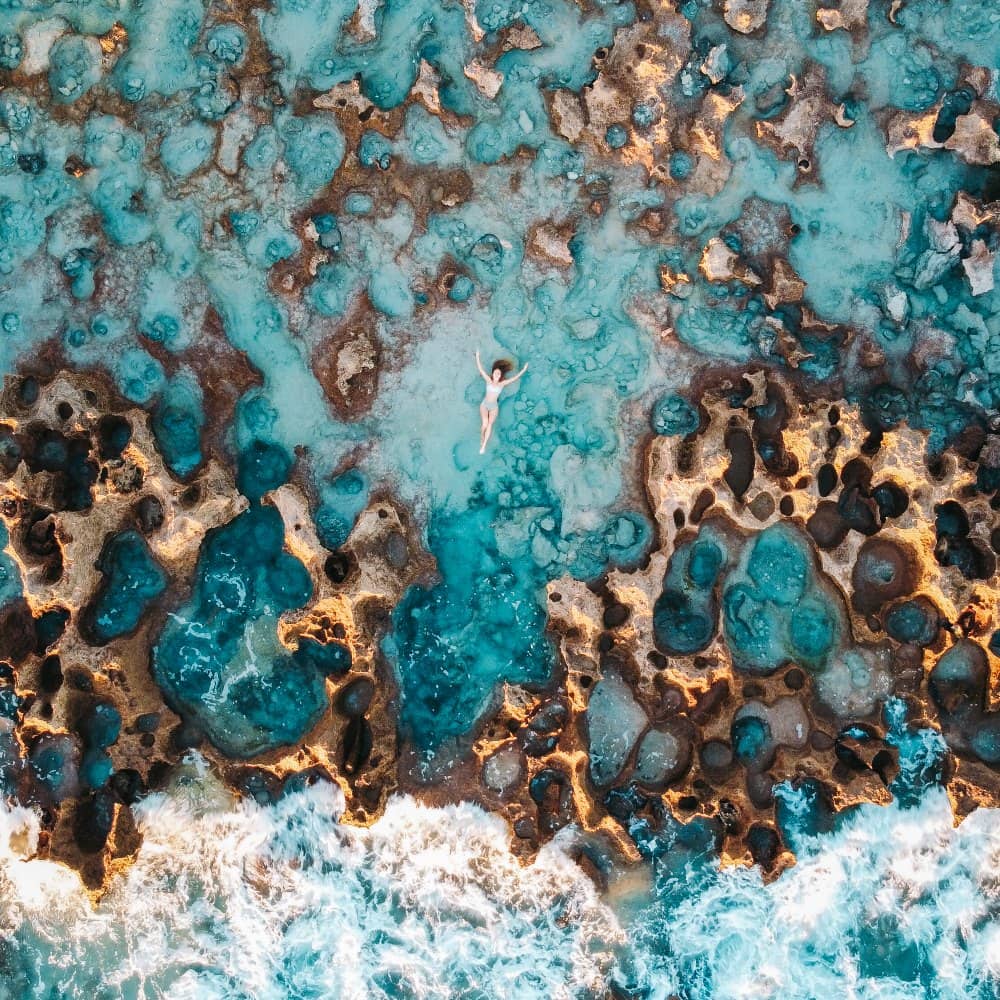 If you are into rockpools (who isn't!), then you might be keen to travel north of Broome, just a 27-minute drive, to see the Coconut Well Lagoon.
During high tides (+9m) the lagoon fills with water and locals arrive to "float" with the tide. As the tide retreats back, rockpools are left filled with turquoise blue water to enjoy like a spa!
---
---
Coconut Well used to be one of Broome's best-kept secrets. Accessible by 4WD but 2WD vehicles can reach the first carpark and then walk the rest of the way.
It is important you plan your journey according to the tides for Coconut Well. Here is our detailed article to help you with that: Coconut Well – All you need to know before your visit
5. Escape to James Price Point
A 2-hour bumpy corrugated drive north of Broome rewards you with the unforgettable James Price Point, known to local Aboriginal people as Walmadany.
One of the best free camping spots you'll ever come across – there aren't any facilities, so you must bring what you need – but as you drink your morning coffee, you'll see that the free campsite comes with a million-dollar view.
You can watch our experience at James Price Point here:
James Price Point is a quintessential north-West Australian coast with ochre rock, snow-white sand and that bright blue water!
Like anywhere in Broome, there can be saltwater crocodiles in the water though, so be Croc Aware.
As the sun hangs low in the sky and sets the fiery red cliffs that overlook the beach aglow, this "once in a lifetime place" will burn itself into your memory, as it did ours.
6. Staircase To The Moon At Roebuck Bay
Check the lunar charts and choose your date carefully… This mesmerising phenomenon occurs on specific dates, only on the low tide at Roebuck Bay.
As the full moon rises, it reflects off the exposed tidal flats of Roebuck Bay creating the illusion of a shimmering "Staircase to the Moon".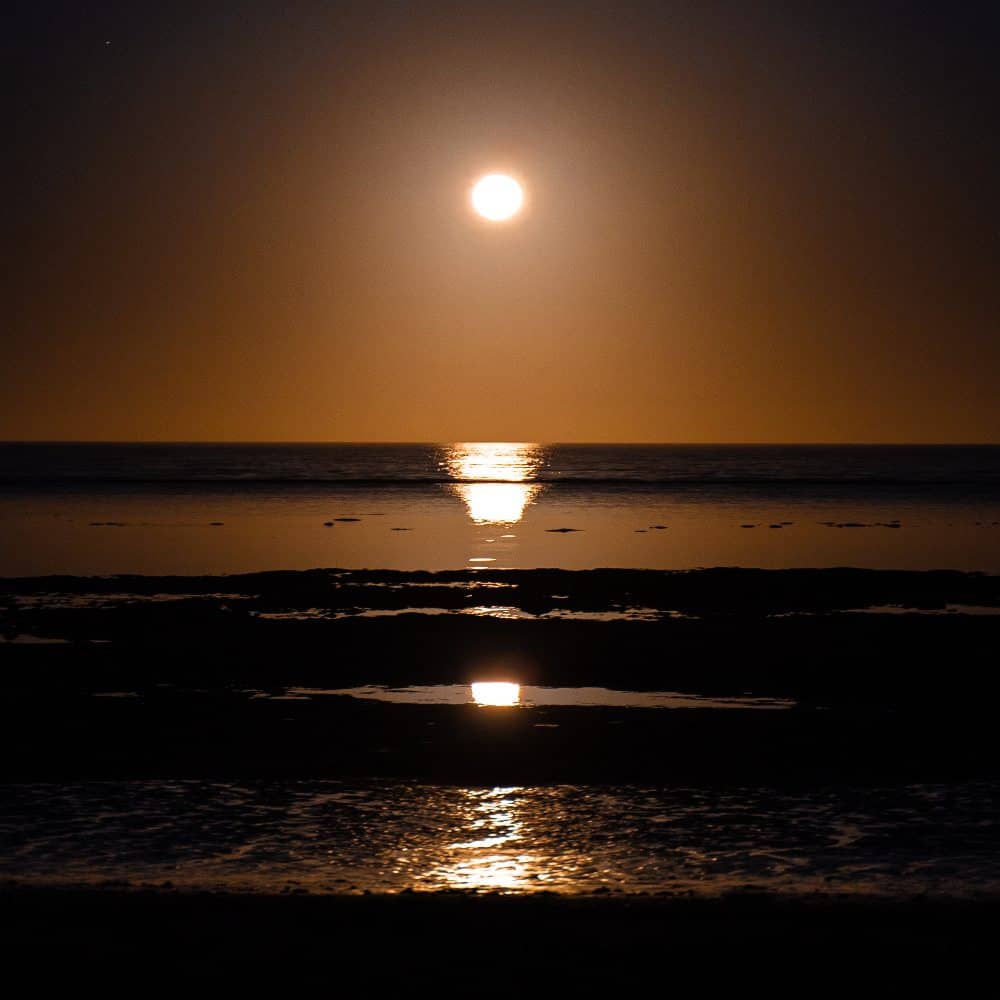 To witness this special event, the Broome Golf Club might be a quieter vantage point, but if a celebratory atmosphere is more your style, then the Mangrove Hotel or Town Beach is the place to gather, to join a crowd of others for this special occurrence.
Don't miss Roebuck Bay during the daytime too!
Roebuck Bay itself is a bay you cannot miss in Broome. Popular for its pink sand, green mangroves and light blue water.
7. Visit The Courthouse Markets, Broome
Join the cheerful Saturday morning crowd, as the grounds of the local Courthouse are transformed into a colourful arts, crafts and produce market.
Venture into an eclectic mix of local characters with your chance to purchase your own unique memory of Broome, or sample some delicious local produce.
If you're not in the shopping mood, then why not grab a coffee or tropical treat (like a "Mango Frozen Smoothie").
Broome is a lively town often with events on check here for more
. We caught a rodeo while we were in town! There is a bustling nightlife too.
8. Taste Broome At The Matso's Brewery
Australia's most remote brewery is just across the road from Roebuck Bay, a short walk from Town Beach, and only 10 minutes from Chinatown. Home to some of Australia's most unique beer flavours, Matso's is a must-see destination in Broome.
Traditional brewing techniques and modern technology are combined with a blend of unexpected ingredients inspired by the area's history to create one-of-a-kind beers, such as their renowned mango beer, chilli beer and ginger beer.
Grab a tasting paddle, kick back in the relaxed atmosphere on Matso's verandah and spend an afternoon in true Broome style.
9. Watch a Movie At The World's Oldest Cinema
It's a starlit cinema experience… Grab a cushion for comfort, take a seat, and gaze up at the stars while you wait for the show to begin.
Sun Pictures, the world's oldest operating picture garden, is truly unique. With a partly open roof to take advantage of this tropical climate and its warm Dry Season nights, this humble tin building hasn't changed much over the one hundred years that movies have been screened here!
The original floorboards that have survived cyclones and king tides still squeak underfoot, and kids still play on the grass in front of the screen before the movie begins.
10. Immerse yourself in Aboriginal Cultural Experiences
With such a rich Aboriginal living heritage, it is well worth experiencing a cultural tour. Guided by local Aboriginal people, who kindly share their wealth of knowledge and stories of the area, this is a unique experience you don't want to miss.
For local tours try Broome Aboriginal Tours or Narlijia Experiences, they have crocodile feeding, walking tours of Roebuck Bay and more.
When visiting Broome, a trip to the art galleries – such as the well-known Short St Gallery – is well worth the time… You may even be tempted to purchase a unique memento to take home with you.
11. Go Fishing For Mighty Barramundi or Mud Crab
After trying your hand at beach driving on Cable Beach, land-based fishing is another popular activity in Broome.
With a drive up to the Dampier Peninsula (known as Kooljaman to local Aboriginal people), there are also numerous cultural and fishing tours you can go on.
The Brian Lee Tagalong Tour is a great choice for a unique cultural experience where you are lead hunting mud crabs and can go kayaking in the mangroves on private Aboriginal land.
Here's another great tour for mud crab-catching in Roebuck Bay.
For land fishing without a tour, the best beaches for fishing include Roebuck Bay, False Crab Creek, Broome Jetty, James Price Point and Gantheaume Point.
12. Get Out On The Water – Whale Watching, Stand Up Paddleboarding Or Diving
From June through to September – the perfect time to be in Broome – is also the perfect time to witness the magical spectacle of whale watching, as over 35,000 humpback whales make the journey up the West Australian coast to Broome.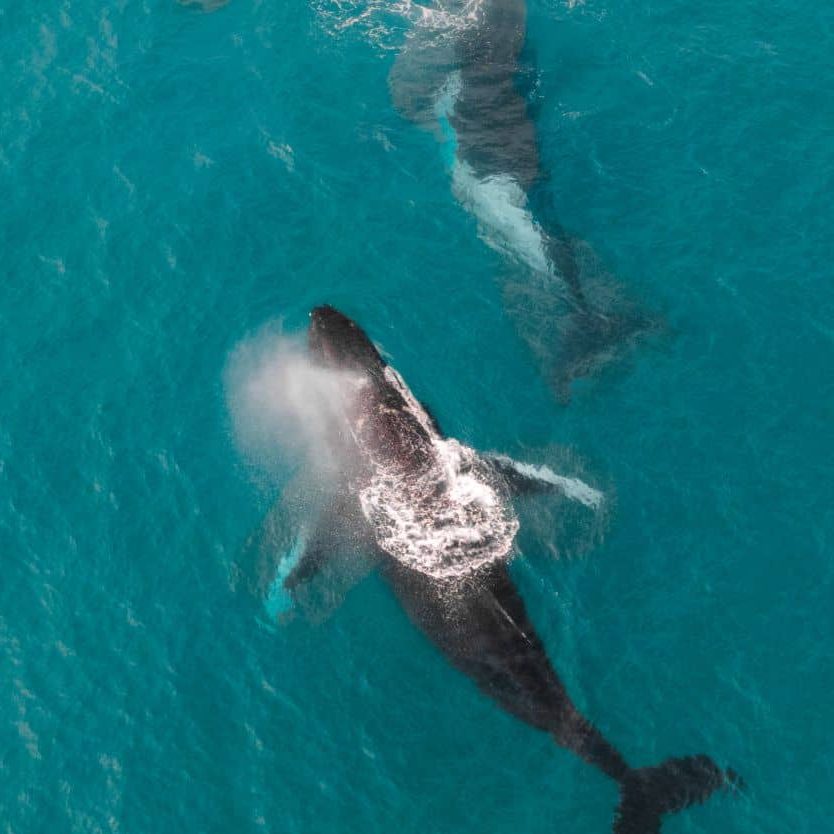 Otherwise, get on the water by joining a boating or kayak tour! You can also hire a stand-up paddleboard. Surfing is even an option when the conditions are right.
Rowley Shoals is the most popular snorkelling and diving location and you can take tours out to go see it for yourself.
13. See Broome From Above
Get a bird's eye perspective of the stunning west coast, as you drift on the dawn breeze in a hot air balloon ride or by booking a scenic flight over the Kimberley.
There are dozens of scenic flight tours in Broome, the most popular being to Horizontal Falls (for good reason)!
14. Discover Broome's origins in Chinatown
Chinatown gives a glimpse into the past in Broome, what once was red dirt streets, rowdy taverns, smokey opium dens and pearlers' huts.
The corrugated tin shed housing in the 1880s is quite different to the thriving retail hub that Broome is today.
Chinatown is an allrounder on the list of Broome attractions. Nowadays, it's the main shopping, restaurant and business centre – browse through pearl jewellery stores, explore the pearl luggers or heritage-listed pearler's quarters, and finish up with a tasty bite in one of the quirky little cafés.
For cafes, we recommend:
For more history, a walk through the cemetery is like walking back through the pages of time. Broome's Chinese and Japanese historical members, who played a major part in the culture and development of this town, are laid out on the headstones in Australia's largest Japanese cemetery.
Over 900 graves dating back as far as 1896, are stark reminders of the harsh realities of life as a pearl diver. Headstones crafted from coloured beach rocks are a unique tribute to those who lost their lives during Broome's early pearling industry days.
15. Visit The Dampier Peninsula
Consider taking the once-in-a-lifetime trip of 2.5 hours drive up to the Dampier Peninsula. Not only are there red cliffs and a beautiful ocean to marvel over, there's much more. Cygnet Bay and Aboriginal cultural tours can be accessed here.
How to get there
Broome is a solid 23-hour drive north of Perth, in Western Australia! So, take the time and break the drive up, allowing a couple of weeks to stop in at the incredible little places along the Indian Ocean coastline.
But if time is of the essence and a road trip is out of the question, there are flights directly from Perth to Broome, which take approximately 2.5 hours. Flights also operate (seasonally) from other major Australian cities.
Where to stay
If you're embarking on a Western Australia road trip toward Broome, Western Australia, then free camping is phenomenal through the Kimberley region – we loved waking up at James Price Point, where there are more dinosaur footprints to see, and sunset views like no other.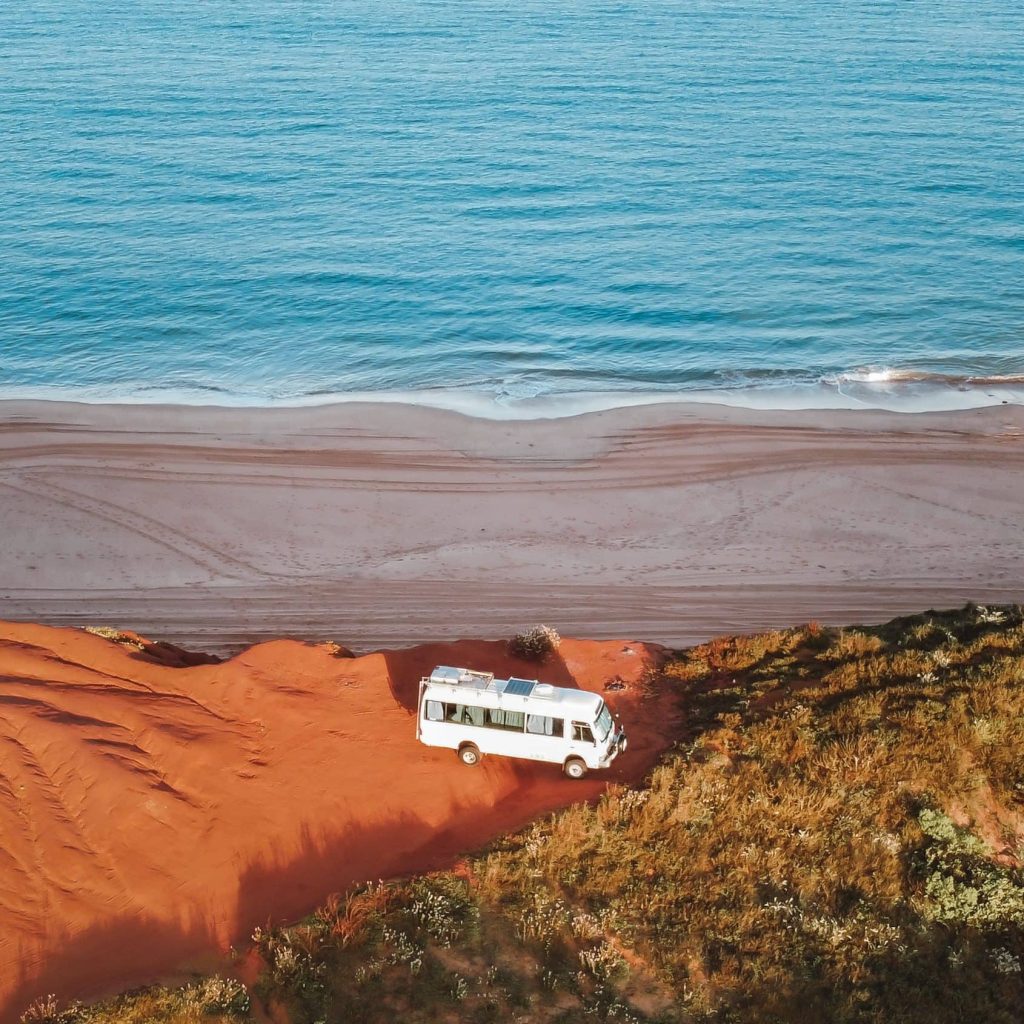 Whatever your preference, there is a wide range of accommodations in Broome, WA. From the iconic Cable Beach Club resort to eco-lodges, regular hotels, backpacker hostels and campsites.
The Mangrove Hotel is close to all the action, and being on the shores of Roebuck Bay is also a prime place to stay and see the Staircase to the Moon – they even have all the full moon dates on their website.
If you plan to visit Broome from May to October when it can be busy, then it is wise to book accommodation in advance.
The list is almost endless… if you can think of it, then it's likely you can do it! Broome – like much of the Kimberley region of Western Australia – has more options for outdoor adventure activities than visitors are likely to have time for.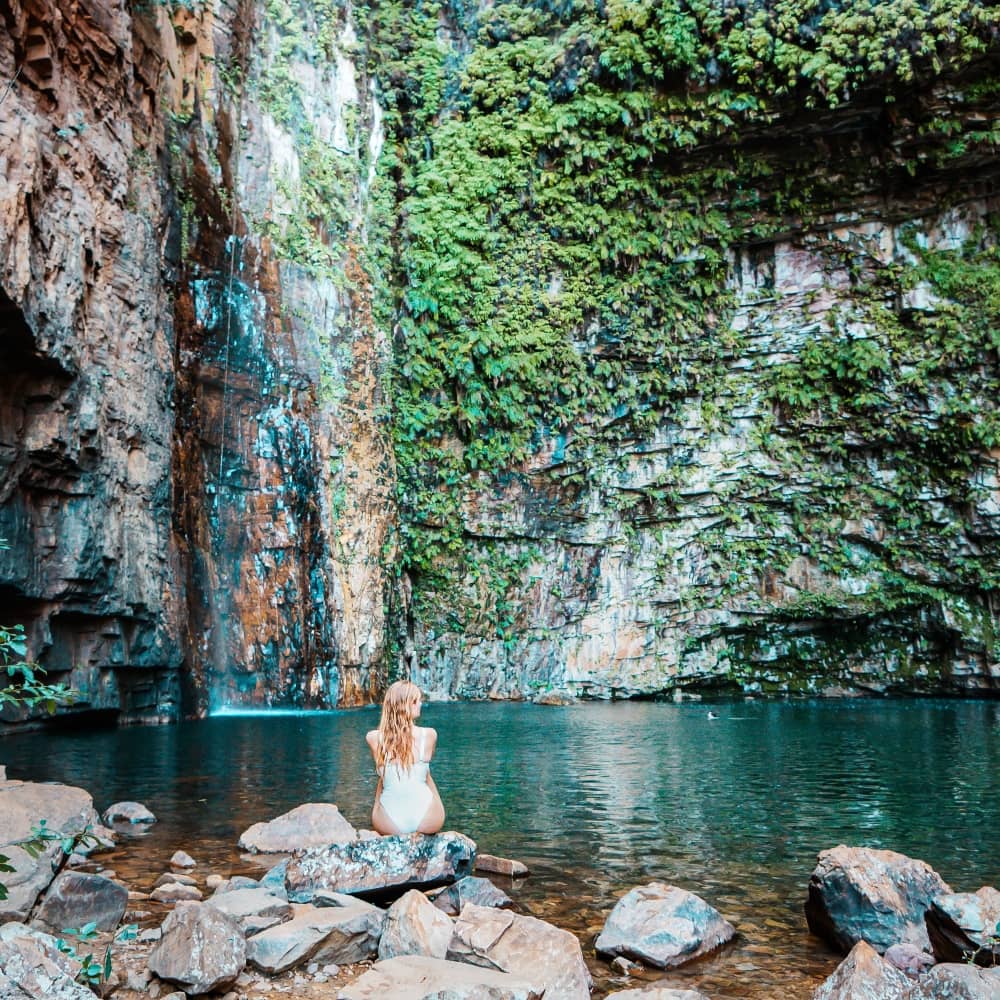 Top Tips
Broome's a great place for a beach drive, but watch out, as the tides can be up to 10m and come in super quick! Many cars have been taken by the tides, especially at Cable Beach.
Speaking of tides… The local tourist office is a great place to check the tides and dates for the full moon so you can plan for the Staircase to the Moon.
During the Dry Season (May through October), you can catch the markets not just on Saturday and Sunday at the Courthouse, but on Thursday nights at Town Beach as well.
Broome Historical Museum is worth a visit for some background on the town's involvement in World War II, along with a display of some of the original pearl luggers of Roebuck Bay.
Did you know?
That the dinosaur footprints around Broome, Western Australia (referred to by local indigenous people as Rubibi) are recognised as some of the most significant in the world?! Tracks can be found for about 80km of the sandstone coastline, stretching from south of Broome up along the Dampier Peninsula.
With 4WD enthusiasts, eclectic art, ancient history, vivid culture and luxury pearls! There are not too many boxes that this unique little town can't tick… If it's a destination with a difference that you're after, then there's something for everyone here in Broome, Western Australia.
Driving to Gibb River Road o El Questro after Broome? Don't miss this article: 9 Gibb River Road Attractions You MUST Include In Your Itinerary.
FAQs
Are there crocodiles in Broome?
There are many safe places to swim around Broome… But, yes, they have been spotted along the Kimberley coastline.
Check with the local tourism office and take note of any warning signs you see.
When is the best time to visit Broome?
Weather-wise, April to November is the time to head to Broome, with fine weather and cooler nights, but it can get busy. Outside of those months is much hotter and wetter, with limited driving accessibility, but you are more likely to score some cheaper Broome accommodation and flight deals.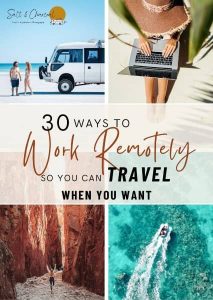 FREE Guide: 30 Ways To Make Money Online So You Can Travel When You Want
Unlock our secrets to consistent online income in Australia. These are tried-and-tested ways we've used to earn money from anywhere – only a laptop with internet is needed! Travel more and worry less.
Our Essential Travel Toolkit
🤩 Trip.com – Consistently great accommodation and hotel deals.
🤩 Hostelworld – Looking for the cheapest accommodation? We especially love the book now pay later feature.
🤩 Rentalcars.com – Best range, super easy to compare prices rental car and motorhome prices.
🤩 Viator.com – Easily book tours and experiences at the lowest rate. Great selection all over Australia.
🤩 Tripadvisor.com – Other than our website…..😉 the best place to find things to do
🤩 Airalo – eSIM store that solves the pain of high roaming bills by giving travelers access to eSIMs (digital SIM cards).
🤩 Caravan RV Camping – Traveling Australia in a van, caravan or bus? Use our discount code "saltandcharcoal" to get $30 off any orders over $300.