Weano Gorge, Karijini: See 2 Billion Years of History In A Day
Of all the gorges on offer in Karijini National Park, Weano Gorge, home of the spectacular Handrail Pool, has to be the most spectacular of them all.
There is something otherworldly about this area, with trails leading you down through a geological timeline. Two billion years of history all in a day's adventure. Like something out of a movie, descending almost vertically into the centre of the earth where the rock has split forming beautiful pools in the centre!
At Weano Recreation Area there are many choices on how to spend your day including spectacular lookouts such as Junction Pool and Oxer Lookout, plus Weano Gorge, Handrail Pool and its neighbouring gorge – Hancock Gorge and Kermit's Pool.
Due to this, many travellers choose to spend an entire day here (at least) to get time to explore everything! Luckily there's a day-use area here to rest and reset after a big day of activities.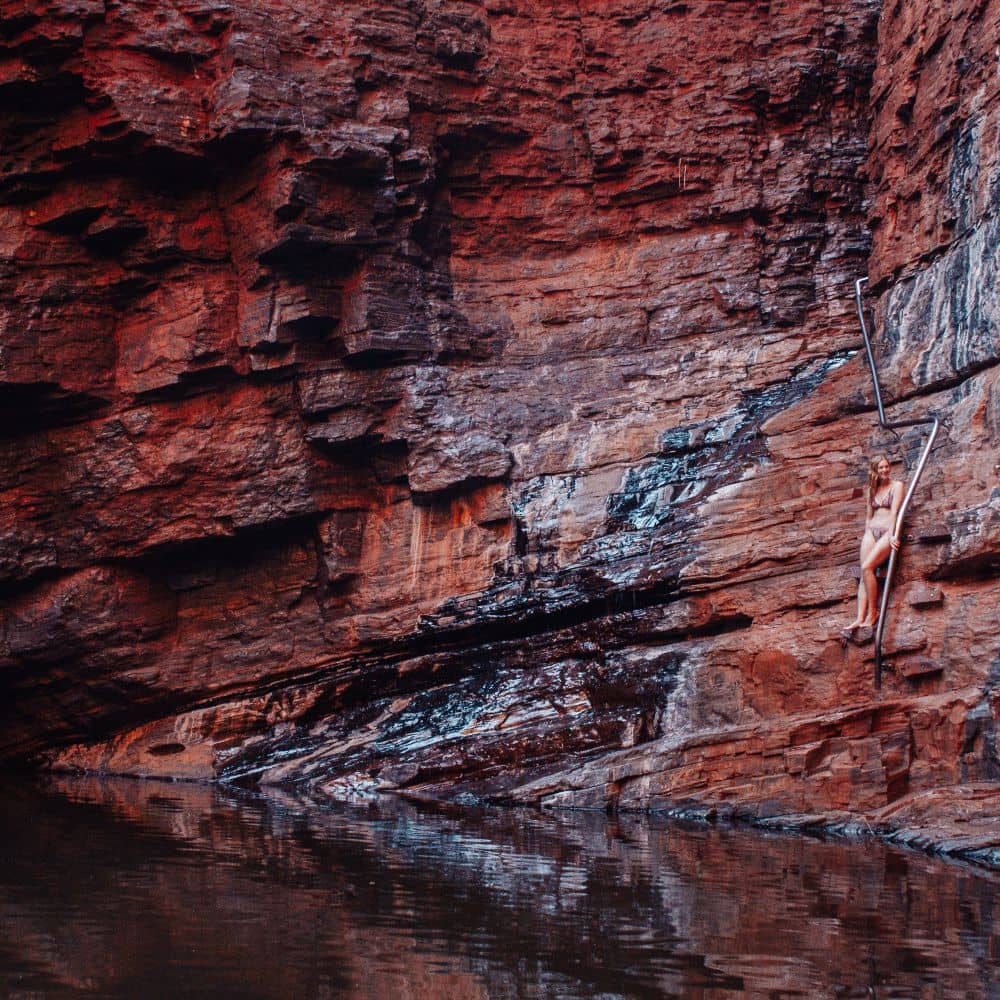 About the Famous Weano Gorge Trails
Weano Day Use Area and the information shelter is the best place to start when you arrive…
There are a number of activities to choose from here and a good place to start is with one of the hikes. Either take the easier Upper Weano Gorge Trail for a scenic, but less challenging hike. Or for adventure seekers, take the Lower Weano Gorge Handrail Pool Trail, which leads you deep, almost vertically, into the stunning Handrail Pool.
One thing is for sure, you will be shocked by the spectrum of colour laid out before you in this rugged landscape. The Pilbara is known for its raw beauty and hot climate, but inside the gorges is another story, with surprisingly cool water and strong vegetation growing within.
Upper Weano Gorge Trail
For an easier hike, begin the Upper Weano Gorge Trail near the information shelter, the trail leads you along the rim until you descend into the shallow end of the gorge. With a watercourse running through it, the landscape is surprisingly lush for such an arid area. Keep an eye out for native wildlife here!
The Upper Weano Gorge trail is a 1-kilometre Class 4 walk, allow 45 minutes (return).
As the trail continues, the distinct path becomes less so. A little scrambling along ledges and the chance to wade through some shallow water hint at the adventure ahead.
Some of the rocks in the water can be a little slick with algae, so take care!
The trail ends at a pool which is popular for swimming, and continues on upwards to Junction Pool and Oxer Lookout which are a must-see at Karijini National Park.
Lower Weano Gorge Trail
The Lower Weano Gorge trail continues on from the Upper Weano Trail, or can be accessed directly from the Day Use Area and carpark as well.
The trail through Lower Weano to Handrail Pool is about 1.5km, and 2 hours return… but you could easily spend half a day exploring this trail alone!
Steep irregular steps lead down into the depths of the gorge. Tough little fig trees jut out from crevices within the gorge walls, defying both climate and gravity to survive, as you descend through the red rock of the gorge.
This is where it really gets exciting… The walls of the gorge narrow to the point where spider walking is the only way to get through. A stream running below as you scramble and spiderwalk along gets the adrenalin pumping. Make sure you wear clothes you don't mind getting wet!
Take a break from the exercise by swimming or floating for a while, gazing up at the gorge rim above as it frames the clear blue Pilbara sky until…
Finally, the excitement of scrambling and rock climbing to discover the ultimate prize within – the cool and rewarding depths of Handrail Pool.
Handrail Pool, Weano Gorge
A hidden gem in a treasure chest of nature's bounty, Handrail Pool is an unmissable experience when visiting Karijini National Park.
After a challenging hike through eons of geological history, Handrail Pool is the sparkling end to a dusty journey worth taking.
A large, flat and slippery rock surface is the gateway to the famous and final descent into the Handrail Pool. The metal rail and a few footholds offer an appropriately precarious entry into the chilled waters that reward those who've earned it.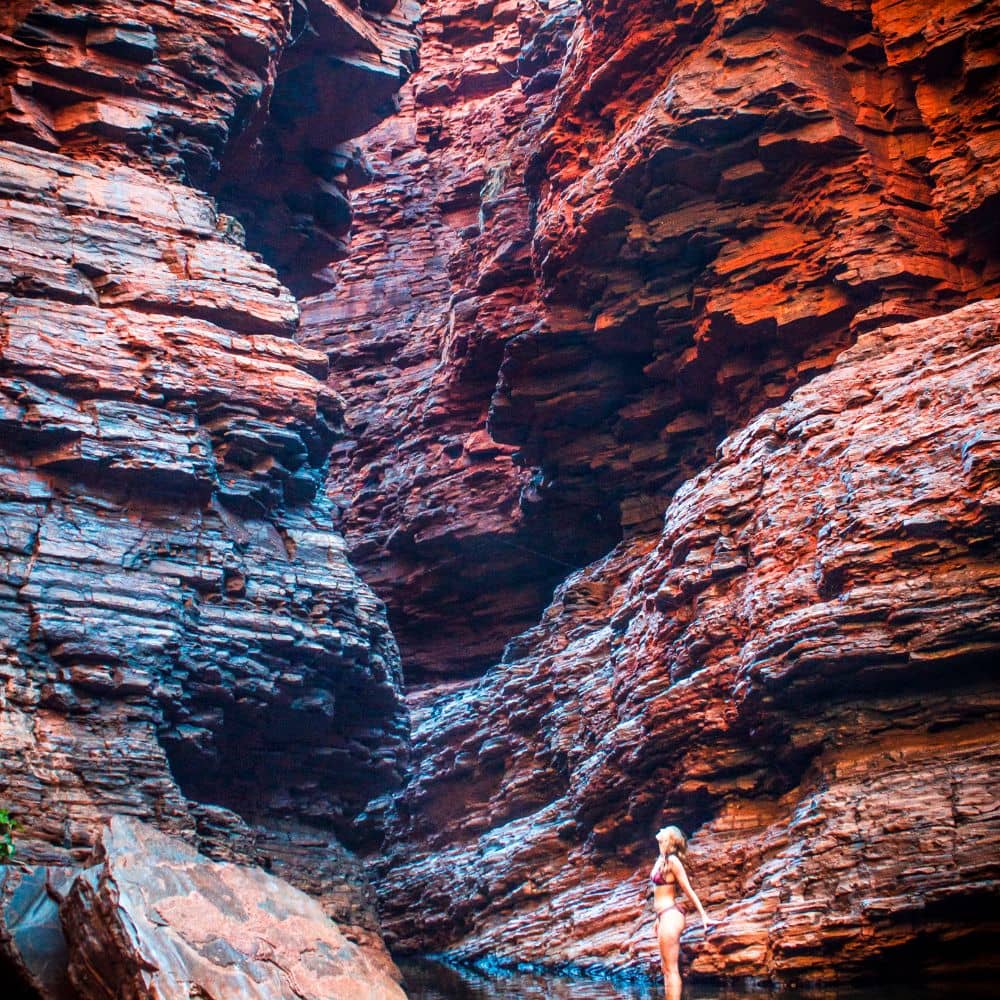 Warnings About Handrail Pool
A serious word of caution, make sure you take care climbing down into the pool. There have been a number of debilitating injuries that have occurred here, plus people have died from falling multiple metres into the gorge by accident.
The Secret Spot You Can't Miss
Once you are safely in, swim down to the back of the pool, right to the back, you will see a water passage lined by rocks, it will take you to a secret section which you will only find if you explore!
When you find it, try it out floating down on your back. It is a stunning view to look up to. The icy cool water contrasts with the radiating, iron-rich rock walls towering above. It's easy to get lost in a daydream as you drift across, the blue sky framed high above and reflected onto the water of the pool.
You really can't beat cooling off in Handrail Pool in the heat of the late afternoon!
---
---
Make sure you leave time to go check out the equally as impressive Hancock Gorge which is the neighbour of Weano Gorge. Plus we don't recommend missing Oxers Lookout and Junction Pools Lookout too.
This is why we recommend at least one full day at this part of Karajini.
Why don't you check out our list of the Best Gorges in Karijini? It's a great place to start planning!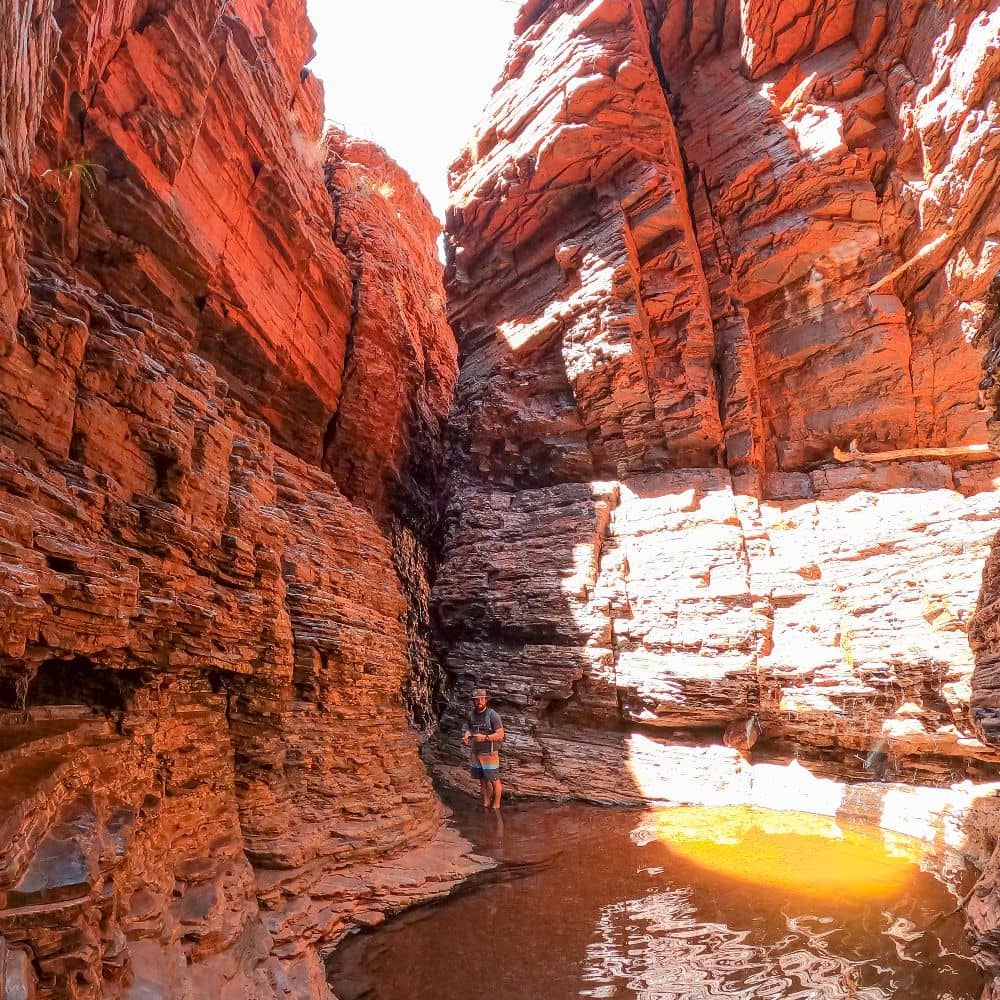 Top Tips For Exploring Weano Gorge, Karijini
There's an equipped picnic area and great facilities at Weano Gorge, including an information shelter, toilets, shaded seating and barbecues. All this, along with access to Hancock Gorge and Oxers Lookout, make it a great option for everyone, including families, to spend a full day here.
Slippery rocks are a hazard in the gorges, so we recommend you have good quality hiking sandals with strong grip. Waterproof shoes are preferred because you usually get wet wading through pools of water in the gorges!
Weano Gorge and Handrail Pool are a dream for photographers and avid bushwalkers. Make sure you go prepared with waterproof bags for your equipment.
Heavy rainfall can affect access to gorges, so check locally for conditions. If there is heavy rainfall while you are there, then leave the gorge immediately, as flash flooding can be a real risk and there have been fatalities.
Don't forget to bring a minimum of 2 litres of water per person per day, along with some snacks. Some of the hikes can take hours to complete, so it is important that you are equipped.
Sun protection and insect repellent are a must in Karijini! Plus it goes without saying that you should bring a floatie (or noodle) and swimmers to every gorge if possible.
You will pretty much get training for "Ninja Warrior" while experiencing Weano Gorge in Karijini National Park, Western Australia, but it is worth the feeling of euphoria by the time you reach the ultimate goal and highlight which is, Handrail Pool.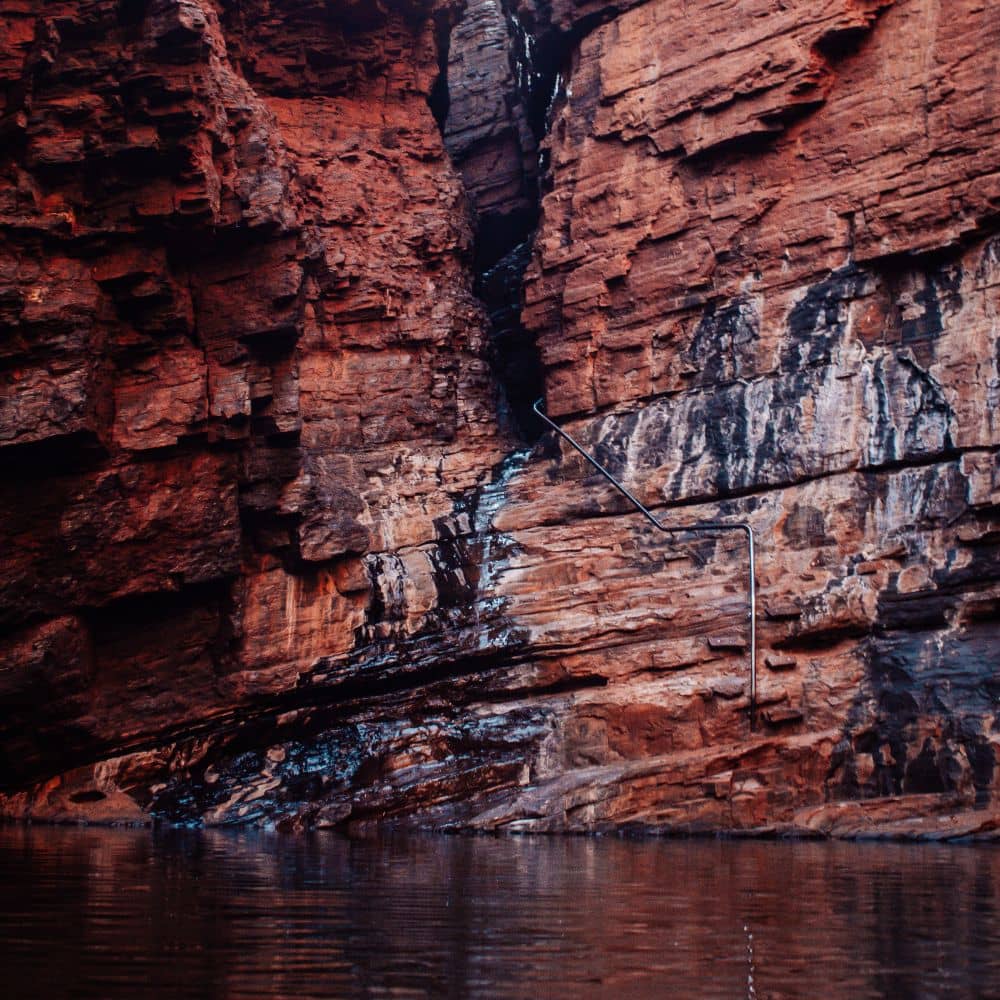 FAQs
How to get there and where to stay
Karijini National Park is approximately 15 15-hour drive time north of Perth in the Pilbara region of Western Australia. Alternatively, is a two-hour flight to Paraburdoo or Newman from Perth. Good quality camping options are available at Karijini Eco-Retreat or Dales Campground. Karijini Eco Retreat is a much shorter drive to most of the gorges compared to Dales Camp.
What is the best time to visit Karijini?
The ideal time to visit Karijini is April through October. Aim to start your day at Weano Gorge with the sunrise, or finish at sunset to catch the best sunlight as the angle of the rays light up the rock faces. You will want to spend at least a full day at Weano Recreation Area, which hosts Hancock and Weano Gorge plus two lookouts!
Can you swim at Karijini National Park?
Yes, you can definitely swim in most of the pools and waterways at Karijini. Crocodiles don't live here, as it is too far south for them, but beware the cold water, as hypothermia can be a risk if you are not careful. And in the warmer months over heating, or suffering dehydration from the hiking trails is a serious risk!
Do you need a 4WD for Karijini?
Many places in Karijini are better with a 4WD – Weano Gorge included – while it is 2WD accessible, a 4WD is recommended, as the road conditions can be pretty rough at times. There are dirt roads and corrugations, plus there are risk of flooded roads, so it's always wise to check local conditions before driving in.
How many gorges does Karijini have?
Our Essential Travel Toolkit
🤩 Trip.com – Consistently great accommodation and hotel deals.
🤩 Hostelworld – Looking for the cheapest accommodation? We especially love the book now pay later feature.
🤩 Rentalcars.com – Best range, super easy to compare prices rental car and motorhome prices.
🤩 Viator.com – Easily book tours and experiences at the lowest rate. Great selection all over Australia.
🤩 Tripadvisor.com – Other than our website…..😉 the best place to find things to do
🤩 Airalo – eSIM store that solves the pain of high roaming bills by giving travelers access to eSIMs (digital SIM cards).
🤩 Caravan RV Camping – Traveling Australia in a van, caravan or bus? Use our discount code "saltandcharcoal" to get $30 off any orders over $300.