11 Unmissable Gibb River Road Gorges And Tips To Make The Most Out Of Your Trip
Exploring the Gibb River road gorges is the main reason why people do this trip through the Kimberley region. The road itself is mostly dry and bumpy, but these nature marvels make it all worth it.
You'll probably have to hike a bit to get to them, through trails of varying degrees of difficulty. Some gorges require 4WD access, so keep that in mind too.
We'll discuss all about it below, where to stay (paid and free options!) along with other useful tips to ensure you make the most out of your trip.
Table of Contents
The Best Gibb River Road Gorges Everyone Can Access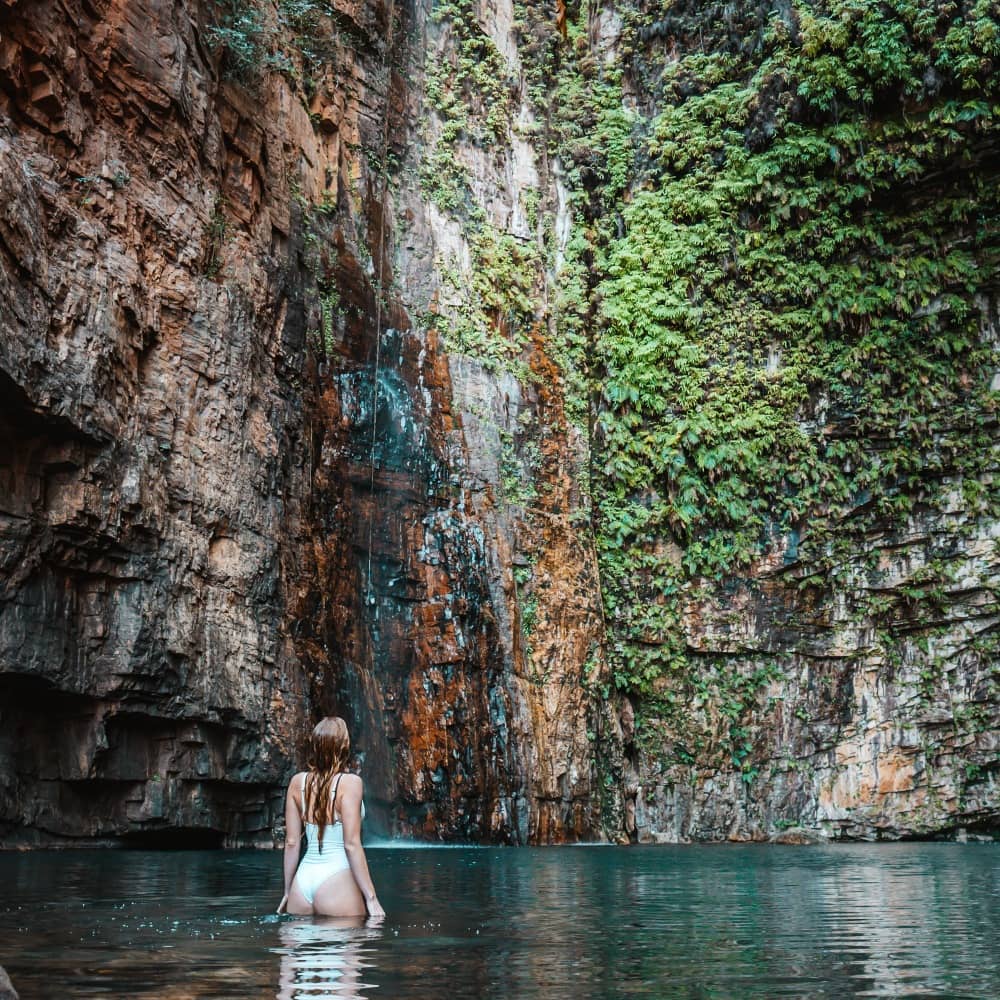 1) Emma Gorge
This gorge is in El Questro wilderness park, making it one of the most popular and accessible spots on the Gibb. If you start your trip from Kununurra, it'll be the first gorge on your list.
To access the gorge, you'll need to buy a visitor pass in El Questro homestead or the Emma Gorge resort. Allow for at least 2-3 hours to really enjoy the place.
The hiking trail is obvious, and there is plenty of parking. It'll take around 30 minutes to get there. The last walking section is mostly rocky ground, so bring sturdy hiking boots.
The end section is a little steep so might be a little slow with a family. Definitely take it easy in the heat.
Emma Gorge has an incredible 65m waterfall. After admiring it, take your time to enjoy the water. It is safe to swim here, although we did see a little fresh water croc. If that happens to you, don't worry – they are small and scared of you.
The water is cold so it's best to jump right as soon as you get there to cool off quickly. There's also a tiny hot spring nearby, to the right. You will see water coming out from a broken boulder.
Where to stay?
This Gorge is within 45 in of Kununurra so you can stay in the town if you wish. Even better, you can stay in El Questro Station/Resort, in one of their many bungalows, or on the adjacent camping site.
The resort also offers tours to the gorge and the wilderness park. You may want to stay a few days to enjoy everything in this area.
But if you want to free camp, you can do so near the Pentecost River (here's the exact location).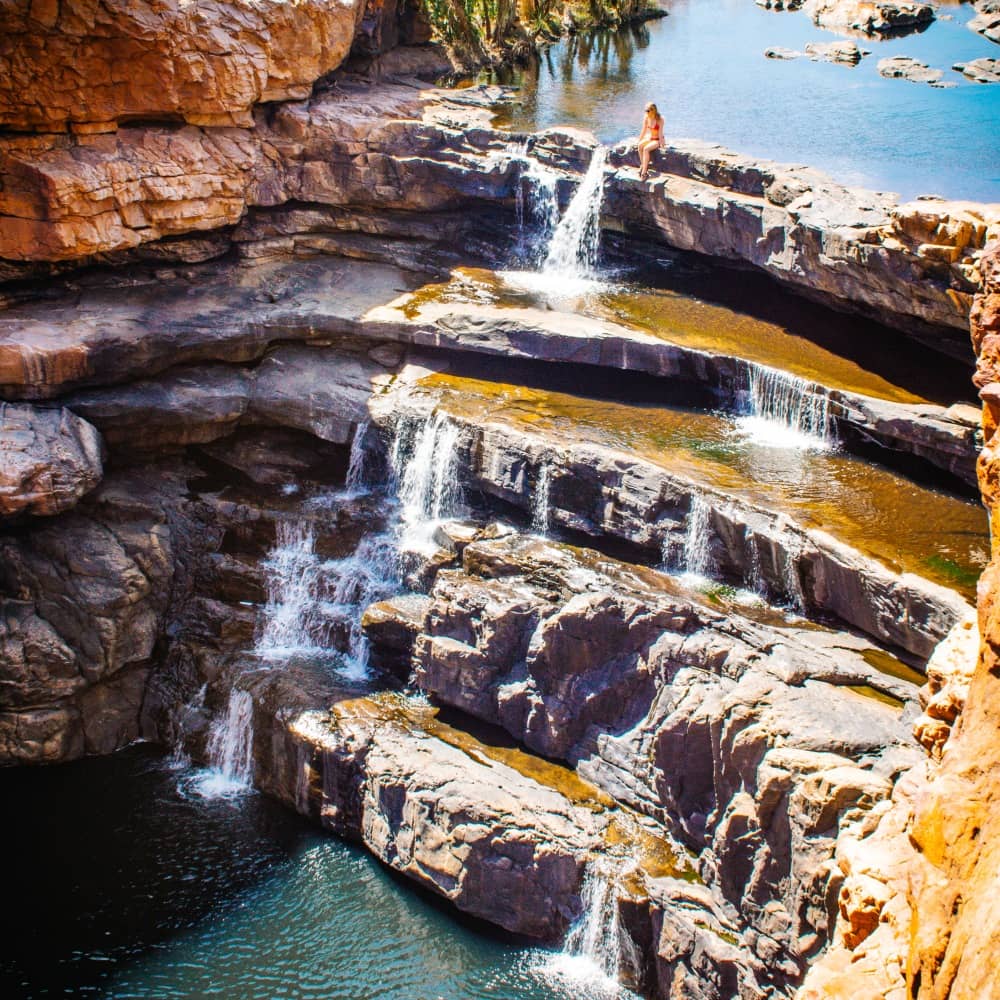 2) Bell Gorge
This other popular gorge is on the Derby side, in the King Leopold National Park. It'll be one of your last gorges if you travel from Kununurra. It's a tranquil, horseshoe-shaped gorge with a cascading 100m waterfall.
To get here, follow the trail from the car park to the top of the waterfall. You'll have to cross the river at some point, which was waist-deep when we went. We used a half-cut barrel to put our stuff in and keep it dry.
Also, the walk to the bottom pool is steep and rocky, so be careful. 2-3 hours may suffice to swim, enjoy the surroundings, and hike in and out of it.
Where to stay?
You can stay at the Bell Gorge Wilderness Lodge, or the Silent Grove campground if you don't mind missing some luxuries.
For free camping, the Dog Chain Creek campgrounds are a good spot.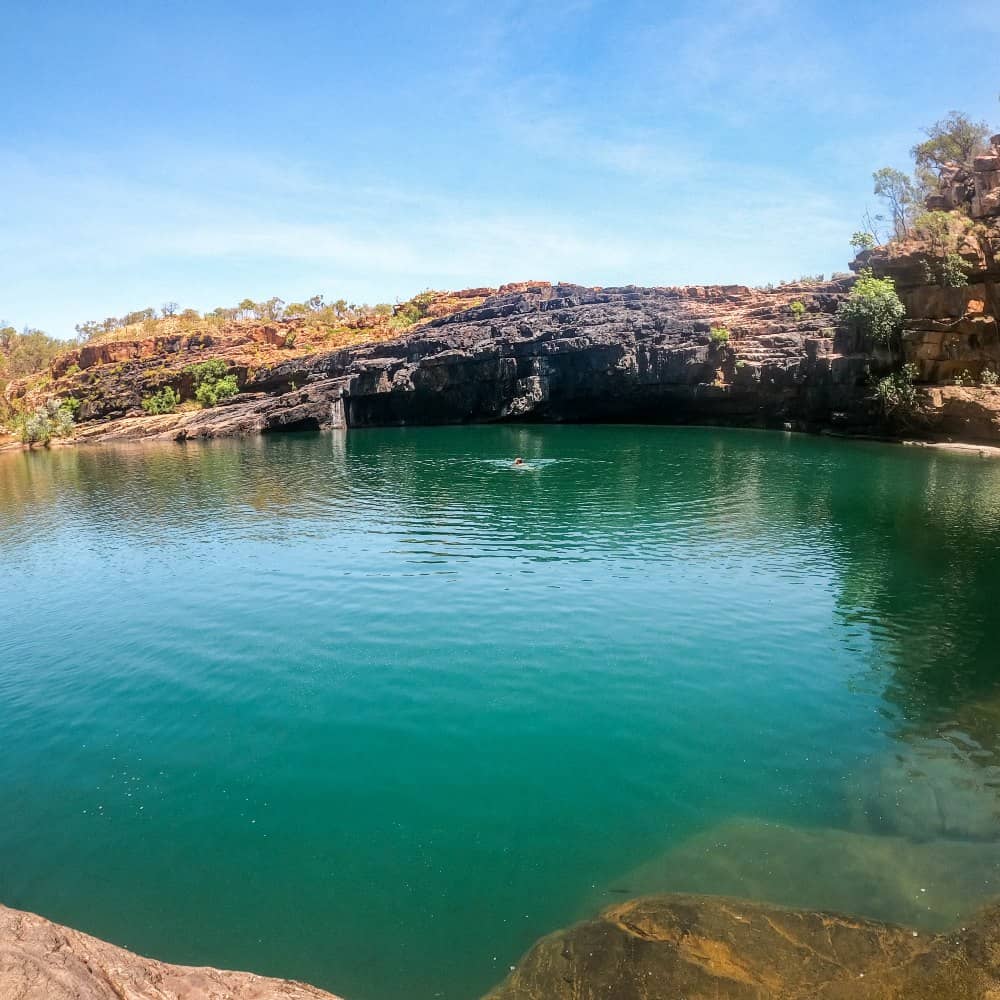 3) Manning Gorge
The next stop will be Mount Barnett Roadhouse, where Manning Gorge is. You'll have to pay an entrance fee at the roadhouse, even if you are not staying there.
The 3km hike to the gorge starts by crossing the Manning River, whether by swimming or using the dinghy available. The rest of the walk is open and relatively easy, but not very shaded. Getting lost is impossible – follow the rock cairns, arrows, and other markers strung into the trees.
Once at the gorge, you can swim through several pools and climb up and over many rocks. You can even climb to the top of the waterfall for a fantastic view. The pools are clear and deep – you can swim any time of the year.
Keep in mind that this waterfall is seasonal. If you go to Manning Gorge early in the season, you'll see it cascading over the width of the rocks, which is impressive. But later in the season, the pools are there, but the waterfall dries up.
Where to stay?
You can stay at Mt Barnett Station, but keep in mind that no bookings are taken for the campsite. The services and food are excellent.
For free camping options, check out the Frog Campgrounds. At the time of writing, it doesn't have a specific spot in Google Maps so we recommend using WikiCamps to locate this one.
4) Windjana Gorge
Another accessible gorge, Windjana runs for 3.5km through the Napier Range. It's over 100m wide in some parts, with rock walls between 10 and 30m high – imagine how spectacular the view is.
---
---
There are tons of wildlife here, from cajeput and fig trees to fruit bats and freshwater crocodiles. The latter is the reason why it's not recommended to swim here. Not because freshwater crocs are dangerous, but because there are so many of them that you might accidentally stand on one.
In fact, Windjana Gorge is famous for the highest concentration of crocodiles in one gorge!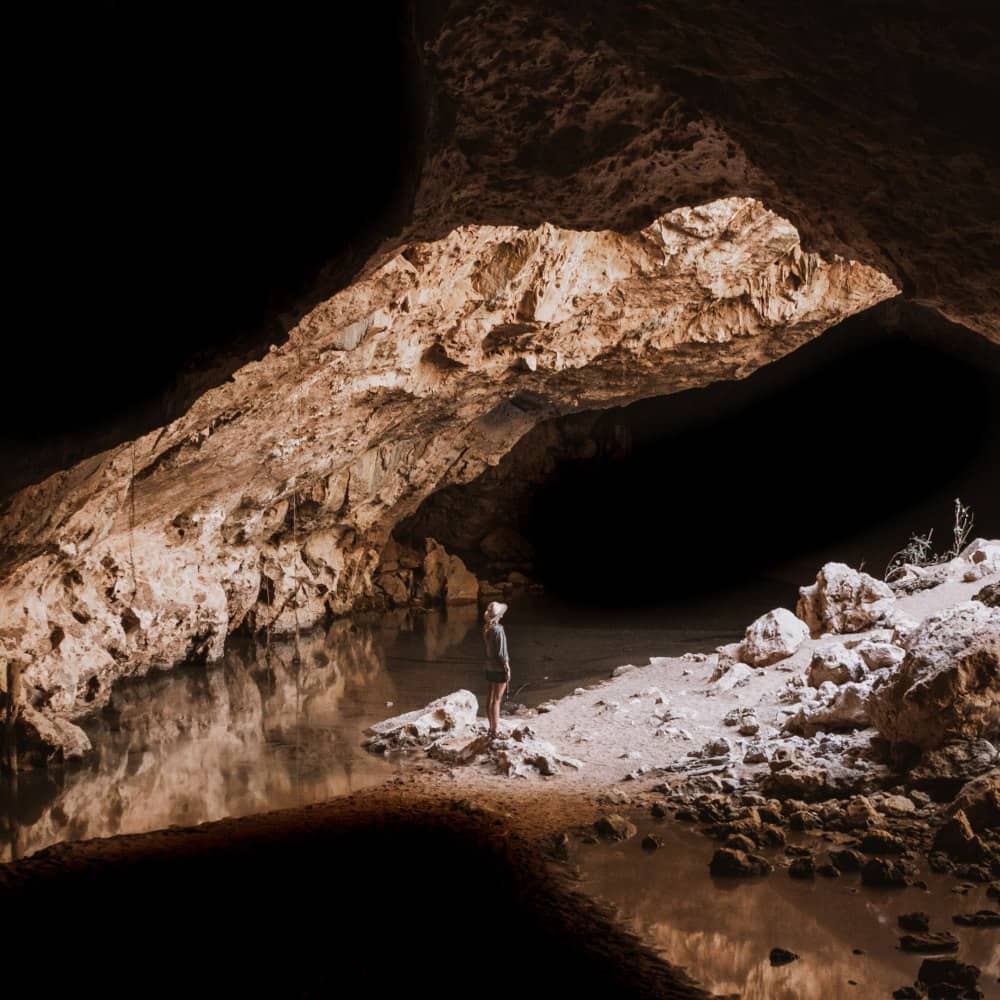 Dimalurru (Tunnel Creek) is close by, so don't skip this spot either. You'll want to spend at least 3-4 hours between the gorge and Tunnel Creek.
On a side note, the local indigenous people believe that powerful creation spirits reside in the gorge, and it's a profoundly spiritual place for them. It's known as Bandilngan in the native language.
Where to stay?
The closest place is the Windjana Gorge Campground. Although there are no powered sites, the bathrooms with showers are well maintained, and the area is suitable for caravans.
You could camp in the Lennard River campsite for free.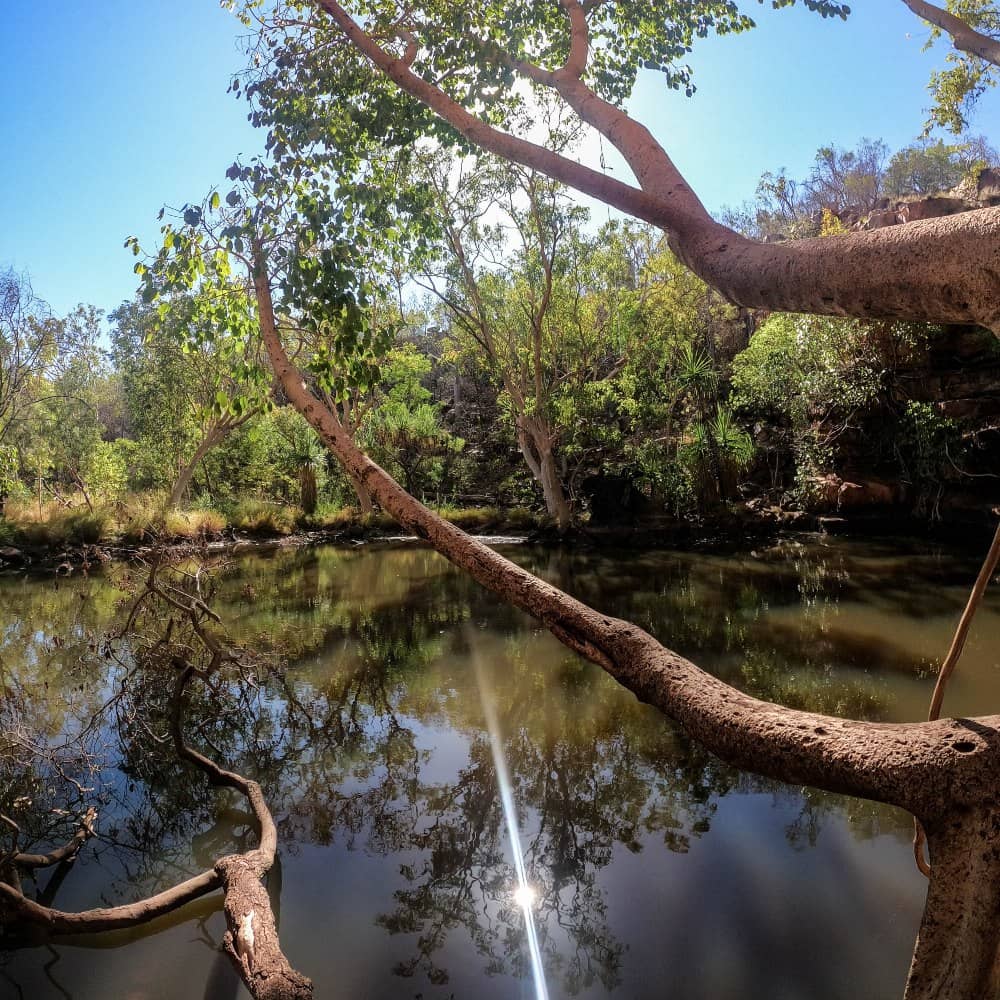 5) Galvan's Gorge
This gorge is between Bell Gorge and Mt Barnett Roadhouse – where Manning Gorge is. So, make sure to include this spot in your itinerary.
It's a very accessible gorge, just 1km off Gibb River Road, with a lovely swimming area. The hike into it is easy and relatively flat, following the creek. The seasonal waterfall flows into a horseshoe-shaped pool.
Galvans Gorge also has beautiful aboriginal rock art and a boab tree at the top. There's a rope on the right side of the pool, too. Don't leave without swinging on it!
Where to stay?
Depending on your itinerary, you could stay in the same places mentioned in Bell Gorge, or Mt Barnett Roadhouse.
6) Dimond Gorge
To get here, drive 24 km from the Mornington Wilderness Camp to the gorge. It takes around 1.5 hours, as you'll frequently stop for photos of the fabulous scenery along the track.
The gorge is best seen from a canoe on the river, so you can use yours or hire one. The latter also includes all the trail notes and other information.
Take your pick of the available canoes and start paddling. Stop at mini beaches for a picnic and jump off rocks into the water if you want to. Explore the bushland along the way and keep going to the end of the gorge.
Where to stay?
You can stay at the Mornington Wilderness camp, but make sure to book ahead because the camping sites are limited. Radio the camp if possible before you turn off Gibb River Road.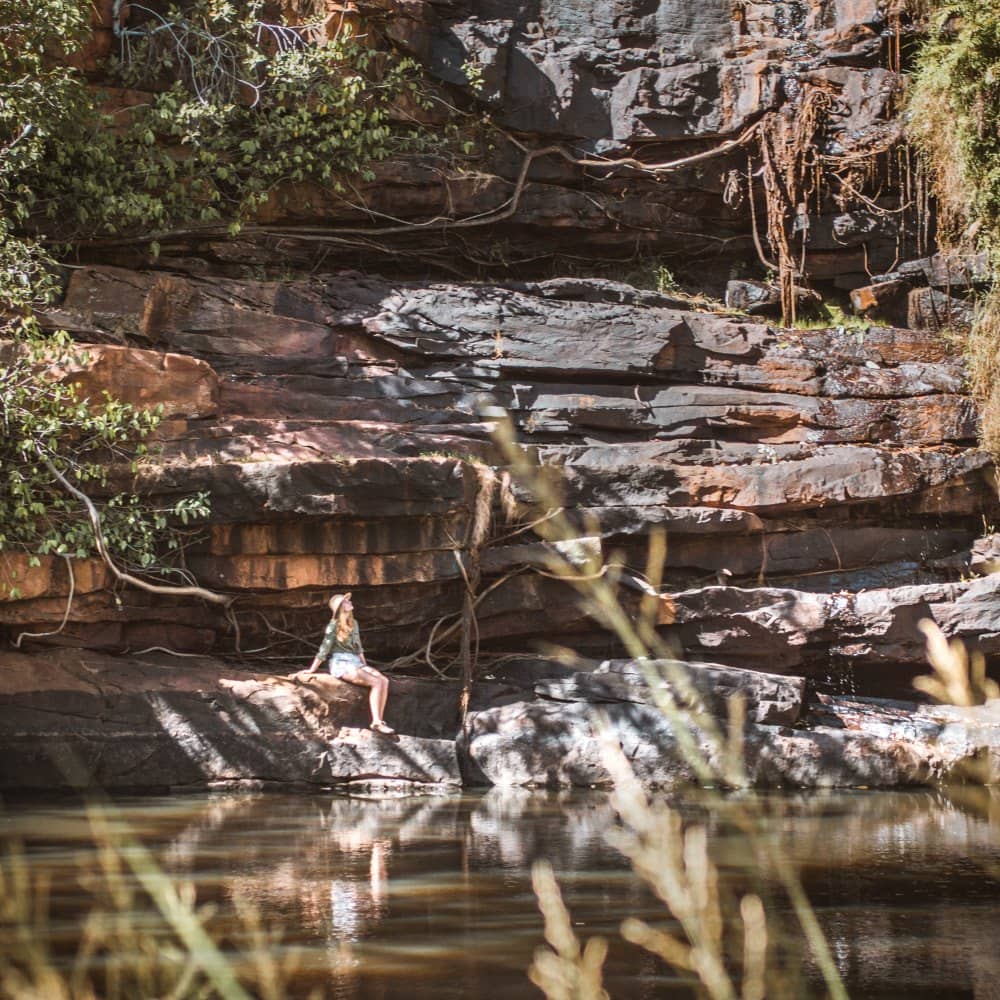 7) Adcock Gorge
Adcock Gorge is a 20-minute drive from Galvan's. It's one of the lesser-known Kimberley gorges, so it's pretty quiet compared to others. It's a beautiful place to stop for a few hours. Just take a 5km detour off Gibb River Road along a rocky 4WD track to get there.
The walk from the car park is short, and while you have to climb over some rocks and boulders, it's pretty straightforward. Walk across the rocks on the shady lily pond to find a beautiful deep, clear, green pool surrounded by grasses and ferns.
Where to stay?
As it's so close to Galvan's gorge, you could stay at the same places mentioned there.
8) Lennard Gorge
This gorge is a 1-hour drive from Bell Gorge, also in the King Leopold Conservation Area. It's not as popular (probably because you can't swim in it) but the views are incredible.
The road is strictly 4WD. Once in the car park area, you'll walk for around 30 minutes until you get to the viewing platform.
There's a 3km return walk along the creek, up into the Wunaamin Miliwundi sandstone, where you can view the falls. It's an amazing spot to get great pictures of the place.
Where to stay?
As it's fairly close to Bell Gorge, you can stay at the same places:
Lennard Gorge's waterfalls will be at their fullest right after the wet season. So, include this spot in your itinerary if you'll visit during that time.
9) Barnett River Gorges
There are two gorges in this place – the Upper and Lower Barnett River Gorges.
To get there, drive 28 km from Mt Barnett Roadhouse to find the turn-off. This access track is quite rough in parts, and you'll need 4WD to get over the rocks in the final section. Park near the big Boab tree that marks the start of the trail and enjoy a 1-hour hike.
Follow the rock cairns, as they'll guide your walk along the top ridge of the plateau above the river. It's a beautiful hike, and the view from the top of the gorge is awe-inspiring.
Where to stay?
When we went, free camping wasn't allowed in the area anymore. But the Mt Elizabeth station and the Gibb River station are a 40-50 minute ride from the Barnett River gorges.
10) Sir John Gorge
Sir John Gorge is a 14km drive from the Mornington Wilderness camp. This gorge is a section along the Fitzroy River that is 23km long (yes, it's massive!), and you can access it by walking or canoeing.
It's a rough track, though. You'll need low-range gears to climb out of the last creek crossing. It's just a short walk to get to the gorge from the car park.
Canoeing here isn't as available as in Dimond gorge – only one couple can do it at a time. So, book early and you'll be able to have this gorge to yourself. You'll get the paddles and a lunch basket at the reception of the Wilderness camp.
If you can't book the canoe, don't worry. You can bushwalk several kilometres up the gorge and have a sunset picnic if you like.
Where to stay?
Same as with Dimond Gorge – the Mornington Wilderness camp is the closest place.
11) Danggu (Geikie) Gorge
You won't need a 4WD to get here, as you'll drive on a bitumen stretch of road, 20km from the town of Fitzroy Crossing. This gorge sits at the junction of the Oscar and Geikie Ranges, where the Fitzroy River has carved a 30m deep gorge.
During the wet season, the river in full flood covers the national park, with the waters rising over 16 metres up the gorge walls. The seasonal high-water levels have bleached the bottom of the gorge walls white, which makes for some stunning photographs.
There's also plenty of wildlife to check out, including freshwater crocodiles. So, swimming isn't recommended.
There are three walking trails to explore the park. Alternatively, you can join a boat cruise with local guides.
Where to stay?
The nearest place to stay is at Fitzroy Crossing, a small town 20 minutes from the gorge.
There is no overnight camping in the Geikie Gorge National Park, but picnic, barbeque, and toilet facilities are available.
Top Tips
Planning is key, as this is a long trip and the road can be challenging. We wrote a guide to help you with that, it's the travel guide to Gibb River Road we hope we had.
With that said, you'll be able to do this trip between April and October – the rest of the year the road is closed due to flooding. The best time to travel Gibb River Road depends on several factors though.
There are also plenty of other things to do besides visiting the gorges. There are many national parks along the Gibb River Road that deserve a spot in your itinerary.
Learn more: Must-see attractions to check out while travelling Gibb River Road.
Did you know?
You can start your trip through Gibb River Road from either Derby or Kununurra.
Derby is in the west Kimberley area. This city was bombed by Japanese planes during WW2, as there was an air base there used by Australian forces.
Kununurra is on the east of Gibb River Road and was founded in 1961. Its name comes from the word Goonoonoorrang, which means "river" in the Miriwoong language.
FAQs
How many gorges are on Gibb River Road?
There are dozens of gorges on Gibb River Road, we just mentioned the most popular. We didn't include the Bindoola Gorge in Home Valley station, Chamberlain Gorge, Cathedral Gorge, and several others. These are close to the Gibb but not on it.
Are there crocodiles in Bell Gorge?
Yes, there can be crocodiles in Bell Gorge so be careful. Mainly they are freshwater crocs. Unless you step on them, then they leave you alone.
Is Windjana Gorge on the Gibb River Road?
Windjana Gorge isn't technically on Gibb River Road, but it's a short detour that's extremely worth doing.
The bottom line
This list of Gibb River Road gorges just scratched the surface. There are many others you'll find along the way.
As for the walks to the gorges, some are more difficult than others. So, always wear sturdy hiking boots, and take water and sun protection when exploring them.
But above all, enjoy the experience. It's a truly life-changing trip – savour every bit of it!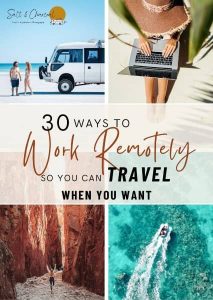 FREE Guide: 30 Ways To Make Money Online So You Can Travel When You Want
Unlock our secrets to consistent online income in Australia. These are tried-and-tested ways we've used to earn money from anywhere – only a laptop with internet is needed! Travel more and worry less.
Our Essential Travel Toolkit
🤩 Trip.com – Consistently great accommodation and hotel deals.
🤩 Hostelworld – Looking for the cheapest accommodation? We especially love the book now pay later feature.
🤩 Rentalcars.com – Best range, super easy to compare prices rental car and motorhome prices.
🤩 Viator.com – Easily book tours and experiences at the lowest rate. Great selection all over Australia.
🤩 Tripadvisor.com – Other than our website…..😉 the best place to find things to do
🤩 Airalo – eSIM store that solves the pain of high roaming bills by giving travelers access to eSIMs (digital SIM cards).
🤩 Caravan RV Camping – Traveling Australia in a van, caravan or bus? Use our discount code "saltandcharcoal" to get $30 off any orders over $300.