Jim Jim Falls: Tips To Plan Your Trip Like A Pro
It can be rough, and sometimes dirty. The challenge of the four-wheel-drive-only, sandy track into Jim Jim Falls simply enhances the euphoria at the end of all the "bump and grind" to get there!
As you make the final 900m of the journey on foot towards the falls, 200m tall ochre red cliffs tower in front of you. The sheer scale is almost overwhelming.
Being there is incredible. But there are a few things you must consider to ensure you'll make the most out of your trip to Jim Jim Falls:
Table of Contents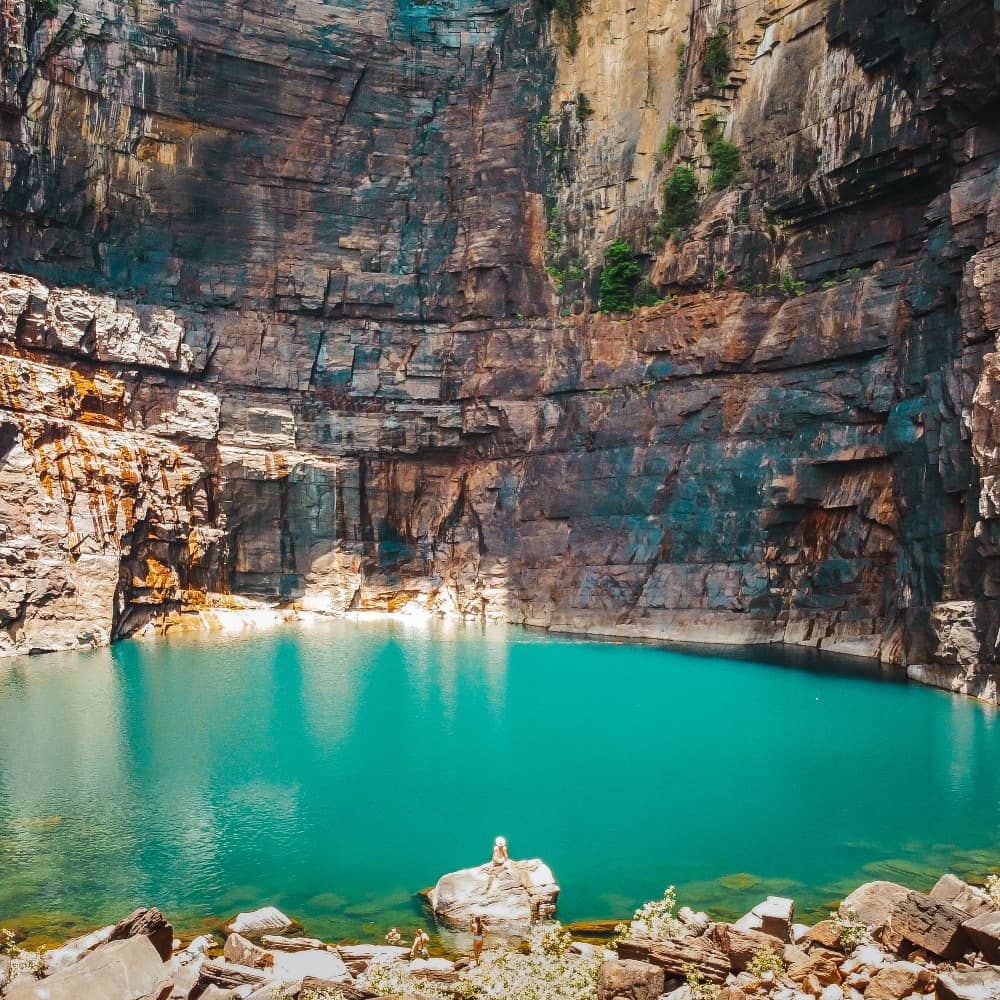 Best time to visit Jim Jim Falls
With warm sunny days and cool nights, the Top End's dry season (May through to October) is not only the most pleasant time to visit Jim Jim Falls (and Twin Falls) but also the only time you can access the area.
November to April is the wet season in the Top End. You won't be able to access the roads during this time, as they are flooded.
However, Jim Jim Falls are at their most full-flow spectacular in The Wet. That's why many folks take the option of a scenic flight for an unforgettable view.
So, for your peace of mind, always check the Parks Australia website for accessibility before heading in – even in the dry season.
How to get to Jim Jim Falls?
The road to access Jim Jim falls is a 4WD-only track. It's in the southern escarpment country of Kakadu National Park, in Australia's Northern Territory, about 60km off the Kakadu Highway.
Turn off about 45km south of Jabiru along the Kakadu Highway, it's then approximately another 50km of unsealed corrugated gravel road to the Karnamarr camping area.
From this point, only high clearance 4WD vehicles can continue the 5km to the Jim Jim Falls car park, during the dry season.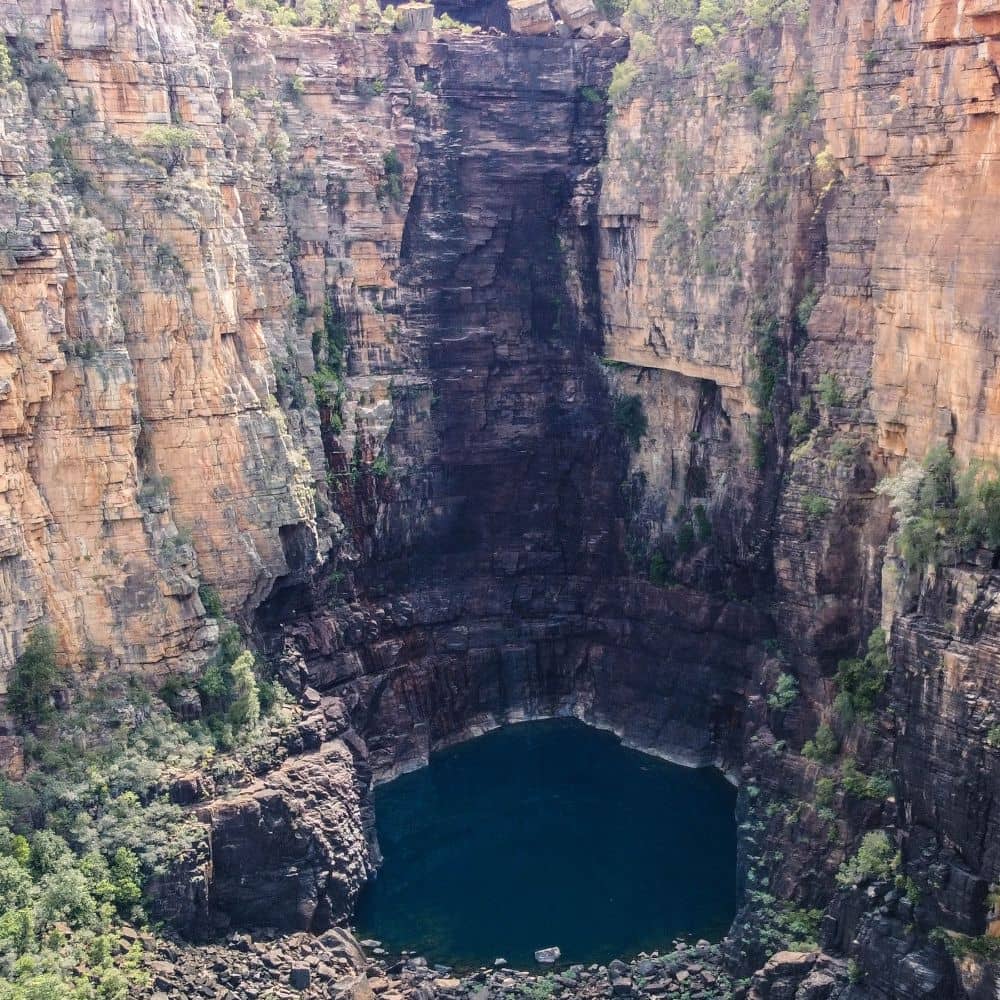 Where to stay at Jim Jim Falls?
We recommend staying in the Karnamarr campground, just 10km from Jim Jim Falls. It's a captivating campsite perched on the edge of the Arnhem Land escarpment with breathtaking views out over the area.
Karnamarr camping area caters for up to 200 people, but you can't book in advance. It operates on a "first come, first served" basis.
So during the dry season, it's best to check with Bowali Visitor Centre beforehand to see how busy it might be. There's a small nightly camping fee per adult.
Picnic tables, toilet facilities with showers, and drinking water are available. This is also the starting point for the Budjmi Lookout Walk.
3 Worthwhile walks
1) Jim Jim plunge pool walking track
This walking track will have you clambering over large boulders into the heart of the gorge. The prize? A deep plunge pool surrounded by 200m tall imposing sheer cliffs.
You will walk through ancient history, shaded from the heat of the day in a large anbinik forest – the largest trees of the escarpment country. These are also some of the oldest known vegetation types in the world, dating back over 400 million years!
2) Budjmi lookout walk
It's hard to convey what it is like to sit on this lookout, gazing out over the red escarpment cliffs and the expanse of gold and green woodlands. All this under an endless blue sky.
This hour-long walk is one of the best spots on the planet to enjoy a little solitude. In fact, you could easily allow two hours for this one.
Set out from the shady picnic area at Jim Jim Creek, and cross to the top of a rocky outcrop to get there.
3) Barrk Malam walking track
This track is for the more ambitious adventurers.
Also known as the Jim Jim Gorge walk, it's a challenging day-long hike off the Jim Jim Plunge Pool track. You will see the Barrk Malam turnoff sign about 200m from the carpark edge – it's definitely for experienced bushwalkers.
A steep climb over uneven terrain through a rugged stone country will reward you with stunning views above the Jim Jim Falls escarpment. Craggy warm dark rock is punctuated by pockets of deep green forest, sliced with a creek that mirrors the sapphire blue sky.
Best tours available
The tours into Kakadu National Park cater to all tastes and budgets. So with or without a four-wheel drive, there's no excuse to miss out on one of Kakadu's iconic attractions.
Here are the most iconic tours available to enjoy Jim Jim Falls:
Yellow Water Cruise
This 1.5-hour tour will get you up and close with some of Kakadu's most notorious residents – saltwater crocs!
Starting and ending in Cooinda Lodge, this once-in-a-lifetime cruise takes you through Jim Jim Creek, which is part of the South Alligator River system. You'll be accompanied by a local guide who will share everything there is to know about the area and the fauna that resides there.
5-day 4WD Tour From Darwin
If you want to fully experience Jim Jim Falls and the Kakadu National Park, take this 4WD five-day trip from Darwin instead. It includes even more of the sights and Top End characters en route, such as:
Jim Jim Falls or Twin Falls (if the season allows access)
Ubirr Sunset
Nawurlandja Lookout
Kunwarddewardde Lookout
Pine Creek
Edith Falls or Butterfly Gorge
Litchfield National Park
Magnetic Termite Mounds
If 5 days sounds like too much, don't worry – they also offer 3 and 4-day tours from Darwin.
Scenic flights during the wet season
1.5 metres of wet season rainfall won't prevent you from seeing the splendour of Jim Jim Falls. If you can't visit during the dry season – the only time you can access the area, and by 4WD -, a scenic flight won't let you down.
Jabiru Airport is the jumping point for this popular one-hour scenic flight. Seating on your guaranteed window seat, you'll fly over:
Jim Jim Falls
Twin Falls
Dinosaur Valley
East Alligator River
Magela floodplains
Top Tips
The walk into Jim Jim Falls can be tough, particularly during the dry season due to the heat. We went in November – the hottest month of the year for the area – so be prepared.
Don't let this stop you though. You won't see anything like it, and the swim will make it worth it immediately. Just make sure to:
Wear good walking shoes and appropriate clothing.
Carry plenty of water for the typically hot conditions.
Enjoy the stunning scenery!
Also, Jim Jim Falls is an entire day trip. But if you want to stay there overnight, make sure to check with the Bowali Visitor Centre for current road conditions into the Jim Jim Falls car park and the Karnamarr camping area.
And don't forget to look out for a place called the Beach Pool, which is on the way to Jim Jim Falls. It's literally a freshwater pool with sand about 300m before the massive rocks to the plunge pool entrance!
Related: 13 things to do in Kakadu National Park
Did you know?
Namarrkon is said to be responsible for the lighting storms over Kakadu during the tropical summer.
He's an important Aboriginal creation ancestor who, on his last journey, approached the Arnhem Land escarpment. He looked over the sheer wall, took out his eye, and placed it high on a cliff at Namarrkondjahdjam (Lightning Dreaming) where it sits to this day waiting for the storm season.
Andjimdjim is the word for the plant that lines the creek, gorge and billabong in the area – it means "water pandanus" in the language of traditional owners. Over time, it has been adapted into what we know as "Jim Jim".
FAQs
Do you need a 4WD to get to Jim Jim Falls?
Yes, you need a 4WD to get to Jim Jim Falls – but only during dry season. The tropical summer makes access roads impassable.
For the most up-to-date details of road conditions and tips to drive safely, contact the Bowali Visitor Centre.
Can you swim at Jim Jim Falls?
Yes, you can swim at the Jim Jim Falls plunge pool. However, the water is very deep and cold here. So, for your safety, check with Parks Australia for current conditions and cautions.
Also, swimming is prohibited in most waterways around this area. Not only for safety's sake, but for cultural and environmental reasons. Always heed the crocodile warning signs.
Is it worth going to Jim Jim Falls?
Yes, it's absolutely worth going to Jim Jim Falls. It's the highest waterfall in Kakadu National Park, higher than any of the falls in Nitmiluk or Litchfield National Park.
It's in full flow during the wet season, when you will be able to enjoy it on a scenic flight.
FREE Guide: 30 ways to work remotely so you can travel when you want
This PDF has ALL the tips and tricks we've learned over the years to be the digital nomads we are today.
These are tried-and-tested ways we've used to earn money from anywhere – only a laptop with internet is needed!