What To Do In Kakadu National Park? 13 Unmissable Activities
Kakadu is Australia's largest national park, with over 20,000 square kilometres of beauty and boundless adventures – it's larger than Fiji!
Kakadu is known as a sacred place worldwide, double heritage listed for its cultural and natural landscape alike. There is up to 65,000 years worth of Aboriginal history in Kakadu, which is still strong to this day.
A 3 hour drive south of Darwin, Kakadu boasts experiences for all ages and interests including:
Hiking
Fishing
Camping
Saltwater crocodile experiences
Scenic flights
Aboriginal history and 20,000 year old Aboriginal artworks
Waterfalls
Sunset viewings
Four-wheel driving
and much more!
Kakadu land is a part of the Arnhem Land Plateau which is 97,000 square kilometres of unspoiled wilderness, with living culture used by Mirarr and other Bininj (Aboriginal people) every day.
Wildlife here is abundant and free, it's a popular fishing location for barramundi, but watch out for the Saltwater crocodiles which are also abundant
It is difficult to create a "short-list" of things to do, nevertheless we tried…
Here are the 13 most UNMISSABLE activities at Kakadu:
Table of Contents
1. Yellow Water Cruise
A strong coffee might be needed, but the early morning rise will be worth it!
Cruise the beautiful wetlands of waterlilies, birds, water buffalo and… literally thousands of saltwater crocodiles.
That's right, you will see so many crocodiles, that by about halfway through the tour you are done taking photos of them and you are questioning why you have been happily swimming in so many pools around Kakadu.
Marvel at the rare sight of saltwater crocodiles cruising around in their natural habitat, surrounded by birds such as the Kingfisher, Jabiru, Whistling ducks, Magpie Geese and Brolgas. To see this in real life, rather than through a cruel glass enclosure, is a very special experience.
A cruise allowing you to get up close and personal with some of Kakadu's most notorious residents is definitely a must-do. DO NOT MISS this experience – it was an unforgettable highlight for us.
2. Ubirr (Sunset Rock)
Feel the warmth of the setting sun as you relax on a rock platform, perched high above the grassy plains spread before you.
Ubirr is known for being the perfect location for enjoying the sunset over the floodplains, but beyond that, Ubirr is home to Aboriginal rock art which is considered some of the best in the world.
The treasured artworks are revealed as you walk along the circular walking track from the carpark towards the lookout, you will find Aboriginal rock art galleries along this walk. There are three main sites of rock art at Kakadu National Park, and Ubirr is one of the most famous Aboriginal Rock Art galleries.
3. Jim Jim Falls
But our most unforgettable experience of them all? Do not miss Jim Jim Falls.
A torrent of water roars over the edge of this 200-metre cliff face, tumbling into a clear, but deep turquoise pool below. Throwing up a rainbow of mist as the waterfall strikes the surface… Jim Jim's is absolutely breathtaking!
Although incredible to see year-round, Jim Jim Falls is closed 6 months of the year. During the wet season, you can only view this waterfall via scenic flight. Why? Because the sheer force and amount of water plunging from this waterfall is extremely dangerous to see on foot.
If you are visiting during the wet season, this sight is well worth a flight over Kakadu! As a bonus, you will get to see the other major drawcard, Twin Falls, at the same time.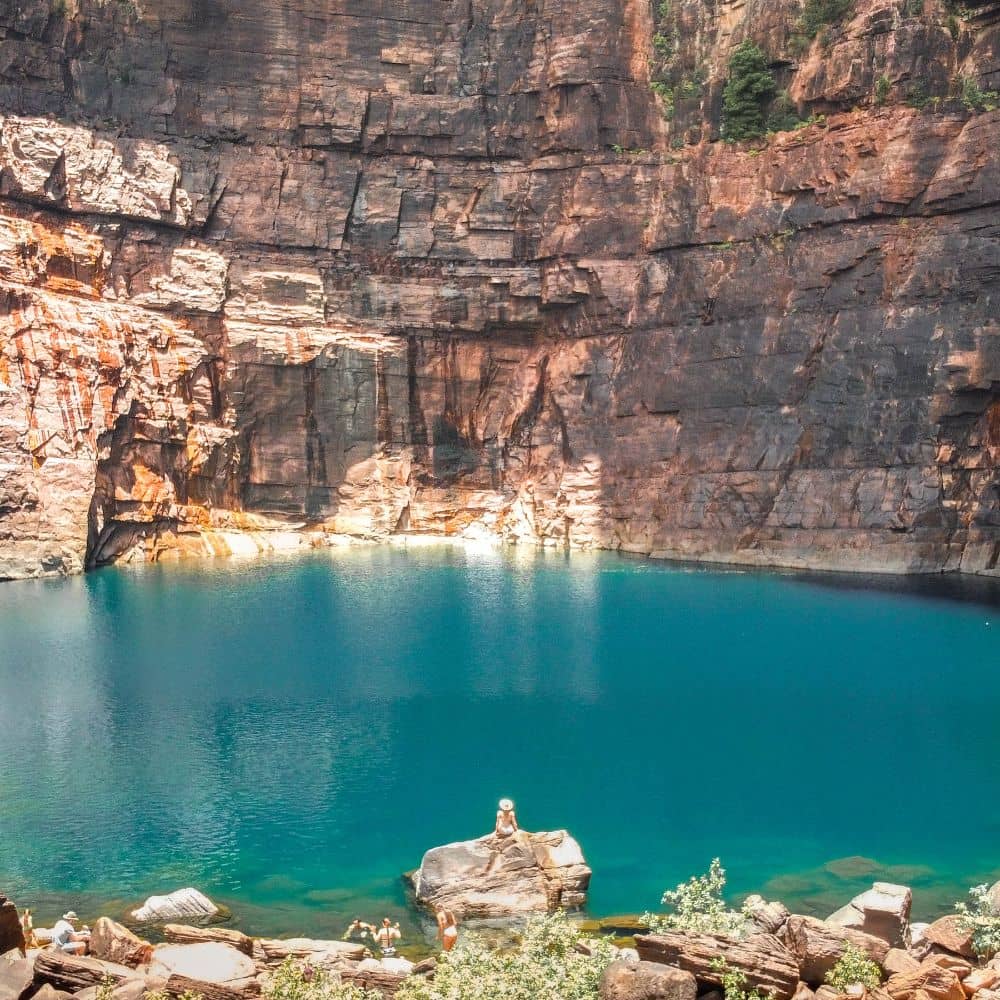 Even in the Dry Season when Jim Jim Falls is down to just a trickle of water, it is accessible by 4WD only, and definitely worth the 900-metre scramble across rocks to in the crystal clear pool for a swim.
To be honest, this walk was extremely challenging for us in the Northern Territory heat, so come prepared for your hike into Jim Jim Falls. But even in November – the hottest month of the year for Kakadu – when we were there, it was still paradise. The view and the swim make this swimming hole one of the best we have ever seen in our lives!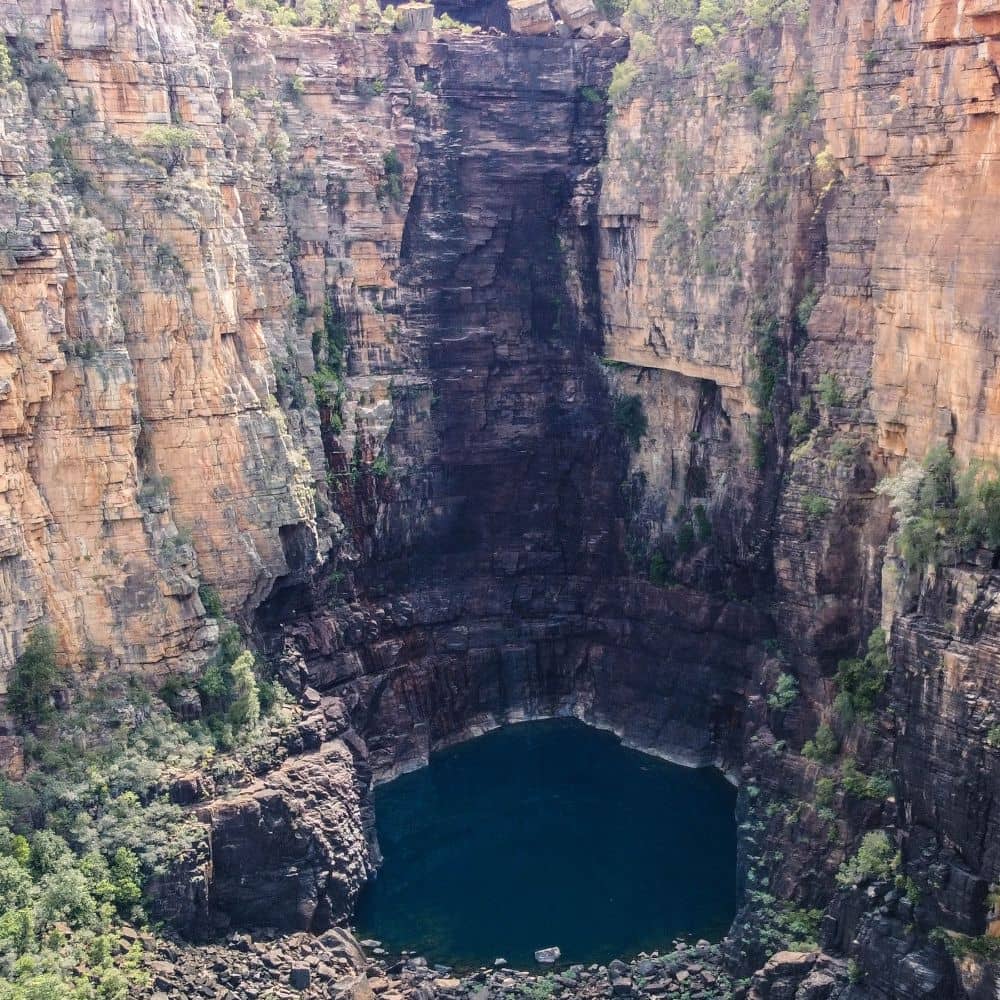 Check it out: Ultimate guide to Jim Jim Falls.
4. Nourlangie
Burrungkuy (also known as Nourlangie Rock) was not only a home and shelter for the original Aboriginal inhabitants, but also an ancient canvas displaying some iconic artworks from their rich spiritual traditions and stories.
During the 1.5-hour circular walk through one of Kakadu's most famous rock art sites, you'll see the Creation Ancestor Namondjok, along with another called Namarrkon – known as The Lightning Man – in the main gallery.
The story of "The Lightning Man" is written on a plaque on the rock, while reading this a huge storm cloud started growing behind the sign, and started to spurt lightning and thunder. It was an incredibly moving and ominous experience for us, sending us signals that it was time to leave this incredibly sacred place.
---
---
A walk at Nourlangie is not complete unless you finish with a climb to Kunwarddewardde Lookout for a sweeping view of the expansive escarpment, made even more special if you can make it for a sunrise or sunset.
5. Gunlom Plunge Pool
One of the best swimming spots in Kakadu! Get prepared to be impressed! Unfortunately, it was closed when we went but we have been told, this place is one of the BEST.
Warm rock encircles the pool. The water's surface is cool and glassy. Behind, ancient stone stands guard while a few steadfast trees keep watch on either side.
This clear, natural infinity-edge pool perched high on the Kakadu escarpment was made famous in the movie, "Crocodile Dundee".
A 2km return walk with a short steep climb will take you to the top of the seasonal Gunlom Falls, and to Gunlom infinity pool. Fed by Waterfall Creek, and with another pool at the base of the falls, along with a camping area boasting solar-powered hot showers, this is definitely a 'bucket list' location.
6. Barramundi Gorge (Majuk Falls)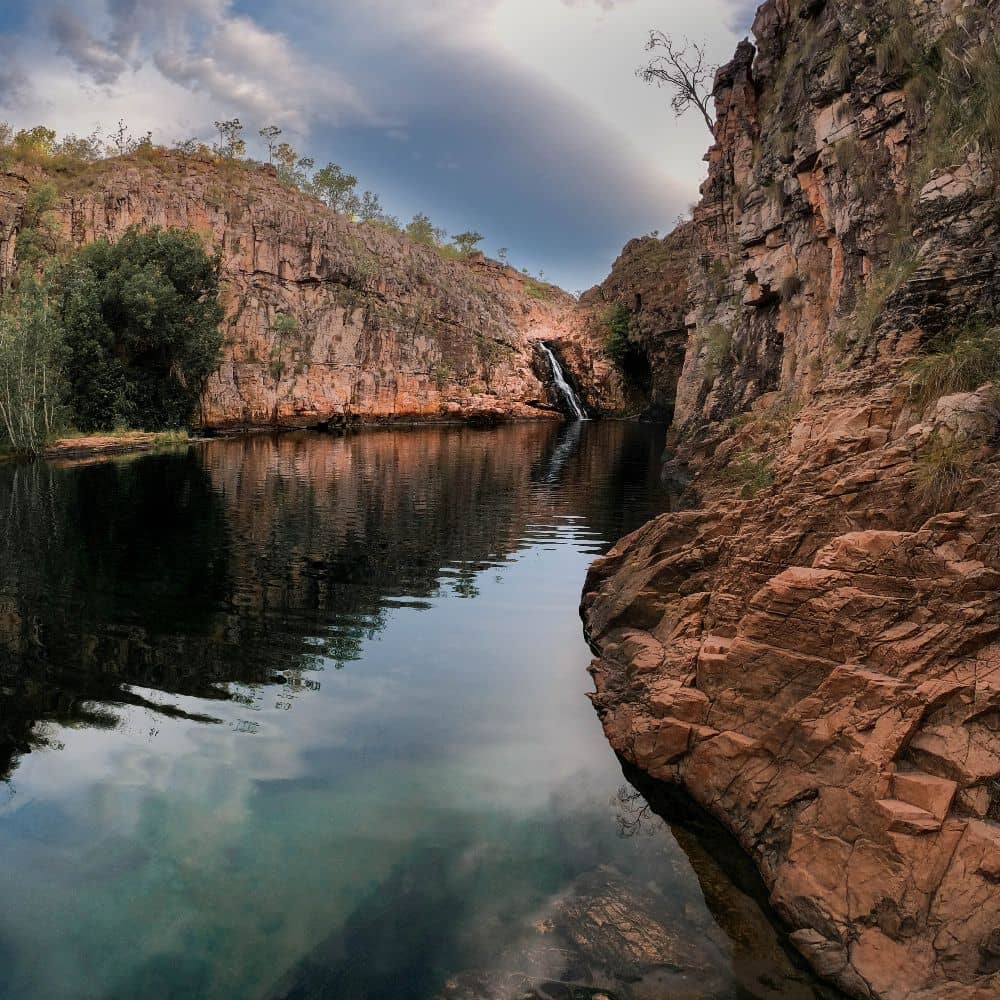 A natural back massage under the falls will be that much more rewarding after the four-wheel drive into this secluded area, also known as Maguk, at the southern end of Kakadu.
Walk through the monsoon rainforest to discover crystal clear rock plunge pools at both the bottom and top of the falls, as they cascade out from between towering cliff walls.
The serenity of this remote paradise needs to be experienced to be believed.
7. Mamukala Wetlands
Unlike the waterfalls that are most spectacular early in the Dry Season, Mamukala Wetlands come into their own late in the season (September to November) as the noisy magpie geese are drawn to the life-giving wetlands.
Tens of thousands of the magpie geese descend upon the area to dig for water chestnuts, joining with the rainbow of other unique Top End bird species in a feathered frenzy of colour, which can all be seen from an observation platform hidden within the paperbarks.
8. Motor Car Falls
Retreat from the heat to this shady little gem.
The 3-4 hour return walk as part of the Yurmikmik trail is well worth the reward of a swim under the falls to wash off the dust and sweat.
Emerald green monsoon forest is reflected in the pool that it surrounds, while the small cascade is particularly popular in the wet season as it can be more accessible than other waterfalls in Kakadu National Park during that time of year – although 4WD is still required.
9. Fishing on Yellow Water Billabong
If you are a fishing enthusiast, then it would be hard to pass up the opportunity to catch one of the Territory's famous barramundi on one of its most famous waterways.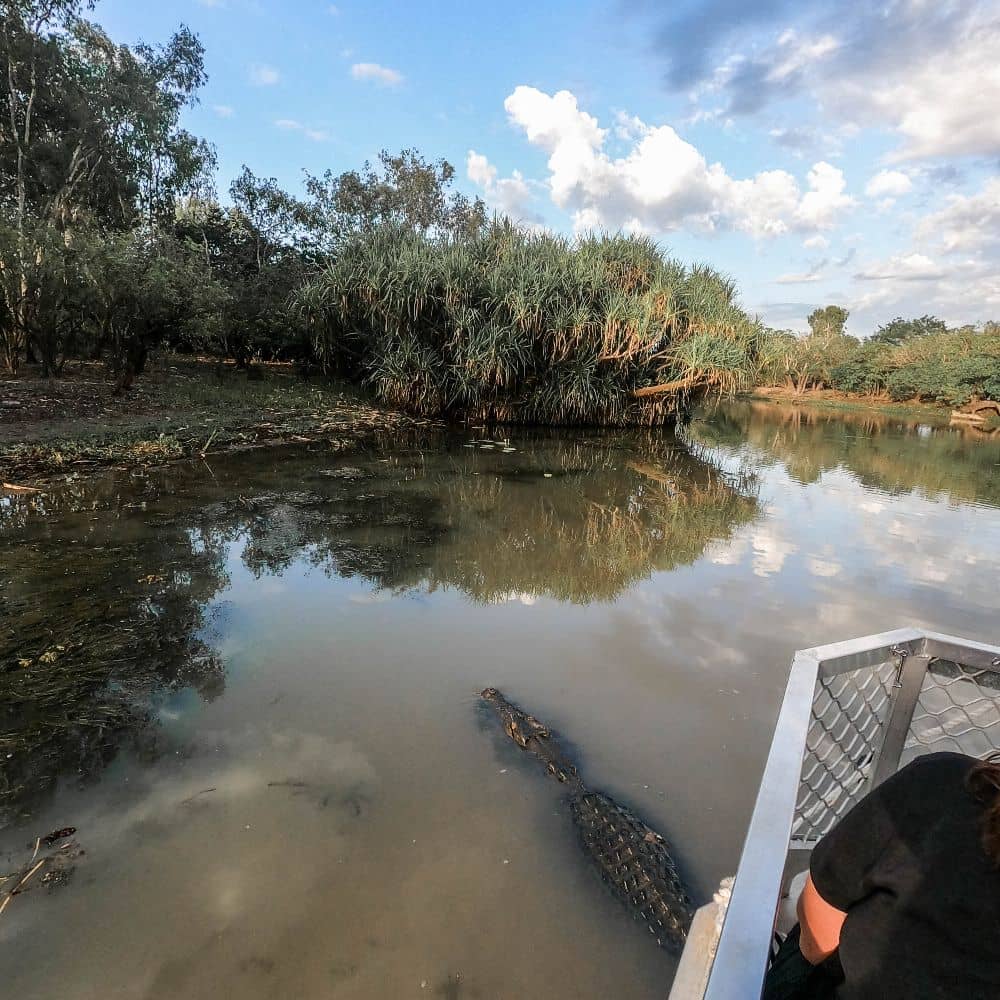 Floating on the Yellow Water billabong amidst an iconic landscape… Whether you're a pro-angler or barely a beginner, this is an "equal opportunity" environment with the chance to tick a significant box off that bucket list of experiences.
10. Koolpin Gorge
You'll need a high clearance four-wheel drive and a good level of fitness to explore this one!
Limited accessibility makes Jarrangbarnmi, also known as Koolpin Gorge, one of the least visited sites in Kakadu National Park, and so for many of us, one of the most attractive.
Craggy rock cliffs overlook cascading waterfalls slowly carving out a series of pristine plunge pools. An occasional unexpected sandy beach nestled into lush greenery alongside this ancient watercourse… These are the perfect ingredients for a true getaway.
With only a small number of people allowed in at any time, a permit is required for access, so get in early!
11. Moline Rockhole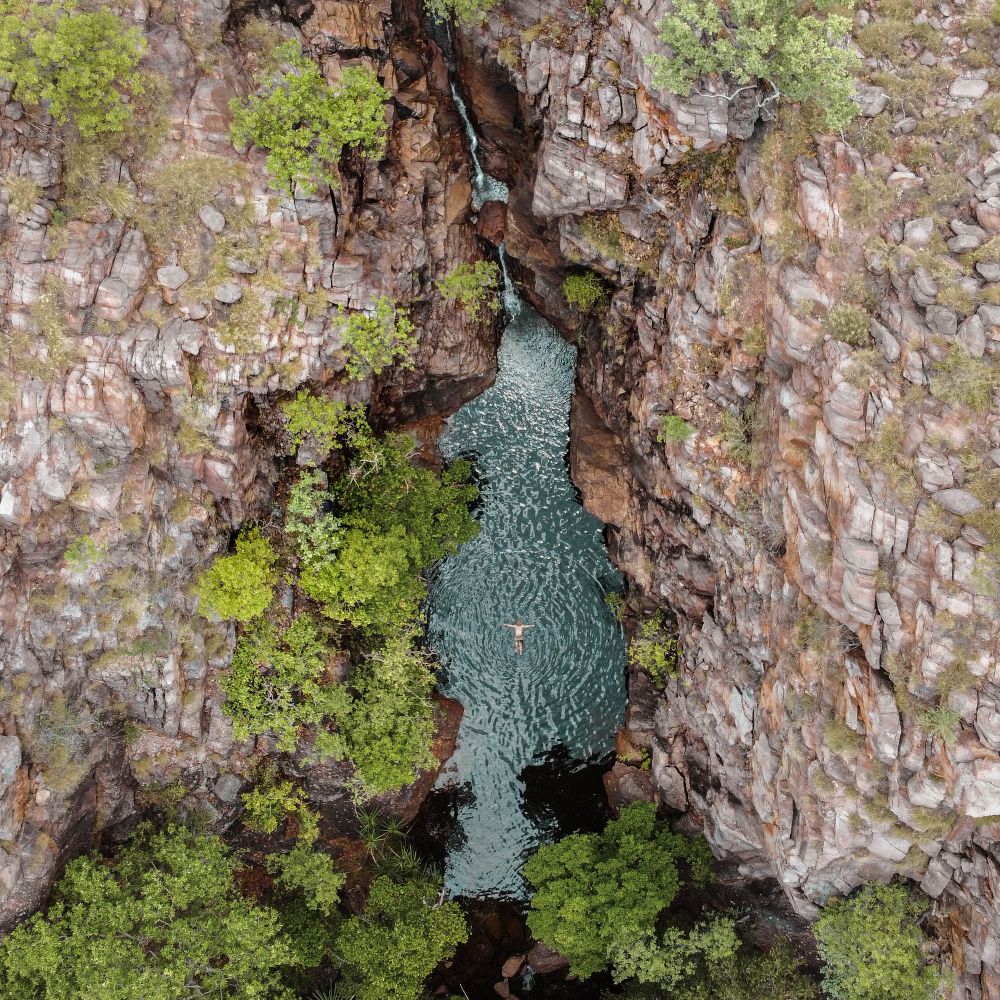 Another little gem that sparkles in the southern part of Kakadu is Moline Rockhole (also known as Igoymarrwa).
Eucalypts and palms sprout from between the granite sprinkling sunlight across the crystal-clear plunge pool. A gentle waterfall makes this swimming hole a great place to relax and cool down.
Although a 4WD is needed for the track, Moline Rock Hole is not too far off the Kakadu highway. It's not signposted either, so it's one of those attractions that many travellers miss on the way to nearby Gunlom Falls. Only a select number of tour guides are allowed access in order to reduce environmental impact and keep numbers to a minimum.
12. Cahills Crossing
If the explosion of slamming jaws and gnashing teeth sounds like an amazing adventure to you, then this is the place to be!
The world's largest, and Kakadu's fiercest, reptilian predators – the estuarine (saltwater) crocodile – gather in the latter part of the Dry Season to feed on the barramundi and mullet as the tidal waters surge across the road (which is still in use!)
3.5 hours drive east of Darwin, this notorious car crossing on the East Alligator River into Arnhemland, is a great place to safely view the infamous "saltie" in the wild.
13. Scenic Flight
Nature at its most spectacular!
If you are here for a good time, and not a long time, then a bird's-eye view of tropical forests and thundering waterfalls crashing into deep plunge pools is the way to go.
Jim Jim and Twin Falls are spectacular all year round, but a scenic flight over these two stars of the top end of the Northern Territory are one of the main attractions when you visit Kakadu National Park in the Wet Season.
A scenic flight will blend the colour and life of Kakadu's diverse landscape into a panoramic masterpiece.
Our recommendation: Jabiru 60-minute Scenic Flight. They take you over Dinosaur Valley, the East Alligator River, the Magela floodplains, and Jim Jim and Twin Falls. Plus, guaranteed window seat!
Top Tips
Drop into Bowali Visitors Centre at Jabiru for heaps of information on the physical aspects of Kakadu.
Check the Warradjan Cultural Centre at Cooinda for great insight into the history of the Aboriginal people in Kakadu. It takes care of the spiritual aspect of the region.
The Bark Hut Inn is a great midway point (with a lot of typically Top End character) between Darwin and Jabiru for a snack and a break from driving.
A fee must be paid to enter Kakadu National Park and you can pre-purchase the park pass online, here.
To avoid disappointment and wasted time, check the Road Report NT website for updates on conditions and restrictions before travel.
Did You Know?
Saltwater crocs don't just live in saltwater! They are actually called "estuarine crocodiles" and will travel through any stream of water.
We learnt this frightening little gem (plus a whole lot more) on the Yellow Water Cruise.
Leave the urban sprawl far behind to hike the trails and plunge into the pools of a land that time forgot.
Escaping to Kakadu National Park in the Northern Territory of Australia will make you reconsider your return to the "real world".
As Steven Furtick said, "Your perspective will either become your prison or your passport".
Our perspective is ever-changing, but we choose to keep it positive and growth-focussed instead of stifling. This place, this park will leave you with a fresh new perspective on life.
Towering red escarpments rising to ancient sandstone plateaus splashed with spectacular white foaming waterfalls. Vast golden floodplains and expansive emerald wetlands are covered with wildlife.
Standing within the landscape at Kakadu is like a time warp into a long gone era of this planet's history. This truly does seem like a land where time stands still.
FAQs
Where to stay in Kakadu National Park?
There are a range of camping options within the Kakadu area, usually fees apply, and sometimes permits are required so it is wise to check first and book early.
Cooinda Lodge and campground is a great base from which to explore the Yellow Water Billabong, and the iconic Crocodile Hotel in Jabiru is worth considering just for fun.
How to get to Kakadu
The township of Jabiru – the gateway to Kakadu – is an easy 3 hour drive from Darwin, the capital of the Northern Territory, Australia, on sealed roads.
In the Dry Season, there is no problem with a 2WD accessing the area, but in the Wet Season, a 4WD drive is a definite advantage, both for water crossings enroute to Kakadu, and for greater access within the park at all times.
How many days do you need in Kakadu?
Some highlights can be done in a day, but truthfully you will need to visit for at least three days in Kakadu. One sunrise and sunset will simply not be enough! If you plan for a week, then the rewards will be far greater.
Can you swim at Kakadu National Park?
Yes you can… but always exercise caution, and it's best not to go in alone. Always read the signs and talk to the local rangers if you can. While they bait and trap stray estuarine crocodiles from popular swimming areas it is never 100% if a crocodile has swum in undetected.
Swimming safety and access can vary greatly between Wet and Dry Season. During the wet season crocodiles can swim around more freely. Look for the designated safe swimming signs, or you could have an unexpected encounter with a saltwater croc!
When is the best time to visit Kakadu?
The best time to visit northern Australia is in The Dry Season, or the mid-year winter months, as the days are warm and much less humid, with very little chance of rain to restrict access.
We were in Kakadu National Park in November, it was crazy hot and humid, we don't really recommend that time to be honest. It was quite uncomfortable weather (especially for camping!).
Although it wasn't the Wet Season (December – April), the thundery skies and eventual downpour closer to December was a great consolation.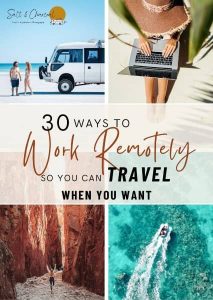 FREE Guide: 30 Ways To Make Money Online So You Can Travel When You Want
Unlock our secrets to consistent online income in Australia. These are tried-and-tested ways we've used to earn money from anywhere – only a laptop with internet is needed! Travel more and worry less.
Our Essential Travel Toolkit
🤩 Trip.com – Consistently great accommodation and hotel deals.
🤩 Hostelworld – Looking for the cheapest accommodation? We especially love the book now pay later feature.
🤩 Rentalcars.com – Best range, super easy to compare prices rental car and motorhome prices.
🤩 Viator.com – Easily book tours and experiences at the lowest rate. Great selection all over Australia.
🤩 Tripadvisor.com – Other than our website…..😉 the best place to find things to do
🤩 Airalo – eSIM store that solves the pain of high roaming bills by giving travelers access to eSIMs (digital SIM cards).
🤩 Caravan RV Camping – Traveling Australia in a van, caravan or bus? Use our discount code "saltandcharcoal" to get $30 off any orders over $300.