Litchfield National Park Waterfalls: 7 You Must Explore
If you have a hunger for a spectacular variety of waterfalls, then this is the menu for you!
Imagine a hot and dusty Top End Dry Season day. Bright sunshine, not a cloud to be seen in the impossibly blue sky. The tropical landscape wears a coating of dust as it waits for the Wet Season to wash The Dry away.
While the plants must wait for the rains to come, you do not! After a short walk, you can dive into a cool deep pool and rinse the dust off under a cascade of crystal clear water in one of the many waterfalls to explore in the Northern Territory's Litchfield National Park.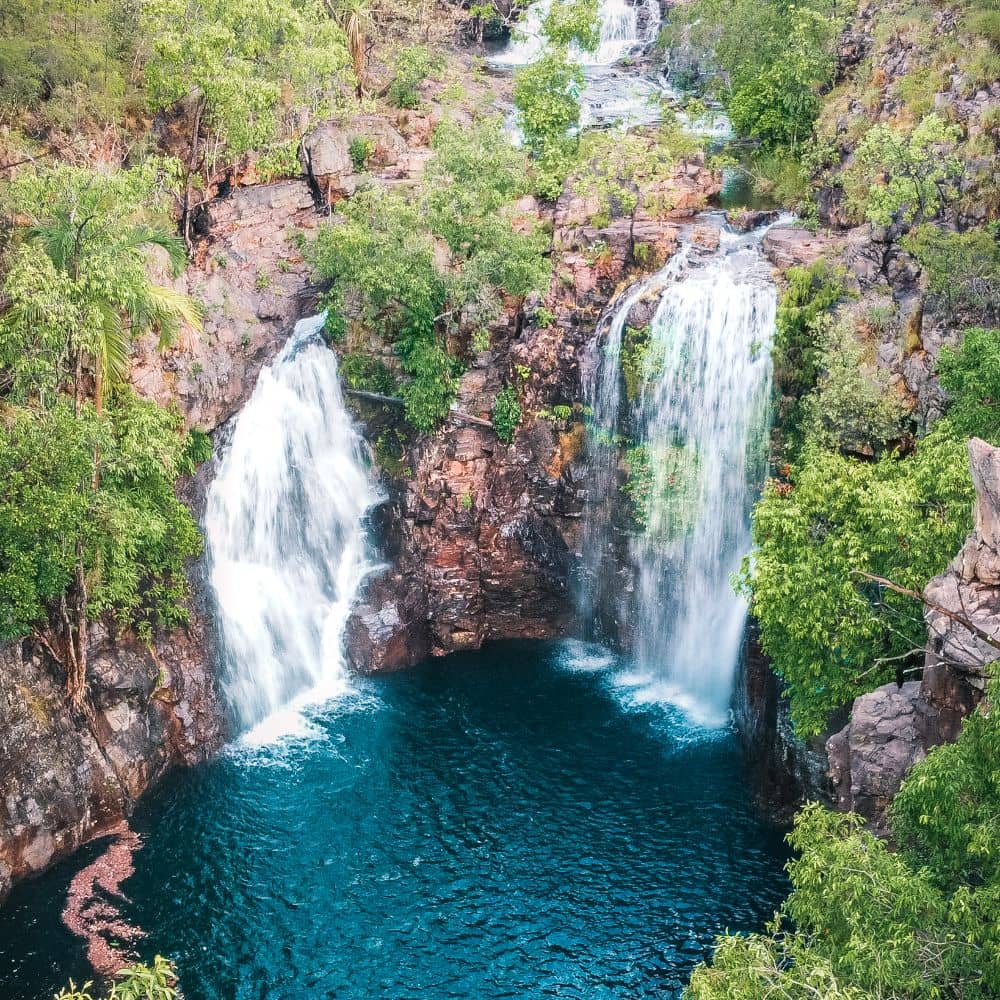 Florence Falls
One of our first stops in Litchfield, and one of the park's best kept secrets…
Hidden within the lush emerald monsoon forest, a double waterfall cascades into a secluded plunge pool.
If you're keen enough to take the "shortcut" of about 135 steps down to the cool refreshing waters, the rewards are so much greater… The first treat being a spectacular panorama out over the waterfalls and down to the pool, and after descending to rinse off a well-earned layer of sweat and dust, there's an easy 1km walk out along Shady Creek, which is a treat in itself.
The unique beauty of Florence Falls made us so excited to see more of the park.
Tolmer Falls
Cascading over two high escarpments into one deep waterhole, Tolmer Falls hides more than just a beautiful pool, but two colonies of rare bats – Ghost Bats and Orange Horseshoe Bats – and so the bottom of the falls is a protected area.
One of Litchfield National Park's taller waterfalls, views from the lookout platform will have you mesmerised as water plummets about 35 metres into the forbidden depths. And when the sunset catches the very top of the falls, the illumination can give it an almost ethereal quality.
The Tolmer Creek Walk is a 45 minute, 1.5km loop starting in spectacular style at the lookout and returning along Tolmer Creek through typical Top End sandstone country.
Wangi Falls
Probably the best-known and most popular of the waterfalls, Wangi Falls is worth it any time of day!
Gazing up from the viewing platform at the base of the falls, the warm dull red rock cliffs are speckled with vibrant green. Two torrents of water – one narrow and gentler, the other taller and more robust – tumble down the rock in a race to the deep pool below, throwing up a rainbow into the mist above the "finish line".
The cool water in the swimming area is a perfect place to relax and rejuvenate in the tropical heat. There are change facilities, and even a café nearby if you want to grab a snack.
Sandy Creek (Tjaynera) Falls
With rocky outcrops, cascading falls and stunning views, once here, you may never want to leave.
There is something simply serene about Sandy Creek Falls. Floating in the cool expanse of deep clear water as the creek that feeds it tumbles toward the glassy surface. Submerged platforms of rock at the water's edge are a great place to stretch out, relax and enjoy the view, shaded by pandanus palms and paperbarks.
The four wheel drive to access this quiet piece of paradise is definitely worth effort.
Tjaetaba Falls
Greenant Creek will lead you along a shady walk through monsoon forest and a steep climb up to Tjaetaba Falls, and a tiny pool above the falls where you can dip your toes in to cool off while soaking up a view of the valley.
Swimming is not advised, as it can sometimes get a little murky late in The Dry season, but the scene that lays before you will more than make up for that.
The plunge pool and beautiful Greenant Creek area downstream from the falls are listed as an Aboriginal sacred site, and so respect should be shown by not swimming in the water there.
Surprise Creek Falls
Another little gem only accessible by 4WD during The Dry season.
Wander along a track dappled by the shady green foliage of the monsoon forest, and the surprise that just might be the reason for the name of the falls becomes apparent. As you emerge from the forest, you are greeted by a small waterfall and rock pools brimming with crystal clear and cool water.
Their limited access means limited visitors, so there's a chance you might have this pretty little spot all to yourself!
Buley Rockhole
Locals love this spot, and with good reason.
Only an hour and a half outside of Darwin and nearby to the impressive Florence Falls, this collection of ancient rock holes are fed by a series of small waterfalls.
Soak up the serenity in a deep plunge pool, or stretch out in a shallow pool. If you've had a big day exploring, or marvelling at the magnetic termite mounds, then drift into one of the fast moving natural rapids for an invigorating spa massage.
It's very easy to while away the time here, so pack a picnic lunch!
Top Tips From Bec and Chris
Litchfield Park's proximity to Darwin makes it a great place for a day trip, but make sure you camp out there for a better experience.
It is wise to note that generators are not permitted in Litchfield National Park.
Although there is little croc danger and you can swim at most spots, you must remain "croc-wise".
This is truly a tropical paradise with a catch… We were there in November, and although we wouldn't change a thing, we left about 5kg lighter thanks to the relentless humidity. It is wise to heed the advice to visit in The Dry Season when the climate is much more comfortable.
In this simply beautiful pocket of the Northern Territory, you can breakfast, lunch or dinner by a different waterfall for each meal. All are spectacular, each with their own special "flavour" to enjoy.
Whether your preference is to sit back and soak up the vista before you, to plunge in and enjoy the experience, or to rejuvenate in your own personal rockhole spa, there really is something for everyone on the waterfall "menu" at Litchfield National Park.
How to get there
Litchfield National Park is only 120km south-west of Darwin, the Northern Territory's capital city, on sealed road via Batchelor or the Cox Peninsula Road. There are flights into Darwin from most major Australian and many international cities.
Where to stay
There are some great campsite areas within Litchfield. Wangi and Florence both have 2WD campgrounds with non-powered camping sites. Sandy Creek and Surprise Creek Falls have 4WD camping areas, and there are walk-in camping sites available during The Dry season along Walker Creek. Camping fees apply.
Can you swim in Litchfield National Park?
Absolutely! There are many beautiful designated areas for visitors to swim, such as Florence Falls and Buley Rockhole, Wangi Falls, Walker Creek, Cascades, Tjaynera Falls and Surprise Creek Falls. However, many areas are seasonal, and the risk of saltwater crocodiles getting into the swimming areas is far greater in The Wet season.
Is Kakadu or Litchfield better?
Both are fantastic and each is unique. It really depends on the time you have available in the Top End. Litchfield is closer to Darwin and so a little more accessible on a tight budget and timeline.
Do you need a 4WD for Litchfield National Park?
Many areas of the park are accessible by 2WD, but some – even in the Dry Season – are only accessible by 4WD, such as Sandy Creek and Surprise Creek Falls camping areas. It's always best to check road conditions before entering the park.
The best time to visit Litchfield National Park
The falls flow all year, and are most spectacular in The Wet and early Dry Season, so Litchfield National Park is a great year-round destination. Although The Dry season months from May to September are much less humid and therefore much more comfortable for walking and camping.