Gantheaume Point Broome: A Must-See Paleontological Marvel
In Gantheaume Point (Broome, Western Australia), you'll walk among real dinosaur footprints. Prints that have been frozen in time for millions of years. However, they are only visible at certain times of the day (more on that below).
This corner of the Kimberley Region is one of the most famous paleontological sites in the world… and you can visit it for free.
Sitting at a short 10-minute drive from Broome town centre, in Minyirr Park, Gantheaume Point is where the ochre red cliffs meet the intense aqua blue of the Indian Ocean.
You can come here even if you don't have a 4WD. Just make sure to plan your visit according to the tide times, as the dinosaur footprints are revealed only when the tides are very low.
Keep reading for more insider tips about Gantheaume Point, Broome, to make the most out of your trip!
Table of Contents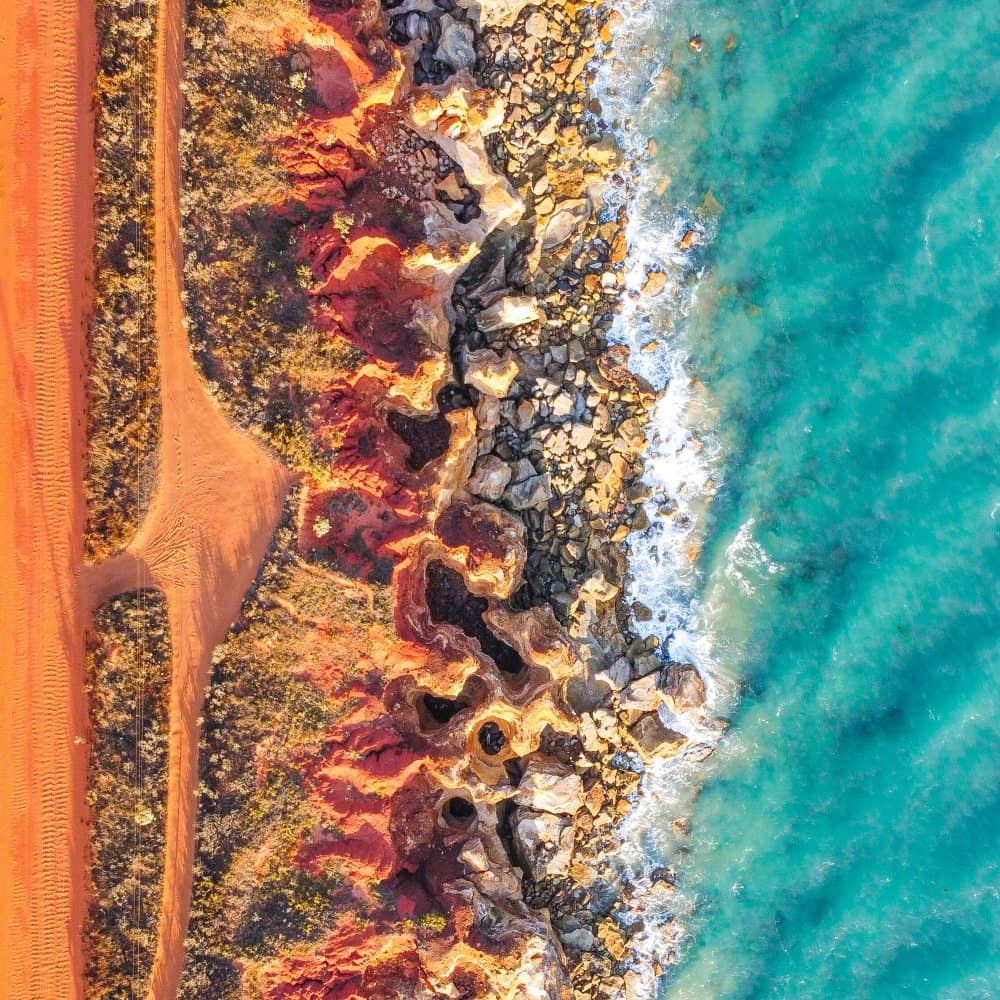 How to get to Gantheaume Point?
You'll get to Gantheaume Point Road after an easy 10-minute drive from Broome's centre. The carpark has a designated area for vehicles, and there's parking available at Broome Turf Club too. It is a dirt road and sometimes corrugated so just take it slow.
During the dry season, there's a bus that takes you there a little before 8 am for early-morning walkers. You can check the updated timetable here.
When is the best time to visit Gantheaume Point?
Much like other spots in Broome, the best time to visit Gantheaume Point is during the dry season (between May-April to October-November).
Now, the best time of the day depends on what you want to do, as activities will vary according to the tides. You can check the lighthouse at any time of the day, but the dinosaur footprints are visible only during low tides (more on that below).
This place has a few rock pools as well, not as many as Coconut Well, though. They will fill during high tide, some of them from the bottom, so be careful if you want to swim in them. A strong tide could drag you out and there are no lifeguards here.
When swimming there is a risk of Crocs as well. While not as common around Broome, you do need to be wary when swimming.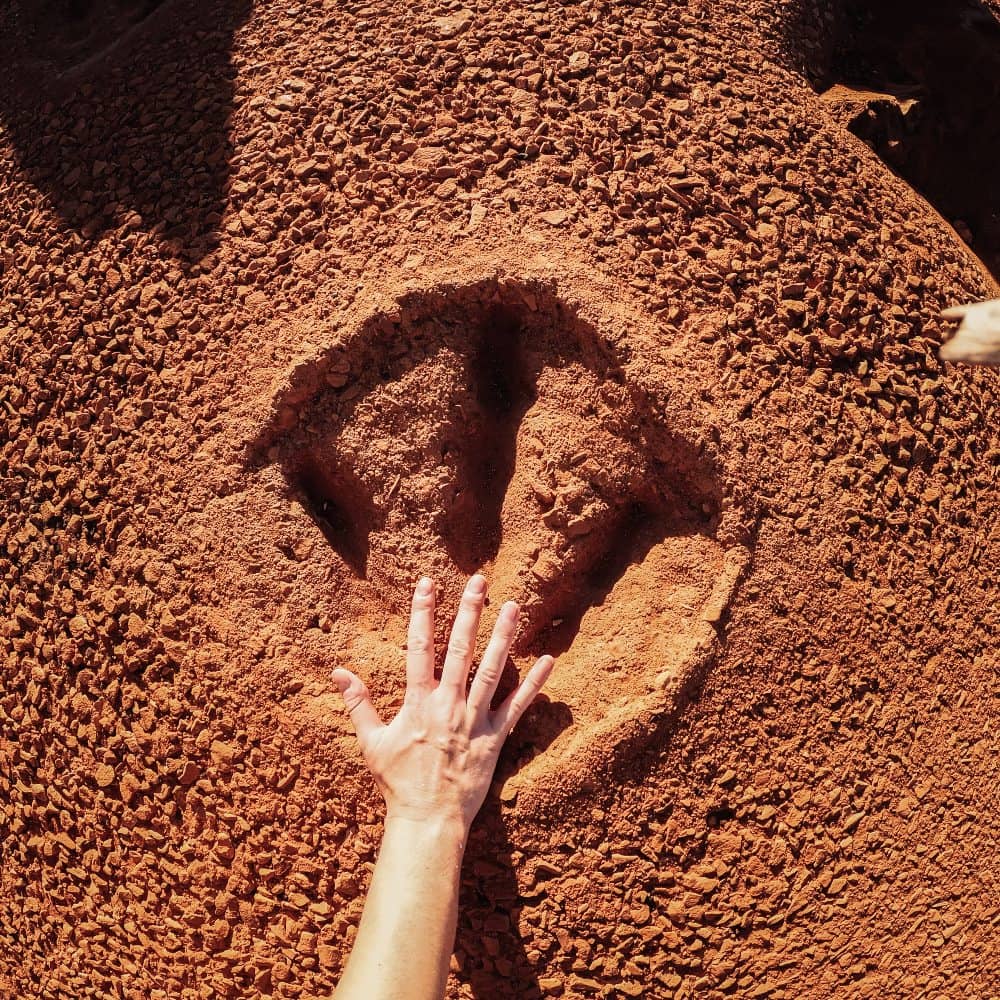 Dinosaur footprints: Real prints you can walk up to!
Gantheaume Point is so popular because it's one of the best paleontological sites on the planet.
7 types of dinosaur tracks have been identified in this spot, along with a few plant fossils. They are visible in the exposed reef rock, but only during very low tide (below 2.16m). From the carpark, head north to get to this spot.
This is because 130 million years ago, the landscape in this corner of Western Australia was a massive river delta, with spongy coastal marshes. Long extinct dinosaurs roamed the sandy tidal flats, leaving their footprints for future generations to see.
Now, Broome has one of the largest tidal ranges on earth, so carefully plan your visit by checking the tide times on the website of the Broome Visitor Centre, here.
Recommended tour: Dinosaur Footprints Adventure Tour.
Gantheaume Point Lighthouse: A 100-Year-Old Steel Tower
First built in 1906 to stand guard over Gantheaume Point, Broome's lighthouse has been rebuilt a few times. The current skeletal steel tower was built in 1984.
If you visit today, you'll see the remnants of the chimney of what once was the lighthouse keeper's house, which was built early in the 20th century.
The most famous owner of this house was Patrick Percy, one of the early lighthouse keepers. He lived there early in the 20th century with his wife, Anastasia.
After they passed away, the house exchanged owners a few times until it fell into disrepair. Around 1970, the property burnt to the ground, except for the stone fireplace and chimney.
The last time we went, there was a beautiful osprey nest in the lighthouse. Keep your eyes peeled for it!
Anastasia's Pool: Remnants Of A Natural Spa Pool
Yes, this sea bath is named after Patrick Percy's wife, Anastasia.
The story goes that she suffered terribly from arthritis, but bathing in seawater helped. So, Patrick Percy constructed this natural pool, so Anastasia could swim and exercise in this therapeutic warm water and ease her symptoms.
However, most of this construction was destroyed in 2014 due to wild weather. The Shire of Broome decided against repairing it, as doing so could do significant damage to the surrounding environment.
Top Tips
We recommend spending at least 1 hour here during low tide, so you can have the once-in-a-lifetime experience of walking along dinosaur footprints.
However, if that doesn't catch your interest, the contrast between the red sandstone cliffs and the turquoise waters will – they make for incredible pictures! It's mindblowing to see the sunset from this spot as well.
And whatever thing you decide to do, make sure to bring reef shoes. Your feet will thank you.
This is an unbelievable spot for a scenic flight as well. If you can afford it, go for it – you won't regret it.
Recommended scenic flight: Broome 30-Minute Scenic Helicopter Flight
Did you know?
The French explorer Nicolas Baudin named this spot Gantheaume Point in honour of Honoré Joseph Antoine Ganteaume, a navy officer.
Nicolas Baudin came to this area early in the 19th century, for an expedition to map the coast of Australia, then known as New Holland.
FAQs
Do you need a 4WD to go to Gantheaume Point?
You don't need a 4WD to go reach Gantheaume Point, as the dirt road is usually in very good condition.
There's parking in the turf club nearby. From there, it's just a short stroll (10 minutes) to Gantheaume Point.
Can you swim at Gantheaume Point Broome?
Yes, you can swim at Gantheume Point (Broome) in some of its rock pools and at the beach. But be cautious, as no lifeguards patrol this area.
What is the house at Gantheaume Point?
The house at Gantheaume Point (Broome) is known as "The Point House". It was built on the original foundations of the lighthouse keeper's quarters, becoming a privately owned property.
The real name of the property is Gnarangannie, and it's now a venue for private events.
The bottom line
Gantheaume Point is a place where you can laze the day around the stunning turquoise water during high tide, and walk along the dinosaur tracks embedded in the red sandstone cliffs during low tides.
However, it's not the only thing the Broome peninsula has to offer. There are dozens of free activities to do in Broome to make your trip unforgettable.
FREE Guide: 30 ways to work remotely so you can travel when you want
This PDF has ALL the tips and tricks we've learned over the years to be the digital nomads we are today.
These are tried-and-tested ways we've used to earn money from anywhere – only a laptop with internet is needed!