Top 15 Things To Do In Alice Springs, Australia's Red Centre
Located in the geographic, centre of Australia, those who consider Alice Springs somewhere that you should just "pass through" are missing out on a lot.
Start the day at sunrise with an early morning hike, take in a little history, immerse yourself in ancient culture, plunge into a peaceful waterhole or round out the day with an unforgettable sunset on Anzac Hill.
Seriously!… This is just a taste of what's on offer around Alice Springs, in Australia's Northern Territory. For our pick of the crop (in no particular order), read on…
1. Anzac Hill
Illuminated by the soft warm tones of dawn, Anzac Hill was unveiled and dedicated on Anzac day in 1934, honouring those who served in World War 1.
A sacred sight known as Untyeyetwelye, significant to the Central Arrernte women, the view from this peak that presides over Alice Springs, gives real meaning to the reference, "Red Centre".
As the sun sinks into the horizon with it's last rays against the desert, Anzac Hill offers a sunset panorama over the township, The MacDonnell Ranges and Heavitree Gap that is worth taking in at least once during your visit.
2. The Alice Springs Desert Park
Roam through the Desert Rivers region and it's surprising array of aquatic life, spot lizards in the quintessential arid landscape of the Sand Country before winding up in the Woodland where you just might encounter an emu!
Getting "lost" in the desert is not the only thing to do at Alice Springs Desert Park. Feel the adrenalin rush as a raptor whizzes by in the free-flying birds of prey show in the Nature Theatre.
Or for something completely different, check out the local "nightlife" at the Nocturnal House – there is a lot more going on than you might expect!
3. The Alice Springs Telegraph Station
Marking the mid-point of the old telegraph line between Adelaide and Darwin, the Alice Springs Telegraph Station offers a sneak peek into the history of central Australia.
It's not far from town, so pack a picnic and mingle with the Red Centre residents on a Sunday morning. Walking tracks and mountain bike trails will keep you busy until well into the day.
4. Star-Gazing
Whether you're an amateur astronomer, professional photographer, or old-fashioned romantic… this is stargazing at its best!
Without the distraction of light and chemical pollution, the inky black clear desert sky is the perfect place to roll out a picnic blanket, camp the night, and soak up the spectacular celestial view.
Enjoy the show for free, or take advantage of a tour for some expert enlightenment.
5. The School of the Air
Learn more about remote living and visit "The World's Largest Classroom" at The School of the Air.
Groundbreaking techniques allow remote students on cattle stations to attend lessons despite their physical isolation.
This world-renowned outback legend – only a five minute drive north of the Alice Springs town centre – will completely change how you view the educational experience.
6. Parrtjima
Modern technology showcasing an ancient culture against a 300 million-year-old backdrop!
A statement that is hard to comprehend, this very special festival in light (held annually at the Alice Springs Desert Park) allows artists to represent the aboriginal culture in traditional, yet innovative ways.
7. Todd Mall Markets
You haven't really been to Alice Springs if you haven't wandered through the Todd Mall on Market day.
Held every second Sunday, the Todd Mall Markets are a great place to pick up a memento of your journey through central Australia, and to sample some delicious food. Taste your way through Thai, Indian or Vietnamese treats, and you can't leave without slurping on a legendary mango smoothie!
8. Simpsons Gap
Vibrant red rock walls open up a blue sky, while the snow gums blur the line between reality and reflection in the waterhole's surface.
Simpsons Gap is one of the most prominent and well-known of "the gaps" in the West MacDonnell Ranges. It is also the closest to Alice Springs, so if you don't have a vehicle, you can get there in the Alice Wanderer hop-on/hop-off bus service. Or for the fitness lovers, it's a 17km bike ride from Alice Springs.
A great place for a day out, with barbecues on hand, and numerous walking trails in the area.
Swimming is not permitted here because the scarce water supply is reserved for the local flora and fauna.
9. East Macs
Only a short drive from Alice Springs – and in the opposite direction to most of the tours – is the East MacDonnell Ranges.
Emily and Jessie Gaps are just two of the hidden gems here, with the Arrernte people's Caterpillar Dreamtime story depicted in the beeswax, fat and ochre paintings.
Travel just a little further to Trephina Gorge, and if you have a 4WD vehicle, on to the picturesque John Hayes waterhole for a great day out.
10. West Macs
Simpsons Gap is not the only highlight in the West MacDonnell Ranges… With some great waterholes which you are permitted to swim in, and not too far from Alice Springs, it is worth grabbing your swimwear and heading for Ellery Creek, Palm Valley, Ormiston Gorge and especially Glen Helen for a cool dip.
Check out our YouTube video above for our 4wd adventure through the West MacDonnell Ranges to Palm Valley. Such an awesome adventure!
Some waterholes, such as Simpsons Gap, are protected both for their cultural significance and the wildlife, while the rich red rocks are the source of the Arrernte people's Ochre Pits.
If you don't have a 4WD, don't despair, most places are still accessible by 2WD.
11. Olive Pink Botanic Gardens
Quirky Australian botanical illustrator, Olive Pink developed the garden back in the 1950s.
As a reserve for arid region flora, it is also a haven for the local fauna. If you're lucky, you might even encounter some of the native residents that are almost as quirky as the garden's namesake!
This a great place for an early morning walk with some wallaby-spotting thrown in for good measure, followed by a coffee at the café in the Garden.
12. Standley Chasm
I know we usually recommend an early morning or late afternoon expedition to see the geology at it's finest with the slanted rays of the sun highlighting the colour in the rock… Well this is one occasion where we tell you to throw that advice out the window!
Just over half an hour's drive from Alice Springs in the West MacDonnell Ranges, and an easy 20 minute walk in through a surprisingly green gully dotted with plants from a pre-historic era, is Angkerle Atwatye "the Gap of Water"… the magical Standley Chasm.
Although beautiful at any time of day, the dramatic 80 metre sheer rock face is absolutely magic around midday when the overhead sun shines directly in, reflecting brilliant orange off the walls. Contrasting against the electric blue sky, this image is worth capturing as an unforgettable memento of a Red Centre adventure.
13. The Araluen Cultural Precinct
This is the beating heart of the rich artistic and cultural identity of Alice Springs.
Featuring four art galleries, most notably the Albert Namatjira Gallery, the Araluen Cultural Precinct encompasses the arts centre, museums, a craft centre and Aboriginal sacred sites.
This precinct will inform, enlighten and entertain with one-of-a-kind events such as The Alice Springs Beanie Festival and the nationally significant Desert Mob exhibition.
Definitely worth a visit!
14. The Larapinta Trail
Tackle the full 230km, or do a day trip to one of the 12 sections, to see for yourself what makes this walking trail rank as one of the Top 20 Treks in the world!
Starting at the historic Alice Springs Telegraph Station, with nearby highlights including Simpsons Gap, Redbank Gorge, Ormiston Gorge and Standley Chasm, and reaching it's end – the highest point – at Mount Sonder.
The legendary Larapinta Trail will have you in awe as you walk in the footsteps of the Ancestors.
15. Hot Air Ballooning
Float silently and weightlessly alongside the West MacDonnell Ranges. Breathe the still cool air as the light of dawn creeps over the landscape, warming the desert oaks and mulga scrub, awakening the unique outback wildlife as it rises.
A ride in a hot air balloon is a truly unforgettable bird's eye view of this ancient Red Centre of Australia that is strangely both exhilarating and peaceful all at once.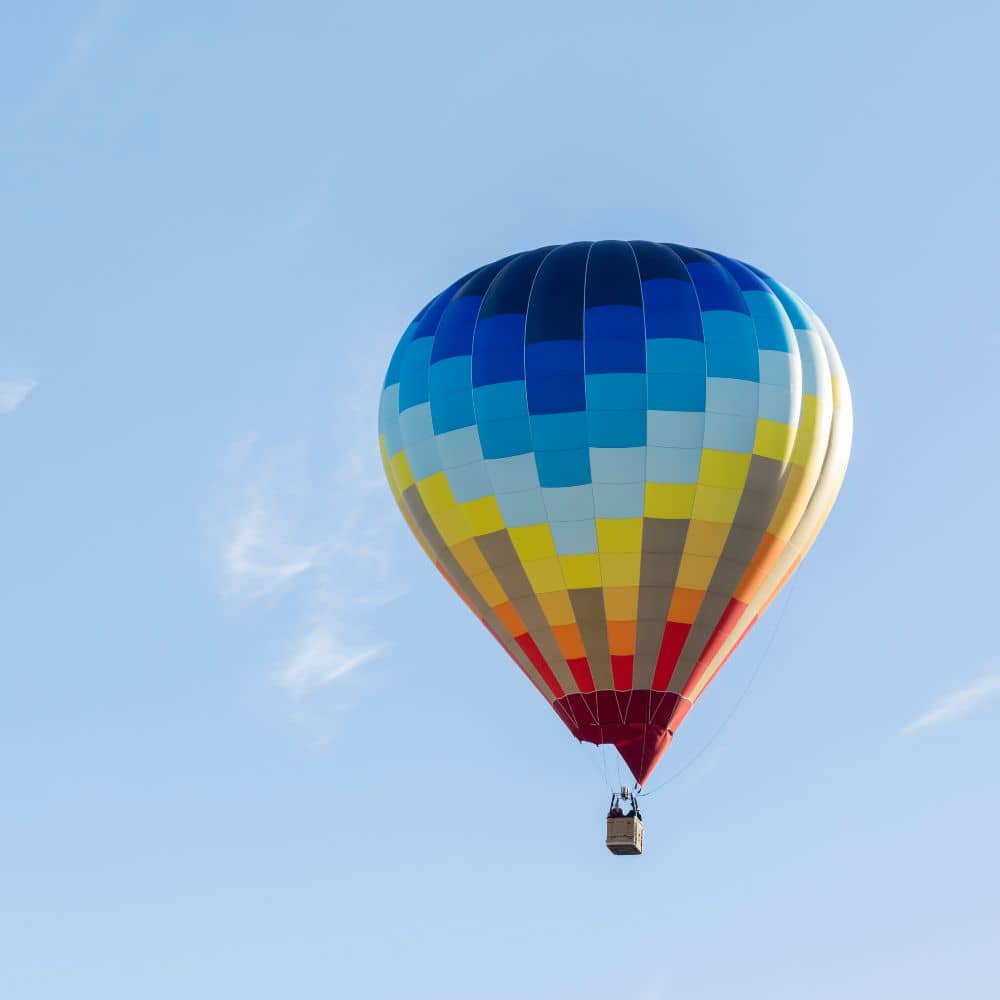 Festivals
Forget the horses! Follow the camels as they race around a dusty track.
Put your running shoes on to race a boat down a dry riverbed.
Immerse yourself in Aboriginal art, or see the 300 million-year-old MacDonnell Ranges brought to life with the light and sound of Parrtjima, Australia's longest light show installation.
Are you in search of the perfect knitted hat?
Maybe you will fulfil your quest at the Alice Springs Beanie Festival, or find a new sporting passion at the Apex Camel Cup, or the Henley on Todd Regatta.
Alice Springs abounds with quirky festivals and events each year – there really is something for everyone!
Top Tips
Plan your time with your length of stay in mind to make the most of your visit… And if you have any special interests, then check out what's on before you go.
Always be hot weather-wise, even in the winter season the daytime temps in the outback can be high.
If you visit Standley Chasm (of course you're visiting Standley Chasm), there is a free camp just outside, and a great coffee shop!
Whether you have a couple of days, or a couple of weeks. If you like a leisurely bike ride, or a challenging hike. If you are a history buff, or an art enthusiast. If you get up with the sparrows or are more like a night owl… No matter what your interest, there is something for everyone in this beautiful, sunburnt, sacred Red Centre of Australia.
Best time to visit
If you want to make the most of all that Alice Springs has to offer, then aim for a visit during April to October. The days are warm and the nights are cool. The weather is generally fine and sunny. Outside of these months, the daytime temperatures soar to a level that can make many activities difficult or dangerous. Access to most areas is also much easier in the drier cooler months, with some areas or attractions closing to the public when temperatures become high enough to risk safety.
Is it worth visiting Alice Springs?
With so much to see and do, why wouldn't it be worth it?! The beautiful clear and warm winter days allow for a huge range of activities and events that are unique to this spectacular part of Australia's outback. One-of-a-kind attractions with historic and geological significance to explore, art and sacred sites of the aboriginal people to experience, make Alice Springs a must-do destination on anyone's bucket list.
Is it safe to walk around Alice Springs at night?
Yes, if you exercise common sense… Like many towns and cities, you wouldn't walk into a dark alley, or home alone at night. The same recommendation applies to Alice Springs. Grab a cab if it's getting late and avoid places like Gap Road and the Todd Mall after 10pm.