The Ultimate Guide To The Best Swimming Spots In the Northern Territory
The Northern Territory may be the warmest region in Australia but also happens to be crammed with the biggest range of stunning natural pools to cool off in.
From palm-framed hot springs to massive single-drop waterfalls – we're calling it, the Top End has the best swimming spots in Australia.
We have made the ultimate list of the best swimming holes that you need to visit below. We've made sure to include all the off-the-beaten-track swimming holes for adventure seekers, plus, for a relaxing swim, we have added the most "picture perfect" spots to cool off too.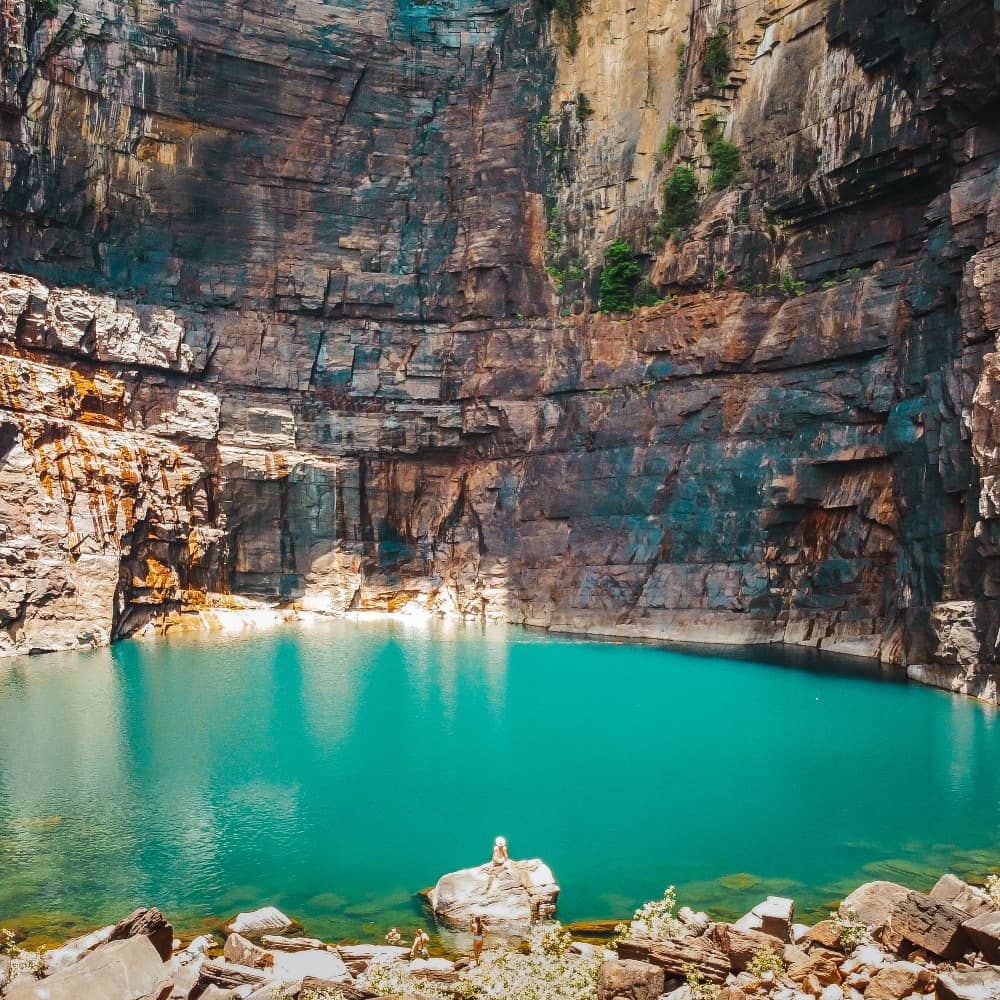 The top end doesn't only boast remote gorges and rockpools but also significant history. These swimming holes are millions of years old with many being marked with sacred Aboriginal art. These markings tell a story of a time, up to 60,000 years ago!
Some of our highlights have been immersing ourselves in Australian culture and history, all while soaking up the turquoise-coloured, crystal-clear water. Some water has been so clear that you can actually see little barramundi swimming below you!
Get to know some of the best places to rinse off that dry season dust or wet season sweat, and dive into our list of the top Northern Territory swimming holes below.
Table of Contents
Best Time to Visit
It's important to note that the Northern Territory has a tropical climate. The wet season (November to March) brings humid summer rain, storms, and even cyclones. Even though swimming holes can be spectacular to see at this time of year, there can be closures due to safety.
For this reason, most people opt to visit in the Dry Season (April to October) due to providing more consistently warm and dry weather. To avoid disappointment, always check local alerts before visiting swimming holes in the NT!
1. Florence Falls, Litchfield National Park
The traveller's favourite. This double waterfall cascading into a secluded plunge pool, surrounded by emerald green monsoon forest, might just be one of the best-kept secrets in Litchfield National Park.
Florence Falls can be one of your first stops in Litchfield National Park, and its unique beauty will make you even more excited to see the rest of the park.
The 1km Shady Creek Hike will take you to the falls, 45 minutes in duration, with a spectacular panorama over the waterfall on your way in. Take the "shortcut" of 162 steps down and be rewarded with this fantasy-like waterfall. Leave early and beat the crowds, chill out on a rock surrounding the pool and soak in the quintessential Top End scene.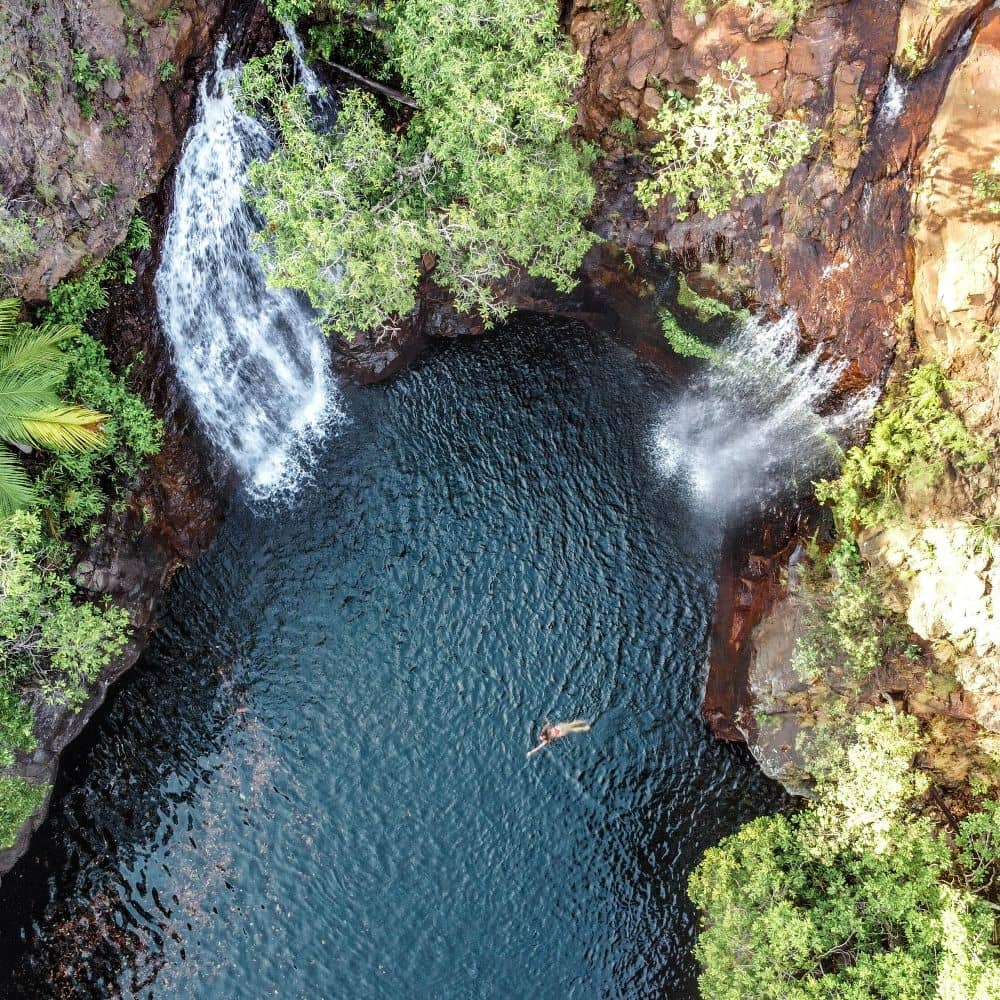 2. Buley Rockhole, Litchfield National Park
The locals pick. This is a swimming spot with choices… Natural spa choices!
Only an hour and a half from Darwin, join the locals at Buley Rockhole, Litchfield National Park, and laze the day away in one of the plunge pools, before drifting into the fast-moving rapids for an energising massage after a day of exploration.
A series of small waterfalls feed this collection of rock holes, you can hike up to find an endless supply of natural spas to choose from. It's worth packing a picnic lunch, as Buley Rockhole is not too far from Florence Falls.
For a little more fun, why not stop in for a visit at Berry Springs Nature Park on the way to Litchfield too?
3. Jim Jim Falls, Kakadu National Park
Our personal favourite. Jim Jim Falls takes the title of "Best Swimming Hole in the NT" from us! The waterfall below is closed for 6 months of the year, during the wet season it transforms from a dry popular swimming hole – to a raging waterfall that can only be viewed from scenic flights in the sky!
This remote waterfall, accessible by 4WD track only in the dry season is utterly amazing!
As the raging torrent throws itself over the 200-metre tall cliff during the wet season, and only a little trickle dampens the towering rockface during the dry season… No matter the season, this is one of the most spectacular swimming spots in the Northern Territory. The sheer scale of Jim Jim Falls when you are standing at the base craning your neck upwards is truly something to behold!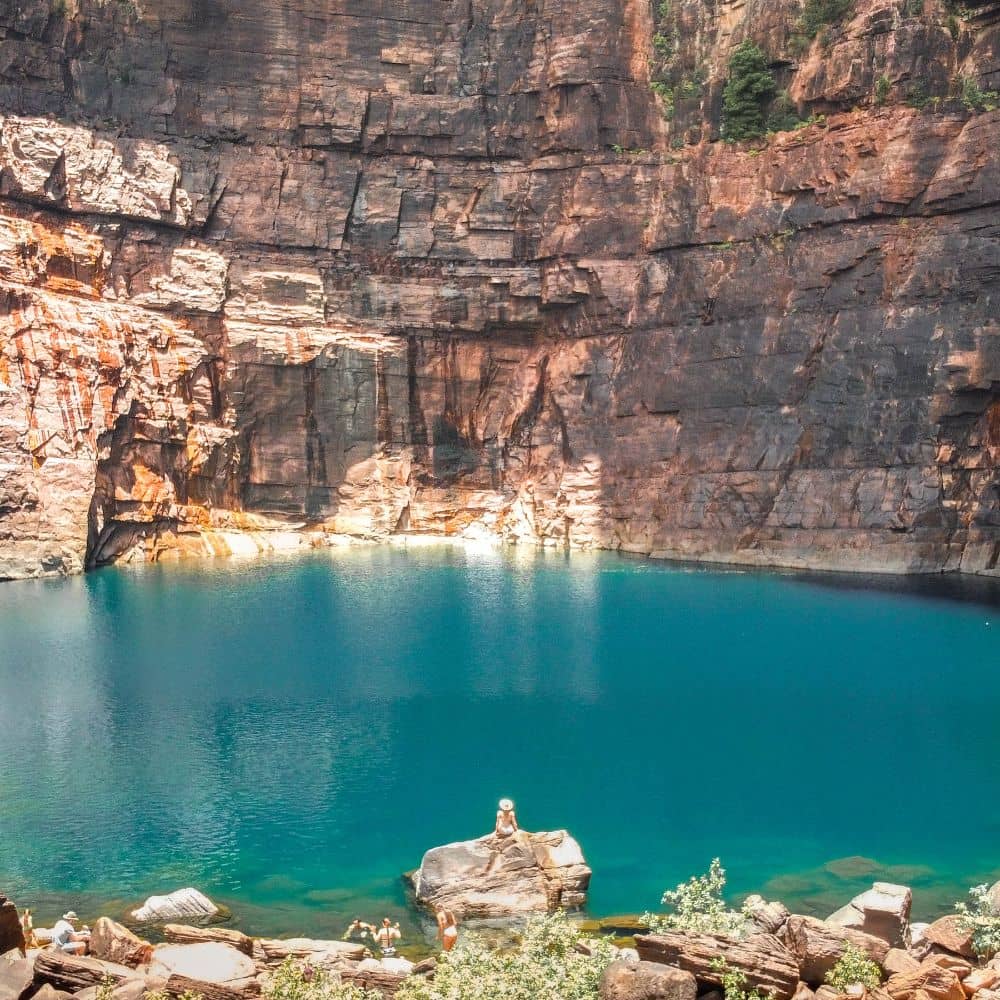 This is where you can see the barramundi fish swimming at the rocks below you in the clear turquoise water. Be warned though, that the hike – is extremely hard. Lifting your body over boulders to get in, in the scorching sun. The hike is better attempted early in the morning (we went at midday! We do not recommend). Fortunately, you are rewarded the whole hike with all the different pools to stop and relax at.
A 2km, 3-hour return hike, plus plenty of time to spend soaking up the awesome sights, Jim Jim Falls really needs to be awarded a whole day from a traveller. There is a campsite nearby, called Karnamarr campground, which you can stay at outside of the 4wd track. You can read more about it here.
Whether by 4WD during The Dry, or a scenic flight at the height of its flow during The Wet, Jim Jim Falls in Kakadu is a must-see.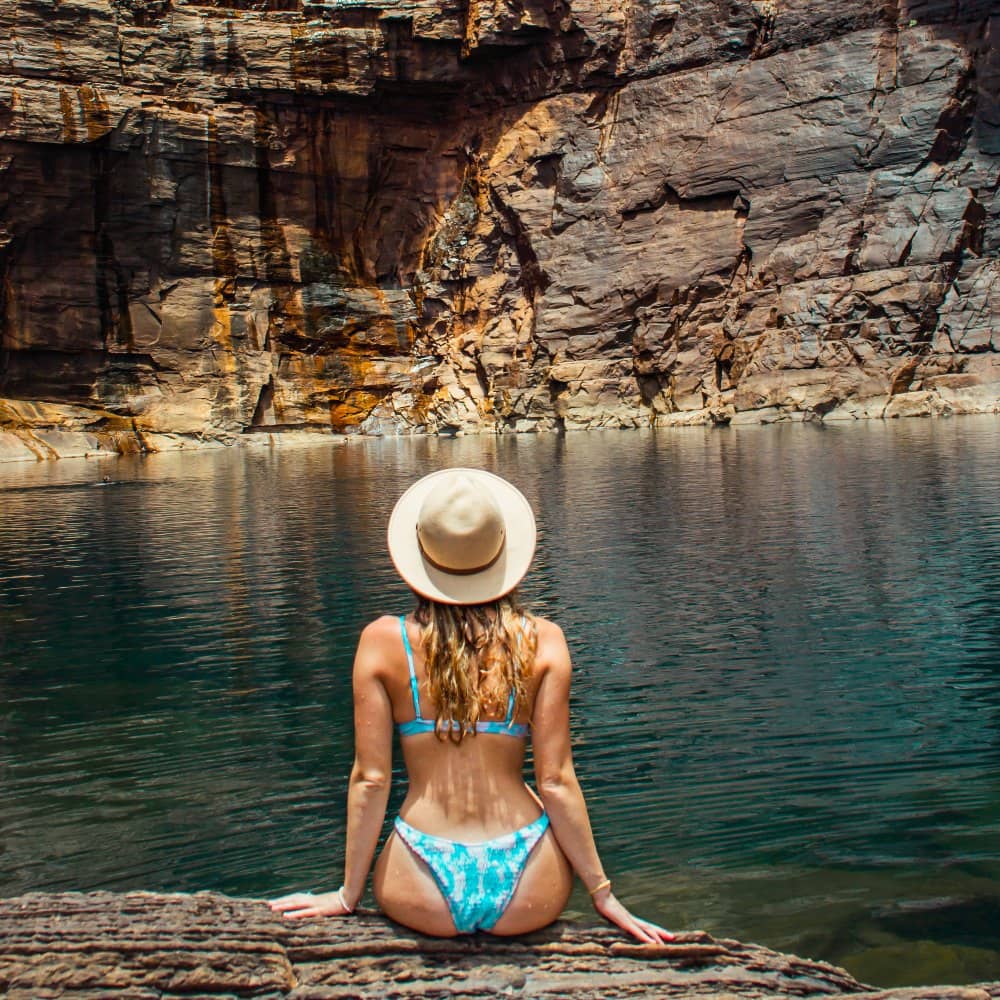 4. Bitter Springs, Elsey National Park
Nestled in the northern end of Elsey National Park is a rare find, Bitter Springs. We have been to 3 main thermal-fed springs in the Northern Territory, and this would have to be our favourite of them all – for a few reasons.
Firstly, the water colour is the brightest turquoise I have ever seen, it's like looking into a gemstone. Underwater, make sure you bring a snorkelling set, the water is so clear. If you swim upwards you can find little caves with long-necked turtles inside.
Or drift downstream on a floatie and allow the soft current to take you to the other end of the swimming hole. It's a long relaxing drift, highly recommend.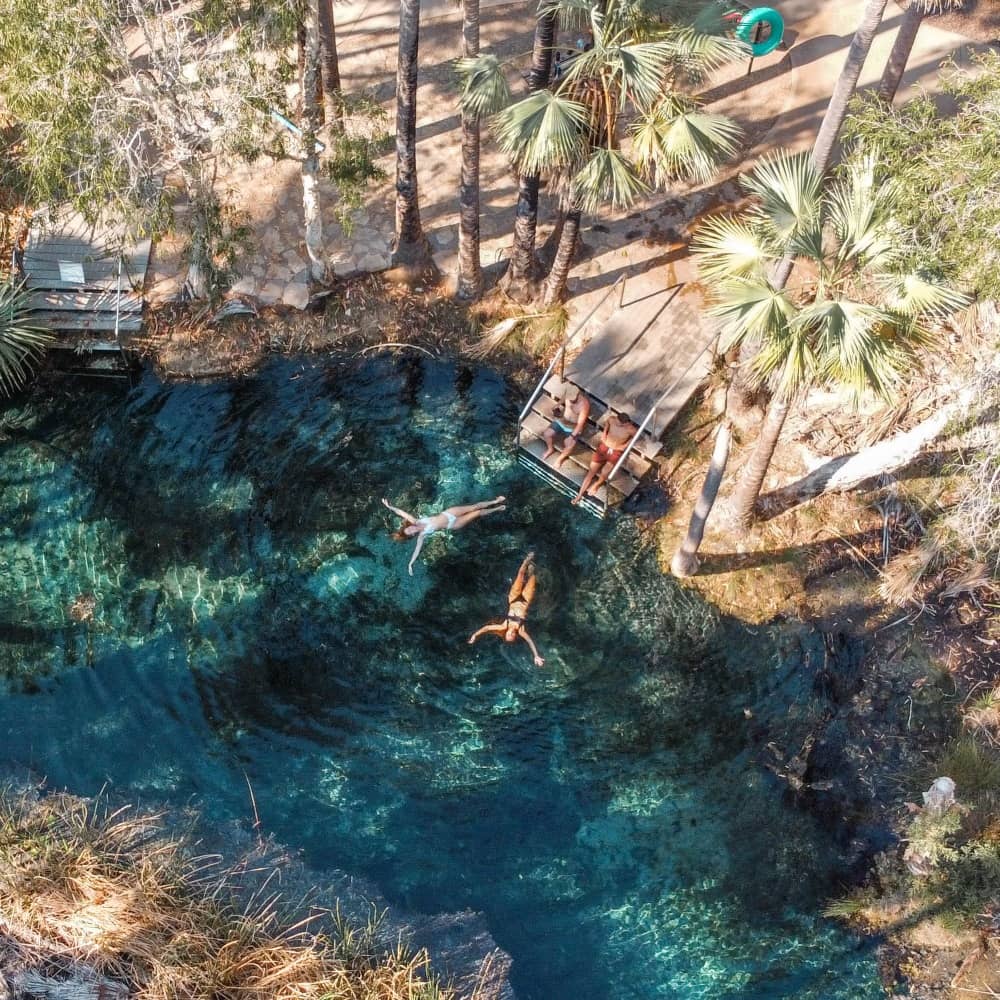 There are nearby camps and accommodations just 500m away at Bitter Springs Cabins and Camping. The palm-lined pool is easy to access with a walkway and stairs to get in. There's a picnic area with amenities too.
Like all good things, you have to share this place… with the local fruit bats. They can give off quite a strong odour at certain times of the year. During the day you might see them sleeping, and at dusk, you will see them flying around. They are harmless just give them some space like they give you.
Bitter Springs is a favourite camping getaway for many Darwin locals and it's easy to see why.
5. Edith Falls (Leliyn), Nitmiluk National Park
You'll find this gem located in Nitmiluk National Park, home of the famous Katherine Gorge. Nitmiluk was named by the traditional owners, the Jawoyn people, and it means "Cicada Place".
This special watering hole is the final destination for hikers on the popular Jatbula trail. A 62km one-way hike takes around 6 days, so if you see an exhausted hiker here you will know why! Maybe offer them one of your muesli bars or water if they look a bit worse for wear.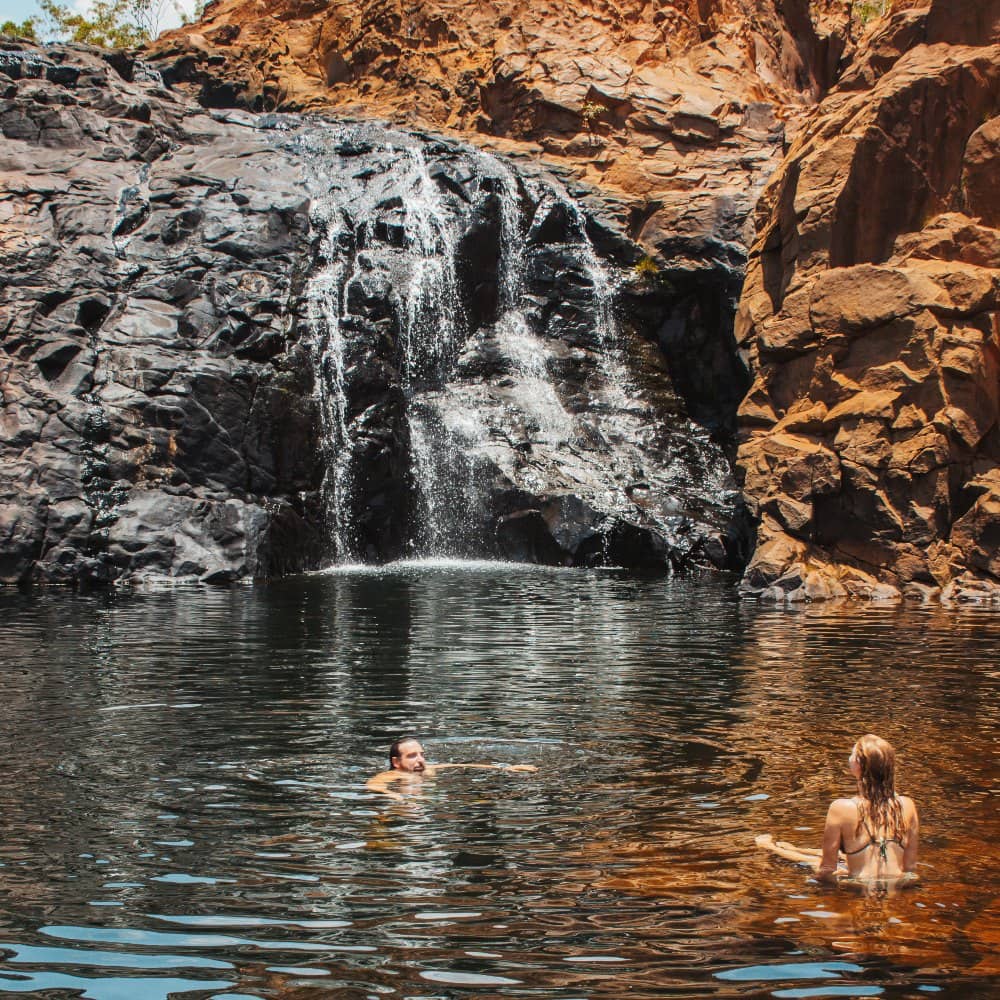 There are a few different swimming holes to choose from around Edith Falls, including Leliyn Loop Walk to the upper pools, Sweetwater Pool, Edith Falls (pictured above), and Edith Falls Plunge Pool (pictured below). Near the plunge pool is a campground for visitors and there are many other accommodation options near Nitmuluk National Park.
From the upper pool, you can swim under the cool waterfall which feeds the rock holes below. Float around on a noodle, or chill out on a rock like a goanna, but be careful as it's surprisingly easy to get sunburnt here.
Mataranka Thermal Pool, Elsey National Park
Not too far from Bitter Springs, is the famous sandy-bottomed pool at Mataranka, in Elsey National Park. Mataranka is a small town just over 100km drive south of Katherine.
Thermal water rises from deep underground into this pool, making it a favourite stop during the cooler Dry Season for its consistently warm +30°C water supply.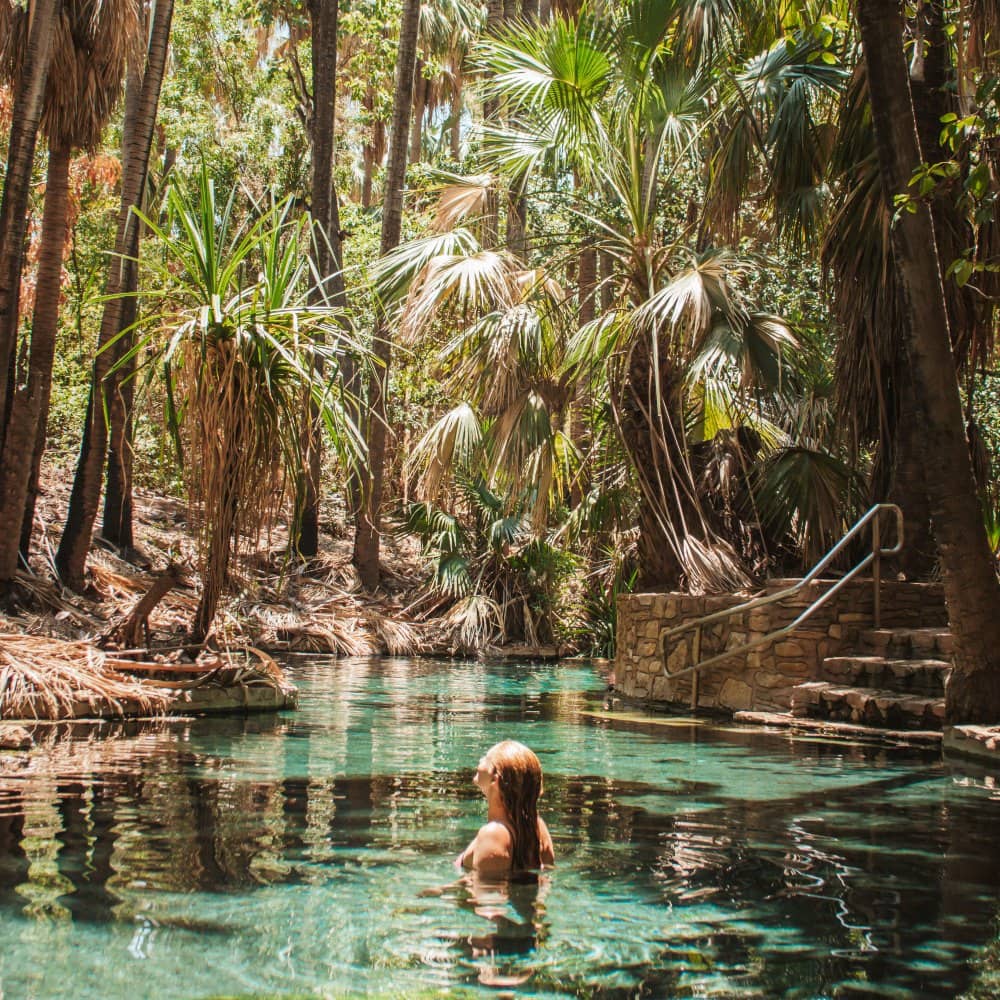 There is a bar/restaurant located nearby plus accommodation and campsites available too. We spent the whole afternoon chilling out here before wandering back to camp late in the evening.
A beautiful bright blue, shaded by cool palms and paperbarks… For us, Mataranka Springs was perfect!
The water at Mataranka Springs was some of the clearest water we have ever come across. When you get to the main carpark, keep an eye out for the resident peacock who likes to put a show on for the ladies.
7. Gunlom Falls, Kakadu National Park
Mother Nature has placed an infinity-edge pool high on the Kakadu Escarpment.
A swim in Gunlom Plunge Pool is a swim unlike any other… Cool, glassy water encased in ancient sandstone, watched over by a few silent sentinels in the craggy steadfast trees that cling to holes within the rock. Nothing but blue sky above and the vast expanse of Kakadu laid out before you.
To spend time at Gunlom Falls is to truly appreciate the place that time forgot, Kakadu National Park.
8. Maguk, Kakadu National Park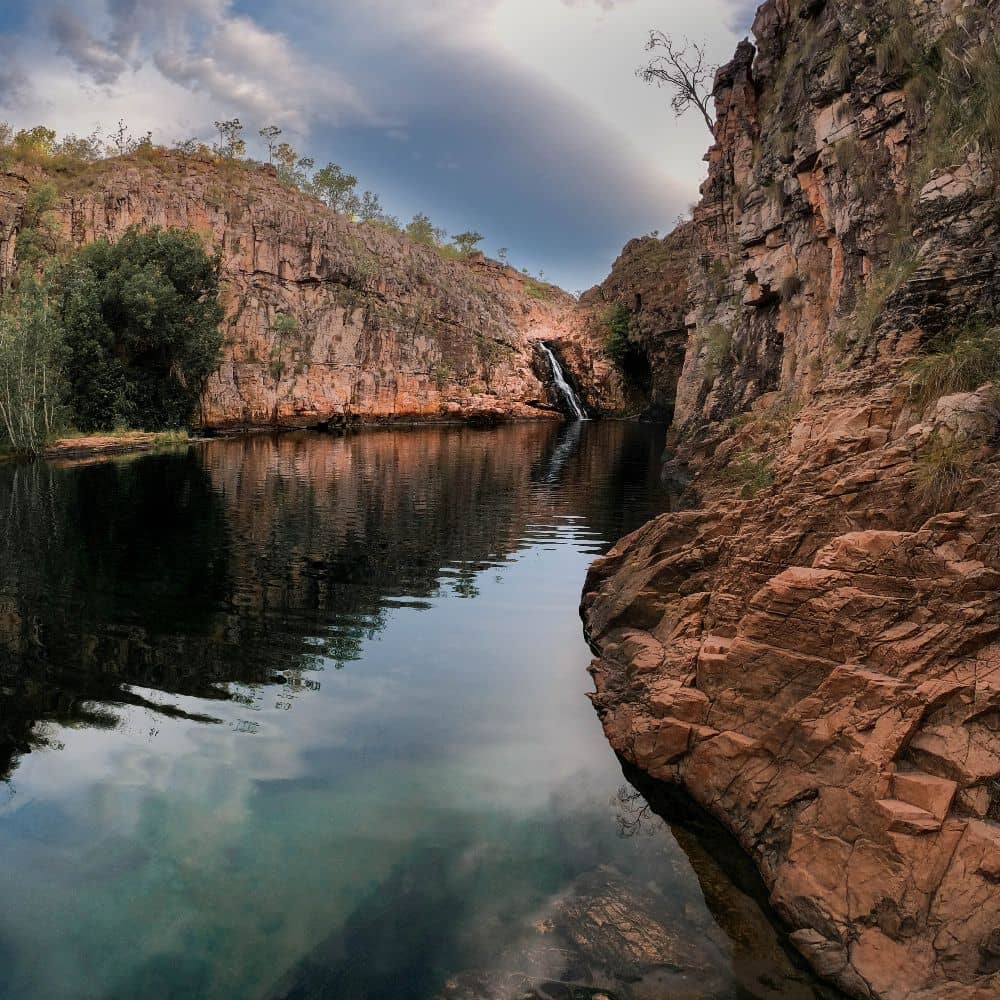 Maguk – also known as Barramundi Gorge – in the southern end of Kakadu, is a remote paradise.
The only way in is by four-wheel drive, but there are camps you can stay at here!
This most secluded of swimming holes is hidden within a monsoon rainforest, with the year-round waterfall creating a tropical bush tucker feast for the local Aboriginal people, the Jawoyn.
There's a secret upper section which you can swim in, a short walk away from Maguk Falls. We didn't find out about that till later!
9. Wangi Falls, Litchfield National Park
Pristine natural beauty right alongside a few simple creature comforts… Perfect any time of day, this is one of the most popular swimming holes in the Darwin region.
Nestled into lush monsoon rainforest, complete with lawns, picnic areas, barbecues, a kiosk for a snack or coffee, and best of all, a campground with hot showers!
Even with these touches of "luxury" you still feel like you are miles from civilisation, Wangi Falls is a welcome escape.
If you're lucky enough to be staying within the Litchfield National Park, then it's worth lingering until the daytime visitors dissipate. Enjoy the "golden hour" as it enhances the colour palette, and the local birdlife comes out to play.
10. Ellery Creek Big Hole, West MacDonnell Ranges
Rich red rock towers cradle the cold water at Ellery Creek Big Hole in the West Mac's. There's nothing like a cool dip to wash off the Red Centre dust.
An easy hour's drive from Alice Springs on a mostly sealed road, Ellery Creek Big Hole in the West MacDonnell Ranges is a welcome relief after exploring a nearby walking track or two.
When we went in July the water level was unusually low… It wasn't too enticing for a swim for us, but we really enjoyed stopping by to take it all in.
With barbecues and picnic areas, it's worth bringing lunch for a great day out.
There are camps available and facilities, so why not plan to stay a night in the bush campsite.
Some other great places to explore in the West MacDonnell Ranges nearby include Glen Helen Gorge, Redbank Gorge and Ormiston Gorge. Each has its own pool to check out!
11. Moline Rockhole, Kakadu National Park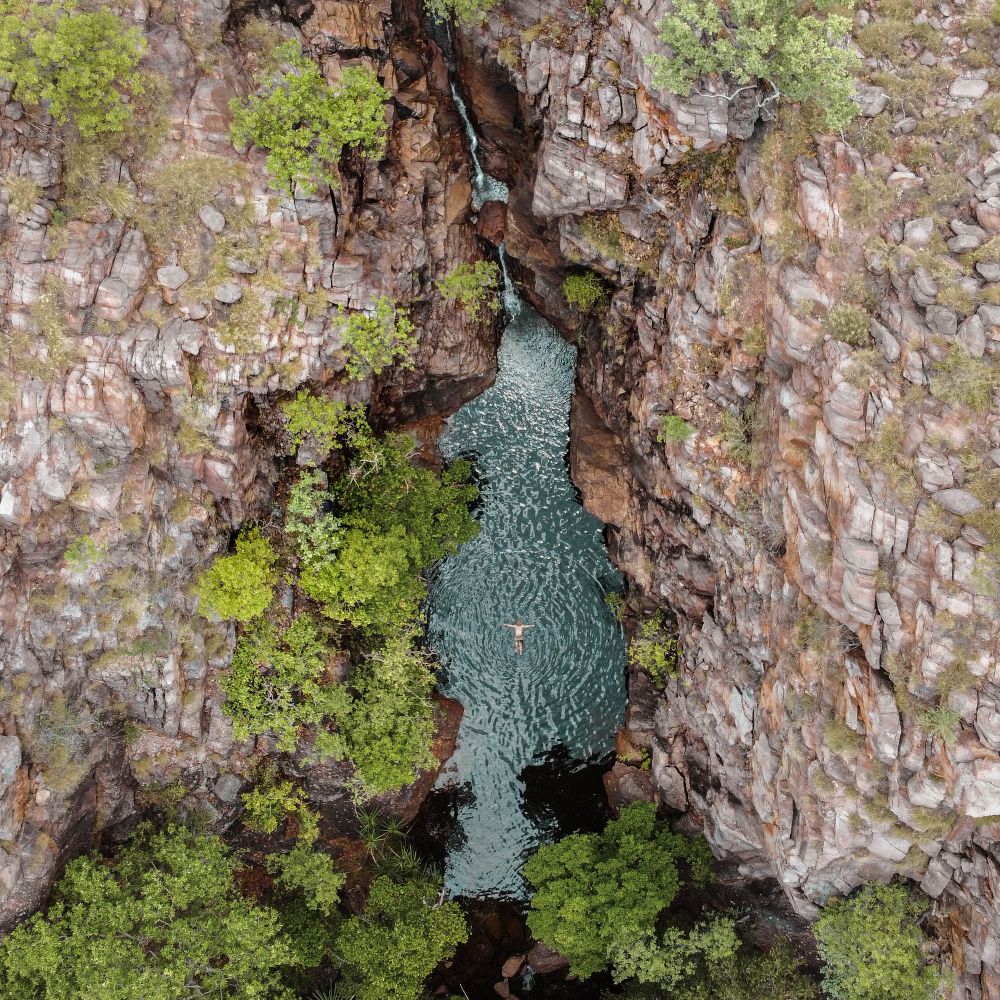 An "off the map rock hole" and a well-kept secret within Kakadu National Park, is Moline Rockhole, also known as Igoymarrwa in the local Aboriginal language
Not too far off the Kakadu Highway, Moline Rockhole is not signposted and is accessible only by 4WD. Tour guide numbers are restricted to reduce the environmental impact on the area and its swimming hole.
A gentle waterfall cascades over the warm rock into the cool clear plunge pool. This hidden gem is a great place to relax, refresh and escape the Northern Territory's daytime heat away from the crowds.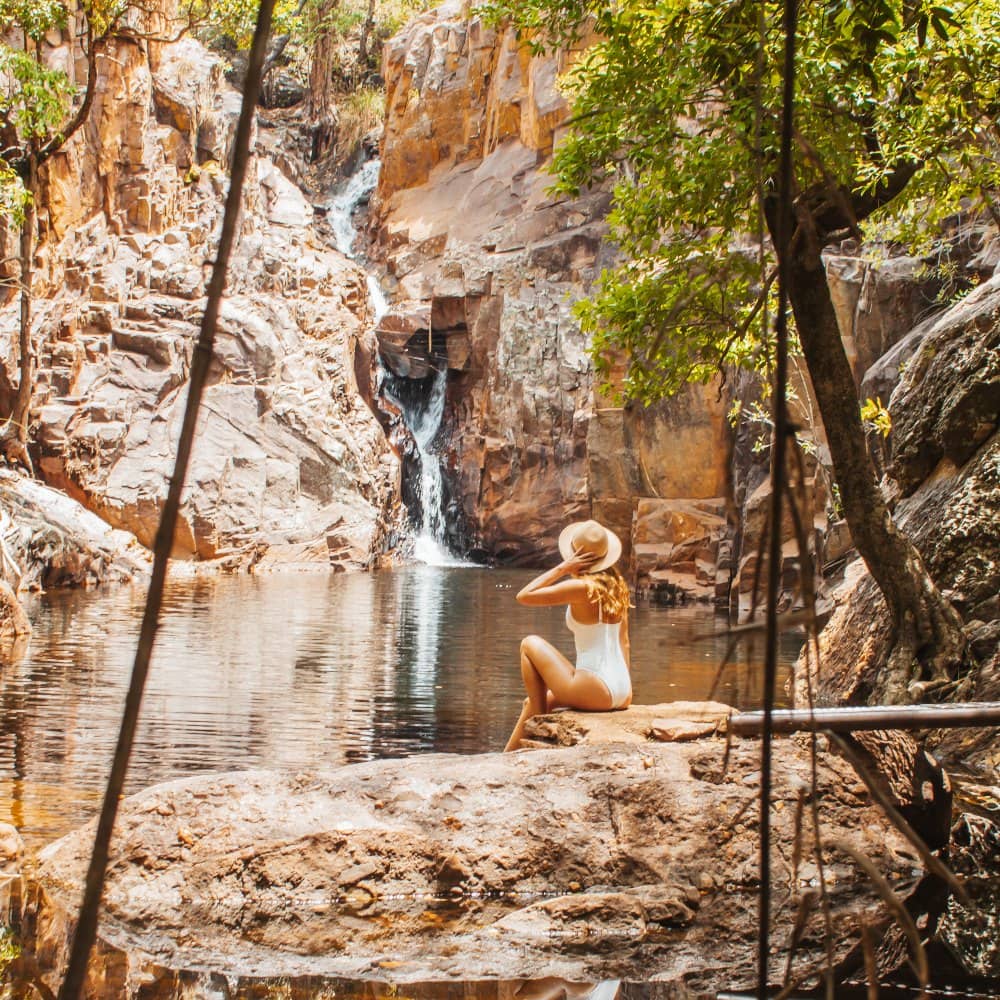 12. Katherine Hot Springs
Want to see the clearest natural pool ever?
Just five minutes from the township, on the banks of the Katherine River, is a series of natural spring-fed pools. The top pool, closest to the source is warmer, and leads down into a further five pools, including one that you can even swim laps in!
With great access for all levels of ability and fitness, visitors and locals alike soak in the waters with a reputation for their healing powers.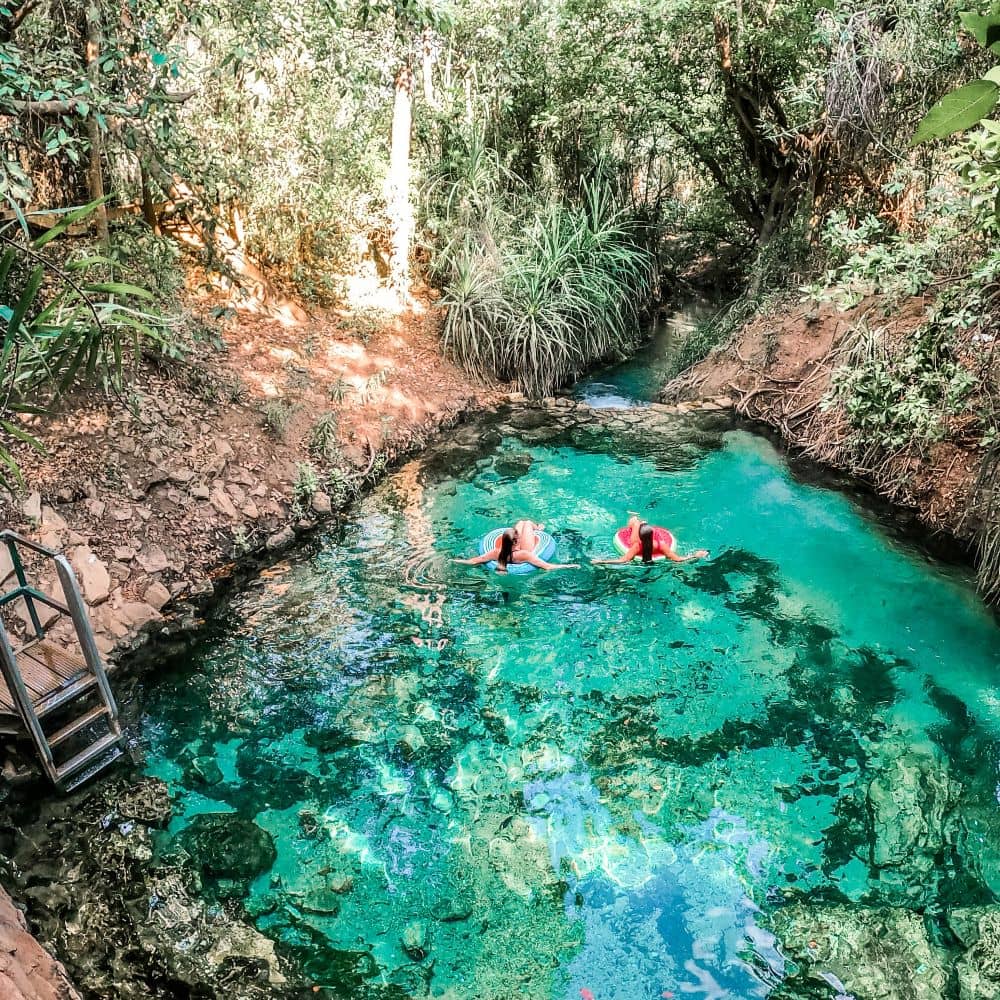 14. Darwin Waterfront
Looking for a change of pace from the adventure? Here's one for the whole family… No crocs… No probs and right on the ocean!
A tropical swimming hole with all the comforts of an international resort, Darwin Waterfront Precinct retains the friendly laid-back style so typical of the Northern Territory, combined with five-star facilities.
Lay your towel on cool green lawns with picnic areas shaded by tall swaying palms. Take a dip in the lagoon fringed by a sandy beach, or hit the surf in the wave pool for a little more action.
All this in a croc-free zone with first-class accommodation, restaurant, and entertainment venues overlooking this most sophisticated of Darwin swimming holes.
It is a wonderful bonus to be able to retreat to the relief of air conditioning, making Darwin Waterfront the perfect swimming hole for not just the Dry Season, but the tropical summer as well!
Top Tips
The longer you stay, the more secret swimming places you will find – such as Sandy Creek Falls in Litchfield National Park; Motor Car Falls in Kakadu National Park; Sweetwater Pool in Nitmiluk National Park; or even another small waterfall into a hot spring in the Katherine region.
Something to note about the thermal springs within Elsey National Park is that if there is any ripe fruit nearby, then expect an influx of flying foxes which can bring with it a little temporary water pollution and a somewhat "unique" smell!
Always bring more than enough water with you, and wear plenty of sun protection.
Be croc-wise and pay attention to warning signs.
Respect Aboriginal culture and local wildlife – your experience will be much richer for it.
Did you know?
The Mataranka area was made famous by the great Australian novel, "We of The Never Never", by Jeannie Gunn.
NT swimming holes are a unique and unmissable part of any journey to central or northern Australia.
While we have listed some of the top swimming holes, Northern Territory locals will agree, there are so many more to be found. It might be an inviting pool or stunning waterfall, a natural spa or cascading rock pools. Whatever popular swimming spot or secluded gem you may discover, it will always be a highlight. One of those memories you'll want to revisit.
The swimming spots of the Northern Territory give life. They offer relief. They are rich in cultural history… They are utterly beautiful.
FAQs
Can you swim anywhere in Northern Territory?
Not all waterholes are suitable for swimming. Some may have crocodiles lurking within, while other sites are sacred to local Aboriginal peoples. Other waterways support fragile ecosystems that may be at risk if visitors venture in.
Pay close attention to alerts, signs, and rangers in regard to crocodiles. Do not swim in places without signs. Rangers do their best to stay on top of crocodiles in public swimming places with traps and checking daily, however, we swim at our own risk.
Are there crocodiles on Darwin beaches?
It may seem a little hard to imagine a tropical capital city fringed by white beaches with surprisingly few enjoying the waters that lap the sand… but yes, there is the occasional saltwater croc catching a few rays on the beach!
There are also a couple of jellyfish with potent poison found within the surrounding seas. Don't despair, there are still safe places to swim – like the lagoon at Darwin Waterfront – just be aware of the warning signs that you see on beaches.
FREE Guide: 30 ways to work remotely so you can travel when you want
This PDF has ALL the tips and tricks we've learned over the years to be the digital nomads we are today.
These are tried-and-tested ways we've used to earn money from anywhere – only a laptop with internet is needed!