13 Free Things To Do In Alice Springs – Ultimate Guide to the Outback
Surrounded by stunning desolate desert landscapes and populated by laconic laid-back locals, Alice Springs is a one-of-a-kind town, rich in culture and history.
Spectacular views that change with the light from dawn until dusk. Chasms to explore and mountains to climb. Markets to peruse and history to experience… And so much more, all within a short drive, hike or bike ride of the town centre… And all for free!
You'll find no entry fees on this list!
Table of Contents
1. Mount Gillen
Keen hikers can access Mount Gillen, the peak directly behind Flynn's Grave, for an early morning adventure. The return walk is about two hours and you do need to be relatively fit as the last section is a scramble-up rock with sheer drops.
This is a great one for experienced hikers who are not afraid of heights – Mount Gillen stands at around 914m high, so if you're brave enough, the spectacular panoramic views are definitely worth it.
2. Simpsons Gap Bike Path
The path begins at Flynn's Grave, the final resting place of the Flying Doctor's pioneer, Rev. John Flynn, and finishes 17km later at Simpsons Gap.
The bicycle path is a unique way to experience the natural environment around Alice Springs. Easily accessed from the western side of the town, this sealed path meanders along the foothills of the West MacDonnell Range through native bushland from River Red Gums, Mulga and Witchetty Bush to exposed rocky hills, all against a backdrop of expansive blue sky.
If it is early morning or late afternoon, and you take it quietly, you may be lucky enough to encounter some of the local wildlife, particularly lizards and birds.
Allow a couple of hours for the 17km, but don't forget, if you don't have a vehicle waiting for you at Simpsons Gap, you will have to allow another couple of hours to ride back!
Bring plenty of water, maybe a bike repair kit and if you can, a picnic to enjoy at Simpsons Gap while you rest.
3. Simpsons Gap
Closest to Alice Springs, Simpsons Gap is one of the most prominent gaps in the West MacDonnell Ranges, and perfect if you don't have much time, as it ticks all those boxes for a great day out.
Ancient Snow Gums stand as silent guardians to Simpsons Gap. Towering over them, craggy red rock under a dome of perfect blue, and hidden within is a permanent waterhole.
The waterhole supports an array of unique wildlife, and if you're lucky, you might even spot a Black-Footed Rock Wallaby nearby.
There's plenty to do around Simpsons Gap while you're there. Although you cannot swim in the waterhole, there are other walks including a trail to Cassia Hill and the Woodland Trail.
Make sure you take plenty of water and if you plan a picnic, there are tables and free gas BBQs (and toilets).
4. Day Trip to the Tjoritja/West MacDonnell Ranges
Pack some swimwear and towels for this trip. There are quite a few natural waterholes all within a short drive from Alice Springs, with Ellery Creek, Ormiston Gorge and Glen Helen being the most popular for swimming.
The permanent pools in The West Macs provide refuge to numerous unique plant species and endangered wildlife, and so not all waterholes – such as Simpsons Gap – are available for swimming.
Of cultural significance, the deep reds of these rocky ranges are the source of the Ochre Pits. A quarry providing ochre pigments for the art of the local Arrernte people.
A visit to Alice Springs is definitely better with a day trip to the West Macs. The roads are fine for 2WD, but as with most remote destinations, a 4WD is the ideal vehicle.
5. East McDonnell Ranges
A less publicised gem to explore is the "East Macs". The best part is that there are no guided tours out this way, and they are only a short drive from Alice Springs.
A picnic, a camera and a good set of walking shoes are at the top of the "what to bring" list, as there are plenty of short walks on offer to explore these sacred sites. The highlight in both Emily and Jessie Gaps is the beeswax, fat and ochre paintings depicting the Arrernte people's Caterpillar Dreamtime story.
A little further afield is Trephina Gorge and John Hayes Waterhole, an area known for its natural beauty. However, the John Hayes waterhole is accessible by 4WD vehicles only.
6. Anzac Hill, Alice Springs
Soak up a sunset view of Alice Springs and the surrounding MacDonnell Ranges from Anzac Hill. It is well worth the short climb for the best views over the town, which, from this central vantage point, you will see is larger than you expect.
While gazing through the dusty haze illuminated by the setting sun, keep in mind the Anzac Memorial dedicated to those who served in World War 1, and respect this sacred site also known as Untyeyetwelye, significant to the Central Arrernte women – associated with corkwood honey and childraising.
7. Larapinta Trail Day Trip
Reputedly one of the world's greatest walking trails, you don't need to tackle the full 230km to enjoy a taste of what it has to offer. Divided into 12 sections, many can be done as day trips from Alice Springs.
With the historic Alice Springs Telegraph Station as its starting point, nearby highlights include Simpsons Gap, Redbank Gorge, Ormiston Gorge and Standley Chasm… All are within reasonable distance of Alice Springs township.
A day trip to the Larapinta Trail is a treat of spectacular sights and rich cultural history.
8. Todd Mall Markets
Mingle with the locals at the markets. Savour some tasty Thai, Indian or Vietnamese food, or slurp on a legendary mango smoothie.
A visit to Alice Springs would not be complete without a wander through the Todd Mall, and especially the Todd Mall Markets, which are held every second Sunday.
Aside from great food, it's a great place to grab a memento, with jewellery, craft, artwork and more available.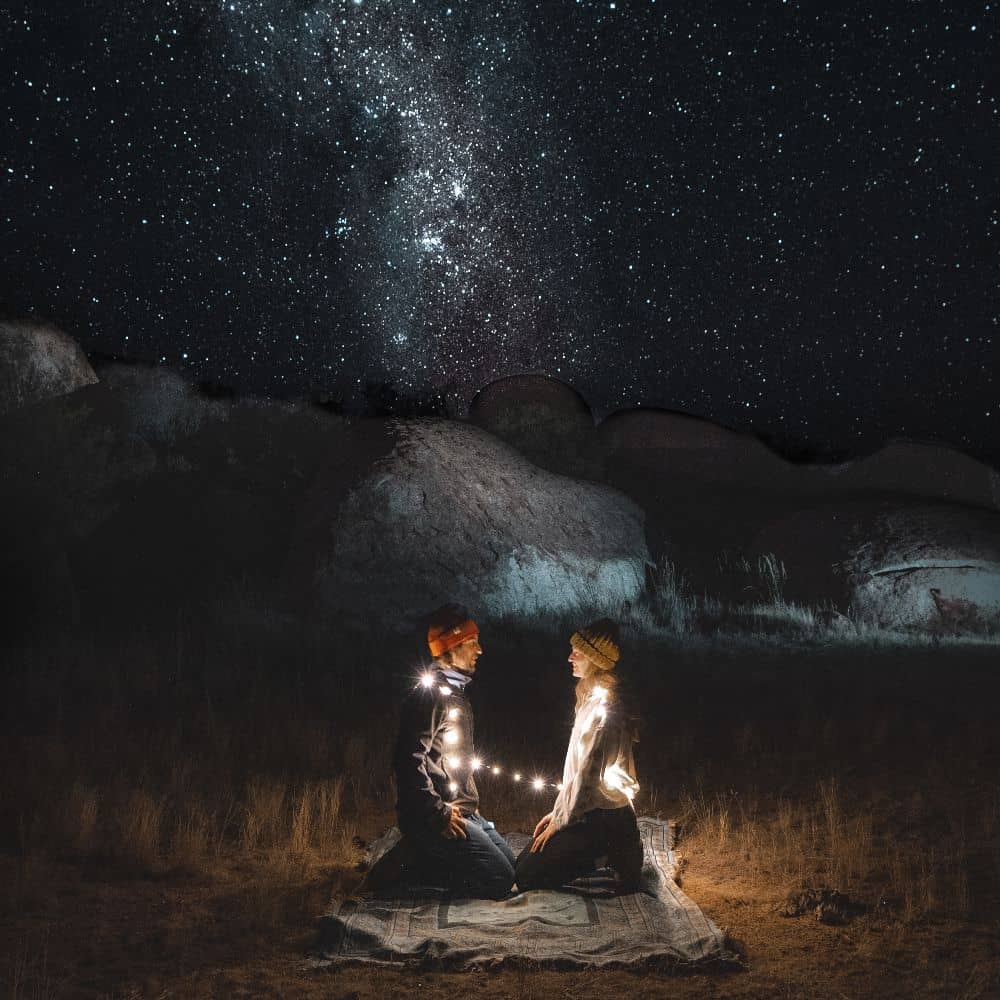 9. Star-Gazing
This gets a "million-star rating" from us.
With some of the clearest night skies on the planet, the Red Centre is the perfect place to spread out a picnic blanket, get comfy and gaze upward to be entertained by countless stars, and not pay a cent!
The absence of artificial light and chemical pollution, coupled with the dry cooler season desert climate, makes for the best conditions to consume an astrological banquet.
Photographers travel to this part of the world purely and simply to capture the night sky images!
10. Parrtjima
This annual light show is where old meets new. Where an ancient culture is showcased through the newest technology.
Held at the Alice Springs Desert Park, this free event allows artists representing the oldest continuous culture on earth to experiment with different styles and materials to create a festival in light that stays true to their roots, all on the 300 million-year-old natural canvas backdrop that is the MacDonnell Ranges.
11. Olive Pink Botanic Gardens
Not your usual botanic garden landscape, the Olive Pink Botanic Garden is a reserve for arid regional flora, not far from the town centre.
If you only have a couple of hours to spare, then why not visit the Garden (named after a quirky Australian botanical illustrator) for a walk through this haven for local flora and fauna? If you choose to walk in the early morning, you might even spot a wild wallaby or two.
Why not finish off the morning with a coffee at the café in the Garden?
12. Roadtrip to the Meteor Craters
Did you know there are a few meteor crater sites, not too far from Alice Springs? Gosses Bluff crater site is one of the biggest in Australia and Henbury Meteory craters is a site containing 12 craters!
There are cheap campsites nearby, amenities and walk trails to enjoy your visit to these ancient outback sites.
13. Alice Springs Telegraph Station
Pack a picnic and enjoy a taste of history… Even the locals love to do this on a Sunday.
Only 4km from the town centre is the Alice Springs Telegraph Station – the original site of the first European settlement, and the birthplace of the Alice Springs township.
Established in 1871, this Overland Telegraph Line connected the north of Australia, not only to the south but to the network of the British Empire.
With a well-appointed picnic and facilities area, a sign-posted network of walking tracks and elaborate mountain bike trails, there's enough here to keep you busy for the better part of a day!
14. Festivals
All these great things to do are not the only freebies in town, there are several festivals scattered throughout the year that are free to attend and lots of fun to do, such as The Beanie Festival, The Street Art Festival, The Wide Open Space Festival, and a number of other unique and quirky events.
When to visit
The best time to visit Alice Springs is from April to October, when the daytime temperatures are in the mid-twenties (Celsius). Summertime maximums are usually a good ten degrees higher!
How to get there
Flights operate to Alice Springs from most major Australian cities.
For those with 2WD vehicles, there are sealed roads all the way from Sydney (2770km), Melbourne (2258km) or Adelaide (1534km), with plenty of other options available to those with a 4WD.
Top Tips
Driving to Alice Springs will give you much more freedom, especially as there is so much to see and do on route.
Bring plenty of water and the obligatory sun and insect protection.
Good quality lightweight hiking shoes are best.
Throw yourself into the area's unique culture and story to fully appreciate this destination.
No need to search for stray coins for a great day out in Alice Springs. Save your money and spend your time wisely. Cycle, swim, hike, or simply soak up the sights. Adventure, culture and colourful characters abound in this central Australian iconic outback town nestled between the East and West MacDonnell Ranges.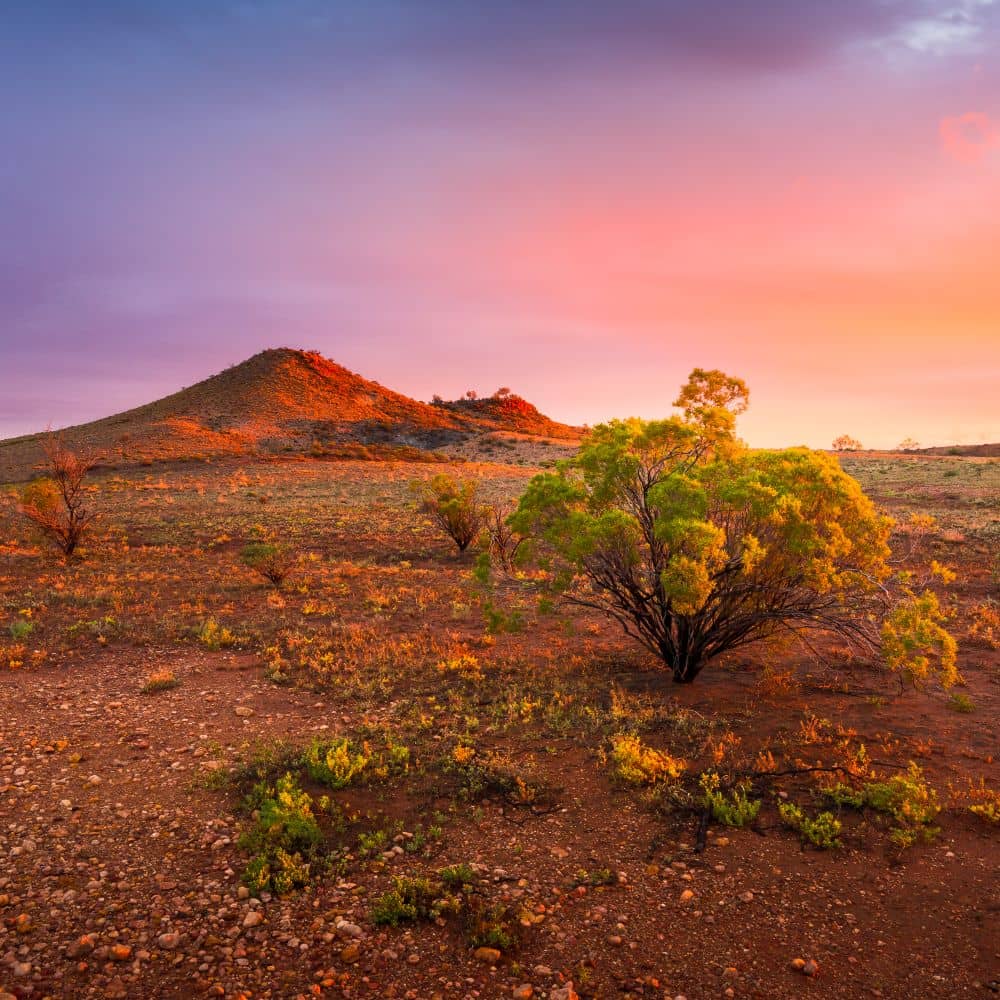 FAQs
Is it safe to walk around Alice Springs at night?
Contrary to some reports, Alice Springs is safe, as long as you use common sense. Just as you wouldn't walk home alone or into a dark alley in the city, then don't do it in Alice Springs either. Don't walk back to your accommodation at night – grab a cab, and avoid places like Gap Road and Todd Mall after 10pm.
How long should I stay?
You could find enough to fill a couple of weeks if you wanted to, but you can see the highlights with two or three days in Alice Springs.
FREE Guide: 30 ways to work remotely so you can travel when you want
This PDF has ALL the tips and tricks we've learned over the years to be the digital nomads we are today.
These are tried-and-tested ways we've used to earn money from anywhere – only a laptop with internet is needed!