The 9 Most Spectacular Things To Do In Uluru – Experience The Red Centre Of Australia
Nature has created the perfect masterpiece… and it's in centre of Australia. There's many reasons why Uluru (or Ayers Rock) is a bucket list location, but there's also a lot of information you need to know before heading to Australia's outback.
To make it easy, we have compiled a list of the 9 most spectacular things to do on an Epic Red Centre Adventure:
Table of Contents
Many travellers don't realise that the closest town you can stay in is called Yulara which is a 30 minutes drive away from Uluru. Uluru can be found inside the Uluru-Kata Tjuta National Park and is 5 hours (450km) away from the nearest large town, Alice Springs.
Uluru-Kata Tjuta National Park is a double heritage listed location which is also home to the huge red domes of Kata Tjuta (The Olgas) and an abundance of lush green plants, animals and watering holes too.
Surrounding the park are some unique sites and activities too. You can visit orphaned kangaroos at the Alice Springs sanctuary, hike the golden Kings Canyon which is 400 million years old or view the local meteor impact sites.
Uluru (Ayers Rock) is the largest monolith in Australia, standing at 348 metres high as you approach, it will fill your entire car windows!
The road trip to Uluru is a long one, so be prepared… But there's nothing more iconic than driving a road stained from the outback's red dust (or 4wding one of the red dirt roads for that matter). If you're flying in, you are also in for a treat, seeing Uluru from the sky is a once-in-a-lifetime experience!
With over 40,000 years of living Aboriginal culture which is strongly alive today, Uluru-Kata Tjuta National Park is one of the most sacred sites in Australia. The land is owned by the Anangu people who believe the landscape was created by ancestral beings at the beginning of time.
The Red Centre offers so much more than just visiting "one of the most famous" rocks in the world. In this article we are revealing all the secrets of what to do, to ensure you have an incredible holiday.
Here are 9 of our favourite things to do when visiting Uluru…
1. Walk or Cycle Around The Base
One of the best ways to discover Aboriginal culture, art and history, all while taking in the natural beauty of Uluru is to circumnavigate its base. But be warned, it's a 3-4 hour, 10km round trip!
There are 6 established walks to choose from, ranging from the 2km Mala walk, to the full 10km trip around the base. Thankfully the ground is easy to navigate, it's completely flat and hard compacted red dirt.
The base trail is wheelchair accessible but from memory, there was one less compacted sandy patch towards the end of the walk where we had to walk our bikes though! Be aware.
The ancient story of Uluru Dreamtime is still visible in the petroglyphs hidden in the cave walls of the sandstone rock. The illustrations reveal the spirits and stories of life in this ancient cultural landscape. They are an absolute must-see and people come from all over the world to witness them.
We definitely recommend doing the full 10km trip because, how often do you find yourself in the centre of Australia? We hired bikes which we booked in advance from just outside the cultural centre, and it took us about 4 hours to get around. Give yourself most of the day to explore Uluru's base!
For an additional expense – Harley motorcycle, Segways, guided cultural tours, camels, and flights each offer a different perspective of Ayers Rock.
2. Visit the Field of Lights
As the light fades, and darkness blankets Uluru, 50,000 coloured solar-powered bulbs come to life creating the magical "Field of Light". Make sure you see this unique art installation, it was created by artist Bruce Munro in collaboration with the Anangu People. There are whispers that it may not be around forever!
You may have seen photographs, but nothing compares to actually witnessing this spectacle of colour as it illuminates the darkened desert.
Unfortunately, you cannot visit the Field of Lights without a tour. You have to be driven to the location at night or before the sun comes up. We recommend these:
Our favourite Field of Lights tours:
Sunrise Tour: After picking you up from your hotel, you'll be treated to a 2-hour sunrise tour. Hotel drop-off is included as well.
Sunset Tour: Enjoy the sunset while sipping a nice drink, followed by an outback barbecue dinner, and finish with a unique star talk as you gaze at the night sky.
Whichever tour you choose, make sure to book ahead. Spots fill very fast!
3. Experience a Once in a Lifetime Tour – (Book Ahead)
From scenic flights and camel riding to sunset BBQ's and the outback railway, there are so many tours in Uluru and surrounds to consider.
From my experience, you must book in advance for the high season. We almost missed out because we didn't book until the last minute when we arrived!
The Sound of Silence Dinner at Uluru is a 3 course, bush tucker-inspired, formal dinner experience that is well worth the expense. Starting with champagne and nibbles as the sun sets by Uluru, followed by a lantern-lit dinner accompanied by the sound of a didgeridoo and Dreamtime stories by the night sky.
We wish we had done a few more tours while we were in the Red Centre, because it is such a unique destination – which you may never find yourself in again.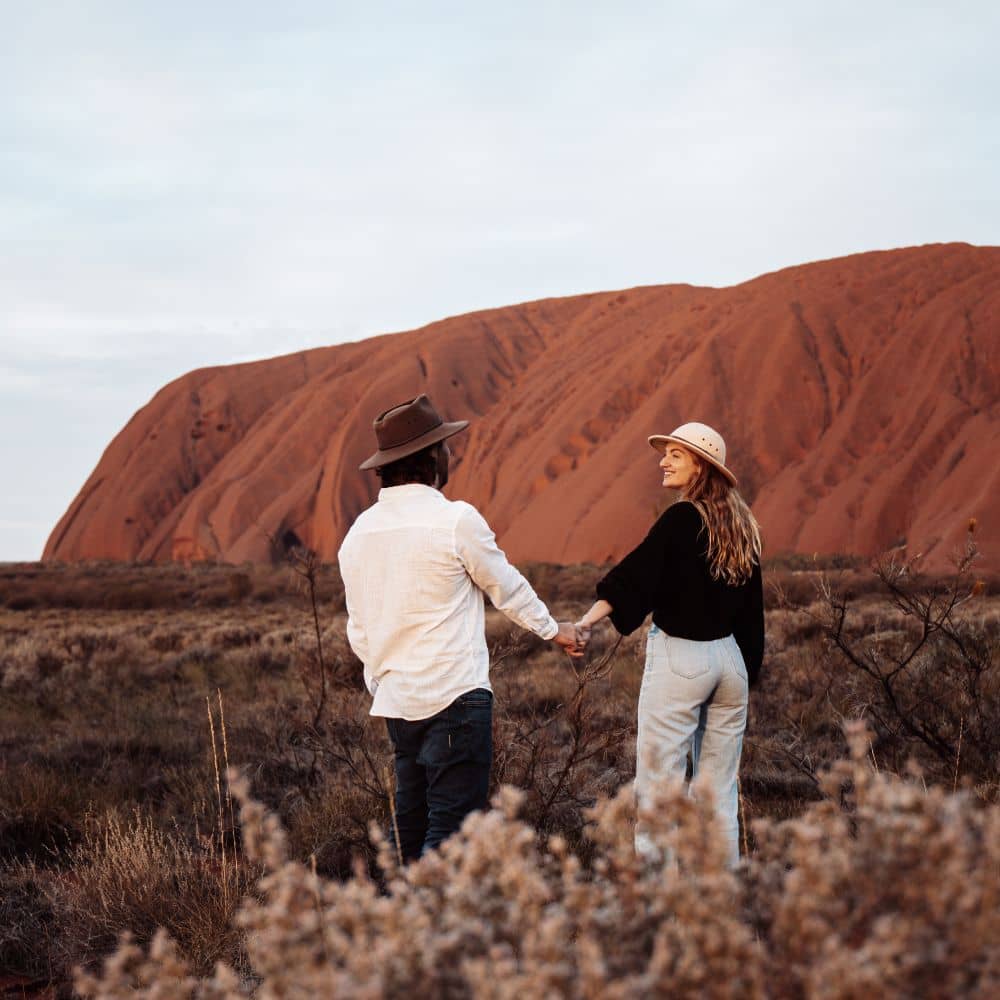 Great tour options that run in and around Uluru:
4. Have a Sunrise or Sunset Picnic
Struggling out of bed into the chill of dawn, might not seem like the most enticing thought but warm up with a good cup of coffee and be prepared to find yourself in awe as the morning light illuminates Uluru. You will be surprised at the range of different colours as it rises – see below!
Be aware, being located in the desert, even in the high season the nights and mornings can be very cold – as low as 1 degree Celsius!
Sunset is definitely worth celebrating with a cold drink and nibbles. Pack a picnic and get there early, you can scope out a good parking spot during the day to decide where to set up with the best view.
We opted not to go to the designated sunset viewing point and instead pulled off in a smaller more intimate carpark somewhere. You are not meant to go off the designated paths, to protect the vulnerable vegetation, but there are many other carparks to choose from for your desired viewpoint!
After experiencing sunrise/sunset at Uluru, why not see it the next night at the big domes of Kata Tjuta. Both locations are so beautifully different.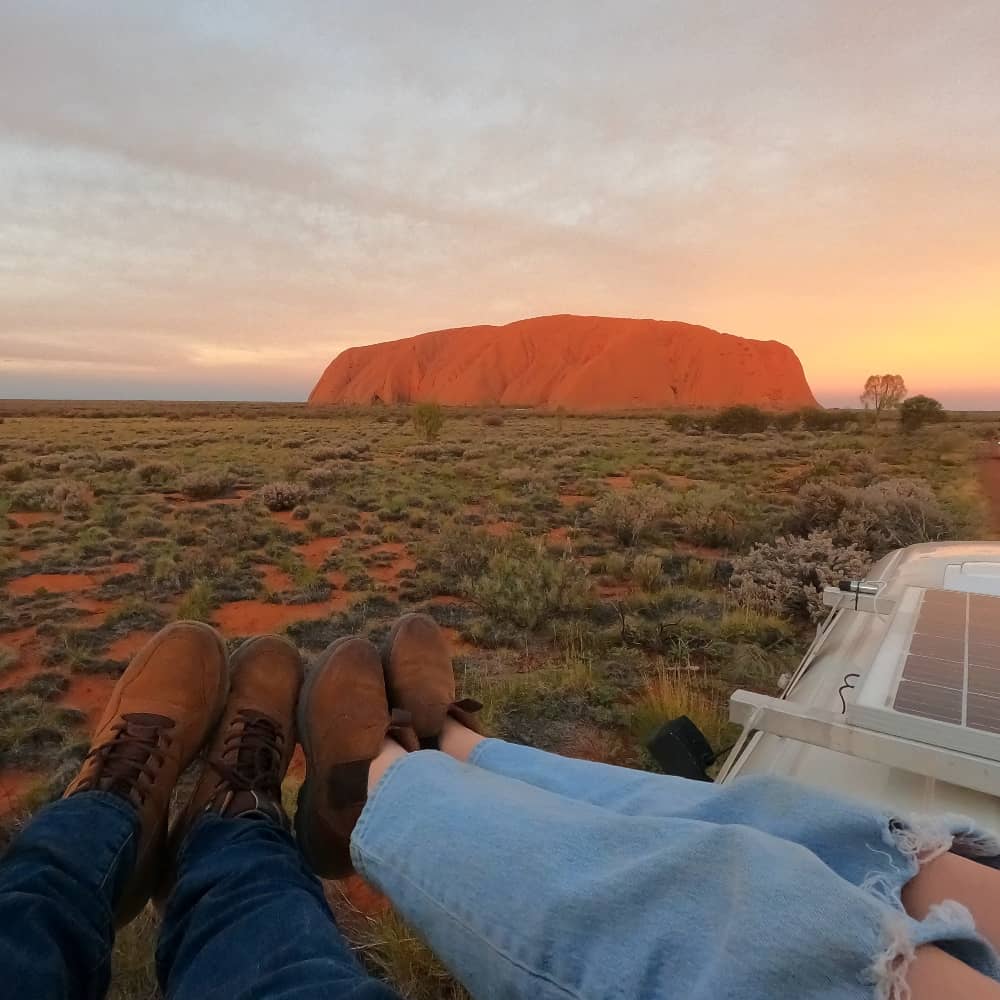 P.S. Don't think you've seen it all in one sunrise or sunset! We think it's worth catching at least one sleepy-eyed sunrise and two sunsets.
5. Explore Kata Tjuta National Park
Also known as The Olgas, the striking domes of Kata Tjuta (a Pitjantjatjara term that means 'many heads') is another iconic rock formation about a half-hour drive from Uluru. There are 36 domes rising up to about 546m high above the desert plain.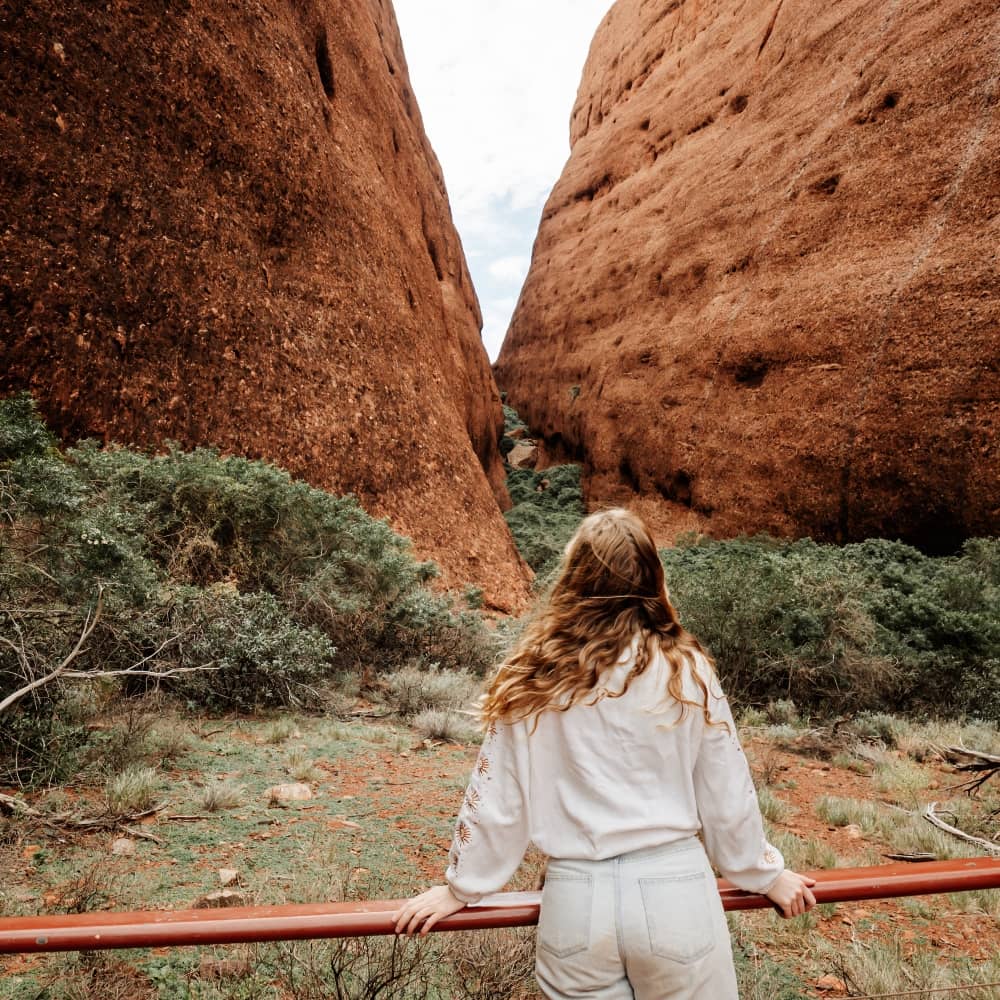 This area is sacred under local men's law, and can only be accessed via the two main hikes: The Walpa Gorge Walk or the Valley of the Winds Walk.
The Walpa Gorge Walk is 2.6km and takes around an hour, it gives a totally new perspective to the rich landscape plus you can appreciate the towering domes of Kata Tjuta up close.
The Valley of the Winds walk is 3 to 4 hours, and is worth making the effort early in the morning to fully appreciate the views. You can almost feel the iron-rich sandstone vibrating underfoot as you walk.
There are easier trails including a short walk to the Kata Tjuta dune viewing area for a spectacular view of the magnificent domes. But we do recommend both hikes above, if you have time!
6. Discover the Anangu Peoples Culture
See the impressive cultural centre, cultural tours, local artworks and other events on in Uluru. The Uluru-Kata Tjuta Cultural Centre is the perfect starting point for your journey of discovering Anangu culture. Artwork, artefacts and videos offer an introduction to the rich culture and history of the local Traditional Owners of the area, the Anangu people.
The Anangu culture is still very much alive and it is fascinating to immerse yourself in learning about the traditional owners of the land of Australia and their wisdom which spans over the last 60,000 years.
No photography or filming is allowed in the cultural centre you will just have to go see it! We learned a lot here, there is a stacked gift shop and café with excellent souvenirs to remind you of Uluru. There was also access to chat to the rangers about guided walks and cultural tours here too.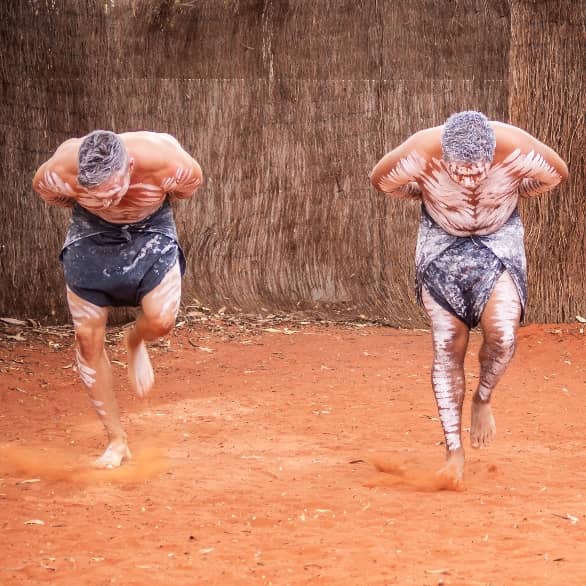 7. Hike the Incredible Kings Canyon
Kings Canyon is a spectacular, 400 million year old canyon around 3 hours drive from Yulara. The Kings Canyon Rim Hike is the highlight of many peoples Red Centre adventure and should not be missed. The hike is a 6km loop and takes around 3 to 4 hours.
Although the incredible Rim Walk is recommended as a half day, you really need a whole day to explore this one, as there are numerous side-tracks that are really worth taking. One of the best hikes we have ever done!
Stay one night at the Kings Canyon Resort Holiday Park for camping or other accommodation options. Make sure you visit the Dingo Pub for an authentic outback BBQ dinner, there's often live music too.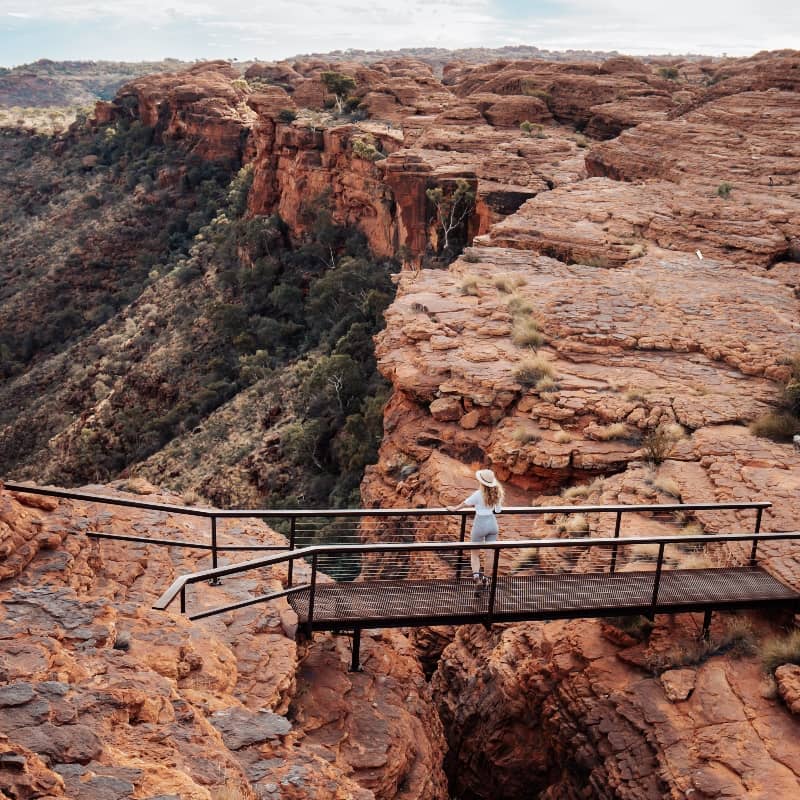 8. Stargazing at Uluru
The perfect way to end a day of exploration on the ground is to transport your senses to the night sky.
Expansive flat plains, virtually no light or chemical pollution is the perfect recipe for a stargazing experience like no other on the planet. The southern hemisphere sky boasts some spectacular sights, such as the Magellanic Clouds and the famous Southern Cross constellation.
The Milky Way is so powerful that it's visible even when the moon is shining… But when the moon sets, it's incredible spectrum of colour pops.
9. Visit the local Kangaroo Sanctuary
Alice Springs which is around 4-5 hours from Uluru is home to a special kangaroo sanctuary. Orphaned, injured or sick kangaroos are cared for here. The centre is open to visitors to help spread awareness and raise donations to run this sanctuary in the outback.
Guests can come and visit the family of kangaroos which reside here, plus there are guided tours available there's more information on their website here: The Kangaroo Sanctuary
Also keep an eye out for the Wild Budgerigars which migrate north in the winter – See below.
10. Marvel at the Wildflowers of the Outback
As if the outback didn't offer enough for a traveller, there are many wildflowers which can be found blossoming in the red dust! From April to November the Mulla Mulla is in full bloom in its natural habitat. From July to March you can see the famous Sturt Desert Pea. In the winter months Sturt Desert Rose (the floral emblem of the Northern territory) can also be seen blossoming.
Experience the Mulla Mulla, Desert Heath Myrtle and Sturt Desert Rose up close on the hikes around Uluru and Kata Tjuta National Park. Look for Sturt Desert Pea around Yulara. For more information about the plants which blossom in the Red Centre read here: Plants in the Red Centre.
How to get there
There are flights to Alice Springs from most major cities in Australia, and flights from Alice Springs to Uluru (Yulara). Either plan to fly into Alice Springs, rent a car and drive the 5 hours to Yulara, or try to fly directly into Yulara.
We drove from Alice Springs. The 450km drive from Alice Springs is about 5 hours on sealed roads, and for us it was worth the trip through the heart of the country.
Where to stay at Uluru
Yulara is the closest town to Uluru, 30 minutes drive away from the National Park, so plan your trip around accommodation there. All accommodation in Yulara goes through the same company called Ayers Rock Resort. You can spend a long time on hold with them, but don't give up! It is the best place to stay to be close to Uluru.
Ayers Rock campground in Yulara is the best option for campers, being closest to Uluru, plus it has facilities and local shops nearby.
Bookings in the cooler months are essential as it can book out, however we discovered that the "overflow" campground is not advertised, but often available (call up to confirm, they accommodated us hopefully they do the same for you).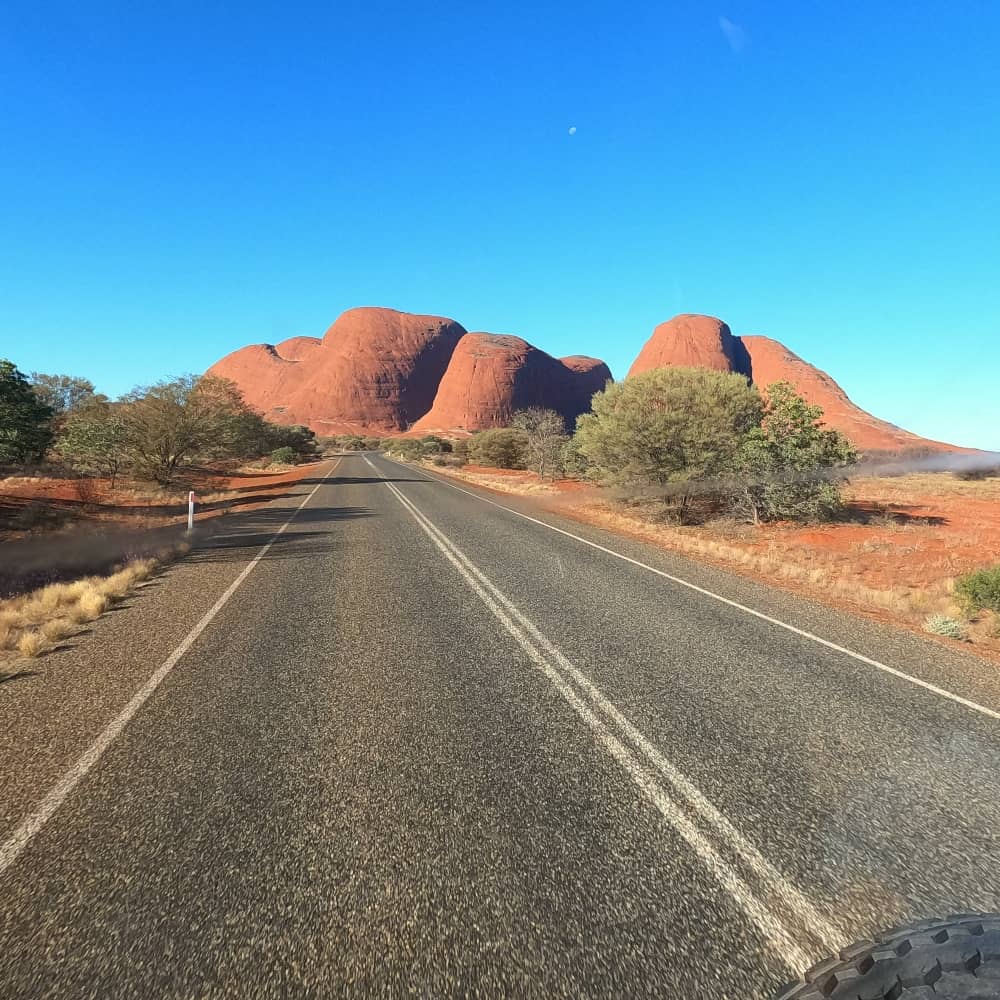 Do not plan to stay in Alice Springs to visit Uluru, because it is approx 5 hours away! However, do visit Alice Springs on your Red Centre visit because it also has a lot to offer as a travel destination too with the MacDonnell Ranges nearby (see below).
When to visit?
Winter to Early Spring (May to September) is a beautiful time to visit with sunny days and temperatures in the 20's. Nights can drop to just a few degrees though so be prepared with either a heating appliance or thermal layering and sleeping bags!
We don't recommend visiting Uluru in summer! But if you absolutely must… be prepared for temperatures as high as 45 degrees, and an inundation of flies in all orifices.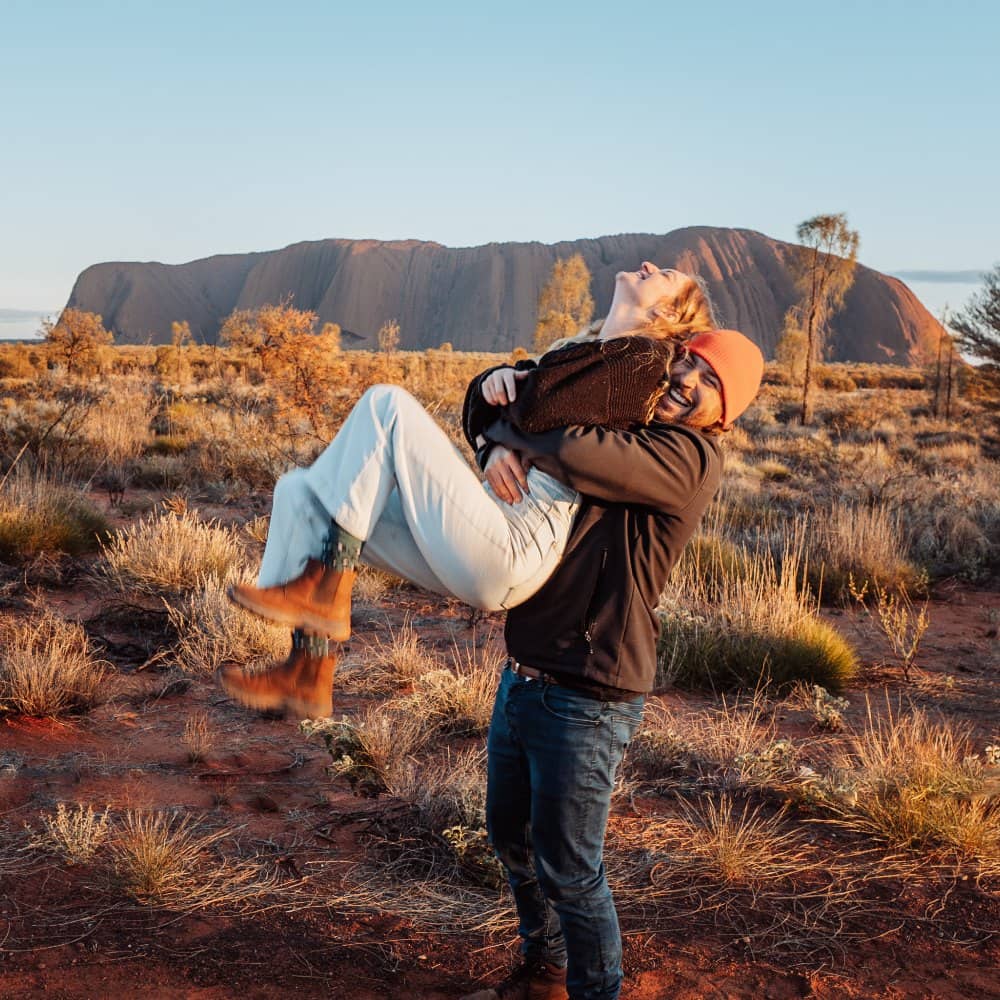 Other Must-Do Things near Uluru
Kings Creek Station is a genuine cattle station only 36km from Kings Canyon. Set amongst the desert oaks at the foot of the beautiful George Gill Range with a variety of accommodation options, this is a unique 2000 square kilometre piece of the real Australian desert that is well worth a visit.
Henbury Meteorites Conservation Reserve is mid-way between Uluru and Alice Springs. A group of twelve craters, the largest is 180m wide and 12m deep. A self-guided walk through the craters reveals the damage from a meteor striking the earth's surface at over 40,000km per hour over 4,700 years ago. Keen photographers might want to plan an early or late afternoon visit, when the sun best defines the craters.
West MacDonnell Ranges is just 15 minutes out of Alice Springs and also home to unique travel opportunities. You can spend a few days just exploring some of the ancient gorges, hikes and chasms within the West Mac's.
Stanley Chasm is a short drive into the West MacDonnell Ranges from Alice Springs, affordable to camp the night, and a café right there in the middle of the outback!
For adventure lovers consider 4wding into Palm Valley, also in the West MacDonnell Ranges. Camping, warm showers and amenities available. See how far you can make it, navigating flat boulders and creek crossings until you decide to pull over and hike the rest of the way like we did!
Top Tips
Don't rush your visit: allow plenty of time to "stop and smell the flowers". Don't forget to take a few photo memories too, you'll be grateful later. A few people have noted regretting not taking a photo memory because you never know if you will have the opportunity to come back!
Mount Connor: can be seen from the road on the way to Uluru and is often mistaken by enthusiastic tourists (including us) as their first glimpse of Uluru itself! Mount Connor is another large rock in the area and is sometimes called "Fooluru" for that reason.
What to bring: you will need sun, insect protection, good hiking shoes, warm winter clothes for night time, and plenty of water!
Food tips: Food can be limited and expensive in Yulara, but it isn't too bad. You might benefit from bringing in quite a few basics from Alice Springs on your way in though.
Alcohol and dry areas: You may struggle to purchase alcohol around local areas which are known as "dry areas". So you may want to have some on hand before driving all that way to Yulara. Yulara isn't a dry town and you can order alcohol at the restaurants and bars there, but some other local towns have stricter policies.
If Uluru isn't already on your bucket list, think about adding it now! 🙂
Let us know your thoughts in the comments, if you have any other advice to add, or questions please go right ahead! Cheers, Chris and Bec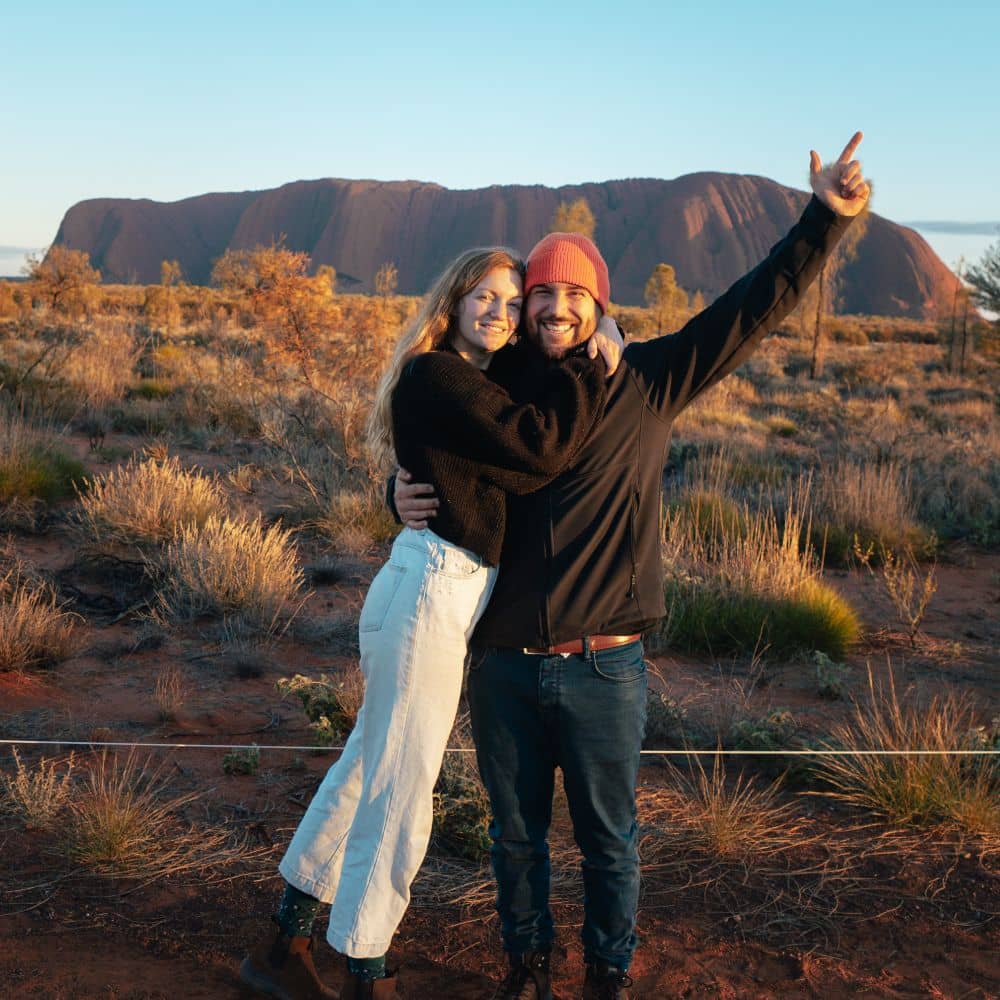 FREE Guide: 30 ways to work remotely so you can travel when you want
This PDF has ALL the tips and tricks we've learned over the years to be the digital nomads we are today.
These are tried-and-tested ways we've used to earn money from anywhere – only a laptop with internet is needed!