9 Things To Do In Coral Bay (Western Australia) For A Life-Changing Trip
There are many things to do in Coral Bay, from snorkelling the incredible Ningaloo Reef to driving a buggy on the beach, during the sunset.
Most people visit this incredible place while also visiting the nearby town of Exmouth. You can day-trip from there, but we recommend staying at least 2 days in Coral Bay to fully enjoy it.
There is only a small amount of accommodation in Coral Bay as it is quite a small town of only 200-odd people! It's key to book as early as possible. The options range from caravan parks to apartments for families.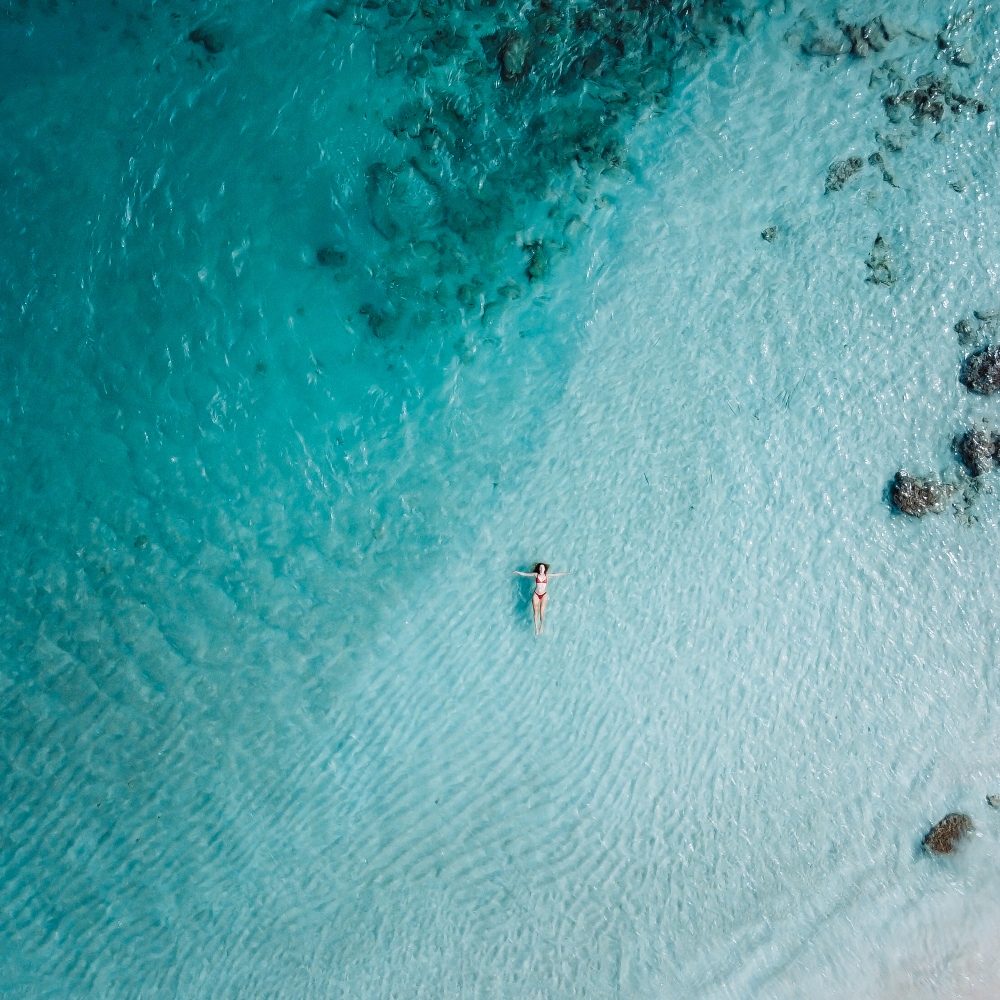 You can really choose your own adventure in Coral Bay! These are our top 9 things to do, along with tips on the area, things to know, and more:
Table of Contents
9 Activities you must try while visiting Coral Bay
1) Snorkel the Ningaloo Reef
Snorkelling is the main way to enjoy your trip to Coral Bay, as this town sits right next to the stunning Ningaloo Reef. You can snorkel it right from the beach!
There's so much marine life to see – the colourful reef fish dart from coral to coral as you snorkel past. But the most impressive are the manta rays, humpback whales and whale sharks… We'll talk more about them later in the article.
As for snorkelling itself, you can go at it on your own, or by booking a snorkelling tour.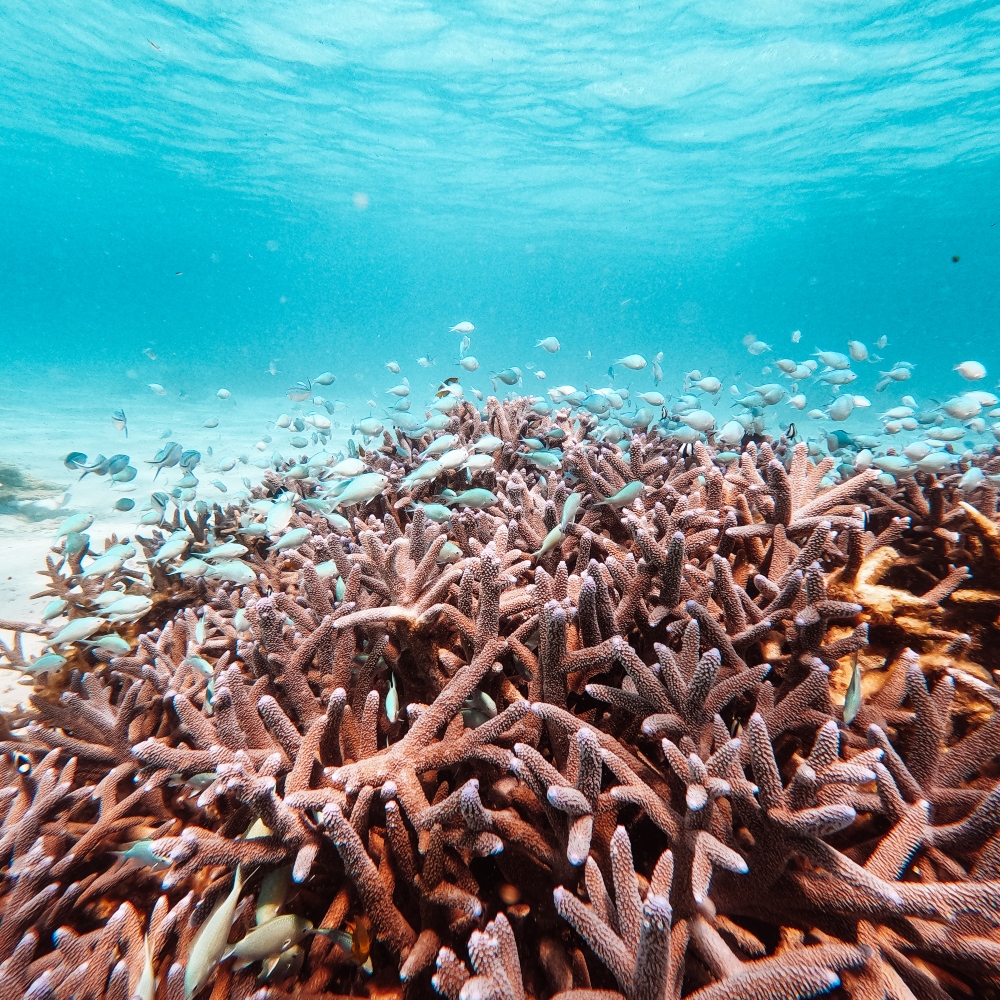 If you'll do it on your own, double-check the signs for designated usage in the area. Some beaches are protected, so you may not be able to swim or snorkel in them.
Recommended tour: Coral Bay 2-Hour Coral Viewing and Snorkeling
If you have a 4WD spend the day parked up at Five Finger Reef.
It's a 10-minute drive south of Coral Bay. The swimming and snorkelling here are mind-blowing! Perfect place for a BBQ and a day spent checking out the reef and relaxing on the beach.
But if you don't have a 4WD, don't worry. You can get here on foot too. Just park on Coral Bay's boat ramp and walk to Five Fingers Reef, it'll take around 30 minutes.
2) Swim with manta rays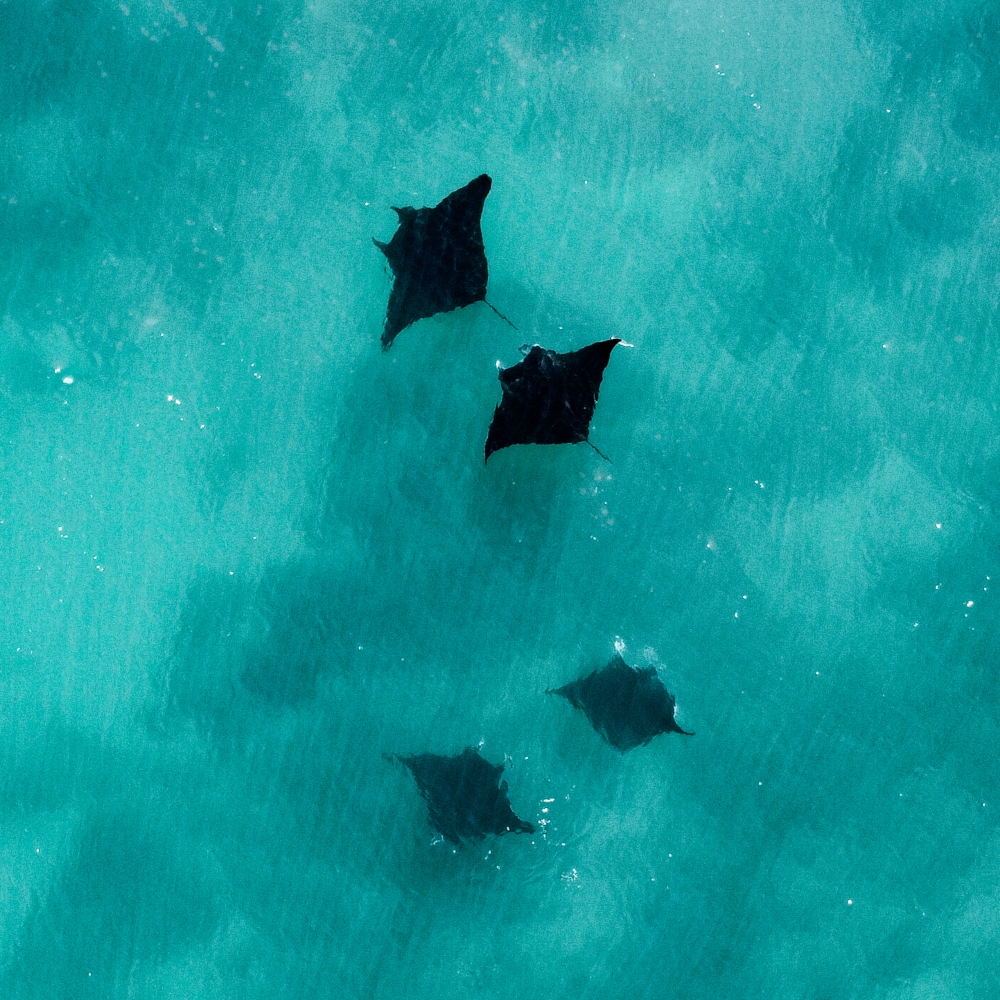 Manta rays are permanent residents of the Ningaloo Reef, especially in Coral Bay, occasionally jumping from the water – which is an incredible thing to witness.
This is why manta ray tours are so popular in Coral Bay. These beautiful creatures are often spotted in the bay with excellent visibility!
Also, in a manta ray tour, you don't just swim with these animals. Most operators take you to other spots on the reef, so you may swim with turtles and hundreds of colourful fish as well! These tours offer an excellent day out on the boat.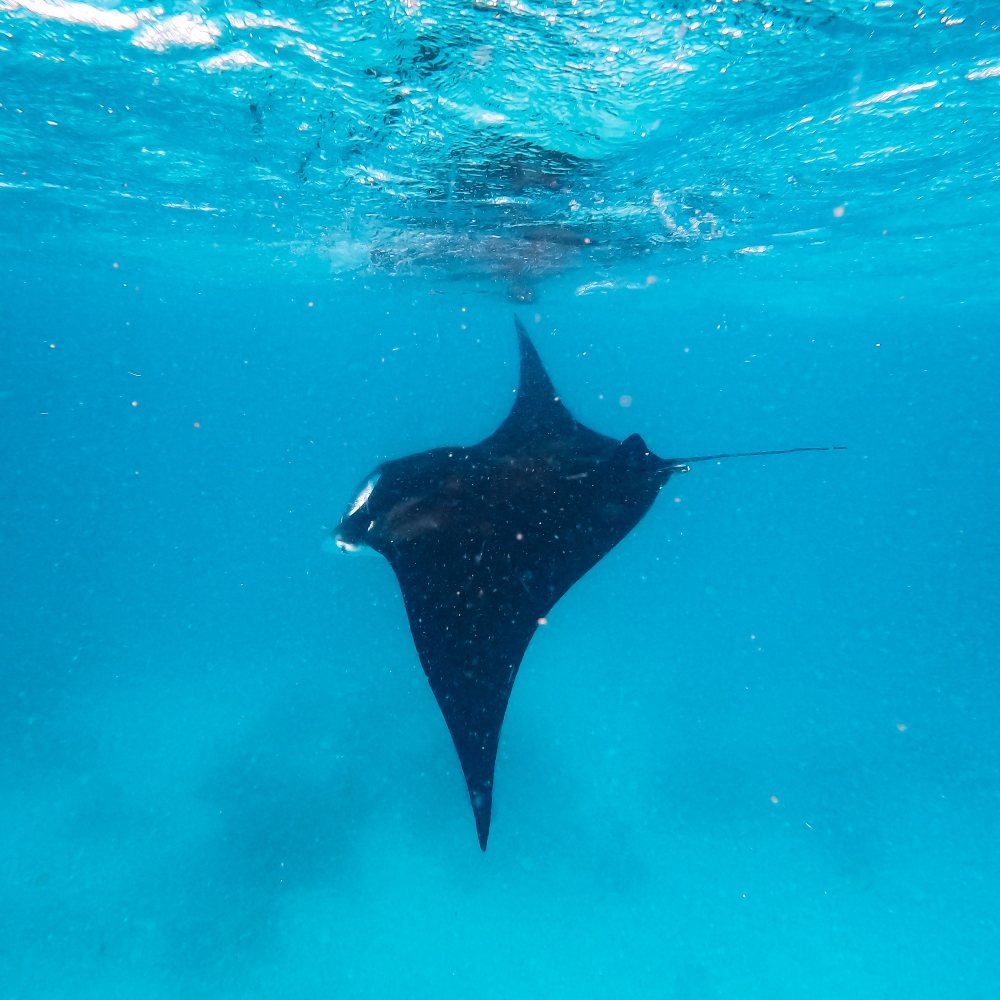 Recommended Tour: Marine Eco Safari – Swim with Manta Rays
3) Swim with whale sharks and humpback whales
Whale sharks are large but gentle creatures that migrate up these coasts between March and August, following the plankton waves. The best time to see them is from late March to June.
Exmouth and Coral Bay are well known for viewing whale sharks. This has to be one of the best experiences in all our years of travelling around Australia. Save your pennies for this tour. It's worth it.
Recommended Tour: Whale Shark Adventure Tour.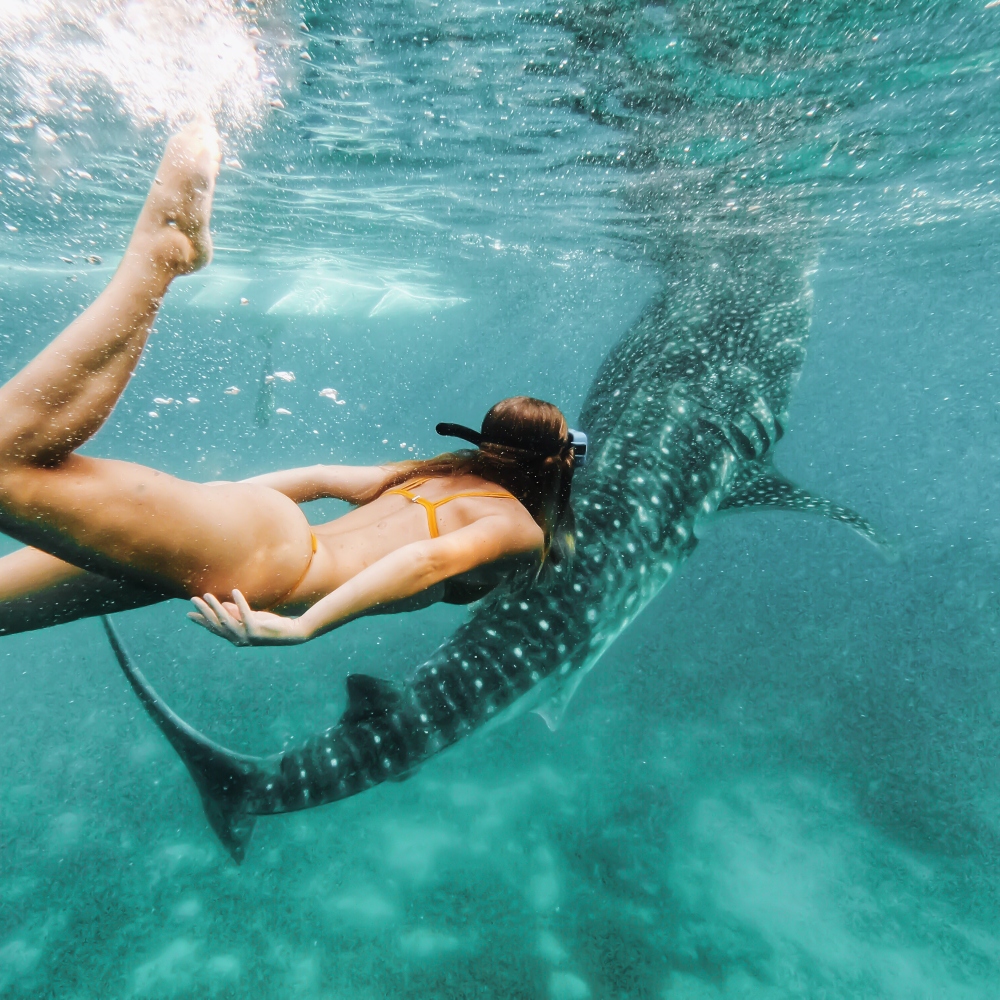 Humpback whales migrate through these waters between June and October, from the cold Antarctic area to warmer northern waters, to give birth. If you go on a whale shark tour, it's very likely you will see these gentle giants as well.
On our tour, the humpback whales came right up to the boat! They even jumped around 50m off of the boat. It was an incredible experience.
Recommended tour: Humpback Whale Safari.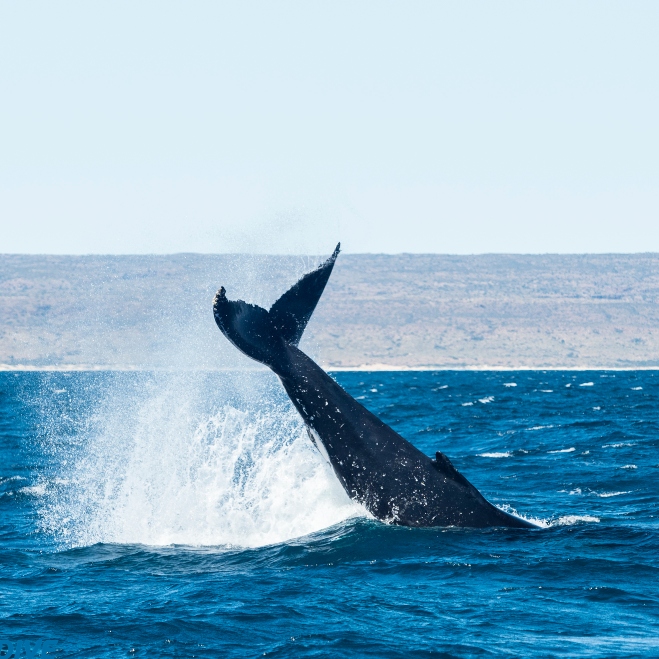 So, given all this, the best time to visit the Ningaloo region may be during winter, as you'll likely swim alongside these species. But visiting in other months can also be fun!
4) Swim with baby sharks in the shark nursery
Yes, you can safely visit wild sharks! They are baby sharks and can be found in the shark nursery, to the north of the town, between October and March.
---
---
This spot is called "Skeleton Bay", and it's a protected sanctuary, with shallow waters no deeper than 1m. You can just relax on the dunes or on the beach and watch baby sharks swimming around. It's a good area for families. Here's the exact location.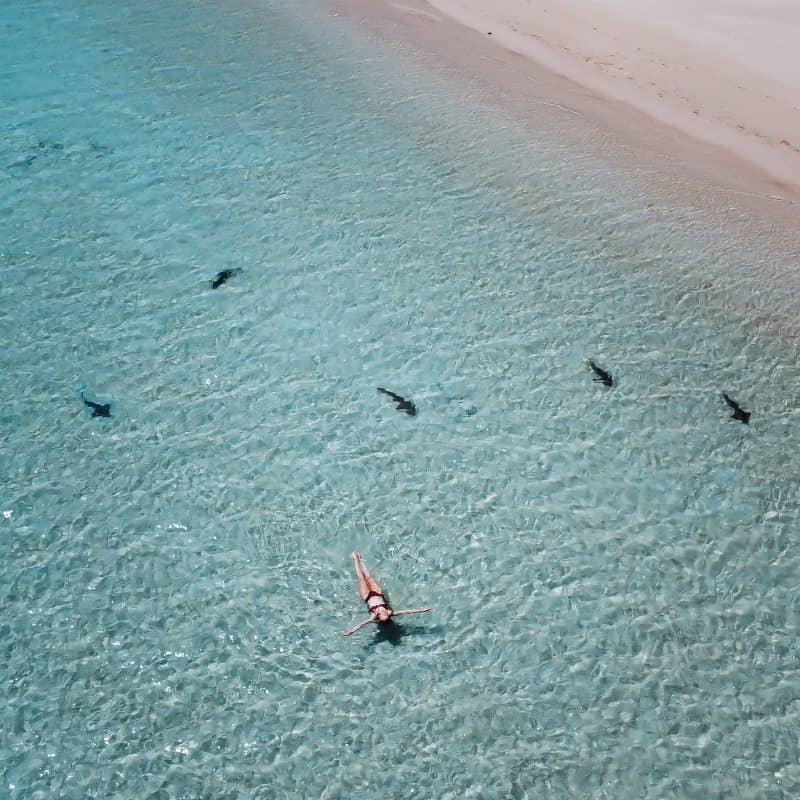 This is one of the more popular attractions as it's an easy walk from the caravan parks and the main town.
The path from Coral Bay Beach to the Shark Sanctuary can be rocky, so we recommend wearing shoes. The shallows were full of hundreds of baby sharks about a meter long, as well as plenty of stingrays.
The water is clearer when the wind is low and the tide is high, but even when it's windy, it's still worth visiting the sanctuary. It's important to avoid disrupting the sharks' habitat and stay a respectful distance away from them.
5) Go turtle spotting
Sea turtles' nesting season is from November to March. During this time, you can see females nesting on these sandy beaches, and turtle hatchlings start emerging in January.
If you want to see them on the beach, make sure to follow the Turtle Watching Code of Conduct to not disturb them.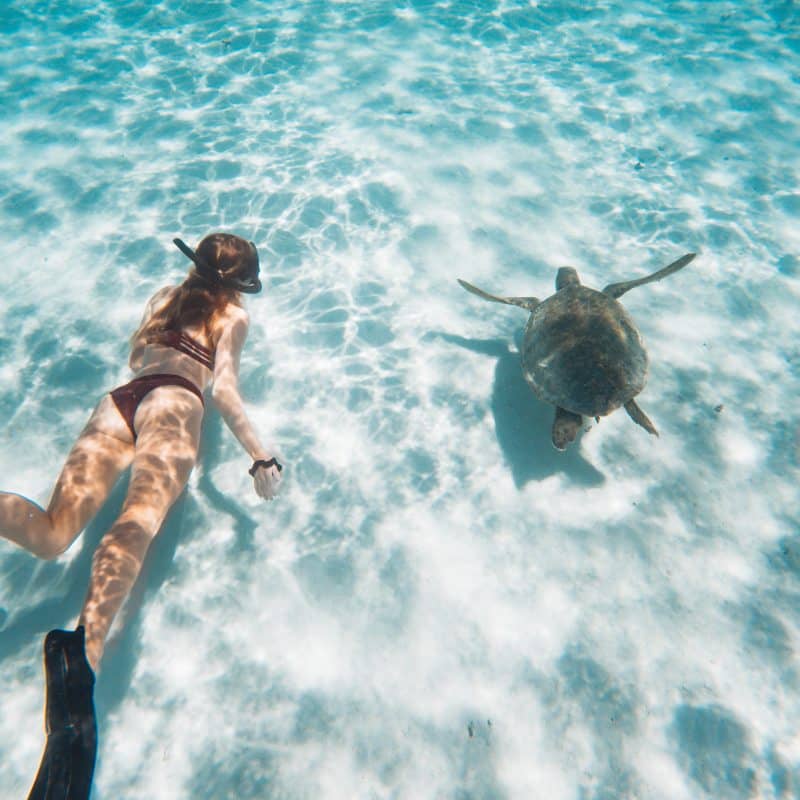 You can also watch them from Turtle Cliff all year round (which is one of our favourite free things to do in Coral Bay!).
Just drive your 4WD through the easy and well-signalled track to Turtle Cliff, sit on the rocks, and watch the turtles swim below.
6) Go kayaking, surfing, stand-up paddleboarding, kitesurfing, and fishing…
These waters are top-notch for most water sports. Winds are ideal for surfing and kitesurfing during summer, but it's an excellent place to do it pretty much all year.
Also, you can take a stand-up paddleboard or kayak onto the reef and explore the waters below. We hired one, but you can bring your own if you want.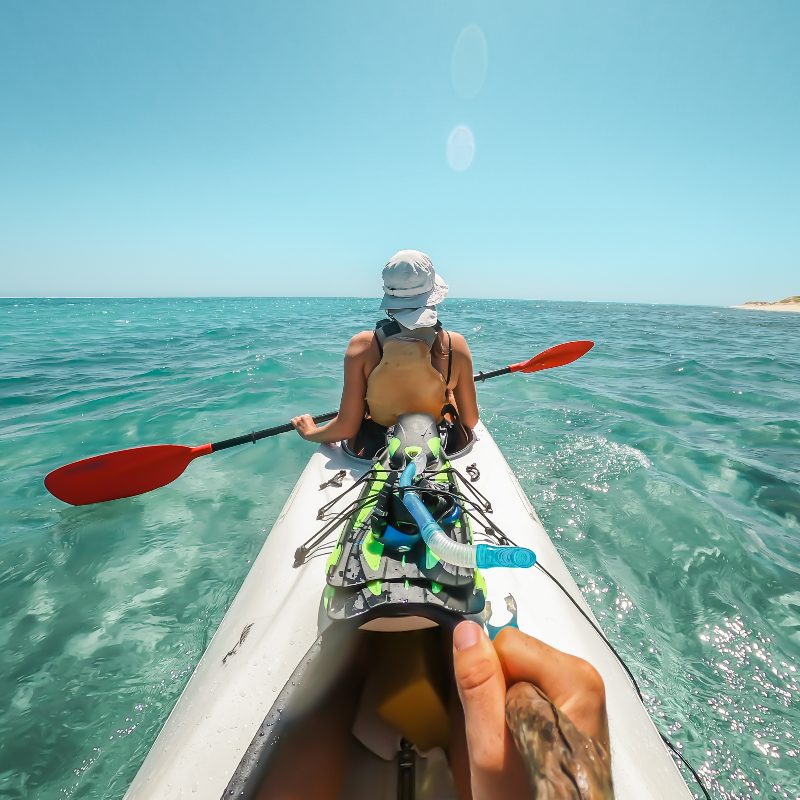 As for fishing, sport fishers will love this coast. You can launch a small boat off the ramp, or hire a fishing boat for a day. Just be aware of the bag limits for the site, to maintain sustainable fishing for everyone.
7) Drive a buggy or a quad bike on the beach
Adventurous souls will love the joy of driving a quad bike or buggy over the soft sand dunes and on the beaches around Coral Bay.
Keep in mind that you'll go through the same track regardless if you choose a buggy or quad bike, so it comes down to your preferences.
You'll go to Five Finger Reef, Turtle Cliff, and other awesome spots.
Book a sunset ride if possible. The views are breathtaking!
8) Go on a glass-bottom boat cruise
These cruises give you another perspective of the Ningaloo Reef, while a tour guide discusses the marine life of the area. You can spot turtles, sharks, manta rays, and lots of fish.
Most cruises will also take you snorkelling to spots accessible only by boat, making it an incredible opportunity to enjoy Coral Bay!
Recommended tour: Coral Bay 1-Hour Coral Viewing
9) Visit Oyster Bridge
Oyster Bridge is a sanctuary zone, a 4WD access-only beach. The water is very clear and blue and it's a great snorkelling spot. We saw a lot of corals and fish here, it can be sandy and hard to access. Some people park a little way out and walk in.
10) Dine at Coral Bay's finest
We don't know about you, but we love a nice meal any time of the day. And even though Coral Bay is a small coastal town, it has plenty of options for dining out.
Make sure to check out at least one of these during your visit:
Ningaloo Reef Café. This is a popular spot, so book your table ahead. It's a great restaurant, offering pizzas, seafood, Italian food, and cocktails.
Coral Resort Bakery. Awesome place for quick meals or snacks, like pies, sausage rolls, or pastries. It's in the shopping mall.
Bill's Bar. Best spot to spend the evening, after a day of snorkelling. Tapas, prawns, the usual pub fare, with a stunning view of the ocean.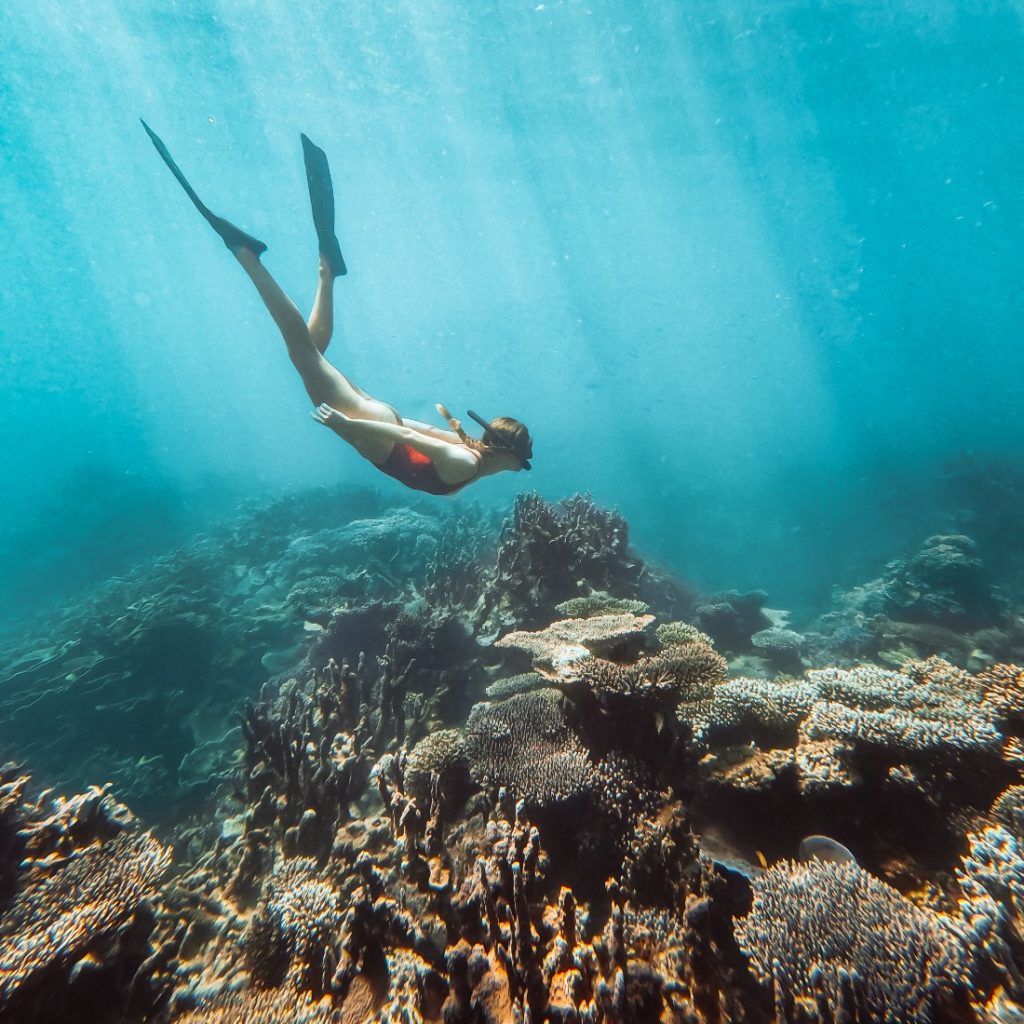 Top Tips
Coral Bay is a very touristy spot, meaning you have to book the tours you want to do as soon as possible. Spots can fill up in some popular months.
Popular tour operators in the area include Coral Coast Tours, Coral Bay Eco Tours, Ningaloo Reef Dive, and Ningaloo Kayak Adventures. The first three offer similar experiences.
That said, we reviewed the best tours in Coral Bay to save you the research. There, we cover everything from quick snorkelling tours to full-day whale-watching tours and everything in between.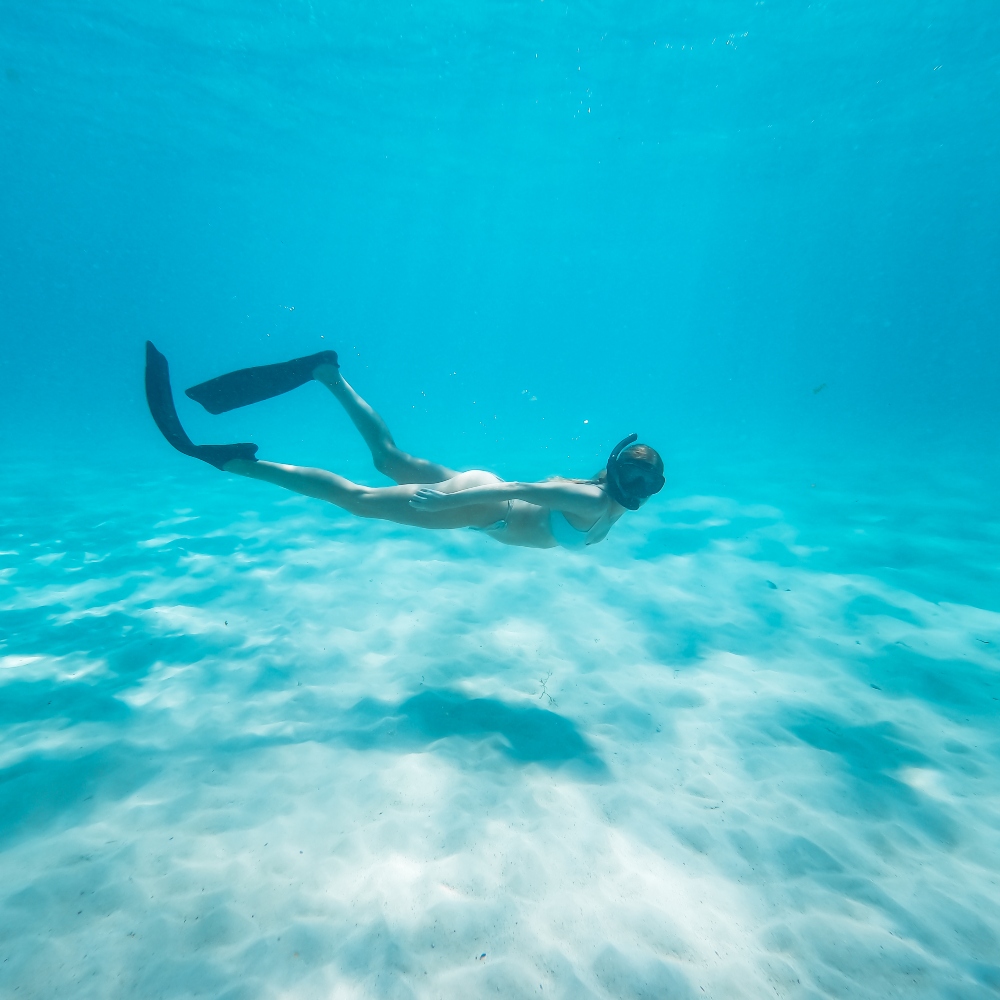 Did you know?
Ningaloo Marine Park is 260km long, making it Australia's longest reef. It's home to over 500 varieties of fish – you could spend weeks trying to see the immense variety of aquatic life among the coral reefs.
Coral Bay got its name from the Coral Bay Hotel, created by Ken Ryan in the 1960s, who bought a section of Cardabia Station. Before that, there was an area called Bill's Bay, a few kilometres away. Even though the Hotel is now gone, the name of Coral Bay remains.
FAQs
Are there sharks in Coral Bay?
Yes, there are sharks in Coral Bay and the Ningaloo Reef, specifically tiger sharks, reef sharks, bronze whalers, bull sharks and leopard spot sharks. There aren't really many instances of them hurting humans though around here. Also, there are baby sharks that you can see in the wild at their nursery! You'll find them in the shark nursery.
Is it safe to swim in Coral Bay?
The Coral Bay beaches are safe to swim in. However, there are no lifeguard-patrolled beaches here. Take the proper precautions as if you were swimming anywhere else.
Also, there are some protected areas that are properly signalled. You can't swim in them. Like the shark nursery or the turtle hatching area.
Are there stingers at Ningaloo Reef?
Occasionally, Irukandji and Box Jellyfish can be found on the Ningaloo Reef. However, unlike North of Exmouth, jellyfish stingers aren't a common concern at the Ningaloo Reef. If they are present, usually it is from November to April. Wear a stinger suit to protect yourself during these months to be safe.
The bottom line
Coral Bay is an inspiring place to visit. Here, you can swim with a manta ray and humpback whale in the morning, have lunch by the beach, and see sea turtles from Turtle Cliff in the evening. This place really has it all.
If you'll visit Exmouth, the 1-and-a-half-hour drive to Coral Bay will be absolutely worth it. Try to spend at least a day or two in this incredible place!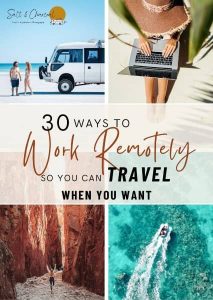 FREE Guide: 30 Ways To Make Money Online So You Can Travel When You Want
Unlock our secrets to consistent online income in Australia. These are tried-and-tested ways we've used to earn money from anywhere – only a laptop with internet is needed! Travel more and worry less.
Our Essential Travel Toolkit
🤩 Trip.com – Consistently great accommodation and hotel deals.
🤩 Hostelworld – Looking for the cheapest accommodation? We especially love the book now pay later feature.
🤩 Rentalcars.com – Best range, super easy to compare prices rental car and motorhome prices.
🤩 Viator.com – Easily book tours and experiences at the lowest rate. Great selection all over Australia.
🤩 Tripadvisor.com – Other than our website…..😉 the best place to find things to do
🤩 Airalo – eSIM store that solves the pain of high roaming bills by giving travelers access to eSIMs (digital SIM cards).
🤩 Caravan RV Camping – Traveling Australia in a van, caravan or bus? Use our discount code "saltandcharcoal" to get $30 off any orders over $300.