7 Common Online Work Myths Debunked + Free Resources To Help You Start Working Remotely
Working online can be life-changing. Imagine never needing to set foot in an office ever…. again. Working remotely from a laptop means you can choose where you work, who with, when and what you do.
It is a way to live the life you really want, instead of waiting for the weekend (or retirement) to do the things you love.
But there are a lot of things that hold people back from working online, and the biggest one is fear. There are many online work myths out there that can really hold you back from starting.
Some common ones include that working online is a scam, that there's no way to earn a stable income, or that you need to be skilful and gifted to make it happen.
You're absolutely not alone in thinking any of those things – we used to believe those myths too. After disproving them, we were able to make our dream life happen. And we want that for you too.
Don't waste any more time! Learn more about these common fears below. We will explain each myth and give you free resources to help you debunk it, so you can get on with your dreams of online work freedom.
Working Online Myths Busted Below
Tap on the myth below to go straight to its explanation:
1) Working online is a scam
Working online is not a scam, but it's common to think it is. With the amount of "get rich overnight doing nothing" scams going around it is understandable why people hesitate.
We've also been led to believe that the dream life, where you own your time, make money online and get time to do the things you love, isn't possible.
We get told it's okay to slave away at a job because it gives us security. We should be "grateful" that they even give us a job. We will get to have freedom in old age, once we have no energy left, as a "gift" for our hard work.
This is systemically taught to us to ensure that people keep showing up to work without asking questions.
It takes time to unlearn this mindset.
For example, I (Bec) used to think that yes, some special people live dream lives, but not me. I can't do it and I'm not meant to. I deeply believed I wasn't meant for it.
And due to that mindset, I ended up in a job I hated. But I thought feeling that way was normal, because "everyone hates their job, but you have to stick with it because it's the safe thing to do."
I thought it was normal to be unstimulated and unhappy at work. Spoiler alert: No, get out of there don't waste your time!
Note: If you also hate your job and want to quit, we wrote a guide with a step-by-step to do it successfully. Check it here!
The truth is that you deserve to live your dream life, whatever that looks like. You are worth it. You don't have to stick to a job you dislike, or that drains you.
There are other rewarding ways to get income that allows you to live the life you want. If you want to learn more about this concept read, "Rich Dad, Poor Dad", by Robert Kiyosaki.
We have also been told that you can escape your current job, and achieve a dream life overnight.
And that you'll become a millionaire in the process, of course…
That concept is a scam.
And, sadly, it has become synonymous with online work, giving it a bad reputation. So, let's set some things straight:
What exactly is working online?
It's simply a type of employment arrangement. It allows you to work and earn money without having to commute to the workplace. The core idea is that it can be done anywhere, as long as you have internet and a laptop.
There are many ways to work remotely. From swapping your current role to an online one to freelancing to owning an online business.
The charm of online work is being in charge of your schedule, as this often translates into more freedom and control over your life.
You can do things you really want to do and fit your work schedule around them, for example:
Spending more time with your family.
Not having to wait for the weekend to do the things you want to do.
Taking off days whenever you want or need them.
Taking care of a loved one, or yourself.
Living wherever you want to – a cabin in the woods, a caravan, a sailboat…
Travelling more.
Waking up late (or earlier!), having your meals when you want to, etc.
You can see that you don't have to be a millionaire to do the things you want to do. You can be one if you want, but it's not a requirement to live a fulfilling life.
---
---
In conclusion: Online work in itself is not a scam. It's simply one of many ways to earn money, with the added value of more control over your schedule. Yet…
Some scams disguise themselves as online work opportunities.
A scam is a deceptive trick or scheme used to take advantage of someone, usually to steal their money.
We've all heard about people who've lost their hard-earned money to online scammers. Also, it can be hard to know who you're talking to online and their intentions.
But in reality, real online work opportunities far outweigh the scammers. Even most job portals have measures in place to identify scammers quickly and get rid of them.
Knowing how to identify online scams is key. This will help you discern between a scam and a real opportunity to work remotely and thrive.
Red flags that scream "scam"
The principle is that if it's too good to be true, it probably is. As tempting as it may be, if you see any of these, run away because it's probably a scam:
Lots of income for little to no effort.
A "secret" or "exclusive" way to be rich, or a "shortcut" to wealth.
"Guaranteed" or "immediate" returns on your investment, a specific job, or a certain income.
Join a group or program where you'll ultimately have to recruit new members to make money.
Sell goods or services that have little or no value, but only serve to promote the scheme.
Asking for money up-front to pay fees or to purchase the materials and/or equipment you'll need to work from home, promising reimbursement.
Pressuring you to take action (e.g. sign a contract or share your personal information) as quickly as possible.
Offering you money out of the blue
How to avoid getting scammed?
Following these strategies will ensure that scammers will never take advantage of you:
As an online employee proposal, never give money up-front if a legit company wants to hire you, they will never ask for money.
Don't give out your personal details ESPECIALLY card details to anyone. They shouldn't be asking for them in the first place.
Check the website of your employer. Verify their online presence and reputation.
A legit company will have a video meeting with you at some point during the hiring process. They won't talk with you only through email and/or SMS.
Be suspicious of recruiters who approach you, more so if you're not in a job-hunting database.
Don't rely on the advice of the person approaching you or the people they recommend. Contrast their advice with your research.
Ask yourself, why would someone offer you this opportunity without even knowing you?
If you're unsure, go to the company's website and email them directly. Ask if they're really hiring.
If you see any of these red flags, avoid, block and report them!
Check these resources too:
Check this article with 12 strategies for spotting remote work scams.
Go to ScamWatch.Gov.Au for more information on types of scams, how to identify them, and where to report them.
2) You won't have a stable income if you work online
The general concept of a stable income is knowing you'll have a paycheck at the end of the month, usually bound to a legally binding contract.
You can absolutely get this type of arrangement in a remote work setting.
Thousands of companies use remote-based models.
Some offer the typical 9-to-5, with a contract and a steady paycheck, but with the work done remotely.
Depending on the company, you may have to go to the office from time to time for meetings. Also, some businesses may allow working from home, but not from other cities or countries.
This is the economically safest option out there but with the smallest amount of freedom and flexibility.
You can also have a stable income as a freelancer
The path to get there isn't easier or harder, just different. You need to build a reputation first, as that's the only way your prospects will know you provide good results.
Thankfully, this is very easy to do nowadays in reputable freelancing platforms, like Upwork, Freelancer, Fiverr, etc.
They have a rating-based system and you can showcase your portfolio there. This way, a potential customer will see how you've performed with previous clients and their experience with you.
You may have to start with low-paying jobs to get your first ratings. But once that's done, customers will slowly but surely approach you for your services. After that, you can increase your fees and even choose your clients.
Also, stable-income opportunities do arise while you freelance online.
For example, some of our team members started as part-time freelancers. Now, they're working full-time with us, earning a steady income. They can work flexibly online, when they want, where they want.
It's true that the early days of freelancing and owning a remote business can be less stable than a classical contract, economically speaking. So, it can be good to start slowly, while you have a steady paying job.
This isn't usually the case in the long term. Over time, you earn more as you can charge higher prices, because you have your reputation to back that up.
Also, you can choose the clients you want to work for, which is another form of freedom (besides working online).
But to succeed, you need to have some financial literacy.
Financial literacy is understanding key financial concepts and putting them into practice. This includes budgeting, planning for retirement, and even how to use debt responsibly.
This is the type of knowledge everyone should have, regardless of what you do (or want to do) for a living.
Here are some resources we recommend to get started on this:
This article discusses the basics of financial literacy, why it's important, and the steps you can take to get started.
Read "You're a badass at making money". Your beliefs and behaviours around money can make or break your ability to earn income. It's key to work on them, more so if you are a freelancer or business owner, and this book helps you with exactly that.
3) You must sell to, or recruit, friends or family to make money remotely
Thankfully, no – you don't have to sell to or recruit friends and family to earn money online.
This is also known as a multi-level marketing (MLM) strategy or direct selling. Here, you'll likely have to give money upfront to enrol and to get the products you'll later sell for a fee.
In an MLM scheme, a person earns money by:
Selling a company's products and earning a commission.
Earning a commission from the members they've recruited and the sales they make.
Wait – what's the difference between an MLM scheme and a pyramid scheme?
The main difference is that MLM schemes sell physical products, making them legal companies in Australia. Pyramid schemes get money from the fees paid by new recruits, making them a form of fraud, thus illegal.
But despite being legal, less than 1% of people working in an MLM scheme actually earn money.
Most people get into it thinking it's a quick and easy way to earn some pocket cash. But the up-front payments, added fees, and the time-consuming work of promoting the products can quickly leave you in negative numbers.
MLM is not the same as affiliate marketing, though.
In affiliate marketing, you earn a commission by promoting a product, service, course, etc. You're simply recommending something you've already tried and think can help others.
For example, let's say you want to promote an Amazon product on your blog.
To do this, you'll use a special Amazon affiliate link to promote said product. That way, if anyone clicks on it and makes a purchase, Amazon will know they came from you.
Then, Amazon itself will pay you a small commission from that sale, at no extra cost to the customer.
So, unlike MLM schemes, in affiliate marketing:
You earn money from a commission paid by the company, not the customer.
You don't pay fees up-front.
You don't recruit people to join the company.
You don't buy the product first to resell it for a profit.
You don't deliver the product to the customer.
If you want to get into an MLM scheme, check these resources first:
Read this article. It has some things to know before joining an MLM company, and a few questions to ask yourself to increase your chances of success.
Go to Direct Selling Australia to check if the company you'll join is legit, as some scams disguise themselves as MLM schemes. Do thorough research.
4) You need special skills to work remotely
We hear this a lot from people who consider themselves as "not tech-savvy". Or from people who aren't sure what to do online or where to start, and feel overwhelmed.
The truth is that you don't need special skills to work remotely. More specifically:
You don't have to be tech-savvy.
You don't need a special degree (or a degree at all, Chris doesn't have one!).
You don't have to be an internet wizard.
You don't need to know how to code, design, or use Excel, PowerPoint, Adobe, etc.
Honestly, if you know how to send an email and use writing software (like Word or Google Docs), you have all the basic skills needed to land your first remote job.
But, if the job you want requires specific skills, there are hundreds of ways to learn them – both free and paid.
You can head to YouTube, a blog, or even do a course to learn virtually any skill.
For example, one of our teammates (a virtual assistant) got started with this free course. There, she learnt the basic skills needed to land her first job in that area.
We did a course with the eBusiness Institute that taught us the skills needed to buy, build, and resell websites for profit. That's what we've been doing for a living since 2017!
It's easy to get stuck on the uncertainty of which skills are needed for a remote job.
To get around this, you need to know first what type of job you'd like to do remotely.
After figuring that out, you can search for the specific set of skills needed for that particular role, and learn them if necessary.
If you're unsure, you can always do a quick Google or YouTube search. You'll likely find a blog or a video dedicated to the skills needed for the job you want to do, what a workday is like, and more.
Yet, sometimes you have to do the job to know which skills you need to work on or learn.
In other words – you'll also know which skills you need while doing the job.
For example, if you work as a content writer, some employers may require you to upload your articles into WordPress, while others prefer to use specific writing software. You'll learn how to use those as you work.
Now, we really enjoy online courses for learning new skills or honing old ones. They provide structured learning and remove the guesswork from the process.
And thankfully, there's no shortage of learning platforms. Here are some recommendations that provide free and paid options:
5) There are lots of options for remote work, but don't pick the wrong one
You won't know if that remote job is a wrong fit for you until you try it. Pick something and give it a go!
If it ends up being a wrong fit, you'll learn what you don't like, which gets you closer to what you do like. With that perspective, it will never be a waste of time or energy, but another way to get you closer to your goals.
The key is to remove the weight of "this has to work". Instead, approach the process with curiosity, much like trying new food. Get a taste of the dish, and if you don't like it, no problem – move on to the next one.
Try this step-by-step to remove the guesswork
Make an unfiltered list of all the remote work options you may be interested in. Use your gut, don't think much about it.
Once you're done, take a 15-20 minute break and do something that you enjoy to take your mind off that list.
Then, revisit the list. Go line by line and circle the ones that have the lowest barrier of entry for you – you won't need to learn new skills or buy new equipment, for example.
6) The only way to earn money online is by owning a remote business
You don't have to be an online business owner if you don't want to! It's only one of many ways to earn money online.
Most people earn money online by freelancing or by working for a remote-friendly company. Through these, you can earn more than enough income to live your dream life, whatever that looks like.
Owning a remote business can be suitable for those who love a challenge.
And also for those willing to put a lot of time and effort into making that happen. Because building a remote business is one, if not, the most challenging way to get income online.
Yet, it also has the highest earning potential and offers the most freedom in the long term.
We've been remote business owners for the past 5 years and we wouldn't trade it for the world. Here are some pros and cons from our experience, to help you figure out if this is the right choice for you:
Pros of being an online business owner
Freedom to focus your business around your interests and the things you love.
No income ceiling. You can work until you reach a certain income on a steady basis, or keep working for more.
Your business goes anywhere you go.
Never get bored – not two days are alike.
You own your life, in the most literal sense.
Cons of being an online business owner
It's very challenging, as you are in charge of absolutely everything.
It takes a while to reach stability, for us it took 2-3 years.
Requires perseverance and resilience. Things will get hard and you'll have to push through.
You'll have to get comfortable with failing and looking at it as a learning experience.
Need solid organisational skills.
As you can see, it's a challenging but rewarding path.
If you want to do this, we strongly recommend getting help from someone who is where you want to be.
Their experience will give you a sort of "step-by-step" to follow and you'll learn from their mistakes.
In our case, our mentors were Matt and Liz Raad, from the eBusiness Institute. They have a course where they teach how to buy, build, and resell websites for profit, which is what we now do for a living.
They gave us a structure, taught us how to use the tools to make this happen, and shared the know-how to succeed in this type of remote business.
If you are looking for different coaches though, ask around your networks or online. Mindset coaching is a great starting point for online business!
7) You won't have internet access in remote locations
You can nowadays! This is thanks to satellite internet. Here, a satellite provides internet access in areas where there's no internet service or even phone coverage. It can be incredibly fast, even matching internet speeds in the city.
We use Starlink, a satellite internet provider designed by SpaceX.
It costs around $170 a month and we got the satellite equipment half-price, at $450. These costs are already paid off, by the convenience that fast internet everywhere brings us.
Thanks to it, we're able to work while we travel, regardless of where we're at. It's extremely convenient and easy to set up, too.
The bottom line
Working remotely is a "choose-your-own-adventure" kind of thing. It's incredibly freeing and rewarding regardless of what path you take because in the end it will be aligned with YOUR goals.
We hope debunking these remote work myths will help you take that first step into this world!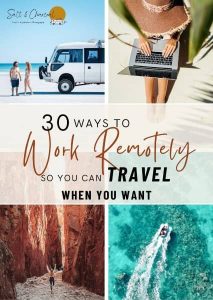 FREE Guide: 30 Ways To Make Money Online So You Can Travel When You Want
Unlock our secrets to consistent online income in Australia. These are tried-and-tested ways we've used to earn money from anywhere – only a laptop with internet is needed! Travel more and worry less.
Our Essential Travel Toolkit
🤩 Trip.com – Consistently great accommodation and hotel deals.
🤩 Hostelworld – Looking for the cheapest accommodation? We especially love the book now pay later feature.
🤩 Rentalcars.com – Best range, super easy to compare prices rental car and motorhome prices.
🤩 Viator.com – Easily book tours and experiences at the lowest rate. Great selection all over Australia.
🤩 Tripadvisor.com – Other than our website…..😉 the best place to find things to do
🤩 Airalo – eSIM store that solves the pain of high roaming bills by giving travelers access to eSIMs (digital SIM cards).
🤩 Caravan RV Camping – Traveling Australia in a van, caravan or bus? Use our discount code "saltandcharcoal" to get $30 off any orders over $300.