Coconut Well: Your Guide to Broome's Enchanting Rock Pools.
Fed by the famous Kimberley tides, this stunning turquoise lagoon was once a well-kept secret just north of Broome, in Western Australia. Known as Goolarabooloo Millibinyarri to local Aboriginal people.
An unassuming bay, hidden from the world by a four-wheel drive-only access road and soft white sand dunes. Mother Nature takes it a step further when the rockpools become natural spas! Filled by the tidal movement of the Indian Ocean.
During a 9m high tide, seawater spills over the sand dune, forming a lagoon which locals come to "float" in. But the unexpected treasure that is Coconut Well, is revealed when the tide starts receding back to reveal the rockpools.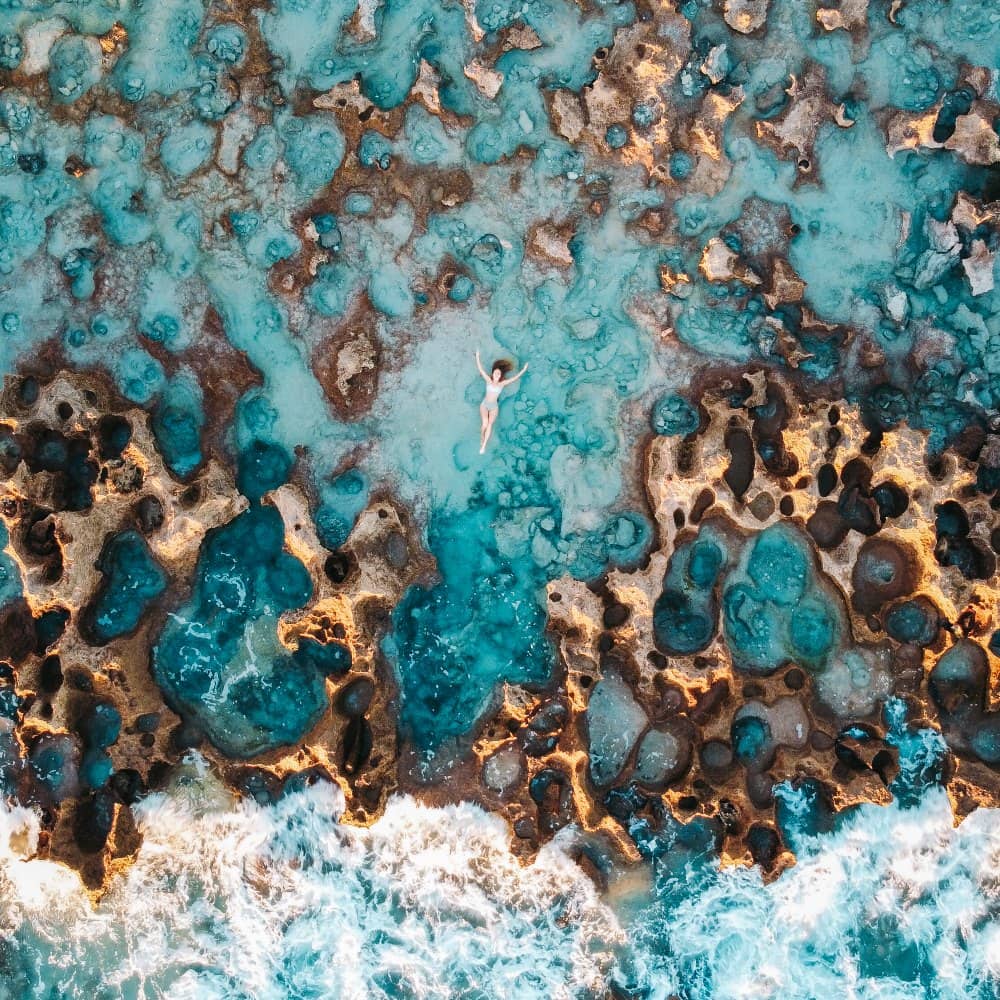 Whether you want to join the locals for a "float" in the lagoon, or look for creatures in the rock pools. In this article, we will break down everything you need to know about visiting Coconut Well in Broome, Western Australia.
Table of Contents
How to get to Coconut Well
Just 28 28-minute drive from Broome, take Broome Road, turn left onto Broome-Cape Leveque Road and left onto Coconut Well Road.
The road will reach a small carpark section. Park here if your car is a 2WD and walk the rest of the way. If you have a 4WD, you can continue on the sand road driving close to Coconut Well itself, but you may want to let your tyres down as there is a boggy section on one turn. (See below for us getting bogged there!)
Broome itself is about 2000km, a two-day drive north of Perth, or a two-and-a-half-hour flight.
You can watch us get bogged near Coconut Well in our 4WD bus below:
Coconut Well Lagoon
As the seawater moves towards the shore, it brings with it a variety of marine life. When the high tide reaches nine metres or more, clear blue water flows over the sand dune, into the lagoon at Coconut Well.
The lagoon is mostly sandy during low tide, so it's important to check the tide sizes and times.
Coconut Well rockpools and the lagoon are known for calm and clear waters, making it an excellent spot for swimming and snorkelling. Sometimes you can spot octopus hiding in the rocks! The lagoon is relatively shallow, allowing for easy exploration. It is also advised to wear water shoes to protect your feet from sharp rocks or shells.
The lagoon is best when the tide is coming in or high. Although the rock pools are the best when the tide is lower. We recommend checking the tides depending on what you want to see. Or… just stay the whole day!
Coconut Well Rock Pools
As if floating in a high tide lagoon wasn't incredible enough…
The receding tide reveals a huge collection of rock pools, each filled with amazing turquoise water and a host of sealife stuck within them! That is until the tide returns to refresh and refill the lagoon six hours later.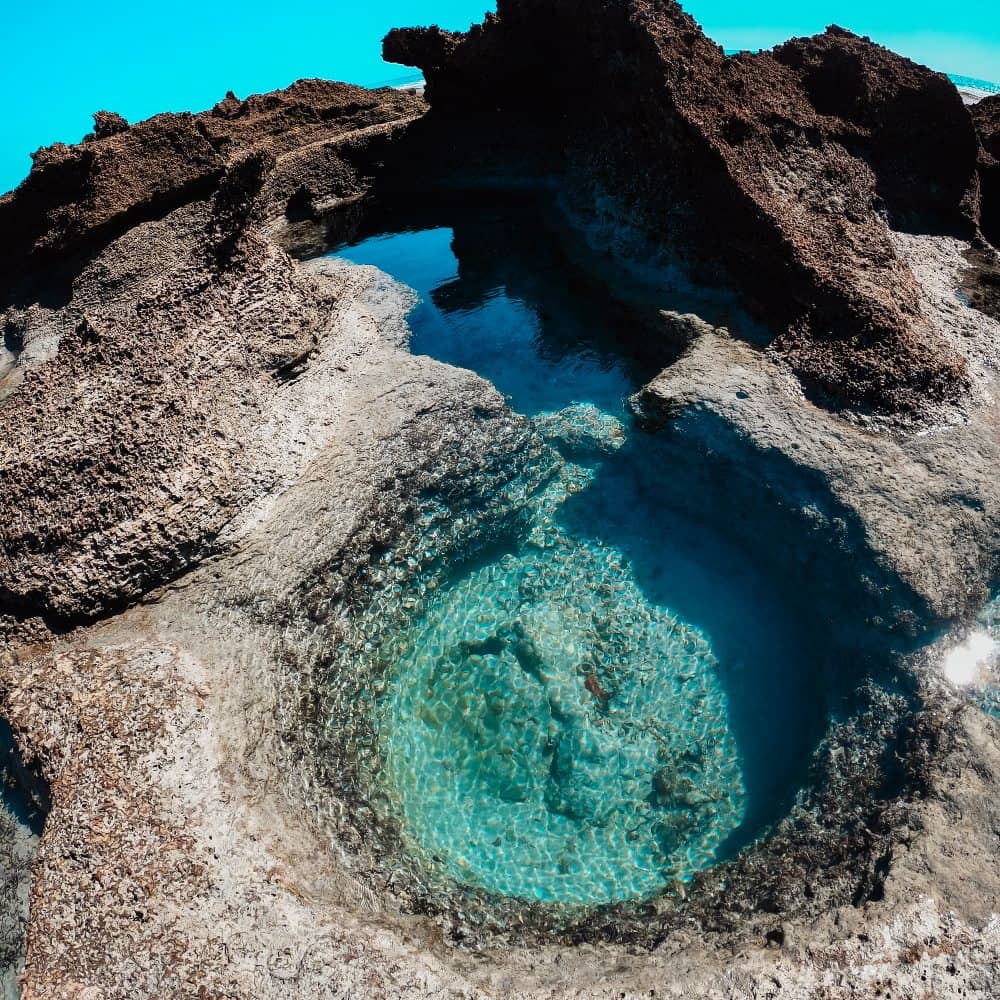 At Coconut Well, you can bask in a personal bath-tub-sized rock pool that doubles as your own private aquarium.
It's hard to imagine any other place on the planet that can offer such a diverse experience in one place, along with the solitude of being off-the-beaten-track.
Fishing at Coconut Wells
Local and visiting anglers alike also love the small community of Coconut Well, north of Broome. They particularly love the challenge of fishing the high tide for some exciting and premium eating species like tuskfish, queenfish, bream, whiting and trevally.
Although an advantage, a boat to fish from is not a necessity, with land-based options giving everyone from the experienced, to the first-timers a chance for the catch of a lifetime. There are plenty of fishing spots off the reef, in the surrounding creeks and, thanks to the massive spring tides, lots of locations in between.
Where to stay
You cannot camp at Coconut Well, it is important we respect the traditional owners of the land and avoid illegally free camping here.
Coconut Well is easily done as a day trip, being only 28 minute's drive from town, you can stay in Broome. Alternatively, for people seeking a free camping adventure consider driving up north to the incredible James Price Point where there are many off-grid camping options.
If you prefer to stay near Coconut Well, the small beachside community has a few accommodation options available, for those who'd like to linger longer. You can take the comfortable glamping option in local eco-tents or upgrade to a B&B…
Top Tips
The rocks surrounding the small pools at low tide are quite sharp, so wear shoes and tread carefully.
---
---
Check the tides when planning your visit, to make the most of your time at Coconut Well. Many people come at the wrong time and report back feeling disappointed.
Showing respect to the culture and land of local indigenous peoples will enrich your experience and preserve this pristine environment, and the small community of Coconut Well, for future generations to enjoy.
It makes sense to wear shoes for protection from the rocks, but don't neglect the serious matter of sun protection, and bring plenty of drinking water – although you're surrounded by (sea)water – you'll still get thirsty!
Did you know?
Coconut Well was originally established in the 1970s with a plan to create a significant plantation area. This never eventuated due to lack of available freshwater, however, the area does still boast a mango plantation – Yum!
The small community of Coconut Well, north of Broome has plenty to brag about. Beautiful beaches, gentle sand dunes, and an incredible blue lagoon with a myriad of marine life that ebbs and flows with the phenomenal spring tides.
What more could this idyllic getaway en route to Cape Leveque have to offer? A private pool, or two… or more… the true hidden gems of Coconut Well lie beneath the low tide in a multitude of small aqua-marine rock pools. With a palette of colour that almost defies description, The Earth is truly an amazing artist.
Coconut Well might be a tiny speck on the map, but once visited, it will definitely loom large in your list of fond memories.
FAQs
Are there crocodiles at Coconut Well?
Crocodiles – although not often seen – are known to have been spotted along the Kimberley Coastline, so it's always a good idea to check with the Broome Visitors' Centre and listen to the locals. Coconut Well has some nice safer options like the rockpools or the lagoon.
Do you need a 4WD to get to Coconut Well?
How do I get to the Coconut Well rock pools?
The rockpools are on the shore when you arrive at Coconut Well, look for the protruding rocks out of the sand.
Take the Cape Leveque Road leading north of Broome, then turn left onto McGuigan Rd (this becomes Lawrence Rd), then take another turn left onto Denham Road which will take you to Coconut Well, and those amazing rock pools.
Some visitors have even driven along the beaches all the way from Cable Beach on the low tide!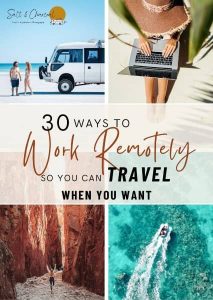 FREE Guide: 30 Ways To Make Money Online So You Can Travel When You Want
Unlock our secrets to consistent online income in Australia. These are tried-and-tested ways we've used to earn money from anywhere – only a laptop with internet is needed! Travel more and worry less.
Our Essential Travel Toolkit
🤩 Trip.com – Consistently great accommodation and hotel deals.
🤩 Hostelworld – Looking for the cheapest accommodation? We especially love the book now pay later feature.
🤩 Rentalcars.com – Best range, super easy to compare prices rental car and motorhome prices.
🤩 Viator.com – Easily book tours and experiences at the lowest rate. Great selection all over Australia.
🤩 Tripadvisor.com – Other than our website…..😉 the best place to find things to do
🤩 Airalo – eSIM store that solves the pain of high roaming bills by giving travelers access to eSIMs (digital SIM cards).
🤩 Caravan RV Camping – Traveling Australia in a van, caravan or bus? Use our discount code "saltandcharcoal" to get $30 off any orders over $300.