Hiking Waitpinga Cliffs on the Heysen Trail – Everything You Need To Know!
For nature lovers in search of an exciting new adventure, consider hiking across the incredible Waitpinga Cliffs from Kings Beach in South Australia.
Located in Newland Head Conservation Park and just 1 hour 30 minutes from Adelaide, this is a trail with a lot to offer, a combination of epic coastal views, as well as dense native Australian forest.
Some people hike Waitpinga Cliffs and return in a day, while others opt to stay overnight at the serene Waitpinga campsite. We will elaborate on all options below!
All hikes take on a section of the renowned Heysen trail, a 1,200-kilometre-long walking trail that spans from Cape Jervis to the Flinders Ranges.
In this article, we will break down the confusion of the hike, to ensure you have an awesome adventure with no hiccups! The views are worth the effort.
Let's break it down! Here's everything you need to know about hiking this trail:
Table of Contents
Where to start
Park your car at Kings Beach Road Trailhead and begin your adventure there. Alternatively, some trails can begin at Waitpinga campsite which we explain below.
All hikes take the Heysen trail for most of the way, but if you continue on to Waitpinga Campsite, take the Coastal Cliffs circuit hike fork in the road.
As you enter Newland Head National Park, beginning on the Heysen Trail, you will see a map on a sign that you can check to reference your upcoming track. Otherwise, we have posted some maps below for your reference.
Leaving from King's Beach, be prepared for breathtaking coastal views, pristine beaches, and dramatic cliffs pretty much straight into the trail!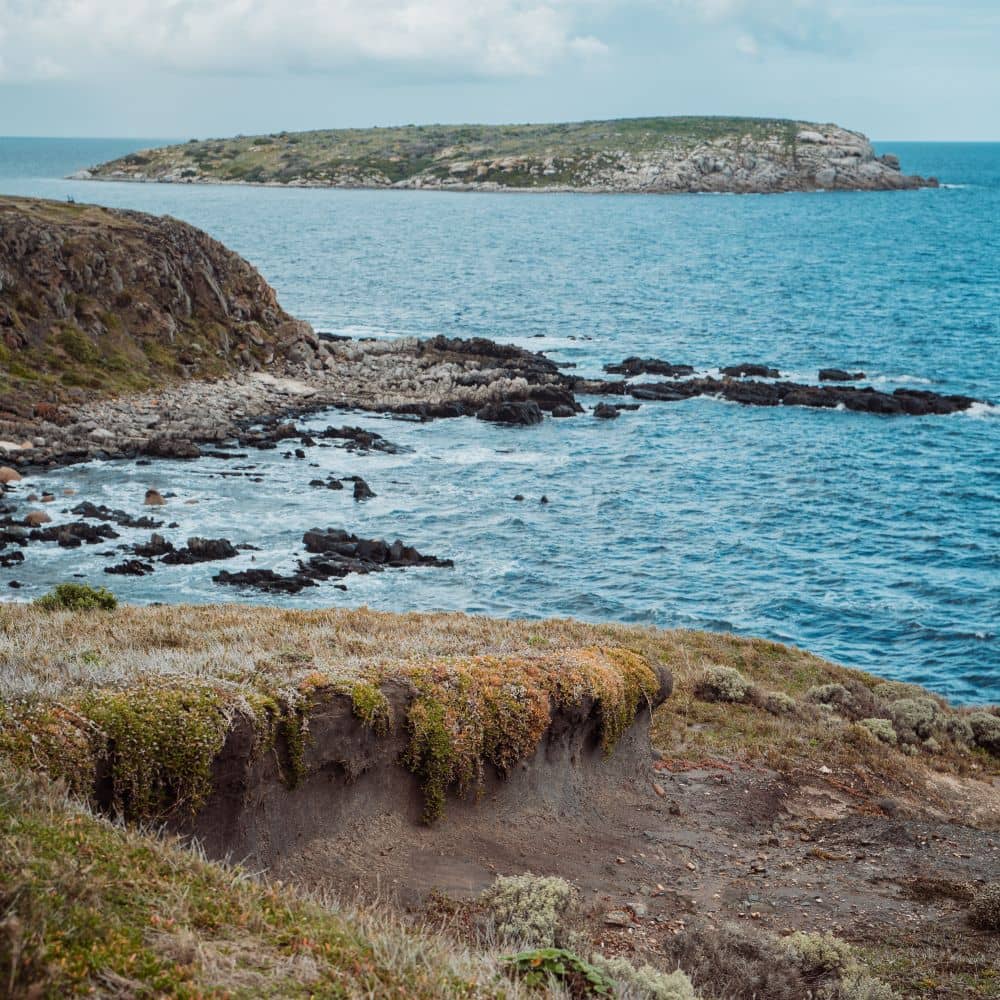 Hiking options
There are 4 main hiking options to choose from:
The 6.4km half-day hike circuit which takes you to the picturesque "bench with a view" highlight of the trail
The 11.5km day hike one way
The 14.5km day circuit
The 23km overnight circuit
1) Bench with a view circuit (3.2km one way)
Avg duration: Half day (2-4 hours)
Difficulty: Easy
For day hikers, this is a great 6.4km there and back hike, which takes you up and over the famous Waitpinga Cliffs to "bench with a view".

The name says it all, this bench overlooks the incredible cliffs and is perfect for having lunch.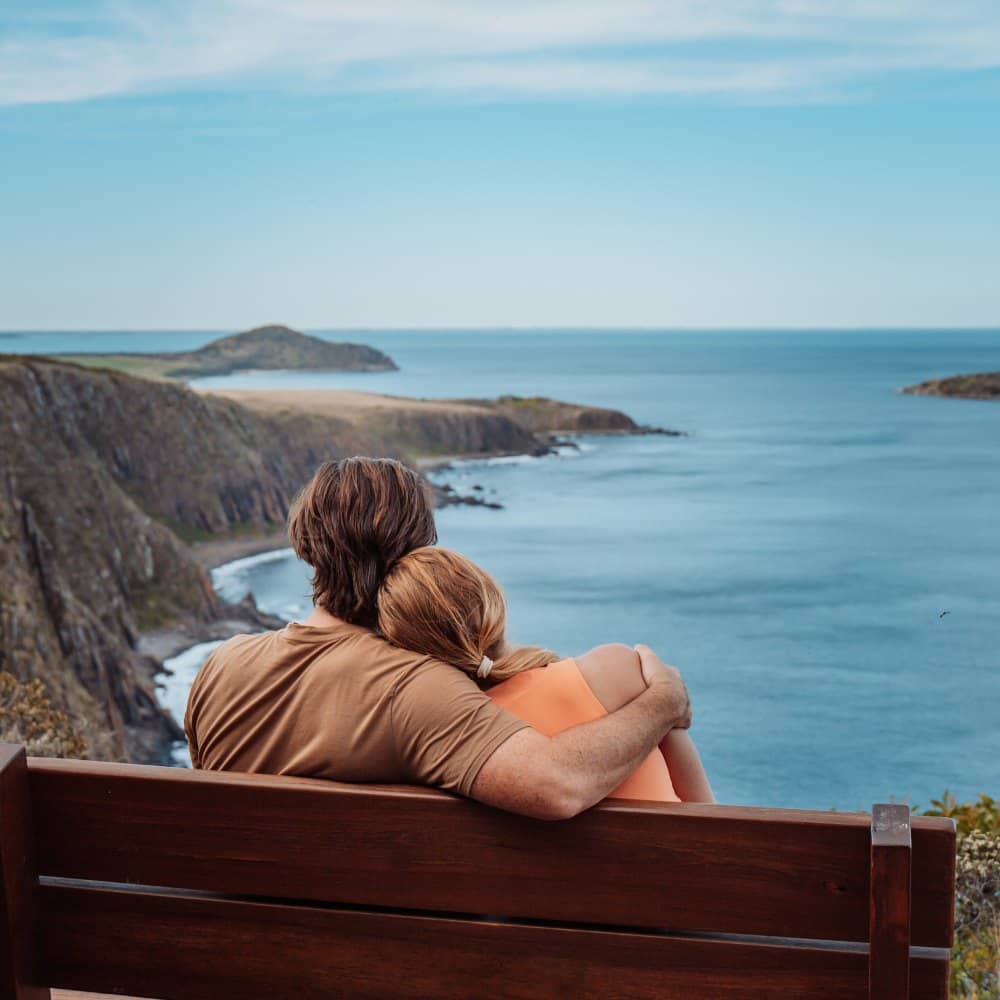 This trail is moderate in difficulty and does involve a bit of a hill climb on a well-maintained track.
Leaving from King's Beach, take the track 3.2km across bushland and coastal scenery until you reach the viewpoint before you turn around and head back. The trail has sections of grass, dirt, hills and rocky patches. Map below:
Benefit from some of the most rewarding sights the Fleurieu Peninsula has to offer. Spot whales, wallabies, kangaroos and other native Australian flora and fauna on your journey while taking in the 360-degree views!
2) Waitpinga Cliffs to Kings Beach – One Way 11.5km (Need pickup)
Avg duration: Day hike (4-6 hours )
Difficulty: Hard
If you can arrange a pickup at one end of the trail then you can complete the Waitpinga Cliffs Heysen Trail 11.5km in one day. Begin at either Waitpinga campsite or Kings Beach Road Parking.
If you are starting at Kings Beach, take the Heysen trail 7.1km through rugged cliffs and wild bushland, at the fork in the trail, go left with the coastline, and take the Coastal Cliffs Hike another 4.3km until you reach Waitpinga campsite. (If you take the trail to the right inland it is a fire track, so mainly dirt).
Some of this last coastal section is quite uneven and rocky so be careful with your footing. With this option, you can benefit from all of the views of the hike, without needing to carry a pack or return the following day.
But be prepared, it's a long way so bring supplies! We have more information below on what you should bring with you.
Be aware: Reception is not reliable at Waitpinga campsite, so if you need a pickup it may be best to start at Waitpinga camp, then you can call for a pickup at Kings Beach when you finish.
3) Waitpinga Cliffs Day Return Hike 14.5km
Avg duration: Full day hike (6-8 hours )
Difficulty: Very hard
Park your car at Kings Beach Carpark, and take the Heysen trail along the coast and bushland, 7.2km until you reach the Coastal Cliffs walking track.
Once you reach this fork in the road, it's time to turn around and head back to your starting point. 14.5km is challenging in one day! So make sure you are well prepared.
Elevation of these trails is around 400m – 500m incline.
4) Overnight Hike – Kings Beach to Waitpinga Campsite 23km
Avg duration: 2 days
Difficulty: Hard
Lastly, consider hiking overnight and spending 2 days along this pristine trail. The campsite at Waitpinga is beautiful, imagine waking up to Kangaroos and the sounds of birds!
To hike overnight:
Firstly, tell someone where you are going and when you are expected back.
---
---
Park and leave your car at Kings Beach Road carpark, and hike 7.1km along the mostly coastal Heysen trail until you reach the fork in the road. You will see a sign here, this is where you begin the Coastal Cliffs circuit hike for the last 4.3km.
You can either go left or right until you reach Waitpinga campsite. Whichever one you take, you can take the opposite tomorrow. We recommend going inland right, which is a mostly dirt track, it is slightly faster and also saves the coastal section for the next morning.
After your exhilarating hike, stay the night at Waitpinga campsite (book online here) before returning on the Coastal Cliffs hike circuit and back down the Heysen trail to your car, the next day.
It was really challenging for us, going on this hike for the first time with quite heavy packs on our backs. But it is so rewarding. We recommend!
About Waitpinga Camp
Cost: $23.00 per night
Waitpinga campsite is a tent-only campground nestled in the forest. You can drive your car in, but it is for tent or swag campers only. There is a toilet, rubbish bins and a rainwater tank.
One of the highlights of camping at Waitpinga Campsite is the opportunity to witness a sunset at Waitpinga Beach. Just a short walk from the campsite, this secluded beach offers uninterrupted views of the horizon as the sun dips below the sea.
What to bring hiking
It's essential you bring everything with you, and leave nothing behind on your hike.
Here's our list to help you with what to bring in your packs!
Backpack: Choose a lightweight hiking backpack with a comfortable fit
Tent: Invest in a lightweight, reliable tent – must be waterproof
Sleeping Bag: Select a sleeping bag that provides adequate warmth for the expected temperatures. We have one that can handle 1-degree Celsius lows.
Sleeping Mats: lightweight mattresses for sleeping on.
Cooking Equipment: Pack a lightweight stove, gas, cookware, cutlery, bowls, plates, and cups.
Food and Water: Carry lightweight, nutritious food that can be easily prepared on the trail. We brought dehydrated dinners. Ensure you have enough water or a reliable water filtration system.
Clothing: Bring layers, and choose moisture-wicking, quick-drying fabrics. Include a rain jacket, hat, thermals and sturdy hiking boots.
Navigation: Pre-save the map on your phone so it works offline. A physical printed map is a good backup.
Charging Equipment: Bring a portable charger and cord for your phone.
First Aid Kit: Pack a first aid kit, including essentials like bandages, antiseptic wipes, and blister treatments.
Lighting: Bring a headlamp or flashlight with extra batteries.
Personal Items: Don't forget essentials such as sunscreen, insect repellent, toiletries, and a multi-tool.
Flora and Fauna on the hike
In addition to the stunning coastal landscapes, Newland Head National Park boasts a rich array of flora and fauna. Discover its unique plant species, including native eucalyptus forests and colourful wildflowers.
You might also encounter the New Holland honeyeater, wedge-tailed eagles, swamp wallaby's, kangaroos, or even a pod of dolphins or whales playing in the ocean.
We saw so many kangaroos along the 23 kilometres!
Bookings/Permits
You just need to book and pay for the Waitpinga camp in advance.
Top Tips
Always check weather and trail conditions before setting out. Check trail conditions online on the official park websites and check on weather forecasts.
Extreme weather conditions, such as high temperatures or heavy rainfall, can significantly impact your hike and safety. Contact local authorities to obtain the most up-to-date information.
Overnight hiking can be demanding. Stay positive, set realistic expectations, and just try your best, but don't rush!
Practice Leave No Trace principles by minimizing your impact on the environment. Respect wildlife, dispose of waste properly, and avoid damaging vegetation.
Safety First: Prioritize safety during your overnight hike. Stay on marked trails, follow signage, and be cautious near cliffs, water bodies, and steep slopes. Keep an eye on weather changes and be prepared to adjust your plans accordingly.
Did you know?
Newland Head Conservation Park is a part of the Fleurieu Peninsula. There are two rugged beaches here to explore, Waitpinga and Parsons. Both can have dangerous rips and currents so swimming is not recommended.
The bottom line
You won't regret embarking on this hiking journey from the Heysen Trail through Newland Head National Park to the Waitpinga Campsite. It's an experience that will leave you in awe of Australia's natural wonders.
There's a strong contrast between dramatic coastal views along the Heysen Trail to the tranquility of the Waitpinga Campsite. This adventure offers an unforgettable blend of rugged ocean and peaceful bushland.
So, pack your hiking gear, embrace the spirit of adventure, and allow Newland Head National Park to enchant you!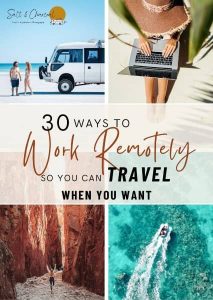 FREE Guide: 30 Ways To Make Money Online So You Can Travel When You Want
Unlock our secrets to consistent online income in Australia. These are tried-and-tested ways we've used to earn money from anywhere – only a laptop with internet is needed! Travel more and worry less.
Our Essential Travel Toolkit
🤩 Trip.com – Consistently great accommodation and hotel deals.
🤩 Hostelworld – Looking for the cheapest accommodation? We especially love the book now pay later feature.
🤩 Rentalcars.com – Best range, super easy to compare prices rental car and motorhome prices.
🤩 Viator.com – Easily book tours and experiences at the lowest rate. Great selection all over Australia.
🤩 Tripadvisor.com – Other than our website…..😉 the best place to find things to do
🤩 Airalo – eSIM store that solves the pain of high roaming bills by giving travelers access to eSIMs (digital SIM cards).
🤩 Caravan RV Camping – Traveling Australia in a van, caravan or bus? Use our discount code "saltandcharcoal" to get $30 off any orders over $300.