Z Bend (Kalbarri, WA): Awe-Inspiring Hikes Through An Ancient Gorge
The Z Bend (Kalbarri, Western Australia) is a rare geological feature where the Murchison River makes two sharp turns in opposite directions, creating a Z-like shape.
The Murchison River (the second longest river in Western Australia) runs from Kalbarri coast inland 820km.
This phenomenon is best seen from the Z bend lookout. You can see both bends of the river and the precise "Z" shape from this viewing area.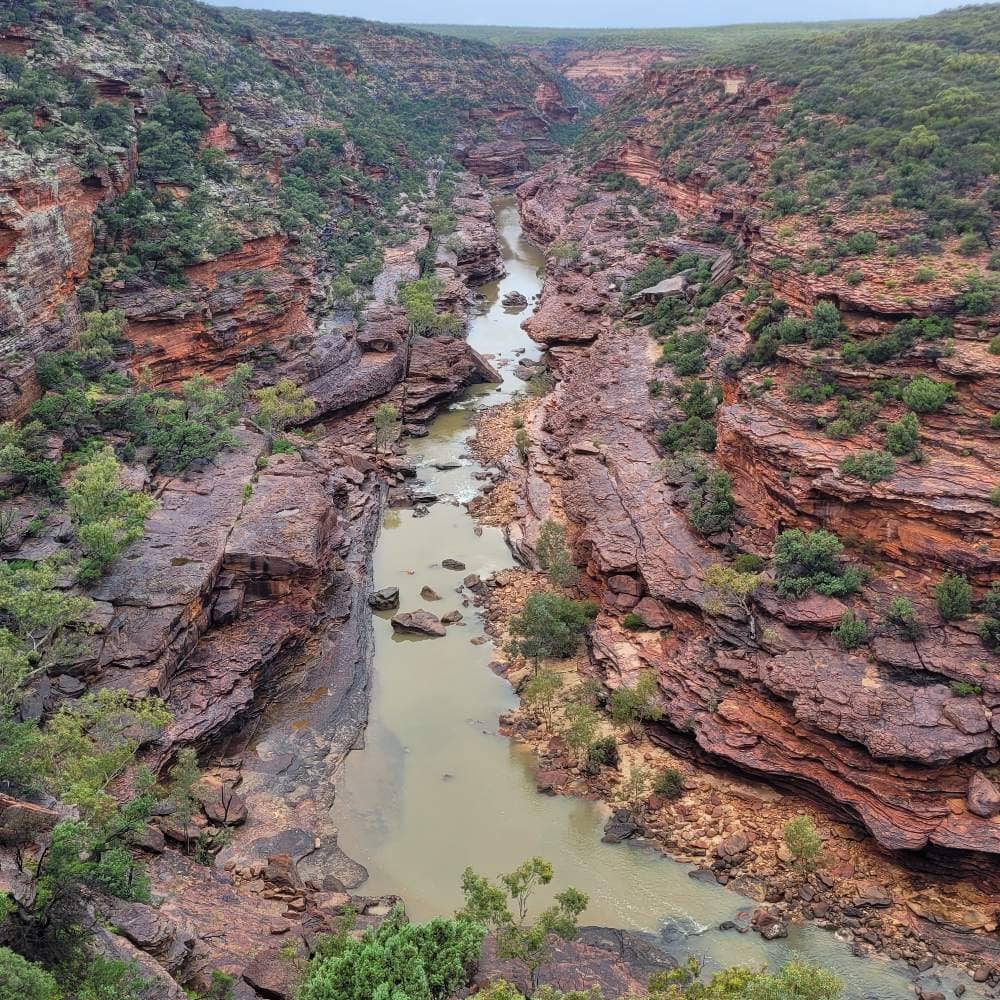 Most people go to the Z bend lookout, enjoy the view, snap a picture and leave. But there are actually two awesome hiking trails to do too!
These have varying lengths and difficulties, but both take you down to the gorge – the Z Bend River trail and the Four Ways trail. If you are short on time or don't have much hiking experience, go for the former.
We share details and tips to help you prepare for those hikes further down, along with the best time to visit, and more!
Table of Contents
How to get to the Z Bend?
The Z Bend is within Kalbarri National Park, in Western Australia. The nearest town is Kalbarri, a small coastal spot 590 kilometres northwest of Perth.
Once in the town of Kalbarri, it's a 30-minute drive to the Z bend. You'll have to enter Kalbarri National Park and pay a fee for the day ($15 per vehicle). No camping is allowed.
You can visit the Z Bend all year, through the Murchison Gorge access road.
There are other famous attractions near the Z bend, too – the Nature's Window and the Kalbarri Skywalk.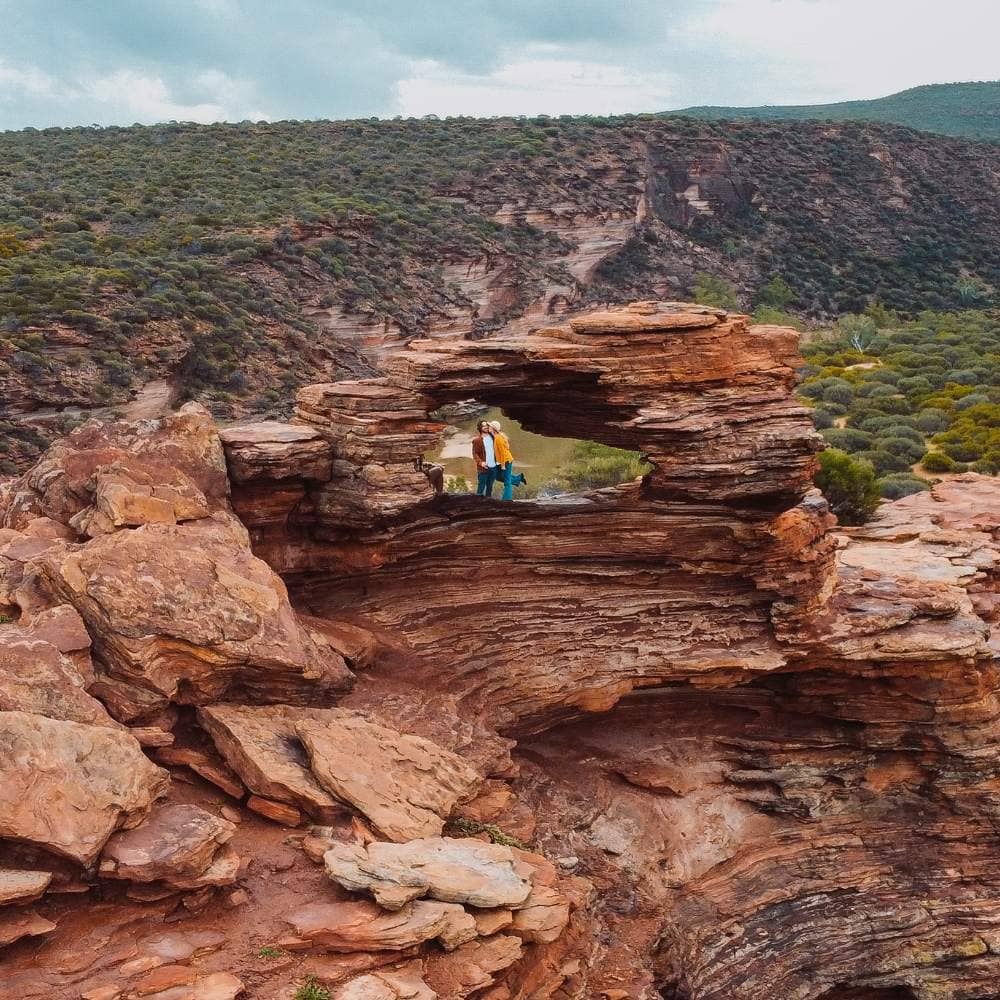 From left: Nature's Window and the Skywalk
You can visit the 3 of them in one day if you're short on time and/or don't want to pay the entry fee again.
But if you want to go head first and experience everything the park has to offer, you can always purchase a multi-day pass, a multi-park pass, or a holiday pass.
These allow you to visit one or more parks in Western Australia, depending on your itinerary. Learn more about park passes here.
Please be aware: No towed vehicles or motorhomes allowed into Kalbarri National Park
However, you can unhitch your trailer or caravan and leave it in a small parking area just beyond the entry gate to Kalbarri National Park. The space is unshaded, though, and there's no guarantee you'll find a spot.
That's why the Kalbarri Visitor Centre recommends leaving your trailer, caravan, motorhome, etc. in the town.
Hikes around Z Bend Kalbarri:
1) The Z Bend Lookout Path
From the car park, there is a 1.2 km walk to the Z bend lookout – an overhanging rock formation that doubles as a viewing area. It sits 150 metres above the Murchison River gorge, making for a truly stunning sight.
The path to get there is a moderately easy walk, suitable for people of all ages and fitness levels. However, it's considered a class-3 hike – it's a bit steep and there are some steps to climb to get there.
The area has picnic tables and toilets, but make sure to bring drinking water and snacks. Moreso if you want to do any of the following hikes.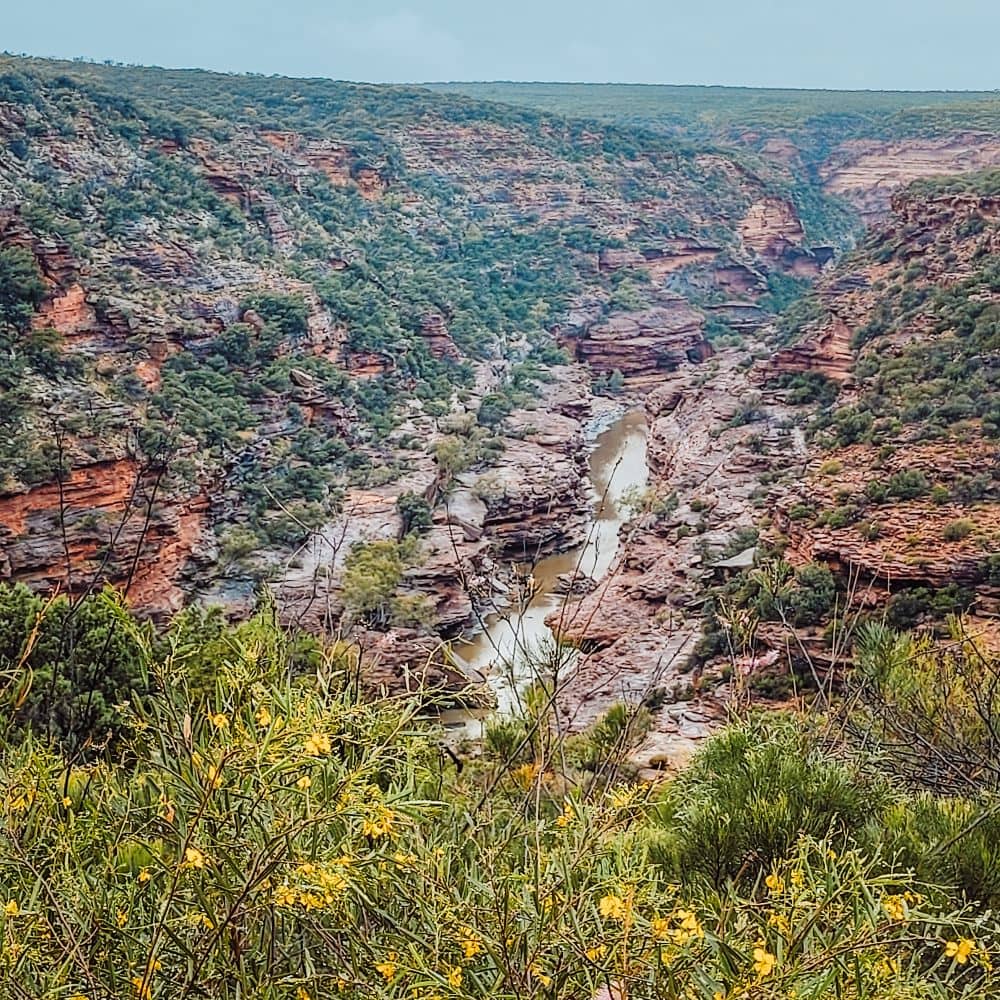 2) The Z Bend Walking Trail
Here's where things get interesting!
This is a class-4, 2.6km walk from the Z bend lookout down to the Murchison River gorge.
It's a well-marked but demanding trail, as you'll do a steep descent down to the river's edge and return through that same path. There are many rocks, tight passages, and steep ladder climbs to do.
Thankfully, the scenery throughout the hike is stunning. It makes everything easier! And once in the river, you can take a refreshing swim or just relax by the water.
Make sure to bring drinking water and sturdy walking shoes, as the track is dusty and rocky. Be mindful of loose rocks, and allow at least 2.5 hours for this hike.
Keep your eyes out for Australian wildflowers on the trails in Kalbarri National Park in springtime.
---
---
3) The Four Ways Trail
The "Four Ways" is where the Murchison River crosses two gorges, creating a four-way junction. It's a beautiful place, but the path to get there is pretty intense.
So much so, that this loop hike is considered one of the most challenging in Western Australia. It's a class-4 trail, 6km long, and unmarked – it may be best left for experienced and more adventurous hikers.
It doesn't have sudden drops like the Z Bend River trail, but you'll have to walk along rocky shelves and swim through a few pools to get to Four Ways.
The return is more difficult, as you'll have to slowly make your way up from the bottom of the gorge.
Thankfully, the gorge walls give good shade, and the occasional swim is extremely refreshing. Give yourself at least 4-5 hours to do this route and bring 3-4 litres of water per person.
When is the best time to see the Z Bend?
The best time to see the Z bend is winter and spring. But if you want to do any of the hikes, many people opt to go in the cooler months. The weather is good (still warm, but manageable) and there's little risk of flooding.
However, Kalbarri is known for its dangerously hot summer months (+40°C). If you visit during that time, it may be best to avoid the hikes or do them very early in the morning.
Also, the gorge can flood after heavy rains from up north in Summer and Autumn. So, make sure to always check the weather, as unexpected storms can make the hikes very dangerous.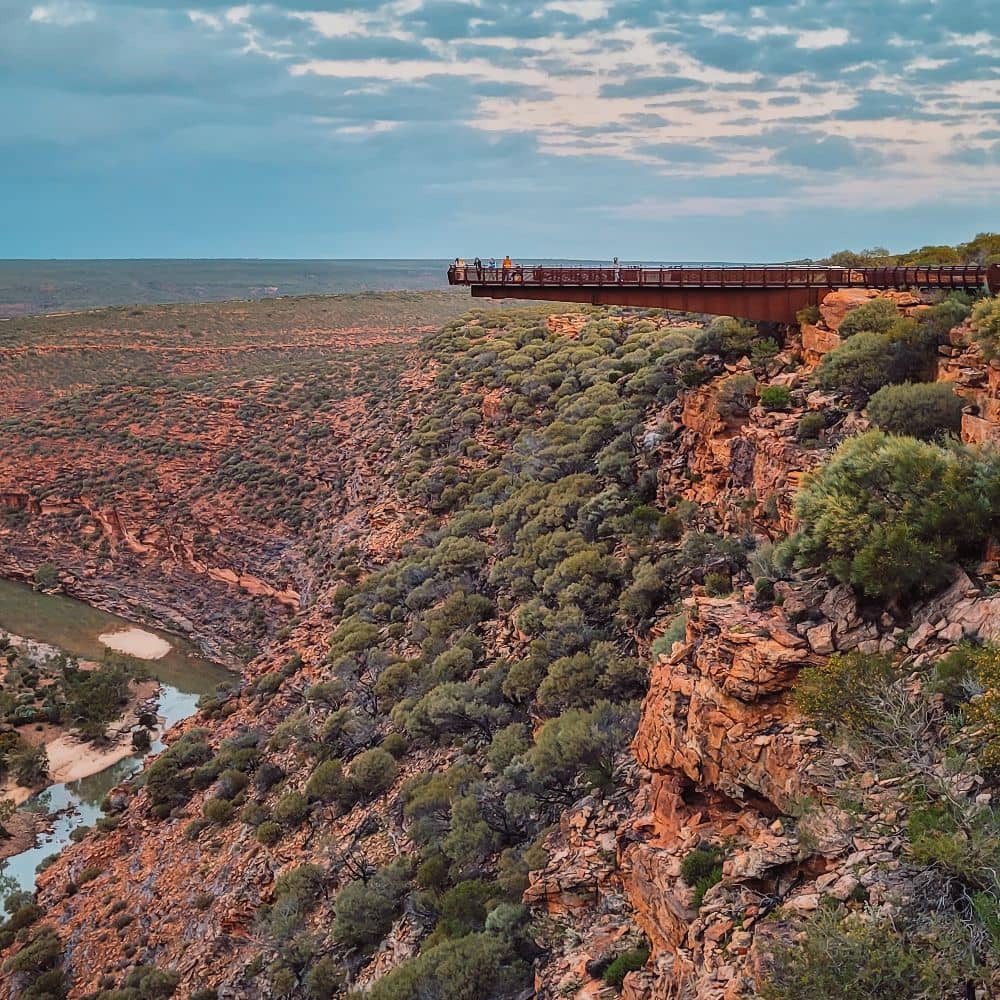 Top tips
If you're short on time, you can see the main attractions of the Kalbarri National Park in one day – the Z Bend, Nature's Window, and the Skywalk. If you want to hike too, we recommend this order:
Start with Nature's Window loop walk (the access closes at 7 am from November to March). It's a class-4, 9.2km, 2.5-hour long hike and absolutely stunning.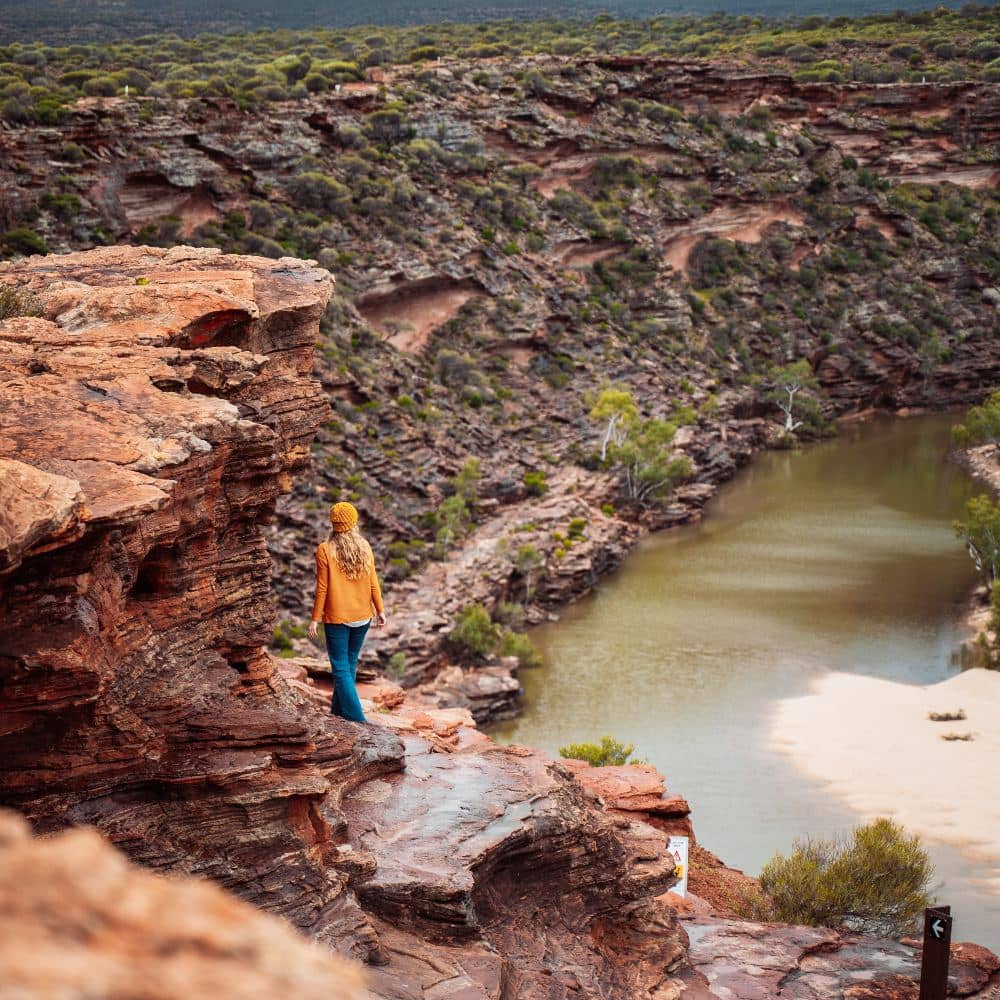 Next, go see the Skywalk and recharge your batteries there enjoying the views – it has a very nice cafe and several picnic tables.
Finish with the Z Bend lookout and the walking trail down to the gorge.
Keep in mind that there's no camping within the Kalbarri National Park, but there are plenty of awesome places to stay in Kalbarri.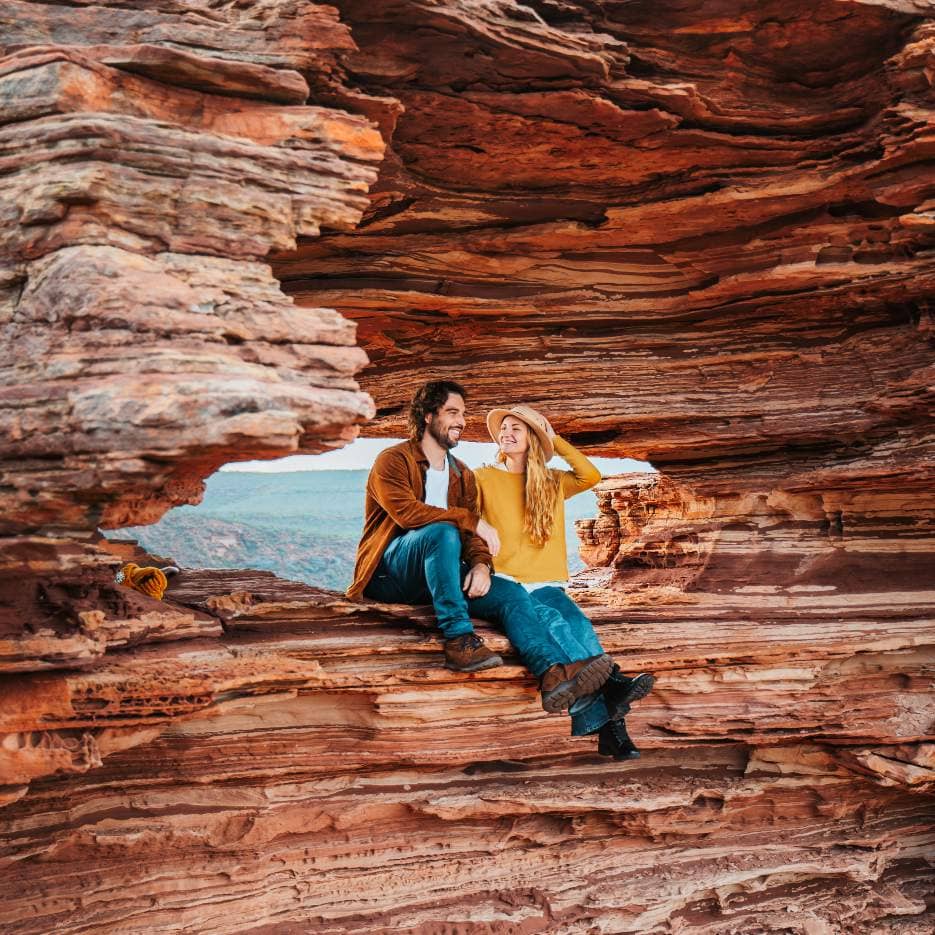 Did you know?
The Z bend has a section of Tumblagooda Sandstone, a geological formation that's between 4 and 5 hundred MILLION years old. It contains fossils that some experts consider to be the earliest evidence of fully terrestrial animals.
Also, Kalbarri has a pink lake! It's called "Hutt Lagoon". It's free to visit, as it's not in the Kalbarri National Park.
FAQs
How long is the Z Bend walk?
The Z bend walk is 1.2 km from the car park, roughly a 15-minute walk. The Z bend river trail, which is the track that takes you from the lookout down to the gorge, is 2.6km long.
Do you need a 4WD for Kalbarri National Park?
No, you don't need a 4WD for Kalbarri National Park. A 2WD will handle all the roads in the area, as they are fully bitumen and well-maintained.
Can you swim in Murchison Gorge?
Yes, you can swim in Murchison Gorge. It's safe to do water activities here, including fishing and paddling. Also, there are a few "pools" created from the tidal movement. You can find them along a few hike trails.
The bottom line
The Z Bend is a strange geological phenomenon that's absolutely incredible to see. Most people can hike to the viewing area from the car park. Fit and active people will enjoy the further hike to the river, and experienced hikers will be challenged by the outstanding Four Ways track.
Kalbarri is a must-visit spot, and the attractions at the park are not to be missed. However, there are many other things to do here! Check our guide with free things to do in Kalbarri for more ideas for your trip.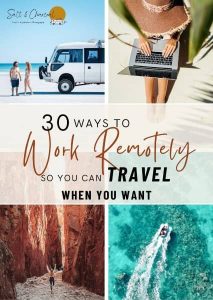 FREE Guide: 30 Ways To Make Money Online So You Can Travel When You Want
Unlock our secrets to consistent online income in Australia. These are tried-and-tested ways we've used to earn money from anywhere – only a laptop with internet is needed! Travel more and worry less.
Our Essential Travel Toolkit
🤩 Trip.com – Consistently great accommodation and hotel deals.
🤩 Hostelworld – Looking for the cheapest accommodation? We especially love the book now pay later feature.
🤩 Rentalcars.com – Best range, super easy to compare prices rental car and motorhome prices.
🤩 Viator.com – Easily book tours and experiences at the lowest rate. Great selection all over Australia.
🤩 Tripadvisor.com – Other than our website…..😉 the best place to find things to do
🤩 Airalo – eSIM store that solves the pain of high roaming bills by giving travelers access to eSIMs (digital SIM cards).
🤩 Caravan RV Camping – Traveling Australia in a van, caravan or bus? Use our discount code "saltandcharcoal" to get $30 off any orders over $300.