Fern Pool, Karijini National Park: Escape To a Place of Stunning Beauty and Serenity
Close your eyes and imagine floating on your back – overhead an impossibly blue sky in a frame of lush green. You can hear the running waterfall water and below is cooling, turquoise water. This place has been sacred to Aboriginal people for thousands of years and it is no wonder why.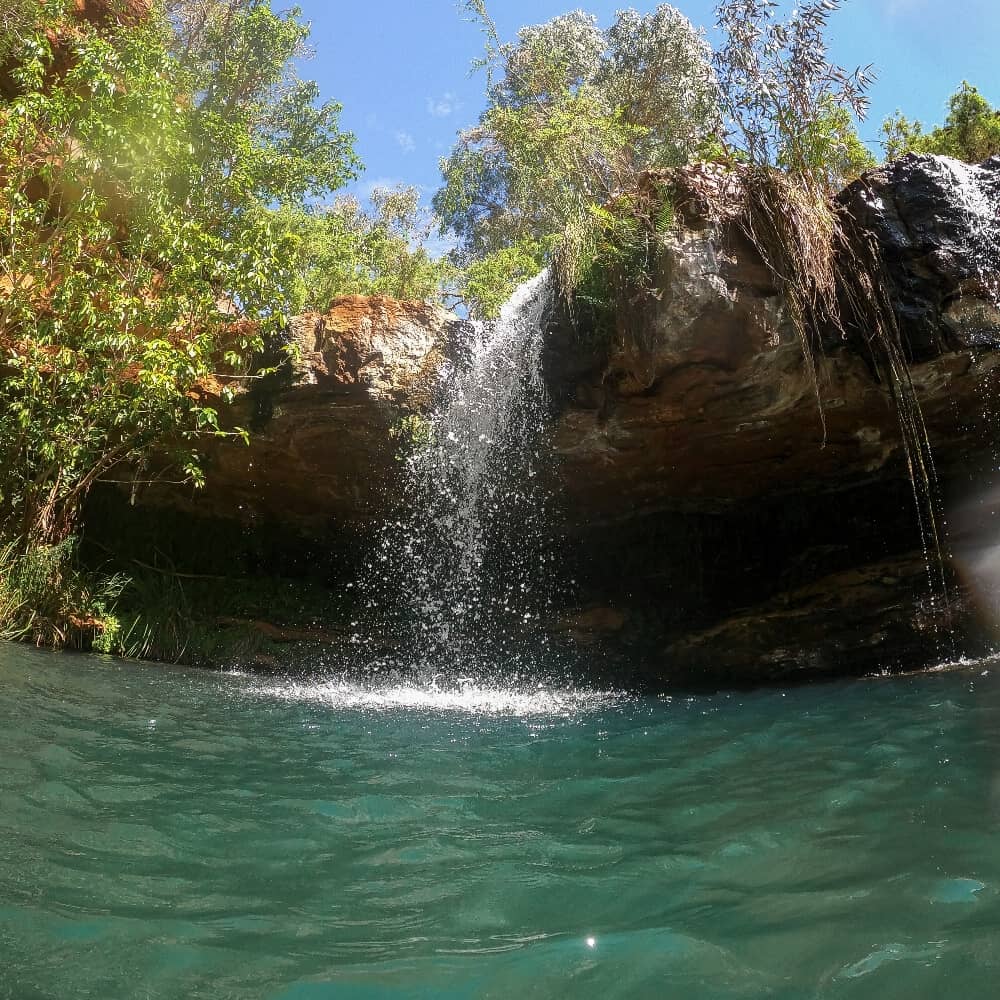 Does this sound idyllic? Perhaps, and it could also be your reality. It is Fern Pool in Dales Gorge. One of the most picturesque settings in Karijini National Park, Western Australia.
Located in Dales Gorge, this pool is one of the most easily accessible by foot – with the convenience of a ladder for entry into the pool. Just a ten minute walk to the right from Fortescue Falls, you can swim in the refreshing, spring-fed Fern Pool.
For thousands of years this has been considered a significant place to Aboriginal people, they welcome you to swim here. But they ask you to treat it with the respect it deserves and try not to be too loud here.
In the heat of the day, a welcome escape into these calm depths to reset your body's thermostat, are just what is needed! Replenish your energy stores for exploration through the length of the gorge and take a few hours to chill out by the pool, soaking up all that nature has to offer.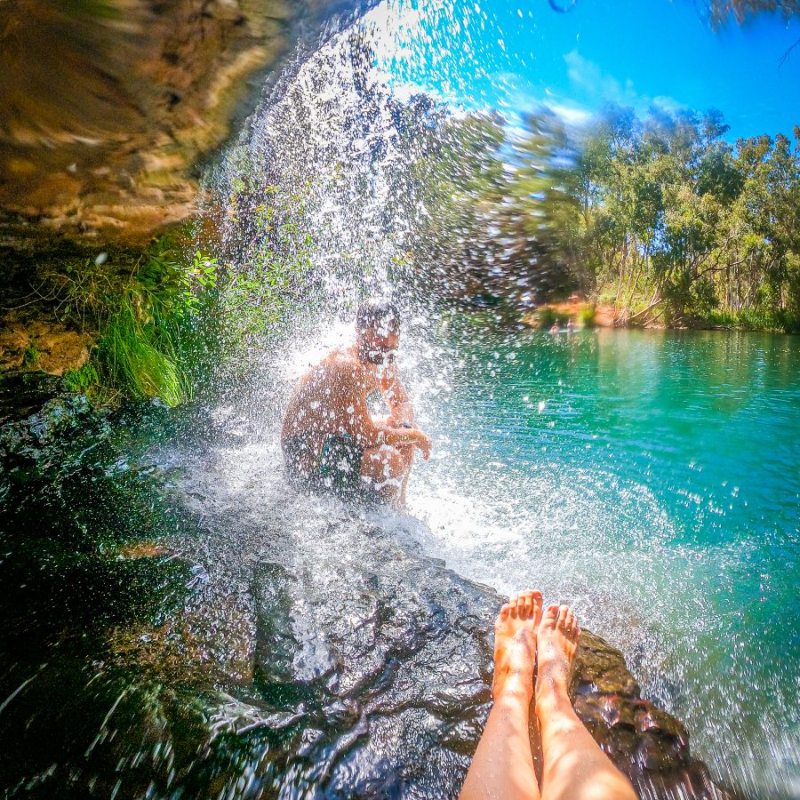 Surrounded by the brightest, emerald green ferns, not only is this pool a paradise from the parched earth above, but also a haven for some of Australia's incredibly unique wildlife – both above and below the water's surface.
A leisurely swim through the pool to the gentle waterfall is worth the effort for the simple serenity of sitting under the cascade – a freshwater shower in a bath millions of years in the making!
Table of Contents
Dales Gorge, Karijini National Park, Pilbara, Western Australia
Enjoy outback Australia in its richest form with unusual rock formations and incredible colour palettes providing the backdrop for bushwalking and swimming in this, one of the prettiest of the gorges.
Best accessed from the eastern entrance into Karijini National Park, it is worth planning an entire day (or two!) at Dales Gorge, exploring from one end to the other.
Book Dales Campsite online in advance so that you don't miss out on a spot. Dales camp is right near Dales Gorge so it is the perfect camp location for exploring this wonderful place.
From the carpark to Fortescue Falls, it is a relatively easy bushwalk, including a large staircase to get down into the gorge. Fern Pool is only a short walk upstream, while the trail to Circular Pool at the other end of the gorge is about a 3-hour return hike.
The trail may require a little scrambling, and as long as you wear good hiking shoes or sandals, it's well worth the effort!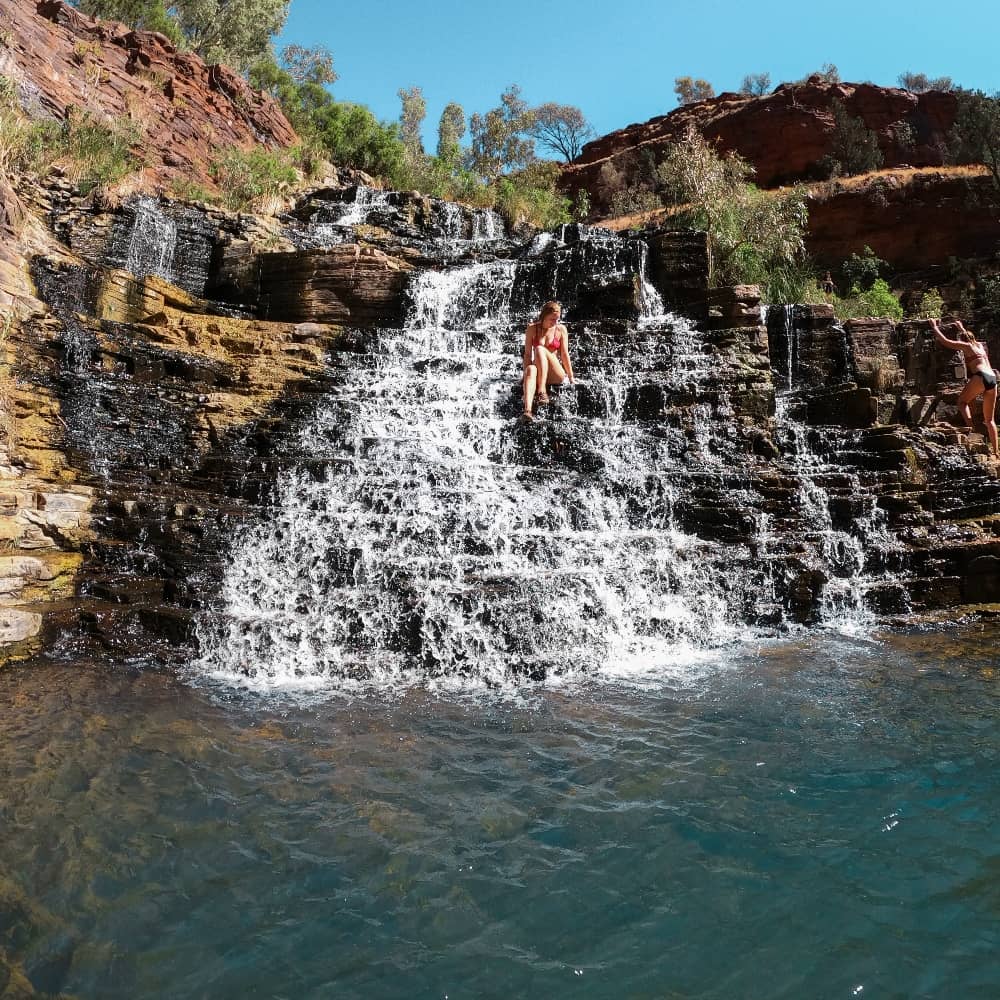 Swimming in Fern Pool
Nothing beats the tranquillity of rinsing off the dust while floating in Fern Pool… But while it is a great place for a swim – including families – it is important to be mindful that it's a very deep pool, and the water can be very cold. It is worth bringing something to float on, as freshwater doesn't prop you up like saltwater, so you do get that sinking feeling.
Are there crocodiles in Karijini?
Thankfully, it is too far inland and too far south for there to be crocodiles in Karijini National Park!
The wildlife in and around Fern Pool is far less threatening… In fact, you might want to dip your feet into the water from the boardwalk, you'll get a tickly surprise as tiny fish nibble gently at your toes!
How do you get to Fern Pool in Karijini?
It is a 15 hour drive north from Perth to the Pilbara, or a two hour flight to Paraburdoo or Newman.
Although the park is 2WD accessible, 4WD is recommended. The drive from Tom Price to the eastern entrance of the park for best access to Fern Pool in Dales Gorge is 60km.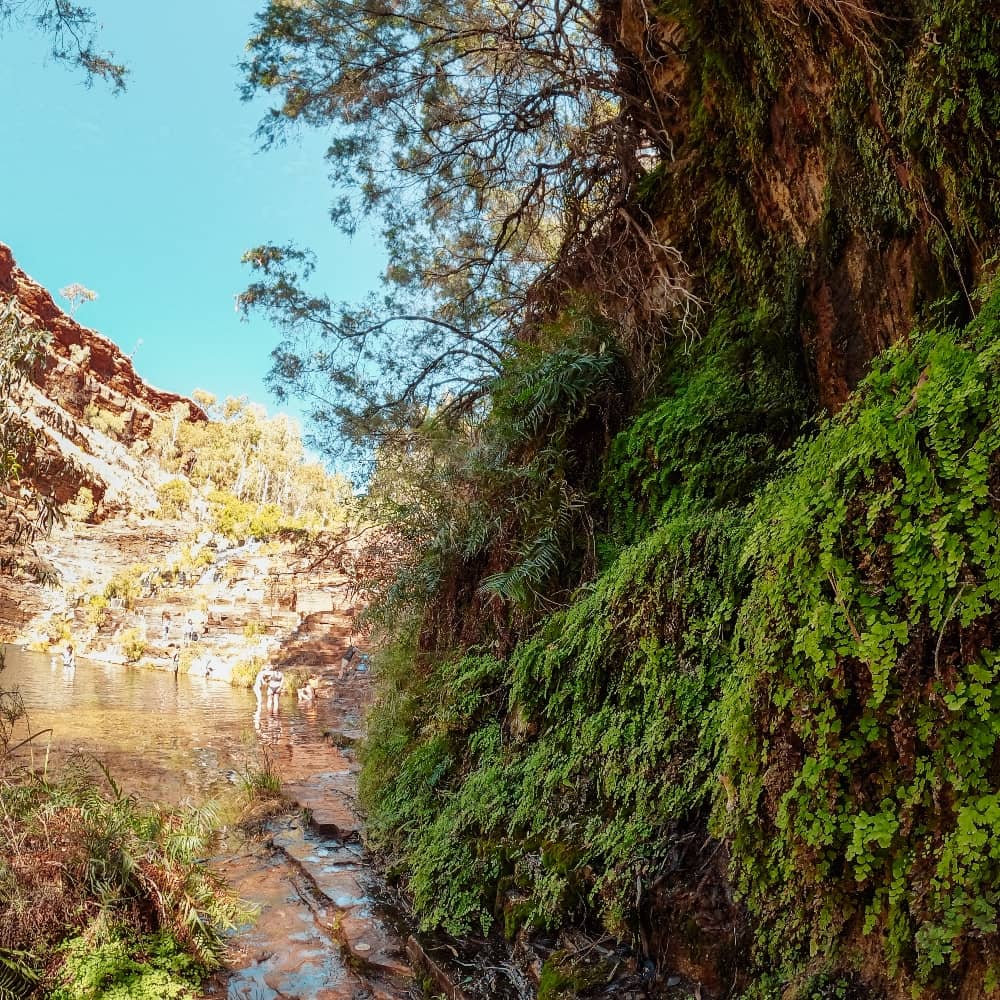 Where to stay
Dales Campground within the Dales Recreation Area provides good camping nearby, however it is in high demand from June through September, so bookings are essential and camp fees apply. It is no-frills camping with just a water tower. It is not filtered, so you will need to boil the water in order to use it. There are public toilet and BBQ facilities, but they are very basic and not super clean.
Top Tips
From dipping your feet into the water from the boardwalk for fish to nibble, floating and swimming through Fern Pool, to sitting under the refreshing waterfall… There is so much to see, do and appreciate at Fern Pool. It would be easy to spend a couple of days exploring Dales Gorge in full!
While it is a great adventure, this place is also of great cultural significance to the Aboriginal people of the area, and so must be respected and kept in mind whilst you're there.
As much as it may seem impossible in such a dry landscape, flash flooding can be a real risk, so if there is significant rainfall in the area – and particularly if you are in the gorge – leave immediately!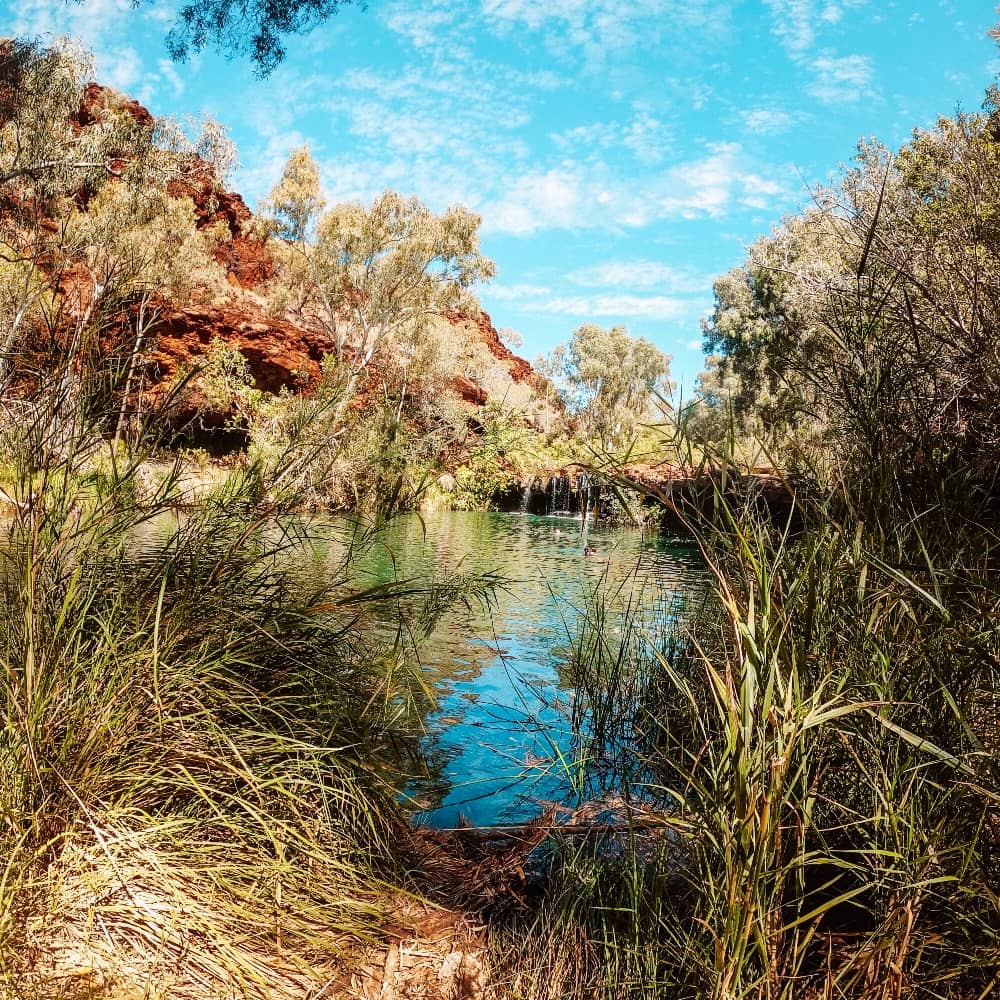 And, as always, when travelling in remote areas, make sure you have ample water and snacks with you, plus a safety plan if things go wrong!
From the hike in, to a swim in the sparkling pool and the cleansing spray of the waterfall, a day spent here can be anything you hope for… adventure, escape, peace, tranquillity.
A dazzling turquoise gem nestled in a setting of emerald and ochre, this hidden treasure is definitely a highlight when visiting Karijini National Park in the Pilbara.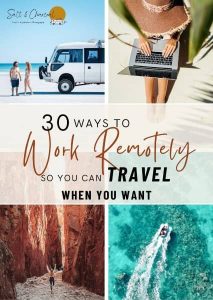 FREE Guide: 30 Ways To Make Money Online So You Can Travel When You Want
---
---
Unlock our secrets to consistent online income in Australia. These are tried-and-tested ways we've used to earn money from anywhere – only a laptop with internet is needed! Travel more and worry less.
Our Essential Travel Toolkit
🤩 Trip.com – Consistently great accommodation and hotel deals.
🤩 Hostelworld – Looking for the cheapest accommodation? We especially love the book now pay later feature.
🤩 Rentalcars.com – Best range, super easy to compare prices rental car and motorhome prices.
🤩 Viator.com – Easily book tours and experiences at the lowest rate. Great selection all over Australia.
🤩 Tripadvisor.com – Other than our website…..😉 the best place to find things to do
🤩 Airalo – eSIM store that solves the pain of high roaming bills by giving travelers access to eSIMs (digital SIM cards).
🤩 Caravan RV Camping – Traveling Australia in a van, caravan or bus? Use our discount code "saltandcharcoal" to get $30 off any orders over $300.