Handrail Pool, Karijini: A Journey To The Centre of The Earth
Ever been on a "journey to the centre of the earth"?
Not for the faint-hearted, this one is for the adventurous!
Handrail Pool is nestled within Weano Gorge at Karijini National Park. To reach this dramatic destination involves a challenging 1.5km return hike which takes around 2 hours. However, for this unforgettable place, we recommend leaving early to beat the crowds and allowing at least half a day to explore it fully.
The Class 5 hike is not to be underestimated, the walk itself is a unique experience and one you will never forget. It is essential that you come informed and ready to get the best out of your time here!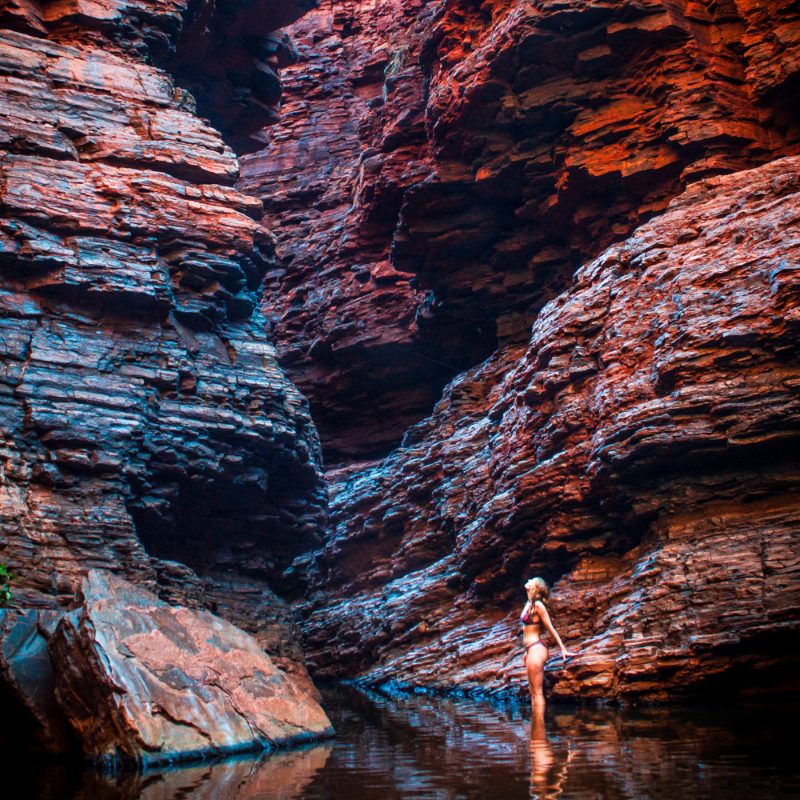 Begin the hike at Weano Gorge, descend the steps and follow the path towards Handrail Pool, through Karijini's hallmark flame coloured rock walls, lined with trees and their root systems protruding above you.
As the gorge narrows, the hike becomes more difficult. Spider walking through walls of rock with running streams below can get the pulse racing.
Prepare to get wet early on, as you scramble along very slippery rock surfaces and streams, including some pools which you need to wade through in order to reach your destination. If you are bringing electrical equipment make sure you have your waterproof bag already packed!
The second half of the journey guides you along extremely smooth and slippery flat rocks with a constant stream of water for good measure, and occasional railing to support you.
At the end of the hike, an essential metal "handrail" provides an anchor for your final descent into the bracing, breath-taking waters of Handrail Pool.
With the heat of the day left far behind you and the adventure of the trail nearing it's ultimate goal, this notorious "handrail" is the only obstacle between you and one of the most unforgettable experiences that Karijini has to offer…
Hold tight, choose your footing carefully, take a deep breath and relax – the anticipation can be more daunting than the reality. Although beware, if not taken seriously, it can be extremely dangerous.
Cool, welcome relief and spectacular scenery will reward you below, and help soothe the physical exertion of the hike. Let Karijini's desert like heat and red dust disappear as you slip into the water for a swim!
Floating in the water and gazing upwards, if the sun happens to strike the optimum angle, a visual feast of colour comes to life within the walls. And at a moment when the water's surface is still, the reflections make it difficult to discern what is real and an illusion.
The sheer effort to get to Handrail Pool – squeezing through the narrow crevices, scrambling over slippery rocks and then down into the pool all go to make the experience almost "other-worldly".
Do not attempt to dive or jump into the shallow water for any reason, but do consider swimming your way over to the other side. There is a narrow rocky stream which opens up to a secret second pool.
Unfortunately, there have been many accidents here so Handrail pool could be closed for the season (Updated 2021). Check in at the visitors centre upon arrival to find out the latest information for your visit.
Weano Gorge, Karijini National Park
Weano Gorge reveals yet another unique experience within Karijini NP.
From relatively easy scenic walks around the rim of the gorge, to the more challenging trails within, and the highlight experience – Handrail Pool – there is more than enough to fill a day here.
Weano Gorge is also known for having an established picnic area which is a great place for lunch and to cool down in the shade before you attempt your next adventure.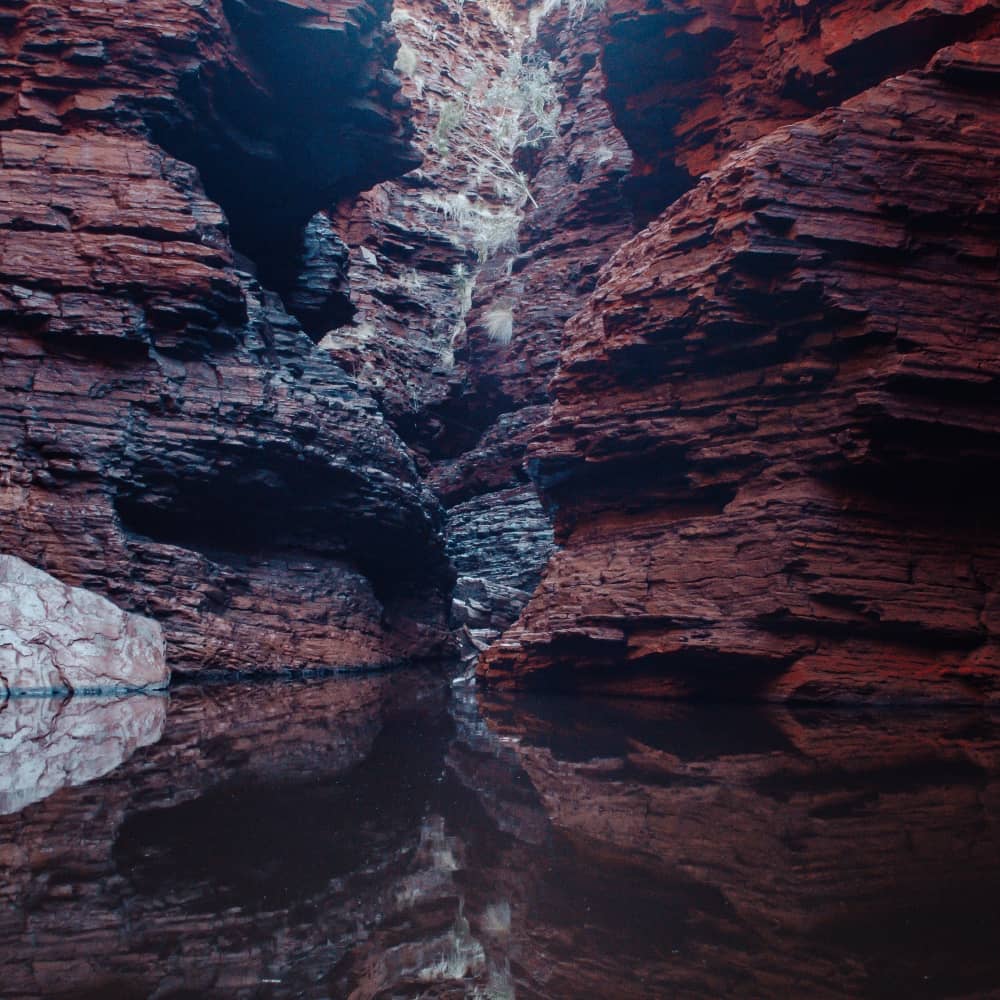 In between all the physical activity, is the opportunity to experience two billion years worth of our planet's history illustrated by winding corridors and towering rock faces.
The iconic Karijini rocks are made up of banded iron formations and intricate patterns. Prolonged weathering within the rock has created a natural palette of burning reds, oranges and yellows. The cool blue hues of the water within them and shades of green ferns and flora are the perfect offset.
Where is Handrail Pool?
Handrail Pool is in Lower Weano Gorge, toward the north-western area of Karijini National Park in the Pilbara region of Western Australia. Weano Gorge is one of many spectacular gorges Karijini has to offer. Check out some of our other articles to read about more of the best gorges within Karijini.
Karijini National Park is approximately a 15 hour drive from Perth, or an easy two hour flight to Newman or Paraburdoo.
Where to stay?
There are camping options available nearby at Karijini Eco Retreat, at the Savannah Campground (off Weano Road). There is one other campsite called Dales Campground on the other side of the park. We recommend staying at the Eco Retreat and booking ahead.
What should I bring?
Bring at least 2 litres of water per person for each day.
Snacks, or a picnic lunch.
Sun protection and insect repellent.
Wide brim hat and a change of clothes.
Binoculars and a camera/smartphone – the photo opportunities are endless!
Swimmers, towel, spare clothes including a water/windproof jacket (after a chilly swim).
First aid kit – don't leave home without it!
Top Tips
There are some unsealed roads on your way to Weano Gorge – 4WD vehicles are recommended, but 2WD vehicles can get there. Roads can be closed after heavy rain (or rockfalls), so be sure to check conditions before travelling.
Be prepared to get your feet wet and be mindful that the water in the gorge pools can be extremely cold, particularly between April and September – hypothermia can occur very easily. There can be submerged rocks anywhere under the water's surface, so please be careful, and never dive or jump into any of the pools or streams.
The rocks are very slippery so it is important to make sure you wear shoes with great grip – we recommend good quality, waterproof hiking sandals.
For anyone with a pre-existing physical condition… To be honest, you need to consider carefully whether or not to attempt access to Handrail Pool, as it can be quite dangerous. If required, a rescue can take potentially a minimum of eight hours to execute.
Having said all the above, Handrail Pool is a great place to spend a couple hours at, so bring some food and a "floatie". The experience will be so much better if you are not suffering hunger pain!
Don't forget, there aren't any bins at all throughout Karijini NP, so be prepared to take all your rubbish out with you.
A journey through both time and incredible scenery. Scrambling over slippery rocks, spider walking through narrow gaps, floating along waterways hidden from the rest of the world. Handrail Pool in Weano Gorge offers great reward to those who seek the adventure!