Hamersley Gorge, Karijini National Park: What You Need To Know To Visit
We recognise and acknowledge Banyjima, Innawonga and Kurrama people as the traditional owners of Karijini National Park.
Hamersley Gorge is well worth the extra drive out, being home to one of the most famous pools in Karijini National Park. Located in the far corner of Karijini, it's around an hour's drive away from the other gorges. Save yourself the extra drive and consider visiting this gorge on your way in, or out of the park.
As you descend into Hamersley Gorge, be greeted with a backdrop of flame-coloured rocks and icy blue water. When the ancient gorge is lit up by the sun it reveals spectacular folds of banded iron formations dating back millions of years!
The Spa Pool will await you at one side of the gorge, with an effervescent waterfall cascading into a cool plunge pool. On the other side, the gorge goes on and on, for what seems to be forever. See below – you will hardly believe your eyes!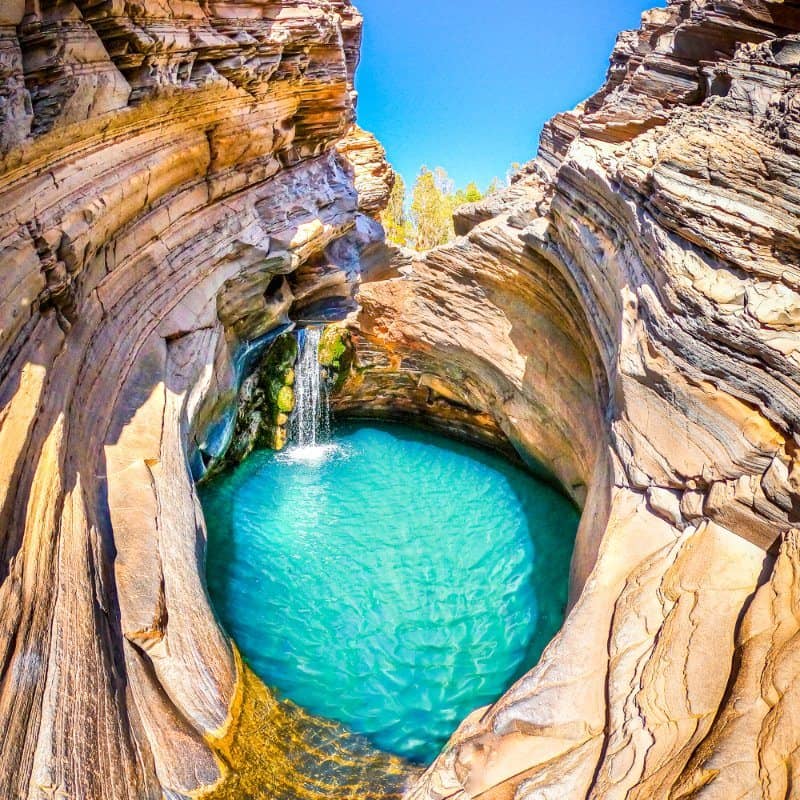 Hamersley Gorge is famous for a reason and really does look like the iconic photographs. Sparkling turquoise water, a smooth rock frame that looks like it has been hand-shaped to perfection. And shaped to perfection it has been, but by mother nature, with water and time.
Table of Contents
Hamersley Gorge Walks
From the carpark above there are some accessible sections and recreational areas to use, including concrete ramps to access the upper viewing area of the gorge and the amenities.
The 400m hike to get into the gorge is short and includes rock staircases most of the way so it isn't too challenging. However, it can be steep in sections and like anywhere in Karijini care should be taken. This walk is also suitable for families, as it is a less difficult descent than some of the other gorges.
There are 2 other main walks in Hamersley Gorge:
Hamersley Gorge Walk (1km, 3 hour return)
Hamersley Waterfall Walk (400m, 45 minutes)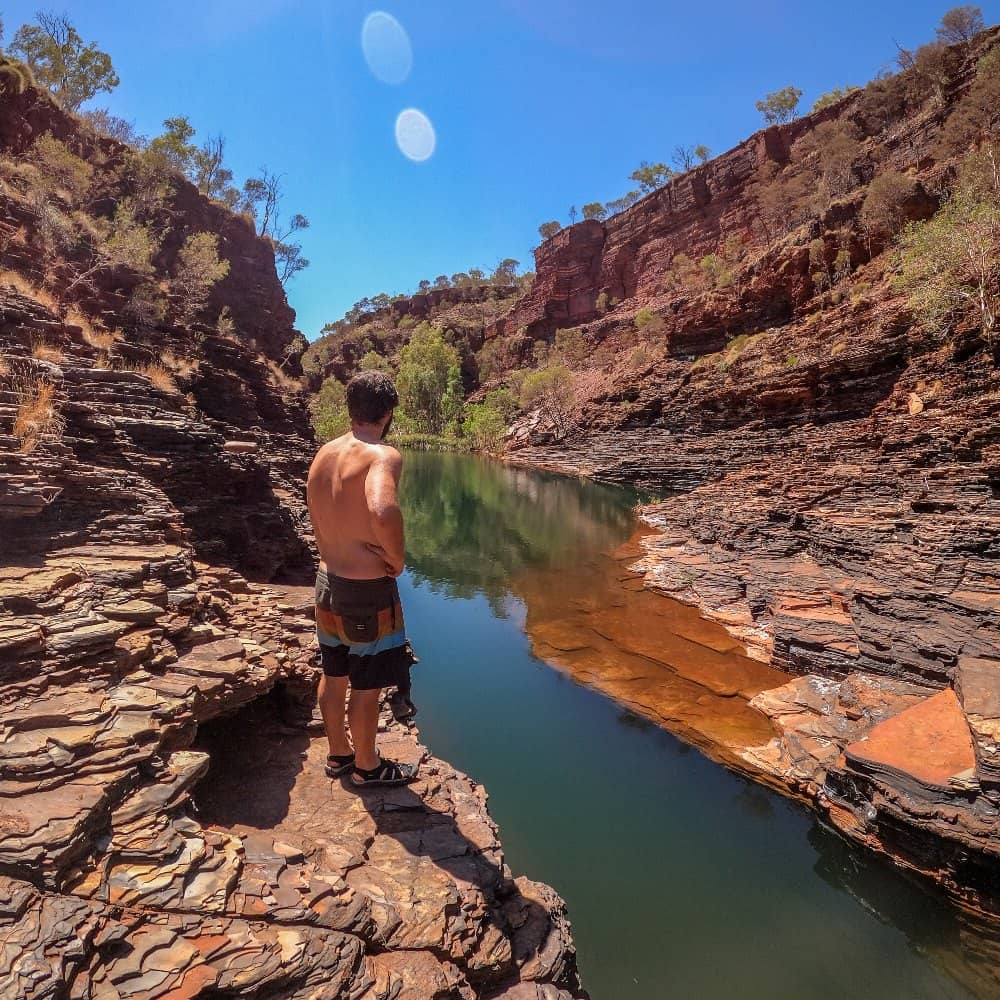 Hamersley Gorge Walk takes you on a journey through the gorge, upstream past pools and lazy streams, take care as you navigate the slippery smooth polished boulders on your way.
The trail will lead you to a fern-lined chasm known as The Grotto. Located within the eastern side of Hamersley Gorge, marvel at the breathtaking swirls of richly coloured rock that sweep down into the depths of the gorge.
Hamersley's unique patterns are more complex than some of the other gorges in the park. Tilts and angles, tortured by time and geological forces make this one of the most unique locations within Karijini.
As the sun moves into the sky, watch as it highlights the swirls of colour in the ancient rocks walls.
A lot of people don't realise that Hamersley Gorge is a huge gorge that you can explore from one end to another. A series of pools and streams interconnect to create a "path" the length of the gorge. It is a true adventure to swim through each – leading you on to new and surprising sights along the way.
We swam from one end to the other, hiking in between, and had to stop after a couple hours because it was like the gorge was never ending and we needed to reapply sunblock and have lunch! So we headed back, but this was so worth the explore.
Hamersley Gorge & Spa Pool
Although spectacular from above, the view of Hamersley Gorge from below is even better. The wide walls of this gorge allow more sunlight into the depths. More light, also means more warmth, so the swim in the Spa Pool may not be quite as bracing as other waterholes within Karijini National Park.
As you enter the gorge, access to the Spa Pool is upstream to the right. Navigate the slippery rocks and some small metal staircase sections, you can then reach what is easily one of the most photographed natural pools in the world.
Floating in this bright turquoise water will transport you to a place of peace and tranquillity.
A true natural spa experience unlike any other, culminating with a relaxing massage under the gentle waterfall that flows into The Spa Pool.
A visit to Karijini would not be complete without this experience!
Can you swim in Hamersley Gorge?
Yes you can, but beneath the surface layer, the water can be very cold, so be aware. A floatation device, such as a "noodle" or "donut" will make your time more relaxing than trying to tread fresh water all day!
Are there Crocodiles at Karijini?
No – Hamersley Gorge in Karijini National Park is too far inland, and too far south, for any crocodiles to inhabit the area.
Where is Hamersley Gorge?
Hamersley Gorge is in the northwest corner of Karijini National Park which is about a 15-hour drive north from Perth, or a two-hour flight into Paraburdoo or Newman. It is at least an hour's drive from most other sites in Karijini.
Hamersley Gorge is the most remote of the gorges and one of the most highly recommended.
Is it 2WD accessible?
Yes, it is accessible by 2WD, but 4WD vehicles are an advantage in this incredible part of the world because much of the roads are red dirt.
It is much more comfortable to drive in a 4wd but many 2wd's navigate around the park just fine! Hamersley Gorge offers a car park with great facilities including public toilets.
---
---
Hamersley Gorge might be a little further away than the others in Karijini, but is definitely worth the effort to get there, and is not one to be missed.
Where to stay
The nearby Karijini Eco Retreat with accommodation and campsites offers direct access to other gorges in the region such as Joffre Gorge. There are no registered free camps in Karijini, however, there are some located outside of the park. To avoid disappointment we recommend making your campsite bookings before leaving.
Top Tips
Some sections of the walk can be tricky and the rocks are all very slippery – make sure you wear shoes with great grip. We recommend good quality, waterproof hiking sandals for Karijini.
On the odd occasion that there is heavy rainfall, flash flooding can occur. In this event, leave the gorge immediately.
It is very easy to enjoy away the time here, so be prepared and bring a picnic too.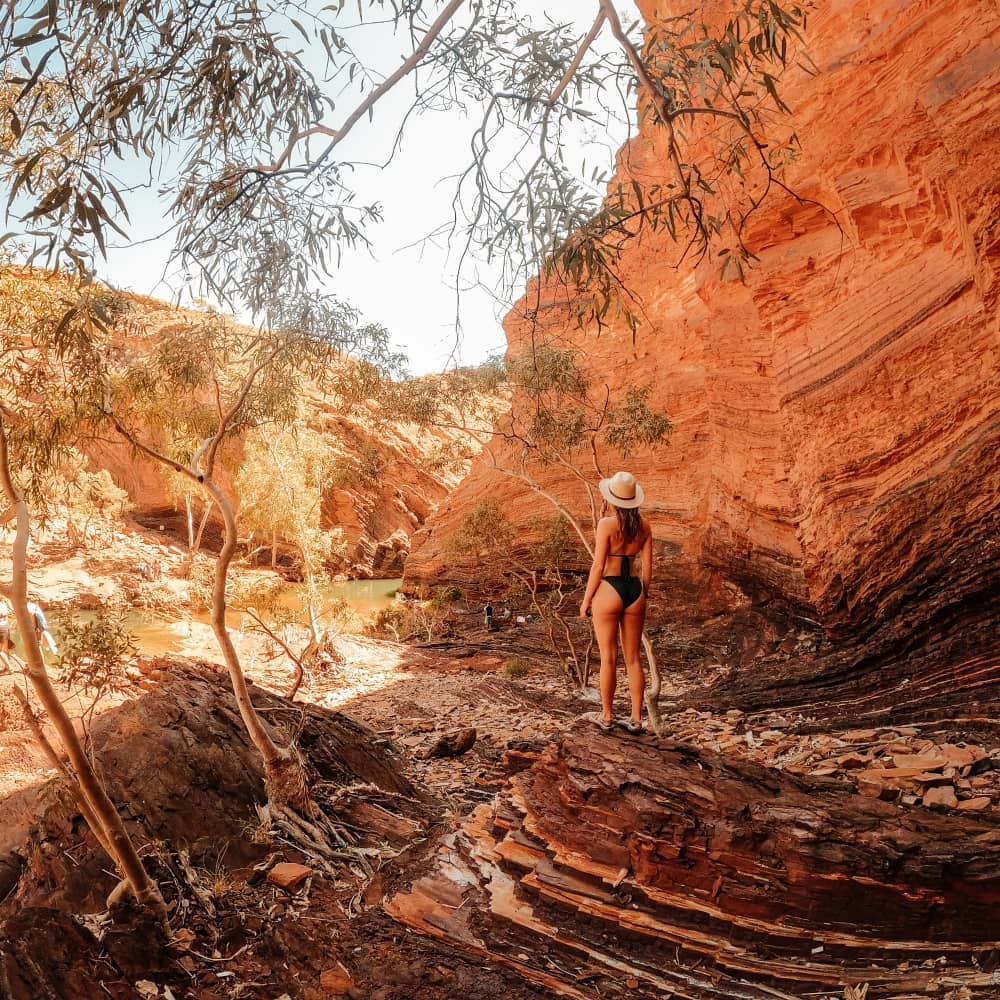 Is Hamersley Gorge worth it?
Yes! It is one of the best places we have been to.
Not only is it for the adventurous, but also great for families, thanks to its accessibility both by 2WD vehicles and its more manageable climb down into the gorge.
We recommend really exploring it when you go. Look closely at the rock formations and for strong swimmers, swim down the gorge to be surprised by another few surprise gorges at the other end!
A perfect place to spend the entire day, walking the walks, exploring the gorge and all the different pools. Hanging out in the spa pool and just gazing at the awe-inspiring rock formations… A perfect place to enjoy the sunshine and serenity!
Let us know what you think, Thanks for reading! Cheers, Chris and Bec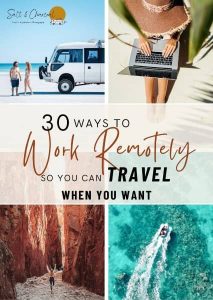 FREE Guide: 30 Ways To Make Money Online So You Can Travel When You Want
Unlock our secrets to consistent online income in Australia. These are tried-and-tested ways we've used to earn money from anywhere – only a laptop with internet is needed! Travel more and worry less.
Our Essential Travel Toolkit
🤩 Trip.com – Consistently great accommodation and hotel deals.
🤩 Hostelworld – Looking for the cheapest accommodation? We especially love the book now pay later feature.
🤩 Rentalcars.com – Best range, super easy to compare prices rental car and motorhome prices.
🤩 Viator.com – Easily book tours and experiences at the lowest rate. Great selection all over Australia.
🤩 Tripadvisor.com – Other than our website…..😉 the best place to find things to do
🤩 Airalo – eSIM store that solves the pain of high roaming bills by giving travelers access to eSIMs (digital SIM cards).
🤩 Caravan RV Camping – Traveling Australia in a van, caravan or bus? Use our discount code "saltandcharcoal" to get $30 off any orders over $300.