10 Incredible Camping Sites And Station Stays On The Gibb River Road
Consider these stays for your journey across the Gibb!
Choosing the right campsite can make your Gibb River Road trip an unforgettable adventure. Some of the best camps we stayed at on the Gibb River Road were even free of charge!
To help you plan your camps, you must first decide whether you want to stay at a paid campsite or a free camp. Here are the main differences between the two…
Paid campsites are more comfortable, often including water, electricity, toilets, showers and even breakfasts or supply stores. Stunning gorges and other attractions tend to be close to the campsites. Paid camps are usually your best choice if you travel by caravan.
But apart from the cost, you may have to book in advance or get there early to secure a spot. On the Gibb River Road, station stays are incredible, so try to stay in at least one!
As for free camping, you usually will enjoy more freedom and peace and quiet in nature, it's budget-friendly and gives you a true feeling of adventure. But you'll have fewer luxuries.
All in all, we recommend you do a bit of both, free camp for at least a few nights to live the true outback experience!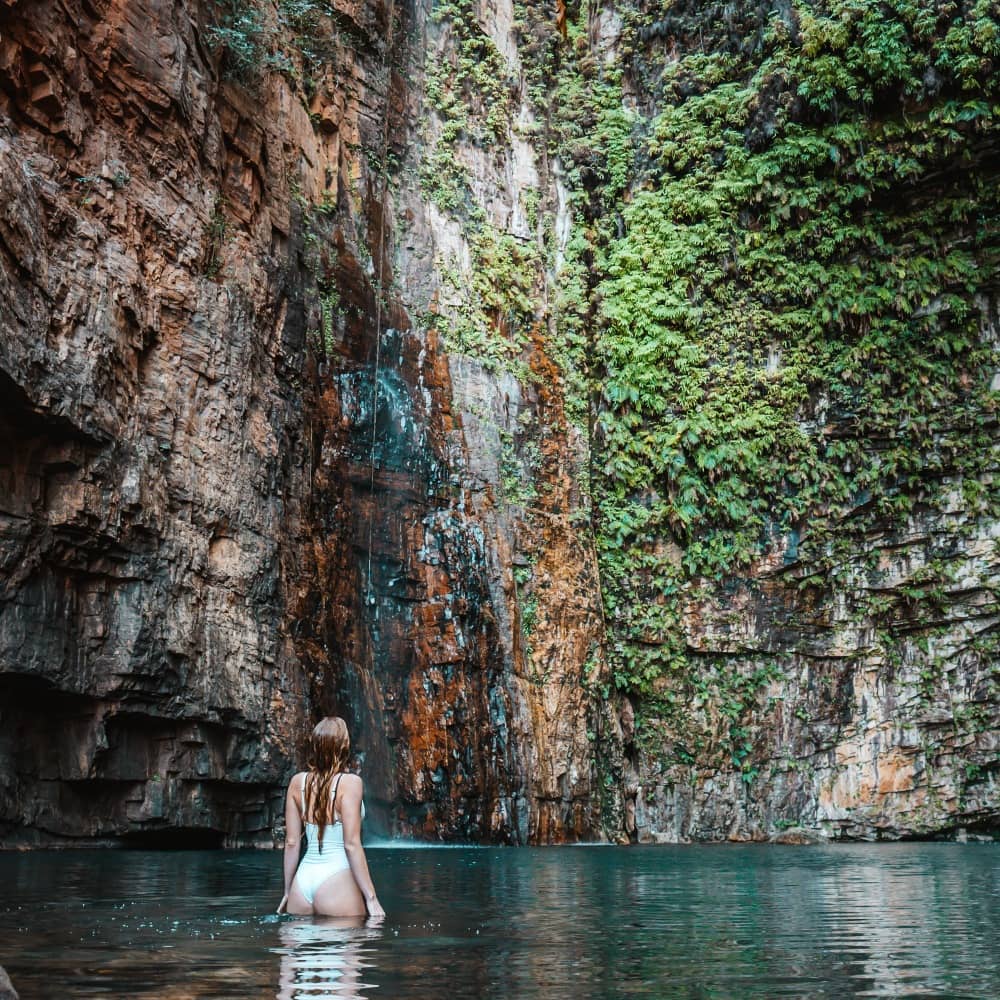 Here are our favourite spots (both paid and free) to make it easier for you to plan your trip:
Table of Contents
10 Amazing Sites for Camping Gibb River Road
When driving from Kununurra to Derby, you'll find the paid campsites in this order:
Note: If you only want to focus on enjoying all the Gibb River Road has to offer and not worry about anything else (i.e. driving, carrying camping equipment, buying/prepping food, etc), check out this all-inclusive 12-day camping tour.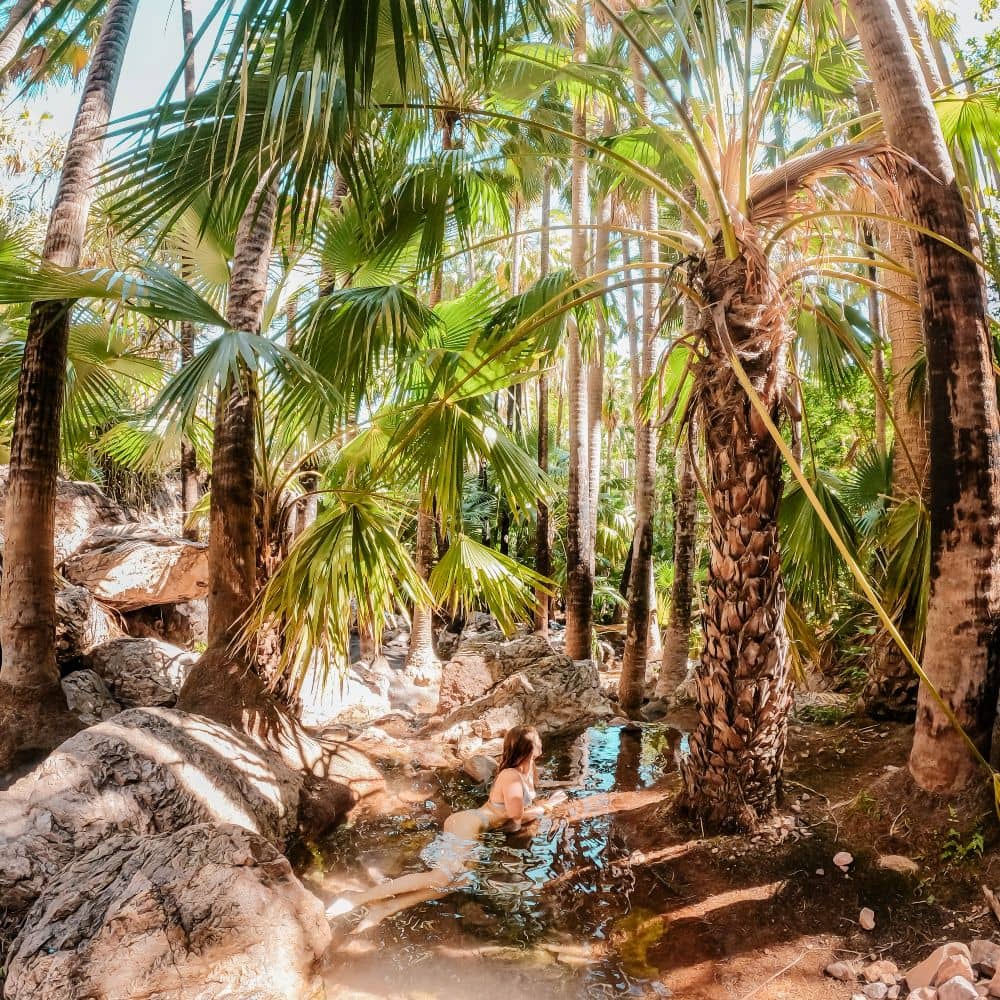 1) El Questro Station
Camping cost: $49 – $79 per night.
You'll find this station in the El Questro Wilderness Park and you do need a 4WD to get here. There is a river crossing to enter El Questro station.
El Questro Station has luxurious facilities including a bar and restaurant (with garden and river views!) which you can access regardless if you stay in their accommodation or not. Another bonus is that you can choose between luxury retreat-style accommodation or in nature on the campgrounds.
Don't forget that this place is the gateway to El Questro Wilderness Park which includes sights such as>
El Questro Gorge
Zebedee Hot Springs
Emma Gorge and more!
Usually, people will stay a few days in El Questro to maximise the experience.
You can check out these natural marvels on a self-guided visit, or book one of their several tours.
During your stay, you can go to The Cantina, which offers casual dining all day long in the dry season. Or The Steakhouse, where you'll find a range of meals for lunch and dinner.
El Questro is an incredible place to start or finish your Gibb River Road trip. Try to stay here for at least two nights, you won't regret it!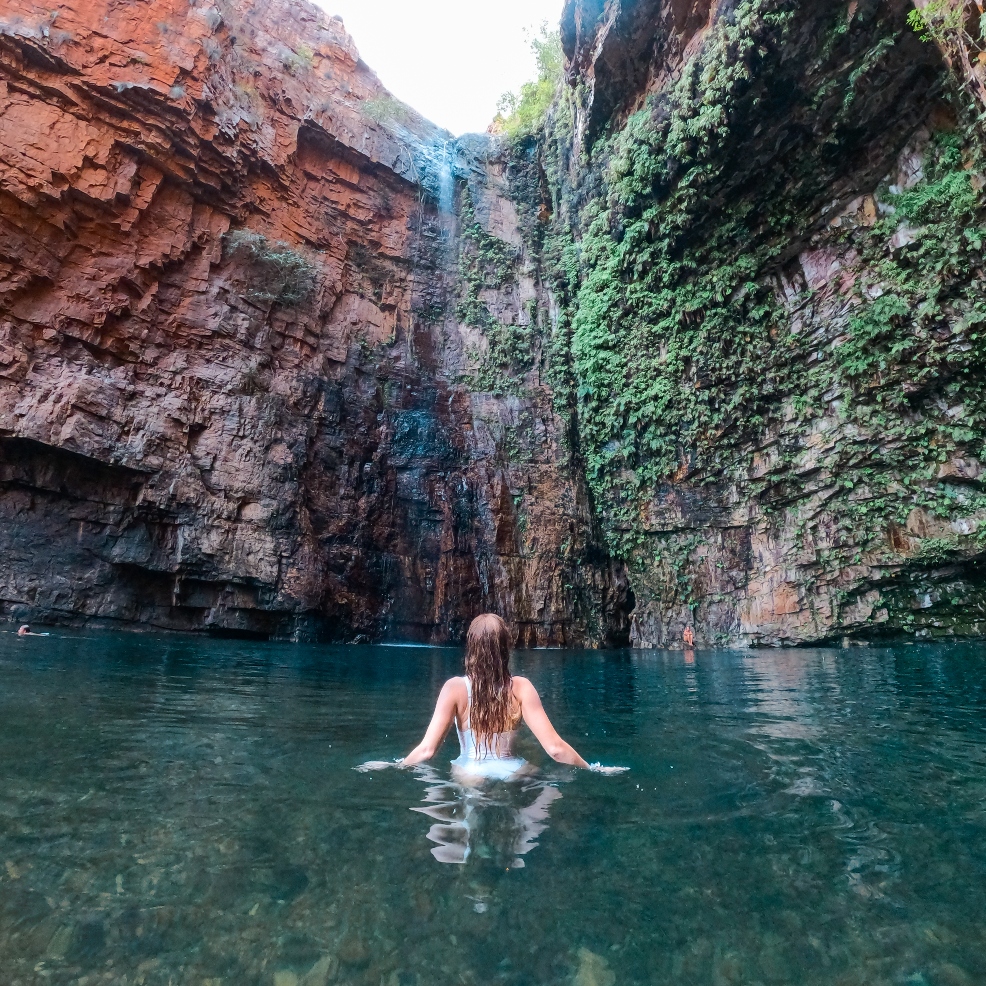 2) Home Valley Station
Camping cost: $25.00 – $38.00.
10 km after the Pentecost River crossing and with the Cockburn ranges in view you'll find this working cattle station. It's owned by the Balanggarra people of East Kimberley. You can use the camping grounds, stay in one of their many rooms, or book a suite – this place suits every budget.
There are 52 km of walking trails created by the station, so you can take in some of the most scenic areas of the Kimberley. The Bindoola Gorge Trail and the Wildflower Valley Trail are particularly stunning when in season.
Apart from accommodation and tours, Home Valley station hosts a residential, employment-based training program for Aboriginal people.
3) Ellenbrae Station
Camping cost: $5 per child, $17.50 per adult, per night.
With 1 million acres, Ellenbrae station has plenty of room for everyone. Still a working cattle station, this place has top tourist facilities even for day visitors.
You can stay in a cabin or in one of their two campground options. You can also fish, swim, and bushwalk from the campsites!
---
---
If you won't stay here, at least stop in for a cold drink or a delicious scone from the tearoom.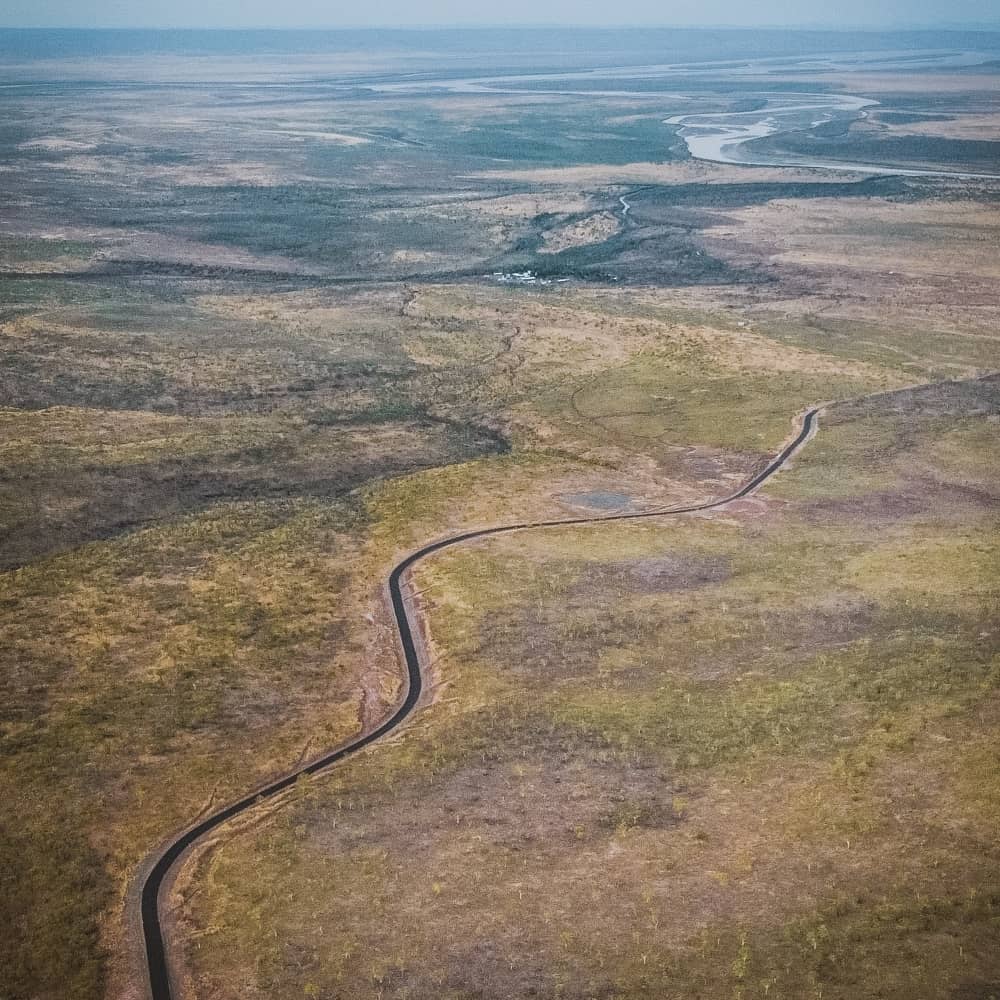 The staff will allocate you according to campground availability, so try to get here early to have more camping site options.
4) Drysdale River Station
The gateway to the Mitchell Plateau, Drysdale River Station offers rooms and camping grounds for you to stay at. While they never turn anyone away for unpowered sites, there are only 8 powered sites that can't be booked in advance, so make sure to arrive early if you want one.
As for services, there's a bar and a restaurant. You can stock up on supplies in their small general shop or repair/replace your tyres if necessary.
You can also book a scenic flight here, to see the incredible Kimberleys from the air, including a trip to Mitchell Falls!
5) Gibb River Station
$30.00 per vehicle per night.
This working cattle station is the halfway point of your trip. Apart from the campgrounds, the Gibb River Station has a small store and you can refuel if needed.
You don't have to book beforehand, but you can reserve a spot. And while you're here, make sure to see the artwork of local Ngallagunda artists in the nearby store!
6) Mount Elizabeth Station
Camping cost: $22.00 per adult, $10.00 per child, per night.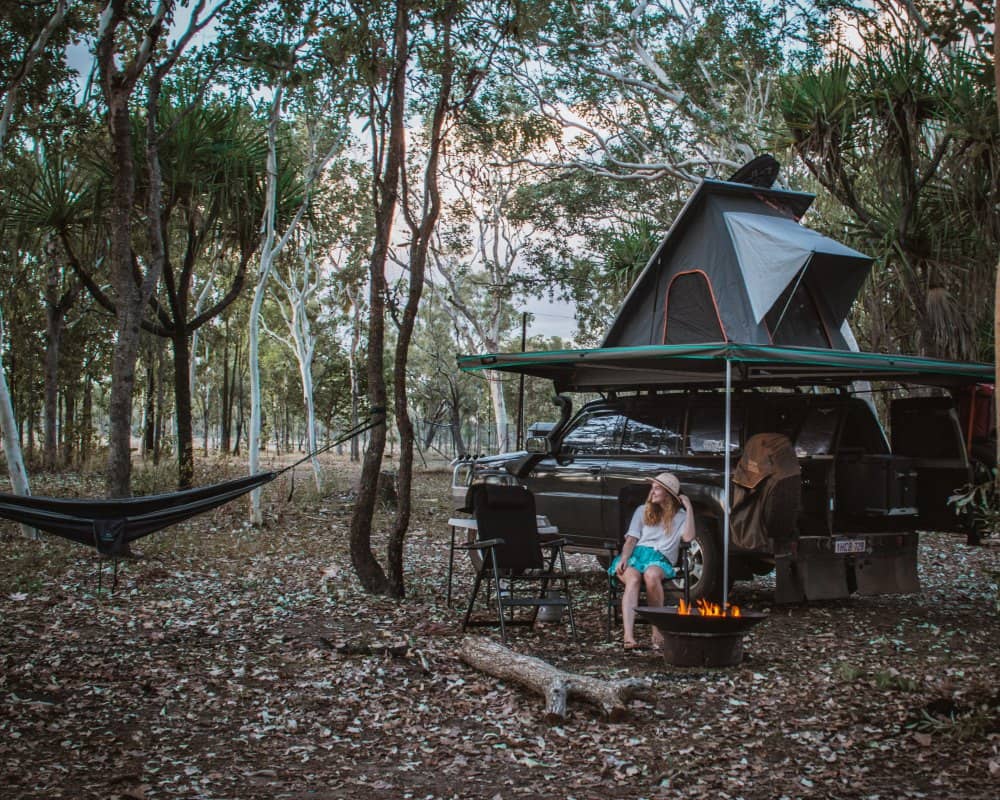 This was our favourite campsite on the entire trip. You can stay in a refurbished room of the original homestead, at the outcamp, or on the camping grounds. Just make sure to book in advance because spots fill out quickly.
Mt Elizabeth Station is a half-million-acre, fully functional cattle station with stunning waterfalls and gorges nearby – Warla and Wunnamurra gorges.
Book in advance for a hot cooked breakfast from the lovely hosts, we did and it was such a lovely experience.
You have to pay a fee to visit the nearby gorges, and it takes a whole day to visit both. A good alternative is doing their half-day or full-day tour.
There's also a paddock with horses, gorgeous bushwalks and Aboriginal art that you can see. We loved the bush-style camping and much-needed shower block amenities.
7) Mornington Wilderness Camp
Cost: $15.00 per child, $30.00 per adult, per night.
This camp is owned and managed by the Australian Wildlife Conservancy, and it's part of a +700,000-acre sanctuary.
Staying here is a must in any itinerary. You can book one of their 11 luxurious tents or camp in their un-powered campsites. There's a restaurant too, the Bush Bar.
During your visit to the Mornington Wilderness Camp, you can canoe down Dimond Gorge, or go exploring Sir John Gorge. There are hundreds of spots where to see the sunset as well – you'll have an unforgettable time here.
8) Bell Gorge Wilderness Lodge
The Bell Gorge Wilderness Lodge is near one of the most famous gorges in the Kimberleys. It's run by the Indigenous owners and is close to the Imintji Aboriginal Community, so you'll get authentic culture and history from the guides here.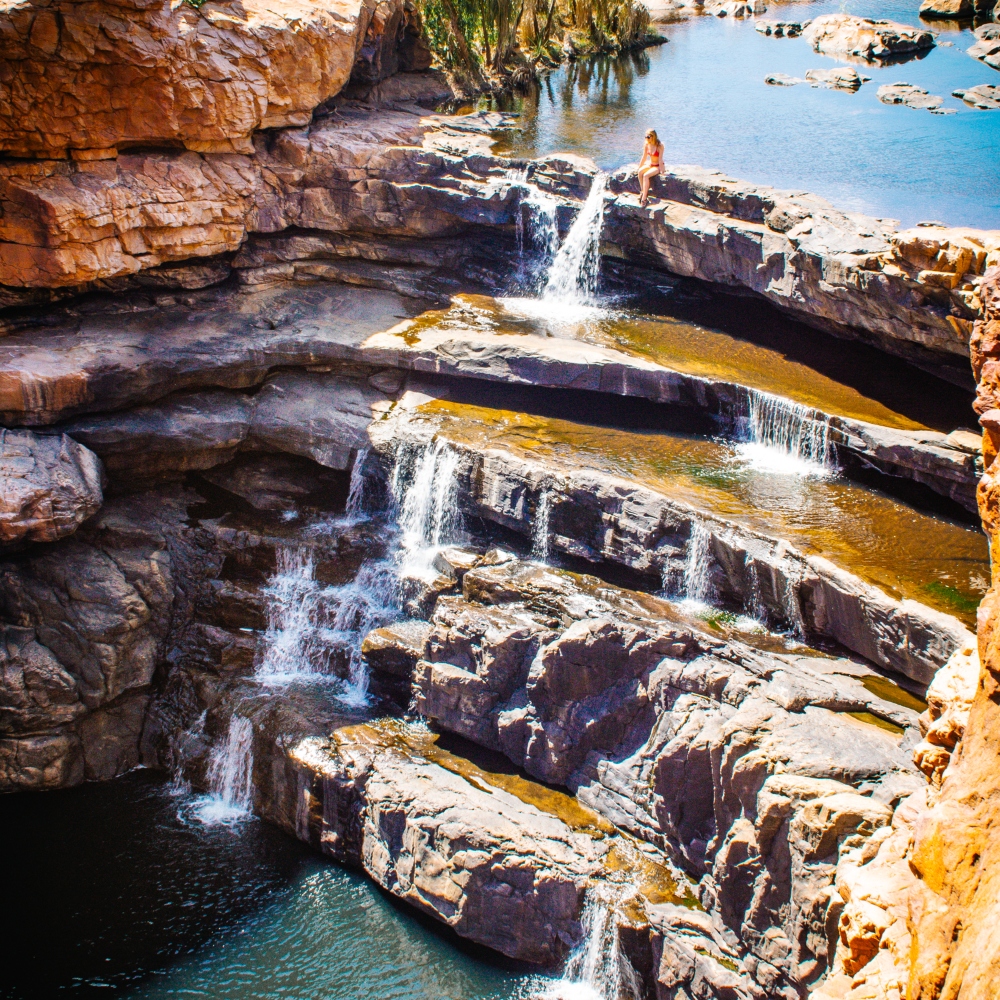 You can stay at a tent cabin for a luxury stay, or choose a spot in the campground. An open-air diner provides meals and drinks any time of the day. You can even order a packed lunch to see you through the day of hiking and exploring the fantastic scenery around Bell Gorge.
Related: 11 unmissable gorges in Gibb River Road.
9) Windjana Gorge Campground
Cost: $17.00 per night.
Located in the Windjana Gorge National Park, this campground is very close to Bandilngan. It has caravan and tent camping facilities, separated for those with generators and those without.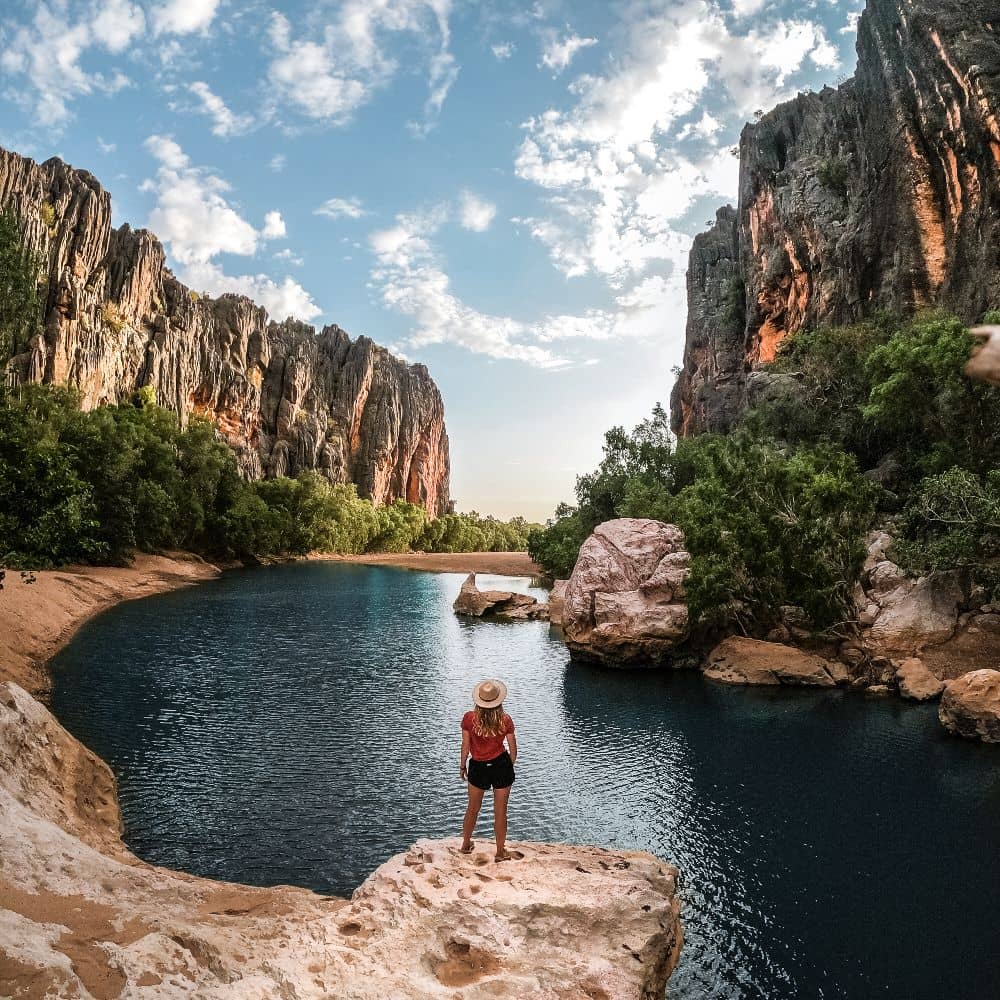 The Windjana Gorge Campground has everything you need to enjoy your stay. Campfires are allowed in season using fire pits/rings, but bring your firewood.
Also, keep in mind that, as in many places in the region, dogs are not allowed in the campgrounds.
10) Birdwood Downs Station
Cost: $35.00 per night.
Birdwood Downs Station is 20 km from Derby, in West Kimberley. You can get here with a 2WD, and stay in a Savanna hut or their camping facilities. From here, you can take a day trip from the station to Windjana Gorge and Tunnel Creek.
The station also offers storage for those who want to park their caravan or trailer instead of dragging them along Gibb River Road.
If you start your trip from Derby, Birdwood Downs Station will give you a feel for the Kimberley and outback hospitality, even if you don't want to travel the entire Gibb River Road.
11) Manning Gorge Campground
Cost: $25.00 per night.
Get access to one of the best gorges on the Gibb River Road from this campground. Basic facilities are here, no bookings are needed. Set off for the Manning Gorge trail hike early as it closes later in the day when the temperature gets too hot.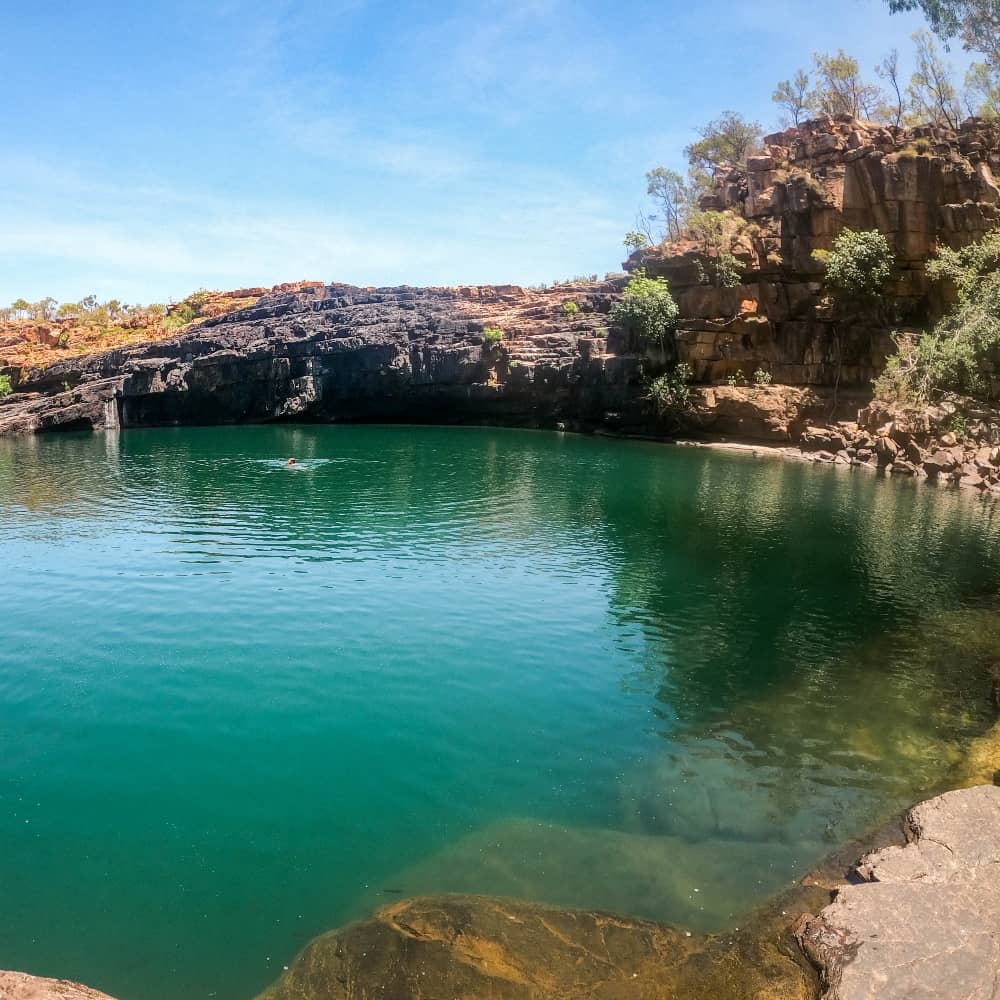 Can you Free Camp on Gibb River Road?
Yes! In fact, we free-camped almost every night. It's an incredible experience that we think everyone should do at least once while travelling the Gibb.
We found great spots with the app WikiCamps Australia or people tend to look at satellite maps to see clearings in bushland where you can safely stay. Just download the map of the area before losing any internet connection!
Top Tips
You can travel the 660 km Gibb River Road in a few days, but it's best to allow at least 7 – 14 days to appreciate what this area has to offer. There are plenty of gorges and incredible areas of the Kimberley to stop and enjoy.
The road is open during the dry season, but the best time to visit the Gibb is in April or May. During these months, the waterfalls are still running and the road is smoother after grading.
And while there are plenty of charming resort-style camping places along the road, stock up on supplies beforehand. You can get essentials in cattle stations and campgrounds, but other items are challenging to find.
This will help: The ultimate travel guide to Gibb River Road.
Did You Know?
The Gibb River Road was created in the 1950s to take cattle from the stations of northern Western Australia to ports and markets.
Also, indigenous communities in the area have grown since the 1980s and 1990s. For example:
The Imintji and Kupingarri communities are near Mt Barnett Station.
The Ngallagunda community is near the Gibb River Station.
The Dodonun community is east of Mt. Elizabeth Station.
The Kandiwal community is at Mitchell Plateau, among others.
FAQs
Where can I camp on Gibb River Road?
You can camp on Gibb River Road in most cattle stations and resorts or free camp in cleared areas.
There are many basic camps managed by the Department of Parks and Wildlife too, often located near gorges. You can stay in them for a small cost.
Can you take a motorhome on Gibb River Road?
You can take a 4WD motorhome on Gibb River Road. Or, you can store your caravan or motorhome at one end and drive your 4WD along Gibb River Road, staying at some safari tents or luxurious accommodations along the way.
Are there crocodiles on the Gibb River Road?
There are many freshwater crocodiles along the Gibb River road and in some areas, there could potentially be saltwater crocodiles. However, there are plenty of spaces to swim safely as well. Take this into consideration while planning your trip and watch out for all signs that warn of crocs.
The Bottom Line
These are the main campsites, but other honourable mentions include the Silent Grove campground.
The easiest way to plan this is to first make a list of the attractions and gorges you want to visit. Then, plan your camping sites and journey.
Just make sure to give yourself ample time to stop and enjoy the stunning gorges and awe-inspiring views that make the Gibb River Road so memorable. Plenty of cattle stations and camping sites provide luxurious facilities to help you relax after hiking, canoeing, and swimming in the gorges and rivers.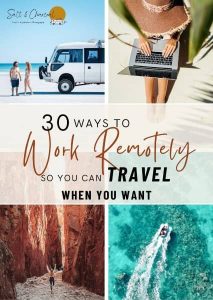 FREE Guide: 30 Ways To Make Money Online So You Can Travel When You Want
Unlock our secrets to consistent online income in Australia. These are tried-and-tested ways we've used to earn money from anywhere – only a laptop with internet is needed! Travel more and worry less.
Our Essential Travel Toolkit
🤩 Trip.com – Consistently great accommodation and hotel deals.
🤩 Hostelworld – Looking for the cheapest accommodation? We especially love the book now pay later feature.
🤩 Rentalcars.com – Best range, super easy to compare prices rental car and motorhome prices.
🤩 Viator.com – Easily book tours and experiences at the lowest rate. Great selection all over Australia.
🤩 Tripadvisor.com – Other than our website…..😉 the best place to find things to do
🤩 Airalo – eSIM store that solves the pain of high roaming bills by giving travelers access to eSIMs (digital SIM cards).
🤩 Caravan RV Camping – Traveling Australia in a van, caravan or bus? Use our discount code "saltandcharcoal" to get $30 off any orders over $300.