Ecopia Retreat on Kangaroo Island: Accommodation Review – A Blissful Nature Escape
If you are looking for a peaceful and eco-friendly retreat, Ecopia Retreat on Kangaroo Island might be just what you need.
Situated on 150 acres of natural wilderness, this retreat offers a unique opportunity to immerse yourself in nature, while enjoying some of the best local produce and wines.
One of the best features of staying at Ecopia Retreat is spending time on an Australian wildlife sanctuary.
If you want to see native wildlife on Kangaroo Island, this is the place to stay. (And seeing them from an outdoor bath is even better!)
Accommodation Options
All accommodations are made to be sustainable and off grid. Being off grid definitely doesn't take away from comfort though. You can expect ample hot water, strong WIFI connection, a stacked coffee machine, all amenities and comfortable beds.
Currently, there are 2 accommodation styles you can choose from depending on group size. Both types are situated in the wildlife sanctuary, equipped with luxurious comforts to ensure you have a relaxing stay.
"The Villas" accommodation romantically sleeps 2 and is made of rammed earth. Or "The Residence" comfortably sleeps up to 6 people. All accommodations include a bath.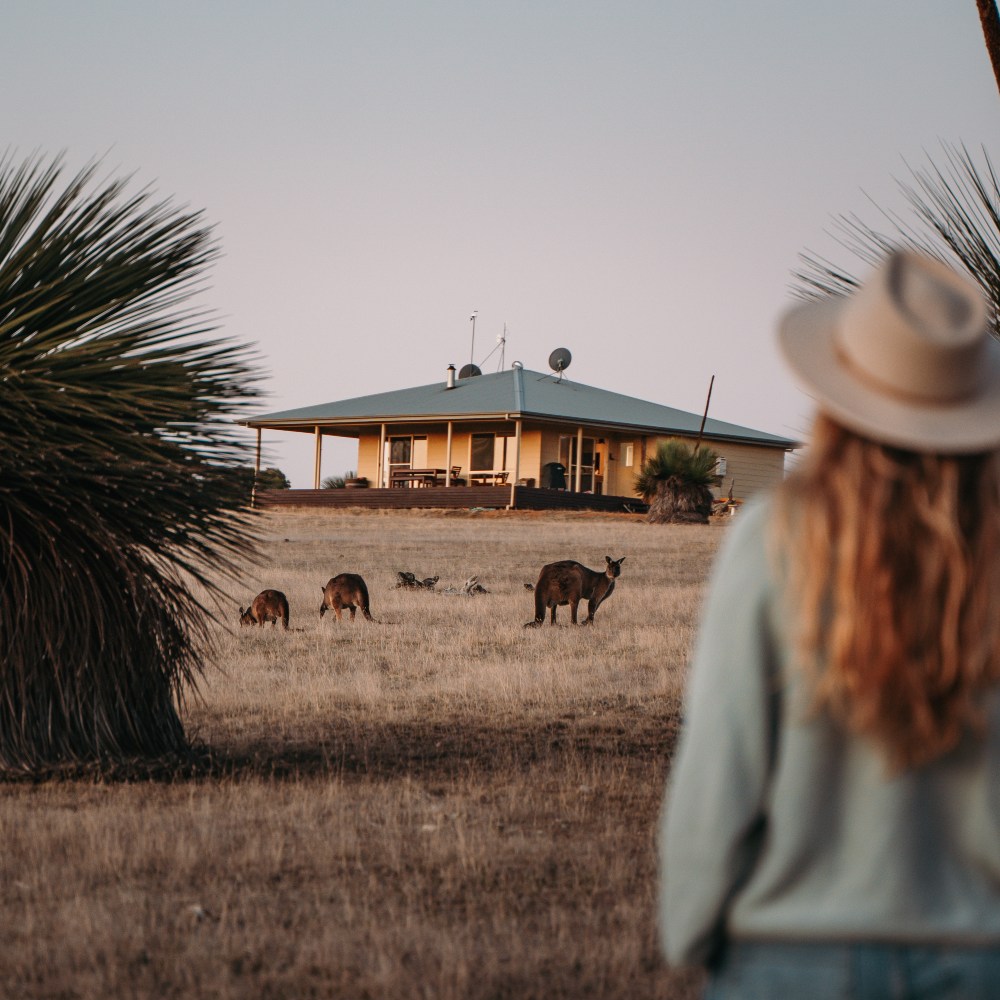 Being off-grid and making eco-friendly choices makes you feel a part of wild nature rather than separated. Spending time peacefully within the Australian natural habitat gives you ample opportunities to spot native Australian animals.
Our Experience
Chris and I stayed here for 4 nights and 5 days, we stayed with 2 other members of our family at the retreat called, "The Residence" which sleeps 6. We wanted to do a review of our stay here in the hopes it may help some others with their decision of where to stay on Kangaroo Island.
What You Can Expect
Upon arrival, you will be gifted a basket of local produce, including fresh cheeses, dips, fudge, olives and local wines. We loved this thoughtful gesture, which not only supports local producers but also allows you to taste the flavours of Kangaroo Island.
This also sets Ecopia Retreat aside from regular accommodation providers. Everything in the home has a fresh, natural and local feel to it. Even the shampoo and conditioner provided are made naturally and locally.
One of the standout features of "The Residence" is the beautiful outdoor bath, where you can soak in the bath salts provided, surrounded by the calm sounds of nature.
About Ecopia Retreat
The retreat is owned by Yael, who, along with her partner, has put a lot of effort into restoring the place by planting trees and creating habitats for native animals, including kangaroos, echidnas, and koalas.
The retreat's commitment to sustainable and eco-friendly practices is evident throughout the property, making it an ideal destination for environmentally conscious travellers.
Ecopia Retreat Location
During your stay, you will have plenty of opportunities to explore Kangaroo Island, from its stunning beaches to its rugged wilderness areas.
Located in Seddon, one hour's drive from the ferry terminal, there are many attractions nearby that you shouldn't miss. Don't miss, Seal Bay, Vivonne Bay, The General Stores' famous Whiting Burger, Stokes Bay and West End attractions!
It is essential to bring supplies and your own car, as the retreat is located in a secluded area, and public transportation and shops are limited.
Do We Recommend?
For us, we felt right at home here. We recommend this accommodation highly, Yael has made such a nurturing environment for any traveller.
Overall, we spent five unforgettable days at Ecopia Retreat and had a beautiful experience. For anyone looking for a peaceful and sustainable nature escape, where you can indulge in local produce, soak in a beautiful outdoor bath, and enjoy the peace and quiet of Kangaroo Island, this is a good option for you.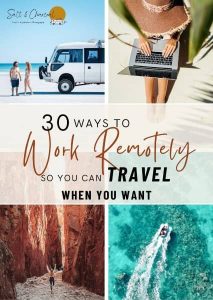 FREE Guide: 30 Ways To Make Money Online So You Can Travel When You Want
Unlock our secrets to consistent online income in Australia. These are tried-and-tested ways we've used to earn money from anywhere – only a laptop with internet is needed! Travel more and worry less.
Our Essential Travel Toolkit
🤩 Trip.com – Consistently great accommodation and hotel deals.
🤩 Hostelworld – Looking for the cheapest accommodation? We especially love the book now pay later feature.
🤩 Rentalcars.com – Best range, super easy to compare prices rental car and motorhome prices.
🤩 Viator.com – Easily book tours and experiences at the lowest rate. Great selection all over Australia.
🤩 Tripadvisor.com – Other than our website…..😉 the best place to find things to do
🤩 Airalo – eSIM store that solves the pain of high roaming bills by giving travelers access to eSIMs (digital SIM cards).
🤩 Caravan RV Camping – Traveling Australia in a van, caravan or bus? Use our discount code "saltandcharcoal" to get $30 off any orders over $300.