11 Bucket-List Kalbarri Tours – Top Experiences You Can't Miss!
Kalbarri is one of those places with everything – mindblowing natural landscapes, ancient history and flourishing native Australian flora and fauna.
You can stargaze from the skywalk, watch humpback whales breaching at sunset, or hike through deep gorges carved by the Murchison River through millennia.
If you want to maximise your visit, picking one of the many guided tours in Kalbarri is a must.
So, here are the Kalabrri tours we've done and personally recommend, along with the best-reviewed tours and some unique experiences to help you tailor your Kalbarri experience.
The best part is that Kalbarri has tours for every type of traveller:
To explore the area at your own pace, there are some Kalbarri tours you can easily add to your itinerary. Like cruising along the coast at sunset, or riding a buggy along the sandy dunes of Pink Lake.
Or sit back and relax and let a local guide you, then scenic flights, charters and multi-day tours are the best choice for you. They vary in length (from 1 day to a week) but they take you to the main attractions.
Your Kalbarri trip begins here, friend! Let's get started:
Quick answer: Top 3 Kalbarri Tours
Table of Contents
1) Kalbarri Sunset Cruise along the spectacular Coastal Cliffs
Best (and cheapest) tour option:
As the sun begins to set, the rugged red rocks of Kalbarri light up with fiery colours. This jaw-dropping display can be fully appreciated from the ocean… And that's what this tour is for!
Apart from the expert commentary from the knowledgeable tour guide, you'll have the most unique views of iconic landmarks, such as:
Jacques Point
Red Bluff
Mushroom Rock
Rainbow Valley
Pot Alley
Eagle Gorge
If you visit during whale season (June to November), you might see them as well!
The tour doesn't include food or beverages either, which allows for a low-cost experience. Bring your favourite drinks and/or foods!
2) Whale-watching tour (June through November only)
Best value for money:
If you visit between June and November, this tour is a MUST. You'll have the rare chance to see these peaceful creatures up close (they could be larger than the boat you're on!).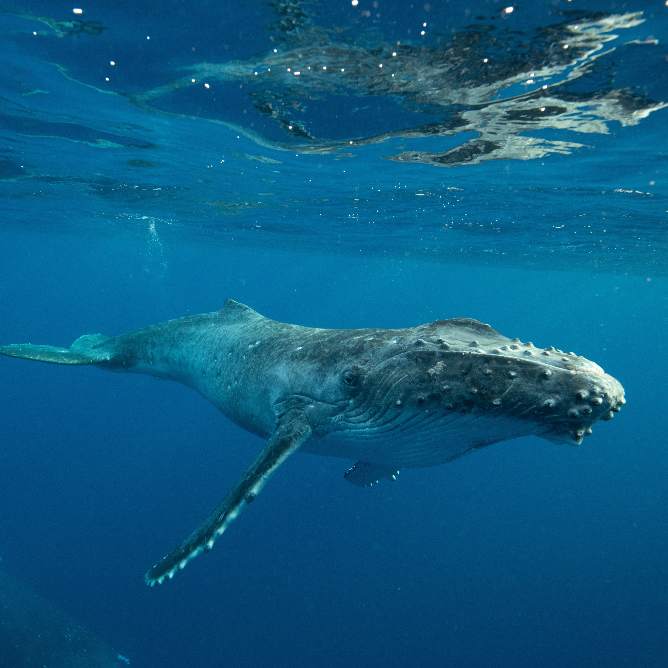 See these incredible creatures from a boat at sunset!
This whale-watching tour in Kalbarri has the best bang for your buck, as it's:
2.5 hours long
The vessel is big enough to have unimpeded views of the whales breaching from every corner of the deck
The crew provides expert insights into the behaviour and biology of these giants of the sea
It doesn't offer food/beverages, though. That's why it's cheaper than other similar tours. However, you are welcome to bring your own!
3) Pink Lake Buggy Tours
Best adventure tour:
The Pink Lake is absolutely stunning… But other than taking pictures and having a float around, there's not much to do.
But this 1.5-hour buggy tour will make an adventure out of your visit. You'll be immersed in the unique landscape of Hutt Lagoon, driving around the lake and through the surrounding dunes.
You'll be with a small group (5 passengers tops) and your local guide, who'll take you to places impossible to access by car. Keep your eyes peeled for kangaroos, lizards, and an array of birdlife!
Note: If it's whale sharks you're after, visit the Ningaloo Reef instead. They have the very best whale shark tours on the West Coast!
4) Sunset & Stargazing from the Kalbarri Skywalk
Unforgettable tour (and a great platter included):
This is one of the best tours we have done in Kalbarri. You'll watch the sunset from the Skywalk and stargaze. Your guides also share some basics on astrophotography using your smartphone!
---
---
It's operated by D'Guy Charters, and they really look after you. They provide transport, nibbles, beverages, and more. This is a great tour for all ages – great for a family evening out.
5) Scenic flight: Pink Lake Scenic Flyover Tour
Most spectacular tour:
The best way to see the Pink Lake is from above, hands down. From this unique perspective, you'll be able to enjoy all the pink hues caused by the algae present in the lake.
The contrast between the pink water, the ocean, and the rugged landscape that surrounds them will blow your mind. It's an experience everyone should have at least once in their lives.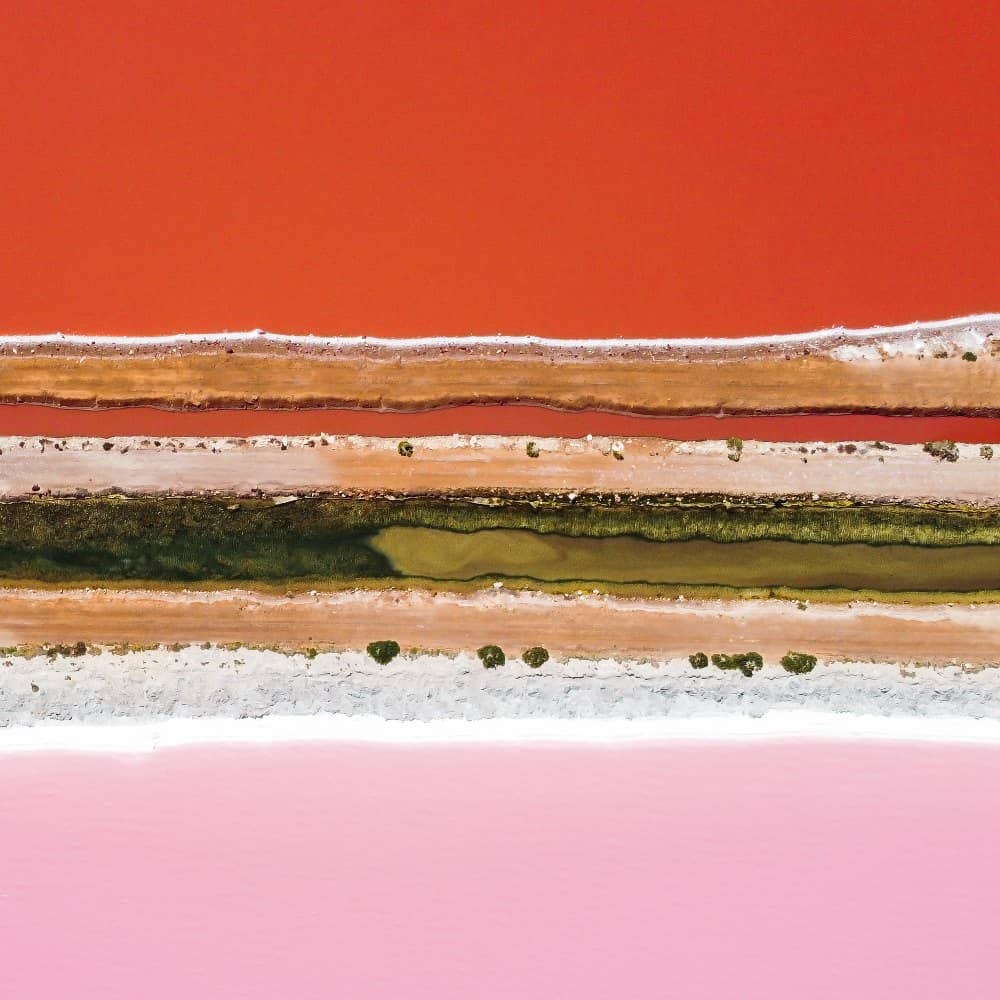 Plus, the pilot provides insightful commentary throughout the flight, pointing out landmarks and geological formations that ultimately created this phenomenon.
6) Morning Murchison River Cruise (April to November)
Nature immersion tour:
Calling all nature lovers out there! If you want a peaceful morning in your itinerary while still enjoying Kalbarri's natural landscape, look no further.
In this relaxing nature-based tour, you'll cruise through the stunning Murchison River and learn all about its history, flora, and fauna. It's a great tour for birdwatching, too.
The views from the boat are absolutely stunning, but the hosts make this a truly special tour in Kalbarri. They hold nothing back while keeping the information entertaining and engaging.
7) Wildflower tour (Spring Only)
Must-do tour in springtime:
Western Australia has a massive array of native wildflowers, many of which you won't find anywhere else in the world. They bloom in springtime, making the entire landscape explode into colour.
And thankfully, some great tour operators provide wildflower tours!
We recommend booking one of these if you visit during the wildflower season, which is usually between May and October. The guide will take you to secret hidden spots to enjoy this once-in-a-year spectacle, as you learn about the native flora and fauna of the area.
We recommend D'Guy Charters if you want to enjoy wildflower season in Kalbarri. They give these tours between August and October. Your knowledgeable guide will transport you to the best and most unique places to see these little wonders of the world.
8) Coalseam Wildflower Tour
The best picnic included:
If you are driving to Kalbarri from Perth (or vice-versa) in wildflower season, Coalseam Conservation Park is a must-stop!
It's one of the most popular wildflower viewing areas in Western Australia, with tours departing from Dongara, a town that's 2.5 hours south of Kalbarri.
We recommend going with New Leaf Connect, as they offer many wildflower tours and their attention to detail is unparalleled.
We loved the flowers we saw, the hot tea, the delicious fresh food and valuable insights from our guide. We took a hike around the local area, visited some of the most famous wildflower destinations and finished up the day with a picnic.
It's a tour we will never forget.
9) Visit The Abrolhos Islands From Geraldton
Underwater wonderland:
The Abrolhos Islands are an archipelago of +200 islands, famous for their underwater landscapes and variety of birdlife. The islands are rated #2 in the top diving locations in Western Australia!
The visibility underwater is considered the very best in Western Australia, and there are unique snorkelling spots to explore, like the Batavia shipwreck.
The most popular ways to visit the islands are via a scenic flight or on a multi-day tour. We recommend doing the latter, as you'll be able to fully immerse yourself in the experience (yes, pun intended).
This 5-day tour from Eco Abrolhos Cruises starts and ends in Geraldton, includes accommodation, meals, tour guide, and takes you through popular snorkelling spots!
10) 2-Day Tour: Perth, Lancelin, Kalbarri, Pinnacles, Perth
Best weekender:
This intensive tour starts and ends in Perth. It takes you through some of the most popular attractions of Kalbarri and Western Australia's coast:
Lancelin sand dunes
The Pink lake
Kalbarri's spectacular coastal cliffs
Nature's Window
It's perfect if you're short on time and want to check out all these famous attractions. Includes accommodation, transportation, and all entry fees. You just focus on enjoying the trip!
11) 4-Day Tour: Perth, Kalbarri, Shark Bay, Monkey Mia, Perth
The "See Everything" tour:
For those who have a bit more time to explore, this 4-day group roadtrip tour is a no-brainer. Your guides will take you to:
Nature's Window
Shell Beach
Monkey Mia (meet the dolphins!)
Eagle Bluff
Geraldton
The Pinnacles Desert
You'll go on a few hikes as well to take in the scenery. There are optional activities too, like kayaking in Shark Bay.
It includes accommodation, transport, guided walks, some meals, entry fees to the dolphins and 3 national parks, among other things.
This tour is a bucket list item. There's so much to gain from this incredible adventure, including new friends and a range of experiences.
Bonus: 7-Day Explorer Tour to Exmouth (Round-Trip from Perth)
For those who want more from the Coral Coast, this 7-day tour has the BEST value for money. It starts and ends in Perth, and will take you through most landmarks of Western Australia's coast:
The Pinnacles
Kalbarri National Park – visit the Z-bend and Nature's Window. Optional abseiling!
Monkey Mia
Carnarvon
Lancelin
This tour is ideal if you're on a holiday in WA and want to explore as much as possible in little time. Previous travellers agree the organisation is superb, and the tour guides are extremely attentive.
Top Tips
Kalbarri is stunning all year round, but in summer the weather can reach up to 45°C during the day, with lows of 20°C at night.
If you plan on visiting during that season, please be careful and be sun smart – drink lots of water, wear sunscreen and a hat, etc.
Being a 6-hour drive from Perth, Kalbarri doesn't make for a good full-day trip… But it's ideal for a multi-day road trip.
There are so many beautiful spots to visit as you drive along. We 100% recommend doing this at least once!
Interested? Check our complete guide for a Perth to Kalbarri road trip.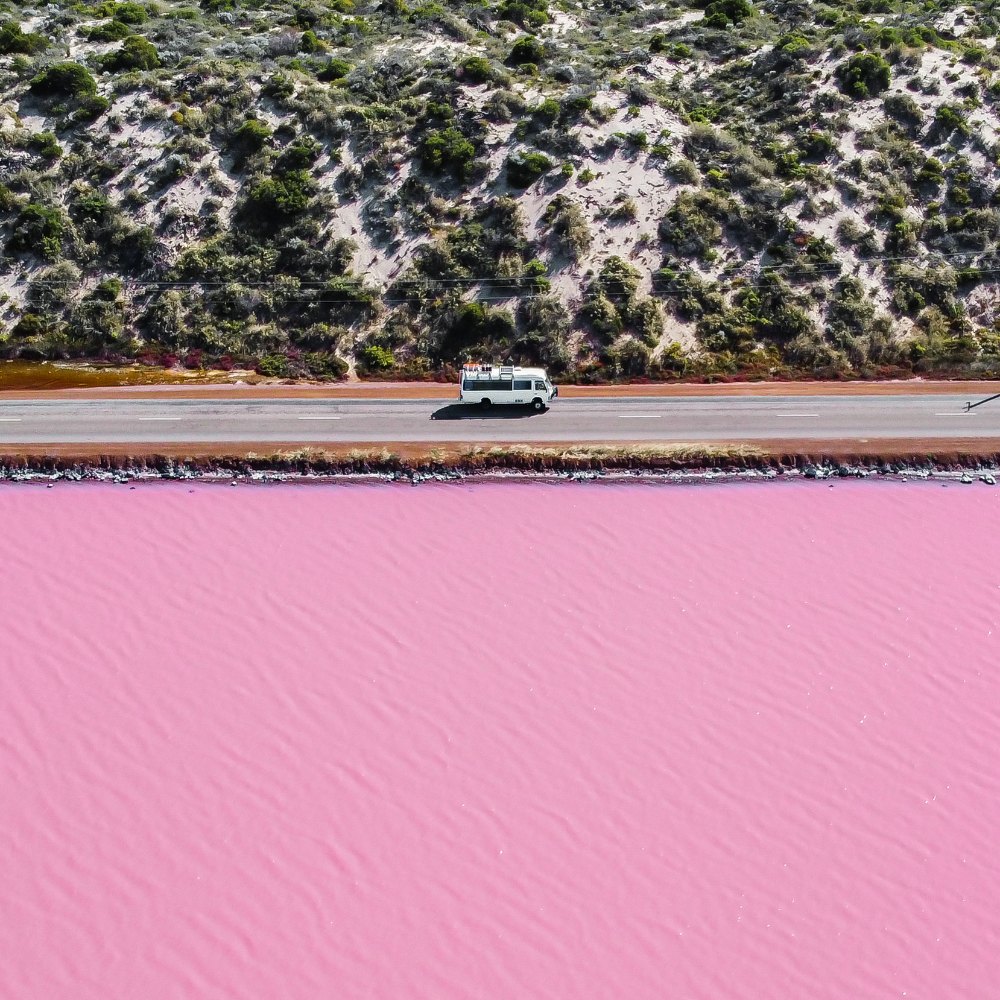 Did you know?
Every day at 8:45 am, volunteers come out to feed the local wild pelicans at Kalbarri Foreshore, right next to Kalbarri Boat Hire.
It's a great attraction for kids and adults alike, as volunteers talk about these majestic birds and encourage visitors to feed them.
June to August also sees the heathlands explode into colour as the wildflower season takes over.
You'll see wildflowers in vibrant pinks, yellows, reds, browns, and whites as you drive anywhere in the region.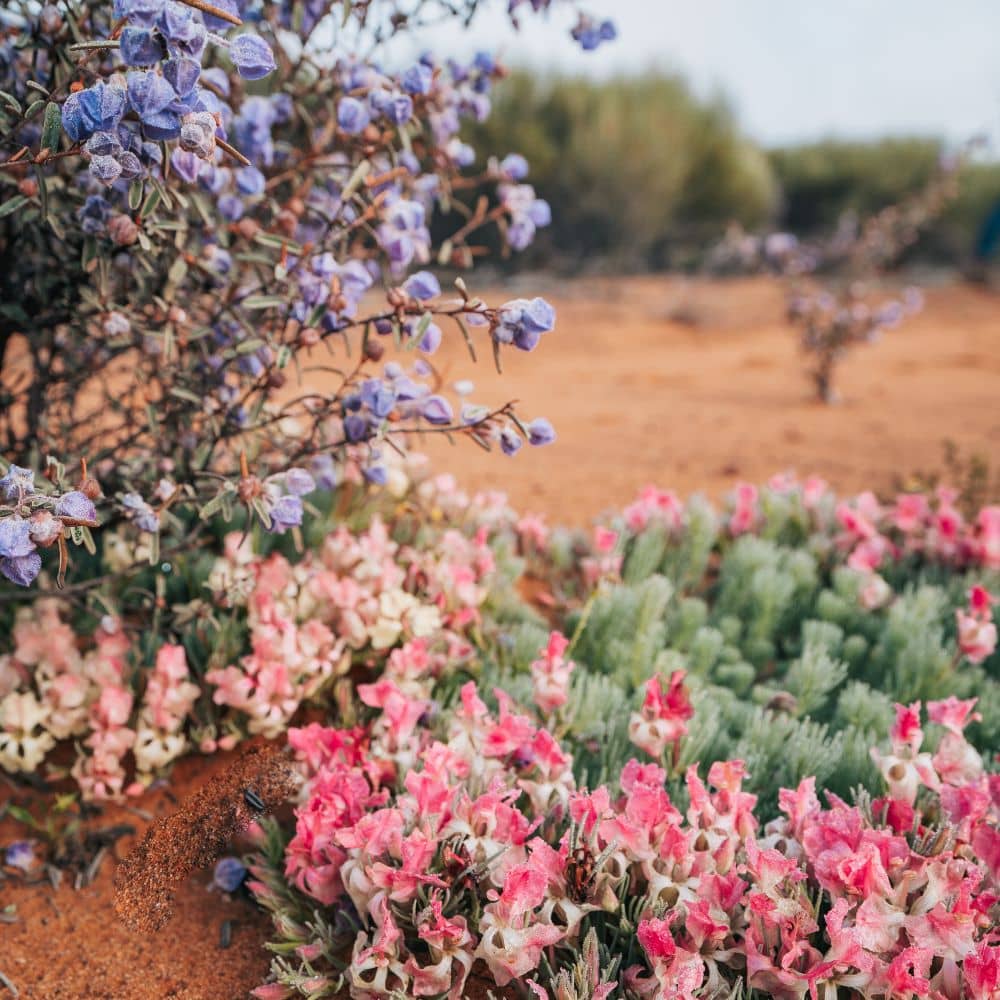 FAQs
How many days do you need in Kalbarri?
For a self-paced trip, 3-5 days is the sweet spot for visiting Kalbarri. It allows you to visit all the local attractions, explore the town and its surroundings, do a few hikes, and a few tours.
But the truth is that you can visit the main activities in one day – the Kalbarri Skywalk, Nature's Window, and the Z-Bend of the Murchison River.
Is Kalbarri worth visiting?
Kalbarri is 100% worth visiting!
This small town is the gateway to Kalbarri National Park, where you'll find the Skywalk, Nature's Window, the Z-Bend, many impressive lookouts, and hikes of varying degrees of difficulty.
The town itself is buzzing with life. There's the Murchison River, the Kalbarri marina, several beaches, the famous Blue Holes, and the mind-blowing coastal cliffs.
How much does it cost to enter Kalbarri National Park?
It costs $15 to enter Kalbarri National Park for a standard vehicle (12 passengers or less).
The entry for large vehicles is $7 per person. For motorcycles, it's $8.
If you plan on visiting with a tour, it's likely the cost of entry is included. Check anyway with your operator to avoid surprises.
The bottom line
Of the entire West Coast, Kalbarri is one of the best places to visit.
Adventure tours are excellent for exploring the area in a new way. Multi-day tours are perfect if you want to have everything arranged for you.
That said, you don't need a tour to fully enjoy Kalbarri! It has something for everyone, and you'll enjoy your stay in this pristine part of Western Australia.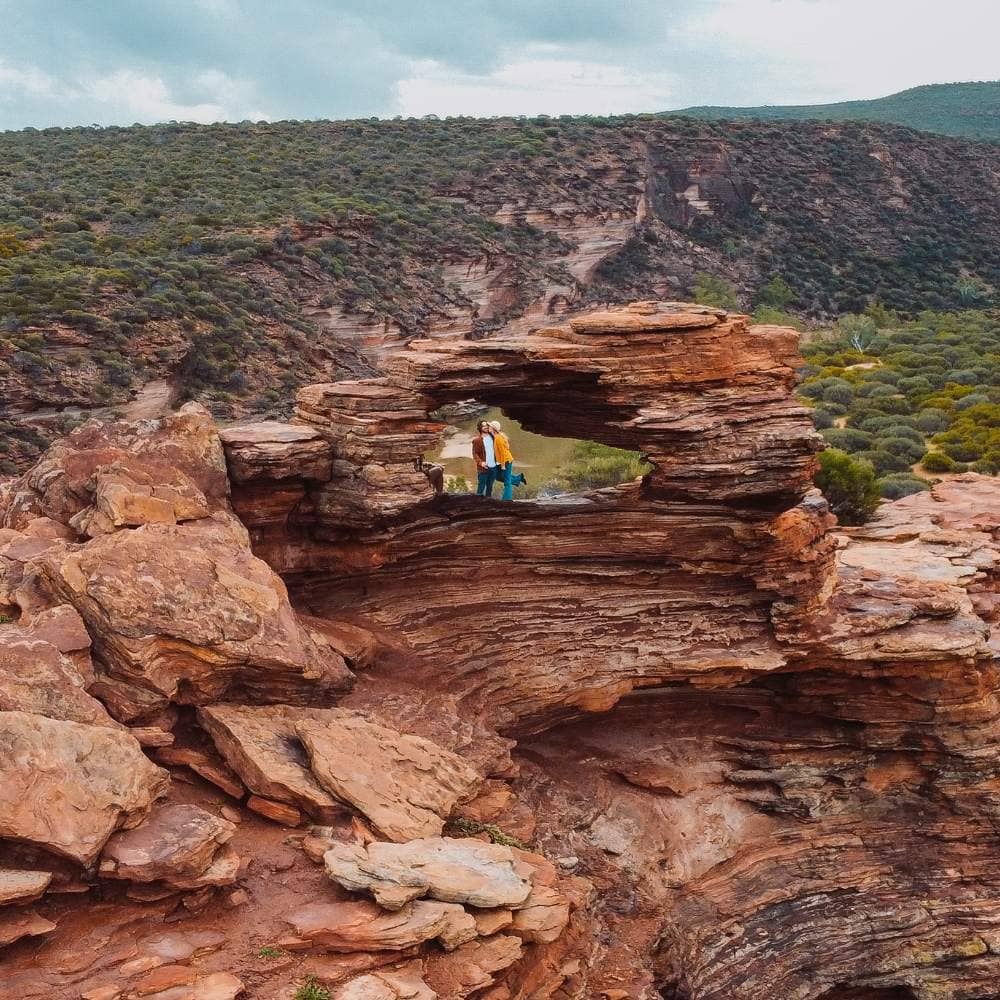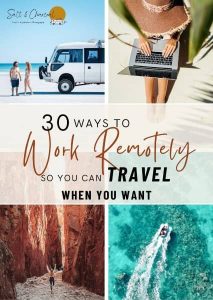 FREE Guide: 30 Ways To Make Money Online So You Can Travel When You Want
Unlock our secrets to consistent online income in Australia. These are tried-and-tested ways we've used to earn money from anywhere – only a laptop with internet is needed! Travel more and worry less.
Our Essential Travel Toolkit
🤩 Trip.com – Consistently great accommodation and hotel deals.
🤩 Hostelworld – Looking for the cheapest accommodation? We especially love the book now pay later feature.
🤩 Rentalcars.com – Best range, super easy to compare prices rental car and motorhome prices.
🤩 Viator.com – Easily book tours and experiences at the lowest rate. Great selection all over Australia.
🤩 Tripadvisor.com – Other than our website…..😉 the best place to find things to do
🤩 Airalo – eSIM store that solves the pain of high roaming bills by giving travelers access to eSIMs (digital SIM cards).
🤩 Caravan RV Camping – Traveling Australia in a van, caravan or bus? Use our discount code "saltandcharcoal" to get $30 off any orders over $300.