Traveller's Guide To The Pink Lake In Kalbarri, WA (Hutt Lagoon)
The pink lake in Kalbarri is one of many must-stops on any trip to Western Australia's Coral Coast. Also known as "Hutt Lagoon", this unique salt lake has vibrant, otherworldly, pink-coloured water!
What makes the lake so pink? This is due to an algae known as "Dunaliella Salina". When exposed to sunlight, the algae produces beta-carotene – the same red pigment found in carrots!
It's present in waters with high saline levels, giving it the signature bubblegum pink colour (or even red/purple colour).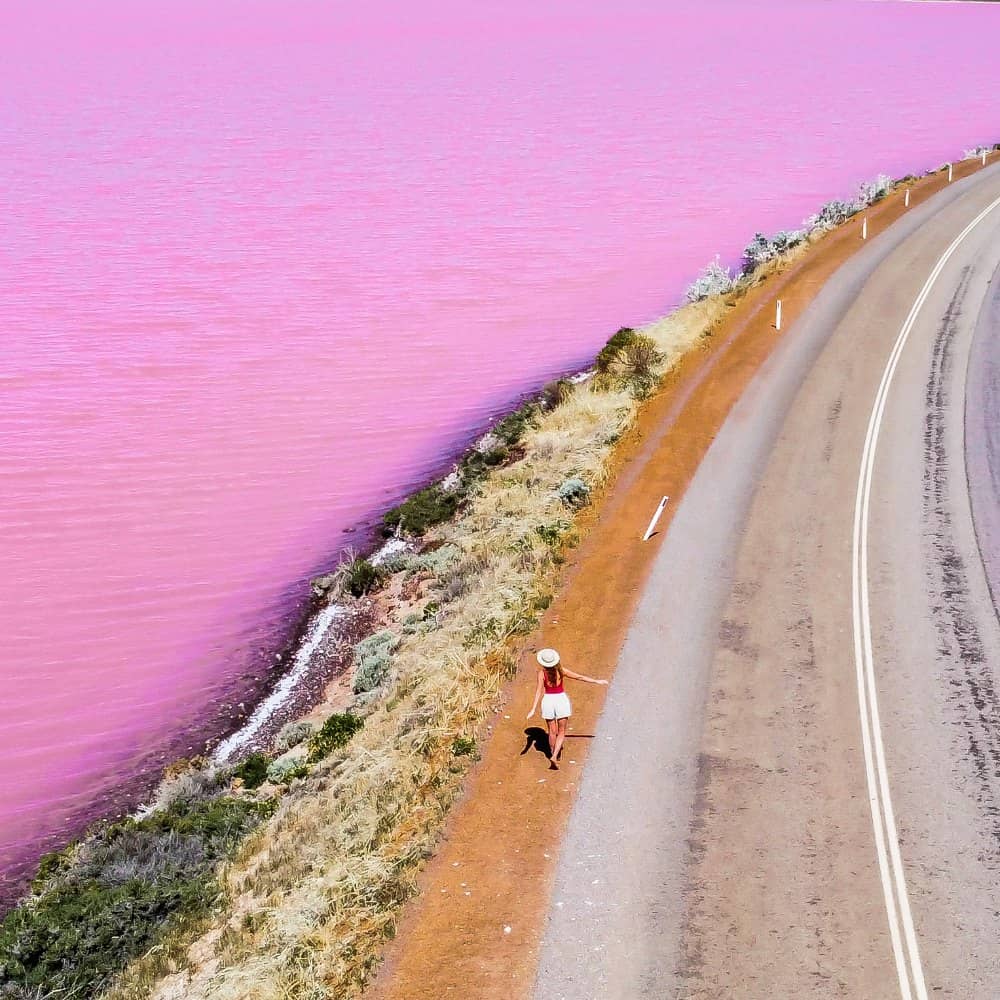 The hypersaline waters don't make for a great swim… But they do make for stunning pictures! The floor of the salt lake is crystalised and can feel scratchy on your feet though, so bring reef shoes if you want to get in.
The best time of the day for photography is usually between 10 am to 2 pm, as it's the brightest time of day. But the colours change depending on the season. We will discuss that and more below!
Everything you need to know – Hutt Lagoon Kalbarri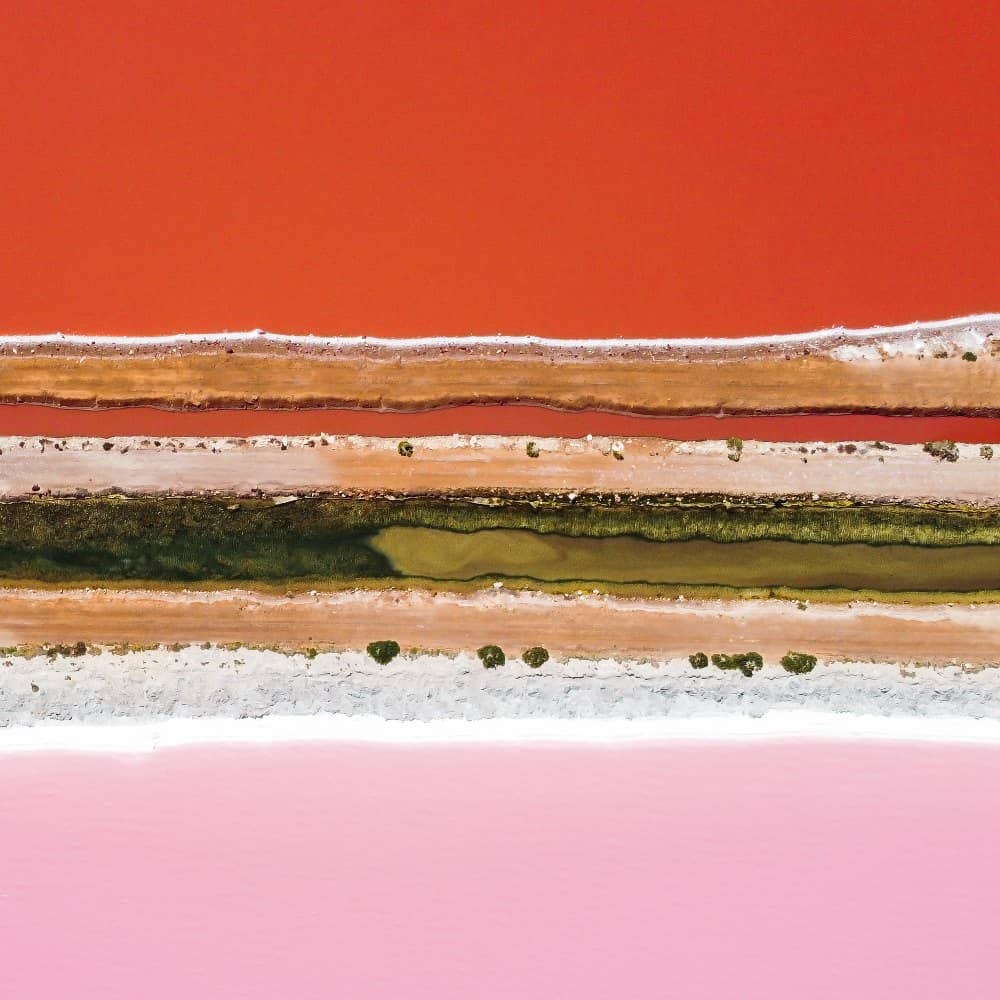 How do you get to the Pink Lake in Kalbarri?
Hutt Lagoon (Pink Lake) is a 70-square km lake in Port Gregory, a town about 30 minutes south of Kalbarri, through George Grey Drive. The only thing that separates it from the Indian Ocean is a beach barrier ridge and a barrier dune system.
Port Gregory's Hutt Lagoon is the nearest pink lake to Perth (there are more than 10 pink lakes in Australia!), a 5.5-hour drive north of Perth.
It's free to visit Hutt Lagoon. Once there, you'll drive around the lake and park in the lookout bay. There are no facilities though, so come prepared.
When is the best time to visit Pink Lake? (Hutt Lagoon Kalbarri)
The best time to visit Pink Lake is in the spring or summer.
Typically, the algae that causes the pink colour is found in higher concentrations in warmer months. Spring/Summer may therefore be your best bet to see Hutt Lagoon in its glory!
Also, it's best to visit on a clear, sunny day, with little to no clouds. You can also visit on a cloudy day, but the colour won't be as intense.
Accommodation and camping at Hutt Lagoon
You can't camp at Hutt Lagoon and there aren't free campsites around either. But there are a few awesome spots where you can stay nearby:
Kalbarri town
There are several places you can stay in Kalbarri, from campsites to hotels and everything in between. We recommend staying in this town if you also want to explore the Kalbarri National Park!
We wrote a whole guide with the best places to stay in Kalbarri, check it out here!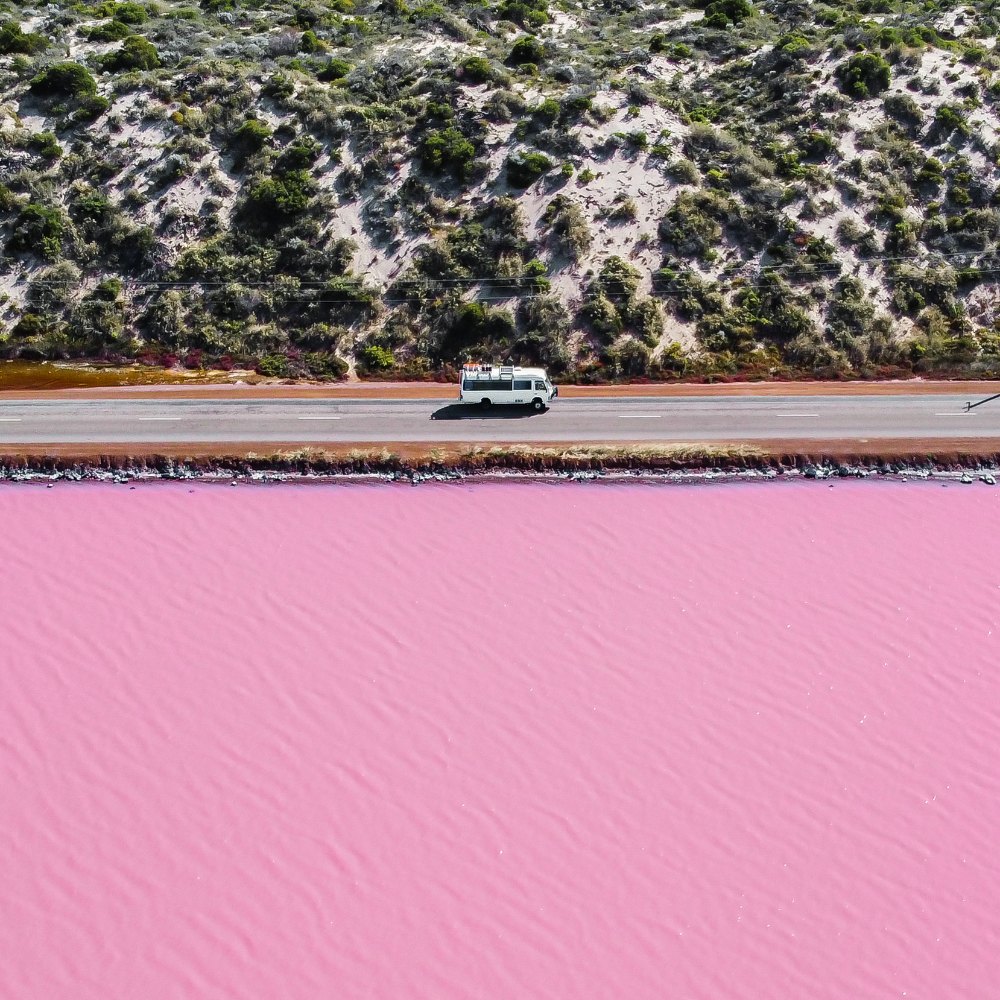 Port Gregory Caravan Park
This is your best (and only) bet if you want to stay right at the lakefront.
It's a family-owned caravan park with 10 cabins and 80 powered sites. You'll stay between the lake and the Indian Ocean, each one at a 5-minute walk. It doesn't get any better than that!
Horrocks Beach Caravan Park
Horrocks is a small coastal town, 30 minutes south of Hutt Lagoon. It's an epic beachfront stay with cabins and camping sites (powered and unpowered).
Being right next to 3 Miles Beach makes it absolutely worth it on its own. But if you have a 4WD, you can go for a 10-minute drive to check out the mindblowing Little Bay during your stay!
Little Bay Campsite (4WD only)
This campground is also in Horrocks, and it's a truly hidden gem. It's a beachfront campsite where you can do some boating, fishing, and snorkelling. There are massive dunes too, so bring your boogie board!
There are no bookings available (first come, first serve) and there's a fee of $15 per car/per night, collected daily by a ranger.
Lucky Bay Shacks (4WD only)
Not to be confused with Esperance's Lucky Bay – you won't find any kangaroos in Kalbarri's Lucky Bay. This awesome campground is 15 minutes north of Hutt Lagoon.
Much like Little Bay, you can do boating, fishing, and snorkelling. It's also "first come, first serve", with a $15 fee per night.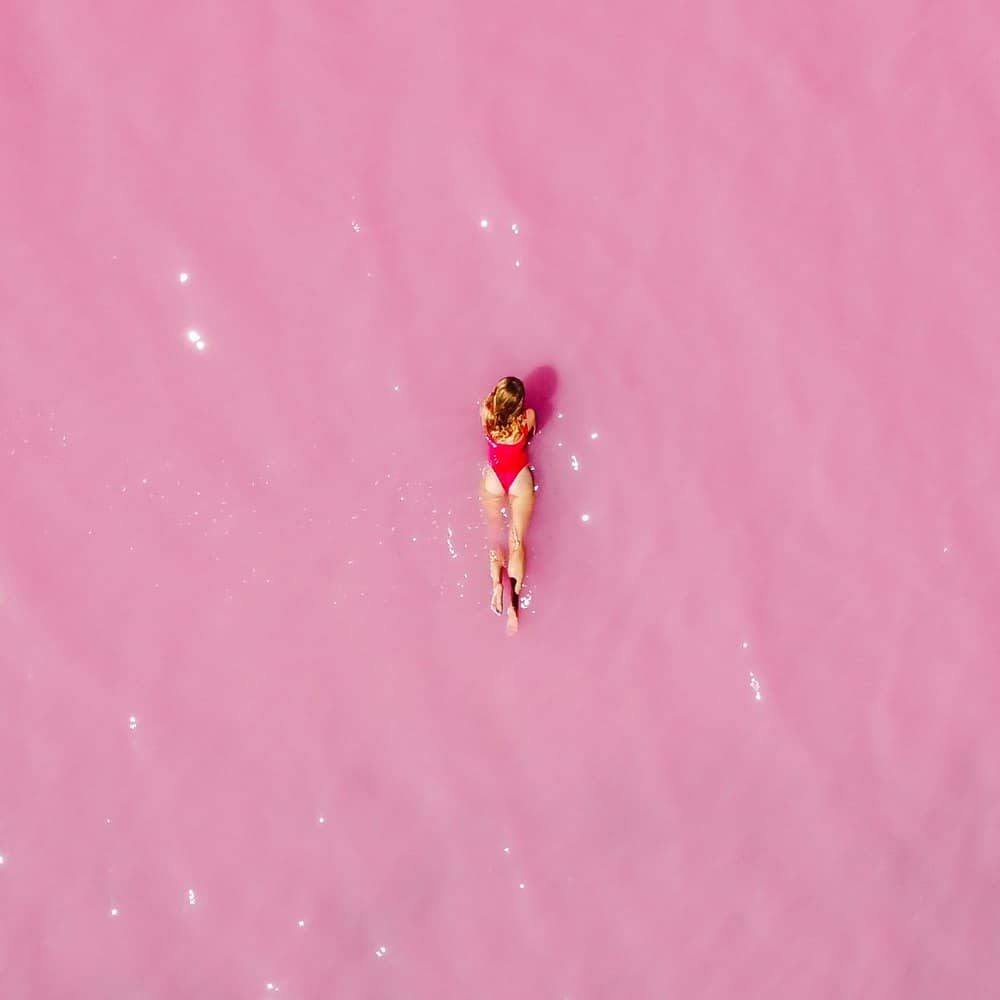 Best time of the day for the most stunning photos
Photos showing the bright pink usually are taken on a clear day, between 10 am and 2 pm – this is when the sun is at its brightest.
If there's cloud cover, it really pays off to be patient and wait for them to move a bit, letting the sun shine onto the lake. That said, clouds reflecting on the lake also make for gorgeous pictures!
Go to the lookout to see Pink Lake from a higher vantage point. Make sure you bring a floatie and picnic for your visit to Pink Lake!
---
---
Other ways to see the Pink Lake in Kalbarri
Thankfully, the Hutt Lagoon is easily accessible by car. Besides the lookout, there are a few other spots where you could stop and view it along Port Gregory Road.
But if you want to take your experience to the next level, check out these tours:
Scenic flight over the Pink Lake
Undoubtedly, the best views of the lake are from above.
There are scenic flights of Hutt Lagoon starting from Kalbarri and Geraldton. As you fly over the lake, you'll hear commentary from your guide, explaining the geography and pointing out key landmarks of the area, among other things.
If you want to fly from Geraldton, look no further:
Through a buggy tour
If you want more than just have a look, what about driving a buggy along the massive sand dunes around Pink Lake?
This 1-hour, small-group tour starts in Port Gregory caravan park. Your guide will share everything there is to know about the area, as you explore the sandy dunes and enjoy not only the lake's view but the surrounding wildlife.
Top tips
If you want to enter the water, bring reef shoes! There are sharp salt crystals at the shore and on the lake's ground. The salt is very sticky too, so bring water to wash it off.
Visiting Pink Lake isn't a good plan for a day trip from WA's capital – it would be an 11-hour drive back and forth. But it's a must-stop if you ever do a road trip from Perth to Kalbarri.
Did you know?
BASF, a chemical company, has a production plant in Hutt Lagoon. They harvest the naturally-present algae of the lake to extract its beta-carotene. This is used as a food colouring agent, cosmetics, and dietary supplements.
Now, the presence of a chemical plant may be alarming for visitors, but in reality, there's no need for concern. It's completely safe to visit the lake!
FAQs
Why is Kalbarri's Lake pink?
Kalbarri's lake is pink because of Dunaliella Salina, a beta-carotenoid-producing algae.
These algae can be harvested, as they're a great source of vitamin A and antioxidants. It can also be used as a colouring agent in the food and cosmetics industries.
Can you swim in Pink Lake (Hutt Lagoon)?
Yes, you can swim in the pink lake (Hutt Lagoon). But the water is very salty, so it may not be very pleasant.
We'd recommend swimming at Port Gregory's beach instead, which is a short 10-minute walk from the lake car park.
Can you drink the Pink Lake in Kalbarri?
No, you can't drink the pink lake. The water has very high saline levels, not to mention the microorganisms that could harm your health.
The bottom line
If you're travelling through the Coral Coast highway in Western Australia, you must make a stop at Hutt Lagoon (Pink Lake).
Kalbarri is just a 30-minute drive away, with its National Park and its attractions – the Skywalk, the Z-Bend, and the Nature's Window to name a few.
Visiting Hutt Lagoon is absolutely worthwhile and it won't take a full day. You can enjoy the pink lake and take in some other spectacular scenery around Kalbarri on the same day. Your best bet is to stay in Kalbarri for a few days, to have plenty of time to explore all the wonders of the region.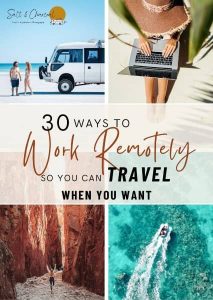 FREE Guide: 30 Ways To Make Money Online So You Can Travel When You Want
Unlock our secrets to consistent online income in Australia. These are tried-and-tested ways we've used to earn money from anywhere – only a laptop with internet is needed! Travel more and worry less.
Our Essential Travel Toolkit
🤩 Trip.com – Consistently great accommodation and hotel deals.
🤩 Hostelworld – Looking for the cheapest accommodation? We especially love the book now pay later feature.
🤩 Rentalcars.com – Best range, super easy to compare prices rental car and motorhome prices.
🤩 Viator.com – Easily book tours and experiences at the lowest rate. Great selection all over Australia.
🤩 Tripadvisor.com – Other than our website…..😉 the best place to find things to do
🤩 Airalo – eSIM store that solves the pain of high roaming bills by giving travelers access to eSIMs (digital SIM cards).
🤩 Caravan RV Camping – Traveling Australia in a van, caravan or bus? Use our discount code "saltandcharcoal" to get $30 off any orders over $300.