How To Make Money Online Without Recruiting Friends Or Family – Beginners Guide
Let's be honest – the idea of recruiting friends, family members, or even co-workers to make money online feels a bit icky… We all know it, we've all seen it and it's just not the way forward!
It not only strains relationships… It's exhausting to try and sell some product to someone who's not remotely interested in it. But they try to help because, well, family.
Some work-from-home opportunities that focus on recruiting are actually scams too. It's best to stay away from them as much as possible.
The good news is that you don't need to "recruit" anyone to make money online. You can earn solid (even amazing) income without selling to family, pyramid schemes and MLM.
Below, you'll learn how to make money online without recruiting. Here are 11 tried-and-true ways you can try, along with 5 ways to not make money online.
Key takeaways
Table of Contents
11 Tried-and-true ways to earn money online
These are different ways either we or our team have successfully used to earn money online. They are 100% legitimate, with zero recruiting involved:
1) Tutoring
If you're great at something or have expertise in a specific field, why not become an online tutor? With the rise of remote learning, there's a growing demand for online tutors from all fields and walks of life.
Tutoring is also a very rewarding way to make money online. You can choose to offer one-on-one classes, group classes, and even expand your offerings with online courses or educational blogs (more on that below).
You can teach English online, music, or even a specific subject – biology, math, programming…
You don't need to have teaching qualifications, either. You only need to be knowledgeable about a topic and have a knack for teaching.
2) Content writing
Many online businesses and website owners are willing to pay for quality articles and blog posts on specific areas – healthcare, finances, lifestyle, entertainment, mental health, and even tradies.
As long as you have knowledge in an area, you can share it through content writing. Websites like Upwork and Freelancer can help you find clients in need of that information.
The key is to deliver engaging, informative, and SEO-friendly content that resonates with readers while fulfilling the needs of the business.
3) Translation
If you're bilingual or multilingual, translation is a unique opportunity to monetise your language skills and cultural knowledge.
You can work on diverse projects, translating anything from legal documents and technical manuals to creative literature and marketing materials.
By focusing on accuracy, cultural sensitivity, and quick turnaround times, you can build a reputation as a reliable and sought-after translator in the online freelancing community.
4) Data entry
Data entry tasks are relatively simple and can be a good way to start making money online – you input information into databases, spreadsheets, or online platforms.
It requires attention to detail, fast typing skills, and a strong sense of organization. Data entry tasks may seem repetitive, but they are essential for businesses to keep accurate records and streamline their operations.
As you gain experience, you can explore additional data-related roles, such as data analysis or data management, which can lead to higher-paying opportunities.
It might not be the most glamorous job, but it provides a steady stream of income. This is ideal for those who want to start making money online.
5) Virtual assistant
If you're organised and good at multitasking, becoming a virtual assistant might be a perfect fit for you.
Virtual assistants work on a wide range of tasks, like scheduling appointments, managing social media accounts, handling customer inquiries, and even coordinating projects.
This role requires strong communication skills, attention to detail, and the ability to adapt to different tasks and industries. It's a very dynamic online opportunity, where you'll learn a lot by doing.
6) Blogging
Here, you create your own website to share your thoughts, expertise, and/or passions with the world, while potentially earning extra money.
It takes time to build an audience and generate income, but you can monetise it through advertising, sponsored content, affiliate marketing, and/or selling digital products or services.
---
---
Blogging gives you full creative freedom and the opportunity to become an authority in your chosen niche., but it requires consistency and perseverance.
7) Online courses
If you have specialised knowledge in a particular field, there's likely an audience eager to learn from you.
Creating an online course takes time and careful planning, but it's a rewarding way to make money online while empowering others to acquire new skills and knowledge.
The key to a successful online course is delivering valuable content in an engaging and structured format. It's key to be able to communicate complex concepts clearly and provide actionable tips for your students as well.
As you develop and promote your courses, positive reviews and word-of-mouth recommendations can lead to a growing customer base and increased revenue.
8) Create a dropshipping business
Dropshipping is a business model where you run an online store without holding any inventory. Your own online store is the middleman between customers and suppliers.
This is a popular option for aspiring entrepreneurs, as it eliminates the need for a huge upfront investment in inventory. It's a low-risk entry into the world of e-commerce and online retail.
But, to be successful, you need to do effective marketing, have excellent customer service, and carefully select your suppliers. This will ensure a seamless shopping experience for your customers.
9) Affiliate marketing
In affiliate marketing, you earn a commission by promoting a product, service, course, etc. You're simply recommending something you've already tried and think can help others.
For example, let's say you want to promote an Amazon product on your blog.
To do this, you'll use a special Amazon affiliate link to promote said product. That way, if anyone clicks on it and makes a purchase, Amazon will know they came from you.
Then, Amazon itself will pay you a small commission from that sale, at no extra cost to the customer.
It's different from a dropshipping business model, as you won't manage an online store. You're just recommending a product you tried and believe can be useful to others.
10) Create websites for small businesses
Small business owners often don't have the time or energy to learn how to create their websites. And they usually need to save money.
So, if you know a bit about web development, you can offer your services to small businesses. This is an excellent way to build your portfolio and gain experience without high stakes.
If you don't know anything about web development, don't worry – it's fairly easy to learn. There are hundreds of free tutorials to learn from.
As you deliver high-quality websites, satisfied clients may refer you to others, leading to more projects and increased income.
11) Create, buy, and/or sell online businesses
This is what we do! Thanks to this, we can fund our travels, save for (many) rainy days, and live the lives we want to live.
It's a very lucrative route, perfect for those with an entrepreneurial spirit.
To do this, you first need to do a bit of learning up front. You have to learn how to evaluate a business's potential, its niche, and future growth prospects.
It also helps to know how websites work. So, good entry points can be jobs like website development, virtual assistance, or content writing.
We learnt how to do this with Matt & Liz Raad, the Brisbane-based couple running the eBusiness Institute. They teach you everything there is to know to do this successfully.
More ideas to earn money without recruiting:
Check our guide with 30 ways to work remotely so you can travel whenever you want. We expand on each one of these and give you more ideas that can actually give you a full income (and more).
Get the FREE guide: 30 Ways To Work Online So You Can Travel When You Want
5 Ways to earn money online that seem good… But aren't really
These remote work "opportunities" have a few things in common – they disguise themselves as flashy, easy wins to earn money fast, often with little to no effort.
But the truth is that they are not sustainable ways to make money. Heck, some are even scams! We suggest you stay away from them:
1) Multi-level Marketing (MLM)
This is the epitome of recruiting. See, in an MLM scheme, participants theoretically earn money in two ways:
By selling the products of the company for a profit (usually small).
By earning a commission from the members they've recruited, and the sales they make.
Multi-level marketing seems appealing because of the potential for passive income and the promise of financial freedom.
However, it often requires a significant upfront investment, as you need inventory to sell and profit from.
You'll also have to be relentlessly focused on recruitment to get "passive" income.
In reality, less than 1% of people working in an MLM scheme actually earn money.
This ultimately leads to financial losses and strained relationships with friends and family. That's why we think it's best to steer clear of MLM schemes and focus on other online opportunities.
However, if you want to get into an MLM scheme, please carefully evaluate the products before getting involved. Also, check these resources thoroughly:
Read this article. It has some things to know before joining an MLM company, and a few questions to ask yourself to increase your chances of success.
Go to Direct Selling Australia to check if the company you'll join is legit, as some scams disguise themselves as MLM schemes. Do thorough research.
2) Online surveys
Online survey sites claim to pay for sharing your opinions, but the income is usually minimal and not worth the time invested.
Also, many survey sites have eligibility criteria and restrictions that limit the number of surveys you can complete.
3) Playing games
While gaming is a great hobby, making money from it is extremely challenging and competitive.
Professional gamers are also content creators, who invest considerable time and effort in building a following and honing their skills.
And although some of them can monetise their passion through streaming or esports, this is not an easy or quick path. It requires exceptional skills, dedication, time, and luck.
4) Day trading
Day trading in the stock market can be highly volatile and risky, especially for beginners. If you don't have the proper knowledge and experience, you may end up losing more money than you gain.
It requires a deep understanding of financial markets, technical analysis, and risk management. It's best to approach trading as a long-term learning process rather than a get-rich-quick opportunity.
If you're interested in doing this, it may be best to consider other strategies like long-term investing and diversification. These can mitigate risk and give you more stable returns over time.
5) Becoming an influencer
Building a social media following and becoming an influencer is extremely appealing, but it requires consistent effort, time, and luck.
It's not a guaranteed pathway to financial success, either. Many influencers work tirelessly to create engaging content and build their audiences, even when money isn't guaranteed.
Even if a brand collaboration or sponsorship comes up, these opportunities may fluctuate based on the current market and trends.
However, if you want to become one, you need to build a personal brand first, cultivating a loyal audience that resonates with your content.
You also need a long-term strategy. Focus on authenticity and engagement, and don't use it as your primary income stream.
FAQs
How can I make money online without training?
You can make money online without training with jobs that don't require special qualifications, like data entry. If you have knowledge of a topic, content writing is also a great option.
However, you can pretty much acquire new skills for free thanks to the internet. There are hundreds of resources and tutorials for practically anything out there.
How can I make money online without doing anything?
Well, there's no way to make money online without doing anything. You need to put some type of effort first to get passive income.
The good thing is that, once the income stream is set up (e.g. a blog, an online course, an e-book, etc), it requires less ongoing work.
It can even become a passive income stream, where you don't have to do anything to earn money, other than maintenance.
How can a broke beginner make money online?
A broke beginner can make money online with content writing or data entry. These are ways to earn income online that don't require any upfront payments and can give you quick cash, or even a solid income stream.
The bottom line
Making money online without recruiting is entirely possible, and there are several legitimate ways to do so.
The key is to focus on your strengths, interests, and skills, and be prepared to put in consistent effort.
Avoid falling for get-rich-quick schemes, and remember that building a sustainable online income takes time and dedication.
And if you want to learn how to work remotely while travelling Australia, here's our 7-step framework!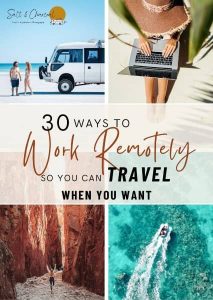 FREE Guide: 30 Ways To Make Money Online So You Can Travel When You Want
Unlock our secrets to consistent online income in Australia. These are tried-and-tested ways we've used to earn money from anywhere – only a laptop with internet is needed! Travel more and worry less.
Our Essential Travel Toolkit
🤩 Trip.com – Consistently great accommodation and hotel deals.
🤩 Hostelworld – Looking for the cheapest accommodation? We especially love the book now pay later feature.
🤩 Rentalcars.com – Best range, super easy to compare prices rental car and motorhome prices.
🤩 Viator.com – Easily book tours and experiences at the lowest rate. Great selection all over Australia.
🤩 Tripadvisor.com – Other than our website…..😉 the best place to find things to do
🤩 Airalo – eSIM store that solves the pain of high roaming bills by giving travelers access to eSIMs (digital SIM cards).
🤩 Caravan RV Camping – Traveling Australia in a van, caravan or bus? Use our discount code "saltandcharcoal" to get $30 off any orders over $300.