11 Genuine Work-From-Home Jobs For Non-Entrepreneurs
Thankfully, you don't have to be an entrepreneur to live the life you want. There are other genuine work-from-home options, like freelancing or working for a remote-friendly company, where you can earn enough income to live a great life.
But a disclaimer first – these 11 ideas won't make you a millionaire. They are legitimate opportunities if you want a remote lifestyle without the hustle of building an online business.
If that sounds good, there are a few things to consider before picking any role.
For example, the flexibility it offers, the income ceiling, skills needed, and where to apply. We'll cover all that below!
Let's get started:
Key takeaways
Table of Contents
11 legitimate work-from-home jobs (for non-entrepreneurs)
For these jobs, you essentially need a reliable computer and good internet:
1) Content writing and/or proofreading
With the rise of AI, there's a lot of content being created, but it can be extremely inaccurate. So, many businesses and websites are on the lookout for experts in specific fields, who can create and fact-check this content.
For example, a business about dental hygiene may want to hire a dentist to write their content and/or fact-check it.
Content writers create blog posts, email campaigns, social media snippets, and even e-books. As for skills, you may need to:
Research topics thoroughly to provide accurate information and build trust.
Understand a bit of search engine optimisation (SEO) principles.
Learn basic copywriting to make your content stand out from the competitors.
Most content writing jobs have a flexible schedule, but you have to stick to deadlines.
2) Virtual assistance
Virtual assistance is a versatile work-from-home option that allows you to support entrepreneurs, small business owners, or busy professionals remotely.
As a virtual assistant (VA), you'll handle administrative tasks and help your clients stay organized and efficient.
These may include managing emails, scheduling appointments, data entry, bookkeeping, social media management, and travel arrangements, among other things.
You need to have solid organizational skills and know how to communicate effectively. Responding promptly to emails and messages is key as well.
3) Data entry
This work-from-home opportunity involves inputting information into databases, spreadsheets, or online platforms. The task is a bit repetitive, but you don't need any degree to do this.
You do need a few simple skills:
Fast and accurate typing.
Pay attention to details.
Meet deadlines.
As you get more experience, you can explore other opportunities with more income potential, like data analysis or data management.
4) Online tutoring
Tutoring is an easy way to earn extra money with a home job and you can set your own schedule.
Most people get into this by teaching English online. But if you have knowledge in a particular subject or skill, and enjoy sharing knowledge, online tutoring is also for you.
There are dozens of tutoring platforms available, for example:
They connect tutors with students of all ages, offering a wide range of subjects and flexible hours. Some of them don't require any teaching experience, while others do.
As you accumulate positive reviews and testimonials, you can potentially increase your hourly rates and attract more students.
---
---
5) Language translation
If you are proficient in more than one language, this can be a great work-from-home opportunity.
Many businesses, websites, and organizations require translation services to reach a larger audience. You may have to translate articles, websites, and even manuals.
But to succeed as a translator, you need more than just language proficiency.
You need cultural sensitivity and an understanding of regional nuances. This will make sure you accurately convey the message to the specific audience.
As you gain experience and build a portfolio of successful translations, you can specialize in specific industries or languages, which can increase your earning potential.
6) Transcription
Transcriptionists convert video or audio files into written text.
To do this, you need strong listening skills and the ability to type accurately and efficiently. You may also have to upgrade to a high-quality set of headphones.
You can find transcription opportunities on websites like TranscribeMe, Rev, and GoTranscript. These platforms offer a wide range of projects, from general transcription to specialized fields like medical or legal transcription.
As you gain experience and specialize in specific industries, you can earn higher rates per audio minute.
7) Online tech support
Nowadays, companies heavily rely on remote tech support to help their customers with technical issues.
These agents help clients with software or hardware-related problems, guide them through solutions, and ensure a smooth customer experience.
This role usually has part-time hours and most companies give the training necessary to do this job properly.
But you should have at least a basic understanding of the technology provided by the company. Also, you need to have good problem-solving skills and be able to communicate technical jargon in a user-friendly way.
8) Customer service representative
In the era of e-commerce and online services, more and more companies are looking for remote customer service agents.
They are essentially the voice of the company, addressing customer inquiries, resolving issues, and ensuring customer satisfaction.
This role requires empathy, patience, and strong problem-solving skills. Familiarity with the company's products or services is also a plus.
9) Social media management
As a social media manager, your role is to create and curate content, engage with the audience, and strategize ways to grow the company's online presence.
You should be familiar with various social media platforms and understand their analytics. By analyzing social media insights, you can tailor your content to boost engagement and reach.
To kickstart your social media management career, consider volunteering to manage social media accounts for small businesses or startups.
Building a portfolio of successful social media campaigns will improve your credibility and attract potential clients.
10) Graphic Designing
Graphic designers create visual content, including logos, marketing materials, social media graphics, and website designs, among other things.
This is perfect for those who know how to use tools like Adobe Photoshop, Illustrator, or Canva.
There are hundreds of free tutorials out there to teach you how to leverage those tools to land graphic design gigs.
Building a strong portfolio that showcases your design style and versatility will help you get clients.
11) Remote bookkeeping
All businesses have one thing in common, regardless of their size or ways to earn money. All of them need to keep accurate financial records.
Some business owners don't have time to do this (or don't want to).
That's when a remote bookkeeper is vital – they keep track of transactions, reconcile accounts, and generate financial reports for clients or employers, among other things.
Some bookkeeping roles may require formal accounting qualifications, mostly in big companies.
But small businesses are often open to individuals with basic bookkeeping knowledge and the willingness to learn.
There are dozens of online courses and certifications in bookkeeping you can do to get started.
Want more ideas?
Check our guide with 30 ways to work remotely so you can travel whenever you want!
It has everything from entry-level ideas to advanced strategies that can actually give you a full income (and more).
Get the FREE guide: 30 Ways To Work Online So You Can Travel When You Want
Things to consider before choosing a work-from-home job
Knowing these beforehand will help you pick the right remote role according to your needs and goals:
Freedom and flexibility
If you want to fully own your schedule, it may be worth looking into roles like:
Content writing, transcription, translation… These often allow you to work whenever and wherever, as long as you meet your deadlines.
Online tutoring. You can set which hours or days you want to work.
You'd also want to avoid customer support roles, as you may have to stick to a more traditional schedule, but from home.
However, this same factor can be perfect for, say, a stay-at-home parent.
You could take a shift during school hours, leaving you the rest of the day free for chores, being with your kids, etc.
Income ceiling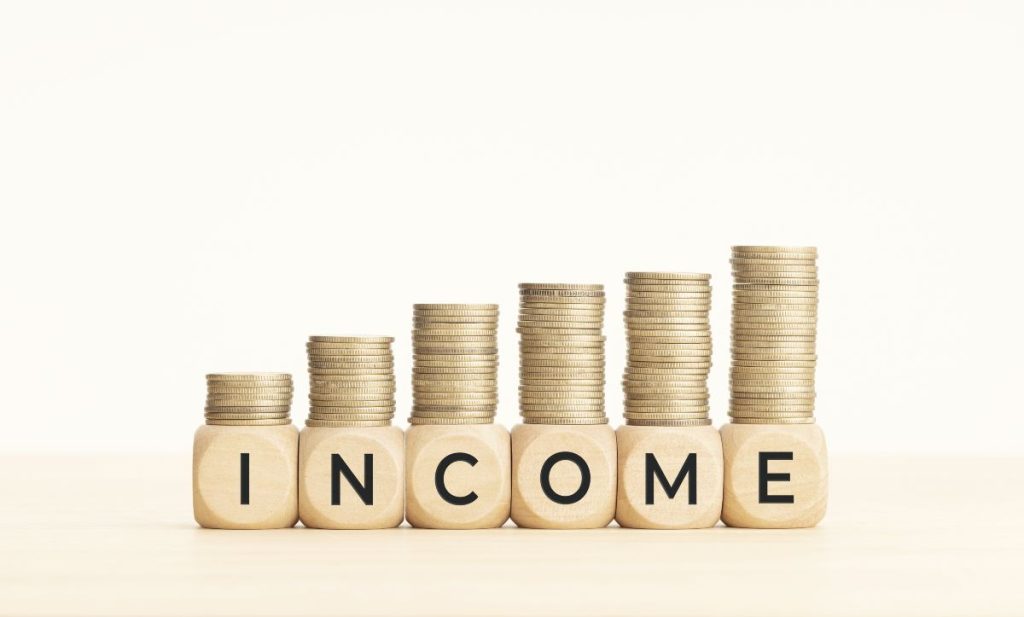 Some work-from-home jobs offer low but steady pay, like data entry or transcription. These have few growth opportunities but are perfect to get started.
Other roles let you increase your fee as you gain experience, like social media managing or graphic designing.
But honestly, the income ceiling will still be there to some extent.
Either because the job itself doesn't pay well, or because you'll cap the amount of hours you can humanly work (even if you're charging premium fees).
Want to break the income ceiling? Here's how to start an online business in Australia
Skills and qualifications needed
If you know how to send an email and look for something in Google, you have the basic skills needed to work remotely.
And if you want a specific job but don't have the skills yet, there are hundreds of free and paid tutorials online to teach you.
Also, you can get into a few remote jobs just by having expertise in something.
By "expertise", we mean having knowledge of the topic and knowing where to get accurate information about it. You don't necessarily need to have a degree in it.
However, this depends on the topic (of course).
For example, if you love gardening, you could offer your services as a content writer for a gardening blog. You don't need to be a landscaper to write about it.
Where to apply
Once you have one (or more) remote roles you'd like to do, it's time to apply. We recommend starting with platforms like:
Be on the lookout for potential scams, though.
You can be safe from most scams by singing on reputable job boards like the ones mentioned above.
Don't get scammed: Here's how to avoid 5 clever scams + what a legit job opportunity looks like.
FAQs
How can I find real work from home?
You can find real work-from-home jobs on reputable job search websites, like Upwork, Airtasker, FlexJobs, Remote.co, and Indeed, among others.
What are the best jobs to earn money from home?
The best jobs to earn money from home include:
– Content writing.
– Virtual assistance.
– Online tutoring.
– Data entry.
– Customer service roles.
– Graphic design.
– Computer science-related jobs.
How to get a remote job with no experience?
To get a remote job with no experience, you have to build a portfolio and create a compelling resume.
Consider volunteering or freelancing to get practical experience and build your portfolio. You can also do one of the many free online courses and certifications available, to improve your skills and make you a better candidate for a remote job.
The bottom line
There are dozens of work-from-home opportunities for non-entrepreneurs who want flexible and rewarding careers.
You can even become your own boss if you want to. Just remember that success comes with dedication and continuous learning! This is a marathon, not a sprint.
Now, if you want to kickstart your journey, here are a few quick wins you can try if you want to work remotely and travel.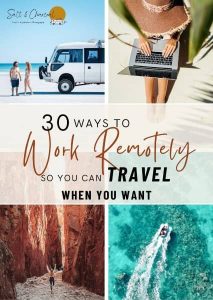 FREE Guide: 30 Ways To Make Money Online So You Can Travel When You Want
Unlock our secrets to consistent online income in Australia. These are tried-and-tested ways we've used to earn money from anywhere – only a laptop with internet is needed! Travel more and worry less.
Our Essential Travel Toolkit
🤩 Trip.com – Consistently great accommodation and hotel deals.
🤩 Hostelworld – Looking for the cheapest accommodation? We especially love the book now pay later feature.
🤩 Rentalcars.com – Best range, super easy to compare prices rental car and motorhome prices.
🤩 Viator.com – Easily book tours and experiences at the lowest rate. Great selection all over Australia.
🤩 Tripadvisor.com – Other than our website…..😉 the best place to find things to do
🤩 Airalo – eSIM store that solves the pain of high roaming bills by giving travelers access to eSIMs (digital SIM cards).
🤩 Caravan RV Camping – Traveling Australia in a van, caravan or bus? Use our discount code "saltandcharcoal" to get $30 off any orders over $300.