12 Free Things to Do in Kalbarri: The Ultimate Budget Guide For Visitors
Kalbarri is a gold mine of mesmerising sights and thrilling activities! It also has one of the most jaw-dropping national parks of the Coral Coast – Kalbarri National Park.
The best part is that there are so many awesome AND free things to do in Kalbarri, both in town and in the park… You won't get bored there, but your wallet will (because of how little you'll use it!).
In fact, you can have the trip of a lifetime while paying only for the basics – accommodation, food, petrol, and the entry fee for the park ($15/day per car).
Being on a budget is not an obstacle to enjoying this corner of Western Australia. Just mix and match these free things to do in Kalbarri and create a tailored trip without breaking the bank:
Table of Contents
1) Snorkel Blue Holes
Blue Holes is an area of protected water, teeming with colourful corals and a dazzling array of sea life. It promises an unforgettable underwater adventure. We found plenty of fish, crayfish and little critters to look at.
It's a protected swimming area, great for families, as the waters are calm and the rock pools are shallow (and safe).
This is hands down one of the best snorkelling spots in Kalbarri. Save this one for a good day, with nice weather.
Snorkelling here is completely free, just remember to bring your own gear!
2) Feed pelicans in Kalbarri foreshore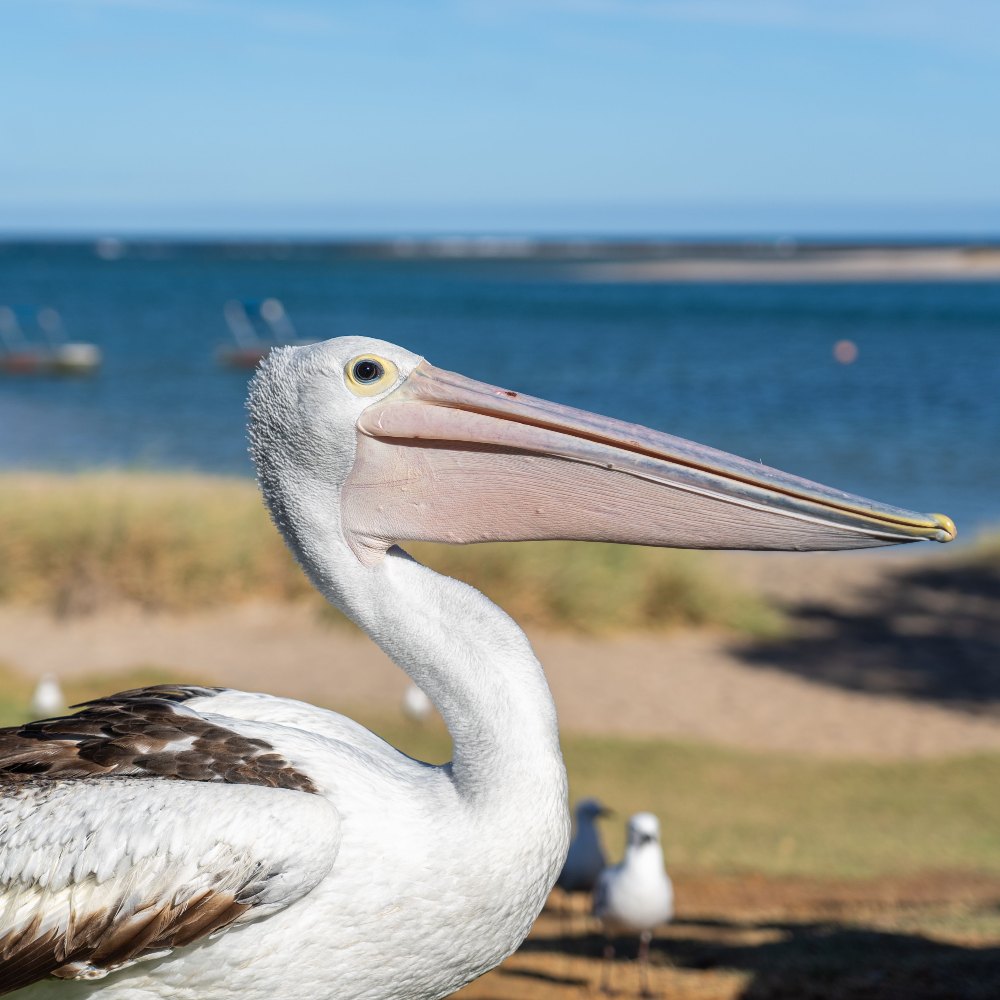 Head to the Kalbarri foreshore at 8:45 am to interact with some of Kalbarri's cutest locals in the daily pelican feeding event.
Every morning, volunteers come to feed fish to the resident pelicans, while ensuring an enjoyable experience for all. They ask for a gold coin donation from those who can provide it, to help pay for the fish.
3) Visit Kalbarri Pink Lake (Hutt Lagoon)
No trip to Kalbarri would be complete without a visit to the enchanting Pink Lake or Hutt Lagoon.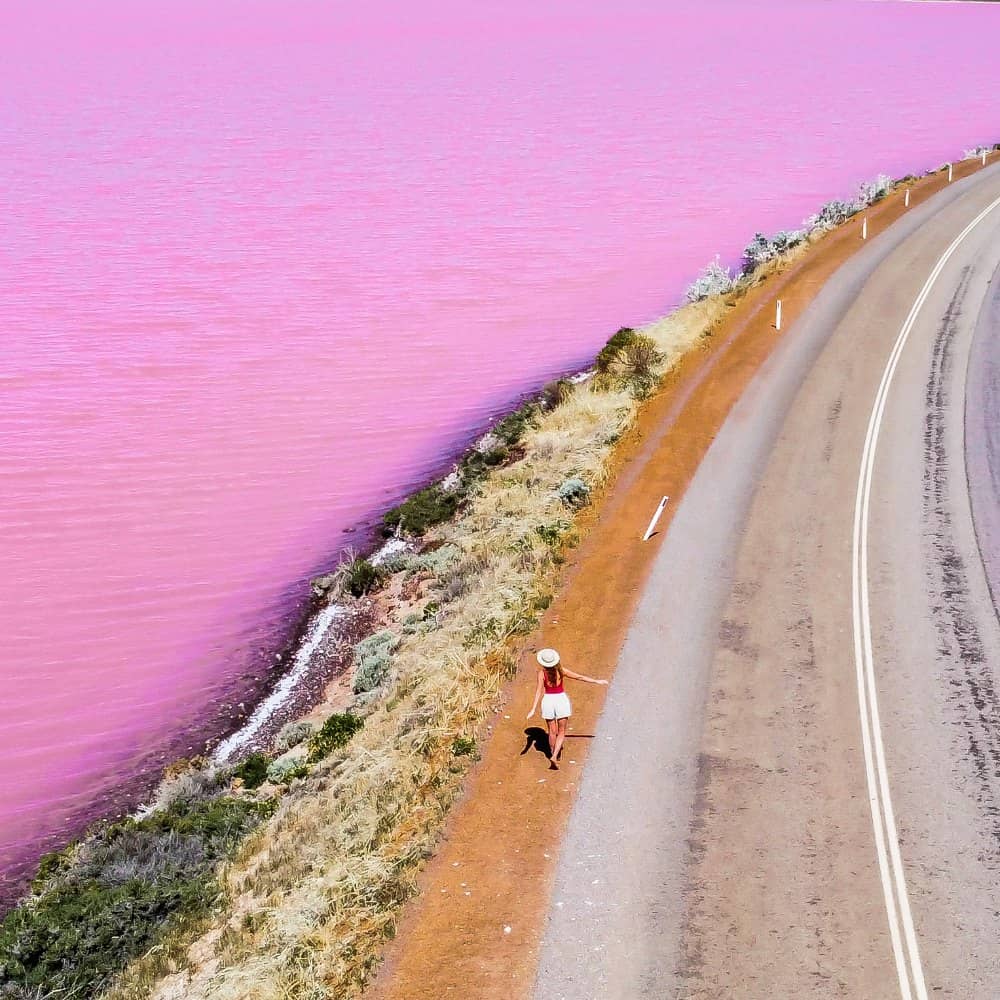 You'll find this natural wonder after a 45-minute trip south of Kalbarri. The lake's surreal pink hue is a result of algae that thrive in saline conditions, Dunaliella salina.
A sight to behold, especially at dawn and dusk, the Pink Lake is 100% free to visit! Just bring a floatie, picnic and your camera to take some unique photos here!
Keep reading: The ultimate guide for visiting Kalbarri's Pink Lake (Hutt Lagoon)
4) Watch surfers at Jake's Point (Jacques Point)
If you're a surf enthusiast, head to Jake's Point, a hotspot for local and visiting surfers.
Watch as they carve waves against the backdrop of the setting sun, or if you're up for it, join in the fun! There are also great coffee and food vans there with plenty of parking.
Even if you don't surf, the mesmerising waves and serene beach are worth the visit. An excellent place to see off the day or stop for a picnic.
5) Sunbathe at one of Kalbarri's beaches
Spend a blissful day lounging on one of the many pristine beaches Kalbarri offers. Here is a list of our favourites:
Whether it's the seclusion of Chinaman's Beach, the vibrant atmosphere of Red Bluff Beach, or the serene beauty of Blue Holes Beach, you're in for a perfect sun, sand, and sea experience.
6) Visit Red Bluff
For photography enthusiasts, Red Bluff is a dream destination extending 13km along the Kalbarri coastline. This rust-coloured cliff overlooking the azure Indian Ocean offers a dramatic landscape that begs to be captured.
It's not just the cliffs that are amazing, though. The wildflowers, waterfalls and rock walls are a sight to be seen too!
This area is also a paradise for hikers. You can stroll along the cliff top 1km for a breathtaking view of the ocean and the beach below.
The walk is not strenuous, making it suitable for the entire family and it's wheelchair-accessible. That being said, it's best to go earlier in the day or around sunset. There will be less wind and it will be cooler.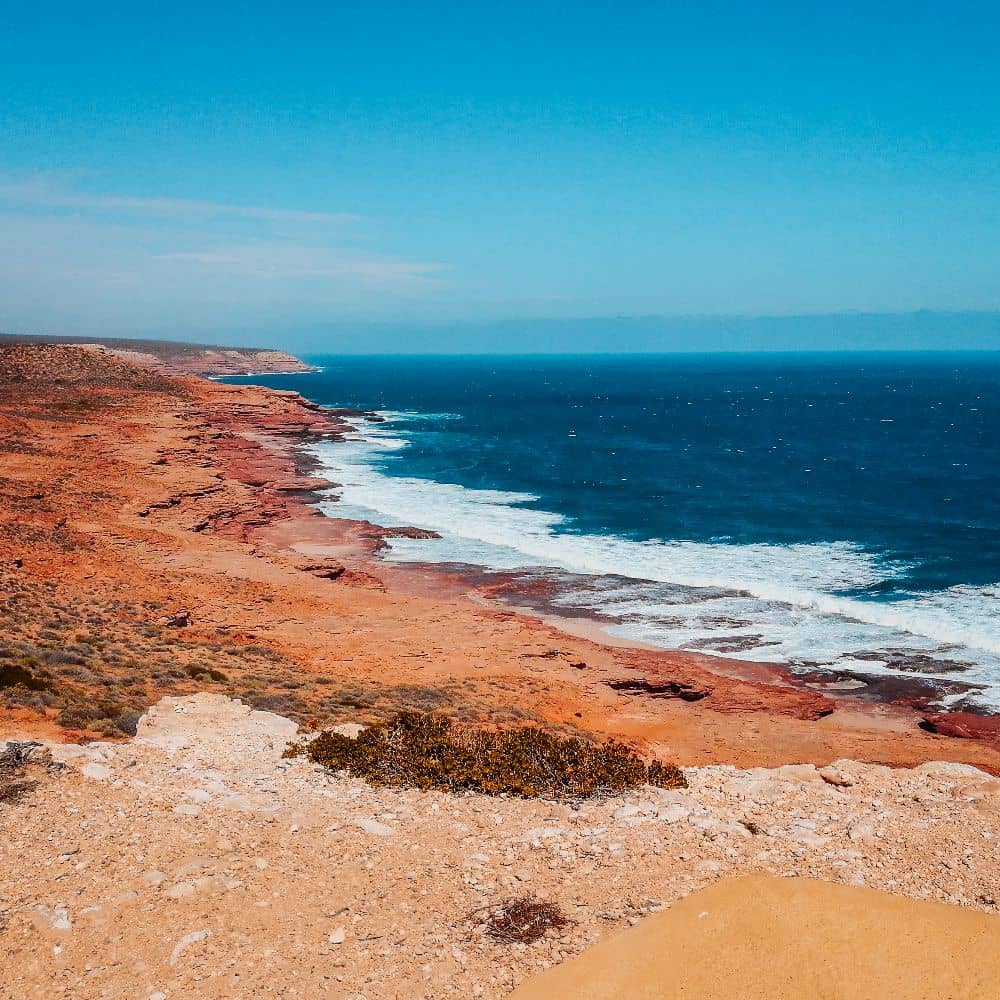 ---
---
Got this tip from the locals – bring a camp chair and set up for sunset. With a cold drink, it will be one to remember!
7) Ross Graham Lookout
Ross Graham Lookout is not your typical lookout. It's a front-row seat to nature's grand spectacle.
You'll stand on the edge of towering cliffs, gazing out over a dramatic gorge carved by the Murchison River.
The colours alone are worth the visit – the vibrant red earth contrasting with the deep blue river below is a visual masterpiece.
Whether you're into hiking, photography, or just soaking up jaw-dropping landscapes, this lookout will have you feeling like you're in another world.
8) Check out the main attractions of Kalbarri National Park
You can't say you visited Kalbarri without checking out these attractions! And you can make the most out of the entry fee by hitting them in one day: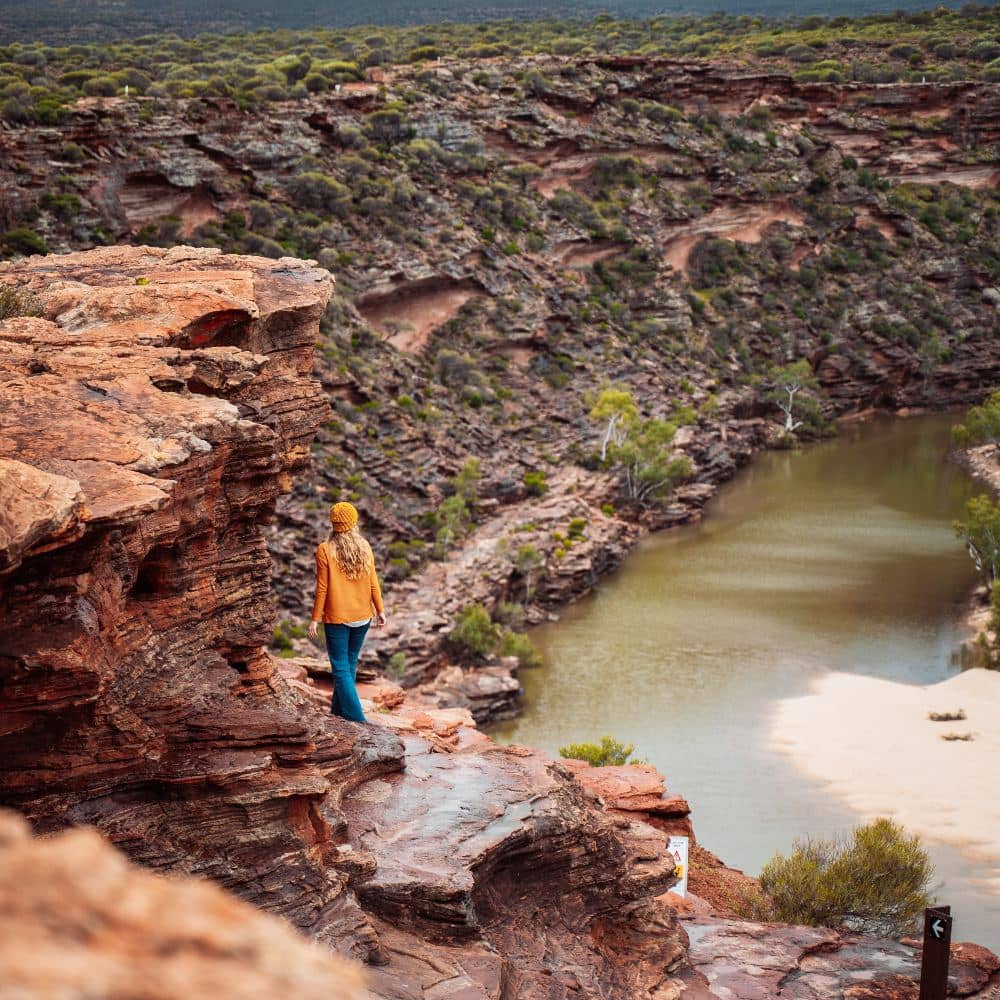 There are endless affordable and free sights to explore in Kalbarri!

The entry fee to the National Park is 100% worth it. Plus, you don't need a 4WD to visit any of these sights, as the roads are well-paved.
9) Hike the Bigurda Trail
The Bigurda Trail is a must-do for those who love hiking and want a good challenge in nature. A nice easy drive to get to Kalbarri centre, only a few minutes.
It's an 8-km one-way trek and teeming with native wildlife, stunning ocean views, and remarkable cliff formations.
On this hike, you walk along the Kalbarri coastal cliffs, starting either at Natural Bridge and Island Rock, or Eagle Gorge. You can often see dolphins and whales from the high viewpoints of the walk.
With dramatic coastlines, rocks sculpted by years of wind and rich plant life, this walk is a must in the area.
Now, if you want the experience without the intense hike, you can drive from one lookout to the next! Just doing the short walk from the car park to each spot. Enjoy your visit!
10) Spot whales from the coastal cliffs
If you visit Kalbarri during the season between June to November, you can spot humpback and southern right whales making their annual migration.
The cliffs are a prime vantage point for whale watching, where you can see them breaching. But we recommend you bring binoculars for a better view! It's a true (and free) spectacle that everyone should witness in this area.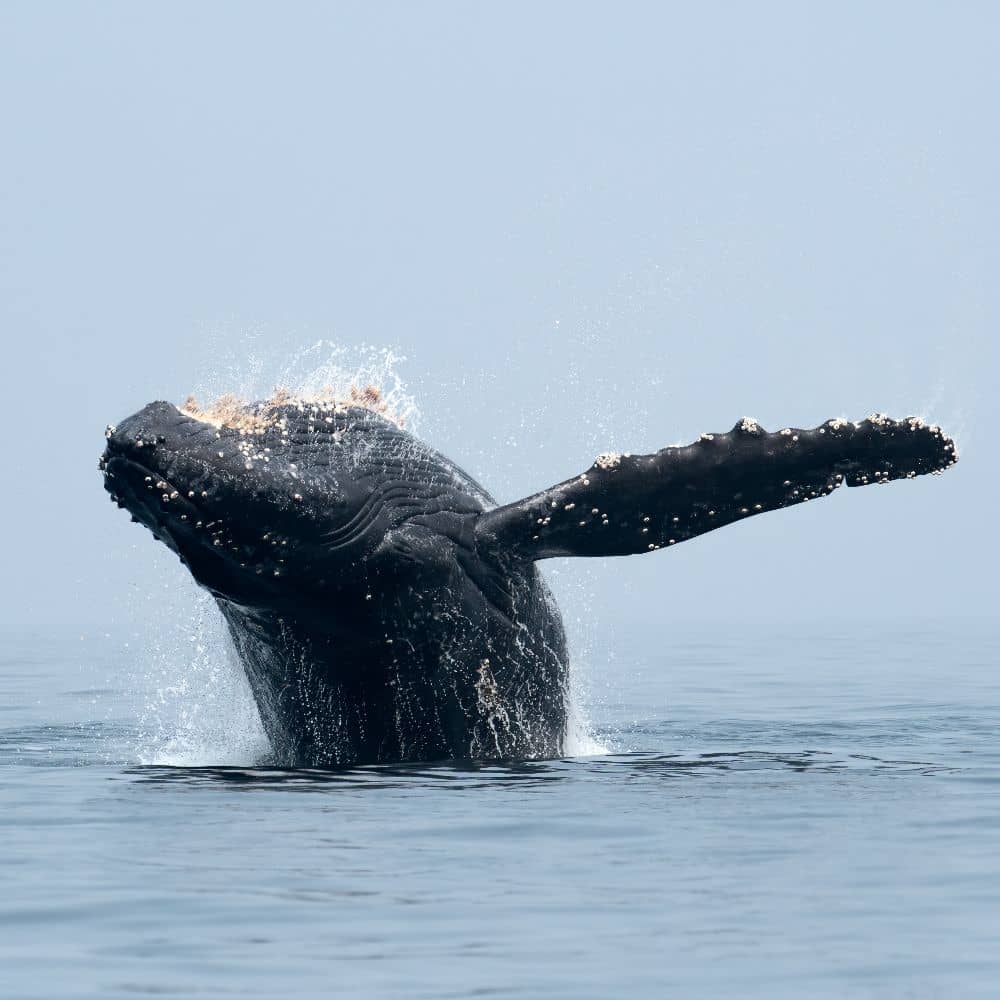 11) Enjoy the wildflowers
Wildflowers bloom between late July to September, turning Kalbarri and its surroundings into a vast canvas of vivid colours, stretching as far as the eye can see.
Places we recommend to spot wildflowers in Kalbarri are:
Z Bend
The Loop track
Bigurda Trail
Red Bluff
But, if you are doing a Perth to Kalbarri circuit in Spring, consider spotting some rare wildflowers along the Wildflower Way.
The Wildflower Way stretches from Dallwallinu to Geraldton. There are thousands of unique wildflowers to be seen along this trail, including wreath flowers and more!
The Wildflower Way is a must in Western Australia!
In Kalbarri alone, there are over 800 species of wildflowers, some of which are found nowhere else in the world. So, when you're marvelling at the vibrant carpet of flowers, remember you're witnessing a phenomenon as rare and spectacular as it gets!
Sometimes the flowering time can be quite short, so if you see wildflowers in Kalbarri you have timed it perfectly.
12) Stargazing, Fishing, Sunset and Markets around Kalbarri
Kalbarri town itself is a great attraction of Kalbarri and you don't need to spend a dime!
Here are some unique free activities we recommend to do around Kalbarri:
Go fishing in the Murchison River or Kalbarri Beach
Pull up a camp chair and watch the sunset
If you have one, go paddle boarding or kayaking around the protected bays and Murchison River
Go stargazing at the Kalbarri Skywalk
Have a picnic at any of the scenic lookouts around Kalbarri
Play lawn bowls or golf at the local clubs for a few bucks
Go to the Kalbarri skatepark
During the right time of year, don't miss the Kalbarri Community Markets. Head to the area around Chinaman's beach on Mondays during school holidays, and you'll see these markets selling a range of local crafts, artisanal products, and mouthwatering food.
Where to stay for cheap in Kalbarri?
You can't free camp in Kalbarri National Park, but there are some awesome campgrounds nearby where you can stay for cheap:
Lucky Bay Camping Near Kalbarri
If you want to stay on the beach with pristine white sand beach a short walk away, then stay here! We have gone back a few times because it's so good. 4WD only, though.
Kalbarri Red Bluff Tourist Park
This is the best spot to stay if you want to experience the mindblowing views of Kalbarri and its Red Bluffs, without being too far from town – just a 5-minute drive!
Apart from having the best location possible, this tourist park caters to every single budget. You can camp here, rent a caravan site, or stay in one of their many cabins. You can also bring your dog if you like!
It also has a camp kitchen, BBQs, and free wifi. Parking is free as well. And the prices are excellent – you'll hardly get a better deal.
Murchison House Station
Now, if you're on the hunt for a true adventure, while still being 15 minutes from town, stay here. This historic homestead is nestled by the Murchison River, surrounded by massive gum trees.
You can either bring your tent and camp on the homestead or, if you have a 4WD, campervan, etc, do some bush camping. Some areas are powered, others are not, but the homestead has all the basics – showers, toilets, drinking water, etc.
Staying here is only possible between April to October, though.
Note: For more information on where to stay, we wrote an entire article on the best places to stay in Kalbarri, from luxury options to free camping and everything in between!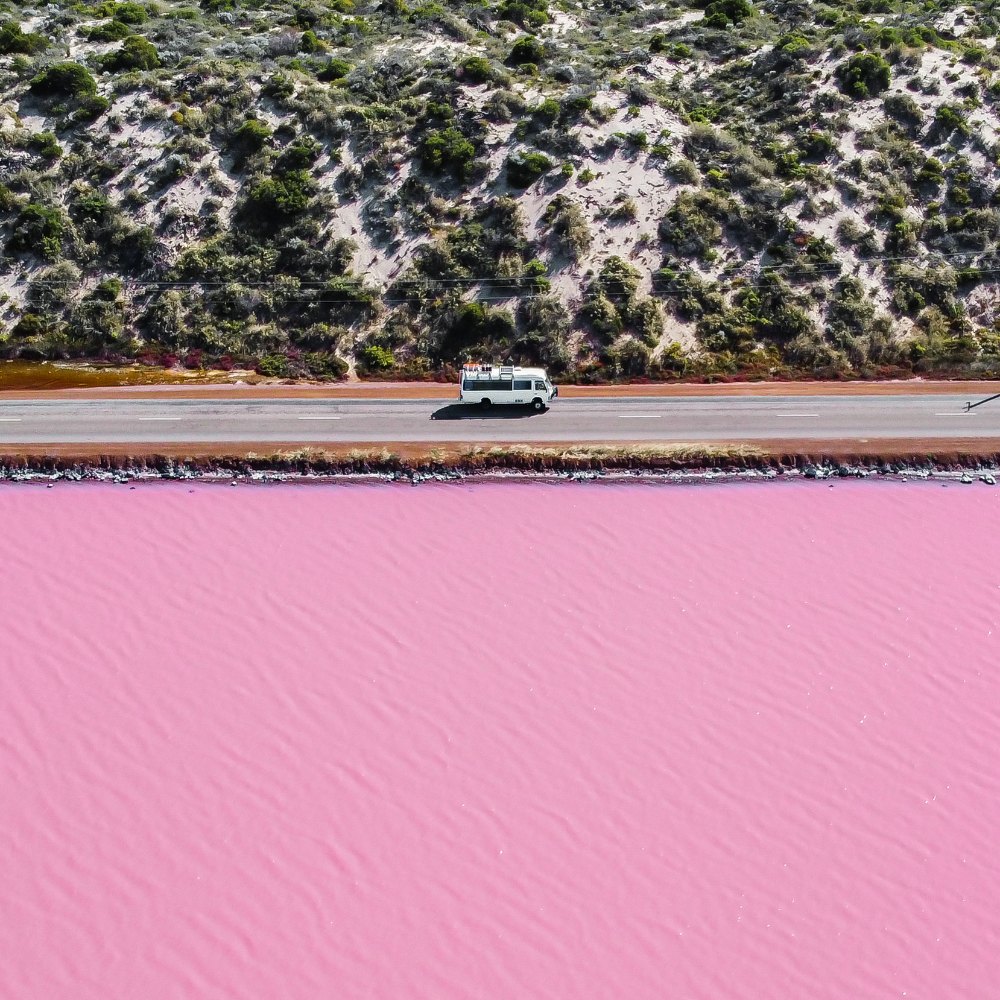 Top Tips
It really pays off to start your day at dawn to avoid the midday heat, particularly during the summer months. Plus, you'll see some jaw-dropping sunrises!
Also, be sun-smart – bring sunscreen, a hat, and sunglasses. Kalbarri's heat is famous, reaching up to 45° during summer, so always carry plenty of water.
And if you want more detailed info according to the season of your visit, pay a visit to Kalbarri Visitor Centre. They'll help you make the most out of your trip!
Did you know?
The Murchison River, which carves a magnificent gorge through Kalbarri National Park, is the second-longest river in Western Australia.
It stretches over an impressive 820 kilometres, and its winding journey ends near the town, as it empties into the Indian Ocean. Its basin is a crucial source of water for much of the region, supporting a diverse array of flora and fauna.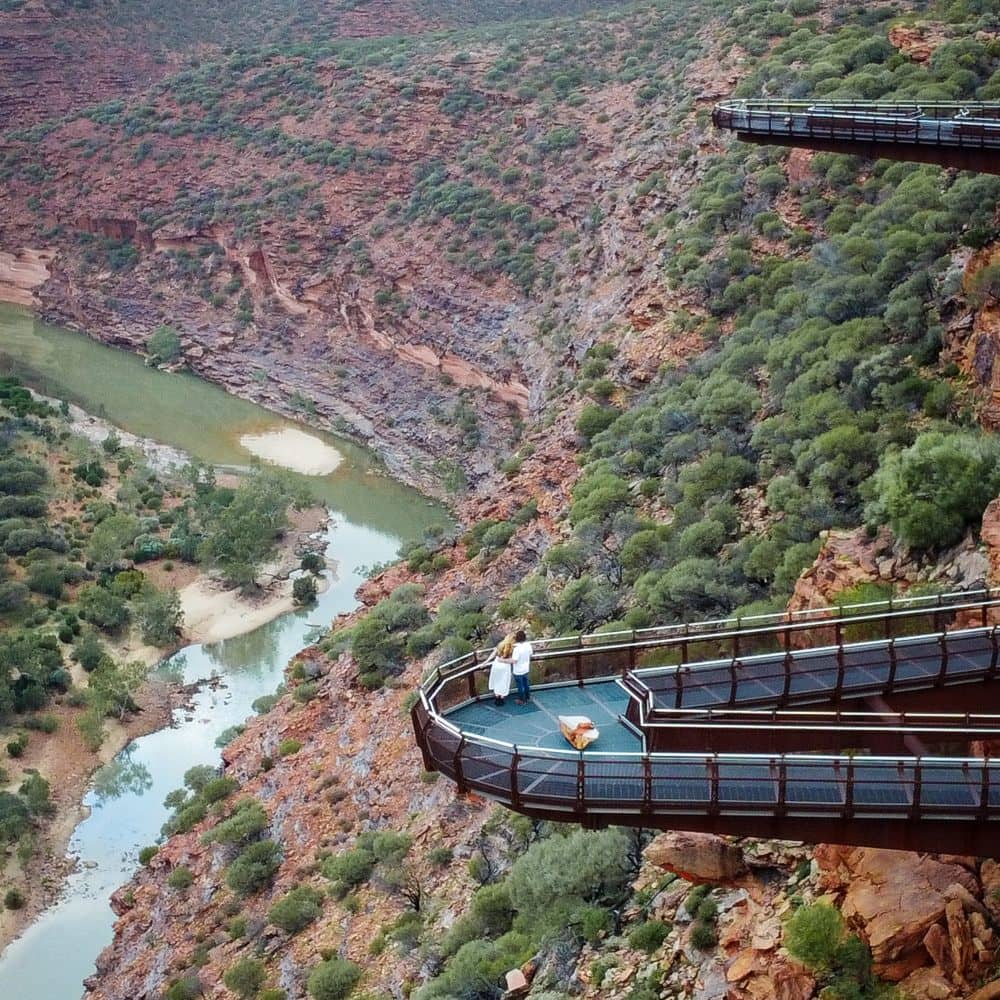 FAQs
What is the best time to visit Kalbarri?
The best time to visit Kalbarri is between April and September, as the weather is best during these months. However, you can visit all year round.
Is it safe to snorkel at the Blue Holes in Kalbarri?
Yes, snorkelling at the Blue Holes is generally safe, but always be aware of marine life and currents. Always adhere to safety guidelines.
How many days do you need in Kalbarri?
You can see most of Kalbarri's attractions in 2-3 days. But we recommend staying at least 5 days, to truly experience everything this area has to offer.
The bottom line
Visiting Kalbarri is a trip everyone should do, as it's a unique destination that caters to any budget. Thankfully, you don't need a lot of money to enjoy most of what this area has to offer.
It's also amazing for adrenaline junkies, family travellers, and nature enthusiasts alike. Regardless of which category you fall in, take your time to soak in the vibrant hues of the wildflowers, to feel the salt in your hair, and the sand beneath your feet.
And if you're visiting from Perth, why not take the opportunity to make it the road trip of a lifetime?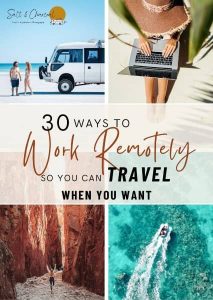 FREE Guide: 30 Ways To Make Money Online So You Can Travel When You Want
Unlock our secrets to consistent online income in Australia. These are tried-and-tested ways we've used to earn money from anywhere – only a laptop with internet is needed! Travel more and worry less.
Our Essential Travel Toolkit
🤩 Trip.com – Consistently great accommodation and hotel deals.
🤩 Hostelworld – Looking for the cheapest accommodation? We especially love the book now pay later feature.
🤩 Rentalcars.com – Best range, super easy to compare prices rental car and motorhome prices.
🤩 Viator.com – Easily book tours and experiences at the lowest rate. Great selection all over Australia.
🤩 Tripadvisor.com – Other than our website…..😉 the best place to find things to do
🤩 Airalo – eSIM store that solves the pain of high roaming bills by giving travelers access to eSIMs (digital SIM cards).
🤩 Caravan RV Camping – Traveling Australia in a van, caravan or bus? Use our discount code "saltandcharcoal" to get $30 off any orders over $300.